Skor Cupcakes are a rich chocolate cupcake with Skor bars chopped up throughout and topped with a sweet toffee glaze. The perfect cupcake for any occasion. This Skor Cupcakes recipe is easy, delicious, and will stand out from a crowd.
My latest addiction has been making cupcakes using our favourite chocolate bars. I recently made Reese's Peanut Butter Cupcakes and they were a hit. I saw the Skor Toffee Bits in the baking aisle at the grocery store and thought they would be good melted on top of a chocolate cupcake. Add some chopped up Skor bars to the cupcake batter and you have a divine tasting batch of Skor Cupcakes.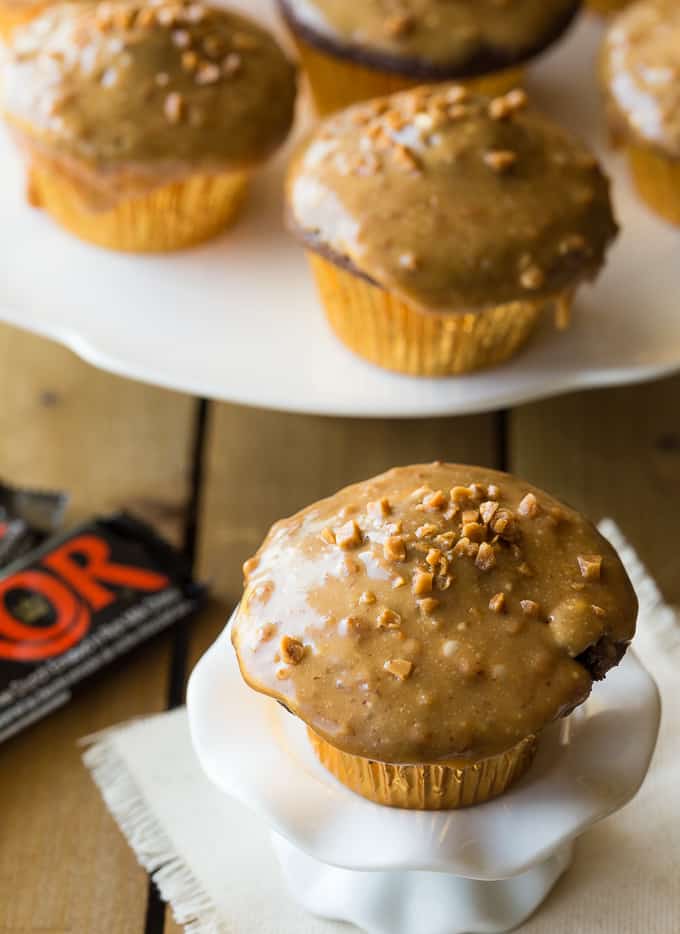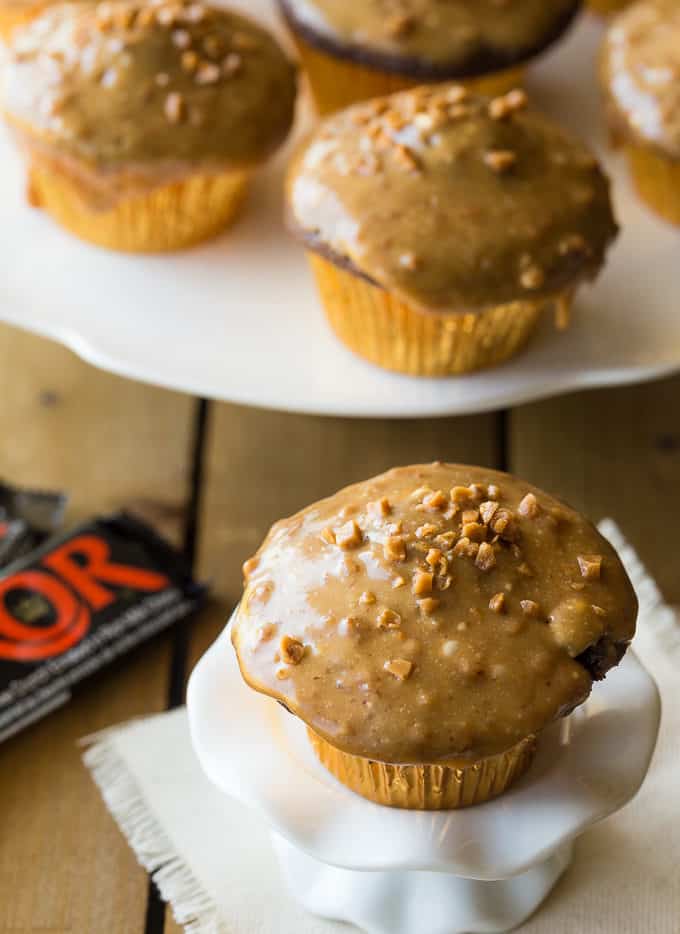 Easy Skor Cupcakes
They are really simple to make. I used a Swiss Chocolate cake mix, but you could use any kind of chocolate cake mix you have on hand. They are so rich and if you are having a chocolate craving eat one of these. Sweet and satisfying!
Are Heath and Skor the Same
Heath bars are considered an English toffee and a Skor is a buttery crisp toffee. But if you have had them, they are similar in flavor. So feel free to use a Heath bar if you don't have access to a Skor bar.
I love both brands of candy bar. There is something about that crunchy toffee paired with silky smooth chocolate. It is so flavorful, and to pair it into a cupcake, just elevates the flavor even more.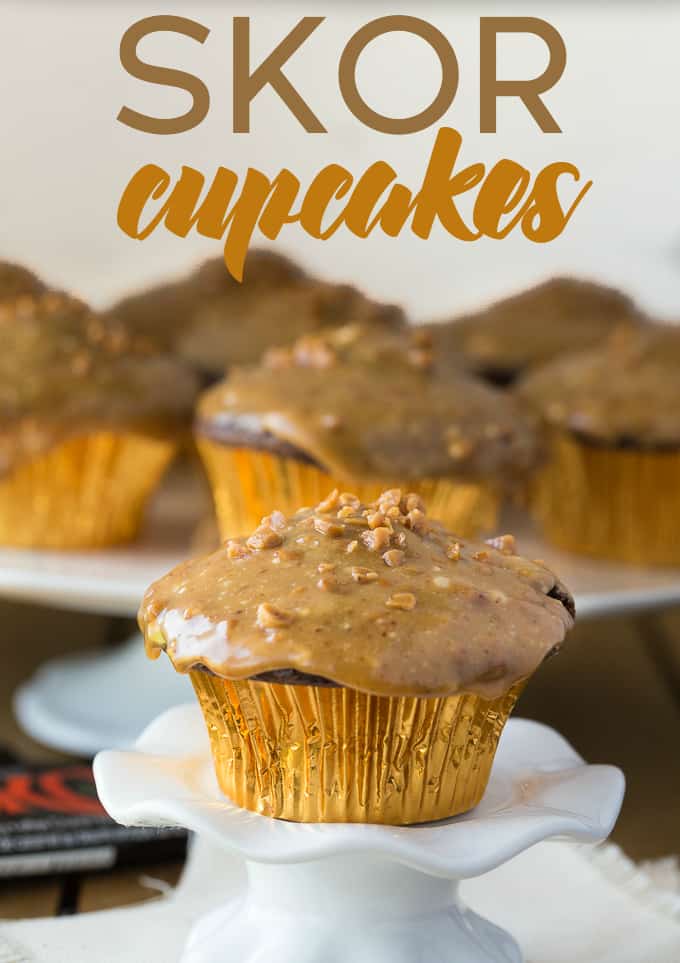 Can I Make Skor Cupcakes with Homemade Cake Mix
Of course. Feel free to use your favorite chocolate cake recipe, and then add in the chopped Skor candy bar and fold it into the batter. Then spoon into the muffin pan and bake as directed on your recipe.
Ways To Dress Up Box Cake Mix
Add a splash of coffee to your mixture. You won't taste the coffee but it will enhance the flavor of the chocolate. Plus the Skor candy bits throughout the batter will add even more flavor. No one has to know it is a boxed cake mix, it tastes so good.
Toffee Glaze
This toffee glaze is so easy to make. I like making a glaze to pour over my cupcakes because it adds sweetness but also I don't mess with piping frosting. You just need a handful of basic pantry ingredients to make a sweet and toffee filled glaze that you pour over the cooled cupcakes.


How to Make Skor Cupcakes
Start by following the directions on the back of your cake mix. Then once the batter is mixed, fold in the chopped Skor candy bar. Pour the cake batter into lined muffin tin, and bake according to package. Allow the cupcakes to fully cool.
Now you will want to prepare the glaze for the cupcakes once the cupcakes have fully cooled. Start by adding in the toffee bits (except some for topping) and the cream. Warm in the microwave for one minute. Stir and then add in your butter. Microwave for an additional minute, stir and then pour in your icing sugar and vanilla. Stir until it is nice and smooth.
Spread the glaze over the cupcakes and top with the leftover toffee bits. Then as the glaze cools it will begin to solidify.
How Do I Bake the Perfect Cupcakes
Don't Overmix | Make sure you don't overmix the batter. You want to mix until ingredients are incorporated but not over. This can affect the texture of your cupcakes.
Scoop Batter | I use a cookie scoop or measuring cup when I scoop my batter into muffin tin. The reason being is you will have even cupcake batter. So all the cupcakes will cook at the same time. If you don't measure, at times one cupcake might cook faster and you will have overdone and undercooked cupcakes.
Preheat Oven | Make sure your oven is fully preheated before you place your cupcakes in to bake. This will offer a light and moist cupcake.
Center of Oven | Bake your cupcakes in the center of your oven. This is going to give optimal and even heat to your cupcakes so they evenly cook. Just make sure the pan is in the center of the baking rack.
Looking for More Cupcake Recipes to Make
How to Store Toffee Cupcakes
You will want to keep your cupcakes in the fridge until you are ready to eat. They will last 3-5 days and then after that they will become pretty dried out. If you prefer them at room temperature just allow them to warm up at room temperature.
These cupcakes are absolutely easy and downright addictive. If you are a fan of toffee, you might really enjoy these cupcakes. Make for birthdays, bake sales, after-school snack, holidays, and more.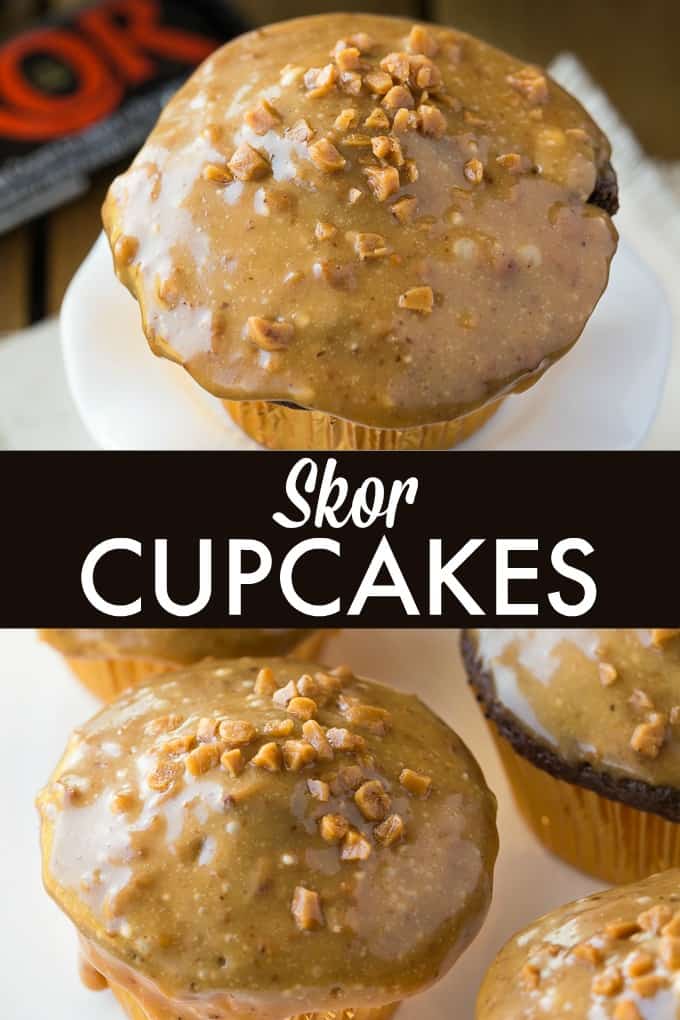 You'll also like these Pineapple Upside Down Cupcakes.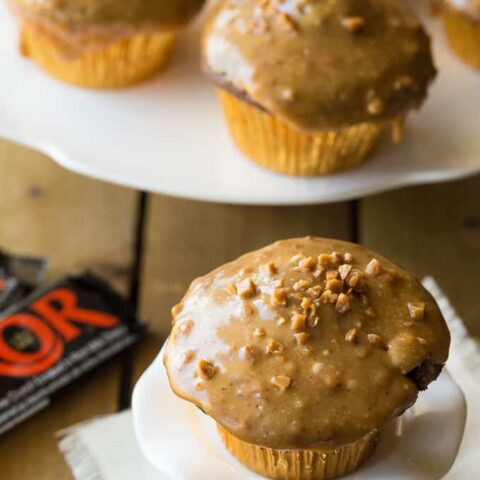 Skor Cupcakes
These cupcakes are an easy way to dress up a boxed cake mix. The addition of Skor bits makes them crunchy and buttery, and the pairing with fluffy chocolate cake is irresistible.
Ingredients
Cupcakes
1 package of chocolate cake mix
2 Skor chocolate bars, roughly chopped
Toffee Glaze
1 package of Skor Toffee Bits
3 tbsp. whipping cream
3 tbsp. butter
1/2 cup powdered sugar
1/2 tsp. vanilla
Instructions
Cupcakes
Prepare cake mix according to the package directions.
Mix in chopped Skor chocolate bars.
Pour into muffin tins and bake for the recommended time (and temperature) as on the cake mix box.
Allow to cool completely before coating with the toffee glaze.
Toffee Glaze
Combine Skor Toffee Bits (set aside about 1/4 to 1/2 cup for topping) and cream in a deep bowl. Microwave on high for 1 minute. Stir.
Add butter and microwave on high for 1 minute. Stir.
Add in powdered sugar and vanilla and stir till smooth.
Spread glaze over cupcakes and top with Skor Toffee Bits. Cool to allow glaze to solidify.
Nutrition Information:
Yield:

12
Serving Size:

1
Amount Per Serving:
Calories:

282
Total Fat:

11g
Saturated Fat:

6g
Trans Fat:

0g
Unsaturated Fat:

4g
Cholesterol:

15mg
Sodium:

370mg
Carbohydrates:

46g
Fiber:

1g
Sugar:

27g
Protein:

3g