Chocolate Cupcakes with Salted Caramel Cream Cheese Topping is the perfect amount of sweet. You have an incredibly moist homemade chocolate cupcake that has a topping that taste like caramel cheesecake. Talk about one decadent and delicious cupcake recipe.
One thing I never thought of though, is using mayonnaise in a dessert recipe! It sounded strange to me at first, but I figured I'd give it a try. All I can say is…WOW! I've been missing out all these years. Use mayonnaise as a replacement for butter and eggs in your cupcake and cake recipes and be in for a treat. Think of it as a secret ingredient to add extra moistness. Plus you'll be reducing the saturated fat by 5 grams per serving if you want to get really technical about it.
Moist, sweet and the topping tastes like caramel cheesecake. Seriously you need to try them.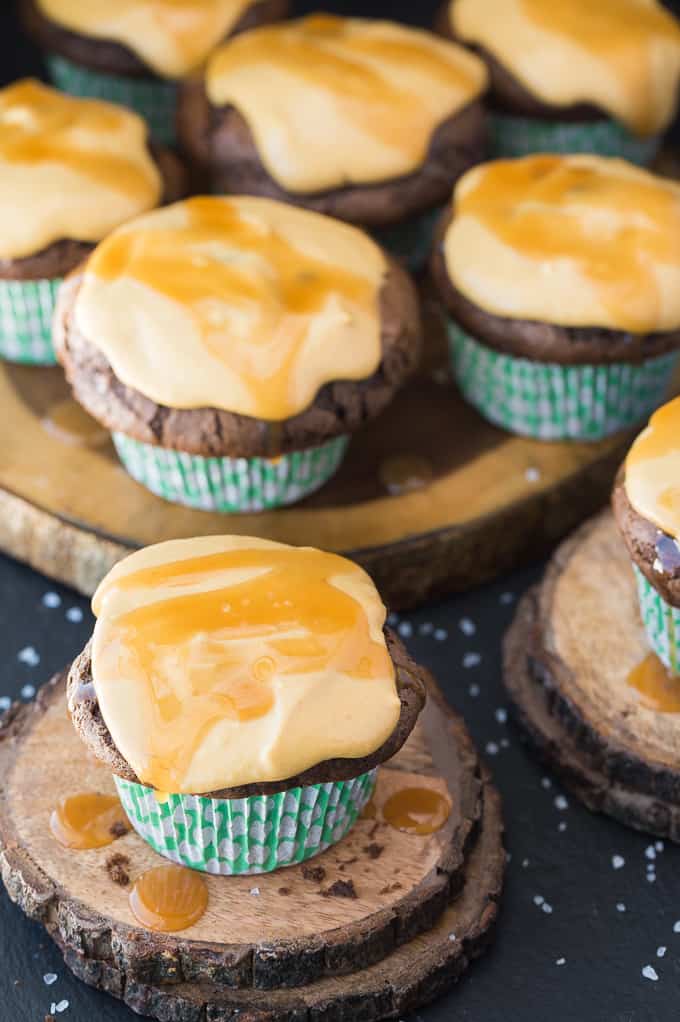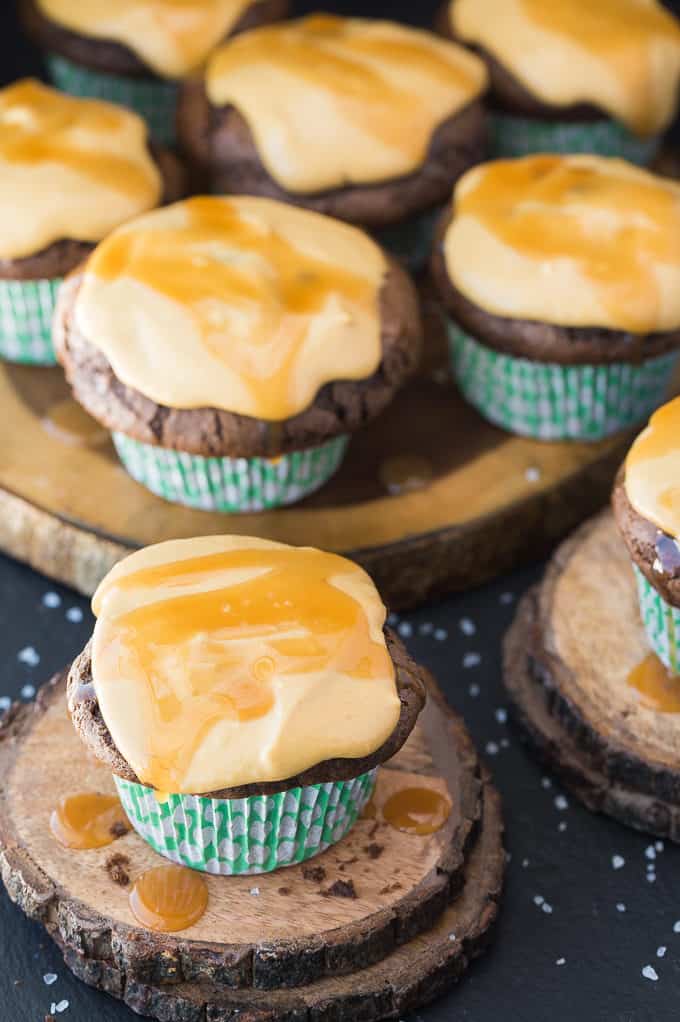 Chocolate Cupcakes with Salted Caramel Topping
When I am in need of a cupcake recipe, this has become my go-to. There is something about caramel and chocolate that lures so many in. Add in the cream cheese factor and it makes these cupcakes almost irresistible!
Can I Make This a Chocolate Mayonnaise Cake Instead of Cupcakes?
Absolutely. You can use a 9×13 pan or make it a layered cake. You would, of course, adjust the cooking time slightly. The cook time will depend on what size of pan you use, just cook the cake until the cake is cooked through. You can stick a toothpick in the center and if it comes out clean, it is fully cooked.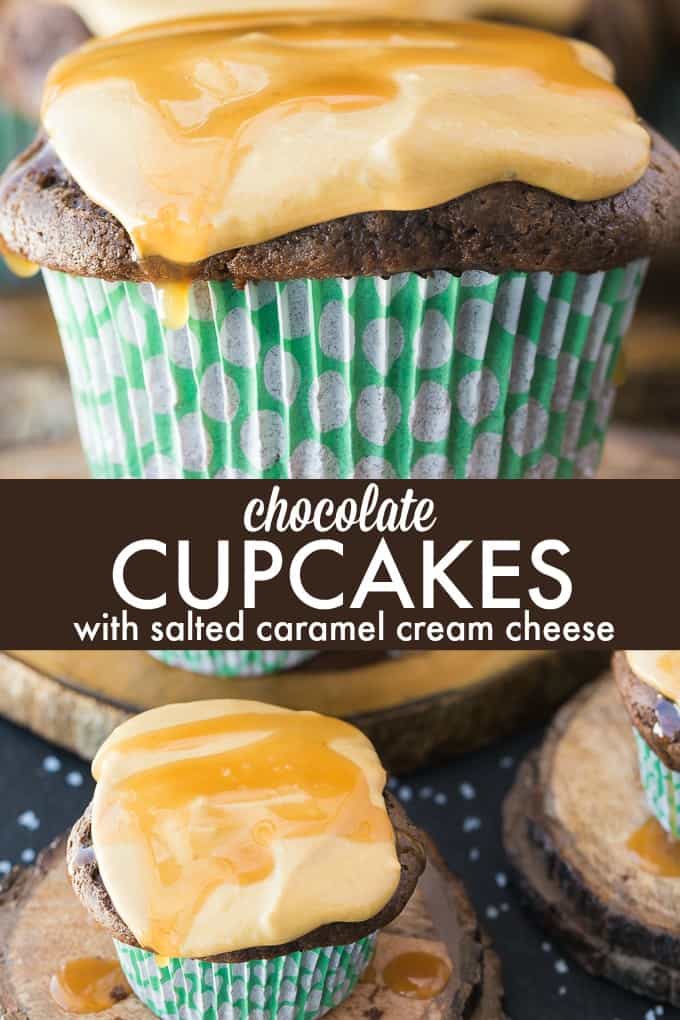 What is the Best Frosting for Chocolate Mayonnaise Cupcakes
For this go around I did the salted caramel cream cheese topping. I love caramel and chocolate together, and this recipe is a breeze to make. Plus since you are doing more of a topping than frosting no piping is needed.
How to Store Chocolate Cupcakes with Cream Cheese Topping
Because of the cream cheese salted caramel topping these cupcakes need to be stored in the fridge. Just place them in an airtight container and store in the fridge. They will stay fresh for 3-5 days. Of course, they are best fresh. If you prefer them at room temperature, simply leave them on the counter to warm up a bit before you eat them.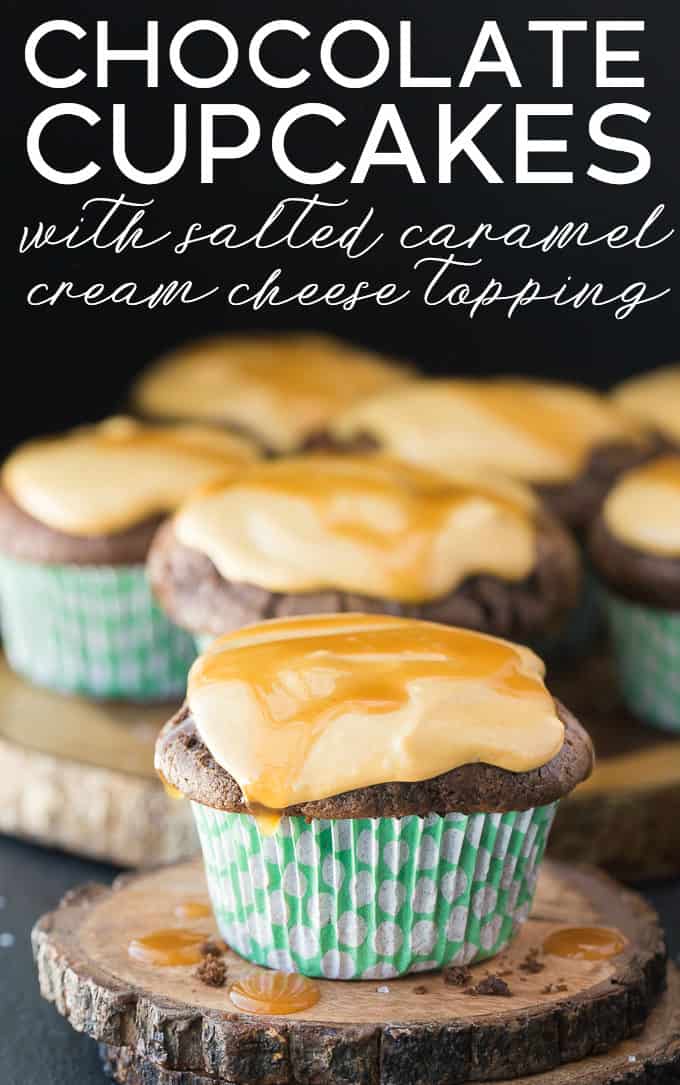 How to Make Chocolate Cupcakes with Salted Caramel Cream Cheese Topping
First, you want to start by lining 24 muffin cups. Then in a bowl add in your flour, cocoa, baking powder, soda, and salt. Stir and set it aside for later. Then in your mixing bowl or stand mixer, beat your mayo, sugar, buttermilk, and vanilla until well blended.
Now you get to slowly incorporate your wet and dry ingredients together. Pour the batter into the muffin cups and bake until they are cooked. Allow the cupcakes to fully cook before you apply the topping.
For the topping, you want to mix your sugar and water in a saucepan and heat until it begins to develop a deep golden color (around 12 minutes) then remove from heat. Now you want to carefully and slowly whisk in your cream, salt, and vanilla. Allow the mixture to cool. Now in a mixing bowl beat cream cheese until smooth, and then pour in all bout 1/4 cup caramel into the cream cheese.
Spread the mixture over the cupcakes, then drizzle remaining caramel over each, and serve.
Looking for More Easy Cupcake Recipes
Caramel Apple Cupcakes | Fresh apples paired with the richness of caramel is always a winning combination. This recipe is great for fall months, but I also make it in the summer when we have fresh apples from the orchard.
Skor Cupcakes | Fan of toffee? If you answer yes, you will love this chocolate cupcake with Skor candy bar throughout. Then a sweet glaze that has chopped toffee bits in it.
Banana Cupcake | This banana cupcake is the perfect way to use ripe bananas. Fresh, delicious, and a great cupcake to make for any occasion.
Can I Swap the Recipe with a Different Frosting
Of course. You can make any type of frosting you would like to pile on top of your cupcakes. Or if you prefer a naked cupcake, skip the frosting altogether. The choice is totally yours.
This is seriously one of the best cupcakes I have ever had. The mayo really adds such light and moist texture to the cupcakes!

Try my homemade caramel sauce.
Chocolate Cupcakes with Salted Caramel Cream Cheese Topping
These decadent cupcakes are a delicious balance of salty and sweet. The rich chocolate, sweet caramel and salty tang of the cream cheese frosting will hit every flavour note.
Ingredients
Cake
2 cups flour
1/2 cup cocoa
1 1/2 tsp baking soda
1 tsp baking powder
1/4 tsp salt
1 cup sugar
1 cup Hellmann's mayonnaise
1 cup buttermilk
1 tbsp vanilla extract
Salted Caramel Topping
1/2 cup sugar
1/4 cup water
1/2 cup heavy cream
1 tbsp vanilla extract
1 package (250g) of cream cheese, softened
1/4 tsp coarse sea salt
Instructions
Preheat oven to 350°F and line 24 muffin cups with cupcake liners.
In a bowl, whisk together flour, cocoa, baking soda, baking powder and salt.
In a mixing bowl, beat the sugar, mayonnaise, buttermilk and vanilla until well blended.
Add dry ingredients to the wet ingredients and stir to combine.
Spread batter into muffin tins and bake for 20 minutes or until a fork inserted into a cupcake comes out clean. Set aside and let cool.
To make the topping, stir together sugar and water in a saucepan and cook over medium high heat until mixture turns a deep golden colour (about 12 minutes). Remove from heat.
Slowly stir in cream, salt and vanilla and let cool.
In a mixing bowl, beat cream cheese until smooth. Then beat in caramel mixture (reserve 1/4 cup for drizzle) until well blended.
Spread topping over cupcakes and drizzle remaining caramel over each. Refrigerate until ready to serve.
Recommended Products
As an Amazon Associate and member of other affiliate programs, I earn from qualifying purchases.
Nutrition Information:
Yield:

24
Serving Size:

1
Amount Per Serving:
Calories:

184
Total Fat:

9g
Saturated Fat:

3g
Trans Fat:

0g
Unsaturated Fat:

6g
Cholesterol:

11mg
Sodium:

231mg
Carbohydrates:

22g
Fiber:

1g
Sugar:

13g
Protein:

2g