A mashup between a cinnamon roll and cheesecake, with a Biscoff twist. This Biscoff Cinnamon Roll Cheesecake is a fantastic dessert for serving up guests or that midnight dessert. Either way, you have tender cinnamon rolls topped with a Biscoff cheesecake.
Hi Everyone! It's Nicky, calling in again from Kitchen Sanctuary.
Today I'm bringing you a recipe born from indecision, a leftover tube of crescent roll dough and a serious craving for something sweet. You may remember from those Snicker Brownies I made a couple of months ago, that I like to go a little over the top when it comes to dessert.
If you're going to have a dessert, you might as well really enjoy it right?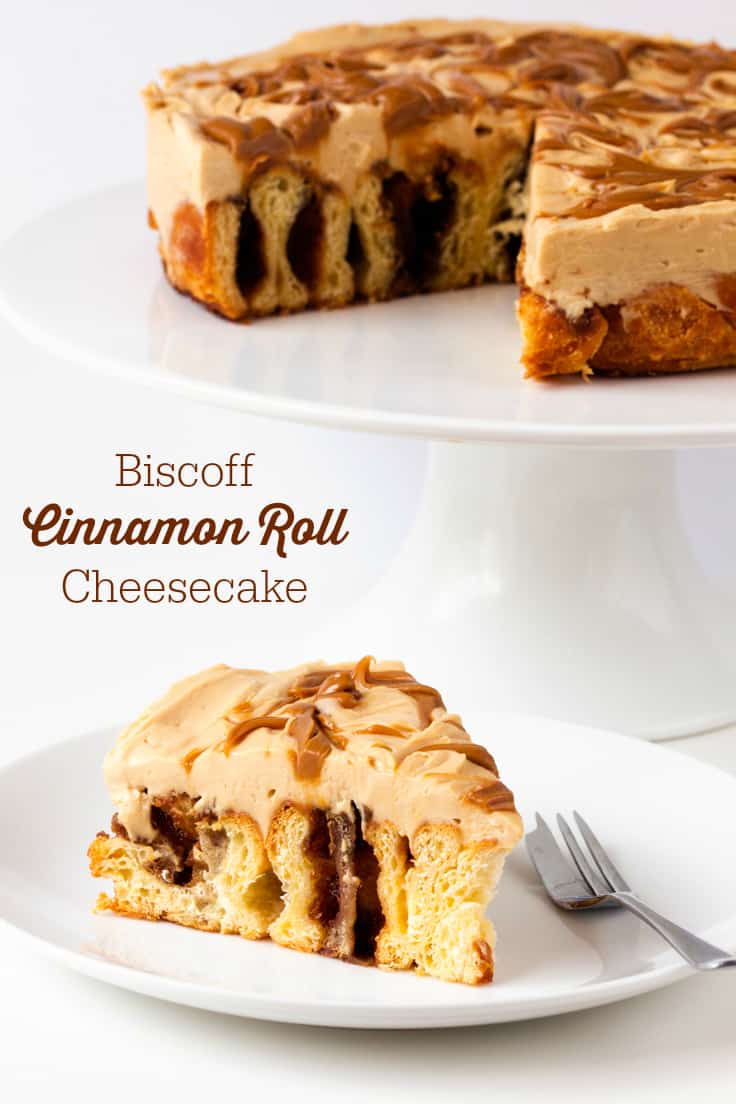 Biscoff Cinnamon Roll Cheesecake
This post contains affiliate links.
So, staring into my cupboards for inspiration, my eyes fell on a jar of Biscoff spread. Have you tried it? It's basically biscuity heaven in a jar (that you want to sandwich between two biscuits before eating – or maybe that's just me).
I decided it would be a perfect addition to some quick cinnamon rolls.
Whilst the cinnamon rolls were in the oven, I set work thinking about the glaze.
Initially, it was just going to be a standard cinnamon roll cream-cheese glaze. But such was my sweet tooth, that I decided it'd be much more fun to turn it into a cheesecake. Let's pile that cheesecake topping on, and hey, whilst we're there, why not swirl in some more of Biscoff!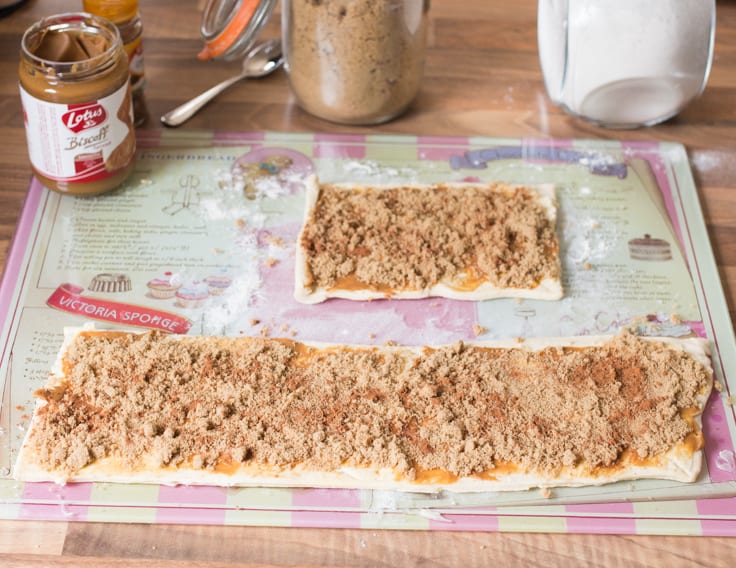 What Does Biscoff Spread Taste Like
If you have had Biscoff cookies, it is like that but in a more creamy consistency. Very similar to the texture of peanut butter but the flavor is of a cookie that is light, refreshing and irresistible.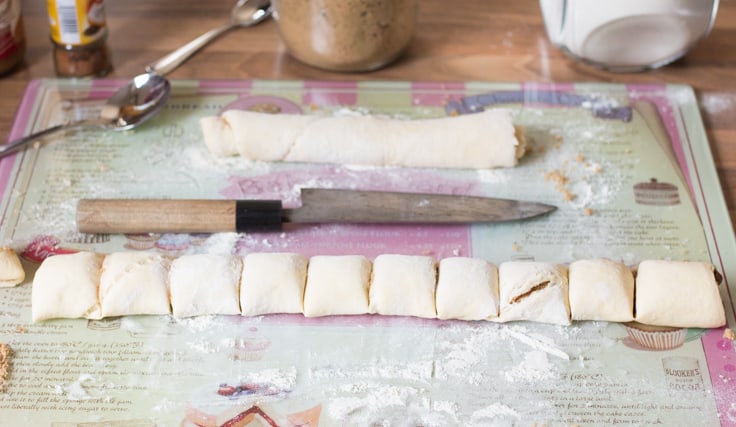 Cinnamon Roll Crusted Cheesecake
For the cinnamon rolls, I used canned crescent rolls and then dressed them up with a cinnamon sugar filling, and of course Biscoff. Talk about easy cinnamon rolls that offer that delicate and light texture base.
Now, if you have a tried and true cinnamon roll recipe you can't dare to not use, go for it. I wanted to simplify and eliminate some steps in the recipe, so I reached for canned crescents to speed up the process. No mixing dough, letting it rise, and so on.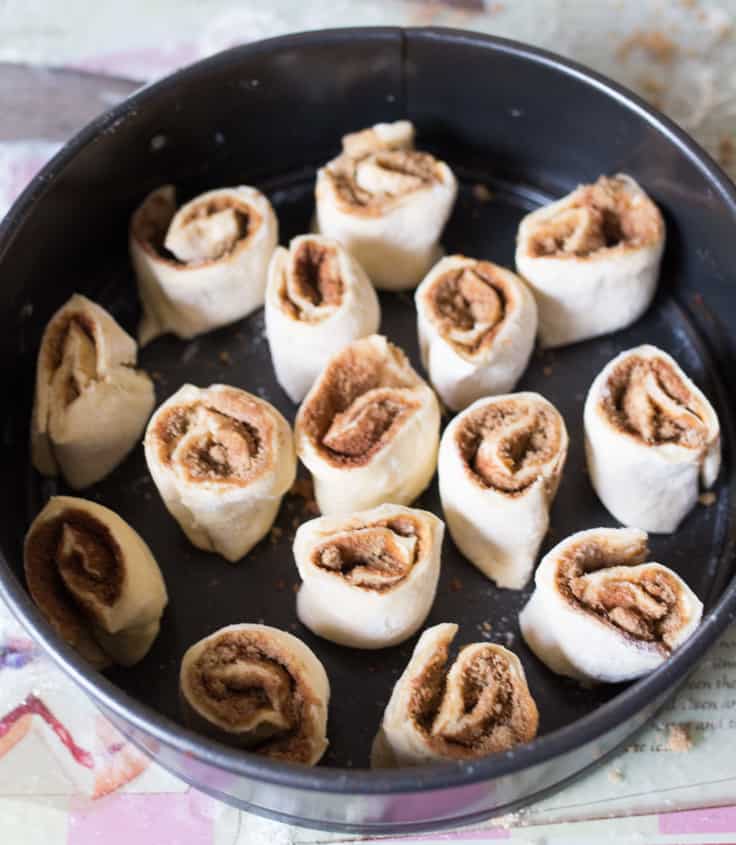 Is This a No Bake Cheesecake Base for Biscoff Cheesecake
Yes. This is a no-bake cheesecake recipe. I did this because it works well together. I find that no-bake cheesecake offers a fluffy texture, and it pairs really nice with the cinnamon roll base. You just have to allow the cheesecake to store in the fridge for a minimum of an hour, to help it set up.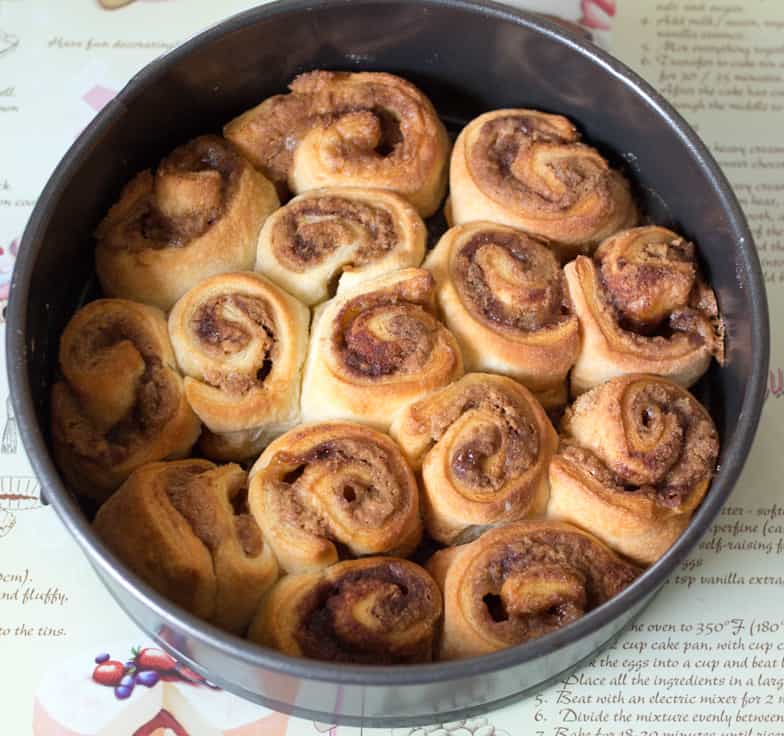 Does Biscoff Cinnamon Roll Cheesecake Need to be Refrigerated
Yes. Because of the cream cheese in the cheesecake base, this recipe does indeed need to be refrigerated. Never leave this cheesecake out on the counter for more than two hours at a time or you run the risk of it beginning to grow bacteria and going bad a lot faster.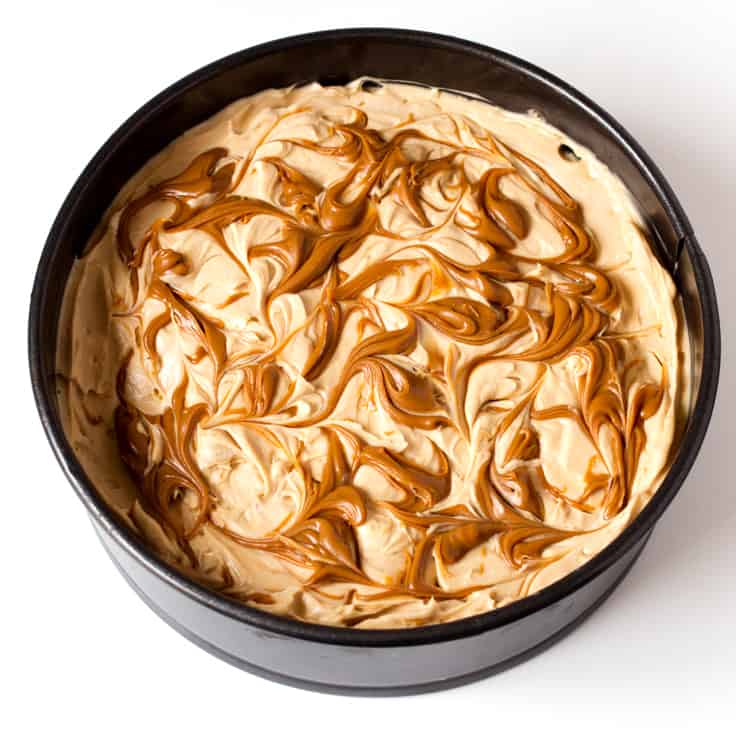 How Long Will Cinnamon Roll Cheesecake Store in Fridge
Around 3-4 days is what you can expect from this cheesecake. I will say that the best time to eat is day one or two. After that, the cinnamon rolls can begin to dry out a little.
How to Make Biscoff Cinnamon Roll Cheesecake
Start by grabbing your crescent rolls and rolling them out for a flat surface. Then work on adding the filling in so that you can roll them up and slice them for making mini cinnamon rolls. Once that is done, bake until done and set to cool. Then take room temperature cream cheese and begin working on your cheesecake layer.
I share all the detailed instructions below for you to follow. Then after you fully make your cheesecake it needs to store in the fridge for a few hours to help it set up. Once it is ready, slice and enjoy!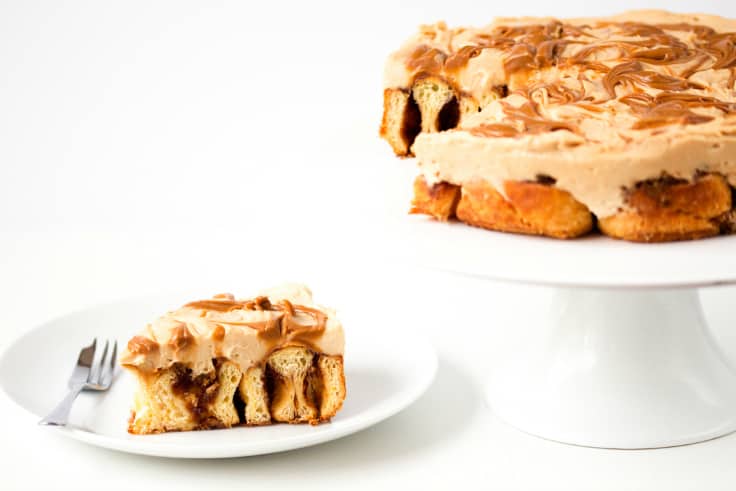 Making a No-Bake Cheesecake
Start with a room temperature cream cheese. If you do not do this, your cheesecake will be clumpy and it won't cream together like you want. So just set out your cream cheese around an hour or so before you plan to work on the cheesecake layer.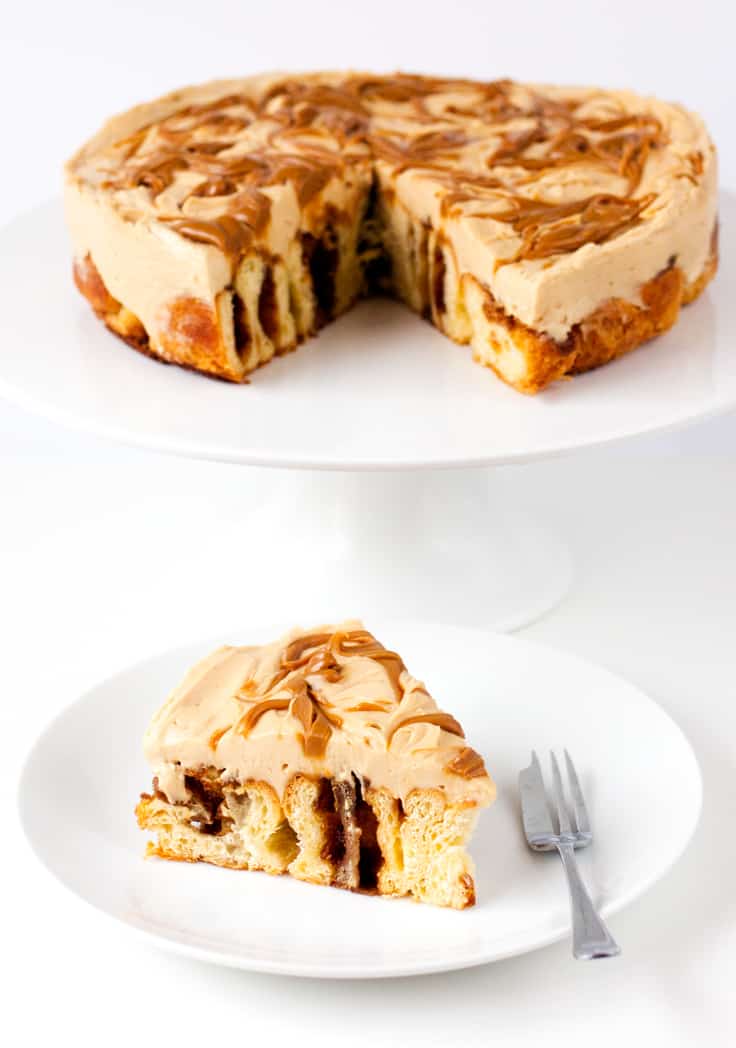 Searching for more Cheesecake Recipes
What If I Can't Find Biscoff Spread
Biscoff spread can be purchased online. In the states it can something you don't see in the store. If you want you can leave it out, or opt for even a swirl of cookie butter. It won't taste the exact same, but it will be a tasty and fun twist to the cheesecake.
Give this recipe a try, and let me know what you think. We are loving the flavor and the cinnamon roll crust sets it apart from any other cheesecake we have had.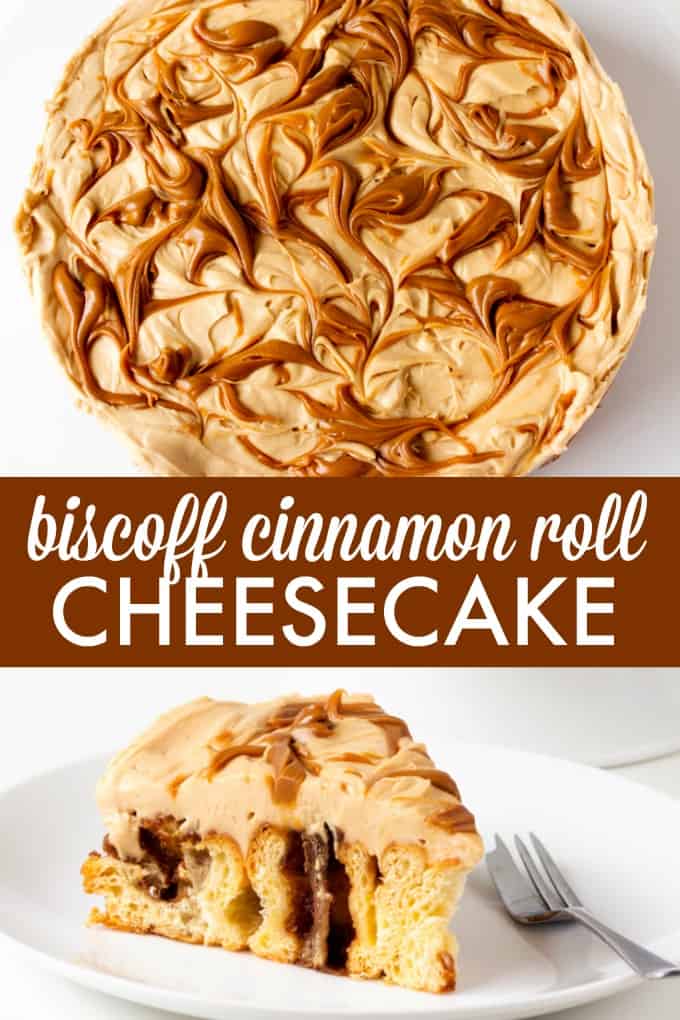 Nicky lives in Cheshire in the UK with her husband and two children. She blogs over at Kitchen Sanctuary where she creates family friendly recipes and mouth-watering photos. Connect with Nicky on Facebook, Instagram, Pinterest and Twitter.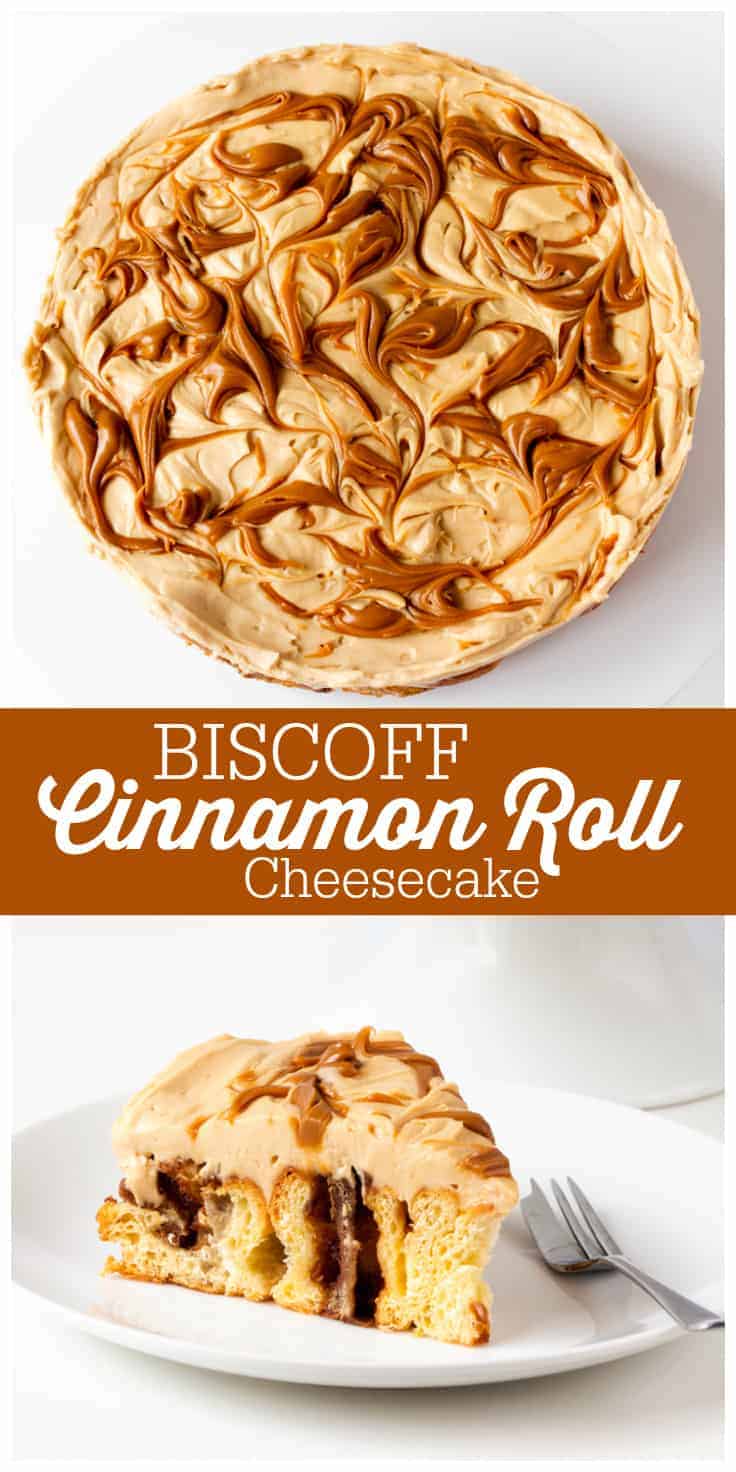 You'll also like this Twix Cheesecake, Strawberry Cheesecake Bars, Biscoff Blondies with White Chocolate, Mini Rum Butter Cinnamon Rolls and Cheesecake Stuffed Cinnamon Rolls.
Try my Copycat Texas Roadhouse Cinnamon Butter.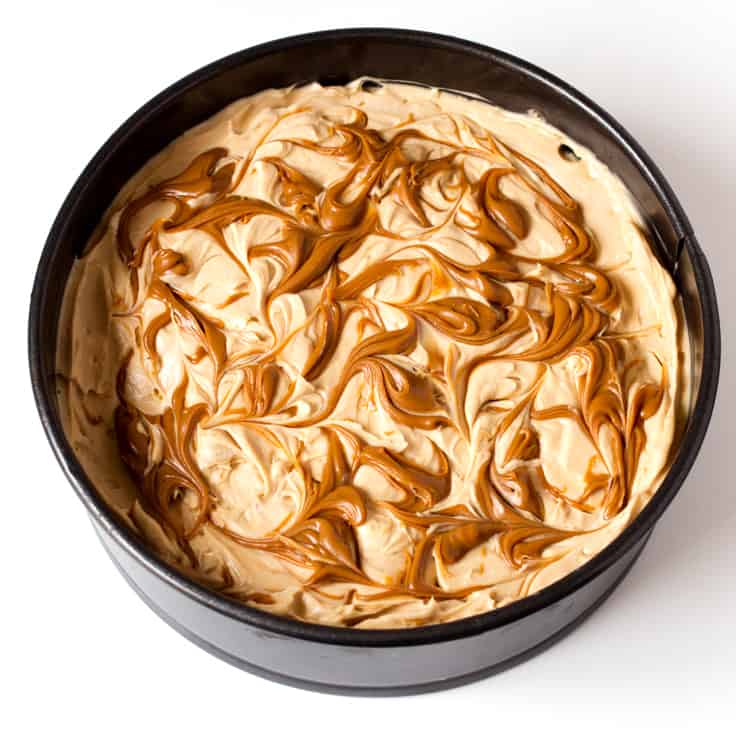 Biscoff Cinnamon Roll Cheesecake
Prep Time:
1 hour
20 minutes
Total Time:
1 hour
35 minutes
An over-the-top dessert made with fresh cinnamon rolls and cheesecake topping swirled with Biscoff spread!
Ingredients
Cinnamon Rolls
Non-stick cooking spray
1 tbsp all-purpose flour (for dusting)
1 x 8 oz cans refrigerated crescent roll dough
2 heaped tbsp Biscoff Spread
2 heaped tbsp softened butter
4 tbsp soft brown sugar
1.5 teaspoon ground cinnamon
Cheesecake Topping
½ cup (120 ml) heavy cream
3 tbsp confectioner's sugar
1 x 8oz pack (228g) cream cheese
1/2 tsp vanilla extract
1/3 of a cup + 2 tbsp (110g) Biscoff spread
Instructions
Preheat oven to 375 F degrees. Spray an 8 inch cake tin (with a removable base) with cooking spray.
Sprinkle flour over your work surface and unroll the crescent roll dough, so that it's rolled out horizontally on the work surface (you may have to cut the end off, like I did, if your surface is too small – see picture above). Press any perforations together.
Spread the dough with the softened butter, then spread the Biscoff Spread. Sprinkle with the brown sugar and finally sprinkle on the cinnamon. Roll the dough upwards into a long roll, then cut the roll into small 1.5"-2" pieces. Place the pieces, cut side up into the cake tin – spacing them evenly apart. Then place in the oven and bake for 10-15 minutes or until golden brown. Once it's cooked, take out of the oven and allow to cool in the tin.
In a medium bowl, beat the cream, using a whisk, until thick enough to hold its shape, add confectioner's sugar and mix again, add cream cheese, vanilla and all but 2 tbsp of the Biscoff. Mix until combined
Spread the mixture onto the cinnamon rolls. Smooth the top with the back of a spoon.
Heat the remaining Biscoff in microwave for a few seconds to loosen it up a bit, then dollop it onto the cheesecake topping. Swirl the Biscoff around using a cocktail stick.
Place in the refrigerator, and allow to chill for an hour or two before serving.
Recommended Products
As an Amazon Associate and member of other affiliate programs, I earn from qualifying purchases.
Nutrition Information:
Yield:

8
Serving Size:

1
Amount Per Serving:
Calories:

347
Total Fat:

23g
Saturated Fat:

11g
Trans Fat:

0g
Unsaturated Fat:

10g
Cholesterol:

40mg
Sodium:

351mg
Carbohydrates:

28g
Fiber:

1g
Sugar:

10g
Protein:

8g