I can't be the only one who loves soft and fluffy cinnamon rolls in the fall, am I right?! With this recipe, not only are we making some tasty cinnamon rolls, but we're stuffing them with a creamy, decadent cheesecake mixture, creating the ultimate Cheesecake Stuffed Cinnamon Rolls!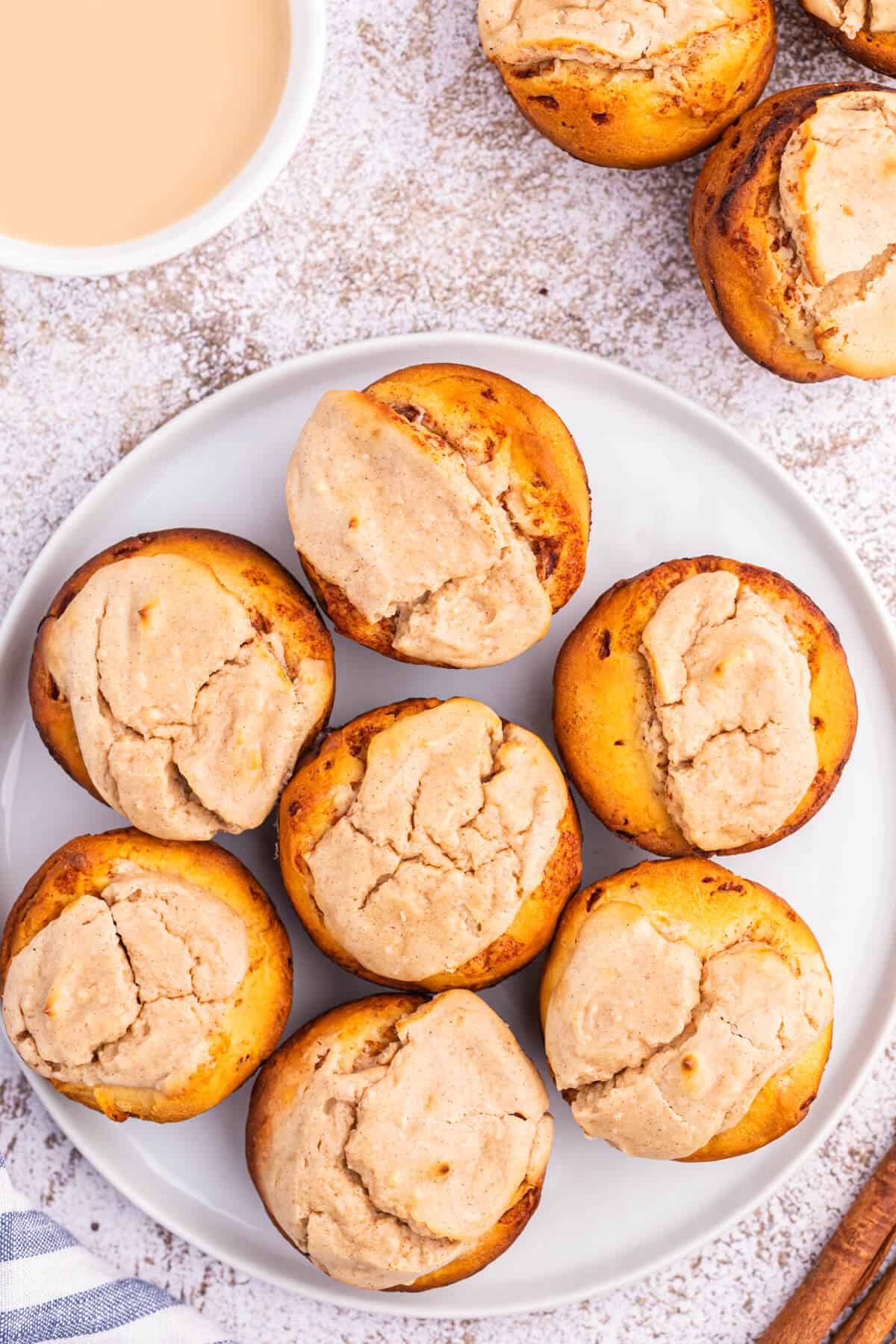 When baking you get both many successes and your fair share of failures. With trying and creating new recipes, and trying to perfect your old favorites, it's just a matter of time until you've experienced your own baking fails and rave-worthy winning recipes.
With that being said, I have one hard and fast baking rule I follow every single time I make recipes in a muffin pan. This rule was born out of a baking fail: always grease your muffin pan! Trust me, you don't want to spend a good chunk of time scrubbing off stuck on food residue and ultimately having to throw the pan in the trash.
Always keep this tip in mind, especially during any holiday baking, when time is of the essence!
Why You'll Love This Easy Recipe
A shortcut recipe that uses refrigerated cinnamon rolls
Ready in under 30 minutes and with only 5 ingredients
Easy dessert the whole family will devour
Simple to scale and make more of
Always a crowd pleaser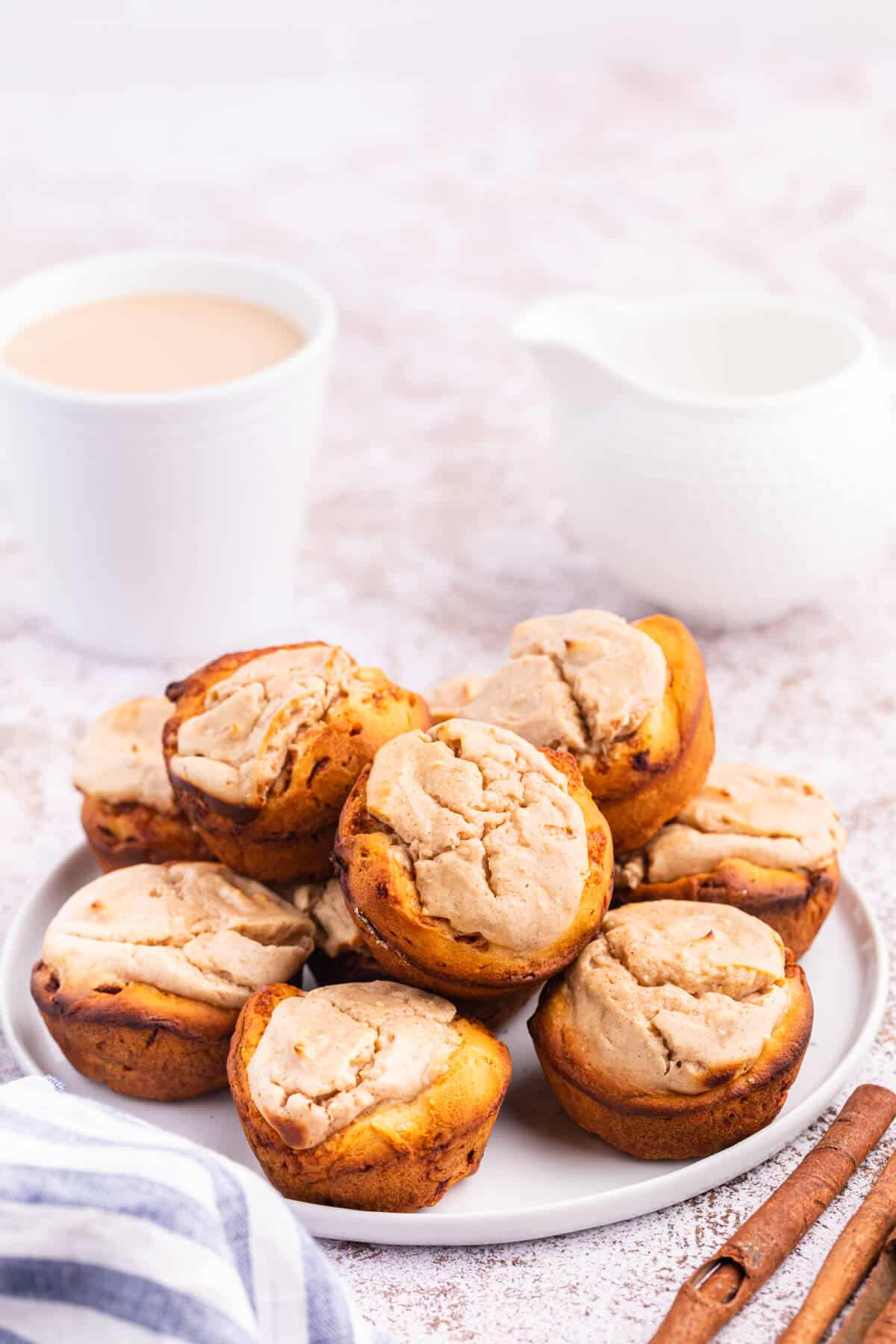 Ingredients
Softened Cream Cheese
Refrigerated Cinnamon Rolls
Sugar
Eggs
Vanilla Extract
How to Make Cheesecake Stuffed Cinnamon Rolls
Step One: Preheat the oven to 400F. Grease 2 muffin pans with baking spray or butter.
Step Two: Flatten the cinnamon roll dough with your hands and then place it in the muffin tin, molding it with your clean fingers so it is cup-shaped. Set the tin aside.
Step Three: Using either a stand mixer or a mixing bowl and hand mixer, beat the cream cheese, cinnamon, sugar, and eggs together until smooth. Add about a teaspoonful of cheesecake batter to each cinnamon roll cup.
Step Four: Bake for 17 minutes, or until cheesecake is set and cinnamon rolls are golden.
Step Five: Let them cool slightly before serving.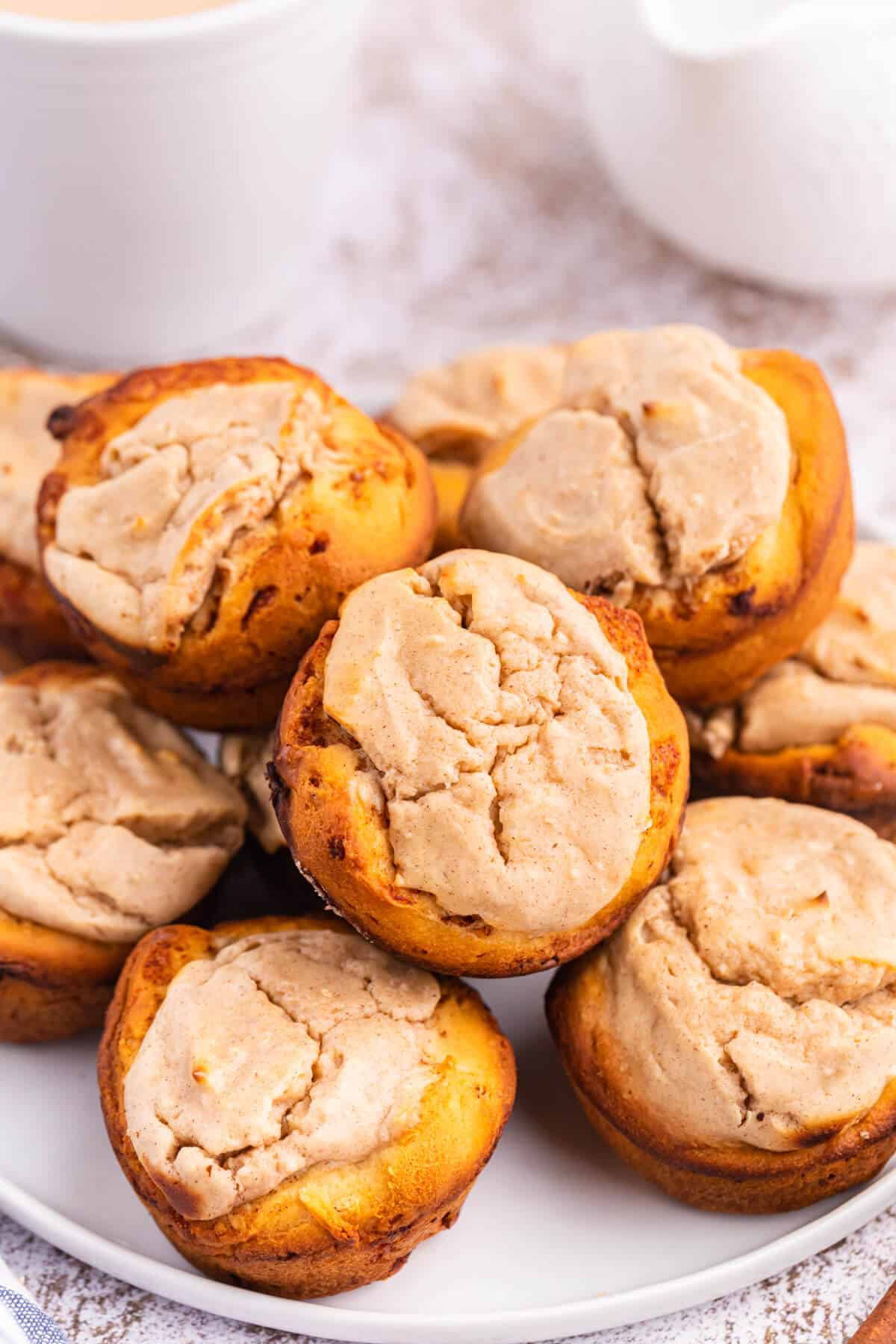 Equipment Needed
This post contains affiliate links.
What to Serve with Stuffed Cinnamon Rolls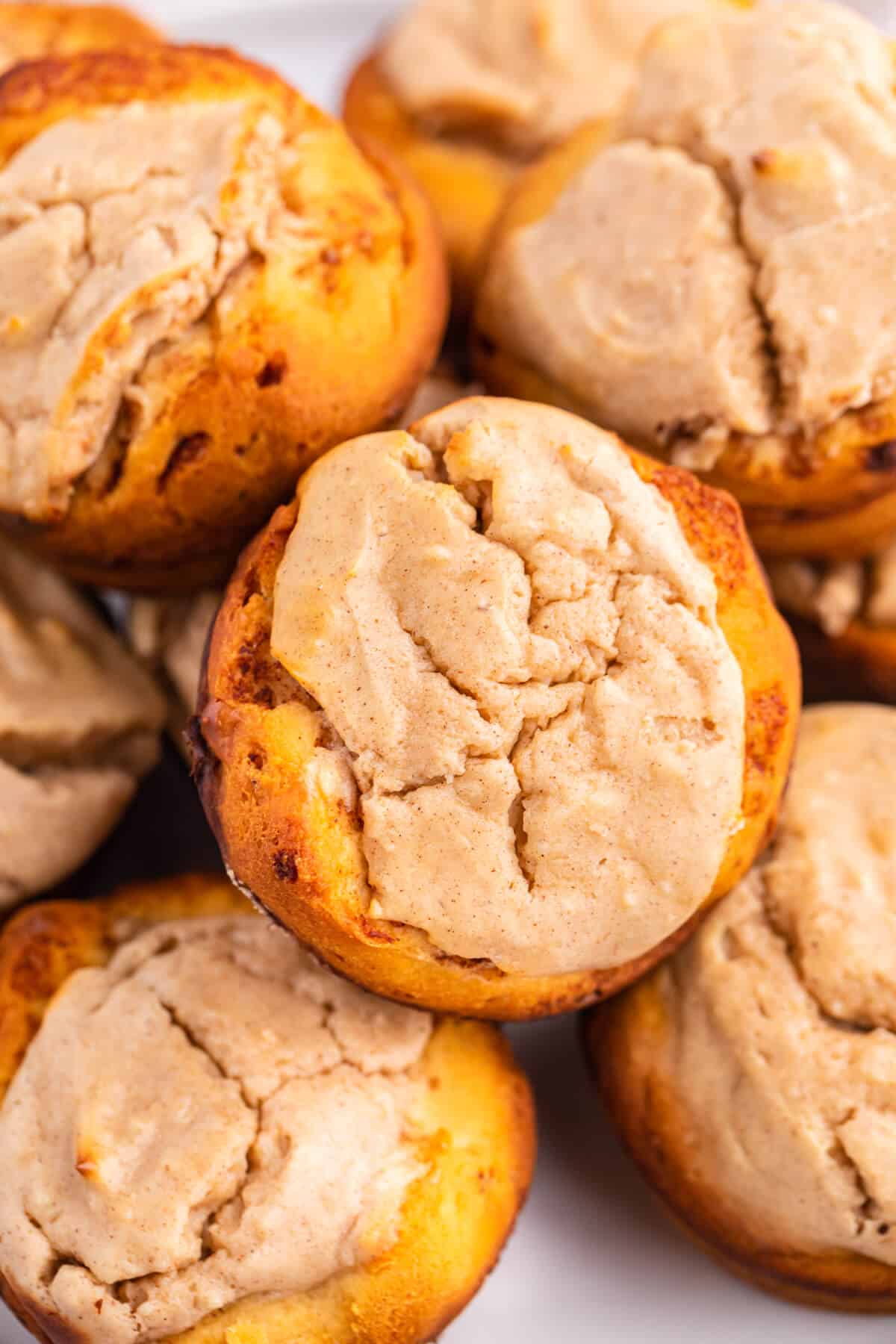 Helpful Tips and Tricks
The most important step is spraying your muffin pan with Cooking Spray. Not only will this step save you time on kitchen clean-up duty, but it will also make removing your cinnamon rolls from the pan a breeze.
I ate mine a little warm so that the cinnamon roll was flaky and the cheesecake topping melts in your mouth. Pure decadence!
It's normal for the cream cheese mixture to kind of explode from the center, you can use it as a frosting topping, or make more of this mixture to lather on top as your frosting. You could also make a powdered sugar glaze to use on top.
Be careful when removing the cinnamon rolls from the pan, even after letting them cool, it can still be warm to the touch.
If you're having difficulty getting the Cheesecake Cinnamon Rolls out of the muffin tin molds, I suggest running a butter knife around the inner edges of the mold to help break the cinnamon roll away from the mold. But, if you used enough baking spray to grease the pan in the beginning, this shouldn't be a problem.
Recipe Variations and Substitutions
I like to keep my recipes simple so I used refrigerated cinnamon rolls. You could also use your own cinnamon roll recipe if you prefer.
Feel free to add any flavors to your cheesecake mixture, pumpkin, chocolate, and butterscotch all sound wonderful. Add purees or baking chips to the cream cheese mixture and stuff it into your rolls.
You can make a stuffed cinnamon roll casserole type dish also by placing all of your rolls in a baking dish instead of individual molds in the muffin pan.
Leftover Storage
If you have extra cinnamon rolls you can either wrap them with plastic wrap on a plate and leave them sitting out at room temperature on the counter for 1-2 days and they'll still be nice and soft, or you can refrigerate them.
To keep them longer, you can put them in an airtight container and place the container with cinnamon rolls inside in the refrigerator and they'll keep for up to a week.
Can I Freeze?
If you want to make another batch to freeze for later, or simply keep your leftover Cheesecake Cinnamon Rolls for longer than a week, you sure can!
I like to make a second batch when I have the time and freeze them for later- desserts made super simple for the future, when I'm ready to thaw them out again! First, wrap your leftovers in plastic wrap then put them in a freezer-safe bag and you can freeze them for up to 3 months.
Remove them from the freezer and let them thaw before reheating and enjoying them again.
How Do I Reheat?
You can reheat these Cheesecake Stuffed Sweet Rolls in the microwave or the oven.
If you choose to use the oven, preheat the oven to 350F and put the rolls on a baking dish. Cover them with aluminum foil and bake them for 7 to 10 minutes, until they are softened and warmed through.
Can I Make Ahead?
Well, these are the kind of sweet treats that are best enjoyed when you first make them. When they're still warm and flaky, the cream cheese mixture is still smooth and creamy, that's when these buns are best.
If you try to make them ahead of time, I suggest following one of the ways to reheat them and have them nice and warm with melty cream cheese mixture inside so they're as enjoyable as they would be when freshly made.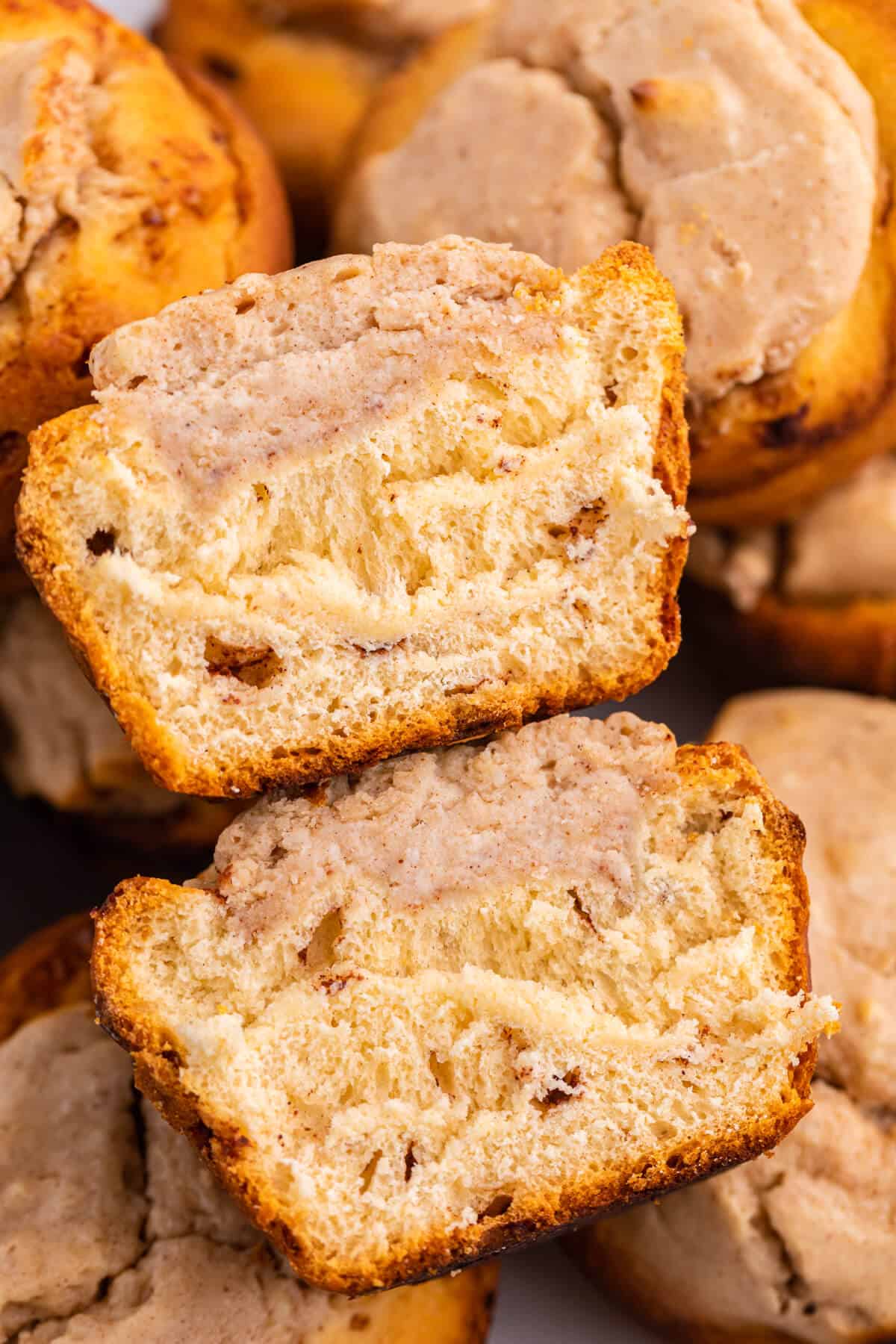 More Cinnamon Roll Recipes
Follow me on Instagram @simplystacieblog, Facebook at Simply Stacie, TikTok @simplystacierecipes or Pinterest at @simplystacie and let me know how you liked this recipe and my other recipes.
If you make the recipe, rate it on the recipe card below and tag me on Instagram and use #simplystacie. I like sharing the photos on my Instagram stories!
Cheesecake Stuffed Cinnamon Rolls
An easy cinnamon roll hack that will make your house smell SO GOOD. Cheesecake filling is stuffed inside refrigerated cinnamon rolls for a perfect dessert.
Print
Facebook
Pin
Share by Text
Share by Email
Ingredients
2

packages

cream cheese

8oz/250g packages, softened

3

packages

refrigerated cinnamon rolls

8 in each package

½

cup

sugar

2

large eggs

½

tsp

vanilla

1 ½

tsp

cinnamon
Instructions
Preheat oven to 400°F. Grease 2 muffin pans.

Flatten cinnamon roll doll with your hand and then place it in the muffin tin, moulding it with your clean fingers so it is cup-shaped. Set aside.

Beat cream cheese, cinnamon, sugar and eggs with a mixer until smooth. Add about a teaspoonful of cheesecake batter to each cinnamon roll cup.

Bake for 17 minutes, or until cheesecake is set and cinnamon rolls are golden.

Let cool slightly before serving.
Kitchen Tools
Nutrition
Serving:
1
g
|
Calories:
39
kcal
|
Carbohydrates:
6
g
|
Protein:
1
g
|
Fat:
1
g
|
Cholesterol:
17
mg
|
Sodium:
38
mg
|
Sugar:
5
g
The information shown is an estimate provided by an online nutrition calculator. It should not be considered a substitute for a professional nutritionist's advice.
Love Recipes? Join our Free Facebook Group!
Join Mom's Best Recipes to find more delicious family recipes.
Save
Saved!