Disclosure: PAM Cooking Spray sponsored this blog post. The opinions and text are all mine.
It's no secret that I love to bake. I usually bake a few times a week and enjoy experimenting with ingredients, tools and techniques. I've had my share of resounding successes where my family raves about the recipe and eats every last morsel in record time. In contrast, I've also had many baking fails. That is completely normal especially in the kitchen. However, the fails aren't necessarily the worst thing that could happen in the kitchen. They give you the opportunity to learn from your mistakes and improve your recipes for the next time around.
I have one hard and fast baking rule I follow every single time I make recipes in a muffin pan. This rule was born out of a baking fail: always grease your muffin pan! Trust me, you don't want to find out what happens if you don't. I spent a good chunk of time scrubbing off stuck on food residue when I could have been relaxing. I ended up throwing the muffin pan in the garbage. My favourite product to use for this purpose is PAM Cooking Spray. When I pull out the muffin pan, I also grab the PAM Cooking Spray.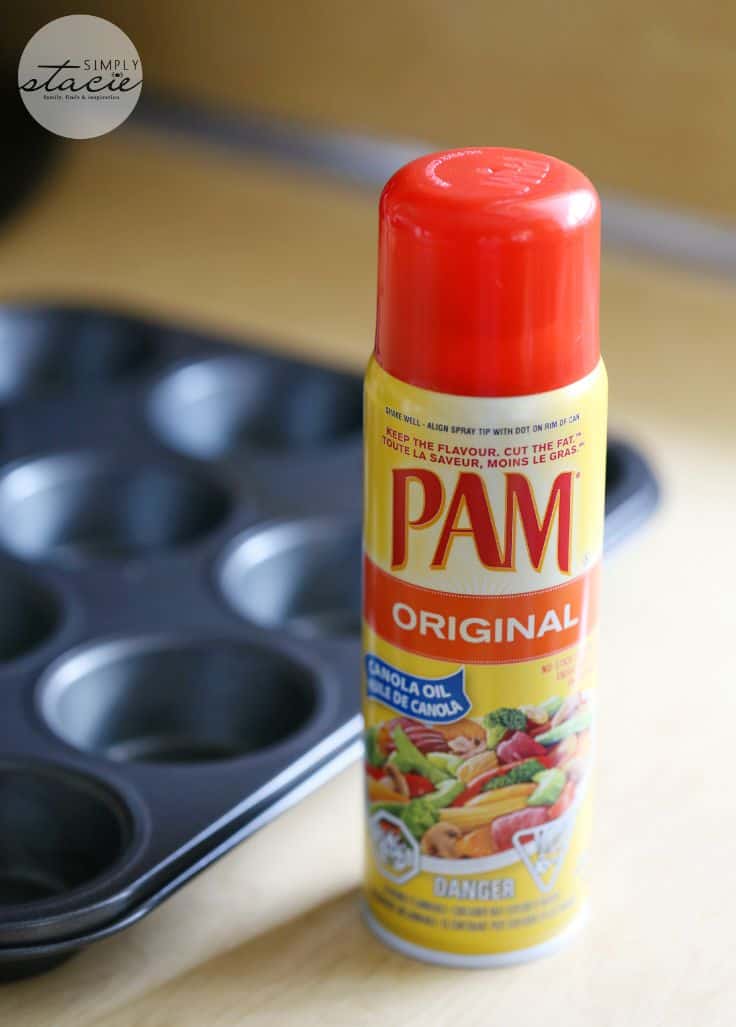 If you're a regular reader of my blog, you'll know that I'm loving the cup-like desserts lately. Now that it's fall, I've been craving cinnamon rolls. I thought it would be yummy to make a cheesecake stuffed cinnamon roll – made in a muffin pan, of course! I'm so happy how they turned out.
You'll need two packages of cream cheese, vanilla extract, eggs, cinnamon, refrigerated cinnamon rolls and PAM Cooking Spray.
The most important step is at the beginning of this recipe. Spray your muffin pan with PAM Cooking Spray. Not only will this step save you time on kitchen clean-up duty, but it will also make removing your cinnamon rolls from the pan a breeze.
I like to keep my recipes simple so I used refrigerated cinnamon rolls. You could also use your own cinnamon roll recipe, if you prefer. Flatten out each cinnamon roll with the palm of your hand.
Then place each one in your greased muffin pan and mould it into a cup shape.
The cream cheese mixture goes in next and off in the oven it goes! Your kitchen will smell amazing!
I leave mine cool in the muffin pan for about 10 minutes before I attempted to remove and place on a baking rack. They were a cinch to get out with no mess whatsoever.
I ate mine a little warm so that the cinnamon roll was flaky and the cheesecake topping melts in your mouth. Pure decadence!
After I'd had a little treat and shared with my family, it was time to clean up. I wash my muffin pans in the sink by hand. Thanks to PAM Cooking Spray, there was no soaking required. They were clean and drying on the rack in a matter of a couple minutes. That left me more time to enjoy another quick bite with my girls.
Good thing I made enough for seconds!
PAM Cooking Spray leaves *99% less residue than margarine or bargain-brand cooking sprays too. (* vs. leading cooking sprays (except olive oil), after spraying on glass bakeware, baking at 400°F for 30 min, cooling, and then washing in standard home dishwasher with detergent and repeating 4 times). It's been a staple in my pantry for years!
Cheesecake Stuffed Cinnamon Rolls
An easy cinnamon roll hack that will make your house smell SO GOOD. Cheesecake filling is stuffed inside refrigerated cinnamon rolls for a perfect dessert.
Ingredients
PAM Original Cooking Spray
2 250g packages cream cheese, softened
2 packages of refrigerated cinnamon rolls (8 in each)
1/2 cup sugar
2 eggs
1/2 tsp vanilla
1 1/2 tsp cinnamon
Instructions
Preheat oven to 400F. Spray 16 muffin tins with PAM Original Cooking Spray. Flatten cinnamon roll doll with your hand and then place it in the muffin tin, moulding it with your clean fingers so it is cup-shaped. Set aside.
Beat cream cheese, cinnamon, sugar and eggs until smooth. Add about a teaspoonful of cheesecake batter to each cinnamon roll cup.
Bake for 17 minutes, or until cheesecake is set and cinnamon rolls are golden.
Let cool slightly before serving.
Recommended Products
As an Amazon Associate and member of other affiliate programs, I earn from qualifying purchases.
Nutrition Information:
Yield:

16
Serving Size:

1
Amount Per Serving:
Calories:

162
Total Fat:

12g
Saturated Fat:

7g
Trans Fat:

0g
Unsaturated Fat:

4g
Cholesterol:

55mg
Sodium:

150mg
Carbohydrates:

11g
Fiber:

0g
Sugar:

9g
Protein:

3g
PAM Cooking Spray sponsored this blog post. The opinions and text are all mine.