Streusel Coffee Cake is a tender and delicate cake that has a cake center that is topped with cinnamon crumbs. Eat this coffee cake as a dessert or pair it with your morning cup of coffee.
I always wondered why it is called coffee cake because there is no coffee used in the recipe. Then one day as I googled, it came across that coffee cake has been served for centuries, and generally, it is with a cup of coffee on the side. So coffee cake became the name we all know today.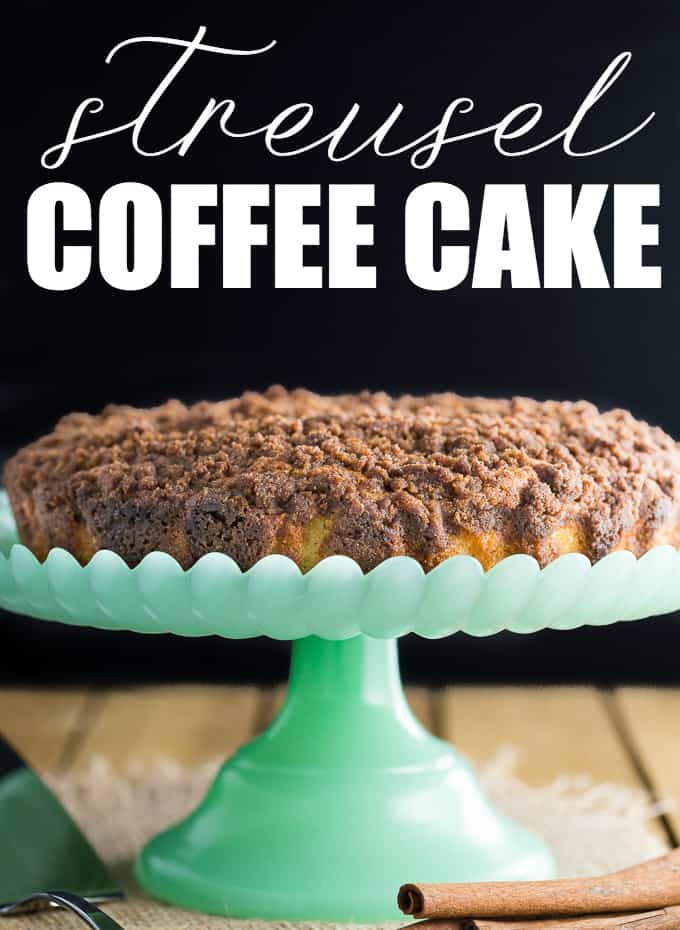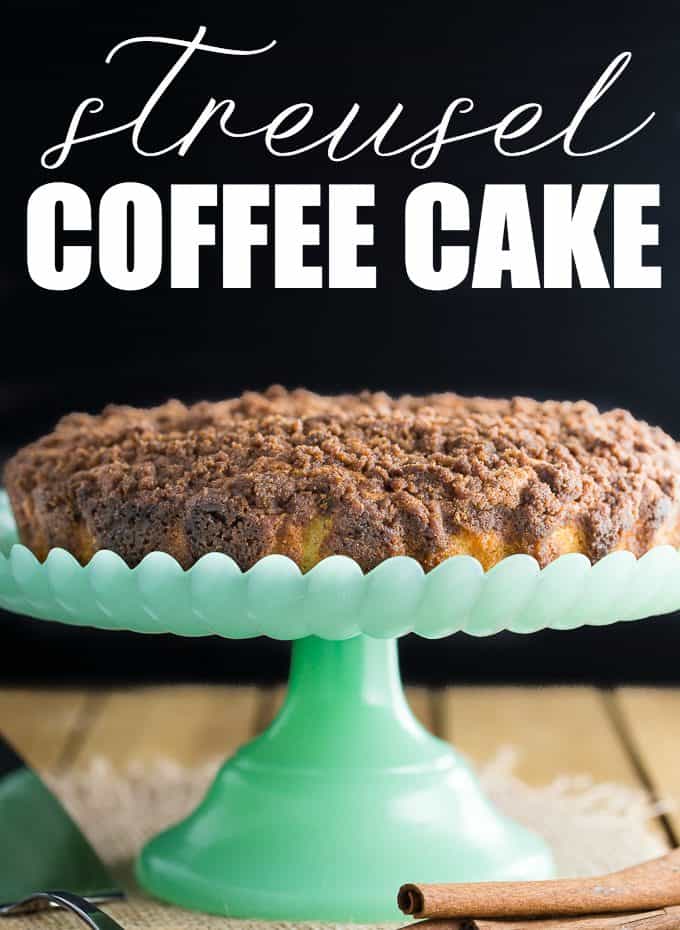 Cinnamon Streusel Coffee Cake
This is a perfect recipe to make up for serving a crowd for a quick breakfast or brunch. Or make this and then have for a dessert after dinner one night of the week. It is tough to resist such a tempting cake.
Here are even more coffee cake recipes


How Do I Store Coffee Cake
Storing coffee cake has a few options. You can pick and choose to find what fits your home the best.
You can store on the counter in an airtight container at room temperature for around two days. After that, the cake will begin to dry out. Or you can opt for a longer shelf life and place your coffee cake in the fridge for up to one week. Just make sure you wrap it well or store in an airtight container.
Can Coffee Cake Be Frozen
Yes! Just wrap the cooled streusel coffee cake with plastic wrap and place in a freezer bag or secure in a freezer friendly container. Toss in the freezer and allow it to stay for up to three months.
Best Way To Reheat Streusel Coffee Cake
If you want that fresh out of the oven taste, slice your streusel coffee cake and place in microwave. Heat for 10-15 second increments or until the cake is warm.
Or if you prefer to skip the microwave, just warm in an oven at 350 degrees for 8-10 minutes or until warm.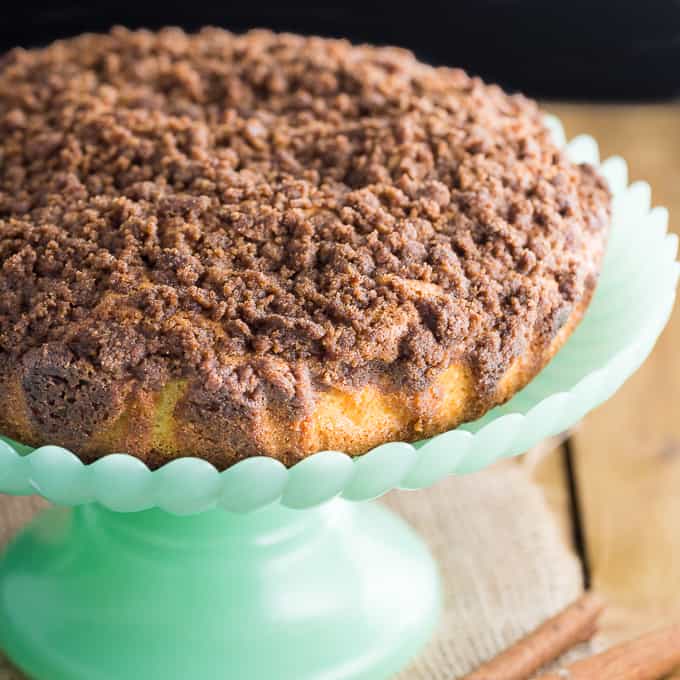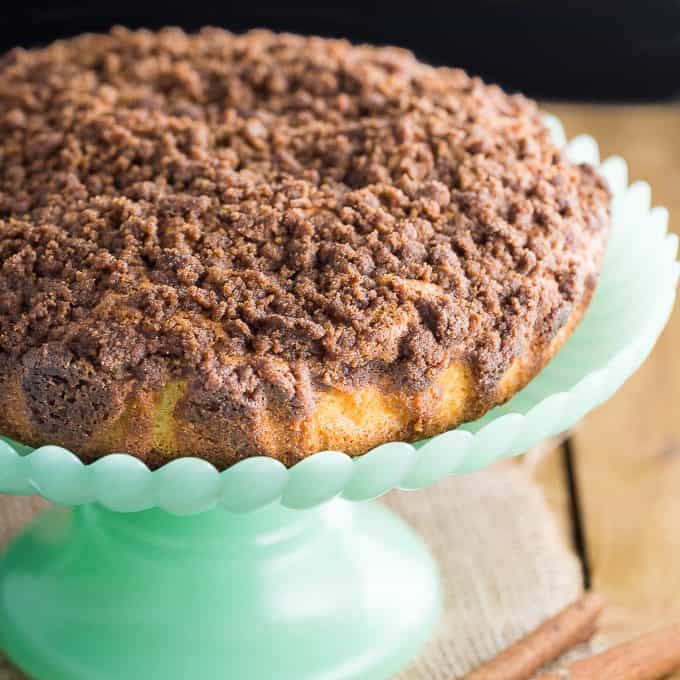 What are some coffee cake add-ins or substitutions?
Swap out the canola oil for coconut oil
Add in some slivered almonds or chopped pecans or walnuts
Create a glaze with powdered sugar and milk, and drizzle over cake
Add in some fresh fruit like blueberries, apples, raspberries, or even peaches. Just bake longer due to the liquid that the fruit releases during the baking process.
You will find so many different versions of coffee cake online. Depending on where you live, what you search, you will find tons of recipes. This recipe right here is one of my tried and true. I have been making it for years, and always come back to it. Why? Because it is refreshing, moist, flavorful and a no-fail recipe.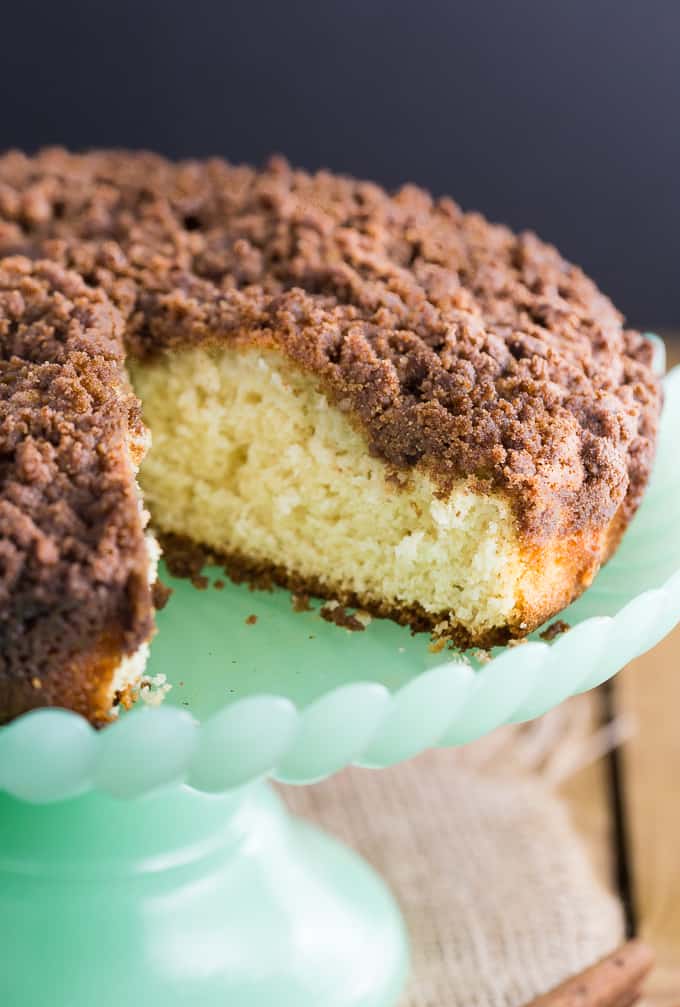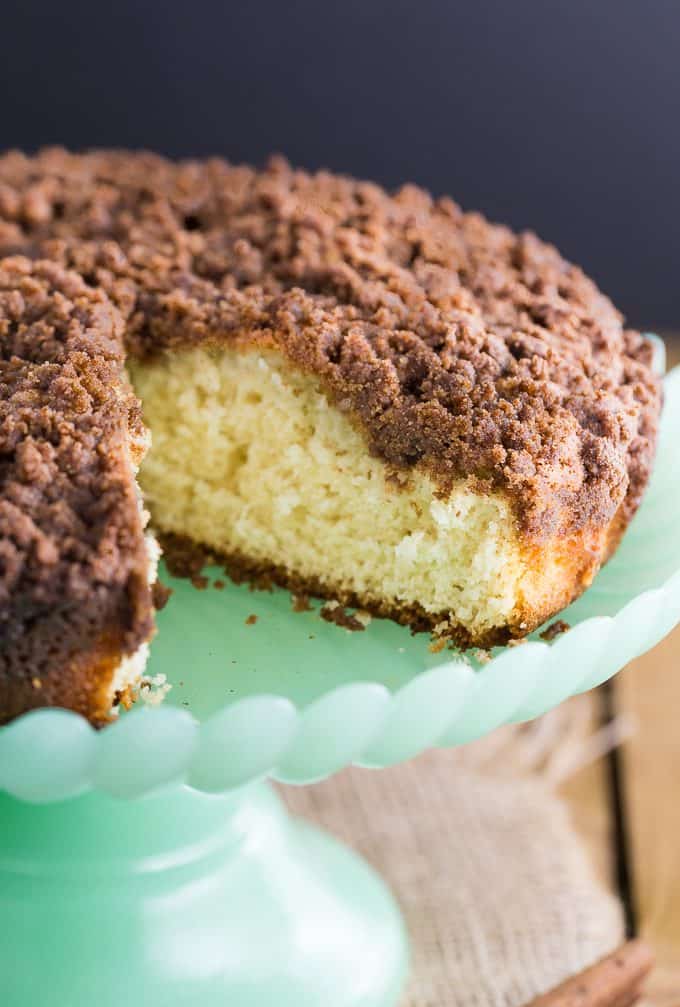 How Do You Make a Glaze to Drizzle Over Coffee Cake
If you want to add more sweetness to your cake. A glaze is super easy to make. Take 1/2 cup powdered sugar and add a teaspoon of milk at a time. Stir until well mixed, and gives you that thicker glaze consistency. If you add too much milk add more powdered sugar. Then with a spoon, drizzle it right over the coffee cake.
How to Make Streusel Coffee Cake
First, you want to start by mixing all your topping ingredients together and mixing until nice and crumbly. Then set it aside. Then in a bowl, you want to add in your flour, salt, and baking powder and sift. This will help make your cake even lighter.
Then in a bowl beat your eggs, sugar, and oil until creamy. Add in milk and vanilla, and then mix in your flour. Pour into a greased pan, and then sprinkle your topping over the batter and bake.
When a toothpick goes in and comes out clean, you can remove your cake and place on a wire rack to allow it to cool.
Coffee Cake
I seriously can't rave enough about the ease of this recipe. If you really want a quick and easy dessert give this recipe a try. And best of all, if you are making this for guests, when it cooks in the oven it will make your home be filled with cinnamon spice aroma. It is truly delicious down to the last crumbs.
Have you ever made a homemade Streusel Coffee Cake?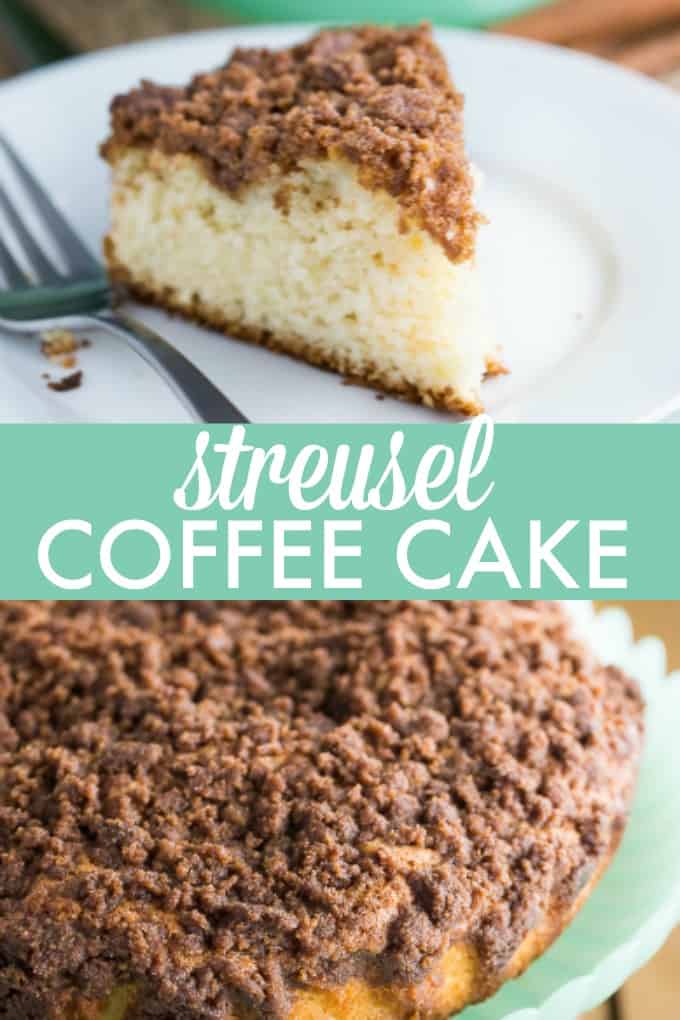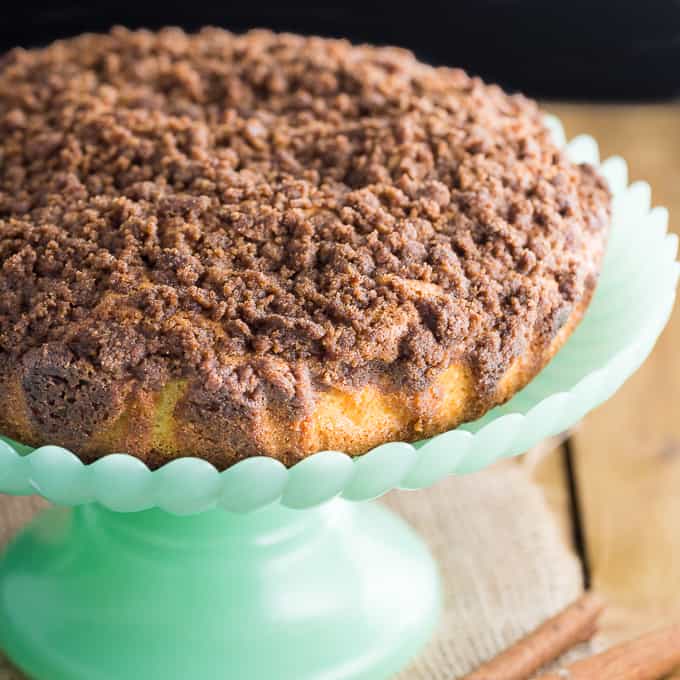 Streusel Coffee Cake
Another classic cake – for good reason! The crumbly cinnamon topping and the moist cake are the perfect pairing with a hot cup of coffee! This is a great make-ahead cake to have in the freezer for unexpected guests.
Ingredients
Topping
1/2 cup brown sugar
1/4 cup sifted all-purpose flour
4 tablespoons canola oil
2 teaspoons cinnamon
A pinch of salt
Cake
1 1/2 cups sifted all-purpose flour
2 1/2 teaspoons baking powder
1/2 teaspoon salt
1 egg, beaten
3/4 cup sugar
3 tablespoons canola oil
1/2 cup milk (whole or skim)
1 1/2 teaspoons vanilla extract
Instructions
In small mixing bowl combine topping ingredients, blending with fork until crumbly. Set aside.
Sift 1 1/2 cups sifted flour with baking powder and salt into a bowl.
In a medium bowl, beat together beaten egg and 3/4 cup sugar and oil.
Add milk and vanilla. Stir in flour mixture and mix well.
Pour batter into a greased and floured 8-inch square or 9-inch layer-cake pan. Sprinkle crumb mixture evenly over batter.
Bake at 375° for about 30 minutes, or until cake tests done. Partially cool in pan on wire rack and slice.
Recommended Products
As an Amazon Associate and member of other affiliate programs, I earn from qualifying purchases.
Nutrition Information:
Yield:

6
Serving Size:

1
Amount Per Serving:
Calories:

457
Total Fat:

18g
Saturated Fat:

2g
Trans Fat:

0g
Unsaturated Fat:

15g
Cholesterol:

33mg
Sodium:

429mg
Carbohydrates:

70g
Fiber:

1g
Sugar:

40g
Protein:

6g