Cheese and Bacon Hand Pies are one recipe we call a treat in our home. A light and flaky crust that is filled with cheese and bacon. Each bite is savory and bursting with cheesy flavor. Serve up these hand pies for lunch, dinner or a mid-day snack.
Hi all, Nicky here, calling in from Kitchen Sanctuary. Today I'm bringing you a recipe for little cheese and bacon hand pies. They're comforting and delicious served warm, and they also make a great cold treat in your lunch box.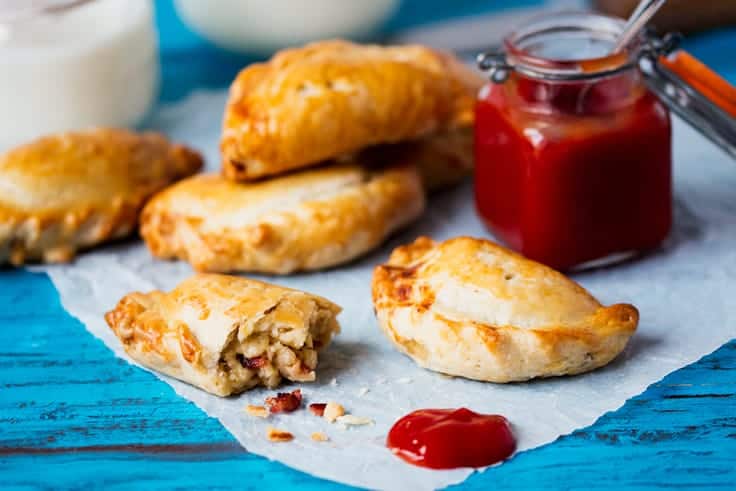 Cheese and Bacon Hand Pies
I love writing these recipes for you guys, and figuring out some of the terms you use for recipe info (compared to us British folk) always gives me an interesting challenge!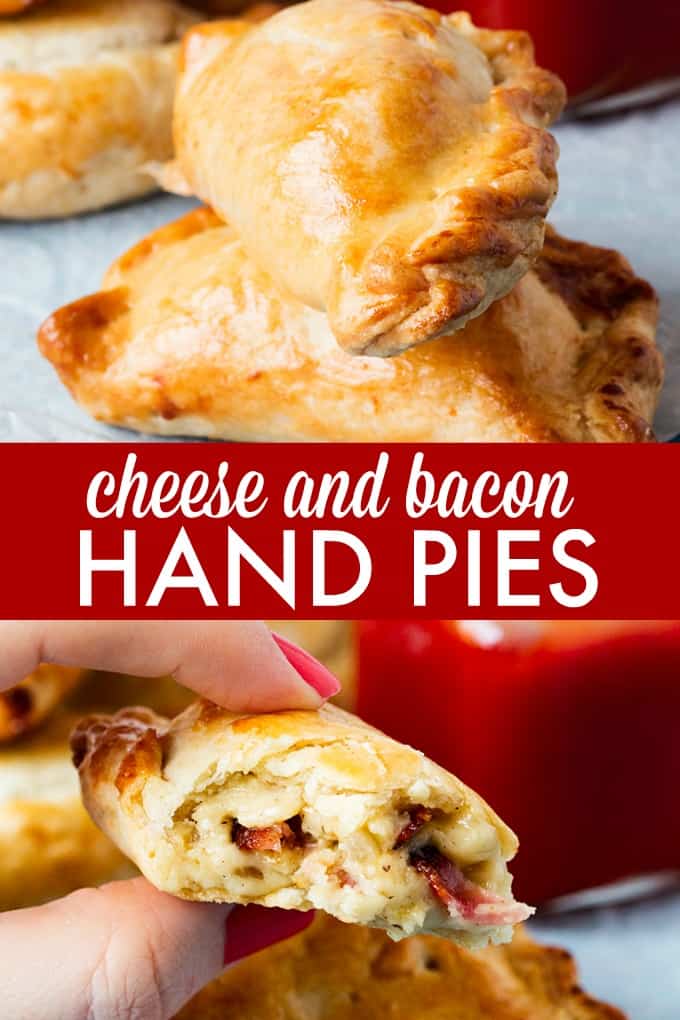 Here were the challenges I had today:
Canada

Imperial and Volumetric measurements – I've used lbs, cups and oz's in this recipe.

Brown onions

All-purpose flour

Heavy cream

Shredded cheese

Pie crust sheets

Skillet

UK

Generally use metric measurements – grams being the most common measurement

Just 'onions'

Plain flour

Double cream

Grated cheese

Ready-rolled shortcrust pastry

Frying pan
Did I get those right?
I've been told I write in a cute English way but I've no idea what that means! Ha ha
Anyway, coming back to the recipe. The pies are quite small – just big enough for a child's lunchbox (you'll need two for the grown-ups).
Eaten straight away, the cheese is gooey and delicious.
They can also be cooled, wrapped and stored in the refrigerator until the next day.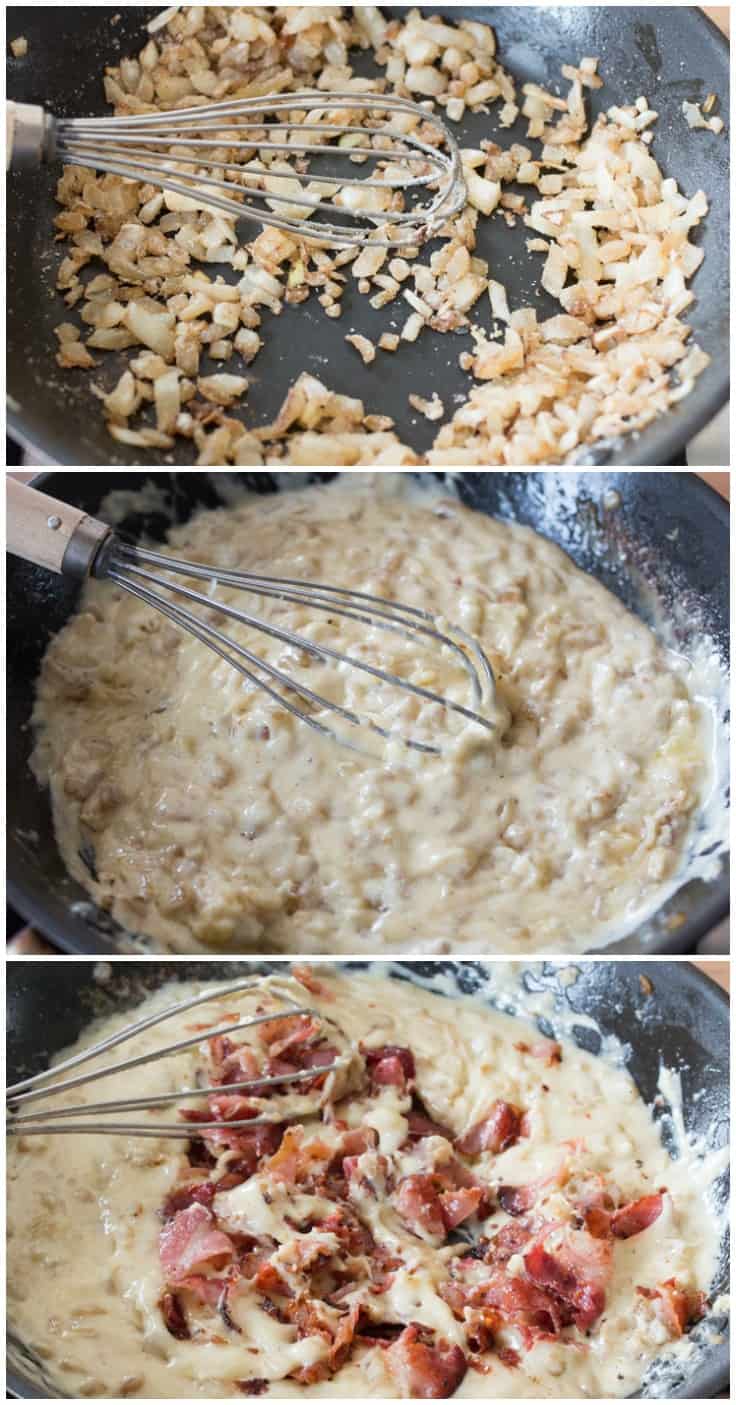 What is a Hand Pie
A hand pie is a flaky pastry outside that is filled with either a savory or sweet filling. You bake these up and can hold in your hand and nibble away. They are an absolute delight. If you have never had a hand pie I highly suggest trying them.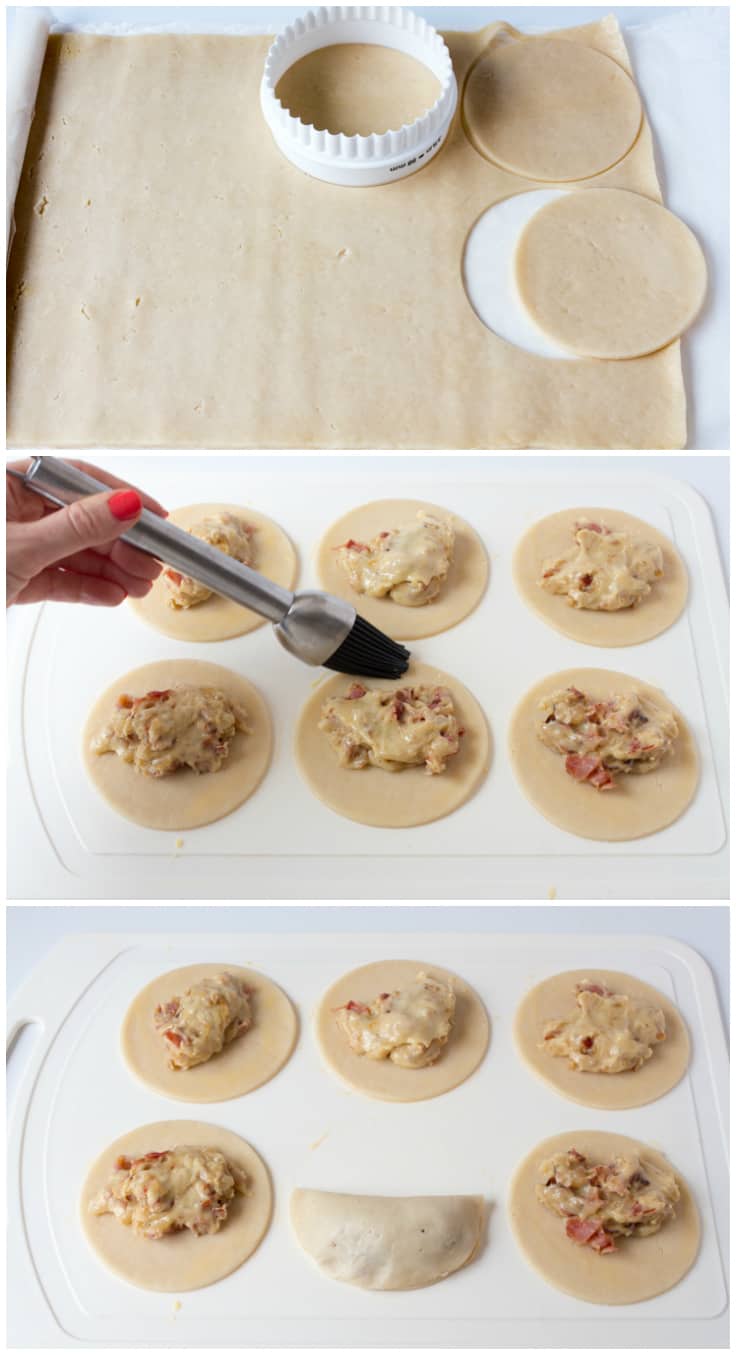 Where Do Hand Pies Come From
England is the one that started it all back in the 19th century is what they are thinking. Hand pies were so popular and really picked up a lot of traffic and grew into all types of flavors and types.
Depending on where you live, you might find that hand pies vary in how they are made.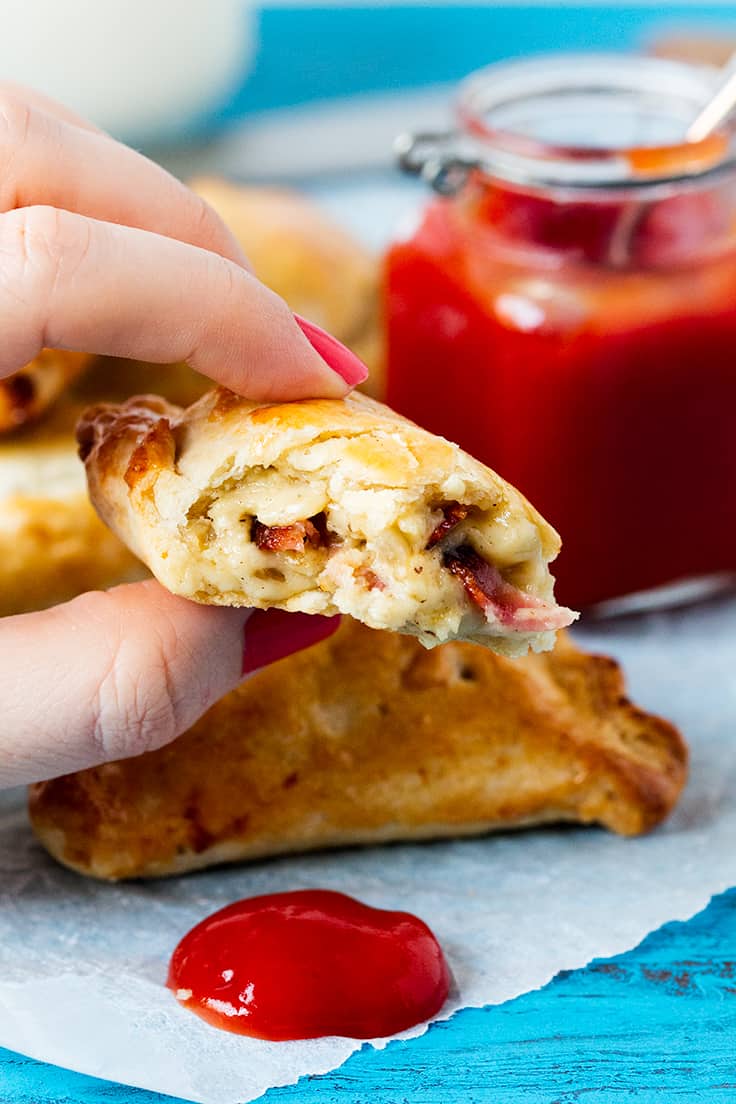 What to Serve with this Savory Hand Pie
Chips
Cottage Cheese
Cucumber Salad
Green Salad
Side of Vegetables
You can pair your hand pies with pretty much anything. We tend to do easy sides when I make these hand pies. But feel free to improvise with what you have.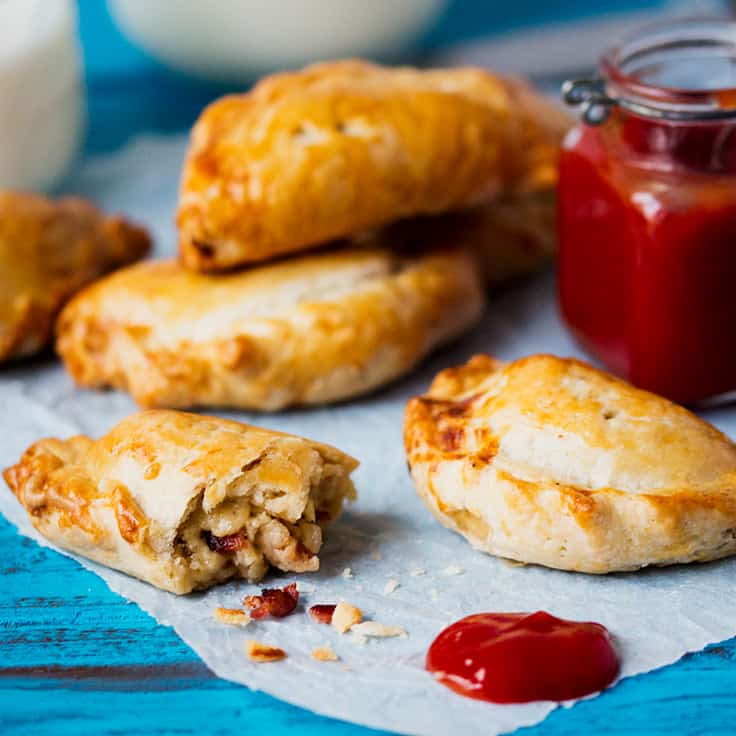 What is the Crust Made of with this Hand Pie Recipe
I used a store-bought pie crust. Then I just and shape it to fit what I wanted for the size of these hand pies. If you prefer a homemade dough you are more than welcome to whip up some fresh dough to use.
The key to hand pies is a consistent size. You want all your hand pies to bake evenly so they all get cooked at the same time. If one pie is larger than the other you will run into inconsistency in texture and doneness.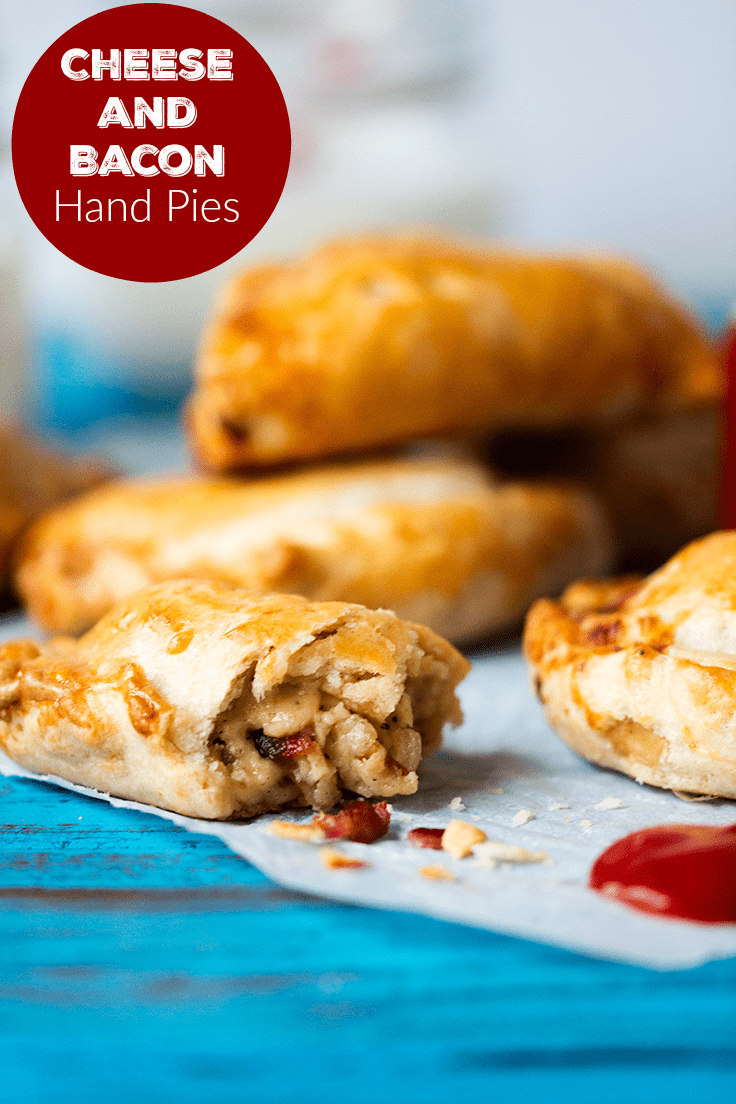 Do You Eat Hand Pies Cold or Hot
You can do either for this recipe. I find they are best when served warm with the gooey cheese. But if you want to make these and use to meal prep lunches, they taste just as delicious served cold.
How to Make Bacon Hand Pies
Start by preheating your oven. Then in a pan you want to cook up your chopped bacon. Add in onions once the bacon is done and removed and cook until softened.
Then sprinkle onions with flour and begin to make a gravy style sauce. Add in milk and cream and heat on medium heat, making sure you stir continuously. Then once thickened you will add in cheese and stir more.
Once done add in your bacon and seasoning to taste. Then roll out your pastry and use a cookie cutter to make the circle dough.
Pour some filling into the center of the dough. Then add a whisked egg to the sides, and make a half-moon shape, and press down the sides. Add a crimped look with the back of a fork.
Top with egg wash and bake until golden brown and cooked through.

How Long Will Bacon and Cheese Hand Pies Store in the Fridge
Up to three days you can store your hand pies. Use your best judgment in terms of quality and if in doubt throw them out.
Can You Freeze Hand Pies
Yes, you can freeze these hand pies. Place in a sealable bag or airtight container and store in the freezer for up to three months. Then when you want one, remove and warm up in the microwave until cooked through. Or place in the fridge the night before and allow them to thaw before eating.
You might also like these Bacon Wrapped Water Chestnuts.
Would you eat your hand pies hot or cold?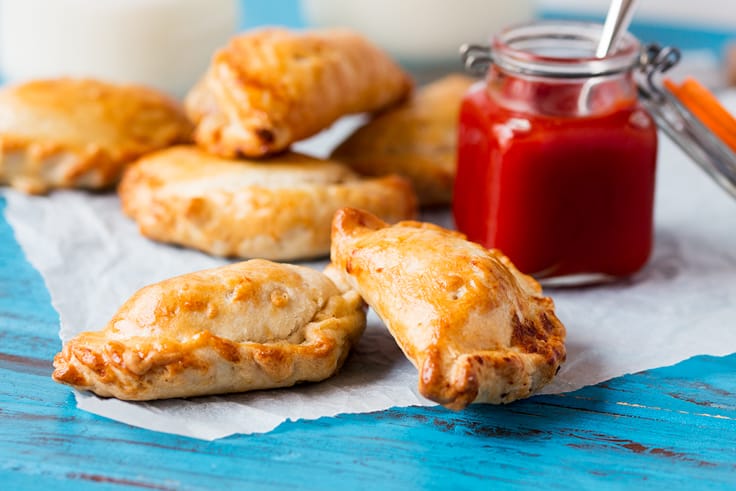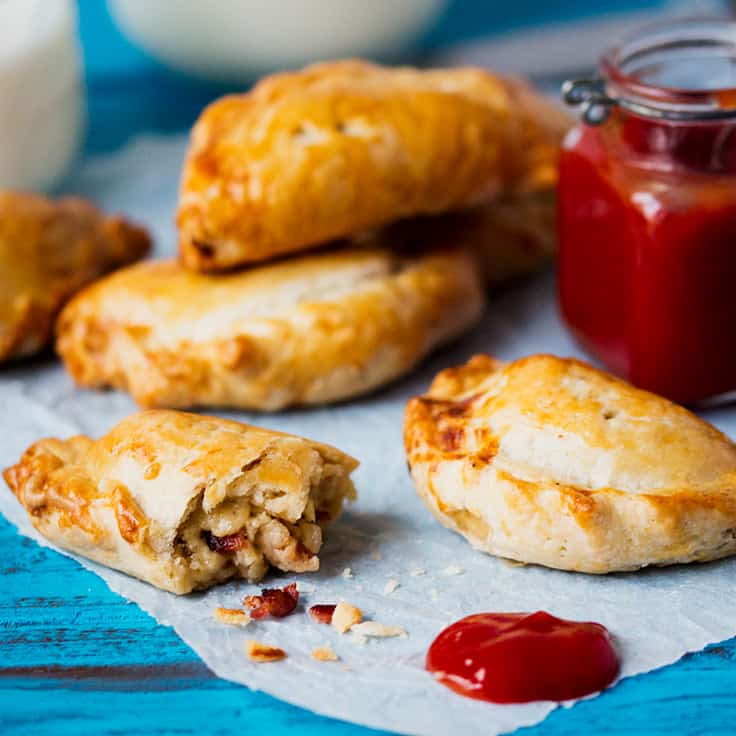 Cheese and Bacon Hand Pies
Hearty and comforting! These handheld meat pies are stuffed with bacon and cheese for a savory treat at any meal.
Ingredients
1 tbsp vegetable oil
¼ lb bacon, sliced into small pieces
1 brown onion, peeled and finely chopped
1 tbsp all-purpose flour
1/3 cup milk
½ cup heavy cream
1+ 1/3 cup strong cheddar cheese, shredded
salt and freshly ground black pepper
1 x 14oz pack ready-rolled pie crust sheets
1 Egg, gently whisked with a fork
Instructions
Preheat oven to 400f/200c.
Heat the oil in a skillet and fry the bacon until sizzling and lightly browned. Remove from the pan with a slotted spoon. Add the onions to the pan and cook for 4-5 minutes until softened.
Sprinkle the onions with the flour and stir well to coat. Add the milk and cream and heat the mixture over a medium heat for 3-4 minutes, stirring continuously, until the liquid is smooth and has thickened slightly. Add shredded cheese and stir well. Add the bacon back in and season to taste with salt and freshly ground black pepper, stir well, then set the filling mixture aside.
Take the pastry sheets out of the wrapping and unroll. Use a cookie-cutter or a glass with a 4 or 5 inch diameter to cut circles of dough. You should get approx. 10 circles.
Place a tbsp. of filling into the center of each pastry circle, then brush the perimeter of the circles with a little of the whisked egg. Fold over each circle to give you a half moon, and press the edges down. Twist or crimp the edges to make sure they stay sealed and place the pies on a large baking tray.
Brush the tops of the pies with egg wash (if you find you have any holes in the pastry, just plug them with a little leftover pastry – using the egg wash as 'glue').
Place in the oven and cook for 18-20 minutes until golden brown.
Eat immediately, or serve cold.
Recommended Products
As an Amazon Associate and member of other affiliate programs, I earn from qualifying purchases.
Nutrition Information:
Yield:

10
Serving Size:

1
Amount Per Serving:
Calories:

217
Total Fat:

16g
Saturated Fat:

7g
Trans Fat:

0g
Unsaturated Fat:

8g
Cholesterol:

48mg
Sodium:

332mg
Carbohydrates:

11g
Fiber:

1g
Sugar:

1g
Protein:

7g