These Oatmeal Raisin Cookie Cups are the perfect bite-sized treats. They're made with soft oatmeal cookie cups filled with raisin pie filling and a simple cream cheese frosting.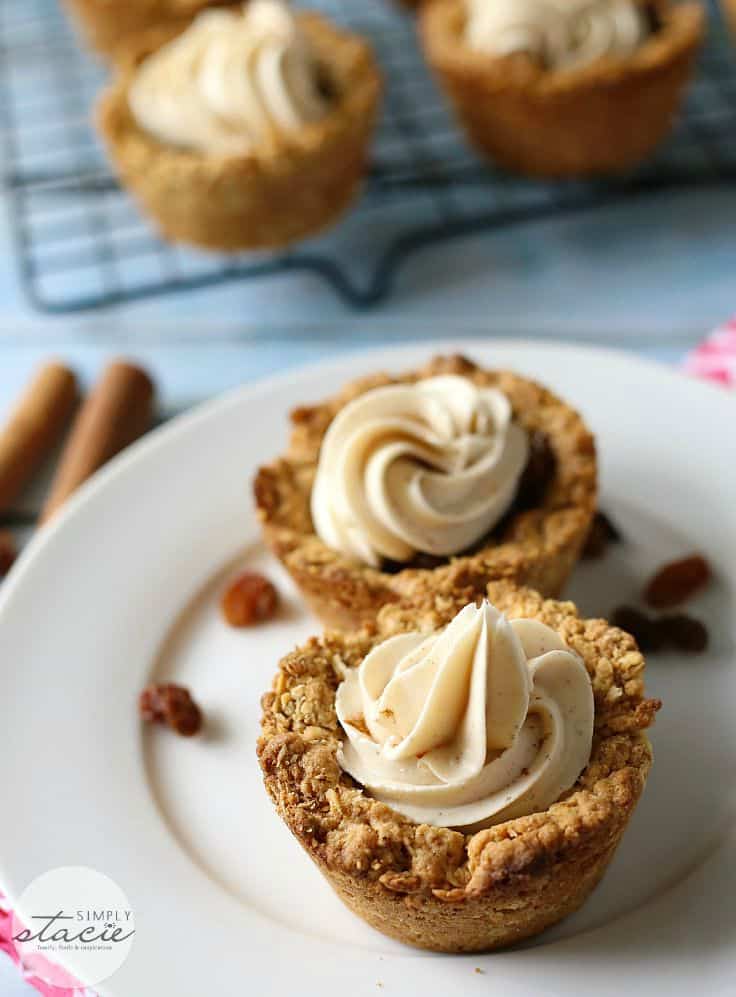 I'll be honest. I never crave raisins on their own. But for some reason, I absolutely love them in other recipes. These Oatmeal Raisin Cookie Cups are one of my favorite raisin recipes (a close second is my broccoli salad!)
These cookies are soft and sweet, and nestled inside is a layer of raisin pie filling and a swirl of cinnamon cream cheese filling. This recipe is phenomenal, so fun, and so simple to make!
Why You'll Love Oatmeal Raisin Cookie Cups
Quick and easy. These cookies are simple and easy if they're made from scratch and even simpler and easier if you use store-bought cookie mix and pie filling. You can't go wrong!
Something different. They're the perfect way to satisfy that oatmeal raisin cookie craving, but in a unique and fun way.
Delicious! Turns out, cream cheese and oatmeal raisin are a match made in heaven!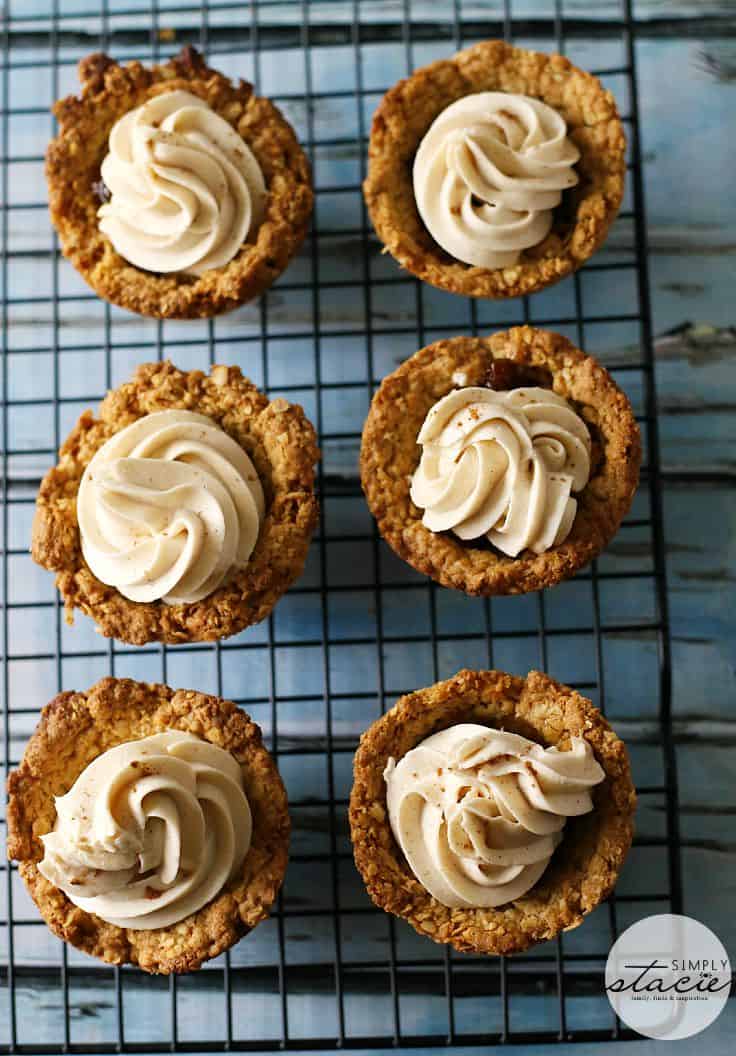 Ingredients
Oatmeal Cookie Mix – you can use a store-bought cookie mix or make your own oatmeal cookie dough.
Cream Cheese – be sure to bring the cream cheese to room temperature so it incorporates easily with the other ingredients.
Powdered Sugar – sweetens the cream cheese and gives it that thick, frosting-like texture.
Spices – we're giving the cream cheese frosting a hint of sweet spice with cinnamon and nutmeg.
Raisin Pie Filling – you can make a homemade batch or use a canned, store-bought version.
How to Make Oatmeal Raisin Cookie Cups
These oatmeal cookie cups take just 15 minutes to prep! Here's a quick summary of the recipe:
Step One: Prepare the cookie dough as instructed. You can use a store-bought package or make your own.
Step Two: Press the cookie dough into a greased muffin tin and bake for 7 minutes. Remove the tray from the oven, then use a small spoon to deflate the centers of the cup to maintain that cup shape.
Step Three: Bake for an additional 5 minutes, then remove and deflate again. Bake one more time until the cookies start to turn golden-brown. Remove and cool completely.
Step Four: In a bowl, mix together whip cream cheese, icing sugar, cinnamon, and nutmeg.
Step Five: Add 1 teaspoon of raisin pie filling to the bottom of each cooled cookie cup, then use a piping bag to pipe the cream cheese mixture into each cookie cup as well.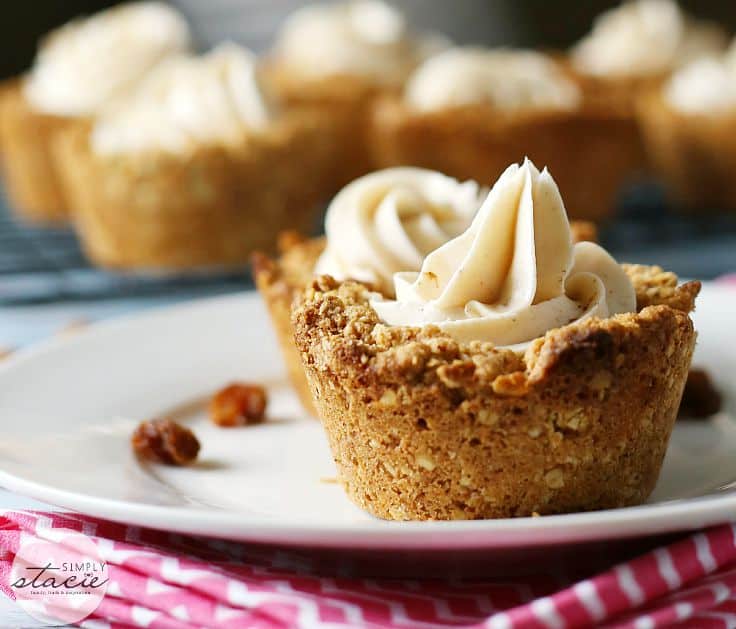 Equipment Needed
Just a couple of tools needed. If you don't have these already, they're probably worth getting!
This post contains affiliate links.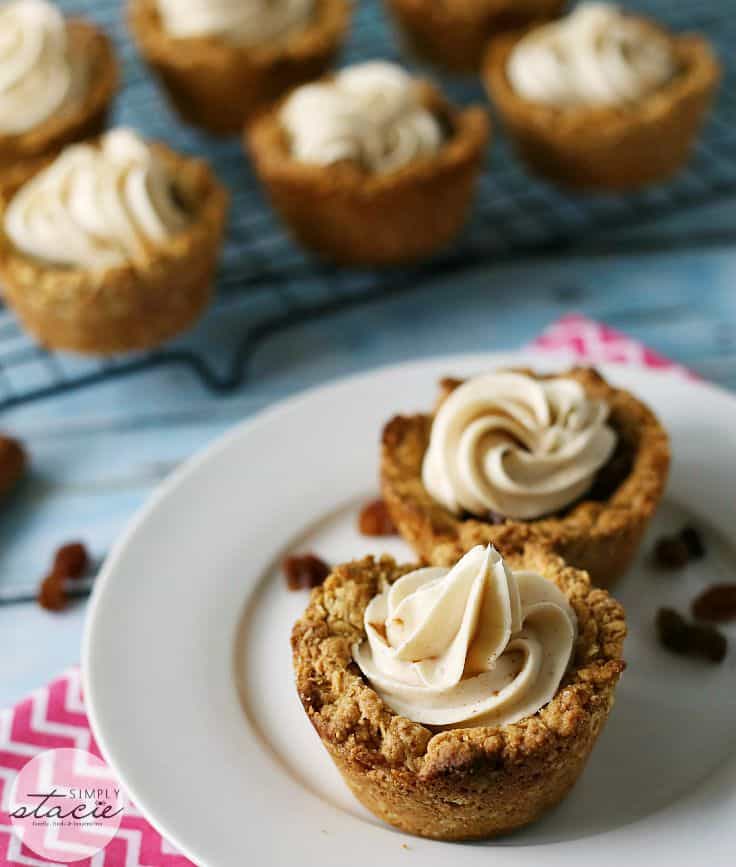 Recipe Tips and Tricks
Keep deflating the cookie cups. I know. It's a little bit hands-on, but it's necessary for the cookies to maintain that cup shape.
Don't over-bake. Take the cookie cups out of the oven as soon as they are starting to turn golden-brown. We want a soft texture, not a crunchy one.
Let the cookies cool completely. If you add the frosting while the cookies are still hot, it will just melt and make the cookies soggy.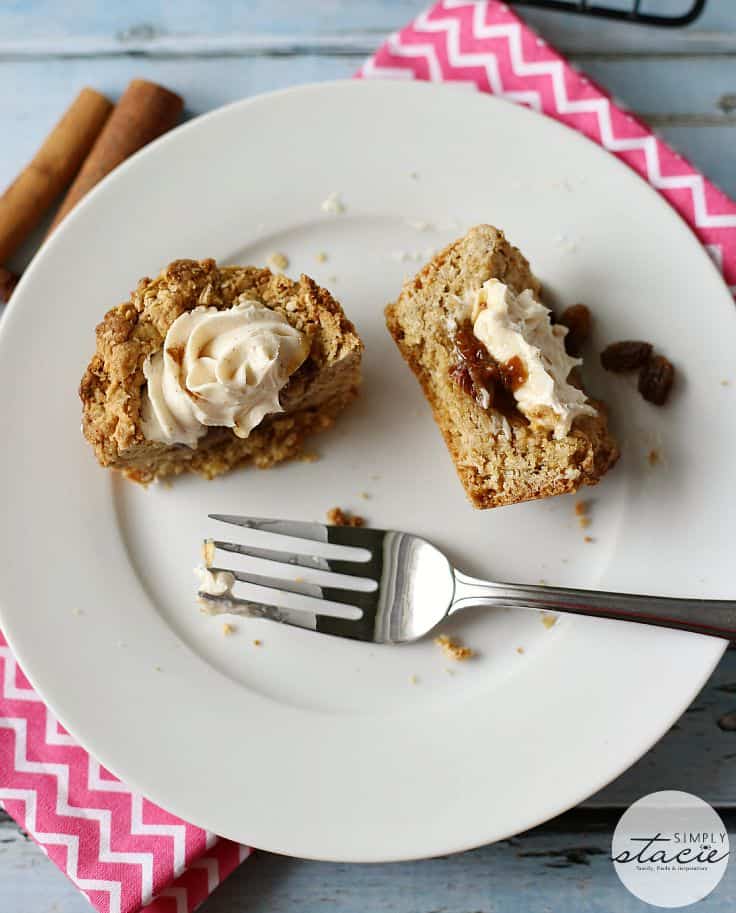 Variations and Substitutions
Use another cookie dough. In theory, you can use any cookie dough you like! Just make sure you follow the baking instructions specific to that recipe. Not all cookies cook the same.
Add other mix-ins. Feel free to add other mix-ins to the cookie dough. You could do chocolate chips, chopped walnuts or pecans, or another dried fruit such as craisins or chopped dried cherries.
Try a different frosting. This recipe works great with any frosting recipe you like!
If you can't find raisin filling, you can make your own or opt for a drizzle of caramel or hot fudge sauce instead. You can also just skip the filling entirely and use just the cream cheese frosting.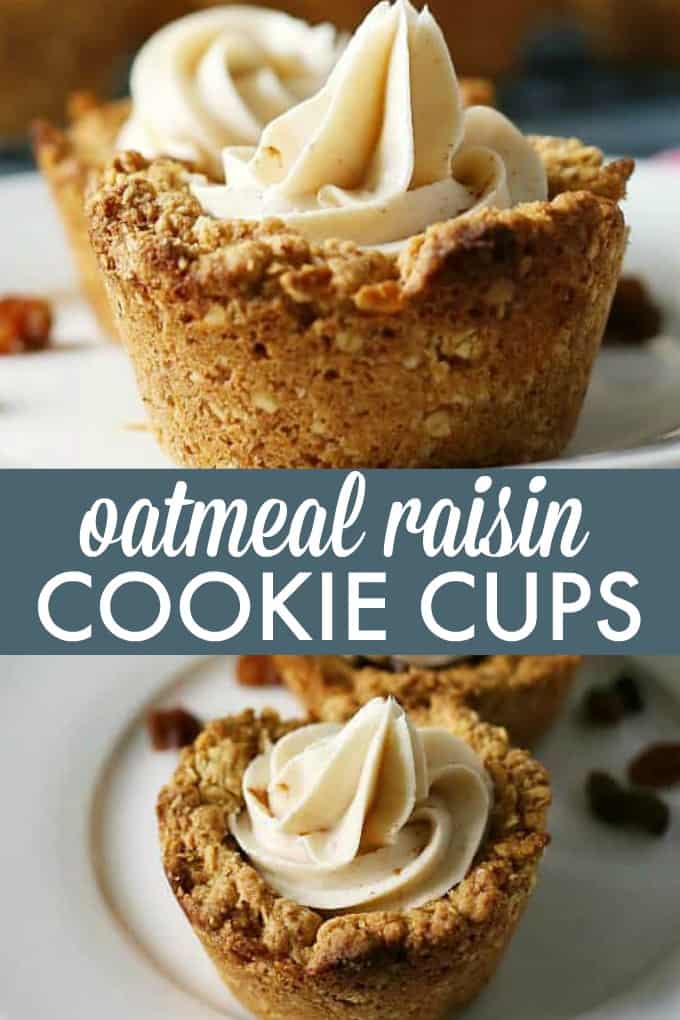 Storage Instructions
The fully assembled cookie cups should be stored in the refrigerator because of the cream cheese frosting. They will last for 5-7 days.
You can also store the actual cookie cups before adding the fillings on the counter for up to 5 week or in the fridge for up to a week.
Can I freeze oatmeal raisin cookie cups?
You can, but you should do so without the fillings. To freeze the cookie cups, bake and cool the actually cookie part as instructed, then store them in the freezer for up to 3 months.
When you're ready to serve them, let them thaw on the counter, then add the fillings and serve!

More Cookie Cup Recipes to Try
Craving more oatmeal recipes? Try my Oatmeal Cake and Oatmeal Pie! You might also like these Sour Cream Raisin Bars.
Follow me on Instagram @simplystacieblog, Facebook at Simply Stacie, TikTok @simplystacierecipes or Pinterest at @simplystacie and let me know how you liked this recipe and my other recipes.
If you make the recipe, rate it on the recipe card below and tag me on Instagram and use #simplystacie. I like sharing the photos on my Instagram stories!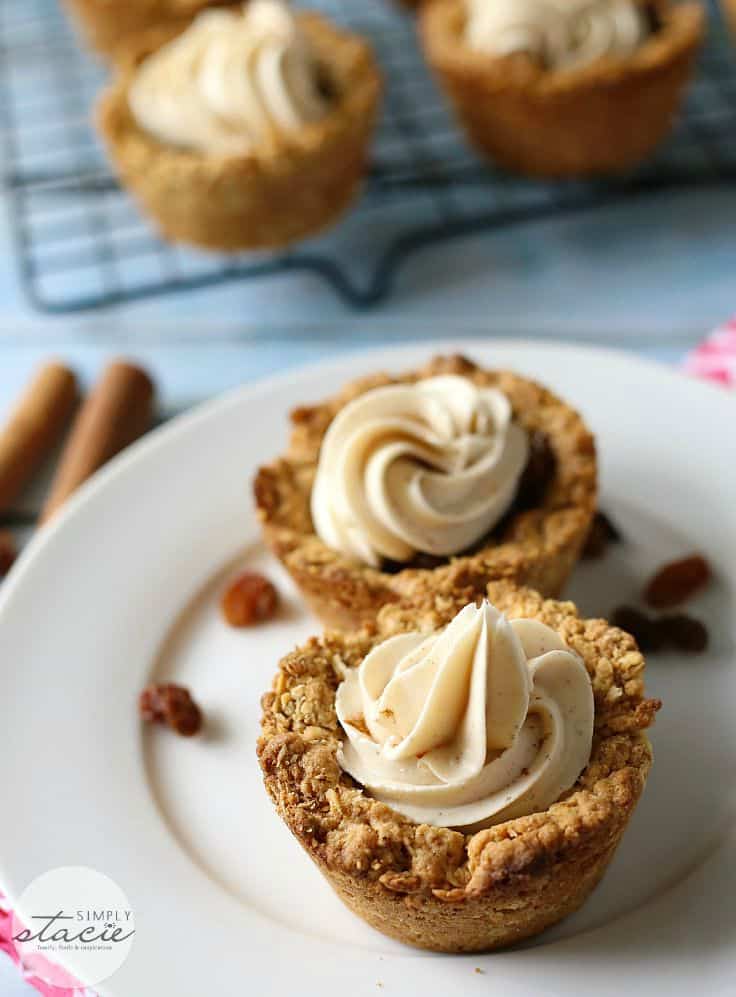 Oatmeal Raisin Cookie Cups
These bite-sized cookie cups are perfect for parties! Topped off with cream cheese frosting, they're an oatmeal raisin dream.
Ingredients
1 package oatmeal cookie mix (or your fave oatmeal cookie recipe)
1 package cream cheese, room temperature
4 tbsp icing sugar (also known as powdered sugar)
1/2 tsp cinnamon
1/4 tsp nutmeg
1/4 cup raisin pie filling (homemade or canned)
Instructions
Preheat oven according to directions on cookie package.
Prepare cookie dough according to recipe or package directions. Press cookie dough into a greased muffin tin to form a cup. Bake for 7 minutes.
Remove tray from oven when cups are rising. Take a small spoon and deflate the centers of the cups while leaving the sides of the cookie cup untouched. Put back in the oven and bake for another 5 minutes.
Again, remove from oven and with a small spoon, deflate the centers of the cups while leaving the sides of the cookie cup untouched.
Place back in the oven again and finish baking until the cookie cups are golden brown. Remove from oven and let cool completely.
In a mixing bowl, whip cream cheese, icing sugar, cinnamon and nutmeg together until light and fluffy. Set aside.
Add a 1 tsp of raising pie filling to the bottom of each cookie cup.
Place cream cheese mixture into a piping bag and pipe the mixture into the cooled cookie cups with a decorative tip.
Recommended Products
As an Amazon Associate and member of other affiliate programs, I earn from qualifying purchases.
Nutrition Information:
Yield:

10
Serving Size:

1
Amount Per Serving:
Calories:

98
Total Fat:

5g
Saturated Fat:

3g
Trans Fat:

0g
Unsaturated Fat:

2g
Cholesterol:

11mg
Sodium:

68mg
Carbohydrates:

13g
Fiber:

1g
Sugar:

8g
Protein:

1g