Oatmeal Raisin Cookie Cups are a bite-size oatmeal cookie cup that has a raisin filling and topped with a cream cheese frosting to top it off. These little bite-size cookie cups are great for any and every occasion. Baby showers, birthday parties, family gatherings and more.
I'm not fussy about eating raisins on their own. The little red boxes of raisins my mom used to put in my school lunch would usually be there at the end of the day. I don't hate them. I just never crave them. That doesn't mean I don't eat raisins because I still do. I use raisins all the time in recipes. Broccoli salad isn't the same without raisins. Neither are oatmeal cookies.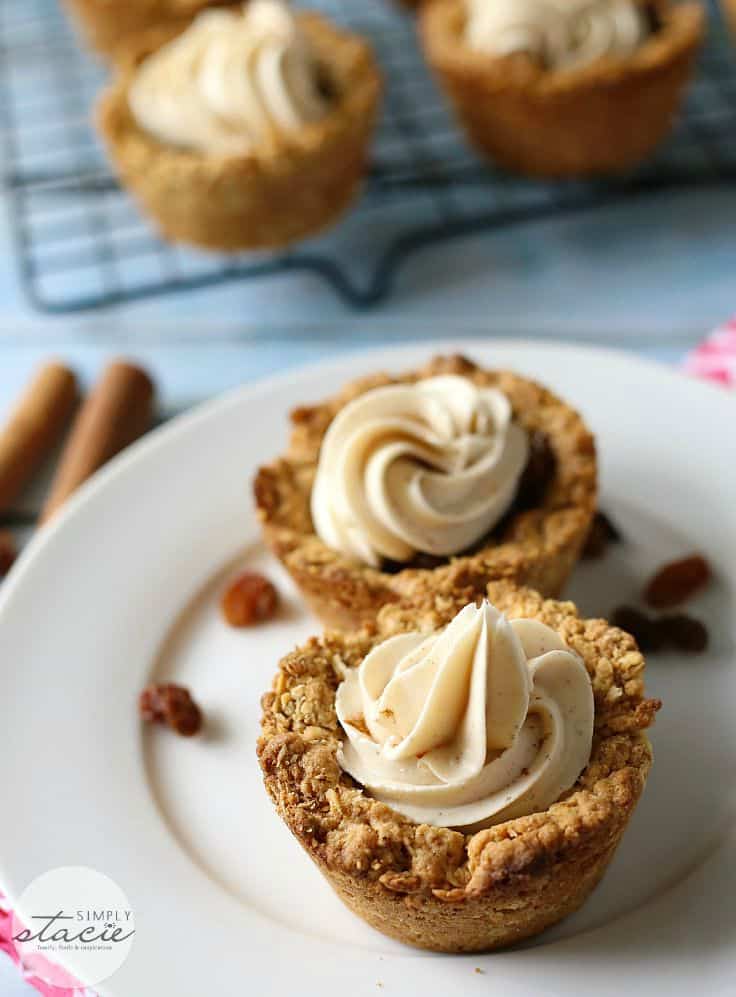 Oatmeal Raisin Cookie Cups
This post contains affiliate links.
I created these amazing Oatmeal Raisin Cookie Cups . Nestled inside the sweet oatmeal cookie cup is a layer of raisin pie filling topped with cinnamon cream cheese filling. This dessert is out of this world! John isn't a raisin fan and he even loved it.
My sister, Laura, saw my post on Instagram the day I made these beauties and came over that evening to try one. She asked for the recipe so here you go Laura! Then she came back the next day for another one. Good thing I love her!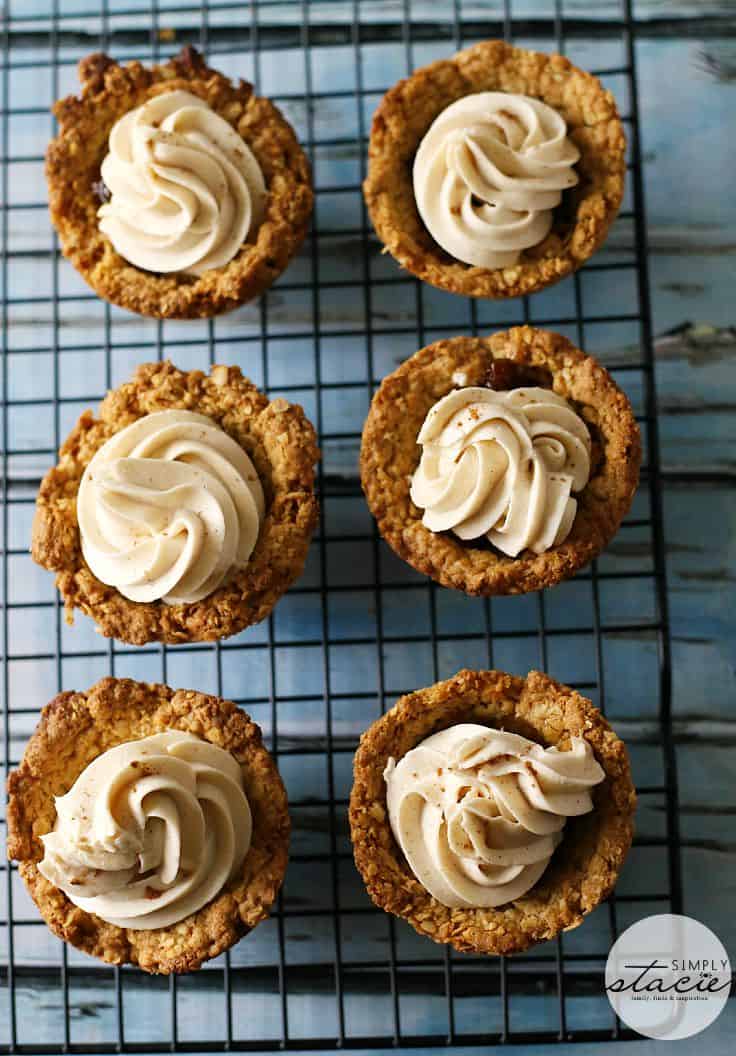 Side note – I upgraded my DSLR to a full frame Canon 6D. It was an expensive move, but one that I'm happy with. I love photography especially food photography so why not pursue a passion. I'll continue to shoot with my new DSLR and Fujifilm X-A2 (awesome mirrorless camera!).
Back to baking! Of course, I was going to show you the inside of the cookie cup. You can see a bit of the raisin filling peeking out. It's not overwhelming either. I didn't want them to be too raisin-y.
Next time you're craving oatmeal raisin cookies, give this recipe a try. It's simple to make and something different. Change is good every once in a while!
Craving more oatmeal recipes? Try my Oatmeal Pie! You might also like these Sour Cream Raisin Bars.
How Do You Get the Center in the Cookie Cups
You will have to start by placing some of the cookie dough in the muffin tin. Then after so long baking you will pull the pan from the oven, and take a spoon and push down the center to make a hollow area. Then place back in the oven to cook longer. Repeat the process until the cookies are fully cooked. You want to ensure the hollow center stays, so you have room to place your filling.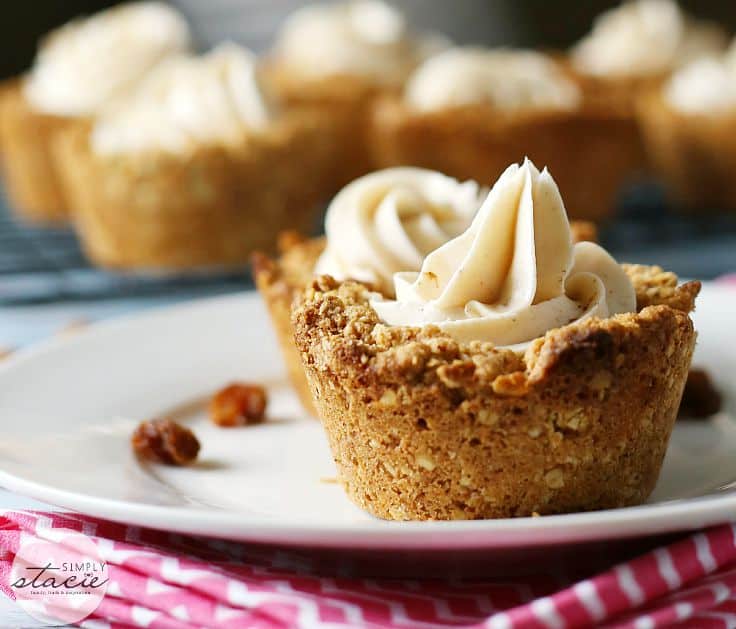 What Can I Use Instead of Cream Cheese Topping on Oatmeal Cups
If you are not a fan of cream cheese or maybe just don't have any on hand, consider doing a whipped cream instead. This is an easy alternative and is quick. Or you could go a step further and do a meringue to place on top. I think either could be tasty.
If you do the whipped cream just make sure that you only top it right before serving or it could kind of meltdown and become a mess. Also, make sure the cookie cups are fully cooled if you go that route.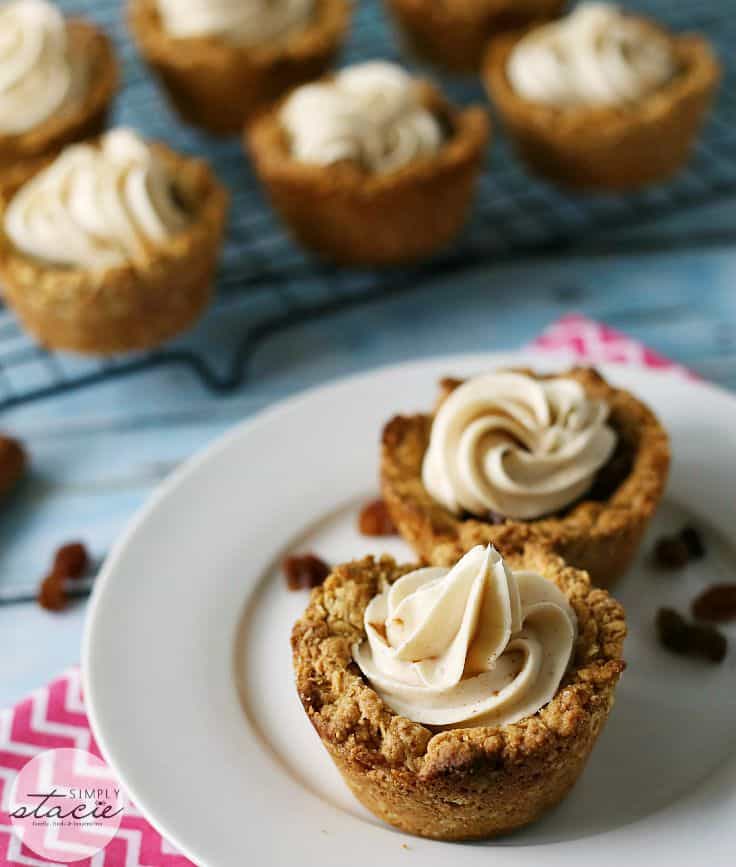 What If I Can't Find Raisin Filling
If you can't find the raisin filling in your store you are more than welcome to make your own. Or opt to do a drizzle of caramel in replace or even a hot fudge sauce. Or skip the filling and top with cream cheese only. There is room to change it up if you need to. These oatmeal cups are phenomenal and so simple to make.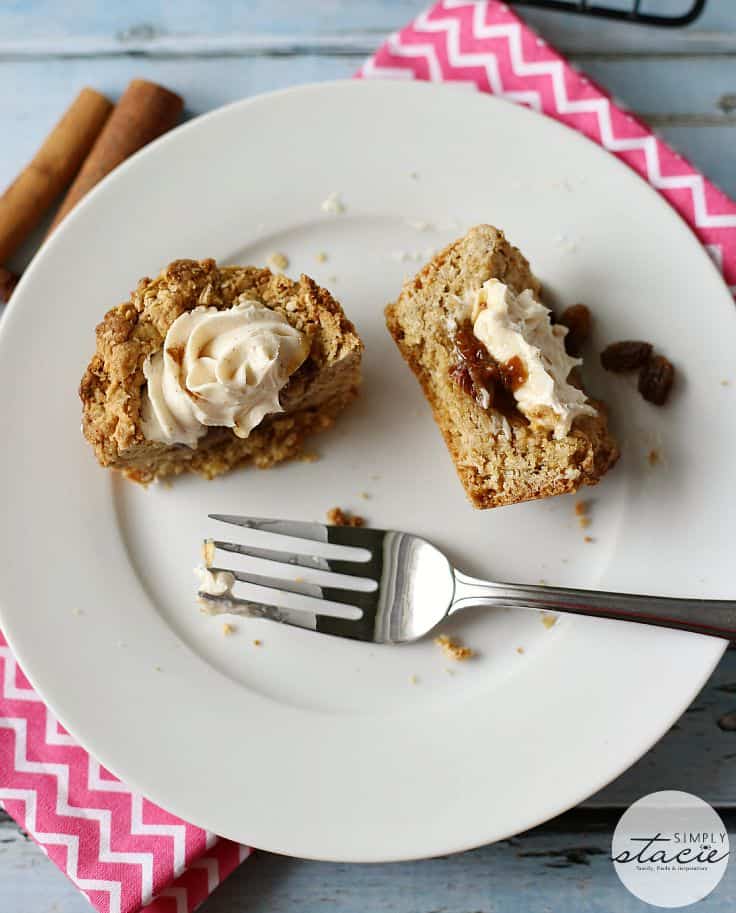 Looking for more Cookie Cup Recipes
Peanut Butter Cookie Cups | Here you have a classic peanut butter cookie that has an incredible surprise as you bite down into these decadent cookies.
Caramel Cookie Cups | If you prefer caramel over chocolate, you might totally want to whip these up. These are one of my favorite variations that wins over a crowd anytime I serve them up.
Birthday Cookie Cups | A great birthday treat to sub in for birthday cake. Sprinkles galore in these delightful little muffin cups.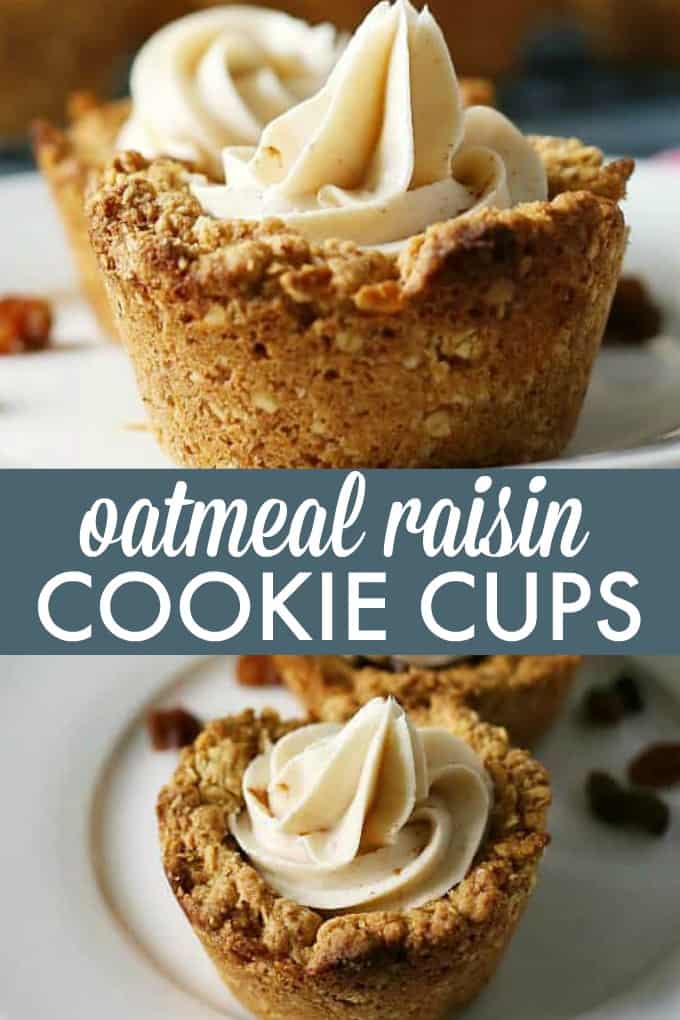 How to Store Oatmeal Muffin Cups
You will want to store your muffin cups in the refrigerator. The reason being is the cream cheese filling will spoil if left on the counter at room temperature.
I simply place them in a covered airtight container and store for 5-7 days in the fridge.
Can You Freeze Oatmeal Cookie Cups
Yes, you can freeze these cups if you don't plan to eat them all. Store for up to three months in an airtight container in the fridge. Thaw on the counter or fridge and enjoy it.
I hope you all enjoy this oatmeal version as much as we have. This is a rather easy dessert with a lot of appeal for the fun size. Plus it is a perfect portion to serve up guests.
Are you a fan of raisins in oatmeal cookies?

You'll also like this Iced Oatmeal Cookies.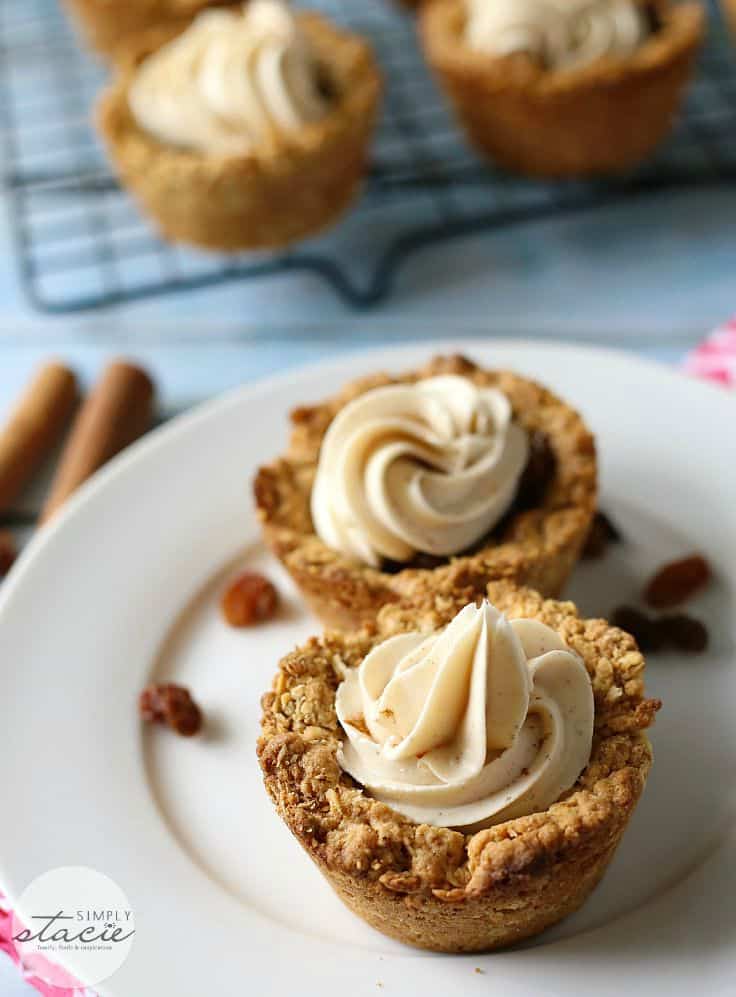 Oatmeal Raisin Cookie Cups
These bite-sized cookie cups are perfect for parties! Topped off with cream cheese frosting, they're an oatmeal raisin dream.
Ingredients
1 package oatmeal cookie mix (or your fave oatmeal cookie recipe)
1 package cream cheese, room temperature
4 tbsp icing sugar (also known as powdered sugar)
1/2 tsp cinnamon
1/4 tsp nutmeg
1/4 cup raisin pie filling (homemade or canned)
Instructions
Preheat oven according to directions on cookie package.
Prepare cookie dough according to recipe or package directions. Press cookie dough into a greased muffin tin to form a cup. Bake for 7 minutes.
Remove tray from oven when cups are rising. Take a small spoon and deflate the centers of the cups while leaving the sides of the cookie cup untouched. Put back in the oven and bake for another 5 minutes.
Again, remove from oven and with a small spoon, deflate the centers of the cups while leaving the sides of the cookie cup untouched.
Place back in the oven again and finish baking until the cookie cups are golden brown. Remove from oven and let cool completely.
In a mixing bowl, whip cream cheese, icing sugar, cinnamon and nutmeg together until light and fluffy. Set aside.
Add a 1 tsp of raising pie filling to the bottom of each cookie cup.
Place cream cheese mixture into a piping bag and pipe the mixture into the cooled cookie cups with a decorative tip.
Recommended Products
As an Amazon Associate and member of other affiliate programs, I earn from qualifying purchases.
Nutrition Information:
Yield:

10
Serving Size:

1
Amount Per Serving:
Calories:

98
Total Fat:

5g
Saturated Fat:

3g
Trans Fat:

0g
Unsaturated Fat:

2g
Cholesterol:

11mg
Sodium:

68mg
Carbohydrates:

13g
Fiber:

1g
Sugar:

8g
Protein:

1g