Serve up my Gooey Cheesecake Cookie Cups. A quick and easy bite-size dessert that packs a ton of flavor in every bite. These Cheesecake Cookie Cups start with refrigerator cookie dough that is dressed up.
I've been eyeing Pillsbury refrigerated cookie dough for a couple of months. I always saw it there when I was picking up their pizza dough for my truckload of pizza recipes I've been working on. I'd purchased the cookie dough before, but just made cookies with it. That's all good, but not that exciting. Then I thought what about cookie cups? I have muffin tins already and all I would need is something to fill them with. Trust me, it's not hard to think of recipe ideas. I've got a ton written down now. I just need to find the time to do it!
Cheesecake Cookie Cups
I love how these Gooey Cheesecake Cookie Cups turned out. Like their name, they are ooey, gooey and messy to eat! It's all good though. Have some paper towel or napkins nearby and dig in.
Searching for more cookie recipes
Fudge Cookies | Talk about one incredible cookie. Full of fudge flavor, light, fluffy, and moist cookies. Great for family gatherings, potlucks, cookie swaps, and the mid-day snack cravings.
No-Bake Butterscotch Cookies | Here is a fun cookie that doesn't require the oven. Whip these up for a quick snack to curb that sweet tooth craving.
Reese Stuffed Chocolate Chip Cookies | There is something about a stuffed cookie that gets everyone excited. These right here are a magical creation, that is for sure.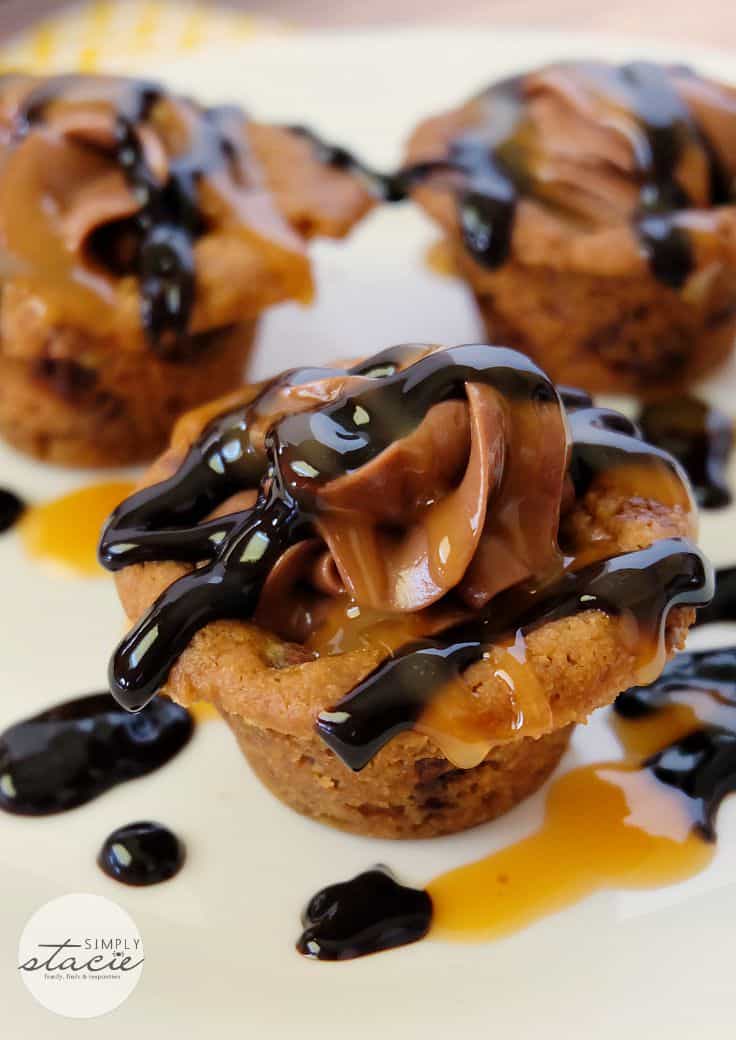 What is The Dough for Cheesecake Stuffed Cookie Cups
I used Pillsbury Milk Chocolate refrigerated cookie dough for the cup. There is a little extra bit of prep to get them into the right shape, but it's not hard to do at all. You need to periodically remove them from the oven and deflate the center with a spoon. This step will allow them to take the nice cup-like shape.
If you prefer you can opt to make a homemade sugar cookie dough or even chocolate chip. I think either would work great at giving you the cookie cup you would like.
What is the Cheesecake Layer in Stuffed Cookie Bites
The filling is an entire package of cream cheese, softened to room temperature, icing sugar and Nutella. Icing sugar is also known as powdered sugar. I learned that a few years ago when some American friends asked me what the heck is icing sugar.
This post contains affiliate links.
Do You Have to Pipe the Filling
I bought a Wilton Cupcake Decorating Kit with disposable bags and decorating tips. It's easy to pipe in the filling and make it look pretty. If you don't have a decorating tip or pouch, you can spoon it in the cookie cup. It is totally up to you on how you decide you want to decorate.
I wanted a little something more in terms of presentation, so I went with piping, but if you don't have the supplies or are not the best, spoon it in.
To finish it off, I drizzled caramel and chocolate sauce all over the place. They are bite-sized, but pack a sweet punch!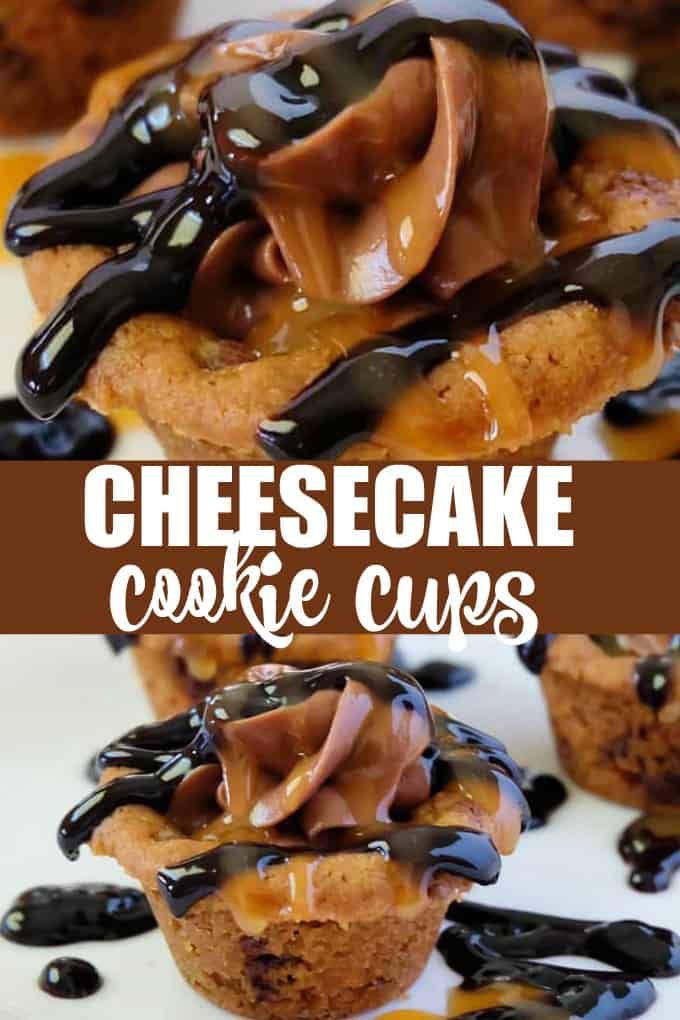 How to Store Leftover Cookie Cups
You will want to store cookie cups in the fridge. The cheesecake filling can't be left out on the counter or it will melt and go bad. So place in an airtight container and store in the fridge.
These cups will last 4-5 days in the fridge.
How to Make Cheesecake Cookie Cups
Start by prepping your cookie dough and pressing it into the muffin tin. Make sure to leave a hollow area in the center, I share the full directions below on how to do this. Bake your cookies, and every now and again deflate the center, so you keep that hollow are where the cheesecake filling goes.
Once the cookies are done place on a cooling rack to allow the to finish cooking. Then you can prep your cheesecake filling. Add your ingredients into a bowl and whip it up, and then pipe or spoon the filling into the center of the cooled cups. Chill in the fridge until you are ready to serve. Right before you serve drizzle with chocolate and caramel and then enjoy.
What Other Toppings Can You Do for these Cheesecake Cookie Cups
Sprinkles
Nuts
Chocolate chips or other flavors of chips
Top with fruit
You can really get creative with other toppings you might want to add to these cookie cups. Have fun and enjoy, they are absolutely delicious.
Can You Freeze Cheesecake Cookie Cups
I haven't frozen these, they get eaten way to fast! But, I think you should be okay to freeze them. Just allow them to be cooled down and then transfer to a freezer-friendly container. Store for up to three months. Thaw in the fridge before you plan to eat them!
Will this Cookie Cheesecake Cup Recipe Double
Yes, you can absolutely double or even triple this recipe. Just cook in batches in the oven, and prep as you go! I have made extra of these for parties and they are always SO popular!
Change up from the classic cookie and give this recipe a try, I think you will be pleasantly surprised at how crazy good these cheesecake stuffed cookie cups are.
You'll also like these Caramel Cookie Cups.
Have you ever made a cookie cup?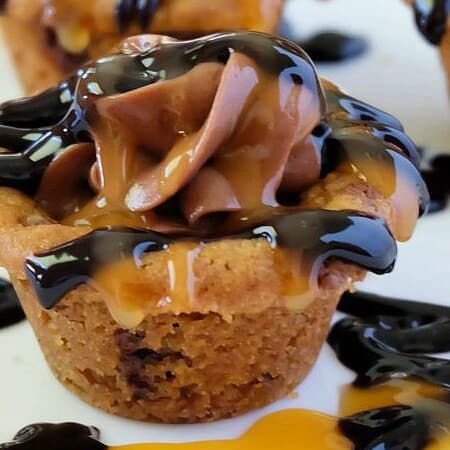 Gooey Cheesecake Cookie Cups
Bite-sized desserts! Take your basic store-bought cookie dough and turn it into amazing cups of gooey cheesecake filling covered in caramel and chocolate sauces for a delicious mess.
Ingredients
1 package refrigerated cookie mix
1 package cream cheese, room temperature
4 tbsp icing sugar (also known as powdered sugar)
2 tbsp hazelnut chocolate spread
Caramel topping, as desired
Chocolate topping, as desired
Instructions
Preheat oven according to directions on cookie package
Slice the prepared cookie mix and press each slice into a greased mini muffin tin to form a cup. Bake for about 7 minutes.
Remove tray from oven when cups are rising. Take a small spoon and deflate the centers of the cups while leaving the sides of the cookie cup untouched. Put back in the oven and bake for another 5 minutes.
Again, remove from oven and with a small spoon, deflate the centers of the cups while leaving the sides of the cookie cup untouched.
Place back in the oven again and finish baking until the cookie cups are golden brown. Remove from oven and let cool completely.
In a mixing bowl, whip cream cheese, icing sugar and hazelnut spread together until light and fluffy.
Place cream cheese mixture into a piping back and pipe the mixture into the cooled cookie cups with a decorative tip.
Cool in the refrigerator until ready to serve. When ready to serve, drizzle caramel and chocolate topping over the cookie cups.
Recommended Products
As an Amazon Associate and member of other affiliate programs, I earn from qualifying purchases.
Nutrition Information:
Yield:

18
Serving Size:

1
Amount Per Serving:
Calories:

55
Total Fat:

3g
Saturated Fat:

2g
Trans Fat:

0g
Unsaturated Fat:

1g
Cholesterol:

5mg
Sodium:

29mg
Carbohydrates:

6g
Fiber:

0g
Sugar:

5g
Protein:

1g