My earliest memory is of my first birthday party. I know it sounds nuts to actually remember back that far at my age, but it's true. I remember my mom putting me in my high chair in front of a huge white cake with all the pretty lit candles. Everyone was singing happy birthday and in my one year old mind, I wondered if they expected me to eat that entire cake myself. Thankfully, that wasn't the case and I happily shared with all the party guests. Birthdays are pretty special especially when you are a kid.
Enbridge, a company that has been delivering natural gas to Ontarians for over 165 years, recently conducted a survey about birthdays. One of the questions they asked Canadians was what do birthdays mean to you. The top answer at 23% was, "getting older/one year older". I would agree. I had my 37th birthday a few months back and thought to myself how fast time goes the older you get. Other popular answers were "Celebration" (21%), "Spending time with family/friends/loved ones" (21%), "Special day/somebody/activities" (10%) and "Love/happiness" (6%).
Birthdays are also about traditions with the main one being the birthday cake and candles! My daughter, Bridget, said it isn't a birthday until someone blows out the candles and makes a wish. She'll be happy to learn that 65% of Canadians make a birthday wish when they blow out the candles. I always do! But make sure you don't tell anyone or it won't come true. No matter how old I get, I'll probably always continue to do this cherished birthday tradition.
Birthday Cookie Cups
Birthday candles don't always have to be on a cake! I've seen birthday cupcakes, birthday cheesecake and birthday cookie cups. Today, I wanted to share a recipe for a birthday cake alternative – birthday cookie cups. They are a cross between a cookie and a cupcake and because they are individual, there is no need to cut the cake and make a big mess. You could put a candle in each one or just special birthday guy or girl's treat.
They are super easy to make and even the kids can help at various stages to make the recipe.
The cookie cup itself is a sugar cookie with birthday sprinkles mixed in. Use a cookie mix for convenience or your own homemade sugar cookie recipe. I used a cookie mix to keep it simple and they turned out beautifully! Buttery and sweet.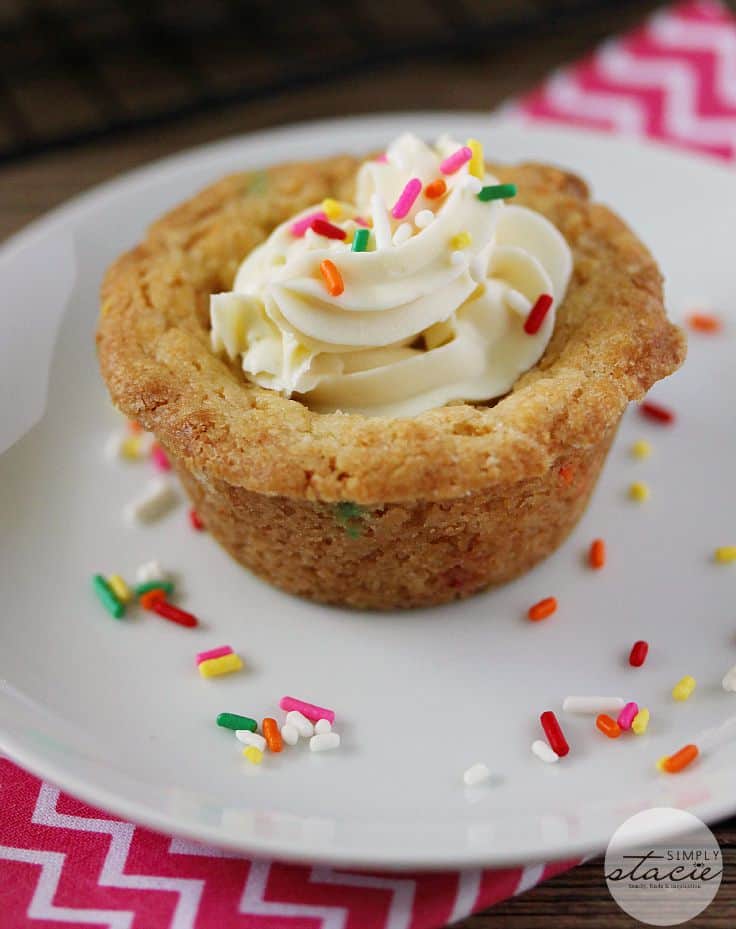 The filling is a decadent vanilla cream cheese icing piped in with a frosting bag so it looks pretty. Top with some coloured sprinkles and you have your special birthday treat.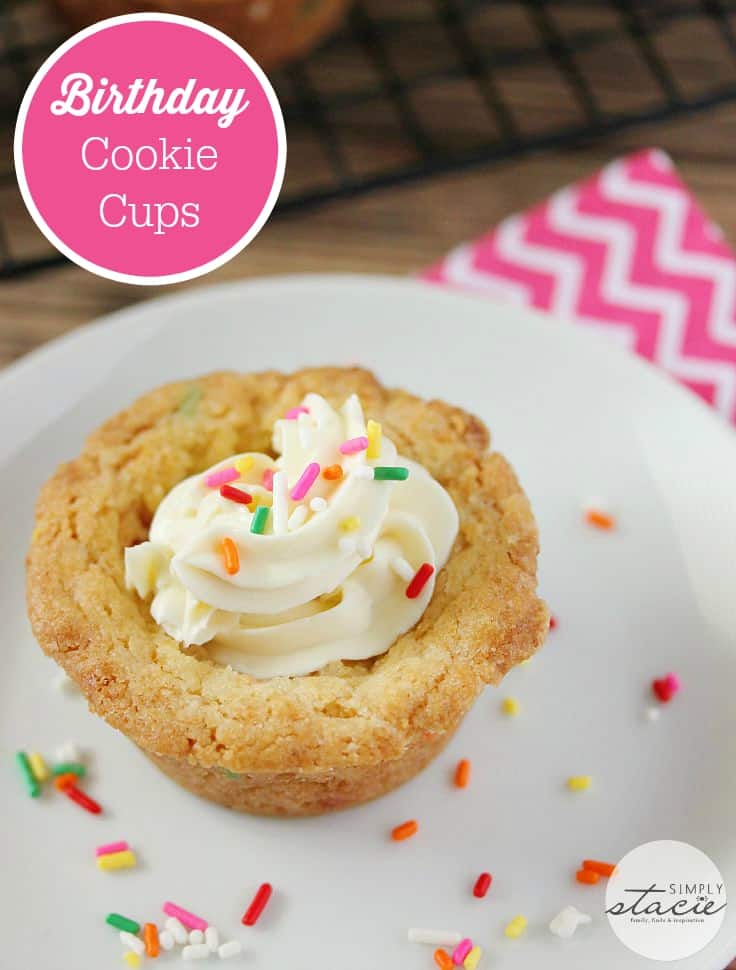 Younger kids can help by adding the sprinkles at the end. Older kids can squeeze the filling into the cookie cups. My daughter loves doing that part.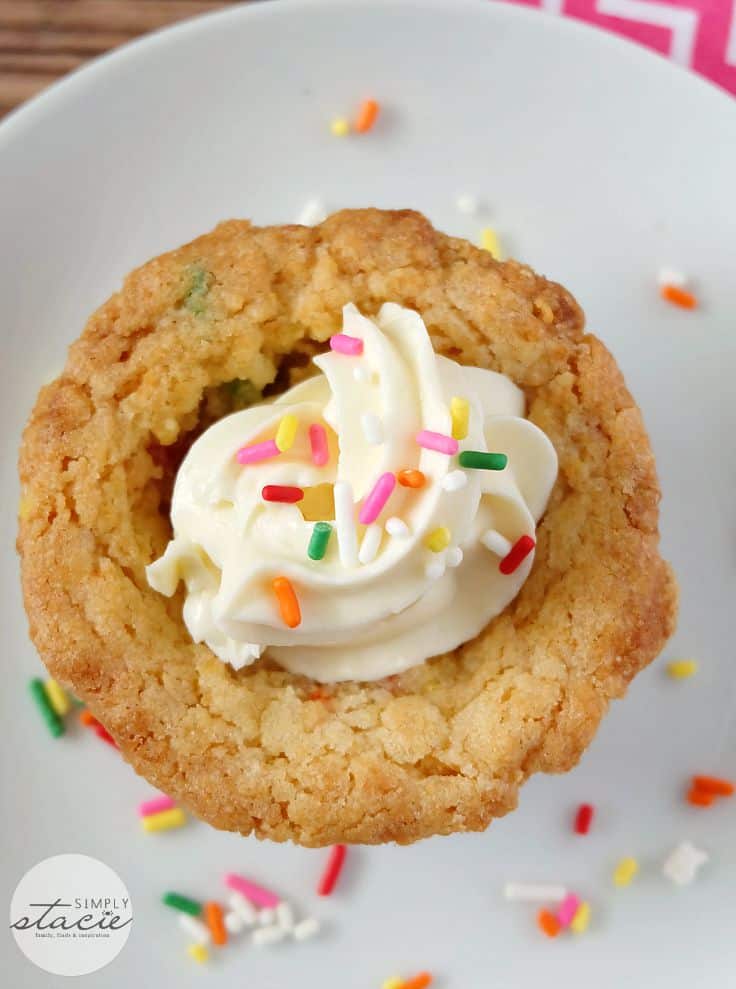 A whopping 85% of Canadians agree that they feel special when someone puts a lot of energy into celebrating their birthday. I'm always touched when I receive a homemade treat. Store-bought cakes are perfectly fine, but there is something extra nice when a person takes the time to make you something.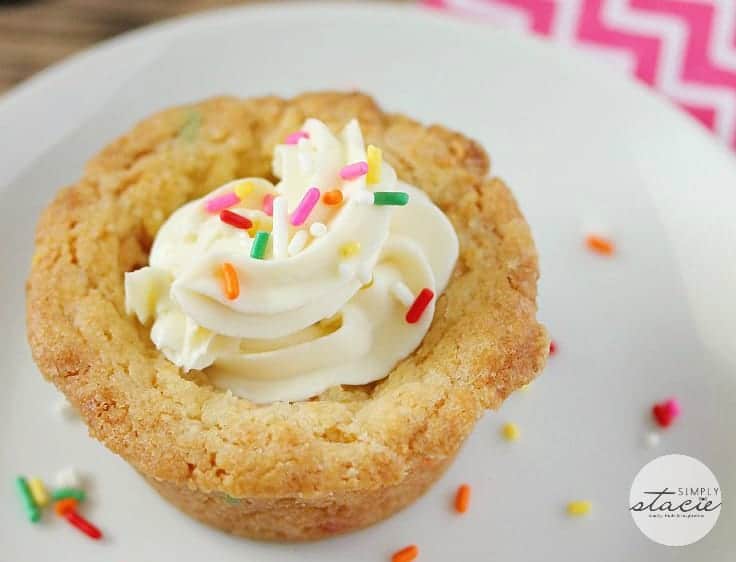 Organizing a birthday, big or small, takes time and energy. Whether you are inviting 50 guests or 5 close family members, it still requires your attention and focus.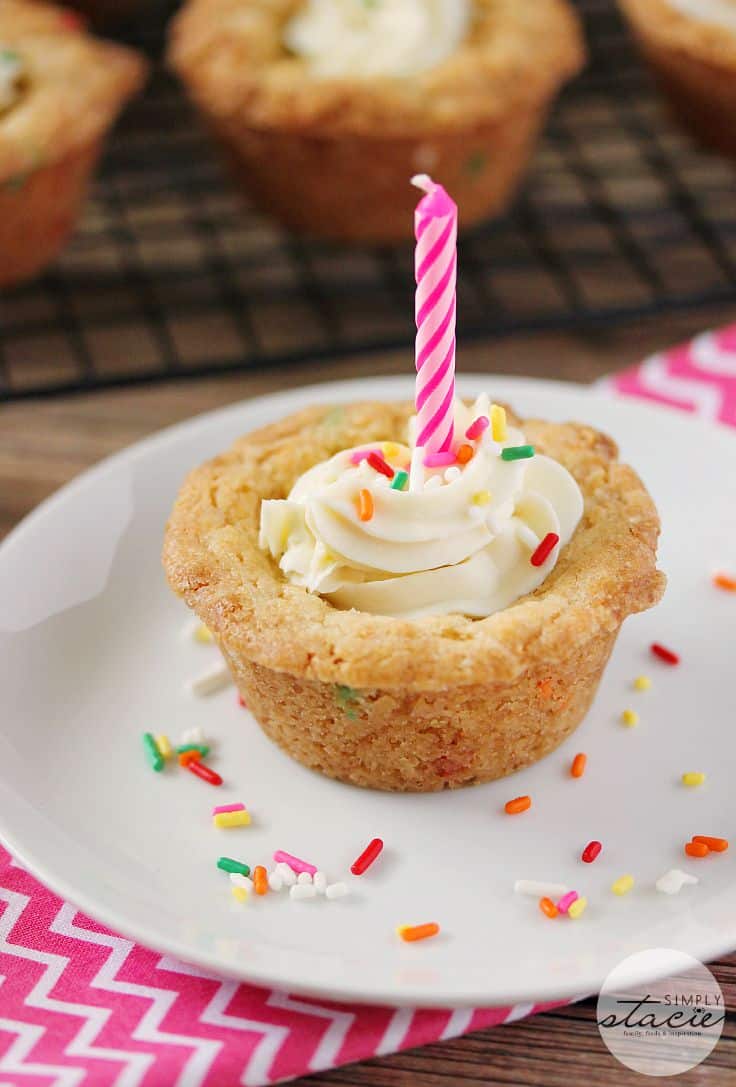 The more complicated life becomes, the more important it is to cherish these special moments (and 80% of Canadians agree with me there!).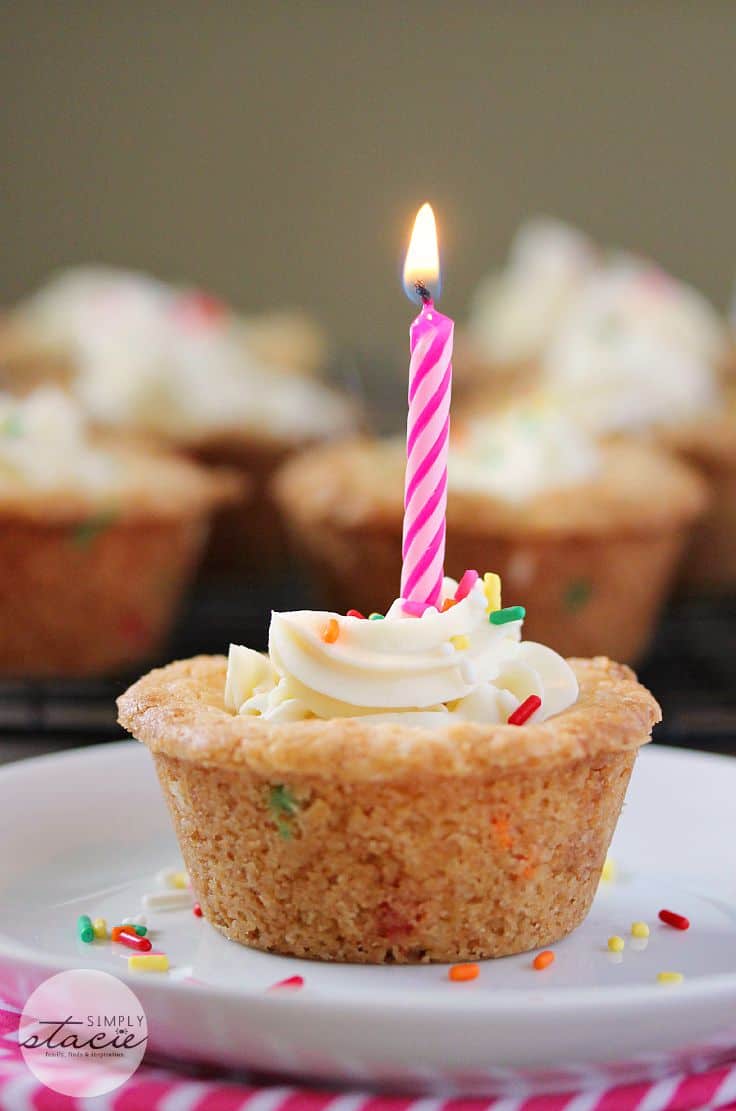 Celebrate birthdays, enjoy time with family and friends, make wishes and most importantly, have fun. The Enbridge 100 Birthdays video captures this sentiment as it celebrates the power of birthdays. The video features 100 people of all ages blowing out their birthday candles. It reminded me that birthdays are special no matter what age you are. Check it out!

Enbridge is proud to be a part of these wonderful family traditions. They may not decorate the cake (or cookie cups!), but they do provide the energy to make desserts like these possible.
You'll also like these Caramel Cookie Cups.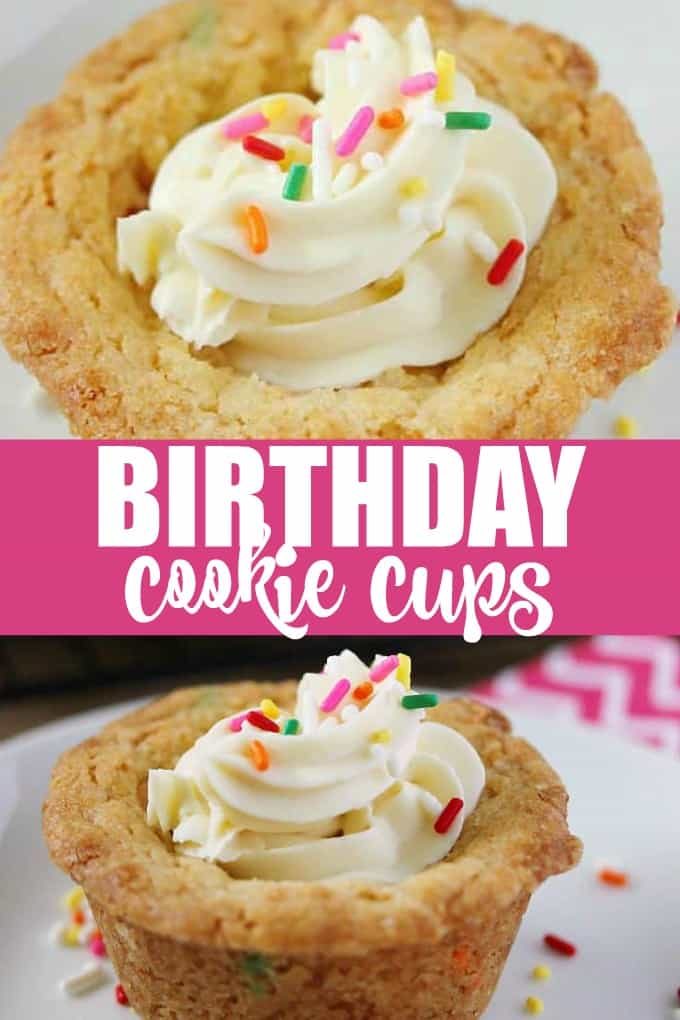 I'd love to hear about your favourite birthday treats! Do you like birthday cake or something different?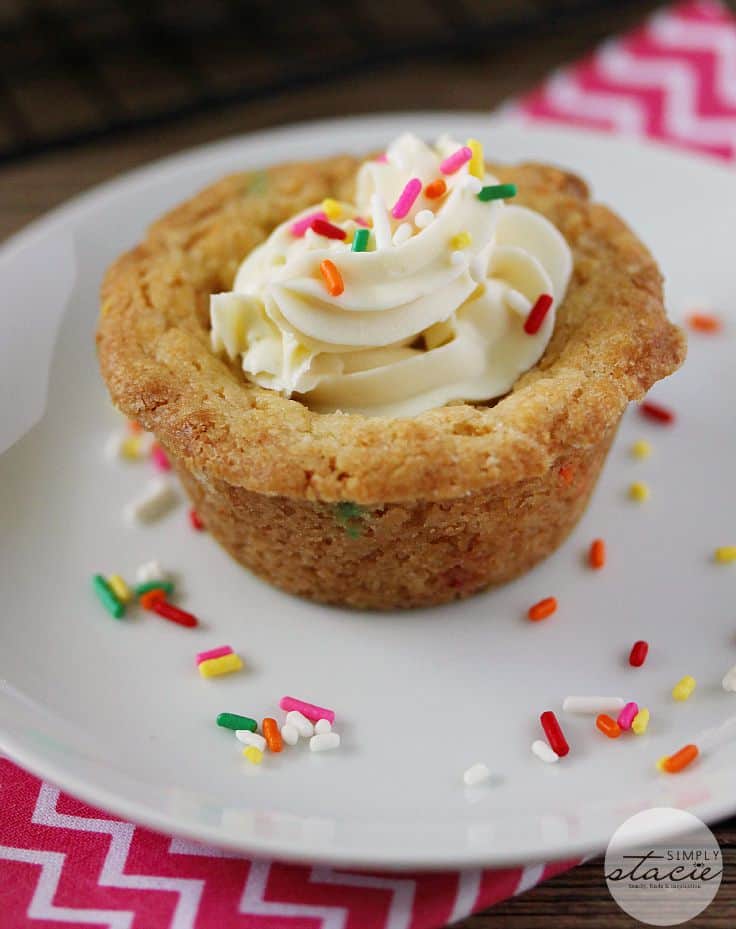 Birthday Cookie Cups
Your new birthday party staple! These bite-size cookie cups are filled with cream cheese frosting and bursting with sprinkles.
Ingredients
1 package Sugar cookie mix
1 package cream cheese, room temperature
4 tbsp icing sugar (also known as powdered sugar)
1 tsp vanilla extract
1 tbsp coloured sprinkles plus 1 tbsp for garnish, if desired
Instructions
Preheat oven according to directions on cookie package.
Make cookie dough according to the package directions. Add in 1 tbsp sprinkles and mix.
Press cookie dough into a greased mini muffin tin to form a cup. Bake for about 5 minutes.
Remove tray from oven when cups are rising. Take a small spoon and deflate the centers of the cups while leaving the sides of the cookie cup untouched. Put back in the oven and bake for another 5 minutes.
Again, remove from oven and with a small spoon, deflate the centers of the cups while leaving the sides of the cookie cup untouched.
Place back in the oven again and finish baking until the cookie cups are golden brown. Remove from oven and let cool completely.
In a mixing bowl, whip cream cheese, icing sugar and vanilla extract together until light and fluffy.
Place cream cheese mixture into a piping back and pipe the mixture into the cooled cookie cups with a decorative tip.
Cool in the refrigerator until ready to serve. When ready to serve, top with sprinkles.
Recommended Products
As an Amazon Associate and member of other affiliate programs, I earn from qualifying purchases.
Nutrition Information:
Yield:

6
Serving Size:

1
Amount Per Serving:
Calories:

107
Total Fat:

7g
Saturated Fat:

3g
Trans Fat:

0g
Unsaturated Fat:

3g
Cholesterol:

16mg
Sodium:

63mg
Carbohydrates:

11g
Fiber:

0g
Sugar:

9g
Protein:

1g
Disclosure: I am part of the PTPA Brand Ambassador Program with Enbridge and I received Compensation as part of my affiliation with this group. The opinions on this blog are my own.