Reese's Peanut Butter Cookie Cups are a cookie cup that has Reese's Peanut Butter Cup in the center and topped with a cream cheese frosting. A chocolate and peanut butter lover's dream come true.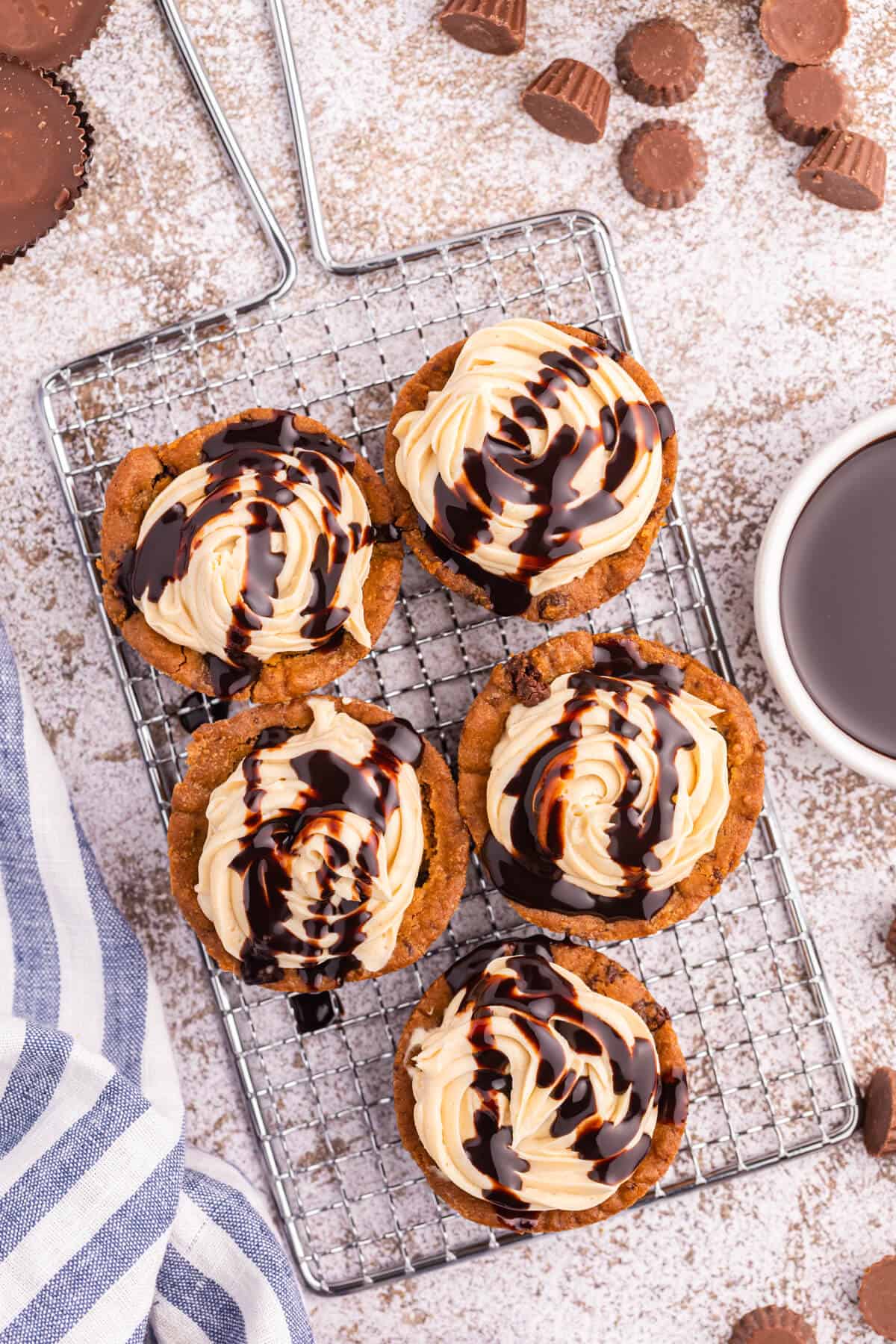 Cookie cups are on my mind! I've been having lots of fun creating some new recipes. My sweet tooth is very satisfied.
In this recipe, I used two Reese's products – Reese's Chocolate Peanut Butter Spread and Reese's Peanut Butter Cups. They turned out perfectly!
Want more Dessert Cup Recipes
Peanut Butter Cookie Cups | This is a great peanut butter lover cookie cup that is similar to this recipe but with a twist. Such a simple and tasty cookie cup recipe.
Caramel Cookie Cups | I love caramel so I had to take time to make a caramel lovers cookie cup. This recipe is oozing with sweet caramel sauce in every bite.
Birthday Cookie Cups | Sprinkles are sweet and colorful and a perfect birthday cake flavor. Whip these up to celebrate in a fun and scrumptious way.
What is the Cookie Cup Made of in this Recipe
The cookie cup itself is made from Pillsbury Chocolate Chip refrigerated dough. It's so easy to work with. I found that using refrigerated dough taste great, is easy, and really cuts down the prep work on this recipe.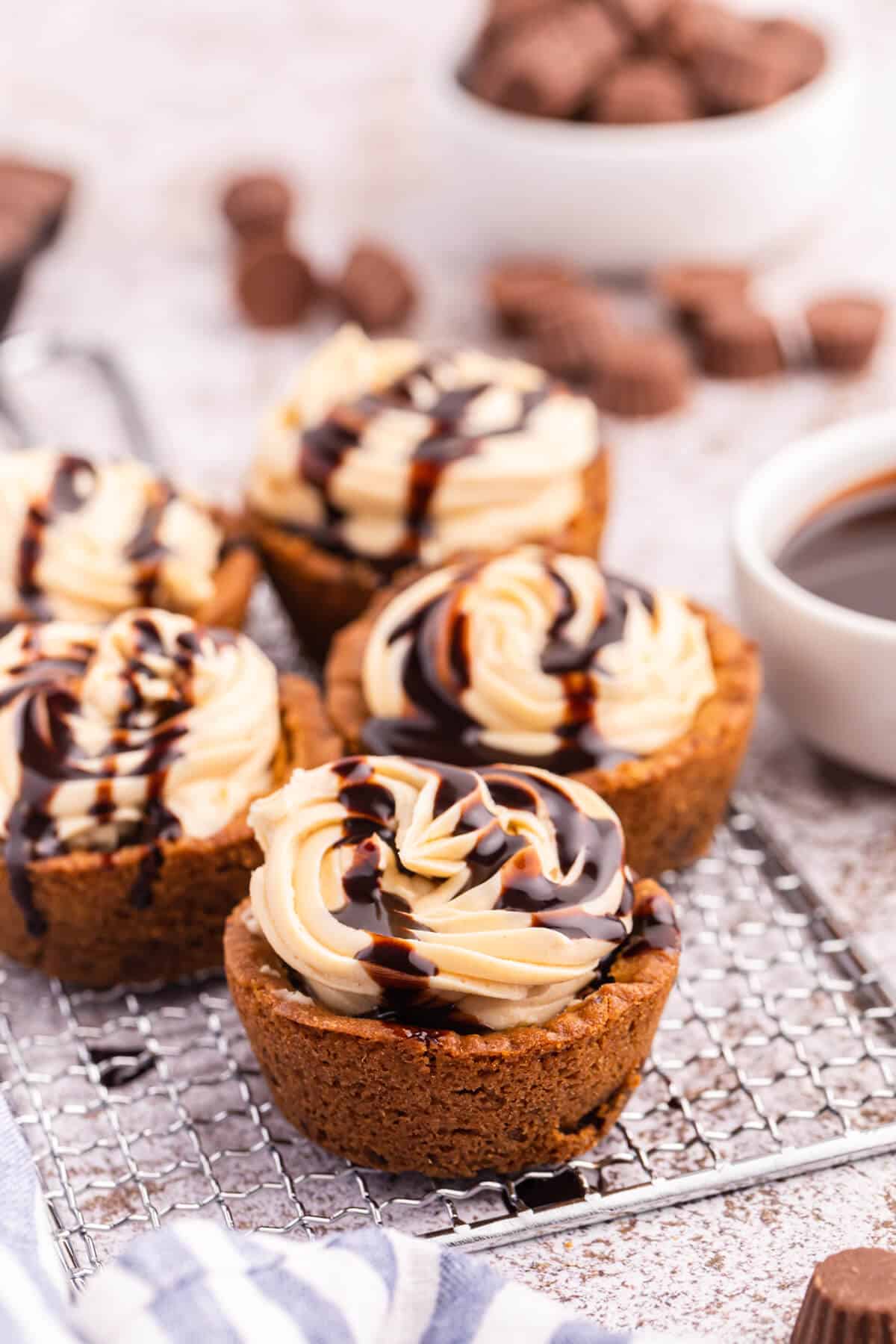 At the bottom of the cookie cup is a Reese's Peanut Butter Cup. Then I piped in peanut butter filling made with cream cheese, powdered sugar and peanut butter. Talk about decadence!
Just look at that! I had to cut them open to show you what it looked like inside. Sink your teeth deep into one of these wicked treats.
Ways to Top Your Peanut Butter Cookie Cup Recipe
I finished them off with a drizzle of chocolate sauce – the kind you use on an ice cream sundae. If you are a fan of Reese's or the chocolate/peanut butter combination, you need to try this recipe!
You could even do mini chocolate chips on top, cocoa powder, a drizzle of melted peanut butter, or even a caramel sauce.
Could I Use White Reese's To Make This Cookie Cup Recipe
Yes! I think White Reese's would be incredible. If I can ever find the Reese's White Chocolate Peanut Cups, I'll make a white chocolate version. Those are even better, in my opinion!
Could I Use a Peanut Butter Cookie Dough as the Base of this Cookie Cup
Yes, absolutely! The beauty of this recipe is you could use any flavor of cookie dough. Sugar cookie, chocolate chip, peanut butter, etc. I have varied the base and it is always a delightful treat, no matter what flavor of cookie I used.
How to Make Reese's Peanut Butter Cup Cookie Cups
Start by taking your cookie dough and placing a bit into a greased muffin tin. You will want to shape it like a cup so the center is hollow. You will partially bake the cookies, and then remove from the oven and press down the center, and bake longer. Repeat the process until the cookies are cooked through.
Once the cookies are close you will put the peanut butter cup in the center of the cups and cook a bit longer. Remove from oven and allow them to cool completely.
You will then make your cream cheese mixture and whip it up until it is light and fluffy. You will need to use room temperature cream cheese, for the smooth texture. Place the mixture in a piping bag or even sealable sandwich bag and cut the tip-off. Pipe into the cookie cup, and drizzle with the chocolate.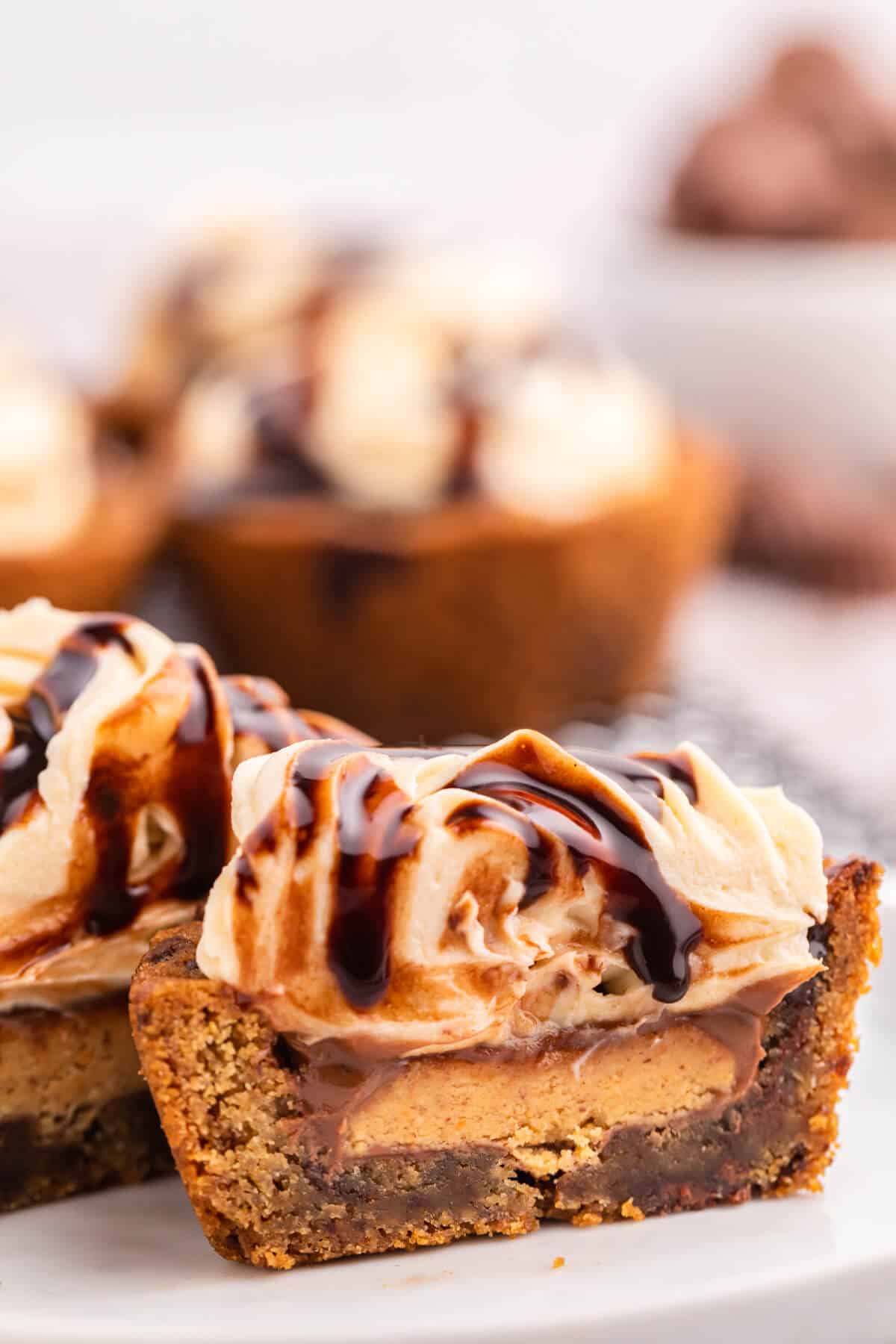 How to Store Peanut Butter Cookie Cups
Until you are ready to serve you will want to store your cookie cups in the refrigerator. The cream cheese mixture will go bad if they are left at room temperature. So place in an airtight container and store in the fridge for 4-5 days. They are best when eaten within the first few days as they begin to dry out.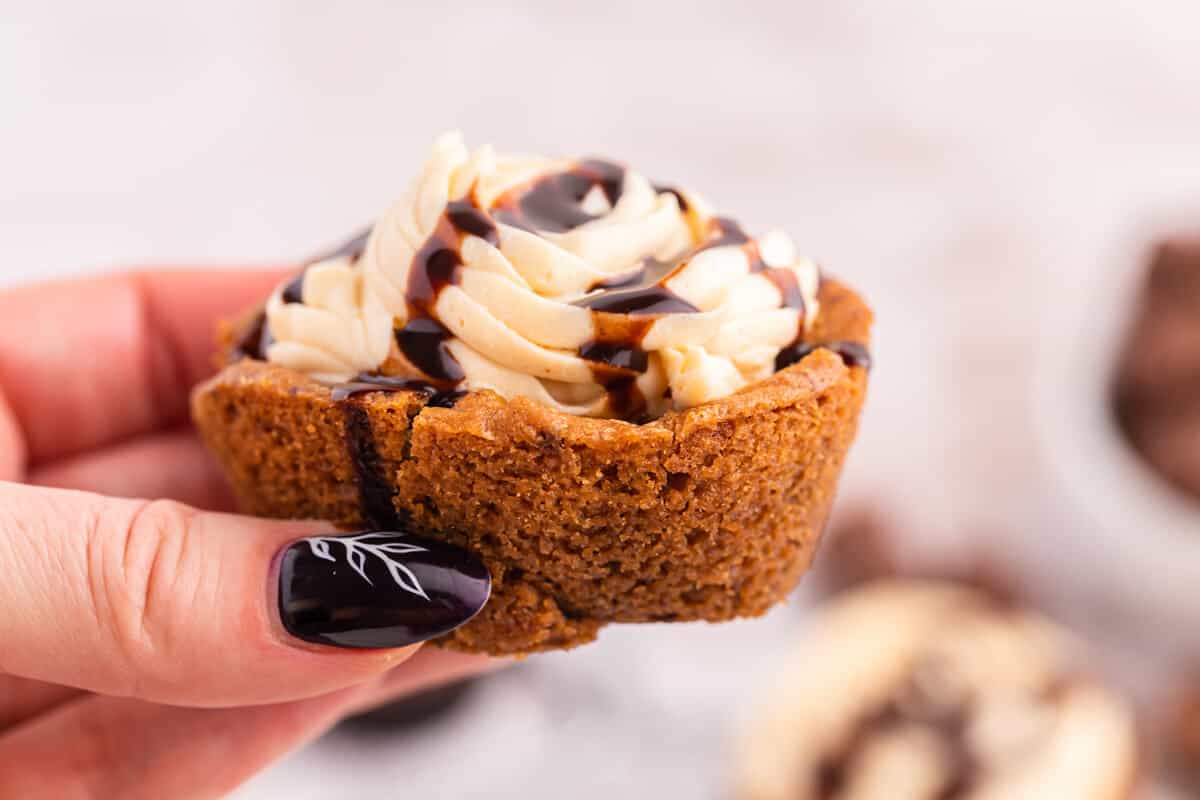 Can You Freeze Cookie Cups
Yes, you sure can freeze these cookie cups. Just place in an airtight container and store in the freezer for up to three months. Thaw in the fridge the night before you plan to eat, or let them sit out on the counter for around 30 minutes or so to thaw.
Are you a fan of chocolate and peanut butter?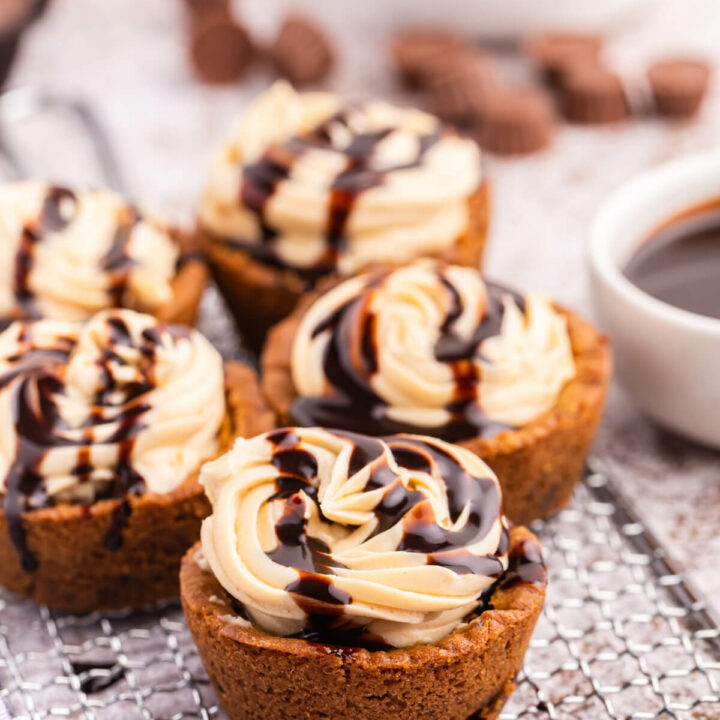 Ingredients
1

package

refrigerated chocolate chip cookie mix

10

Reese's Peanut Butter Cups

2

package

cream cheese

8oz/250g packages, room temperature

½

cup

powdered sugar

¼

cup

smooth peanut butter

chocolate sundae sauce

for topping, if desired
Instructions
Preheat oven according to directions on cookie package.

Slice the prepared cookie mix and press each slice into a greased muffin pan to form a cup. Bake for 7 minutes.

Remove muffin pan from oven when cups are rising. Take a small spoon and deflate the centers of the cups while leaving the sides of the cookie cup untouched. Put back in the oven and bake for another 5 minutes.

Again, remove from oven and with a small spoon, deflate the centers of the cups while leaving the sides of the cookie cup untouched. Carefully place a Reese's Peanut Butter Cup at the bottom of each cookie cup.

Place back in the oven again and finish baking until the cookie cups are golden brown (about 2 minutes). Remove from oven and let cool completely before removing from the pan.

In a mixing bowl, beat cream cheese, powdered sugar and peanut butter together with a mixer until light and fluffy.

Place cream cheese mixture into a piping back and pipe the mixture into the cooled cookie cups with a decorative tip.

Cool in the refrigerator until ready to serve. When ready to serve, drizzle chocolate topping over the cookie cups.
Kitchen Tools
Notes
I used Pillsbury chocolate chip cookie mix.
Nutrition
Serving:
1
g
|
Calories:
187
kcal
|
Carbohydrates:
21
g
|
Protein:
4
g
|
Fat:
11
g
|
Saturated Fat:
4
g
|
Polyunsaturated Fat:
6
g
|
Cholesterol:
10
mg
|
Sodium:
165
mg
|
Fiber:
1
g
|
Sugar:
17
g
The information shown is an estimate provided by an online nutrition calculator. It should not be considered a substitute for a professional nutritionist's advice.
Love Recipes? Join our Free Facebook Group!
Join Mom's Best Recipes to find more delicious family recipes.
Save
Saved!