I'm always up for a challenge and especially a delicious challenge. WWF Canada challenged me to visit Loblaws and find an MSC-certified seafood product to use in an original, family-friendly recipe that can be prepared in 20 minutes or less. I instantly started to brainstorm on recipes I could make. At first, I was thinking of a stuffed salmon, but then realized it would take me longer than 20 minutes to prepare. Then, I thought about my daughters' favourite foods to eat and if I could give any of them a "seafood twist".
Caesar Salad popped into my head, but not a regular Caesar Salad. A Seafood Caesar Salad. I wrote down what I'd need to buy on my trip to Loblaws and John and I head out to the store.
I could easily spot what I'd be looking for with all the signage in the store.
I was initially planning on only buying salmon, but after seeing all the selection of seafood products with the MSC-certified label, I ended up picking two additional items.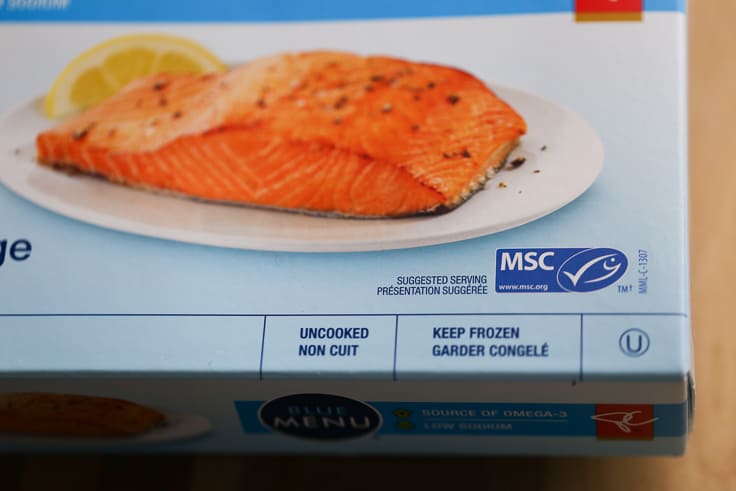 See the blue label in the bottom corner? That's the MSC-Certified label you'll be looking for. Seafood with this label means that it comes from a fishery that has been independently certified to the Marine Stewardship Council's (MSC) standard for a well-managed and sustainable fishery.
WWF Canada has partnered with the MSC and Loblaw to improve the way we capture and cultivate seafood so that we'll have healthy oceans for future generations. With 40% of Canada being ocean, it's a very important part of landscape.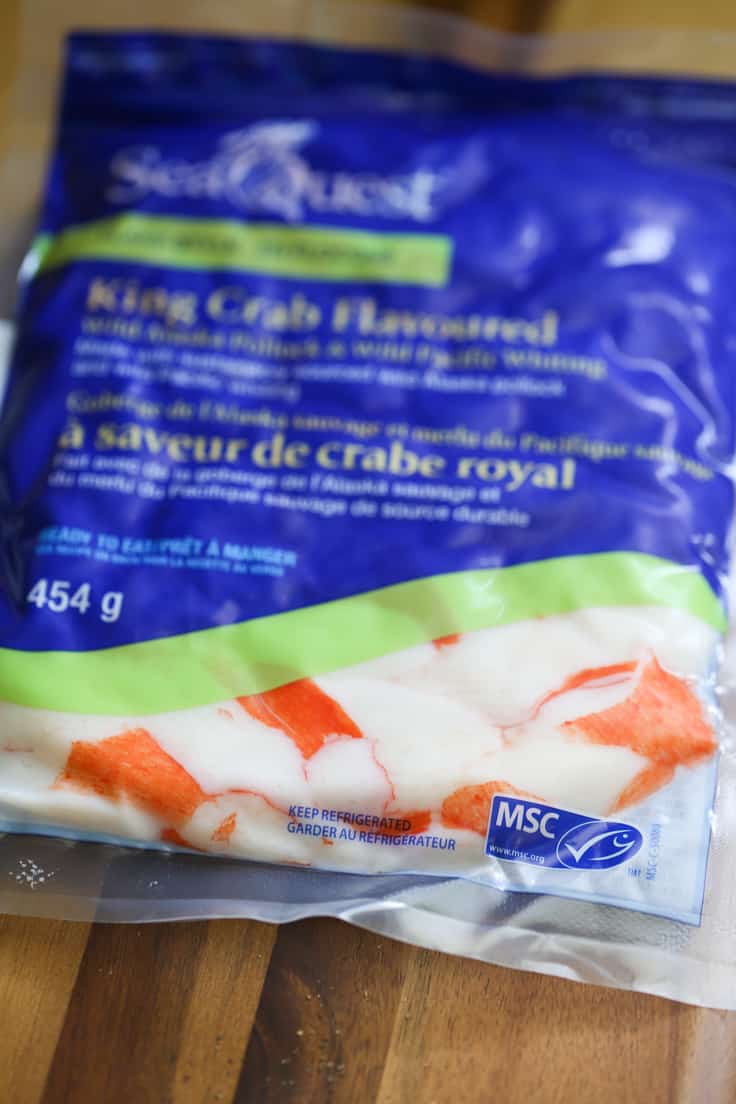 Loblaws stores has a wide range of MSC-certified seafood products with over 130 fresh, frozen and canned seafood items to choose from. You'll be able to find them at the fish counter, frozen food section and in the aisles. Like I said, they were easy to find and I spotted them pretty much as soon as I walked into the store!
The next day was recipe day. I'm using three MSC-certified seafood products. Pictured below are my PC Blue Menu Wild Sockeye Salmon Skin-On Fillets. I seasoned them with a little salt, pepper and lemon juice.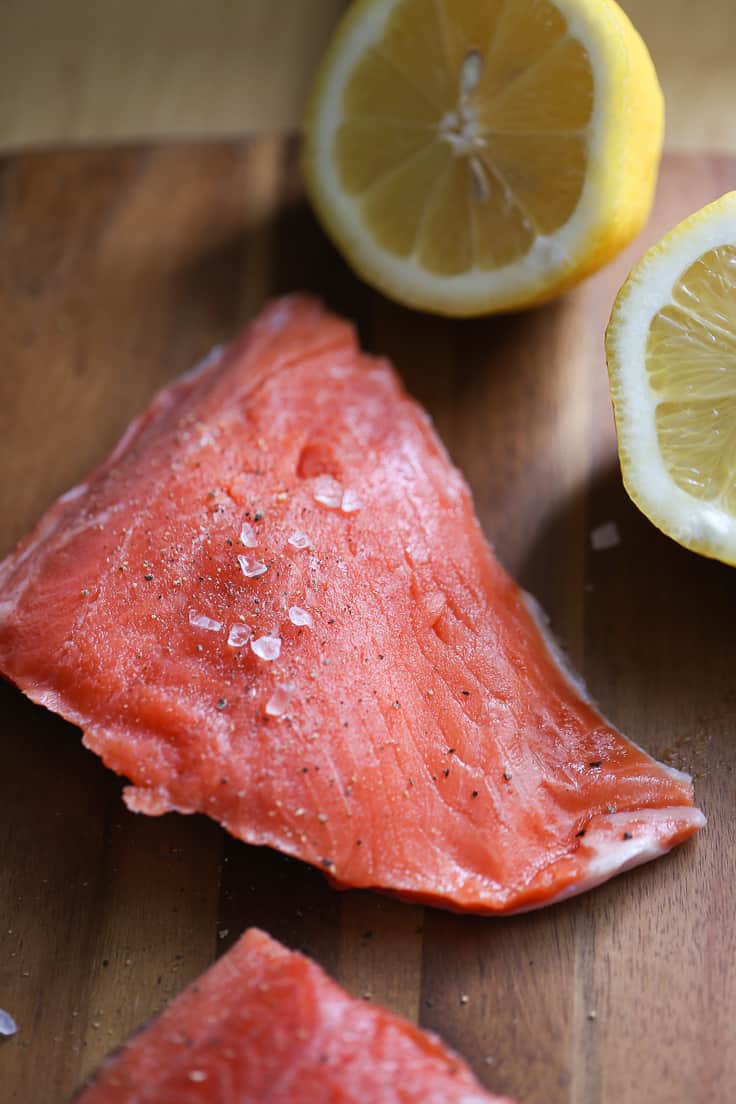 Pan fry them in about 4 to 5 minutes in a little extra virgin olive oil.
Then roughly chop up the salmon and set aside. I had to hold myself back from eating it as is!
The package of Wild Atlantic Cold Water Shrimp was already cooked and just needed to be thawed in the fridge. They are small and perfect for salads. I'd say they are about the size of a crouton! I sprinkled a little bit of freshly ground pepper over top. And yes, I'm guilty of eating a few….I always eat while I cook!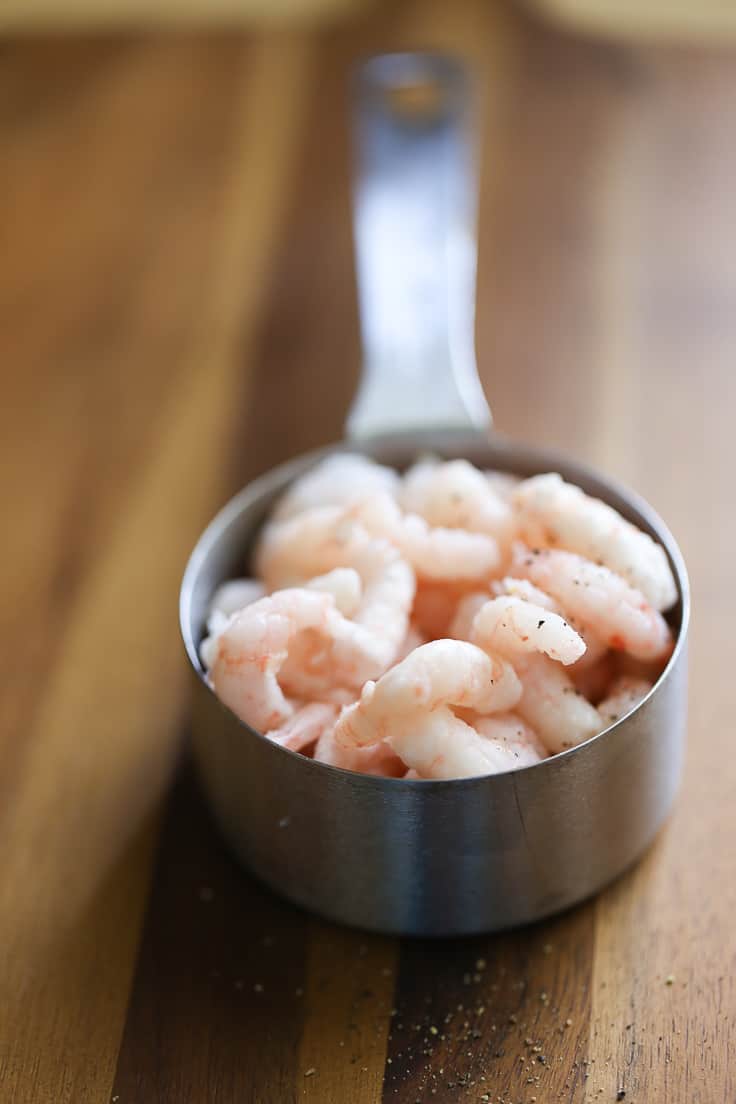 The SeaQuest King Crab Flavoured Wild Alaska Pollock & Pacific Whiting was my third and final MSC-certified product to go into the recipe.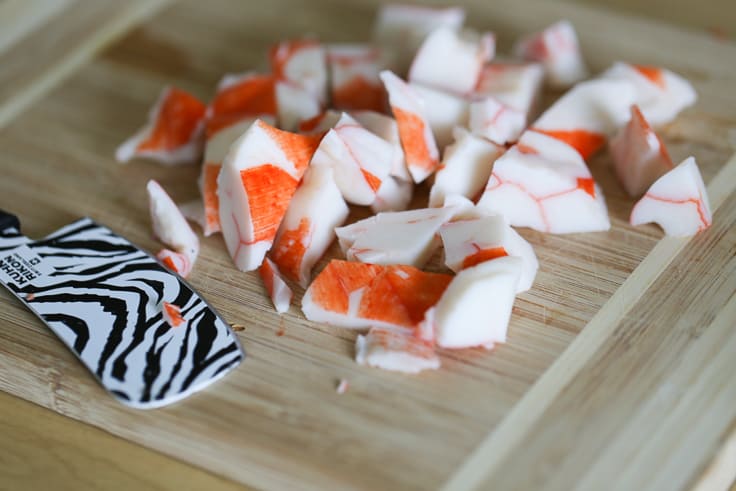 Mix all the seafood ingredients together in a bowl. This could be a salad all on its own!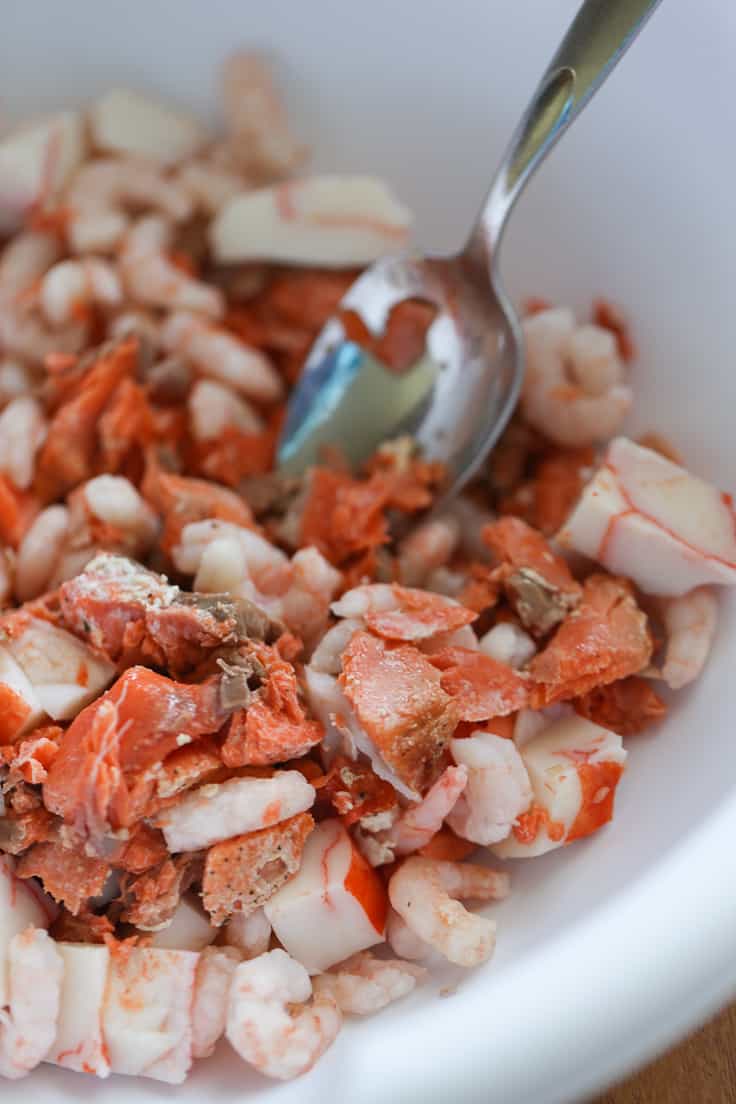 I used one head of Romaine lettuce – a staple of any Caesar salad recipe.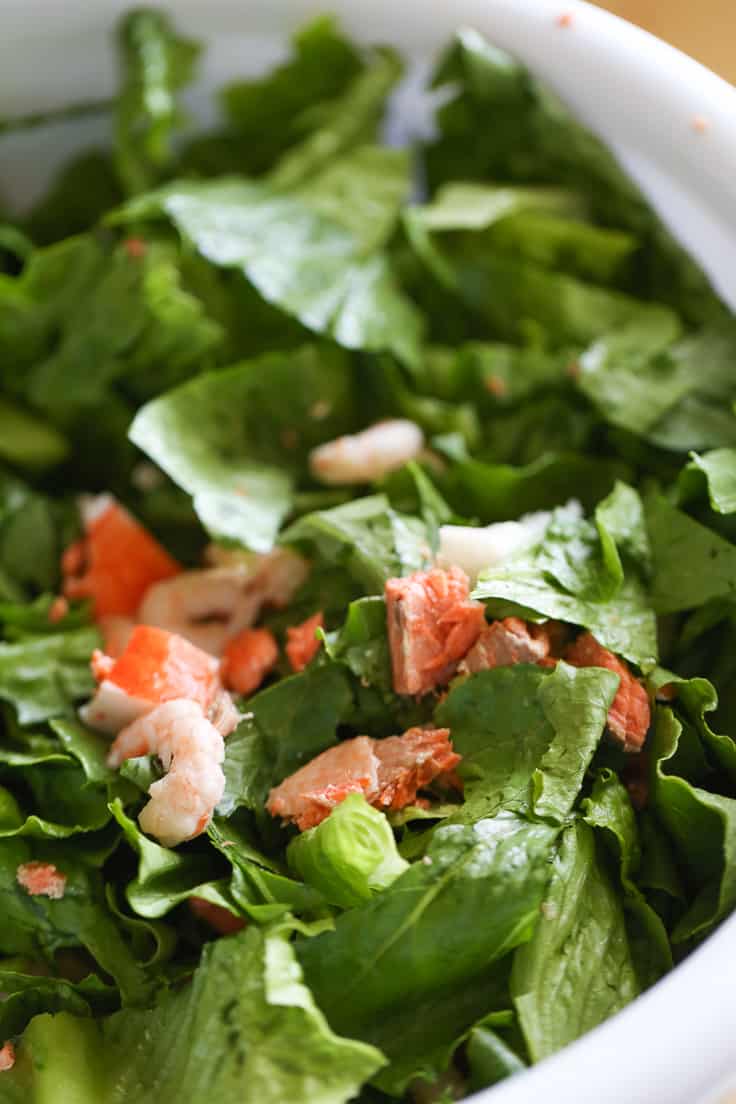 Precooked real bacon bits saved time. If you have any leftover bacon from breakfast, that would also work.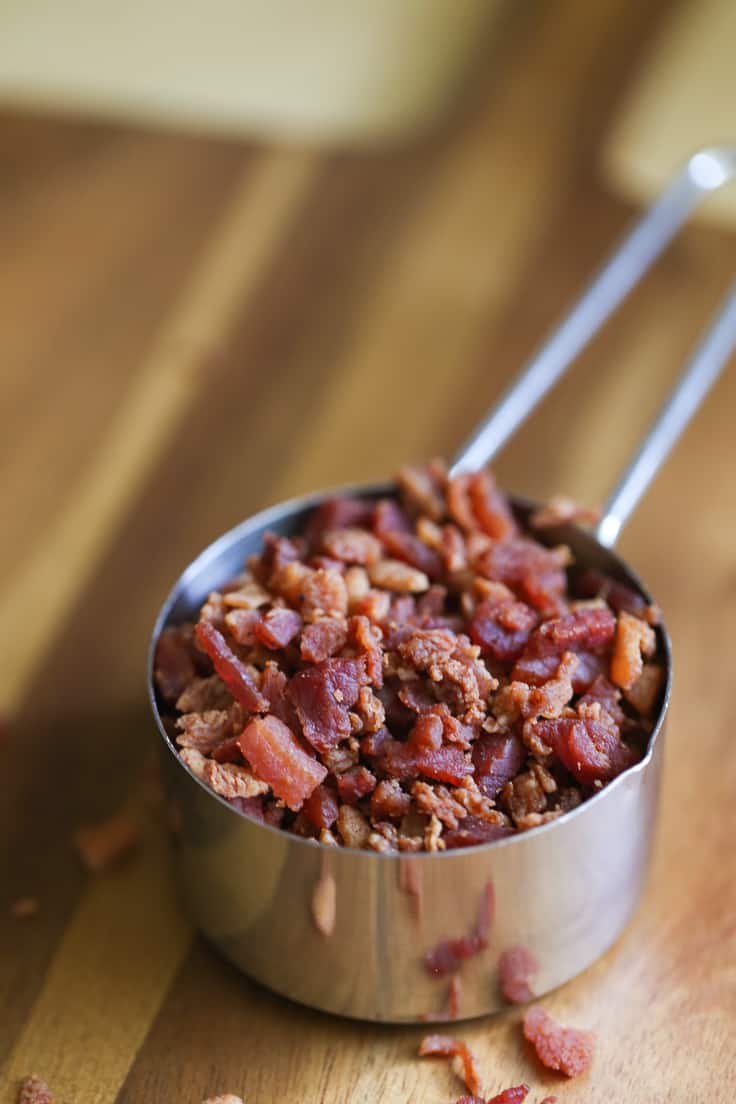 I bought some freshly grated Parmesan cheese at Loblaws too. I like to use extra in my Caesar salad!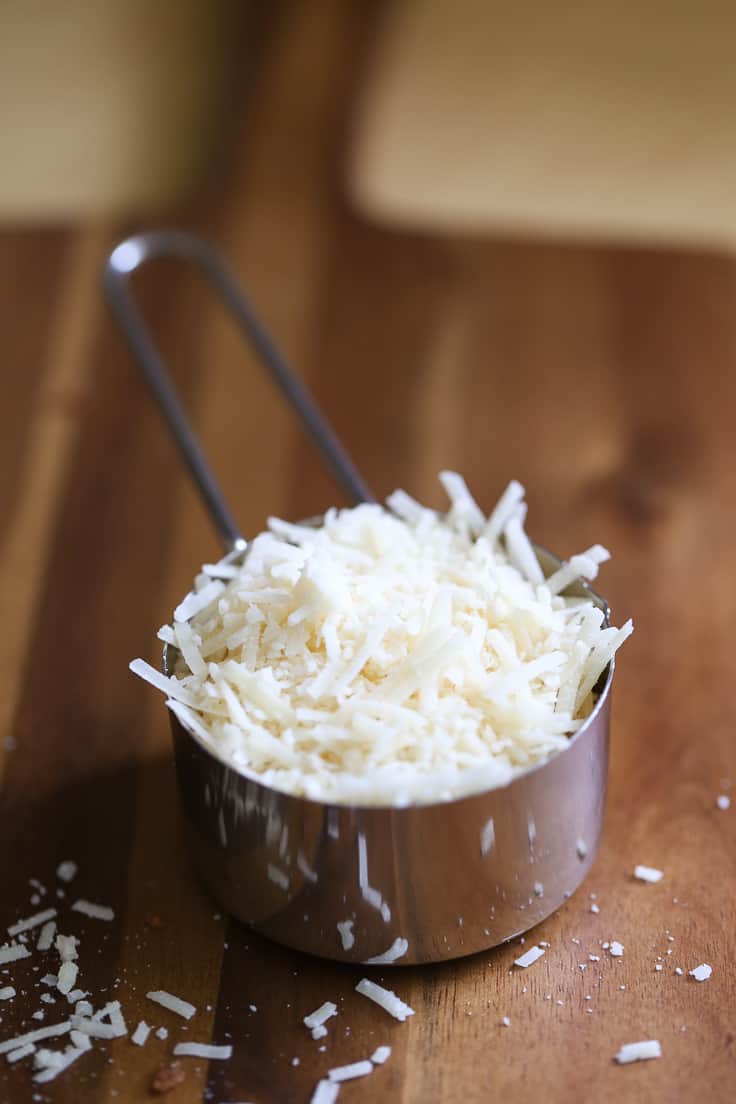 If you are wondering what the little green bits are on top of the salad, they are none other than capers! Capers are edible flower buds and taste delicious pickled. I love to use them in Caesar salad recipes! Plus, they pair well with seafood.
My dressing is homemade. It's a combination of lemon juice, olive oil, garlic, Dijon mustard and Worcestershire sauce. I don't use egg yolks in my Caesar dressing.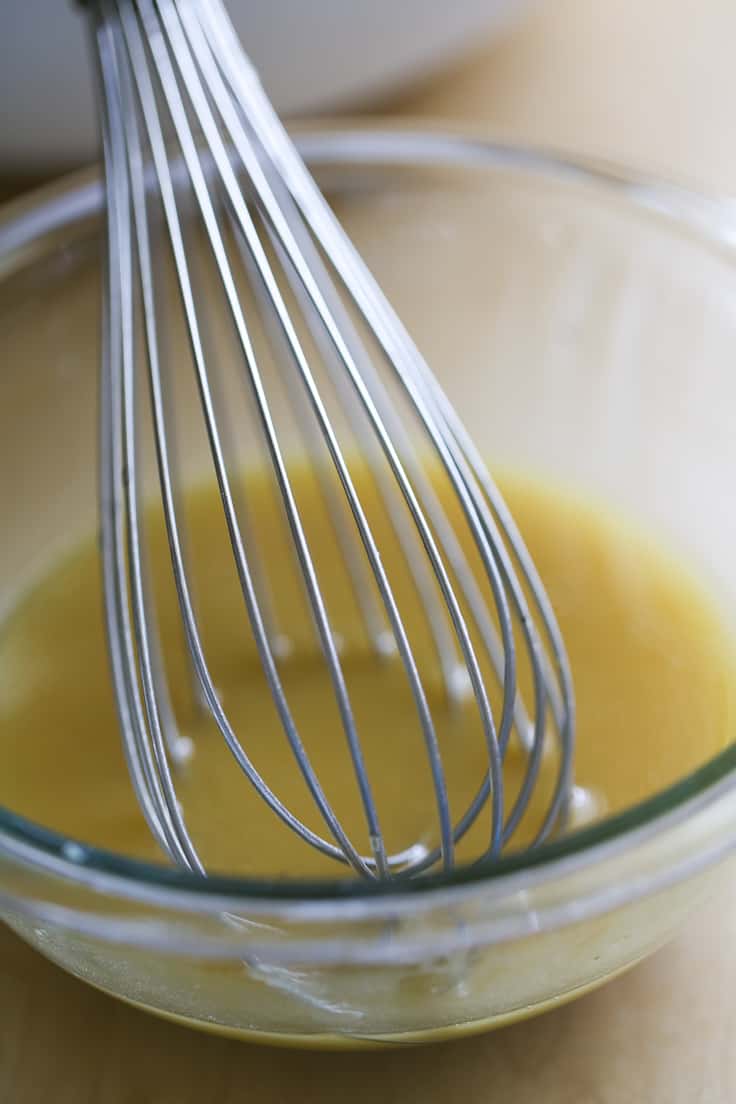 Toss all the ingredients together and serve. I am so happy with how this recipe turned out! It looks tasty, but more importantly, it IS tasty.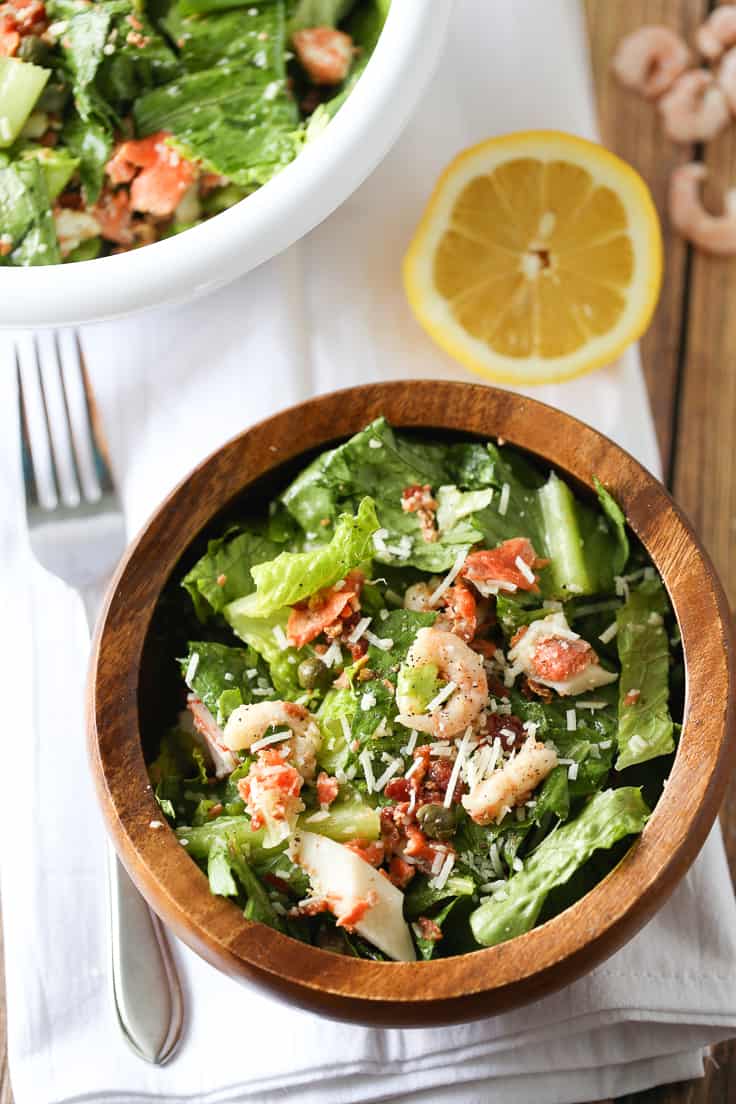 The seafood pairs perfectly with the other salad ingredients. I'm glad I decided to include all three varieties of seafood. It made for a delightful marriage of flavours!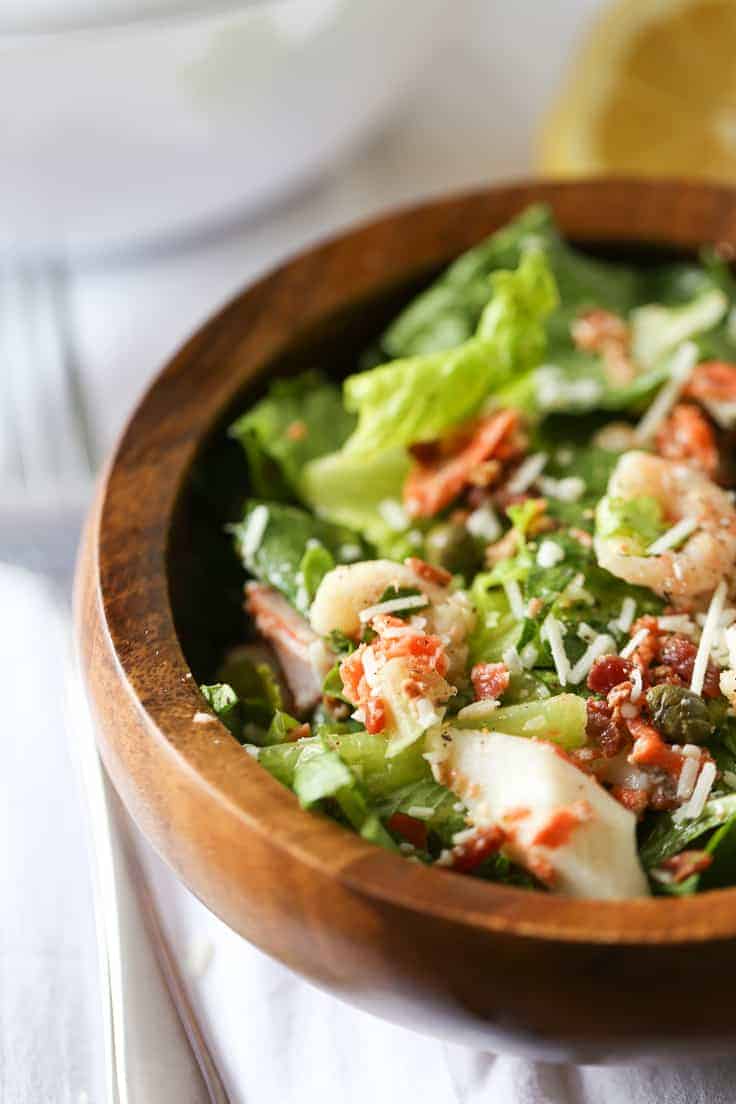 I thought about adding croutons at the end, but decided to leave them out. I didn't think the salad needed them because it has enough deliciousness going on.
It was a meal in itself. I was full after one bowl. Bridget, my Caesar salad lovin' daughter, enjoyed it too. I figured she would though.
I saved a bowl for the next day's lunch, but instead of eating it as is, I served it in a pita. My kids love anything in pita bread!
Challenge completed! I satisfied all the requirements. My recipe was quick to prepare in under 20 minutes, uses a variety of MSC-certified seafood products and was a hit with the family.
Next time you're shopping at Loblaws, be sure to look for the MSC-certified label and buy the ingredients to try this recipe. I'd love to hear how it turned out for you!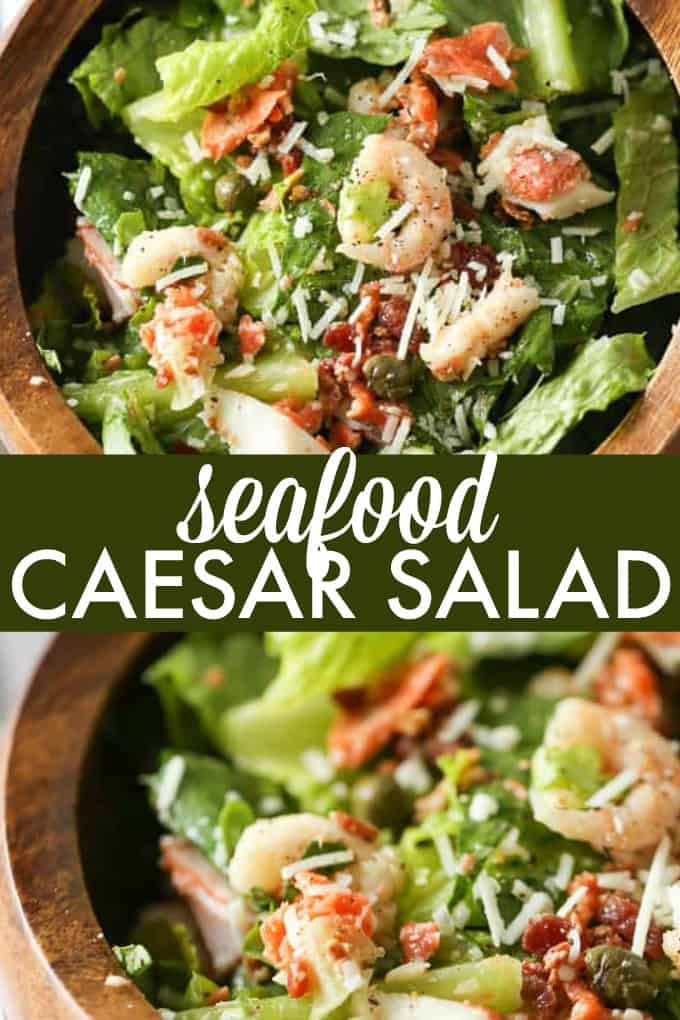 Visit WWF School of Fish to learn more and find other recipes to try. Chef Lynn Crawford's Lobster Rolls are calling my name.
You might also like this Drunken Salmon, Chicken Caesar Pizza or Honey Garlic Salmon.
What is your favourite seafood recipe?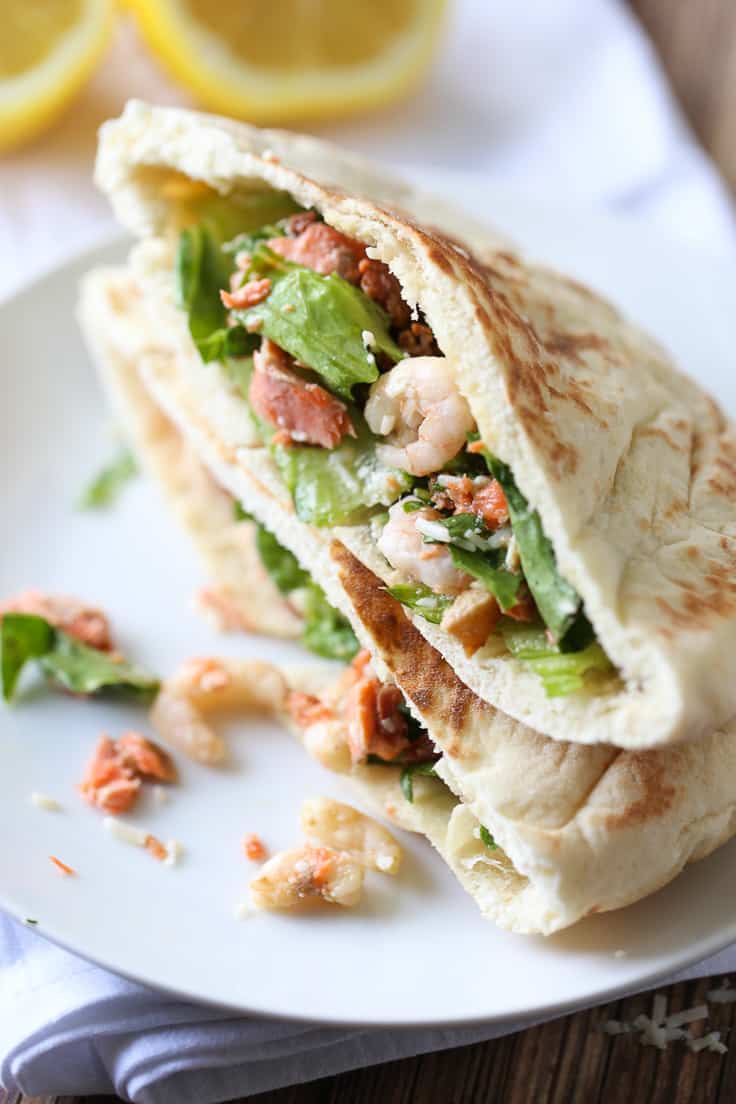 Seafood Caesar Salad
Elevate your regular dinner salad tonight! Salmon, shrimp, and crab meat are delectable in homemade Caesar dressing and topped with capers and bacon.
Ingredients
2 Salmon fillets, cooked and then roughly chopped
1 cup shrimp, cooked
1 cup crab meat, roughly chopped
1 tbsp capers
1/2 cup Parmesan cheese
1/2 cup bacon bits
1 head of romaine lettuce, washed and torn into bite sized pieces
sea salt & pepper
1/2 cup extra virgin olive oil
1/4 cup lemon juice
1 tsp Worcestershire sauce
1 tsp Dijon mustard
3 cloves garlic, minced
Instructions
Toss together salmon, shrimp and crab meat in a large bowl. Season with salt & pepper.
Add in romaine lettuce, capers, Parmesan cheese and bacon bits.
In a small bowl, whisk together olive oil, lemon juice, Dijon mustard, garlic and Worcestershire sauce. Pour desired amount of dressing onto the salad and toss. Refrigerate any eaten servings.
Recommended Products
As an Amazon Associate and member of other affiliate programs, I earn from qualifying purchases.
Nutrition Information:
Yield:

6
Serving Size:

1
Amount Per Serving:
Calories:

464
Total Fat:

33g
Saturated Fat:

6g
Trans Fat:

0g
Unsaturated Fat:

25g
Cholesterol:

126mg
Sodium:

800mg
Carbohydrates:

9g
Fiber:

3g
Sugar:

2g
Protein:

33g
Disclosure: I was compensated for this post. All opinions expressed are my own.