Chicken Caesar Pizza is going to transform your pizza night. Tender chicken, Caesar dressing with tasty toppings baked to a golden brown delight. If you want to change up your pizza recipe, try this! You won't be sorry!
I eat Caesar salad a couple of times a week and I wondered what it would be like to use Renee's Mighty Caesar salad dressing on a pizza. Boy was it a good thing! I think it tastes even better on pizza than it does on a salad.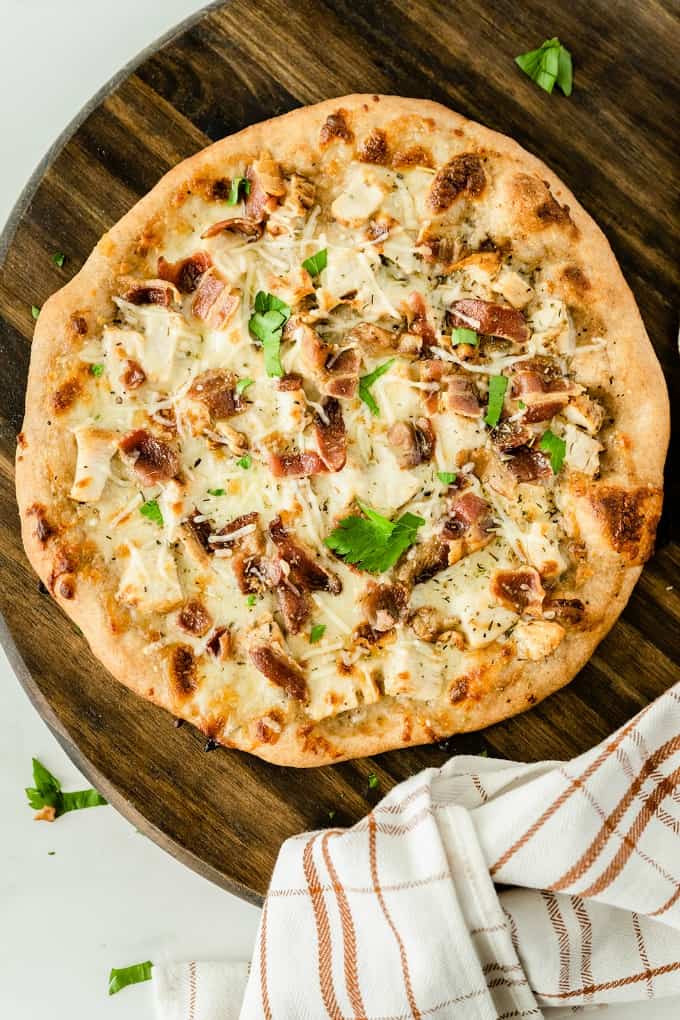 Chicken Caesar Pizza
The ingredients are pretty simple: pizza dough, Caesar salad dressing (I LOVE Renee's Mighty Caesar!), bacon, chicken breasts, Parmesan and mozzarella cheese and a little Italian seasoning. Perfection in a pan!
As it was baking in the oven, my kitchen filled with a deliciously garlicky aroma. I think baking it really accentuated the flavour.
If you wanted to get really crazy, serve it with some Caesar salad. Warning: you may need a breath mint or two after your meal!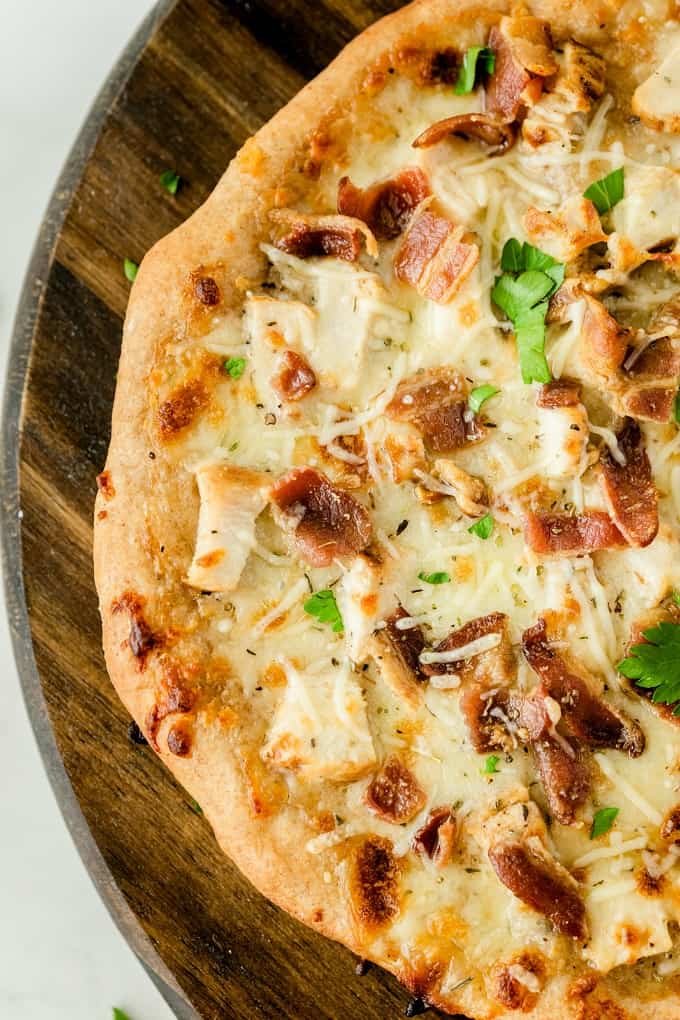 Craving More Pizza Recipes
For more not-your-ordinary-run-of-the-mill pizza recipes, check out my recipes for Chicken Pesto Pizza, Italian Meatball Pizza, Sweet Chili Chicken Thai Pizza and Cheeseburger Pizza.
Have you ever used Caesar salad dressing instead of pizza sauce? This recipe made me a believer. I may have to try some other kinds and see what other interesting things I can come up with!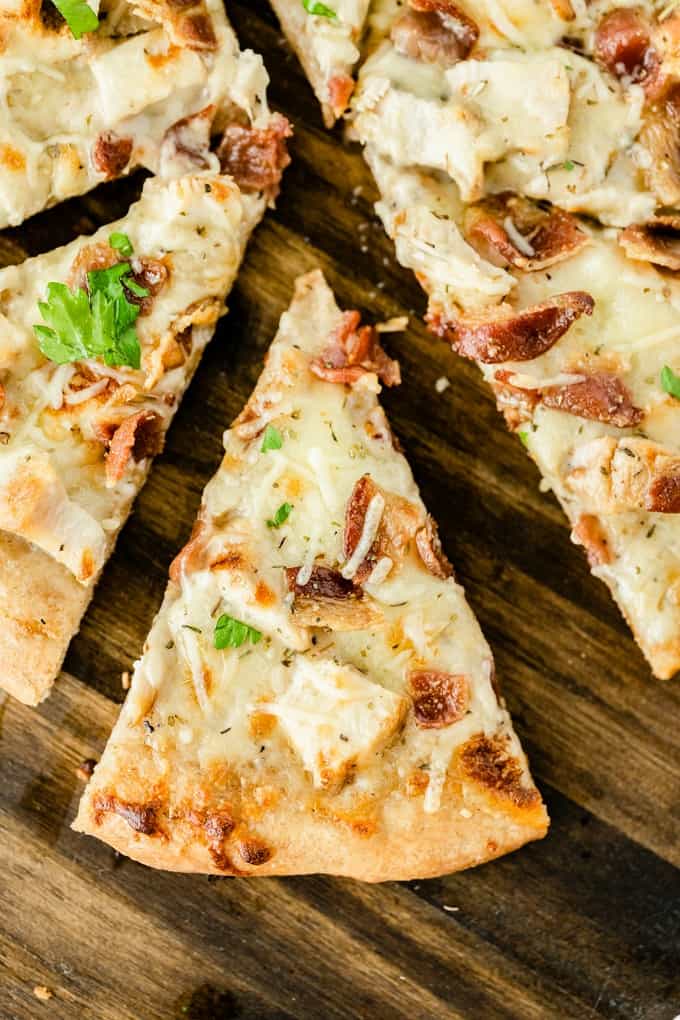 What Type of Chicken Do You Use for Chicken Caesar Pizza
You can use pre-cooked diced or shredded chicken for this pizza. I have bought pre-cooked chicken and used that before. Or you can cook up some breast or tenderloins and dice it up. Just make sure that you don't use a chicken that has a ton of seasoning or it will affect the flavor of your pizza.
Homemade Dough vs Store-Bought Pizza Dough
Well, this is all about the preference of what you like. I find that the refrigerator Pillsbury dough works great, and offers a homemade crust flavor. You just roll it out and then spread to shape. Then you can pre-bake the dough to help get the dough fully cooked. I bake it for eight minutes before I add on the toppings.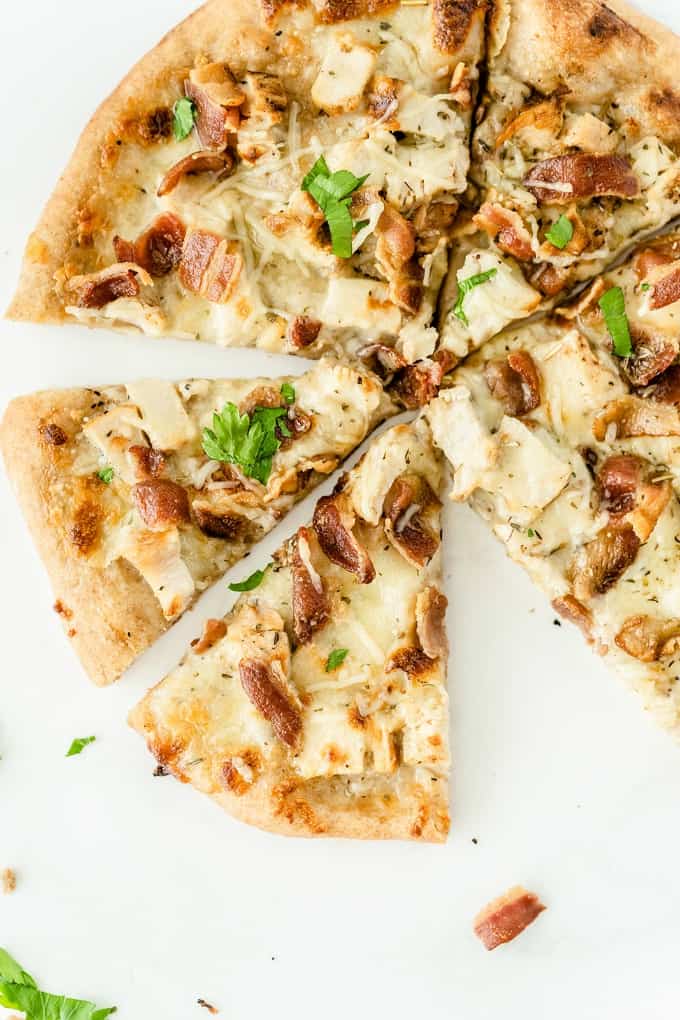 How to Make Chicken Caesar Pizza
Prep your dough and lay it out on the pan, and then pre-bake for 8 minutes. Once the dough is partially cooked, remove and then spread on the Caesar dressing. Make sure you leave a gap around the edge to act as the crust. Then top with bacon and chicken, and both kinds of cheese. Add on your Italian seasoning, and bake an additional 7-10 minutes.
Can I Make This Chicken Caesar Pizza on Naan Bread
Yes, I have made this recipe using naan bread as the pizza crust before. The Caesar pairs really well with the bread and it gives it a tasty flavor that is different than straight pizza crust.
Searching for More Quick and Easy Weeknight Meals
No Peek Chicken | Literally pour ingredients into the pan, cover and bake and don't peak. Such a simple weeknight meal that is so easy to prep.
Chow Mein Skillet | Skillet recipes are always welcome in our home. If you love pasta, and incredibly flavorful dishes, give this recipe a try!
Spicy Stir Fry | Stir Fry's are always a breeze to make. If you love veggies paired with protein, this one is a recipe to add to the menu.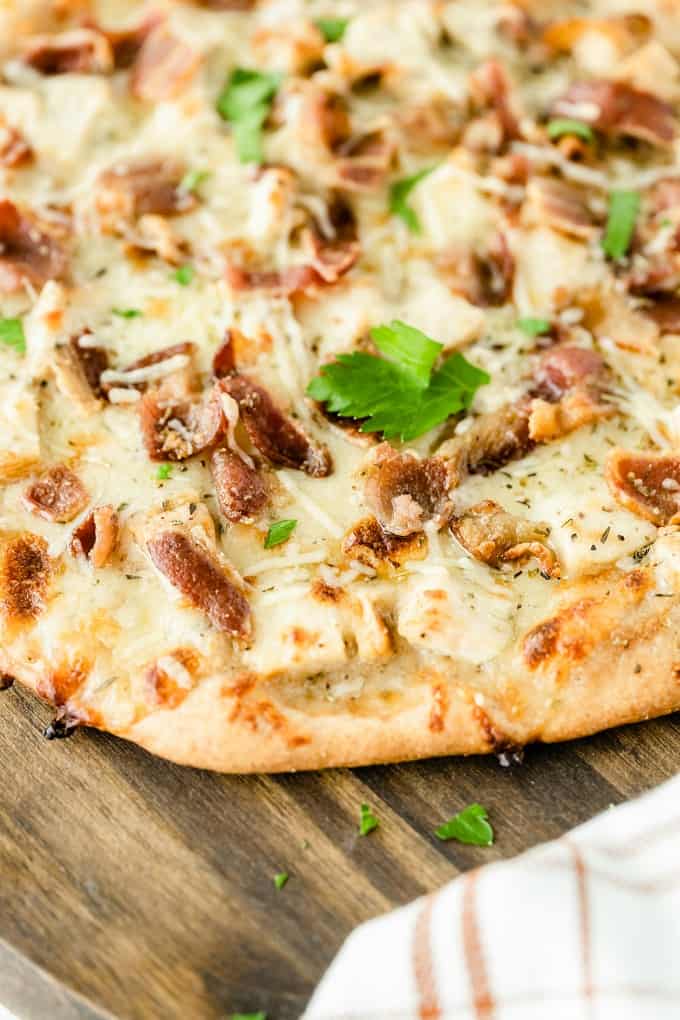 How Do You Keep Homemade Pizza from Getting Soggy
The key is pre-cooking your pizza dough for a little bit before adding on your toppings. Then in a preheated oven finish cooking the pizza. It will work great at giving you that crispy crust you are looking for.
Can You Store Leftover Caesar Pizza
Absolutely. Simply allow the pizza to cool down and then place in an airtight container or sealable bag. Store up to three days in the fridge. You can eat the leftovers cold or warm them up if you prefer.
Can I Double This Pizza Recipe
You can double this recipe and make as many pizzas as you would like. Just prep and make them in the oven as directed. Then when you are ready for another pizza to go in serve up the fresh pizza hot.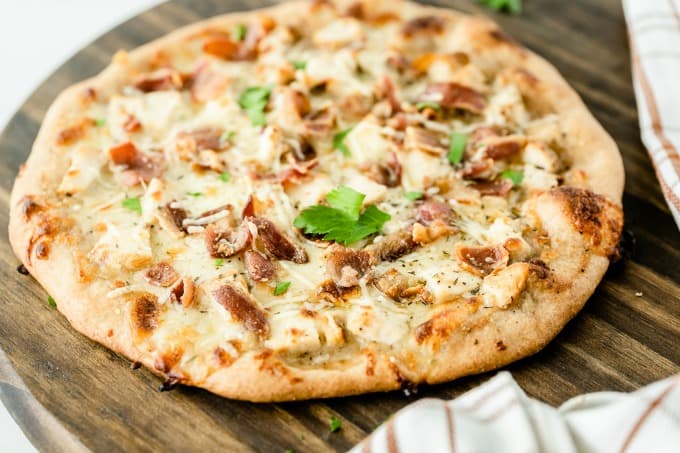 What to Serve with Caesar Pizza
Salad | Looking for a lighter side, reach for a salad. I love doing a caesar salad with a little drizzle of dressing. It helps carry on the theme of Caesar.
Veggies | Pair crisp fresh veggies as a side for a nice crunchy texture. If you love dip to pair with your favorite dip as well.
Breadsticks | Whip up some breadsticks or even garlic bread for even more pizza inspired recipes!
You'll also enjoy Pizza Soup.
I hope you enjoy this pizza recipe. We are a huge fan and make it often when we get that craving for pizza!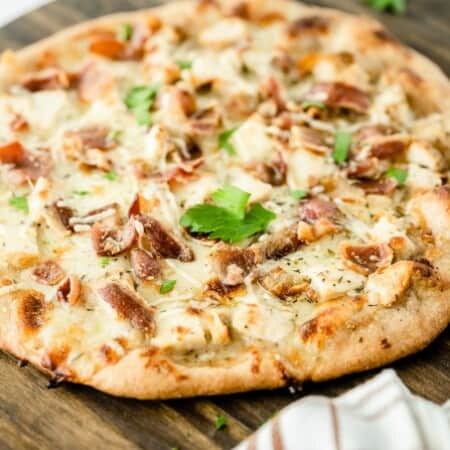 Chicken Caesar Pizza
Your favorite salad can also be your favorite homemade pizza recipe! Ditch the lettuce and make this simple crowdpleaser. Imagine pizza crust smothered in creamy Caesar dressing, topped with bacon, chicken and cheese!
Ingredients
1 Pillsbury Pizza Crust (or your own homemade pizza crust or other brand of refrigerated pizza crust)
¾ cup Caesar salad dressing
1 cup cooked chicken breasts, chopped
5 strips bacon, cooked and crumbled
¾ cup mozzarella cheese, shredded
¼ cup Parmesan cheese, shredded
¼ tsp Italian seasoning
Instructions
Prepare the pizza crust according to package directions. For the Pillsbury Pizza Crust I used, I greased a pizza pan and spread the dough to fit. Then I pre-baked for 8 minutes in a 400°F oven.
Spread Caesar salad dressing over pizza crust, leaving a gap around the edge.
Evenly distribute bacon and chicken evenly over the sauce. Then top with mozzarella cheese and Parmesan cheese. Sprinkle Italian seasoning on top.
Bake an additional 7 to 10 minutes or until crust is golden and cheese is melted.
Recommended Products
As an Amazon Associate and member of other affiliate programs, I earn from qualifying purchases.
Nutrition Information:
Yield:

6
Serving Size:

1
Amount Per Serving:
Calories:

534
Total Fat:

30g
Saturated Fat:

7g
Trans Fat:

0g
Unsaturated Fat:

22g
Cholesterol:

54mg
Sodium:

1074mg
Carbohydrates:

42g
Fiber:

2g
Sugar:

2g
Protein:

21g