Pizza Rolls
My picky eaters love pizza. I know when I make it for dinner, there will be no complaints and no leftovers. I thought I'd try a something different and made these yummy Pizza Rolls with some refrigerated crescent roll dough. This recipe also was well-received and gobbled up quickly.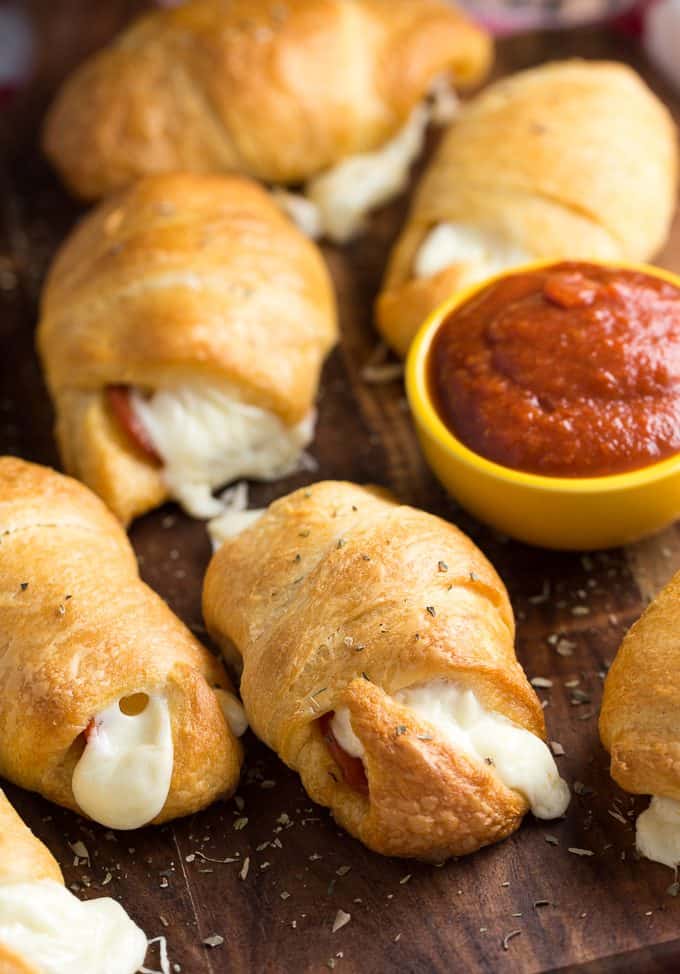 Basically all you do is wrap some pepperoni slices and a cheese stick in each crescent roll triangle. Bake them in the oven and they come out soft with gooey melted cheese inside. Add some pizza sauce for dipping and you have the perfect appetizer for kids.
Fill them with other toppings if you like. Maybe some cooked bacon, ham or pineapple?
Yield: 8
Pizza Rolls
Soft and buttery crescent rolls filled with gooey melted cheese and pepperoni slices. Add some pizza dipping sauce on the side and you have a tasty appetizer kids love!
Ingredients:
1 can refrigerated crescent rolls
24 pepperoni slices
4 sticks mozzarella cheese, cut in half
1/2 cup pizza sauce
Italian seasoning, for garnish if desired
Directions:
Preheat oven to 375F. Separate crescent roll dough along perforations into 8 triangles.
Place 3 pepperoni slices on the shortest side of each triangle. Top with a mozzarella stick.
Roll up crescent rolls starting at the side with the pepperoni and cheese. Place on an ungreased baking sheet.
Bake for 12 to 14 minutes or until golden brown. Serve with heated pizza sauce.

Enjoy them while they're hot! Maybe make two batches since they will be eaten up quickly. My daughter and her friend barely saved one for me. I'm happy that they enjoyed them so much.
For another easy appetizer, try these Air Fryer Mozzarella Balls. You might also like this Chicken Caesar Pizza.
Are your kids big pizza fans?