I recently shared an easy game day appetizer recipe for Cheeseburger Muffins that's perfect for those times you are feeding a crowd of hungry sports fans. For smaller gatherings, I've got another fantastic recipe: Pizza Cake. Your friends and family won't believe their eyes when they see it. Let's just say when I brought it out to serve to my friends, there were lots of "Whoa" and "OMG". It's a showstopper. If you're ready to get your "Game On", this is the recipe for you.
It may look crazy huge and elaborate, but it's actually quite easy to make. It all begins with a Wilton Easy Layers! 6 Inch Cake Pan Set.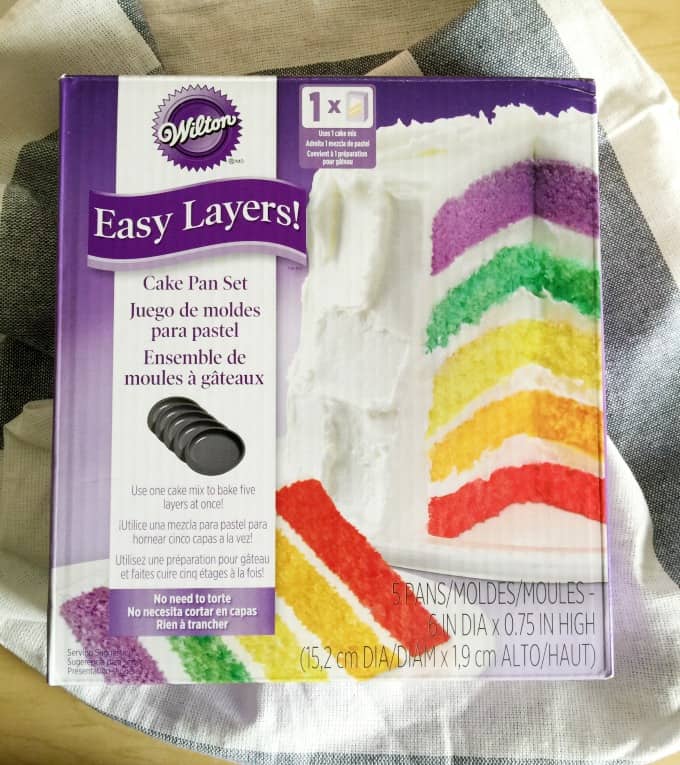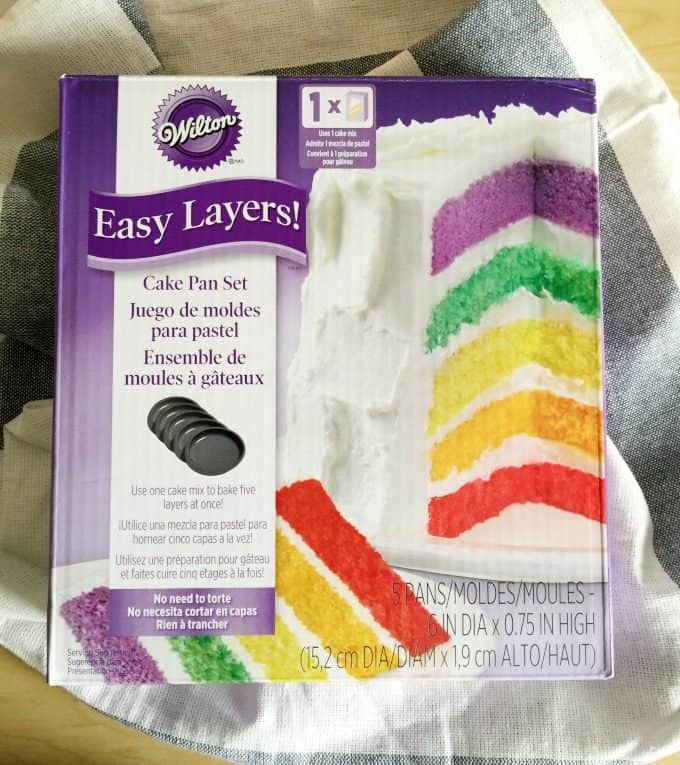 Pizza Cake
Normally, you'd use this set to make something sweet like a layered cake. I'm thinking outside the pan today and making a savoury treat. This set works beautifully to make individual pan pizzas.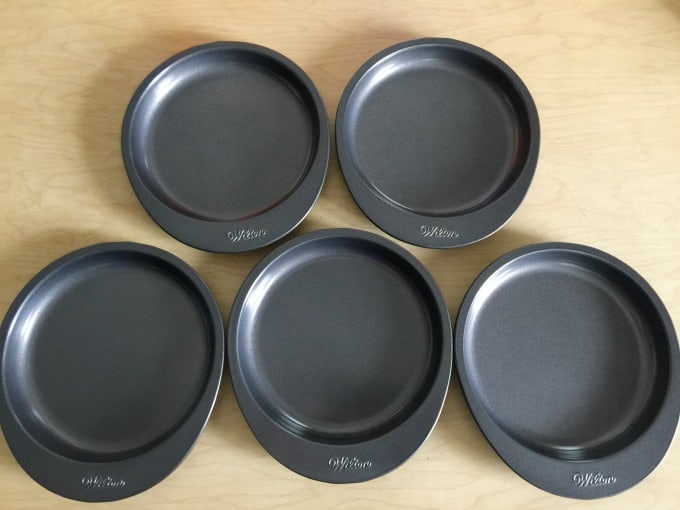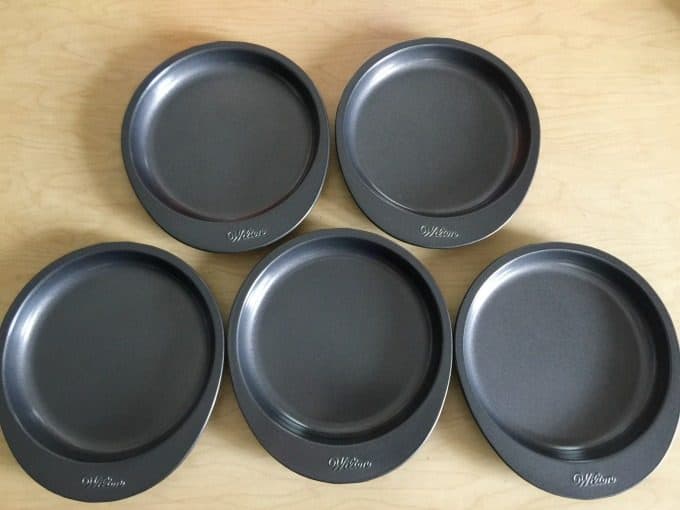 The Pizza Cake is basically just layers of different kinds of individual sized pizzas piled on top of one another. You can save some time by using refrigerated pizza dough unless, of course, you prefer your homemade version. I like easy recipes so I went with the ready to bake dough.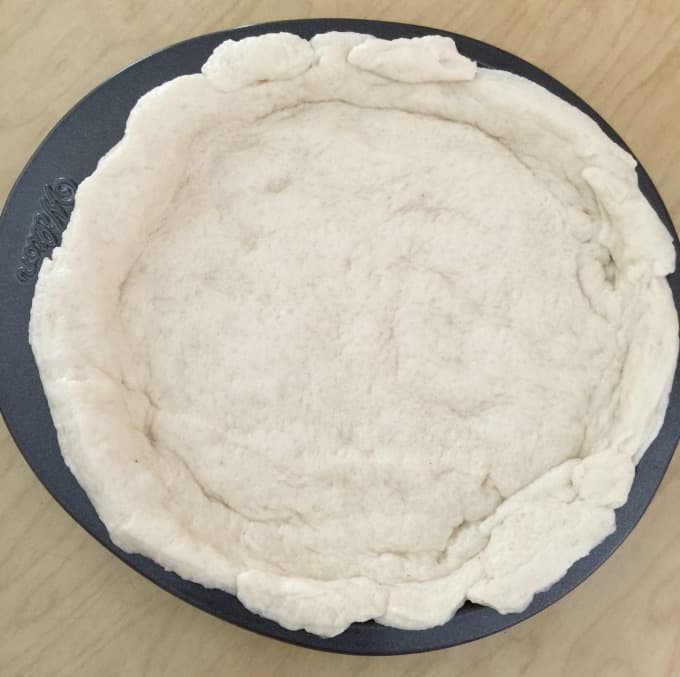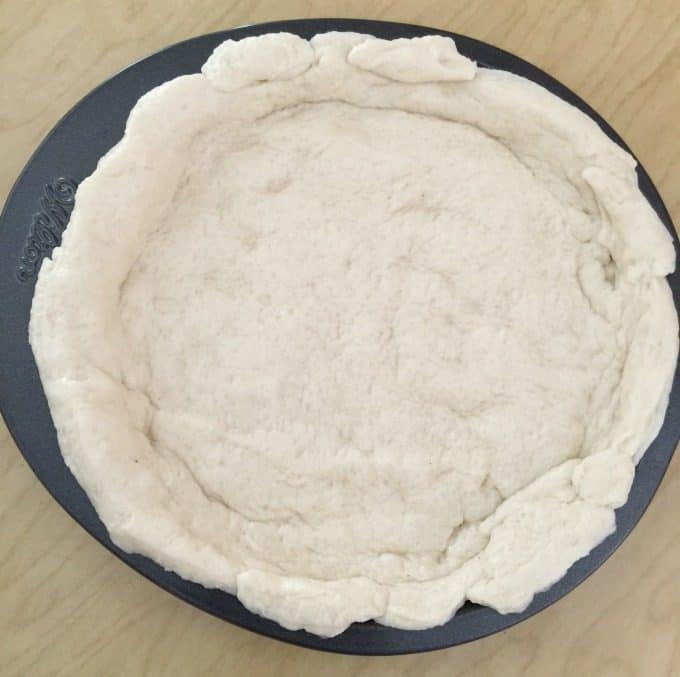 Because these pans are small, they can all fit in the oven at the same time. You need to par bake the crust before you add on your delicious pizza toppings.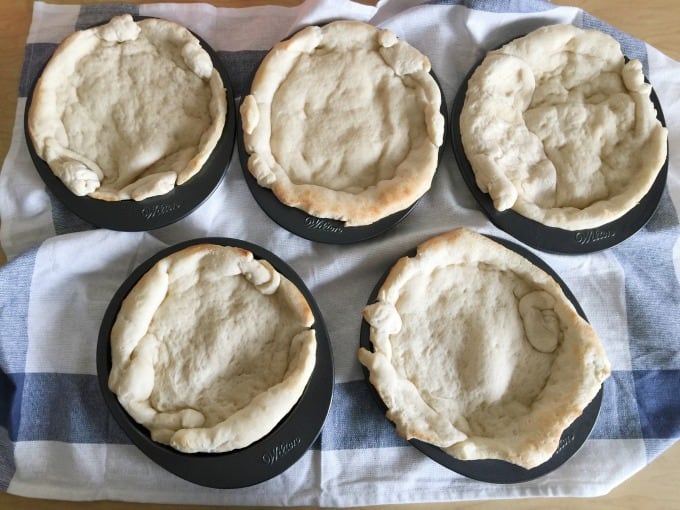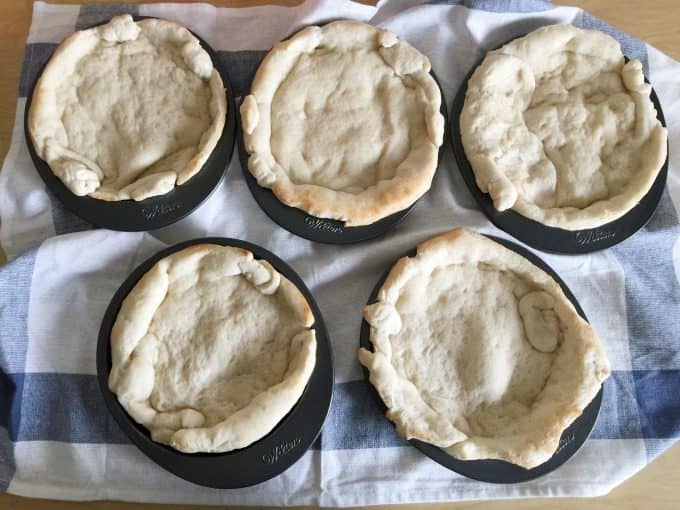 I suggest prepping ahead by getting all your ingredients measured, chopped and/or cooked. Do it the day before your expecting company so then you have less to do when your friends arrive. Plus, you'll have more time to enjoy the game instead of working in the kitchen!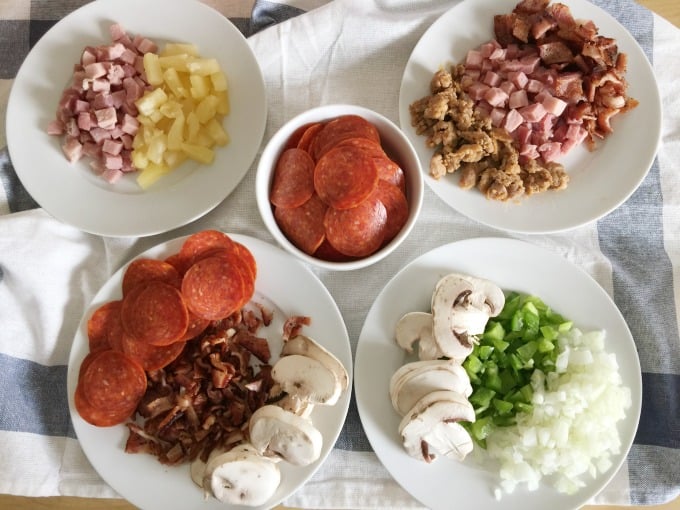 To keep things interesting, I made my pizza cake with five distinct pizza layers:
Vegetarian
Pepperoni
Meat Lovers
Hawaiian
Canadian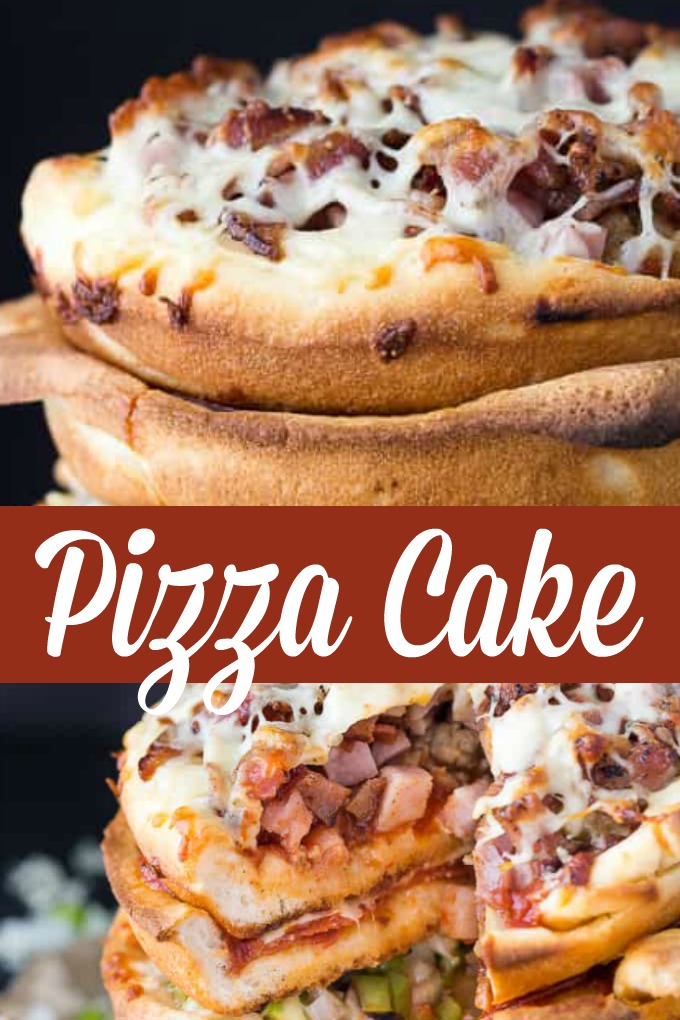 Feel free to follow my recipe to the letter or use your own favourite pizza toppings for your cake layers. This recipe is versatile so pretty much anything goes!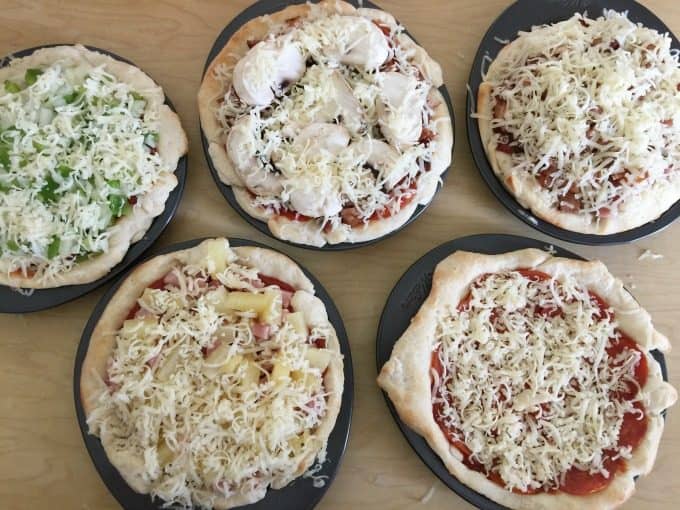 The pizzas bake in the oven a second time, all together again, and then it's time to get it ready to serve. Grab a large plate and start piling pizza on top of pizza until you have a five-layer pizza cake. Just looking at it is making me crave a big piece!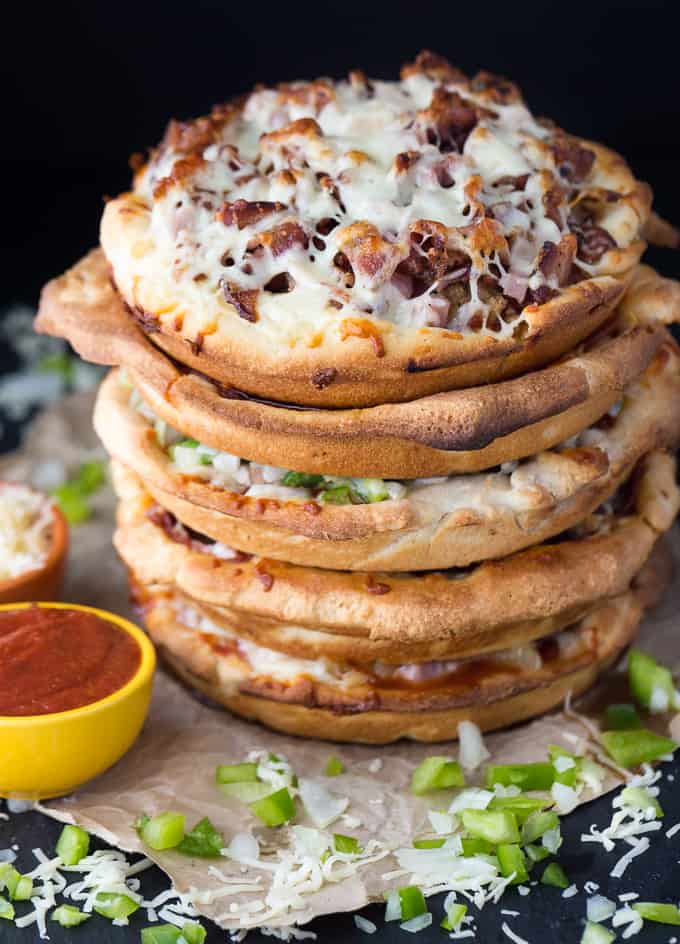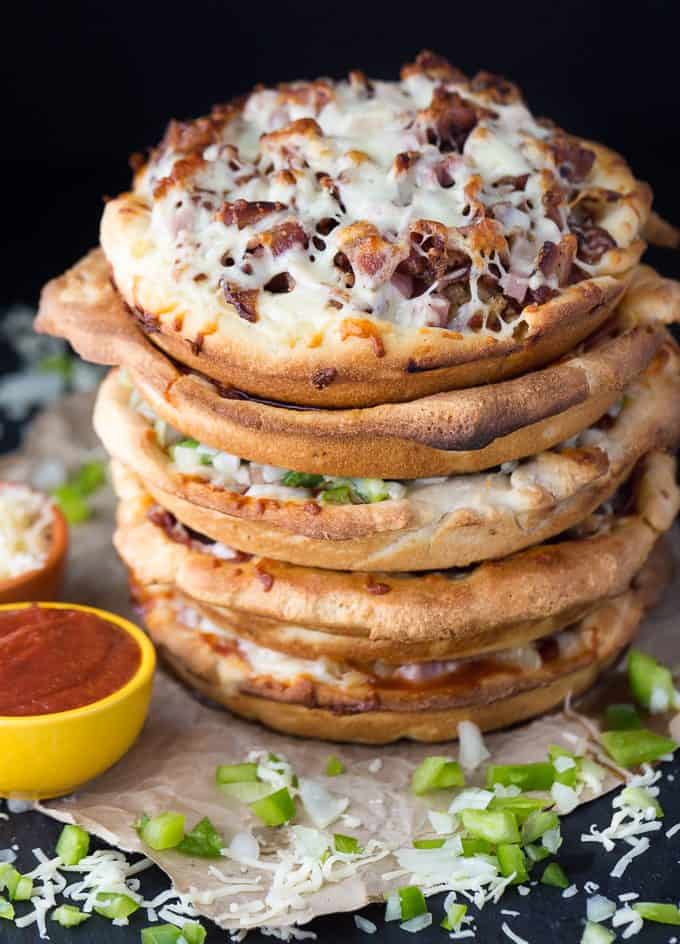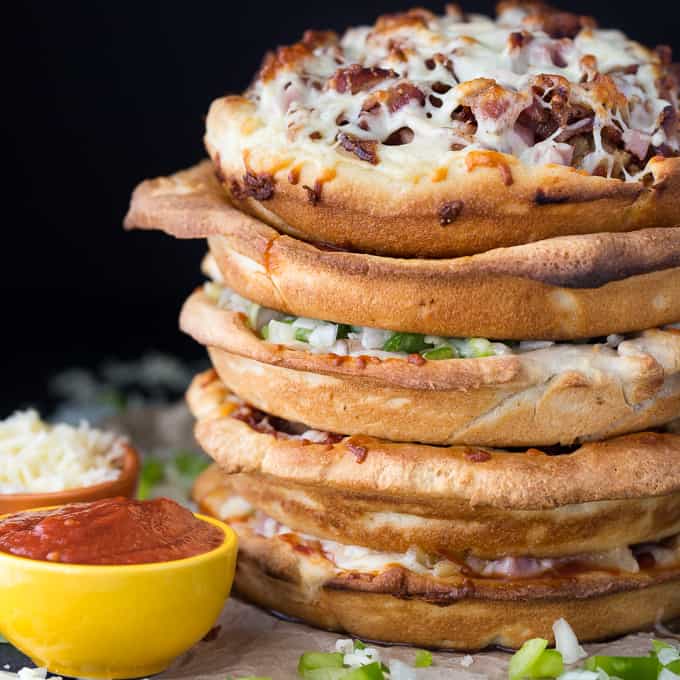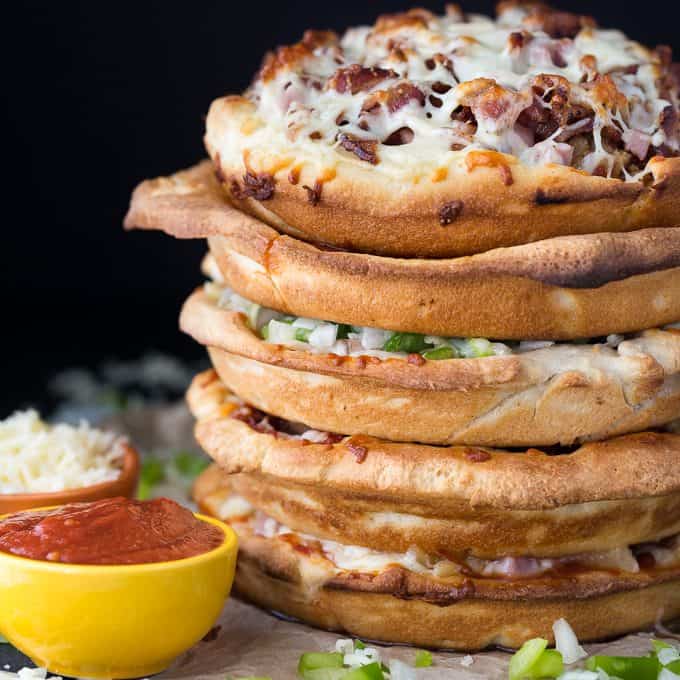 To serve, you cut into it with a sharp knife like you would a regular layered cake. Have lots of paper towels nearby because it can get a little messy. It's PACKED with toppings as you can see!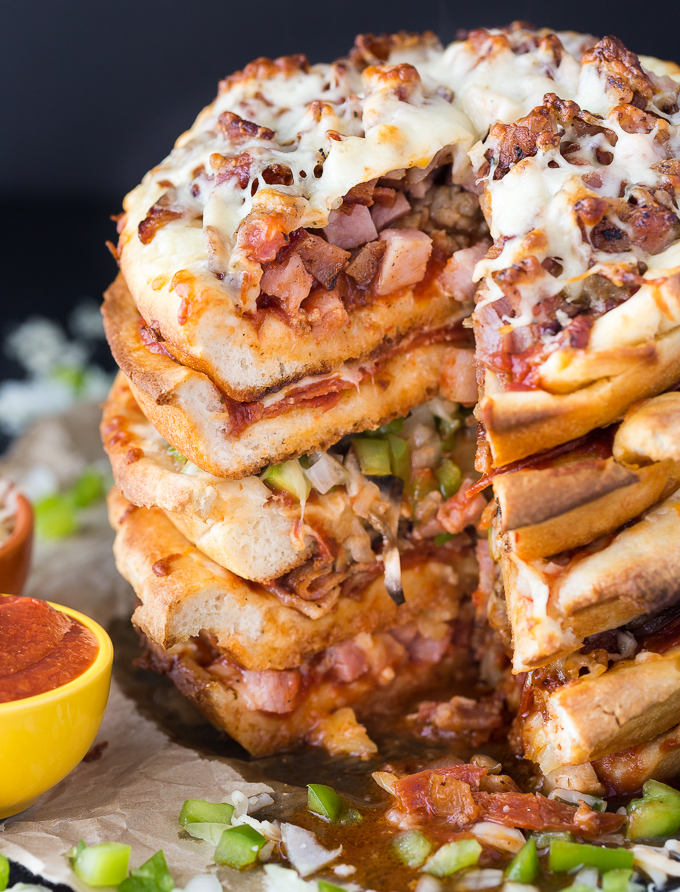 How your guests choose to eat it is up to them. My cousin grabbed the entire thing and opened her mouth really wide to get a nice big bite. My daughter, on the other hand, preferred a daintier approach and ate hers with a fork and knife. Despite the different eating styles, they both echoed the same sentiments. This was one pizza they'll never forget. Music to my ears!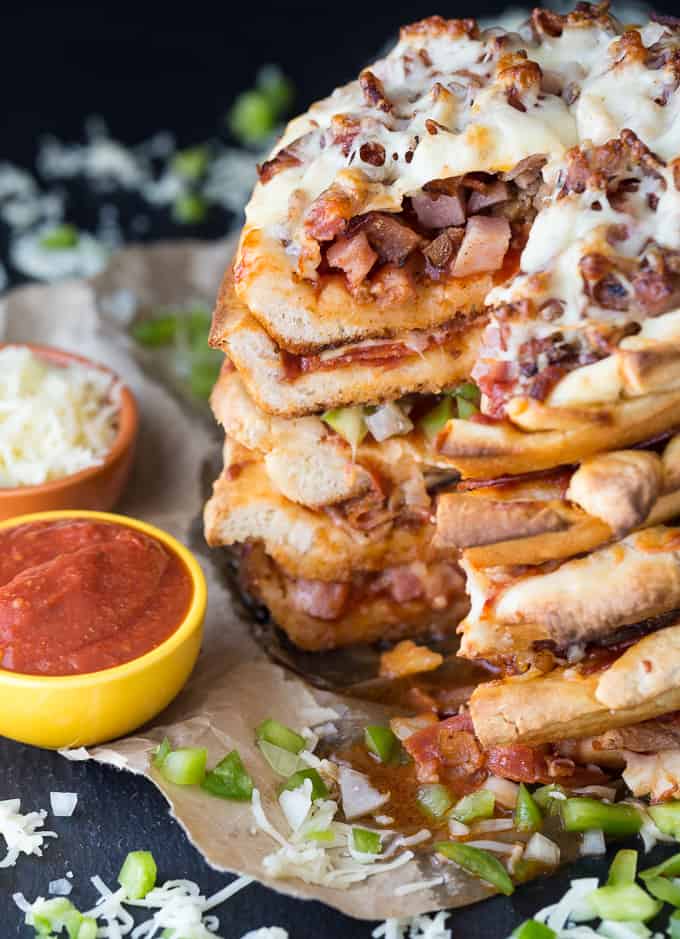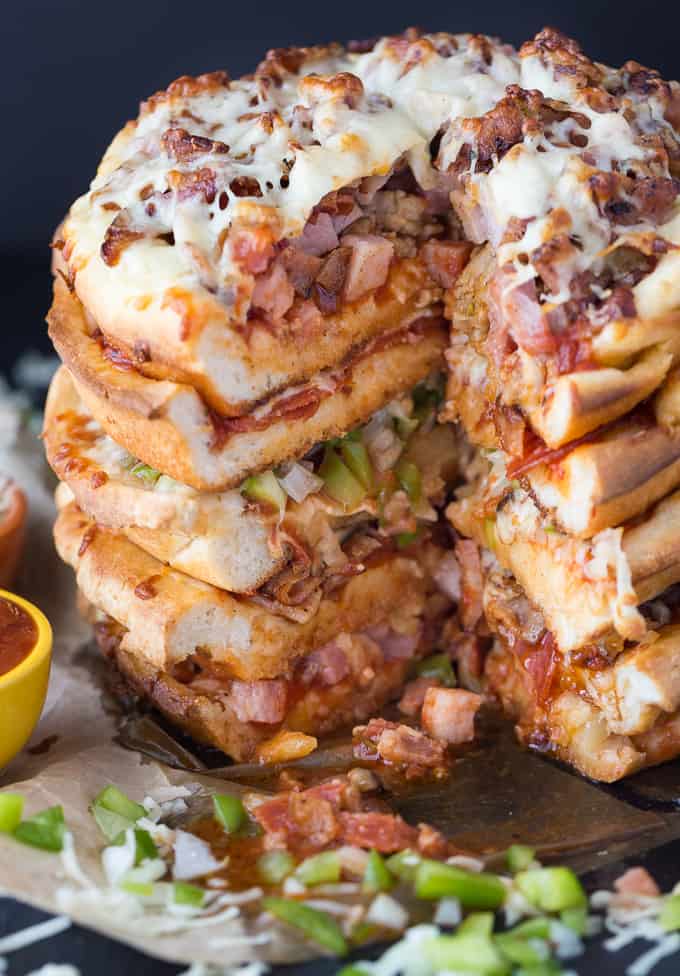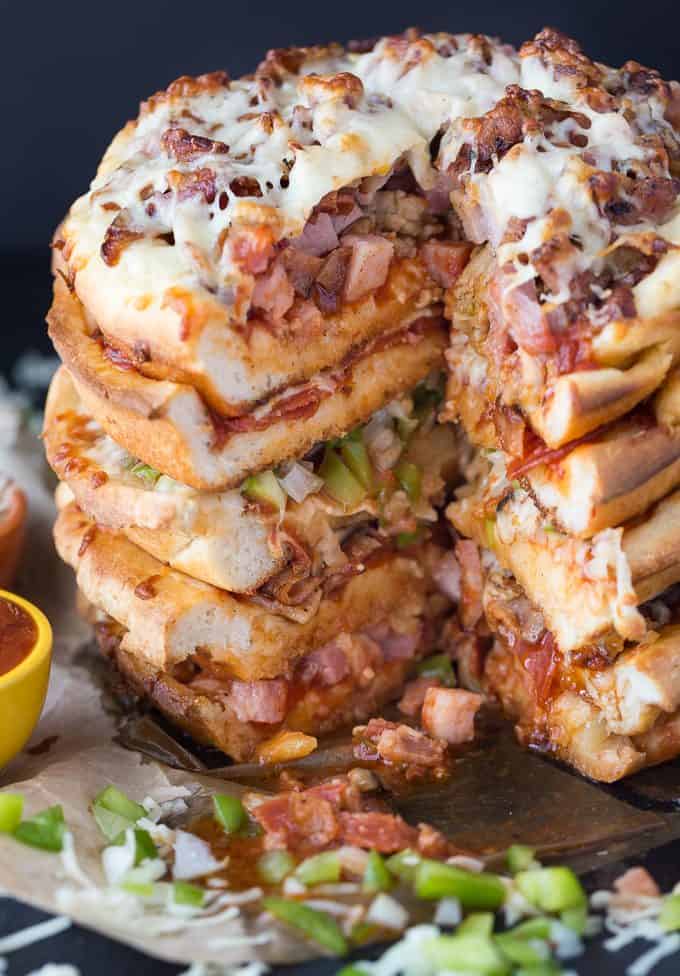 I guarantee your friends and family will be talking about this Pizza Cake for weeks, maybe even months, to come! I know my family will be mad if I don't make it again especially when the game is on.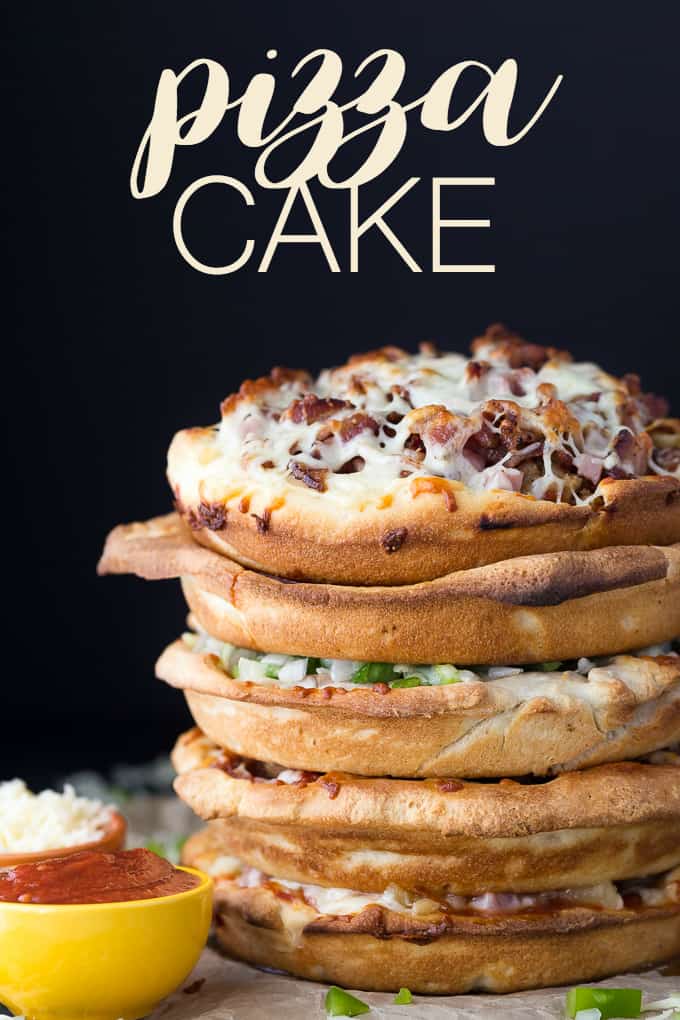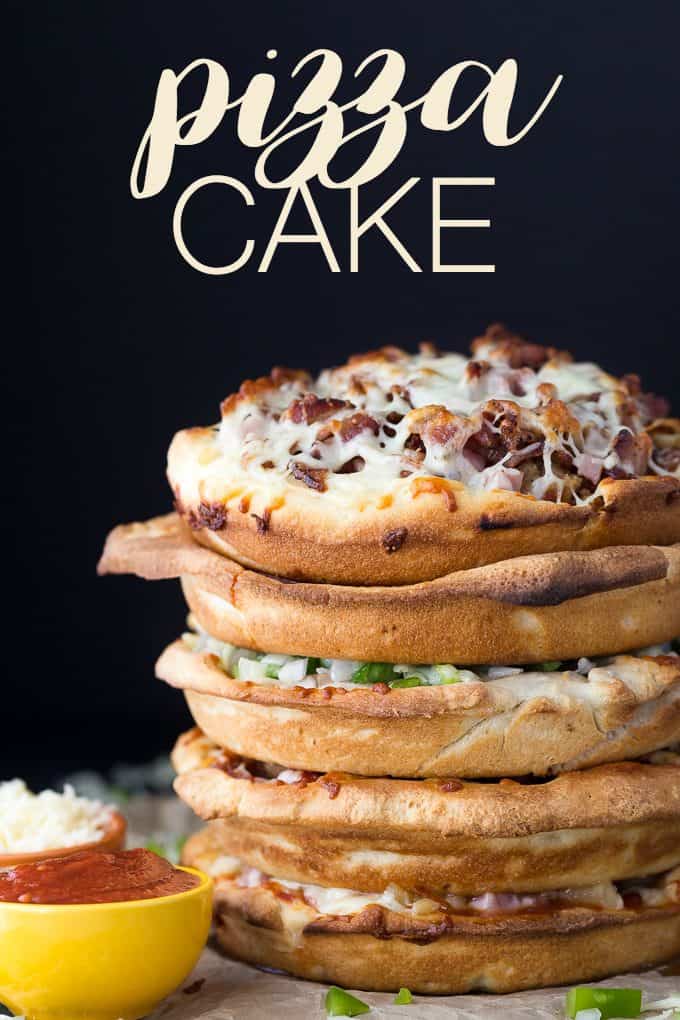 You might also enjoy Pizza Soup, Chicken Pesto Pizza, BBQ Chicken Pizza, Cheeseburger Pizza, Pizza Rolls or Chicken Caesar Pizza.
Are you ready to get your "Game On"? What's on the menu at your place?


Check out these other awesome game day ideas from Wilton.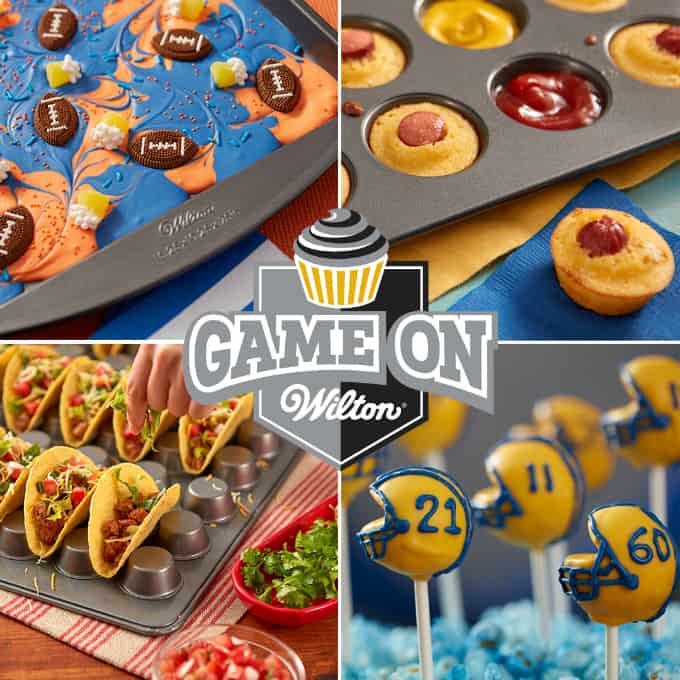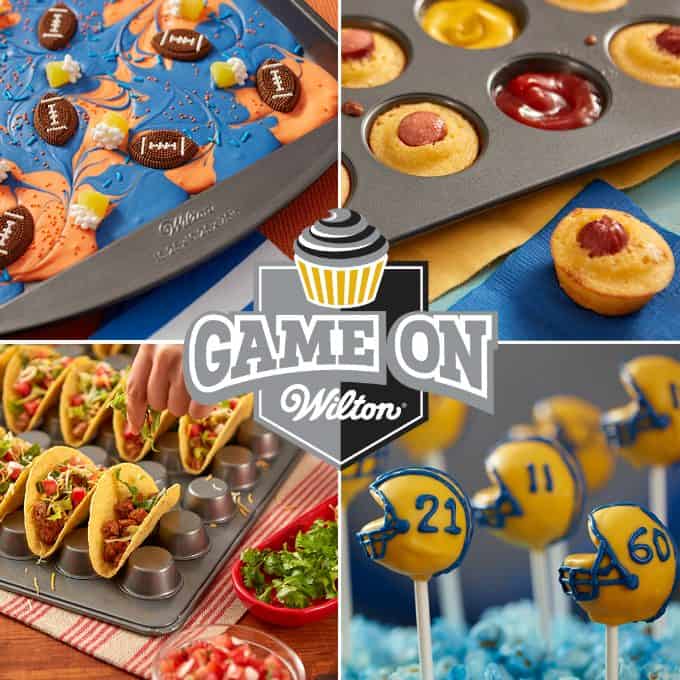 Disclosure: I was compensated for this post. All opinions expressed are my own.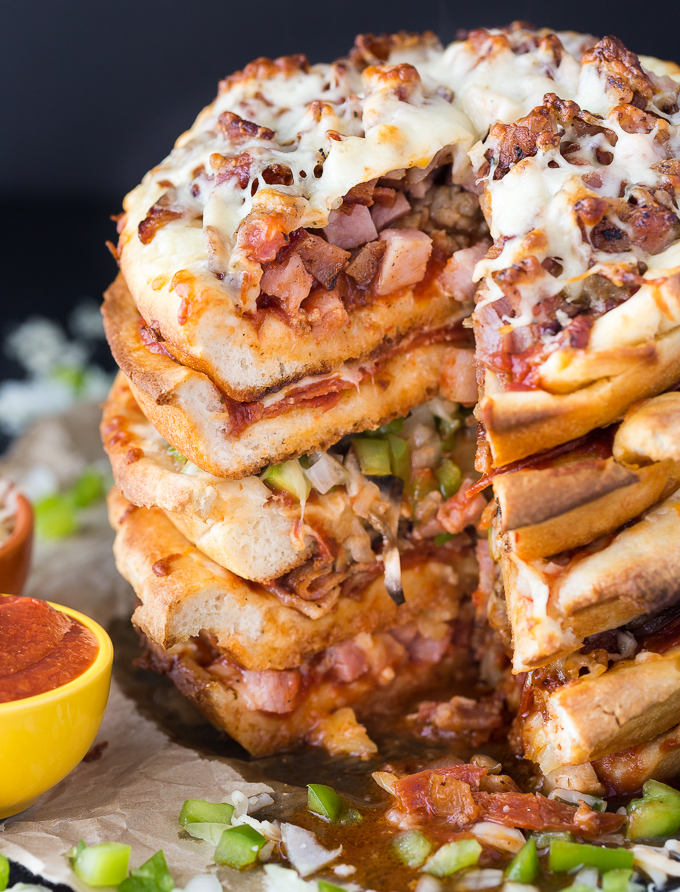 Ingredients
3

packages

refrigerated pizza dough

391g packages

½

cup

pizza sauce

⅔

cup

pepperoni

⅔

cup

bacon

cooked and chopped

⅓

cup

Italian sausage

cooked and crumbled

⅔

cup

ham

cooked and diced

⅔

cup

mushrooms

sliced

⅓

cup

green pepper

diced

½

cup

sweet onions

diced

⅓

cup

pineapple tidbits

drained

1 ¼

cup

mozzarella cheese

shredded
Instructions
Grease each pan in 5 piece cake pan set with cooking spray. Preheat oven to 400°F.

Cut the pizza dough to fit each pan. Press with your fingers to cover the pan's surface including the sides of the pans.

Bake pizza dough for 6 minutes and remove from oven.

Top each pizza with around 3 to 4 teaspoons of pizza sauce making sure to leave space around the edges.
Pepperoni Pizza
Top pizza sauce with ⅓ cup pepperoni and cover with 1/4 cup cheese.
Meat Lovers Pizza
Top pizza sauce with ⅓ cup pepperoni, ⅓ cup ham, Italian sausage and ⅓ cup bacon. Cover with ¼ cup cheese.
Vegetarian
Top pizza sauce with ⅓ cup mushrooms, onions and green pepper. Cover with ¼ cup cheese.
Canadian
Top pizza sauce with ⅓ cup mushrooms, ⅓ cup bacon and ⅓ cup pepperoni. Cover with ¼ cup cheese.
Hawaiian
Top pizza sauce with pineapples and ⅓ cup ham. Cover with ¼ cup cheese.
Bake
Place pizzas in oven for an additional 10 minutes or until crust is golden and cheese is melted.
Assembly
Remove pizzas from oven. Carefully place one pizza on a serving platter. Top with the second pizza and continue to stack the pizzas in whatever order you like. Cut pizza cake into slices to serve.
Kitchen Tools
Nutrition
Serving:
1
g
|
Calories:
1278
kcal
|
Carbohydrates:
144
g
|
Protein:
54
g
|
Fat:
53
g
|
Saturated Fat:
17
g
|
Polyunsaturated Fat:
33
g
|
Trans Fat:
1
g
|
Cholesterol:
113
mg
|
Sodium:
2745
mg
|
Fiber:
7
g
|
Sugar:
11
g
The information shown is an estimate provided by an online nutrition calculator. It should not be considered a substitute for a professional nutritionist's advice.
Love Recipes? Join our Free Facebook Group!
Join Mom's Best Recipes to find more delicious family recipes.
Save
Saved!