These mini Mac and Cheese cups are cheesy, creamy, and just like Kraft macaroni and cheese but way better! Baked with a crispy topping that gives this homemade pasta recipe extra flavor.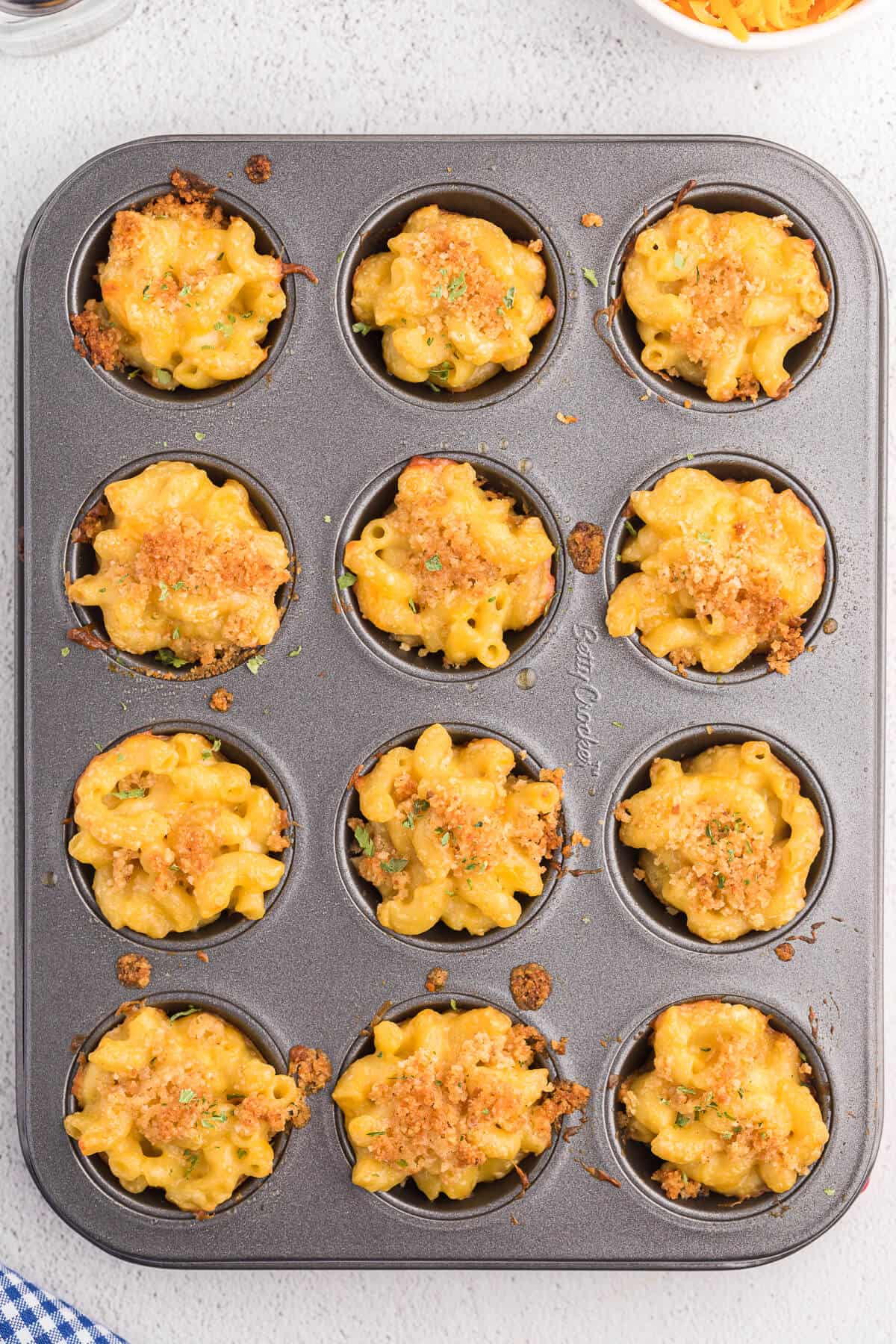 This macaroni and cheese recipe is a keeper. A fun twist on traditional mac 'n' cheese, these baked cups are perfect for whenever you are craving your favorite pasta cheese sauce.
One of my favorite types of store-bought macaroni and cheeses is the boxed kind with Velveeta. These macaroni cups are just as mouthwatering and cheesy as your favorite boxed brand–except better.
This baked macaroni has buttery toasted breadcrumbs which really adds a lot of variety and crunchiness to the pasta.
You will love making this recipe because it comes together in about 30 minutes and is perfect for those nights whenever you're wanting simple but yummy. This recipe paired with some of my other side dishes creates a delicious plate of sides!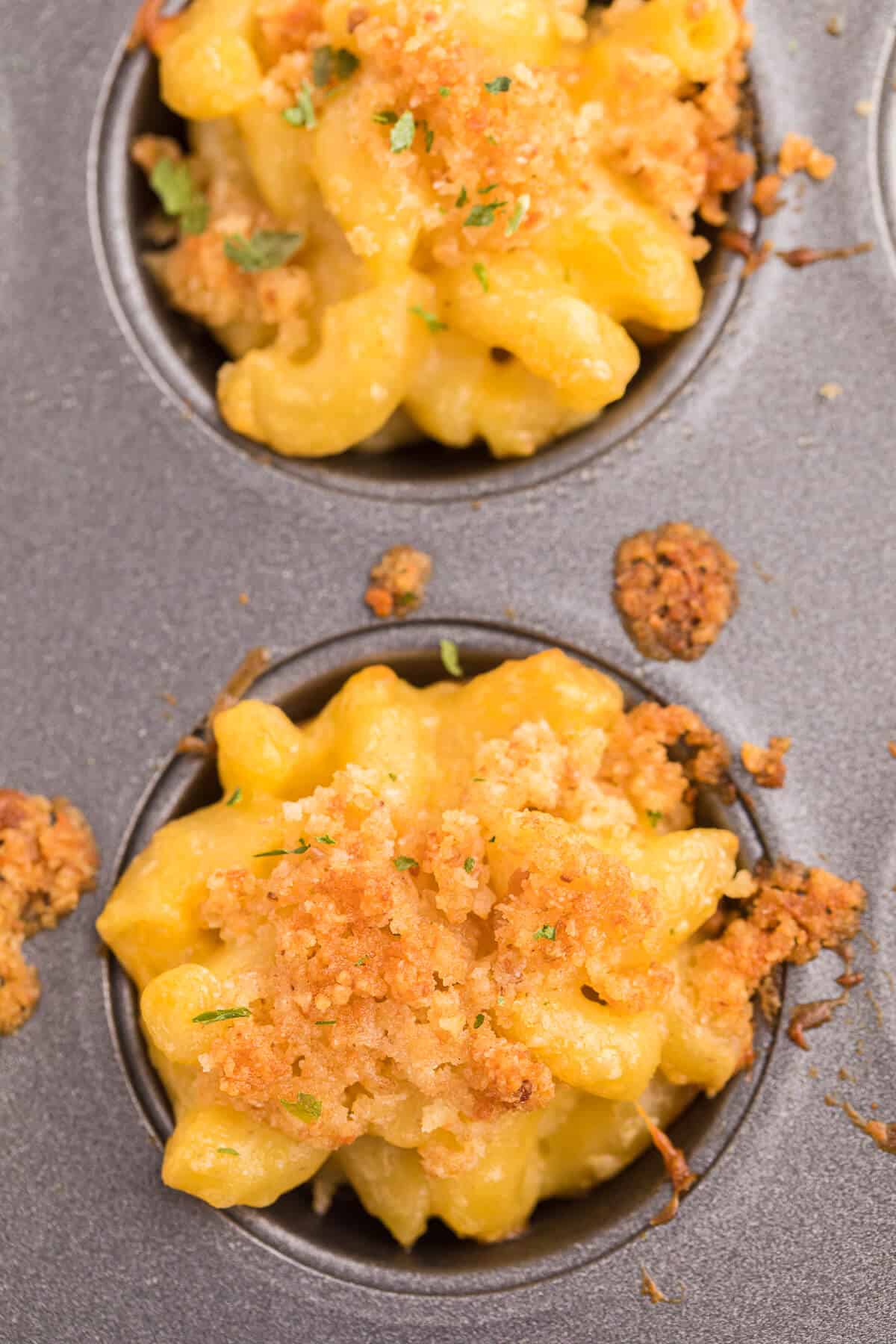 Ingredients
Noodles: I like to use macaroni noodles because they are classic, but you could try different pasta shapes.
Butter: I like to use salted butter because the more salt the better!
Flour: All-purpose flour is used for the cheese sauce and acts as a thickening agent.
Milk: Dairy milk is my favorite for this recipe, but you can use any kind of milk just make sure it is unflavored.
Cheese: You will need both Parmesan and cheddar cheeses. In my opinion, I like to freshly grate my cheeses for mac and cheese.
Eggs: The eggs thicken the macaroni and cheese up and provide extra smooth and creamy textures to the tender pasta.
Breadcrumbs: Any kind of breadcrumbs are fine this recipe. The breadcrumbs add an element that makes this pasta recipe stand out from the rest!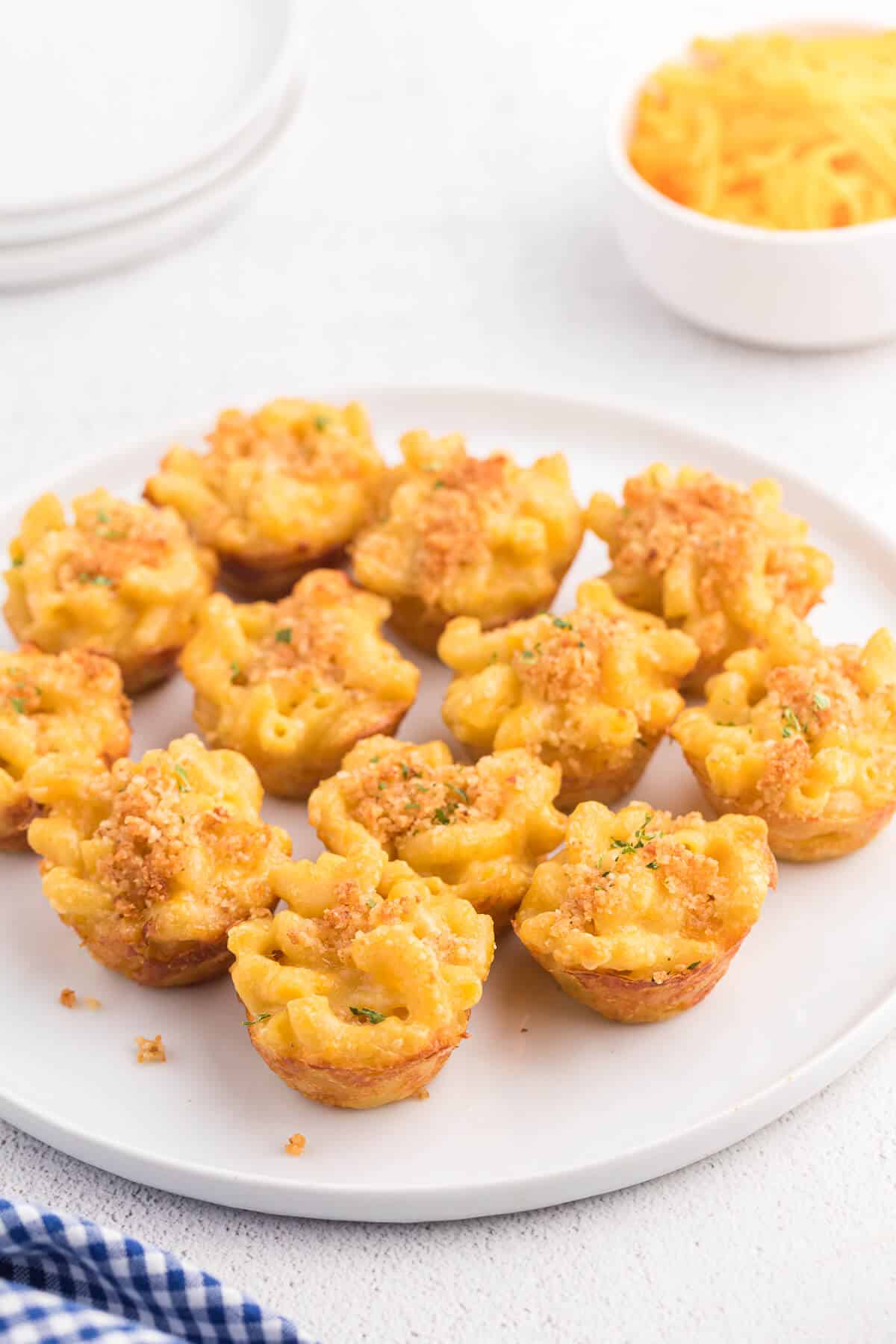 What I Used For This Recipe
This post contains affiliate links.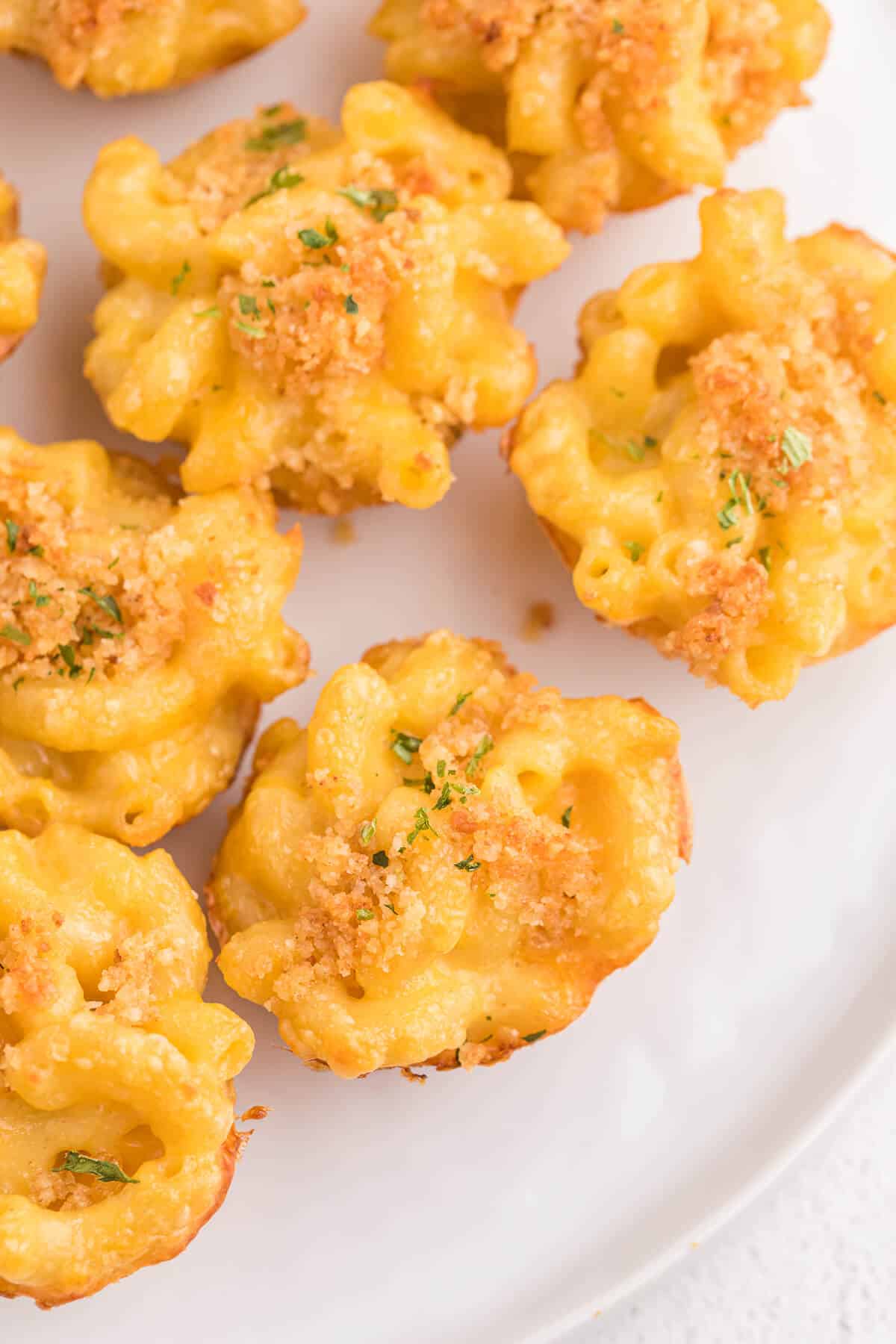 How To Make It
Preheat oven to 400 degrees Fahrenheit. Grease the muffin pan with nonstick spray oil or softened butter. Set the pan aside.
In a medium saucepan, cook the macaroni according the package's directions. Drain the macaroni with a colander and then quickly rinse the pasta with cool water. Set aside.
Add two tablespoons of butter to a saucepan over medium heat. Once the butter has melted, slowly add the flour. Cook the butter mixture for two minutes while constantly stirring.
Next, stir in the milk and cook until the mixture thickens again. Stir in both the Parmesan and cheddar cheeses and add more milk as needed.
Remove the cheese mixture from heat and add it to the cooked macaroni. Stir to combine, then add the eggs and continue to stir.
Fill the mini muffin pan with the macaroni mixture right to the top of each cup.
In a small bowl, stir together the breadcrumbs, melted butter, and Parmesan cheese. Sprinkle the breadcrumbs over the mac and cheese cups.
Bake the macaroni for fifteen minutes. Allow the macaroni to cool in the pan before attempting to move each cup.
If the mac and cheese cups do not easily come out of the pan, then gently use a butter knife to loosen them.
Serve and garnish with fresh parsley, if desired.
Should you put eggs in mac and cheese?
Eggs allow the macaroni and cheese to be extra indulgent and creamy. A lot of the times, macaroni and cheese recipes without eggs will turn out not as smooth.
Should you cover the macaroni and cheese cups while baking?
Do not worry about covering this mac and cheese as it bakes because the tops of the cups will turn golden brown.
How do you know when baked mac and cheese is done?
The tops of the mac and cheese cups will be slightly crispy and brown. You will see the cheese bubbling on the sides of the pan when the mac and cheese is done.
What To Serve with This
Serve this recipe with your favorite meal such as stuffed burgers or comforting Sunday meatloaf. I like to pair this easy mac with all types of proteins, veggies, and casseroles.
This easy pasta recipe is great for the holidays with your favorite turkey or ham recipes – mmm.
You'll also like these Air Fryer Mozzarella Balls and Olive Cheese Balls.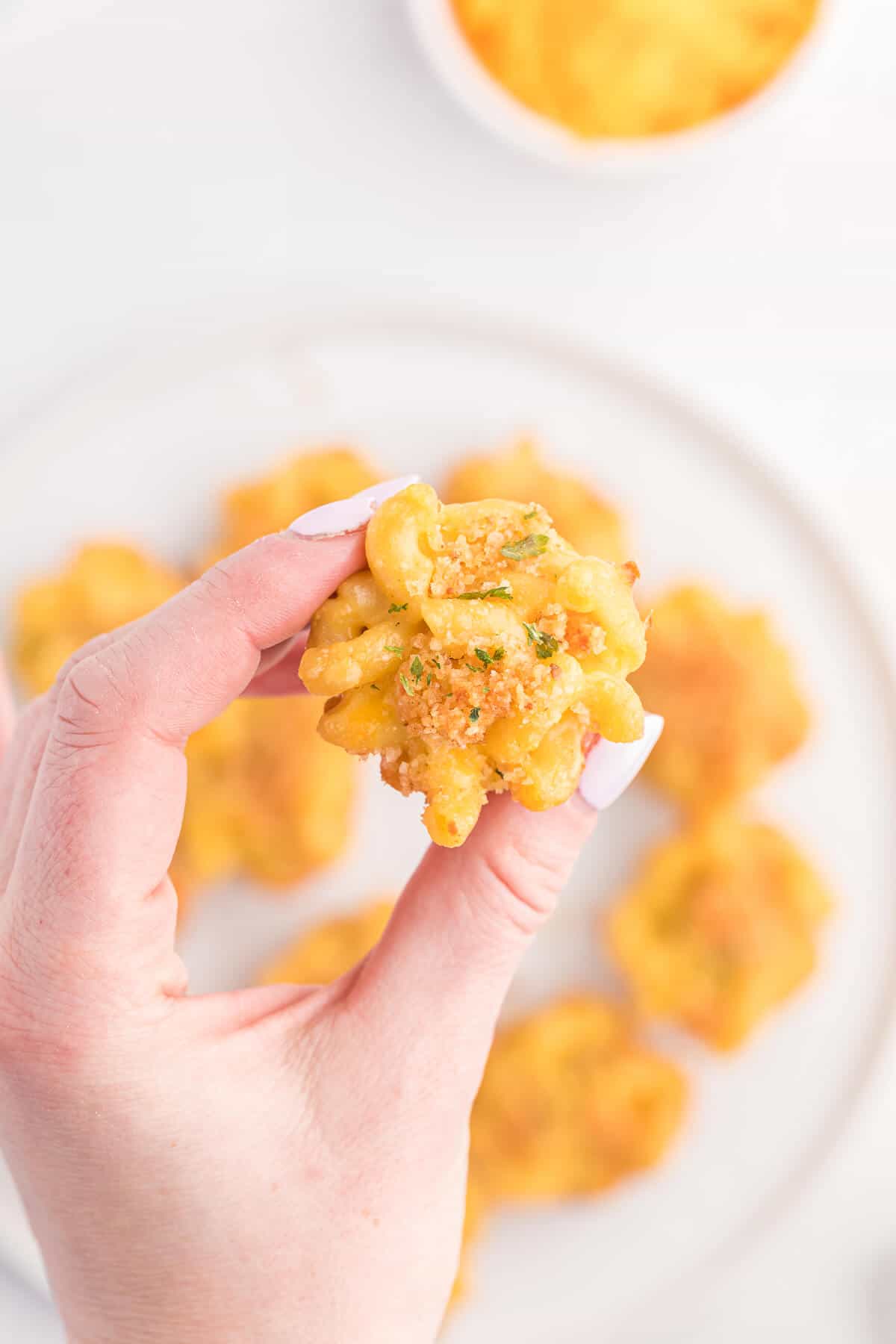 More Pasta Recipes You'll Love
Do you have any amazing mac and cheese recipes? I'm always looking for more recipes to try! Follow me on Instagram @simplystacieblog, on Facebook at Simply Stacie, and on Pinterest @SimplyStacie and let me know how you liked this and my other recipes!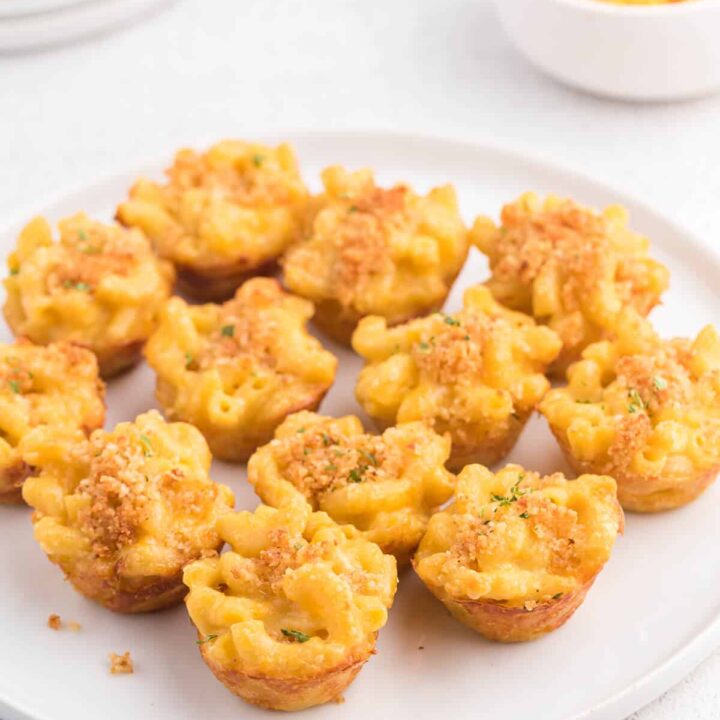 Mac and Cheese Cups
Comfort food in a cup! The perfect cozy, cheesy side dish, but handheld for appetizers and tailgating.
Ingredients
2 cups macaroni noodles, uncooked
2 tablespoons salted butter
2 tablespoons all-purpose flour
1/4 cup milk
2 cups cheddar cheese, shredded
1/4 cup Parmesan cheese
2 eggs
1/4 teaspoon dried Parsley, for garnish, optional
Crumb topping
1/4 cup breadcrumbs
2 tablespoons salted butter, melted
1 tablespoon Parmesan cheese
Instructions
Preheat oven to 400F. Grease a mini muffin pan and set aside.
Cook macaroni according to package directions. Set aside.
Add 2 tablespoons salted butter to a saucepan over medium low heat. Once melted, add stir in flour. Cook for two minutes, stirring constantly.
Stir in milk and cook until the mixture thickens up again. Stir in cheddar cheese and 1/4 cup Parmesan cheese. You can add more milk if you find the mixture too thick.
Remove from heat and add to cooked macaroni. Stir to combine. Add eggs and stir to combine.
Fill the mini muffin pan with the macaroni mixture right to the top.
In a small bowl, stir together breadcrumbs, melted butter and Parmesan cheese. Sprinkle on top of mac and cheese cups.
Bake for 15 minutes. Let cool 10 minutes in the pan before attempting to remove them. You might need to loosen them with a butter knife if they don't come out easily. Sprinkle parsley on top, if desired.
Recommended Products
As an Amazon Associate and member of other affiliate programs, I earn from qualifying purchases.
Nutrition Information:
Yield:

36
Serving Size:

1
Amount Per Serving:
Calories:

60
Total Fat:

4g
Saturated Fat:

2g
Trans Fat:

0g
Unsaturated Fat:

1g
Cholesterol:

21mg
Sodium:

77mg
Carbohydrates:

3g
Fiber:

0g
Sugar:

0g
Protein:

3g