I love taking a familiar recipe and adding my own unique twist to it like this Unstuffed Pepper Pasta I'm sharing today. I find when I'm stuck in a dinner rut, it helps me to come up with new and interesting meals to serve to my family. However, I don't "do" complicated. I like recipes that have simple ingredients that are easy to find and don't require any special skills or equipment. I guess that's why I make one-pot pastas as often as I do! My pantry always has an ample supply of the base ingredients.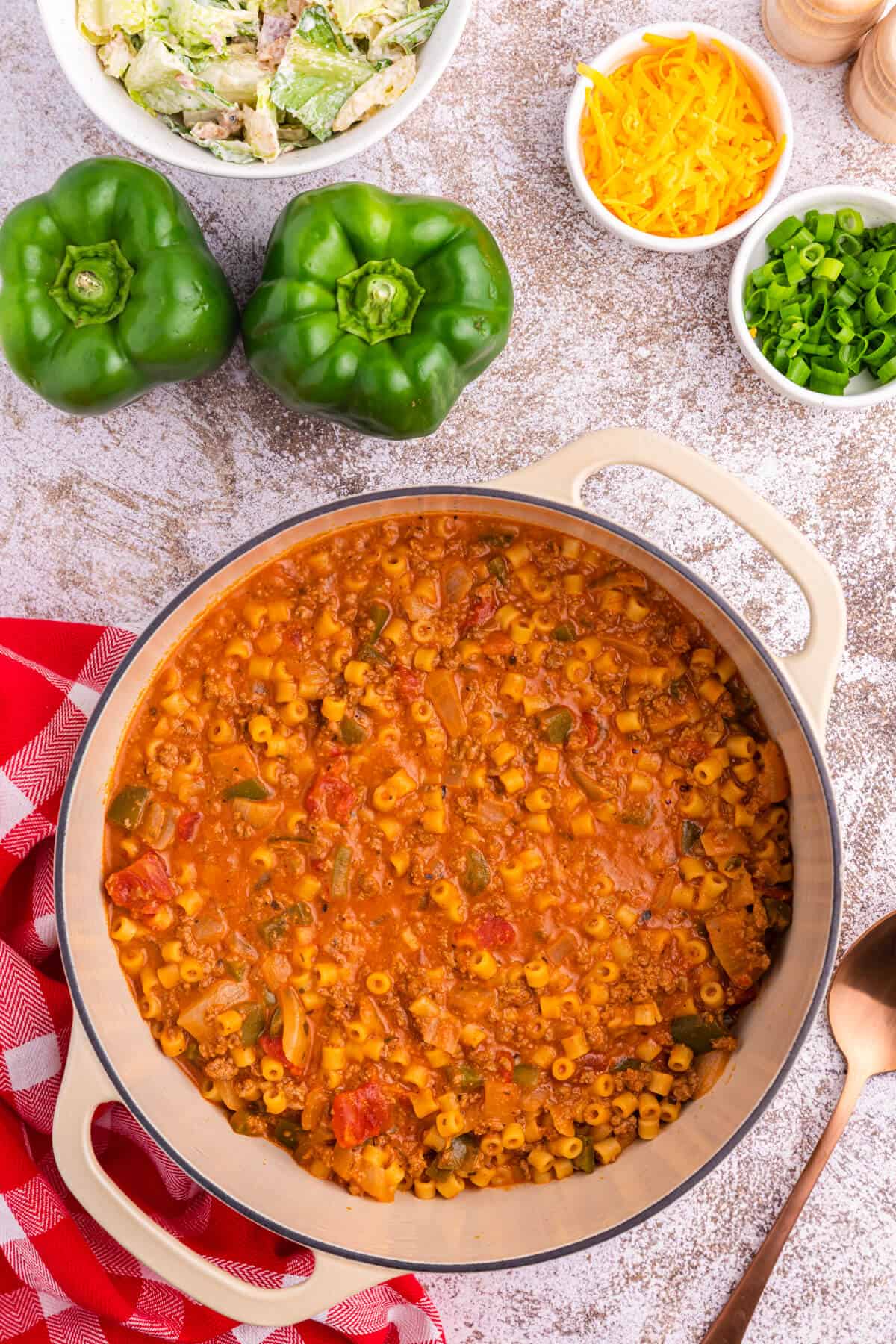 I've teamed up with Ragú to create some easy and delicious one-pot pasta recipes that you can whip up for your family in under 30 minutes. Earlier this week, I shared my recipe for One-Pot Chili Rigatoni and today I've got another special recipe to share. This one is a twist on a classic recipe – stuffed peppers. Meet my One-Pot Unstuffed Pepper Pasta!
One-Pot Unstuffed Pepper Pasta
The best part about this recipe is that it incorporates all the amazing flavours of the traditional stuffed peppers recipe. The big difference is, of course, that it doesn't require hardly any effort to prepare it. And there is no stuffing involved whatsoever. Unless you count stuffing your face because it's that good! I love stuffed peppers, but they are a pain to make. I never make them when I'm in a rush. This Unstuffed Pepper Pasta recipe? Perfect for busy nights.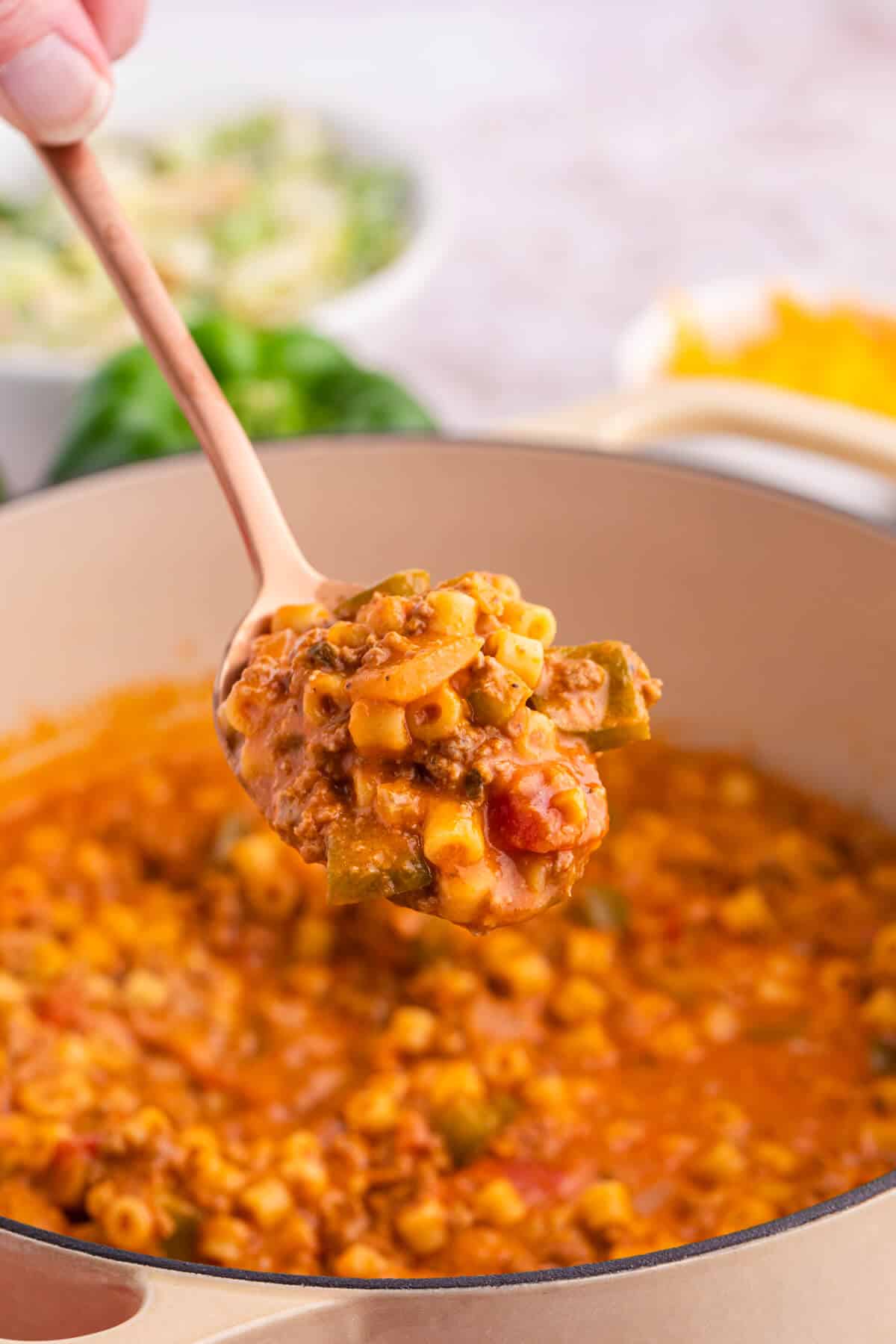 The key ingredients in many of my one-pot pasta recipes are veggies, pasta, meat and a jar of Ragú Sauce. Mix and match these ingredients and throw in a some spices to create a variety of unique dishes.
I want to show you just how easy my recipe for Unstuffed Pepper Pasta is. The first step is to brown your ground beef, onions and green peppers in a Dutch oven. You'll be using this same pot to make the entire recipe. I used two green peppers since it is the feature ingredient in the dish. I also add in the spices and Worcestershire sauce after it's been cooking for about three minutes.
Once your meat is cooked, then it's what I like to call "dumping time". Literally just dump your ingredients into your pot and stir.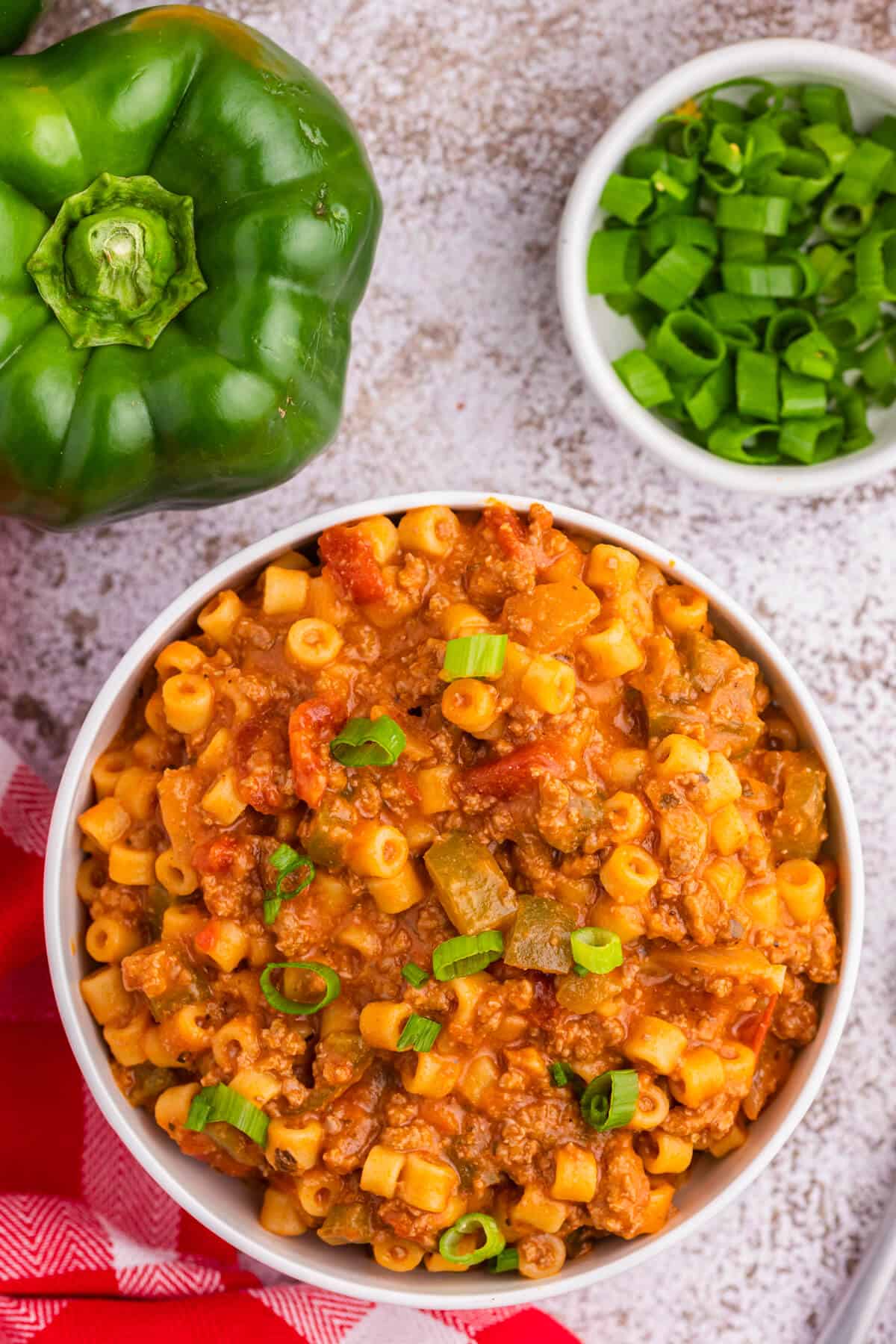 It looks like you have a soup here, but don't forget that you need that extra liquid to cook the noodles. I used Ditalini noodles, but you could use any small pasta. Normally rice is used in stuffed peppers, but since this is a one-pot pasta version, I wanted to find a small noodle that was somewhat rice-like. Orzo would also work.
See it thickened up! It will thicken up even more if you ended up adding some shredded cheese. I like mine with cheese because I'm crazy like that.
Dress up the bowls with a little bit of chopped green onion and shredded cheese, if you like. I think it tastes even better than a stuffed pepper and it's 100 times easier to make. Plus the clean-up afterwards? Easy-peasy. Like I said one-pot. This is the best kind of dinner to make when time isn't on your side.
If you have a garden in your yard, here is a recipe to try to use up your fresh green peppers.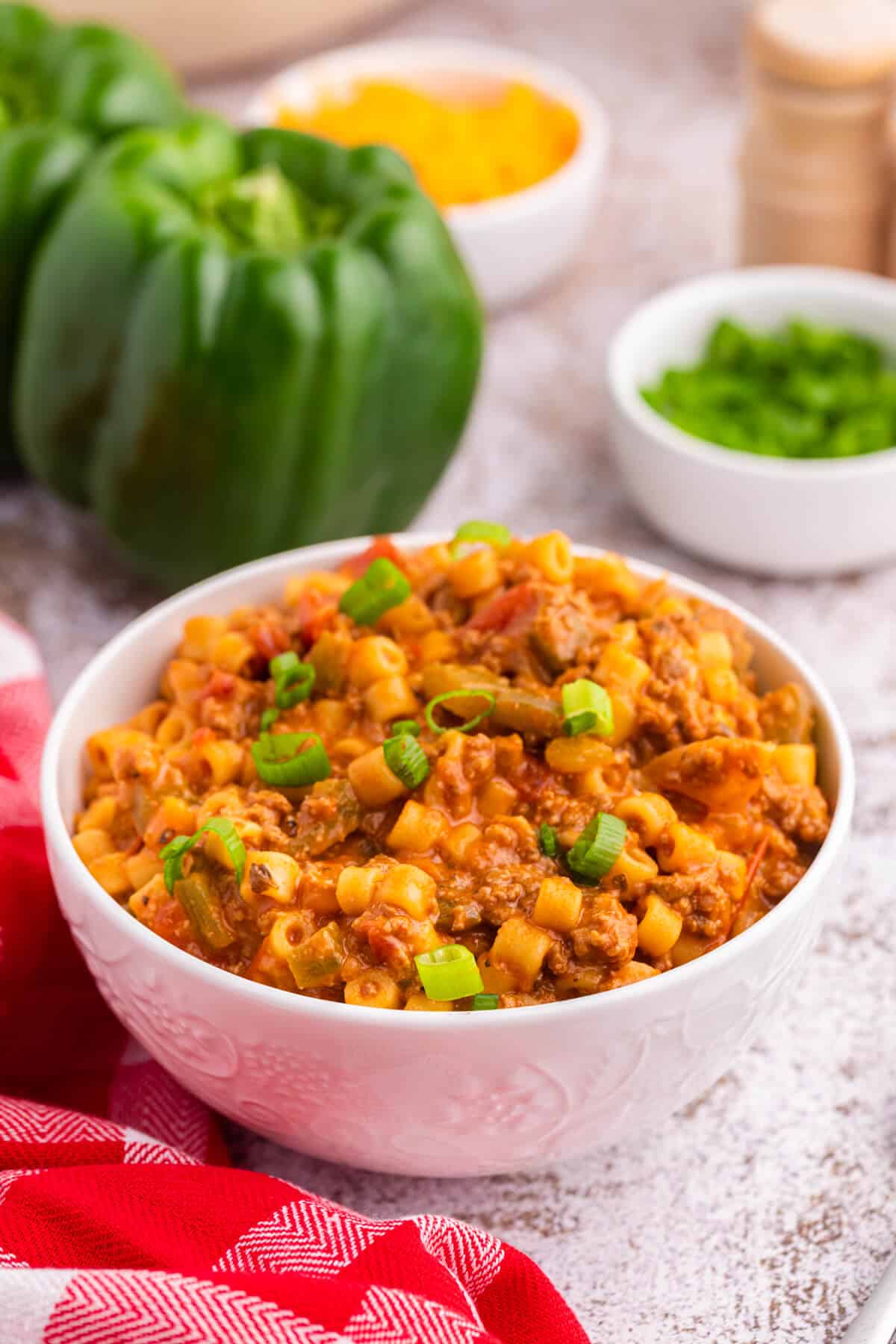 I think this recipe comes pretty close to capturing the mouthwatering flavours of a stuffed pepper. It's one that I will be making again especially after seeing how much my family enjoyed eating it!
Want more one-pot pasta recipes? Check out my One-Pot Pasta Pinterest board for more easy meal ideas. I've got one more recipe up my sleeve and looking forward to sharing it with you!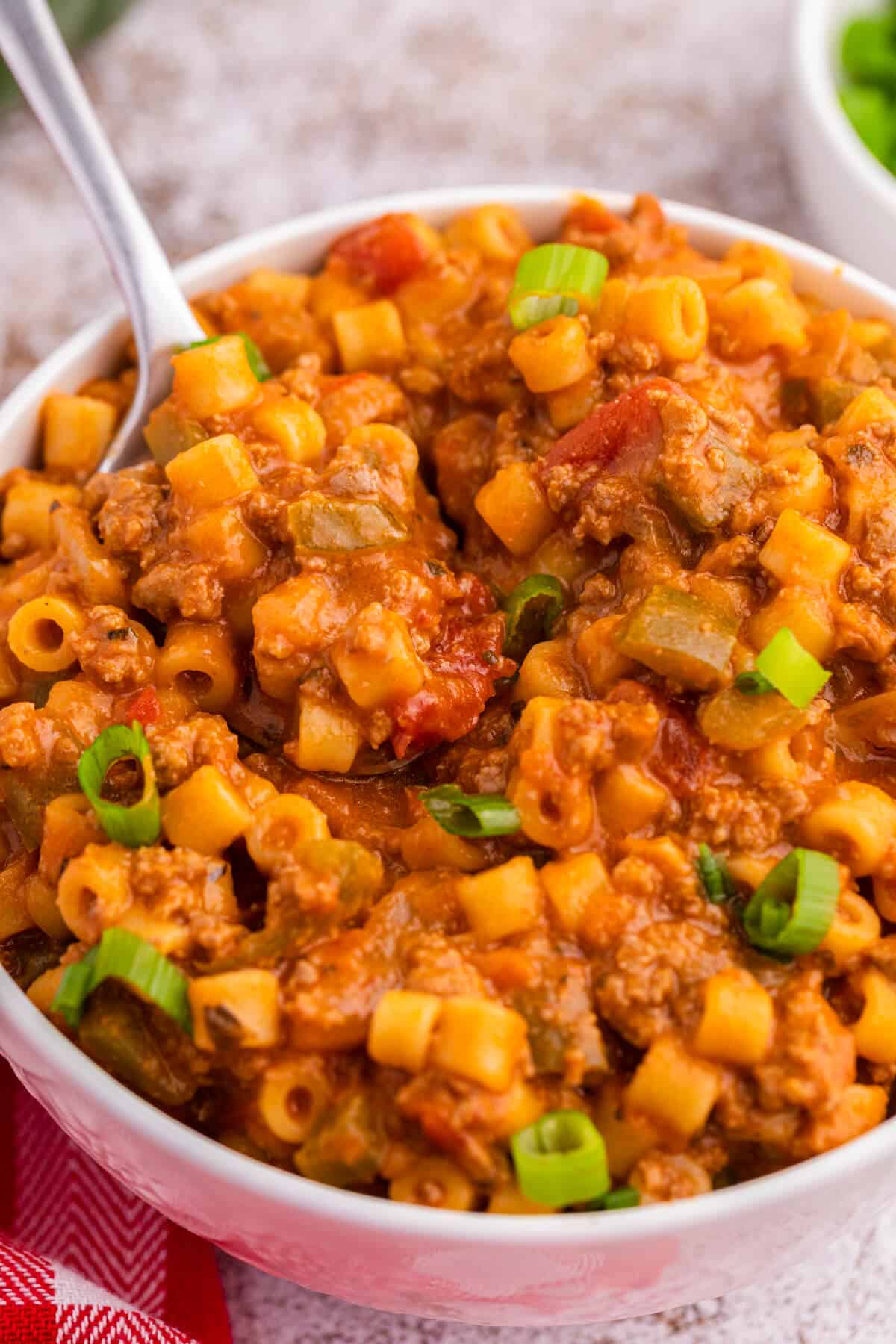 If you're in the mood for more, both the Simply Stacie Pinterest page and the Ragú Pinterest profile (with the help of some amazing pinners) are spending this month collecting the most delicious One Pot Pasta Recipes out there. I invite you to come find your favorites!
You'll also like this One-Pot Sausage and Cheese Cappelletti and One-Pot Chicken Cacciatore.
Pin this recipe to save it on your Pinterest boards!

One-Pot Unstuffed Pepper Pasta
If you love stuffed peppers, try this deconstructed version! So easy to make and ready in under 30 minutes.
Ingredients
1 lb lean ground beef
2 cups Ditali pasta, uncooked (or other small pasta like orzo)
2 green peppers, chopped
1 sweet onion, chopped
1 (24oz/650ml) jar pasta sauce
½ teaspoon garlic powder
1 teaspoon Italian seasoning
1 teaspoon Worcestershire sauce
2 cups beef broth
2 cups cheddar cheese, shredded
2 green onions, chopped, for garnish (optional)
Instructions
Add ground beef, onions and green pepper to a Dutch oven over medium high heat. Stir to break up the beef.
Cook for about 3 minutes and then add in the spices and Worcestershire sauce. Continue cooking until beef is browned, about 5 minutes.
Stir in pasta sauce and beef broth. Bring to a boil.
Mix in uncooked pasta and reduce heat to medium. Cook for about 15 minutes, stirring occasionally, until pasta is tender.
Remove from heat and add in shredded cheese. Serve immediately. Garnish with green onions, if desired.
Recommended Products
As an Amazon Associate and member of other affiliate programs, I earn from qualifying purchases.
Nutrition Information:
Yield:

4
Serving Size:

1
Amount Per Serving:
Calories:

658
Total Fat:

34g
Saturated Fat:

16g
Trans Fat:

1g
Unsaturated Fat:

13g
Cholesterol:

158mg
Sodium:

1082mg
Carbohydrates:

34g
Fiber:

3g
Sugar:

9g
Protein:

52g