This delicious, traditional One-Pot Chicken Cacciatore recipe is so easy to make in a Dutch oven with a prep time of only 20 minutes! Best served warm with rice or pasta, this simple chicken dinner recipe is made with the perfect combination of tender chicken, green peppers, garlic, mushrooms, and tomatoes for a comforting hearty dinner!
Craving yummy, Italian chicken cacciatore made in only one pot? This super simple stovetop recipe does not only come together with very easy steps and directions, but it delivers amazingly savory flavors that will leave you begging for more.
Succulent notes of Italian seasoning are intertwined with juicy chicken breasts and pungent garlic and onion to create this easy one-pot chicken cacciatore. This family-friendly recipe is the definition of a comforting dinner that is both easy to make and full of prolific flavors the whole house will love.
You can easily prepare this recipe on a Sunday or Monday evening to store in the refrigerator for a handful of days to have on hand for quick lunches or dinners at home. The longer this deliciously easy recipe sits, the better the flavors get.
There are several stovetop meals I enjoy cooking at home whenever we need something quick but appetizing. Stovetop meals like my Busy Day Soup, Grandma's beefy Goulash, and my very favorite Hamburger Soup. Mmm.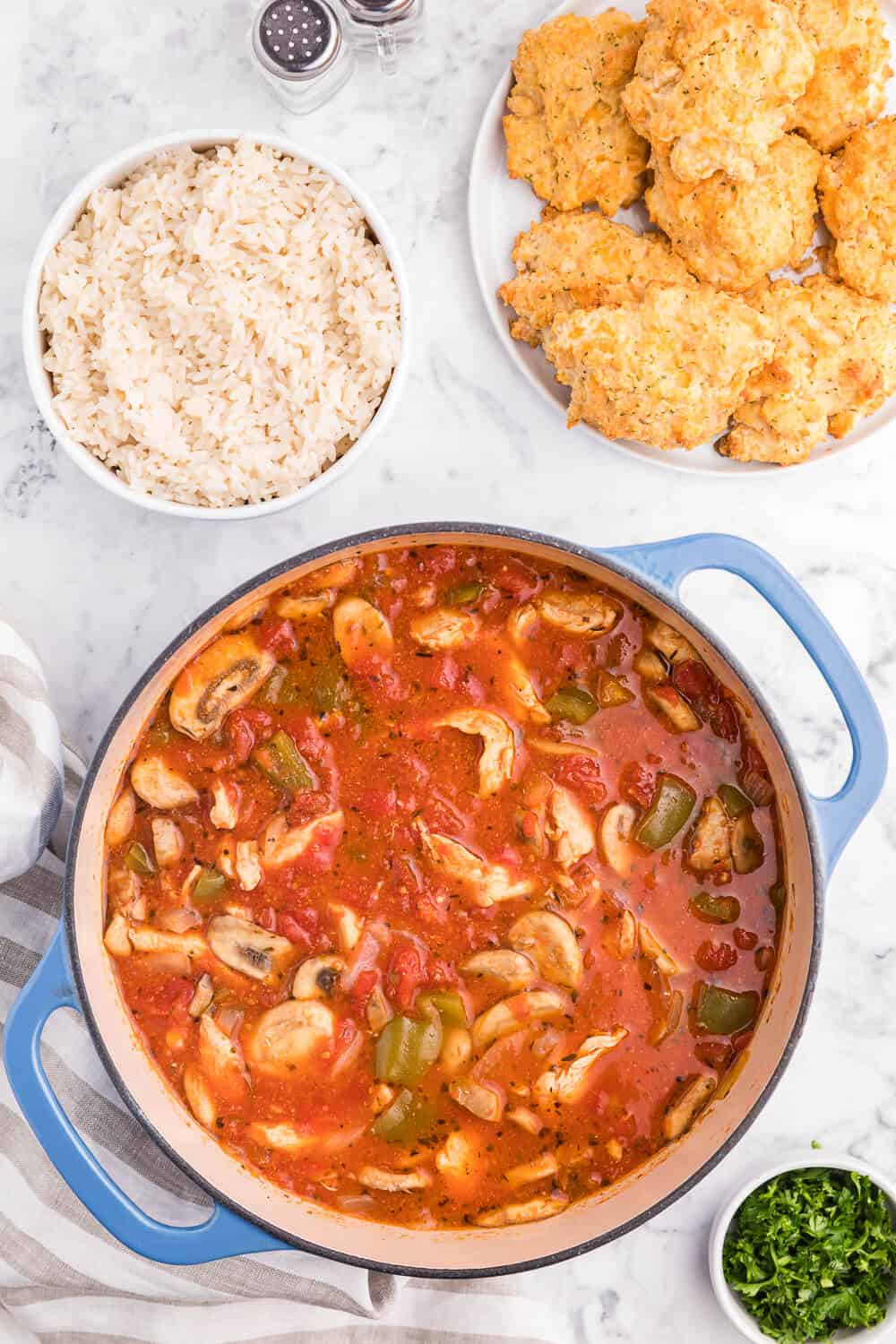 Ingredients
Extra Virgin Olive Oil: Smooth, extra virgin olive oil is especially great for this recipe because the aromatic natural flavors of the olives pair well with the other ingredients of this recipe and cooks everything just right!
Chicken Breasts: You will need four boneless, skinless chicken breasts cut into strips to make this a hearty chicken cacciatore recipe. Go ahead and cut the chicken up to save time on this recipe! You can also use chicken thighs or any leftover cooked chicken you may have.
Onion: One chopped onion is enough to make this easy one-pot chicken cacciatore full of flavor! You can use either a yellow or white onion.
Garlic: Freshly minced garlic is a great way to add a boost of fresh flavors to this recipe. I love using fresh garlic because you can really tell a difference with the flavors.
Green Pepper: Bell peppers are slightly crunchy and full of flavor for this yummy recipe with tomatoes. I love the flavors green bell peppers have, especially in this dish. Red bell peppers will also work for this recipe!
Mushrooms: Three cups of freshly sliced mushrooms are used to make this Italian one-pot meal filled with extra protein and fresh ingredients. Mushrooms are nice to use because you can use almost any kind that is edible to cook with. Some of my favorites include cremini, portobello, morels, shiitake, button mushrooms, etc. Canned sliced mushrooms will also work!
Italian Seasoning: A simple blend of Italian seasoning really delivers a punch of rustic flavors to this recipe. You make your own seasoning with dried oregano, thyme, rosemary, and sometimes marjoram.
Tomatoes: Two twenty-eight ounces of canned diced tomatoes allow this one-skillet chicken recipe to be hearty and full of those robust tomato flavors that are native to this dish. Of course, freshly diced tomatoes will also work! You can also use crushed tomatoes.
Salt and Black Pepper: Season this recipe to taste with a classic blend of sea salt and freshly cracked black pepper!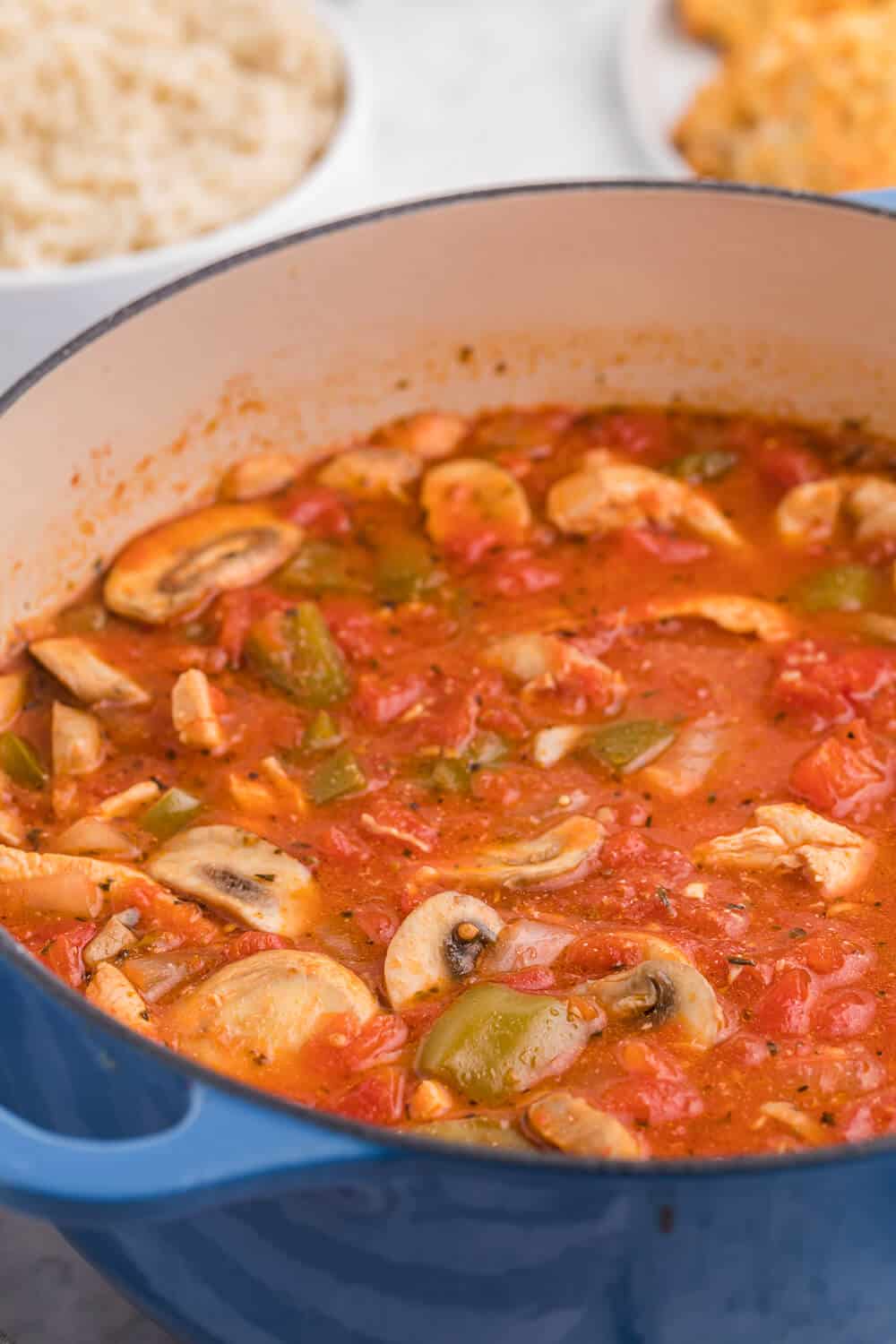 What I Used For This Recipe
This post contains affiliate links.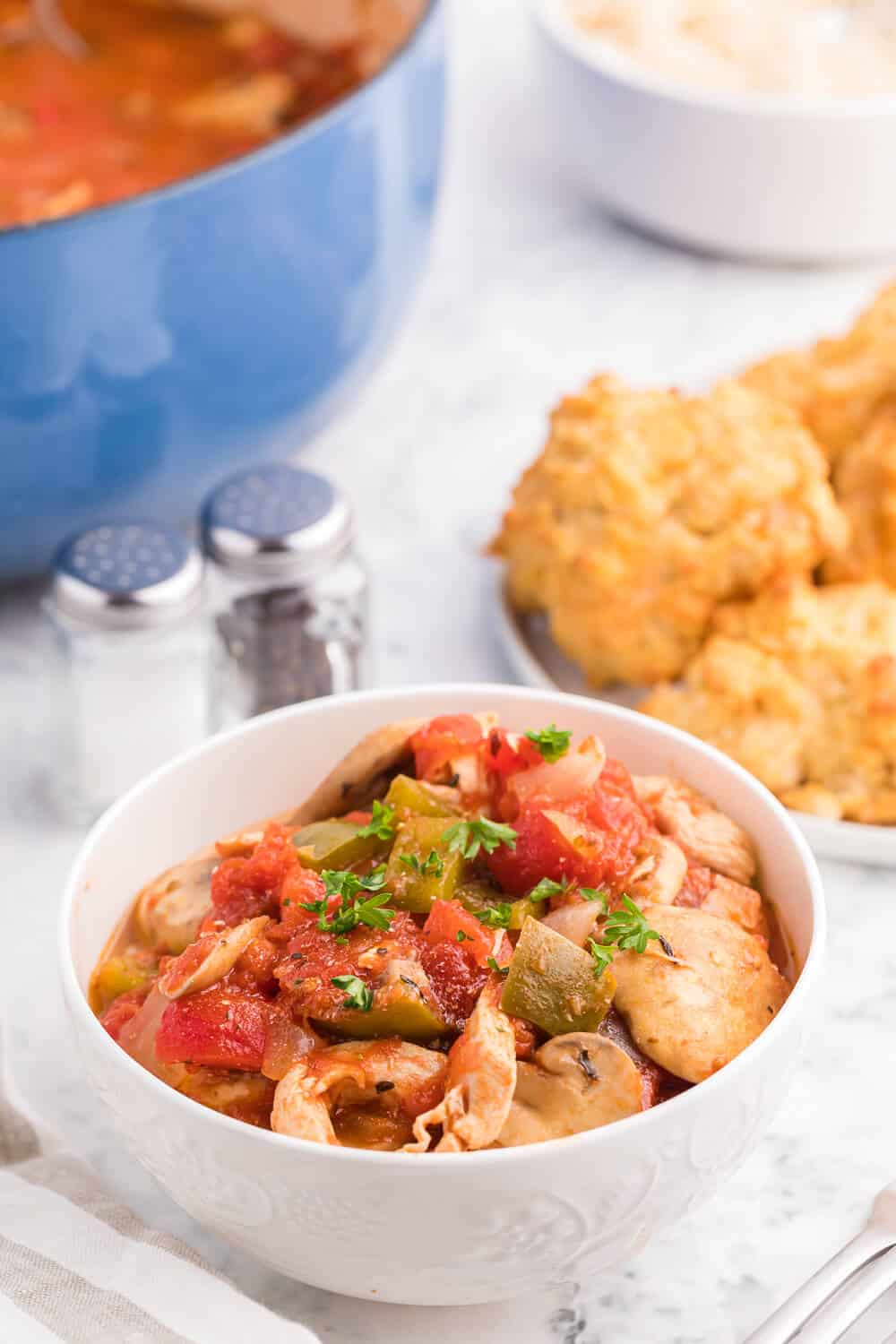 How To Make It
First, heat the cooking oil in the Dutch oven over medium heat until it is nice and hot. You want the oil hot so the chicken will cook immediately upon touching the Dutch oven.
Next, add the chicken breast strips to the hot Dutch oven and cook until it is opaque in color but not fully cooked. Cook the chicken for about five minutes. You will add it to the pot later for it to fully cook. Remove the chicken from the pot and set it aside so it does not overcook.
Add the vegetables to the Dutch oven with the chicken and cook until the onions are softened but not burnt. Next, pour the Italian seasoning into the Dutch oven and stir with a wooden spoon until fully mixed and the herbs are covering the veggies and chicken.
Add the undrained diced tomatoes to the pot along with the cooked chicken. Bring everything to a rolling boil so all of the ingredients mend together.
Reduce the heat to low and allow the chicken cacciatore to simmer for at least an hour for optimal flavors.
Once you are ready to serve the one-pot meal, serve the chicken cacciatore with rice or pasta! Another option is to enjoy this recipe all on its own because it is just that good.
Variations
Make this a vegetarian cacciatore recipe by omitting the chicken and adding extra vegetables like potatoes, squash, leafy greens, carrots, beans, etc.
Make baked chicken cacciatore by briefly cooking the chicken on the stovetop then transferring to a casserole dish with all of the other ingredients. Bake the cacciatore for thirty minutes or until the tomatoes are bubbling on top.
Cook this recipe in your favorite Crockpot by sautéing the vegetables first and adding everything to the pot along with the chicken. Allow the chicken cacciatore to cook on low for four hours.
For extra rich flavors, add a tablespoon of tomato paste to the vegetable mix.
Storage Instructions
Store the leftovers in an airtight container in the refrigerator for up to four days. Freeze any leftovers in a freezer-safe bag or container in the freezer for three months.
When you are ready to reheat the recipe, allow the frozen chicken cacciatore to defrost overnight in the refrigerator, then reheat it on the stovetop or in the microwave.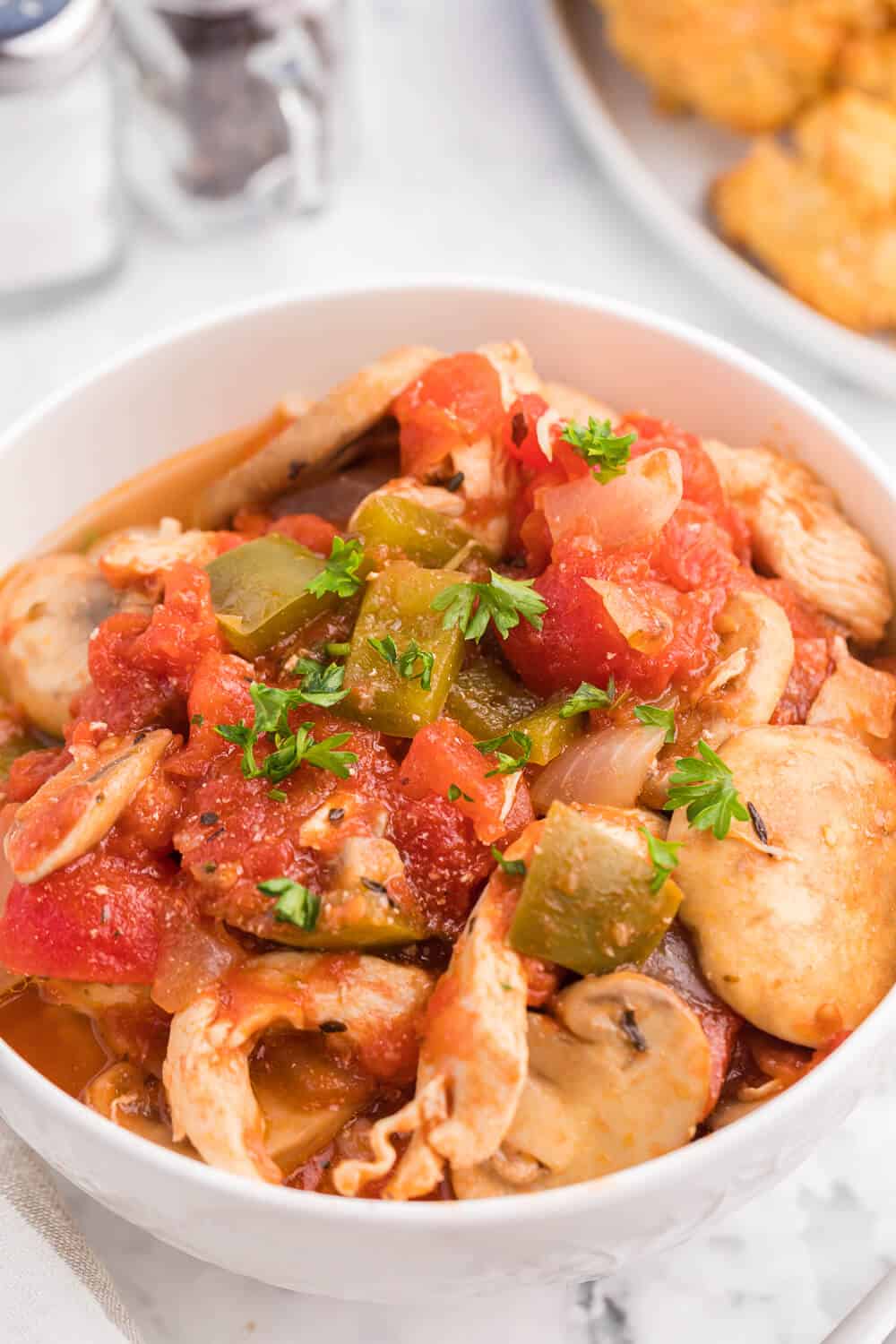 What are some other delicious for cooking chicken?
There are so many easy chicken recipes out there! Whether you are cooking with chicken breasts, thighs, or drumsticks, there are endless options. Some of my favorite chicken recipes include Instant Pot BBQ Chicken, Air Fryer Buffalo Chicken Wings, Crack Chicken Spaghetti, and Slow Cooker Cream Cheese Chicken just to name off some delicious ideas!
What do you serve with cacciatore?
You can serve a variety of yummy carbs and vegetables with cacciatore. Some of my favorite options to serve with this one-pot, Italian chicken cacciatore include mashed or roasted potatoes, fluffy rice or cauliflower rice, noodles, and even toasted bread!
More One-Pot Recipes You'll Love
Do you have any amazing easy Italian dinner recipes? I'm always looking for more recipes to try! Follow me on Instagram @simplystacieblog, on Facebook at Simply Stacie, and on Pinterest @SimplyStacie and let me know how you liked this and my other recipes!
One-Pot Chicken Cacciatore
Cook Time:
1 hour
20 minutes
Total Time:
1 hour
40 minutes
This is a delicious pantry staple casserole. Made with common ingredients like chicken, green peppers, mushrooms, onions and canned tomatoes, you can throw the ingredients in just one pot – quick to make and quick to clean up!
Ingredients
1 tablespoon extra virgin olive oil
4 boneless, skinless chicken breasts, cut length wise into strips
2 green pepper, chopped
1 onion, chopped
3 cloves garlic, minced
3 cups mushrooms, sliced
1 tablespoon Italian Seasoning
2 28 oz cans of diced tomatoes, undrained
Instructions
Heat oil in Dutch oven over medium heat. Add in chicken breasts and cook for about 5 to 6 minutes. Remove from pan and set aside.
Add onions, garlic, green peppers and mushrooms to pan and cook for about 7 to 10 minutes until onions are softened. Mix in Italian Seasoning.
Add tomatoes and chicken to the pan and bring to a boil.
Reduce heat to low heat. Simmer for an hour or until you're ready to eat.
Serve it on over a bed of pasta, rice or eat on its own.
Recommended Products
As an Amazon Associate and member of other affiliate programs, I earn from qualifying purchases.
Nutrition Information:
Yield:

6
Serving Size:

1
Amount Per Serving:
Calories:

237
Total Fat:

6g
Saturated Fat:

1g
Trans Fat:

0g
Unsaturated Fat:

4g
Cholesterol:

68mg
Sodium:

367mg
Carbohydrates:

18g
Fiber:

8g
Sugar:

11g
Protein:

29g