One Pot Chicken and Broccoli Rice is one dinner that you will love whipping up. Tender chicken, creamy rice, broccoli in every single bite. So easy to make, and minimal cleanup required.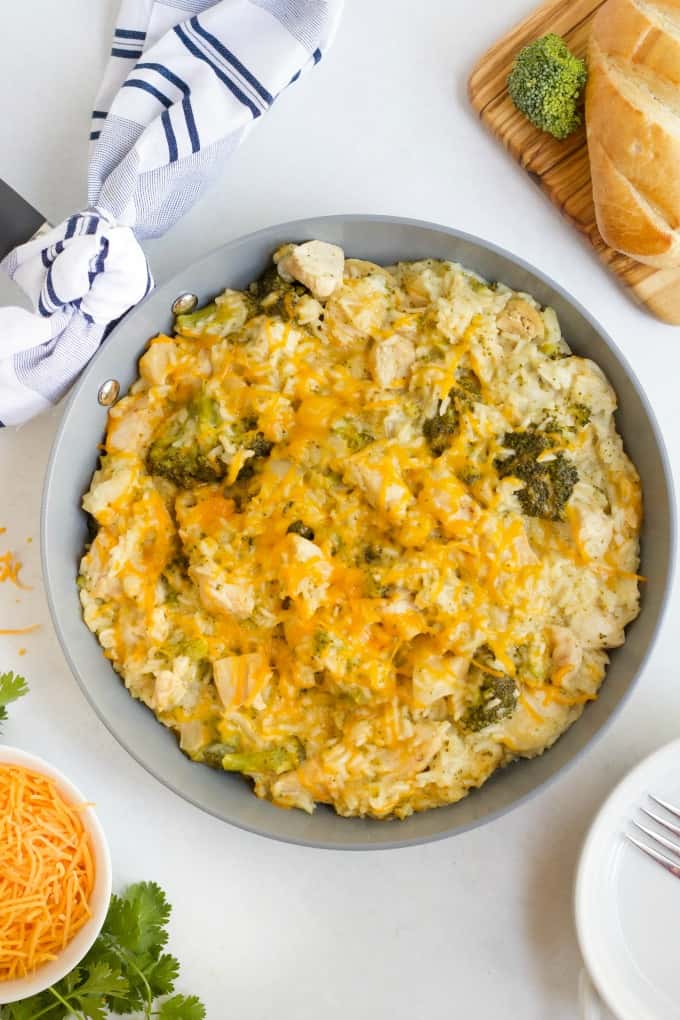 One Pot Chicken and Broccoli Rice
My kids will be going back to school in less than a month. In a way, I'm looking forward to getting back into a routine. However, I know that it will be much more BUSY!
Olivia often works after school so I have to pick her up from school and take her to her job. Bridget has piano lessons once a week and swimming lesson. Then there's hockey season…..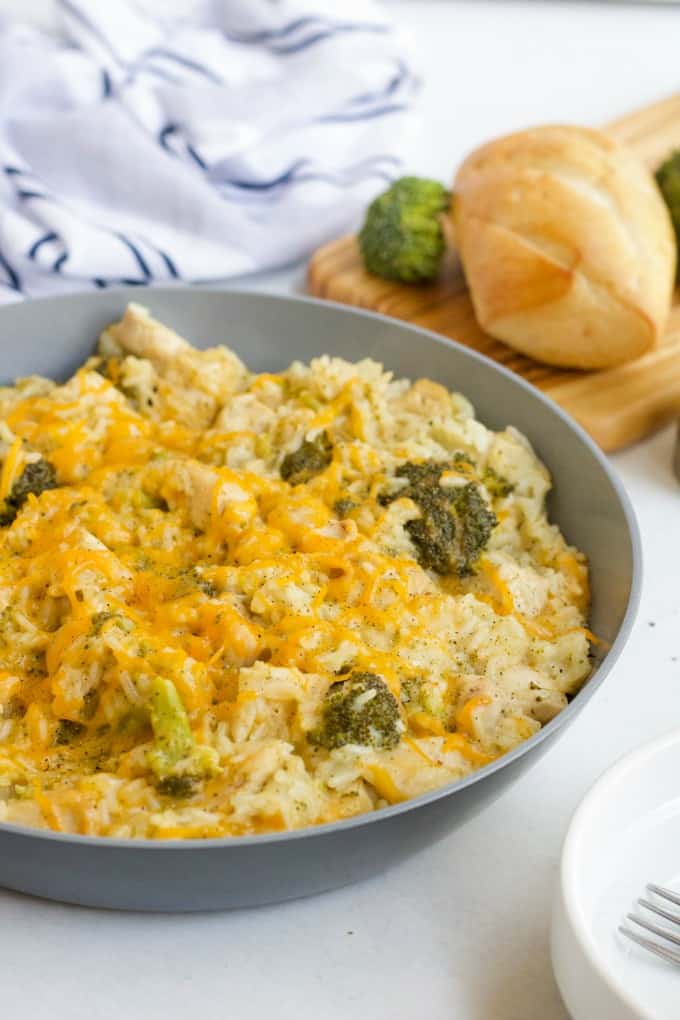 Needless to say, my schedule is going to be jammed full of activities. That's fine with me. I just need to make the best use of my time.
One way I do this is through simple recipes. I don't have time to prepare gourmet meals every night. Dinner needs to be on the table quickly because many times, we have to eat and run.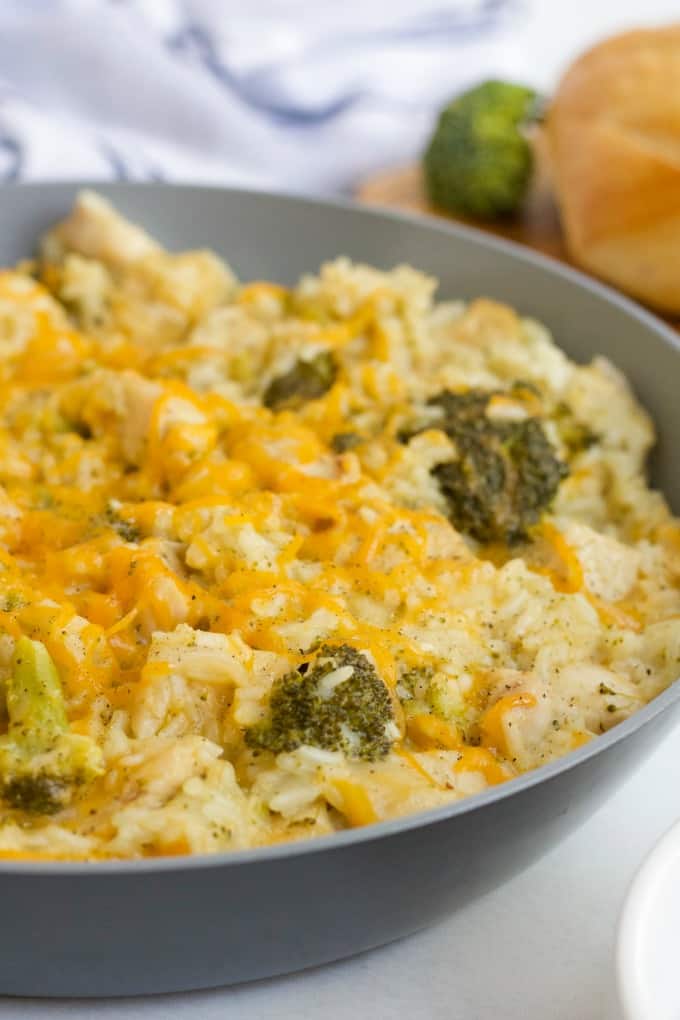 One Pot Meals
One of my favourite kind of recipes to make on those busy weeknights are one-pot meals. Everything cooks in one pot so there is less to clean up as well.
Plus, they normally don't take long to prepare. The recipe I'm sharing with you today is ready in less than 30 minutes!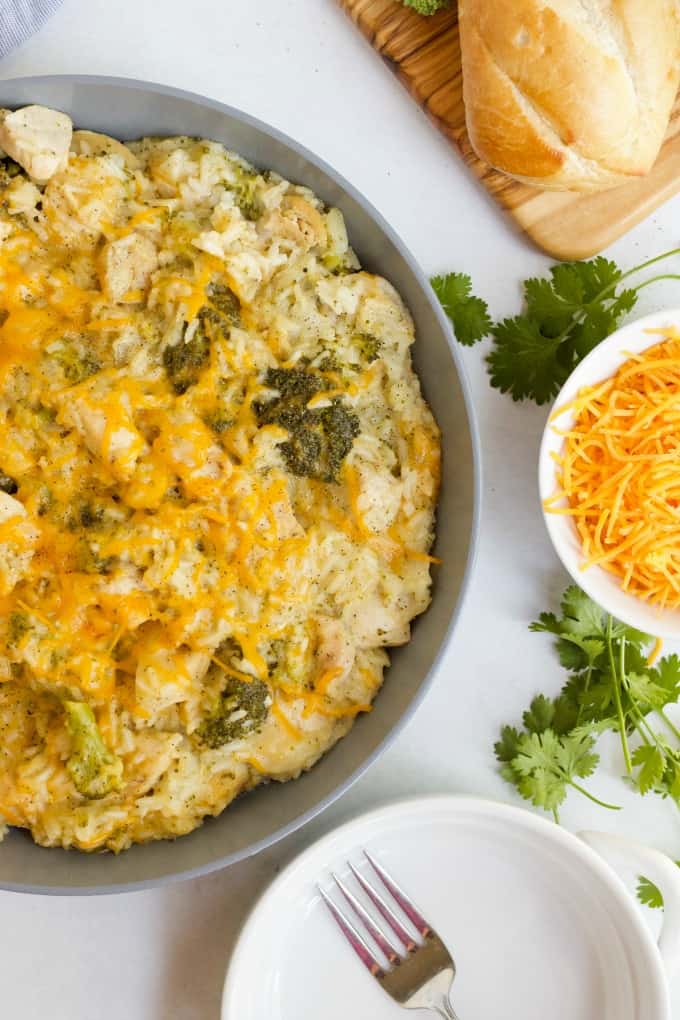 Chicken & Broccoli Rice
Rice is great for one-pot meals. This recipe for One-Pot Chicken & Broccoli Rice is so easy to make and is delicious! Even my broccoli hating hubby enjoys it.
If you prep your veggies the night before, you can save a bit of time during the busy dinner hour. It doesn't take me long to chop an onion, chicken and broccoli. The longest part is waiting for the rice to cook (about 20 minutes).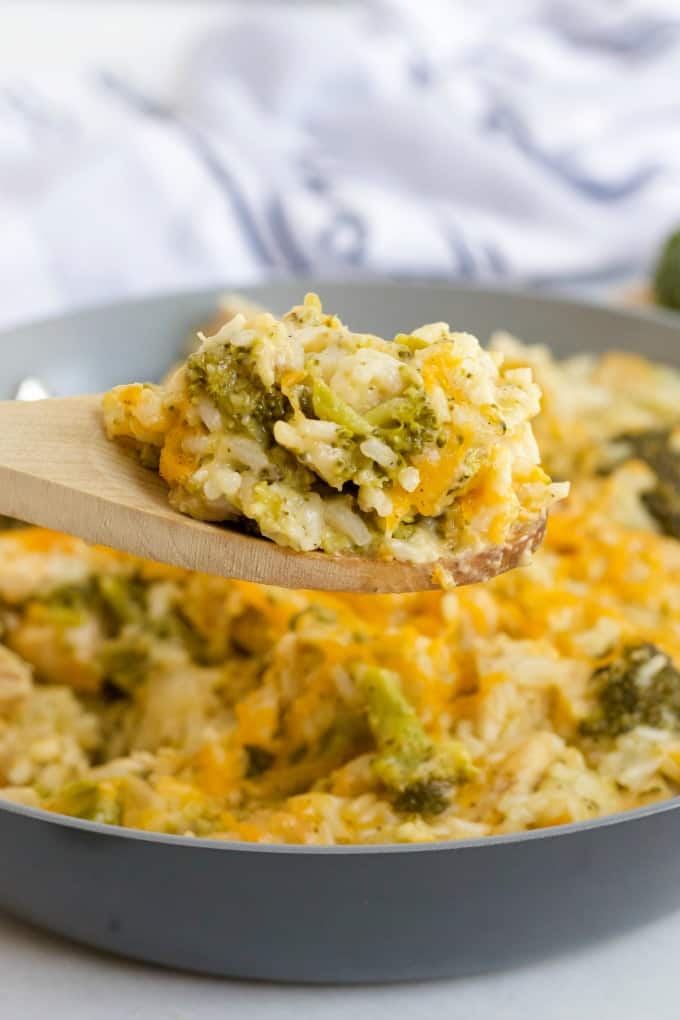 What is the Best Chicken to Use for this Dish
I like to use boneless, skinless chicken breasts. They are reasonably priced at our local grocery store plus healthy and delicious! I think you could classify this meal as comfort food because it's creamy, cheesy and filling.
Now if you have some bone-in chicken you could use it, but it would need to just cut it off the bone so it could be cut up in smaller pieces still.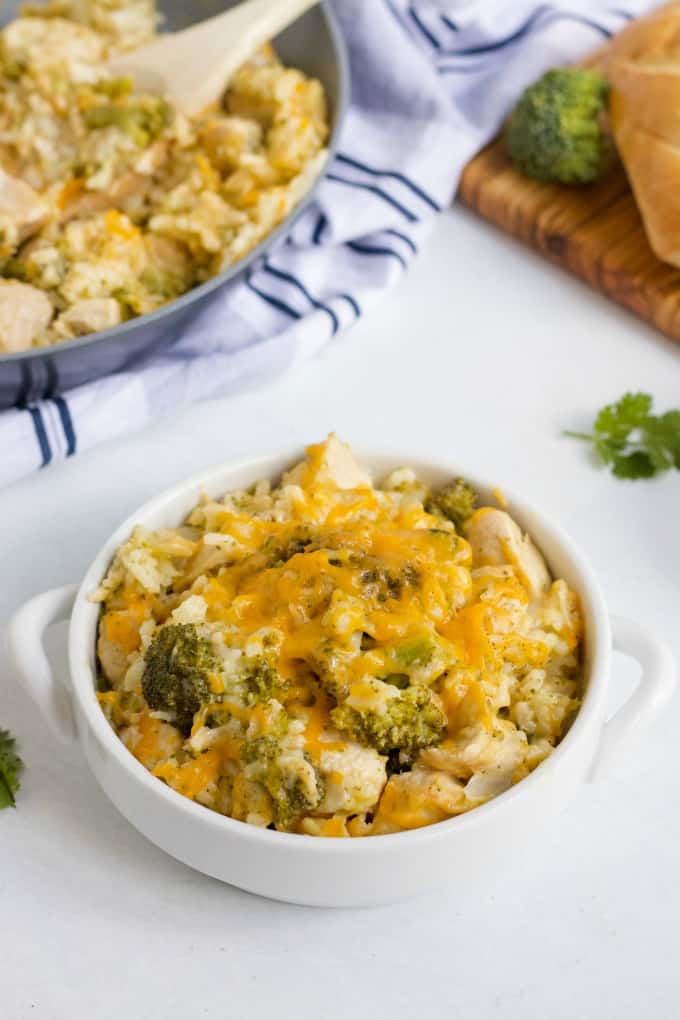 Can I Use Instant Rice
Don't use instant rice in this recipe or you'll end up with mush! I use converted white rice that takes about 20 minutes to cook.
The flavour of the chicken and broccoli permeates into the grains of rice leaving you with an amazing flavour in each bite.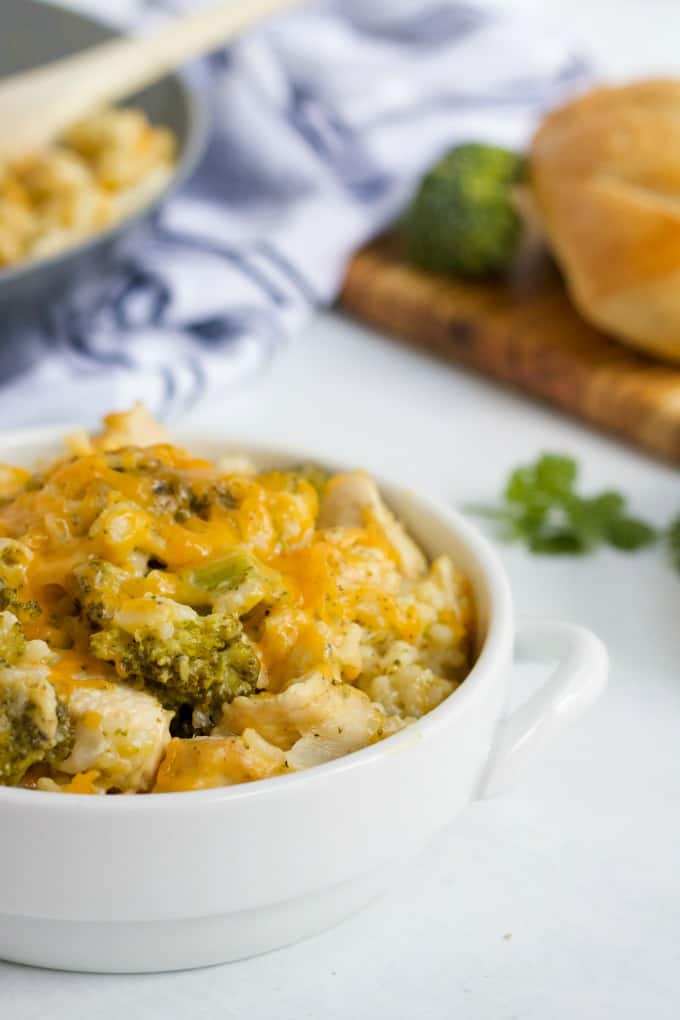 Can I Substitute Cream of Broccoli
Also, if you can't find cream of broccoli soup, feel free to use another kind of cream based soup. Cream of Mushroom or Cream of Chicken would also be tasty.
Disclosure: I am participating in the Chicken Farmers of Canada campaign managed by SJ Consulting. I received compensation in exchange for my participation in this campaign. The opinions on this blog are my own.
If you are looking for more healthy and easy meal ideas, get the Shopping with Chicken app. Not only can you find recipes, but you can also plan your family's meals and organize your grocery shopping.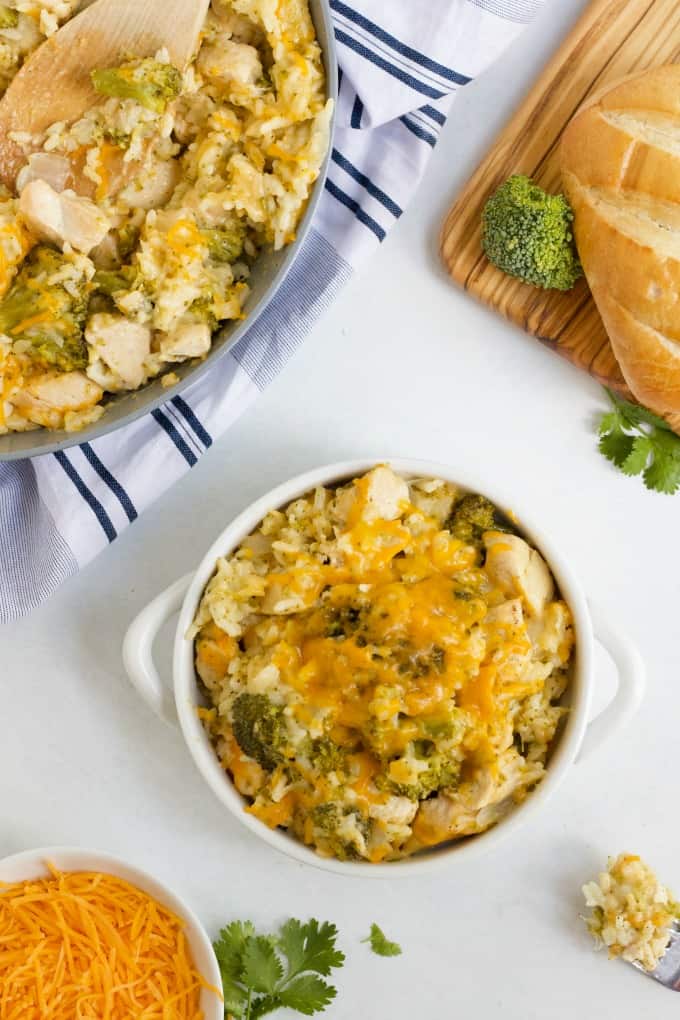 If you shop with your spouse, you can split up and check off the items on the list in real time and save yourself time at the store!
For more healthy, delicious and easy recipes, please visit the Chicken Farmers of Canada website. They have loads of meal ideas perfect for simplifying your life!
Can You Use Bone Broth Instead of Regular Broth
Yes, you sure can swap with bone broth if you need to. The thing is they will convert just fine and it won't affect the flavor that much. Of course I think bone broth has a bit of a different flavor than a classic broth but you get the added nutrients so it is worth swapping if you want.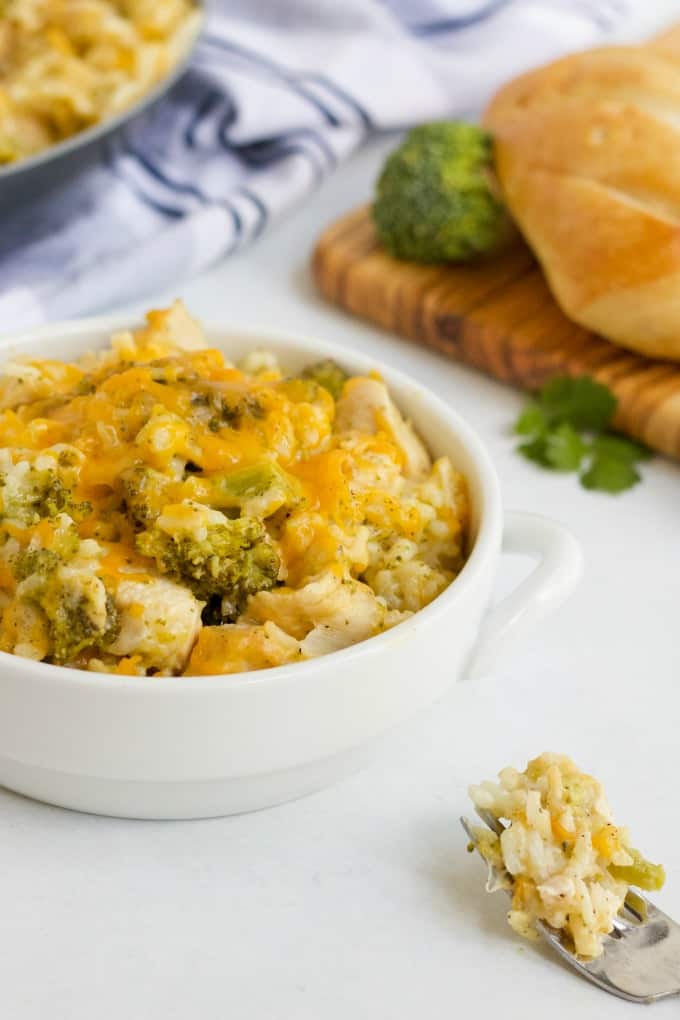 How to Store Leftover Chicken Broccoli Rice
If you have leftovers simply store them in the fridge in an airtight container for up to three days. Then reheat or eat cold. This is a great recipe to use for meal prepping later down the line.
I just scoop up single servings and place in plastic containers, that way when we want something quick for dinner or lunch we can grab a container, reheat and enjoy.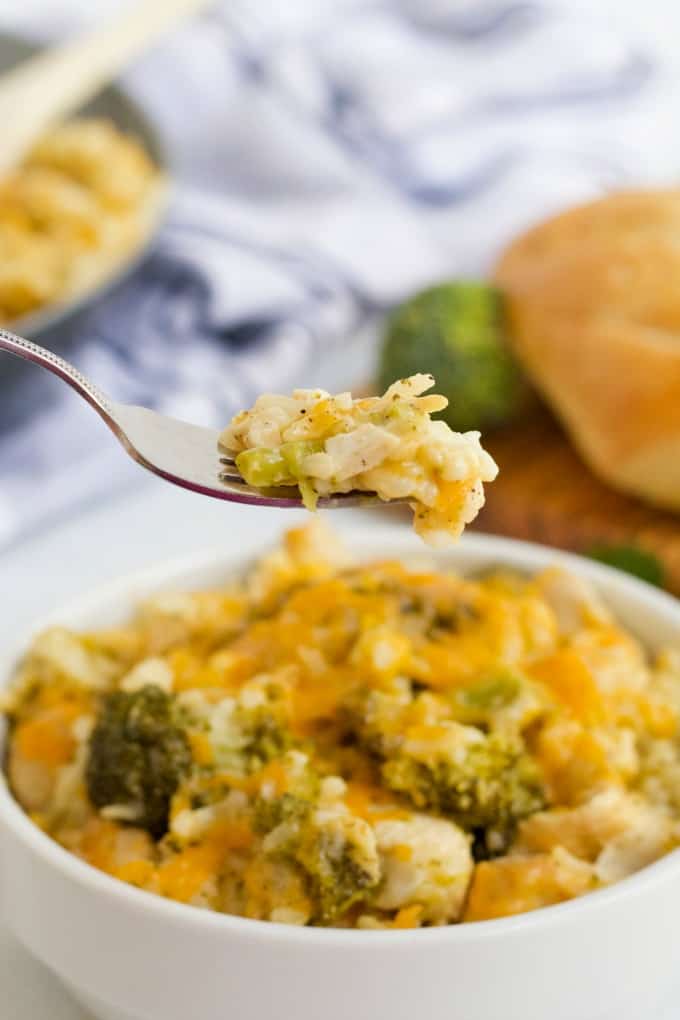 Want More Rice Based Recipes
Chicken Fried Rice | Skip takeout and make your own fried rice at home. Tender chicken, loads of flavor on the rice and veggies in every single bite.
Meatballs and Rice | If you are a fan of meatballs you might really enjoy this recipe. You have tender and juicy meatballs served over a bed of rice.
Curried Lentil Rice | Tons of flavor in every single bite of this lentil rice. You can whip this up and serve as a main dish, side, or mid-day treat. If you love curried dishes I think you will really enjoy this dish.
All of these recipes are rather easy to make. You will find tons of recipes that help you get a variety of meals served up in your home. Make sure to click around and check out all the recipes I have to offer.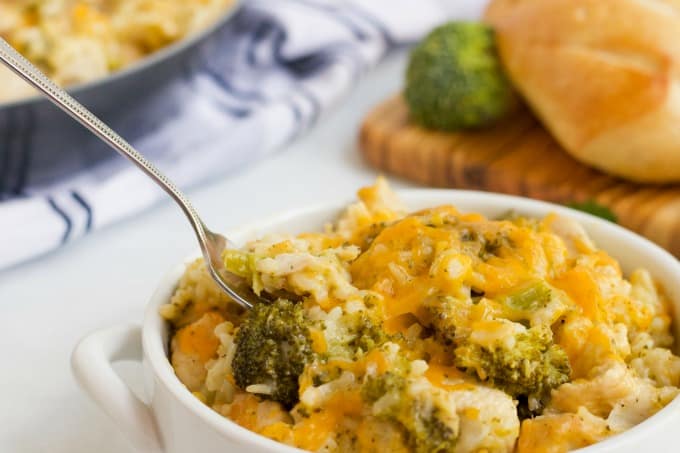 Can You Freeze Cooked Rice
If you want to freeze this dish, place it in the airtight containers while it is still warm, and then place the lid on. This is going to lock some moisture into your container.
This is important with rice so as it reheats it has moisture to help it maintain the texture and not turn to mush. Rice tends to change the texture once it is thawed from being frozen.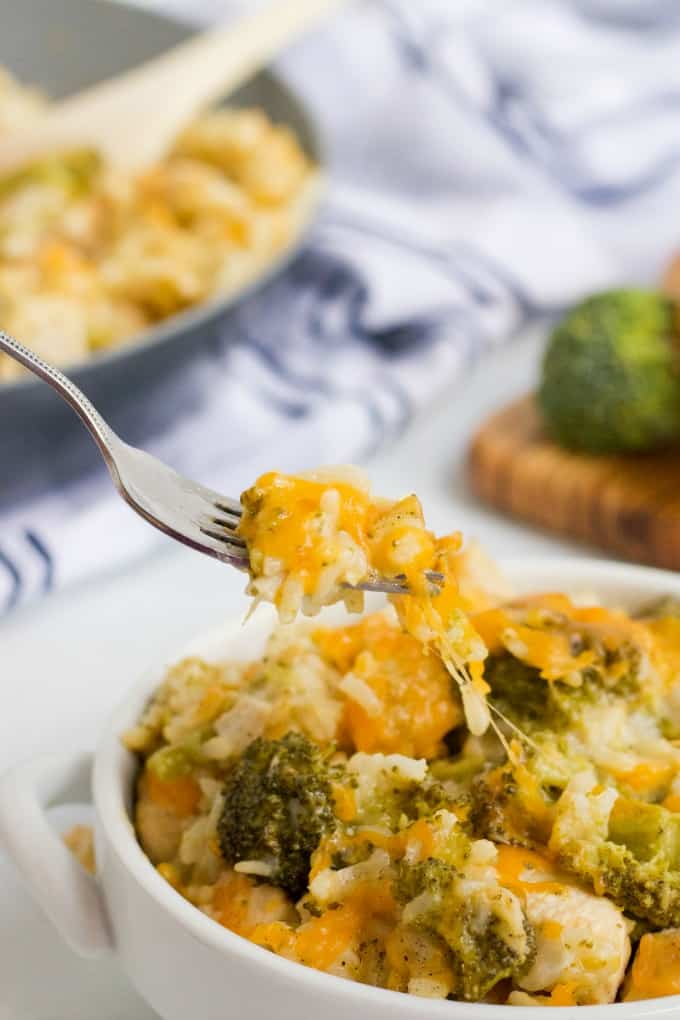 You can store this for up to three months in the freezer. Then thaw in the fridge the night before you serve it up or reheat from frozen if you want.
You'll also enjoy this Oven Baked Chicken Fried Rice, Broccoli Salad, Mediterreanean Chicken and Rice Bowl, One-Pot Sausage and Cheese Cappelletti, One-Pot Unstuffed Pepper Pasta, One-Pot Chicken Cacciatore, Broccoli Casserole or Lemon and Herb Chicken Fettuccine.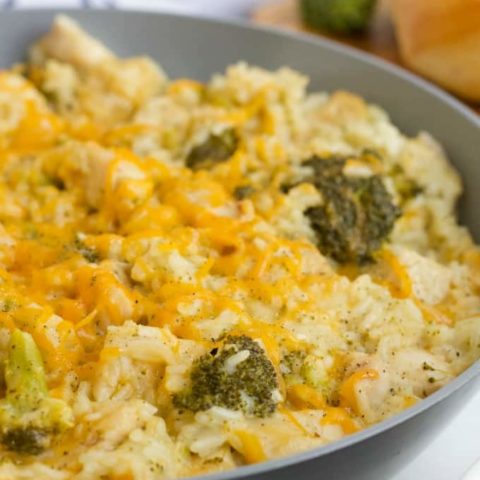 One-Pot Chicken & Broccoli Rice
This is an easy weeknight dinner that you will love whipping up! Tender chicken, creamy rice and broccoli in every single bite. Ready in less than 30 minutes.
Ingredients
1 tbsp extra virgin olive oil
3 boneless, skinless chicken breasts, chopped
1 onion, chopped
3 cloves garlic, minced
1 broccoli, chopped
1 can Cream of Broccoli soup
2 cups chicken broth
1 cups white rice, uncooked (not Instant rice)
1 1/2 cup cheddar cheese, shredded
Instructions
Heat olive oil over medium high heat in a large skillet. Add chicken breasts and saute for two minutes. Add in onion and garlic and continue to saute until chicken is cooked and onions are soft (about 6-8 minutes).
Stir chicken broth, cream of broccoli soup, broccoli and rice and bring to a boil. Cover and reduce heat to medium low. Cook for about 20 minutes, or until rice is cooked.
Remove from heat and let stand five minutes, covered.
Stir in cheddar cheese and serve hot.
Recommended Products
As an Amazon Associate and member of other affiliate programs, I earn from qualifying purchases.
Nutrition Information:
Yield:

4
Serving Size:

1
Amount Per Serving:
Calories:

519
Total Fat:

26g
Saturated Fat:

11g
Trans Fat:

0g
Unsaturated Fat:

12g
Cholesterol:

130mg
Sodium:

1301mg
Carbohydrates:

28g
Fiber:

1g
Sugar:

4g
Protein:

44g