Lemon and Herb Chicken Fettuccine is the ultimate pasta lovers' dinner idea that is loaded with rich flavor in every bite. Best of all this is a 30-minute chicken fettuccine recipe.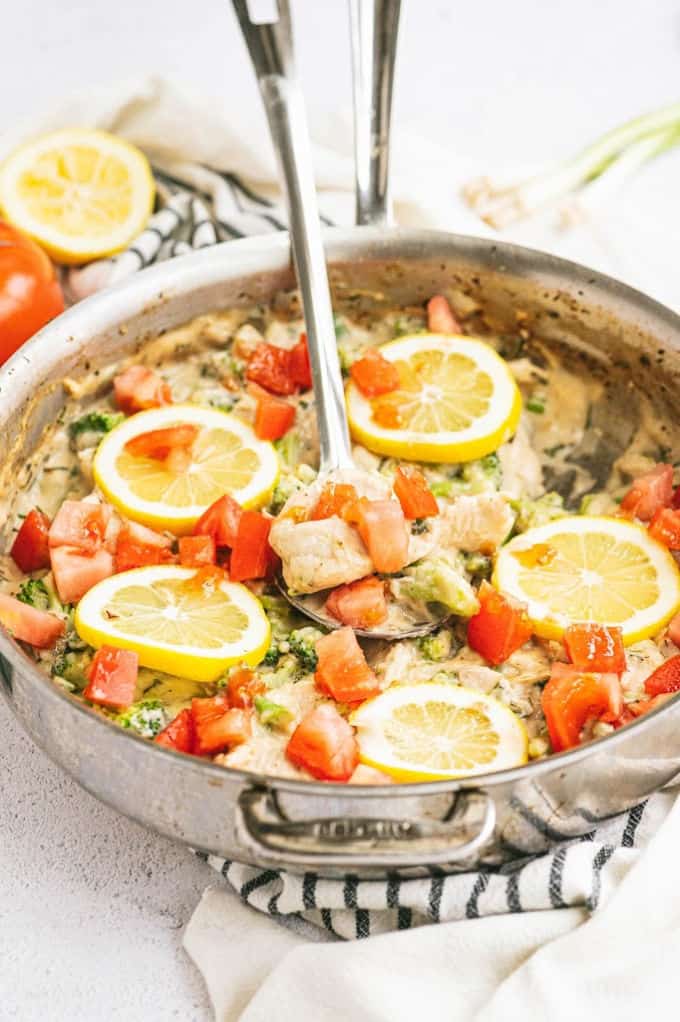 Spring is finally here, but in my neck of the woods, Mother Nature doesn't seem to realize it yet. As I'm writing this post, I'm in the thick of an April snowstorm. Yuck. To combat the mixed up weather, I decided to bring a burst of spring to our dinner table with this delicious and fresh recipe for Lemon & Herb Chicken Fettuccine.
Lemon & Herb Chicken Fettuccine
My inspiration for this recipe was "fresh ingredients". I knew I wanted to include some veggies, herbs and a lean protein. Lemons have a bright and cheery feel to them so I added that extra flavour in as well. The result was this delicious, creamy and healthy pasta dish.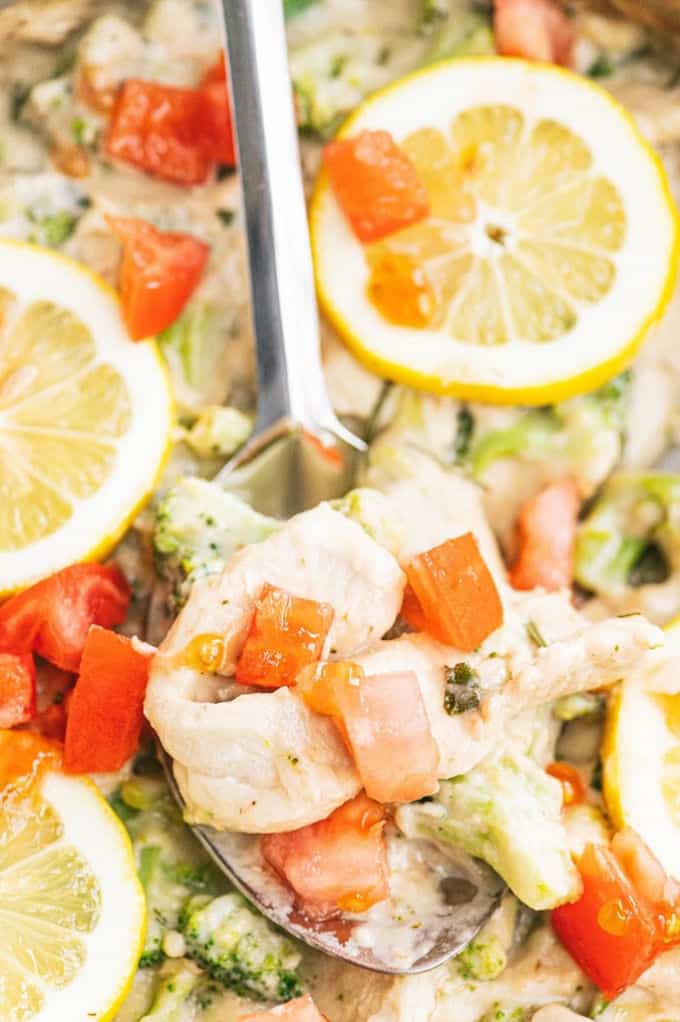 I tend to cook with chicken breasts quite a bit. They are versatile, affordable and healthy. Plus, they pair perfectly with this lemony springtime meal.
Can I Use Dry Herbs Instead of Fresh
In terms of fresh ingredients, this recipe has several including oregano, rosemary, broccoli florets, tomatoes and lemons. If you don't have access to fresh herbs, dried would be fine to substitute in a pinch. Only use one teaspoon of each if you go that route.
I find that fresh herbs can really elevate the flavor of a dish and also add tons of color. But, sometimes it isn't possible to have it all on hand.
What is Best Pasta to Use
It also doesn't really matter what kind of pasta you use. I was debating using spaghetti noodles, but changed my mind at the last minute and used fettuccine instead. It all tastes the same to me.
You might find that different types of pasta offer a bit of a different flavor to you. Feel free to reach for small pasta, or long.
I love long for entertaining but I sometimes reach for rotini or something so it soaks in more of the rich sauce.
Disclosure: I am participating in the Chicken Farmers of Canada campaign managed by SJ Consulting. I received compensation in exchange for my participation in this campaign. The opinions on this blog are my own.
The Chicken Farmers of Canada site has a ton more springtime recipes. You should bookmark it so you can browse through them all. I've made many of their recipes over the years and always been impressed by how great they turned out.
If you're new to their site, let me give you a brief intro. If you are reading this post, chances are you like recipes. I suggest first visiting the recipes section and browsing through their many chicken appetizers, soups, casseroles, salads and more. You can also drill down and find gluten free and other specific recipes for your dietary needs.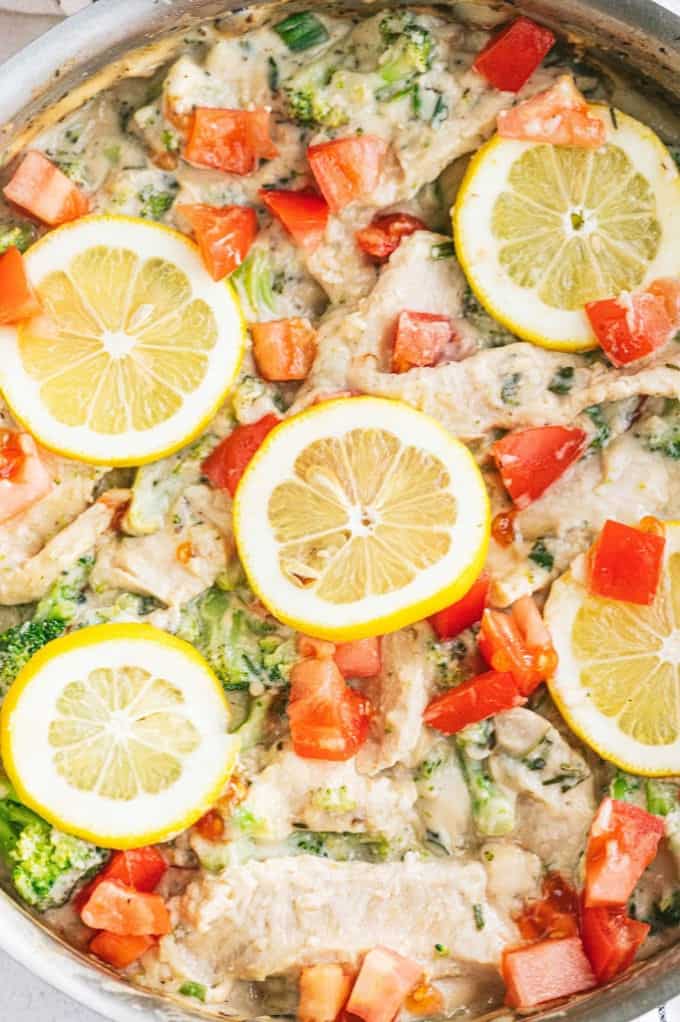 Chicken School is what I refer to as the hacks. It offers recommended chicken cooking times, how-to videos and food safety tips and more.
They also have other sections focused on Health, Chicken Farming in Canada and even a spot for you to ask a question. If you're on mobile, you'll want to download the Shopping App to help you organize your grocery list and discover new recipes.
When you are out grocery shopping for ingredients to make this recipe or others from the Chicken Farmers of Canada site, make sure to look for their logo on the chicken packaging. If you don't see it, consider asking your grocery store to start using it. It helps Canadians know that their fresh chicken was "Raised by a Canadian Farmer" and know they are receiving the highest quality of product.
How to Make Lemon Herb Chicken Fettuccine
Take a pan and add oil in it. Then toss in and saute your chicken strips, and then cook until it is completely cooked. Then remove the chicken from the pan.
Now you will add in a bit more oil and saute your broccoli, and cook for five minutes or so. You will then cook your green onions, garlic, and oregano. This takes a few minutes and you want them to become fragrant.
Now add in your milk and flour and cook until it begins to boil and thicken. Now toss in your parmesan and lemon rind and lemon juice.
Mix in your chicken and broccoli to get it reheated. Serve over fettuccine pasta or any other type of pasta you would like. Then top with chopped tomatoes, extra parmesan and salt and pepper.
How to Store Your Leftover Fettuccine
You will want to store your leftover fettuccine in the fridge. Make sure it is in an airtight container. Since there is chicken in this dish you will want to store it for up to three days. Anything after that you will want to use your best judgement in terms of quality.
This recipe does not freeze well. Due to the milk and other dairy in this recipe you will find it tends to curdle if it is frozen and thawed. If you do freeze it, be aware of the texture change. And you will also want to cook your pasta to al dente so they don't become too mushy.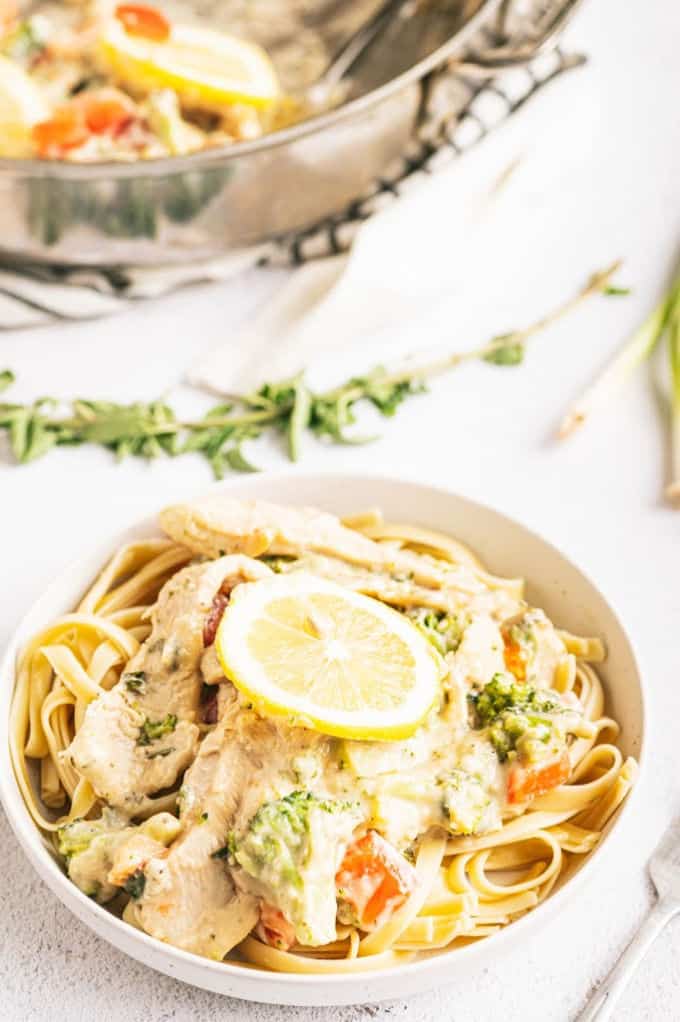 What to Serve With Chicken Fettuccine
Green Salad
Breadsticks or Dinner Rolls
Side of Vegetables
You can eat this as a single dish or serve it with your favorite side dish. This is such an easy weeknight meal or great for entertaining guests.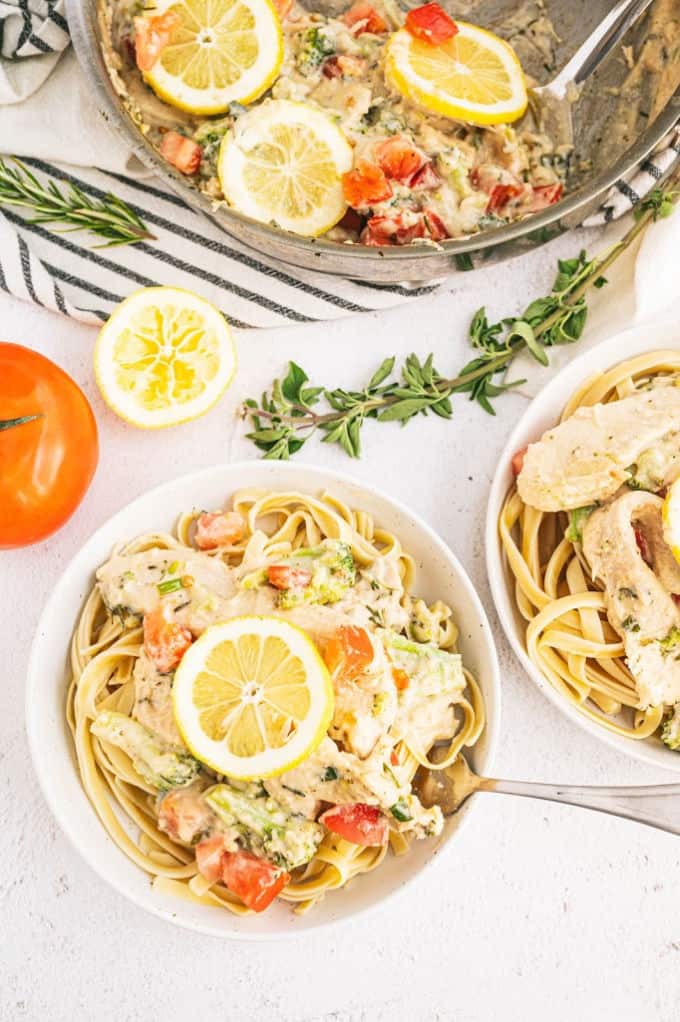 Check out more pasta recipes
Italian Pasta Salad | Here is a tasty and hearty pasta salad that is loaded with Italian flavor, tender pasta, and tons of add-ins.
Spicy Sausage Pasta | This is loaded with a nice kick of spice in every bite. I love spicy sausage paired next to pasta.
Unstuffed Pepper Pasta | Get flavors of stuffed peppers but in a pasta form. Loaded with flavor and so filling.
Give this recipe a try and let me know what you think! It is one of my favorite chicken and pasta combinations.
Do you have a favourite springtime recipe made with chicken?
You might also like this Creamy Garlic Chicken and Noodles and One-Pan Spaghetti.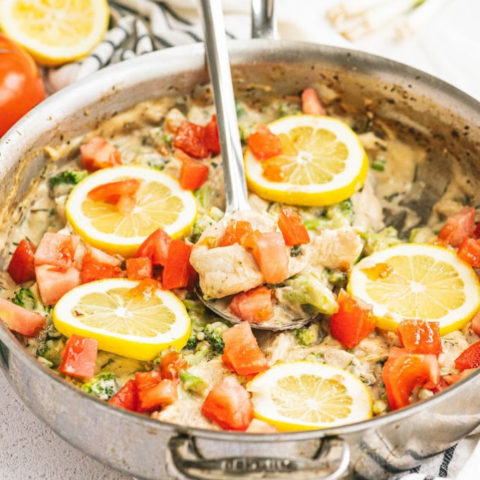 Lemon & Herb Chicken Fettuccine
Your family will love this fresh and healthy springtime meal! Fresh herbs, lemons and chicken in a creamy sauce are served over a bed of fettuccine. Delish!
Ingredients
3 tbsp extra virgin olive oil
3 boneless, skinless chicken breasts, cut into strips
1 broccoli, cut into small florets
3 cloves garlic, minced
1 tbsp fresh rosemary
1 tbsp fresh oregano, chopped
3/4 cup green onions, chopped
1/4 cup flour
2 cups milk
Rind of one lemon, grated
1/4 cup lemon juice
1/4 cup Parmesan cheese, shredded
2 to 3 cups cooked fettucine
salt & pepper, to taste
1 to 2 tomatoes, chopped, for garnish
Instructions
Heat 1 tbsp of oil in a large skillet over medium high heat. Saute chicken strips until completely cooked. Remove chicken from skillet and set aside.
Add 1 tbsp of oil to the skillet and saute broccoli until tender-crisp, about 5 minutes. Remove broccoli from skillet and set aside.
Heat 1 tbsp of oil in the skillet and saute green onions, garlic, oregano and rosemary for 2 to 3 minutes. Stir in flour. Add milk and stir.
When mixture begins to boil and thicken, stir in Parmesan cheese, lemon rind and lemon juice. Mix in chicken and broccoli and heat to desired temperature. Serve over cooked fettucine. Garnish with chopped tomato and season with salt and pepper, if desired.
Recommended Products
As an Amazon Associate and member of other affiliate programs, I earn from qualifying purchases.
Nutrition Information:
Yield:

4
Serving Size:

1
Amount Per Serving:
Calories:

395
Total Fat:

18g
Saturated Fat:

5g
Trans Fat:

0g
Unsaturated Fat:

12g
Cholesterol:

90mg
Sodium:

315mg
Carbohydrates:

23g
Fiber:

4g
Sugar:

3g
Protein:

37g