Note to self: when handling hot peppers in the kitchen wear gloves.
I learned the hard way what can happen when you don't! I was prepping jalapeno poppers for a night in with friends. I was cutting jalapenos and removing the seeds inside with my gloveless fingers. Then without thinking, I itched my eye.
OUCH! It was an intense burning sensation. I freaked out and tried flushing out my eye with water to soothe the intensity. My eye was bothering me the whole night and really put a damper on any kind of fun. I still cook with jalapenos and other hot peppers, but I always wear gloves! Avoiding a fiery eyeball is a good incentive.
My gloves of choice are Clean Ones Kitchen Essentials Disposable Gloves. Not only are they great to use for handling peppers, but they also work for other kitchen jobs like dishes, handling meat and more.
Some of the key features include:
Latex Free
Powder Free
Phthalate Free
BPA Free
They are made of a high quality vinyl material and were designed specifically for food handling. Plus, they are super comfy to wear. I'm able to prepare our meals and barely notice I'm wearing gloves. They help make food prep safer and your hands won't smell like whatever it is you're cooking. It's nice not to smell like garlic or onions!
With hot peppers, it's imperative to wear gloves. I want to avoid any mishaps like I had in the past.
Spicy Sausage & Pepper One-Pot Pasta
The same goes for meat! I don't like handling raw meat with my bare hands. It's icky! With these sausages, I had to squeeze them out of the casing. I was glad to have my Clean Ones Kitchen Essentials Disposable Gloves for the task!
Plus, it's cleaner too. I'm sure my family would rather me use gloves than handle their dinner with my bare hands.
This greasy mess would have been all over my hands.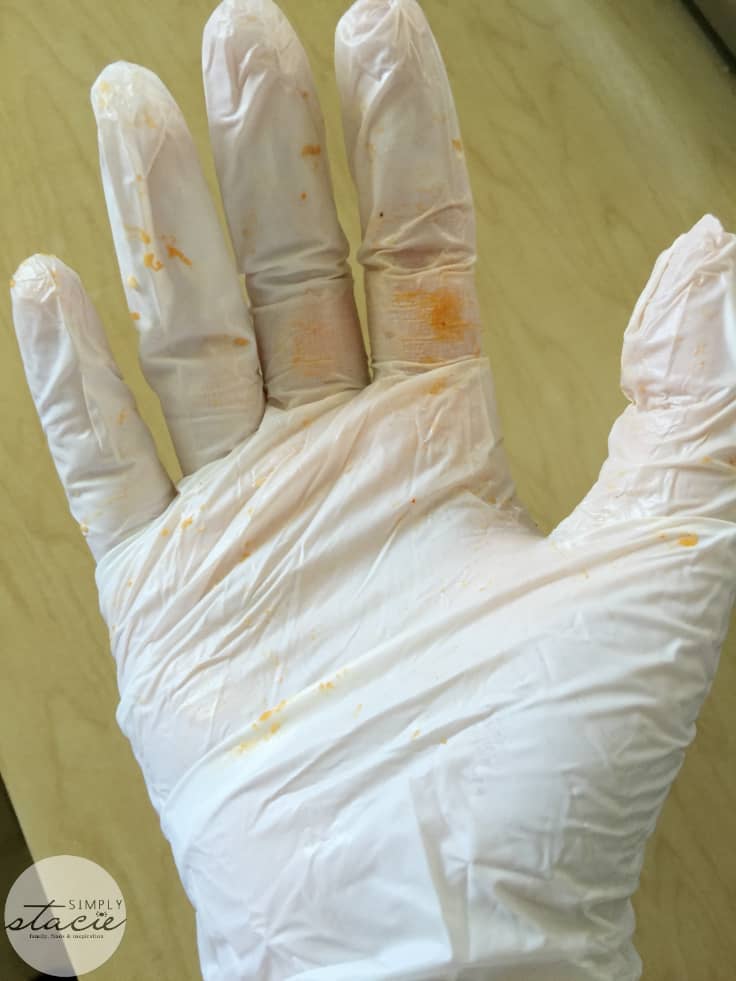 Gloves are recommended for my recipe for Spicy Sausage & Pepper Pasta! You'll be chopping up a variety of peppers and squeezing some hot sausage. Good times.
This simple one-pot pasta cooks entirely in your Dutch oven. It does require a bit of prep work with all the chopping. Make sure to don your pair of Clean Ones gloves first.
I recommend keeping a cold beverage close by. It's a little spicy! To tone down the heat, use mild Italian sausage and one jalapeno pepper instead of two.
I don't mind the heat just not in my eyes!
Fill your belly with this spicy and cheesy dish. It's especially good in the winter when you are craving comfort foods to warm you up.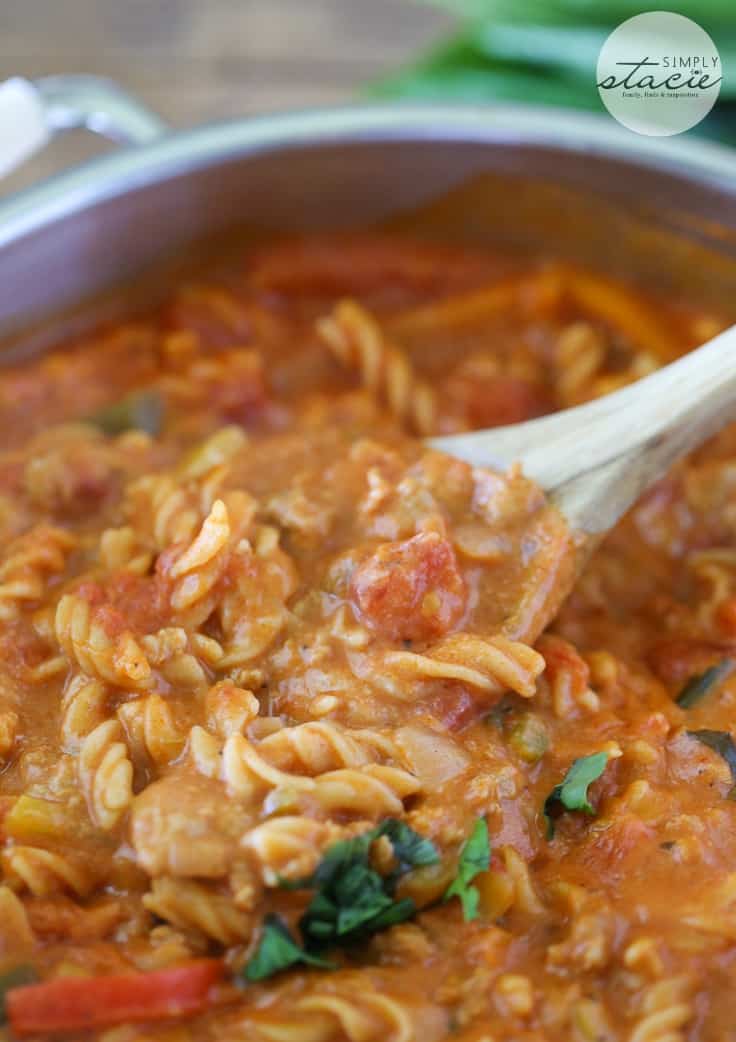 This post contains affiliate links.
Check out Clean Ones to find a store near you that carries their gloves. You can also buy them on Amazon.
You might also like this Homemade Spaghetti Sauce or Tortellini Casserole.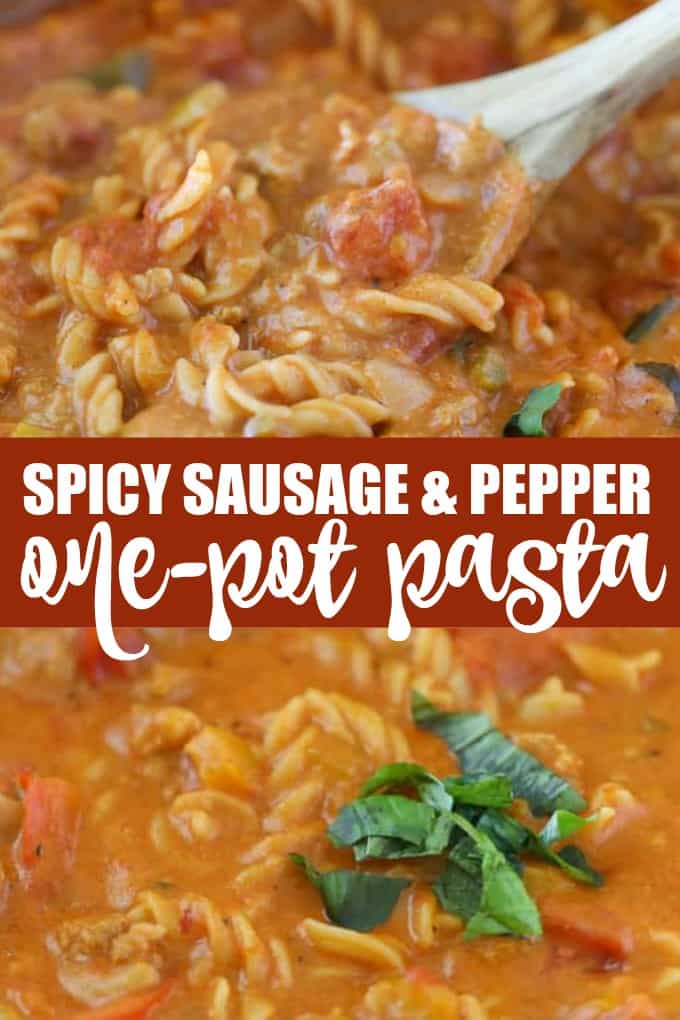 Have you ever had a kitchen mishap with peppers?
You'll also like this Roasted Red Pepper Chicken, One-Pot Unstuffed Pepper Pasta and Sausage Jambalaya.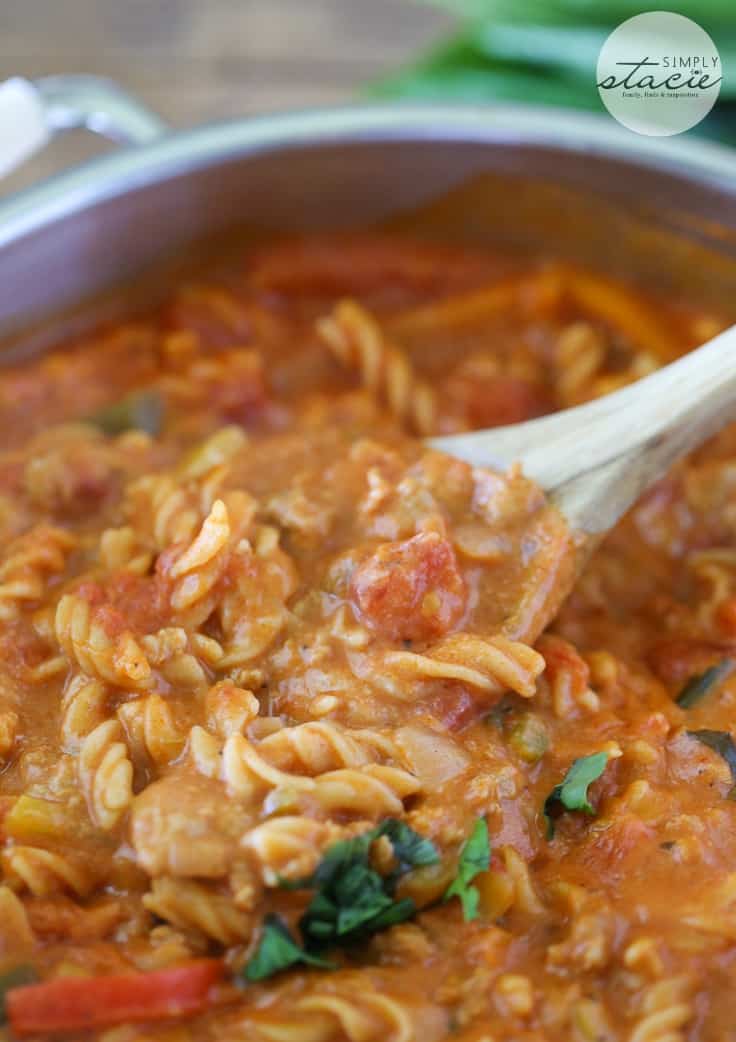 Spicy Sausage & Pepper One-Pot Pasta
This simple one-pot pasta is packed with flavor! Get ready for spicy with Italian sausage, hot peppers, tons of cheese and a host of seasonings.
Ingredients
1 onion, chopped
3 cloves garlic, minced
1 orange pepper, thinly sliced
1 red pepper, thinly sliced
1 yellow pepper, thinly sliced
2 jalapeno peppers, finely chopped
1 yellow hot pepper, finely chopped
4 hot Italian sausages
1 tomato, chopped
1/4 cup fresh basil, chopped
650 ml jar of your favourite pasta sauce
1 1/2 cup chicken, mushroom or beef broth
2 cups pasta of your choice, uncooked
2 cups mozzarella cheese, shredded
Instructions
In a large Dutch oven, saute onion, garlic and sausage over medium high heat. Once the sausage is almost cooked, add in the tomato, orange pepper, red pepper, yellow pepper, jalapeno peppers and yellow hot peppers. Continue to saute for a few more minutes until peppers are softened and sausage is cooked.
Stir in the pasta sauce, basil, broth and pasta and bring to a boil. Reduce heat and cover for about 15 minutes, or until pasta is at desired tenderness. Stir occasionally.
Remove from heat and stir in cheese until melted. Serve hot.
Recommended Products
As an Amazon Associate and member of other affiliate programs, I earn from qualifying purchases.
Nutrition Information:
Yield:

6
Serving Size:

1
Amount Per Serving:
Calories:

523
Total Fat:

29g
Saturated Fat:

12g
Trans Fat:

0g
Unsaturated Fat:

17g
Cholesterol:

92mg
Sodium:

1311mg
Carbohydrates:

33g
Fiber:

5g
Sugar:

11g
Protein:

32g
Disclosure: I was compensated for this post. All opinions expressed are my own.