These biscuit cups stuffed with ham, asparagus, and Swiss cheese are great for breakfast or breakfast-for-dinner! Use refrigerated biscuits to save time making these fluffy egg cups with all your favorite fillings.
Breakfast doesn't have to be complicated. These simple biscuit cups filled with ham, asparagus, and Swiss cheese can be whipped up quickly in a matter of minutes. Sometimes, I'm just not in the mood for toast and cereal and want a more substantial meal. Not that these little guys are huge, but they hit the spot when you wake up hungry.
I recommend making a few batches of these little guys because they will be gobbled up quickly! Don't worry, they are easy to make. Use refrigerated biscuits to save on time. The last thing I want to do when I roll out of bed in the morning is prepare an elaborate breakfast. These Ham, Asparagus & Swiss Biscuit Cups fit the bill perfectly.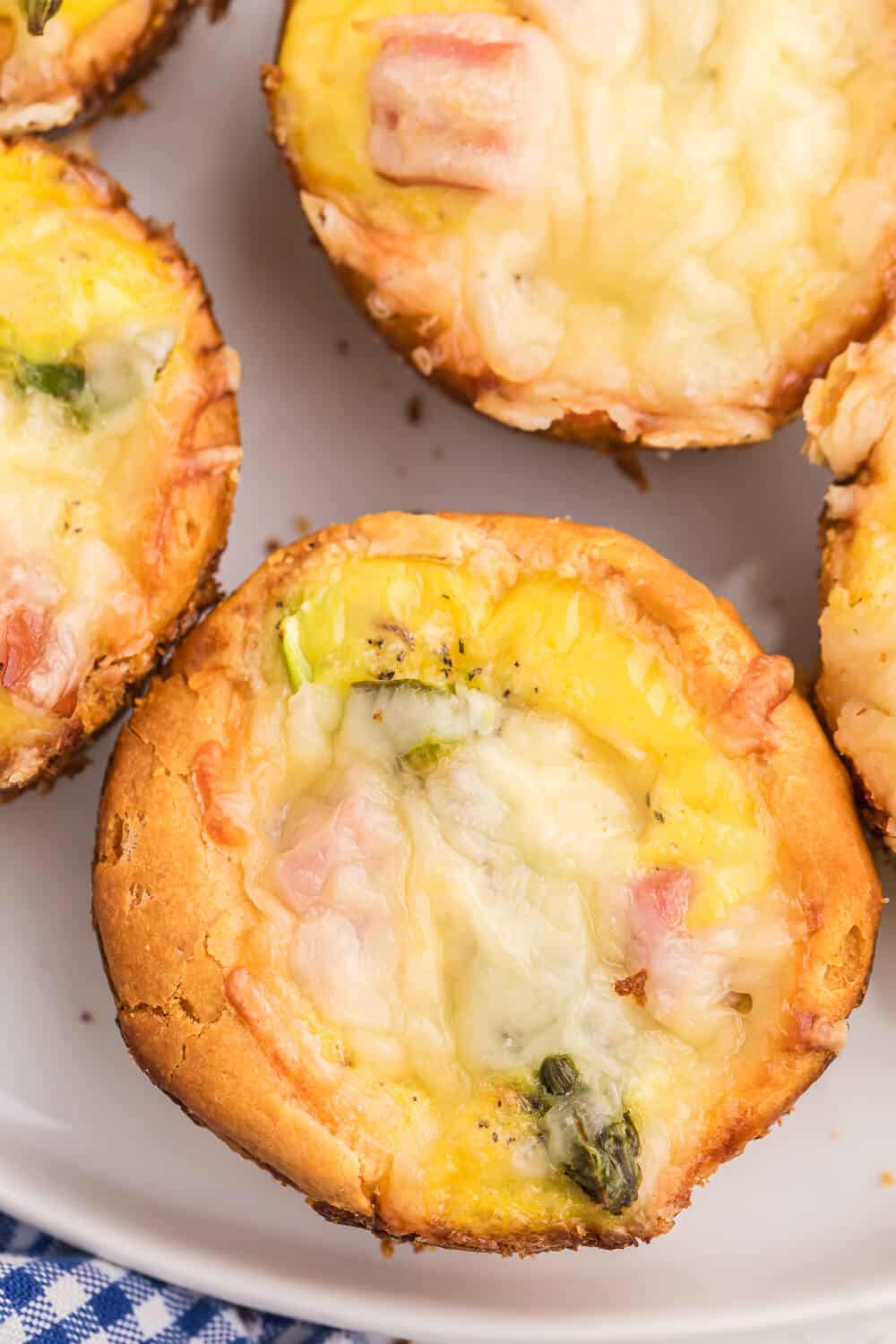 Kids love them, too! You can sneak in some veggies and they might not even notice. My daughter has an eye for veggies so could probably tell what I was doing. She'd be more apt to try this recipe than say, a plate of asparagus. It's more fun to eat something that is bite sized, don't you think?
Ingredients
Refrigerated biscuits: I have a mild obsession with refrigerated biscuits. I watch for the sales and then buy in bulk. They are so versatile! You can create just about any kind of recipe with them. Let your creative juices flow, I say!
Ham: I love ham, and I put it in everything I can! You could also use bacon, sausage, turkey, or even shredded chicken! Just make sure any meat you use is cooked beforehand.
Asparagus: This is my favorite green veggie! Be sure to chop up the asparagus to fit it into the biscuit cups.
Swiss cheese: If you don't like Swiss cheese, you can swap for any shredded cheese that melts. It has that perfect saltiness these cups need!
Eggs: You're basically making a small quiche, so you'll need some eggs.
Milk: For the fluffiest scrambled eggs, add a little milk. You won't regret it.
Feel free to substitute other veggies and meat if ham and asparagus aren't your thing. It's like a little mini quiche nestled in a buttery biscuit. Yum!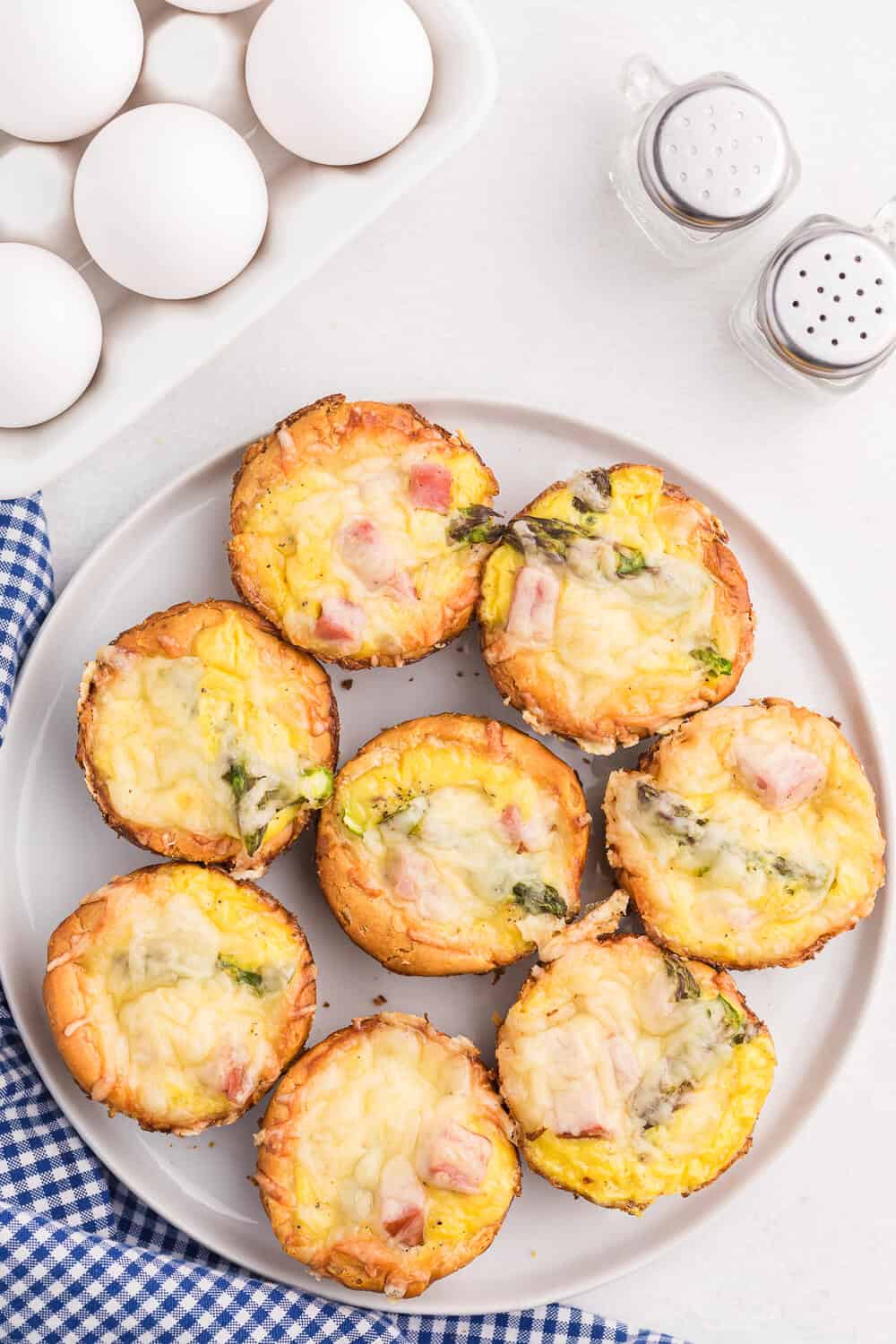 What I Used For This Recipe
This post contains affiliate links.
Muffin tin: I love making muffin tin recipes because they're so easy! Be sure to grease the muffin tin well so your breakfast biscuit cups don't stick.
Mixing bowls: This is one of those great recipes that only uses ONE mixing bowl! No need to dirty your whole kitchen for a healthy breakfast.
Measuring cups: After making these for a few years, I can eyeball my ingredients. These measuring cups and spoons are my go-to in the kitchen when I need them.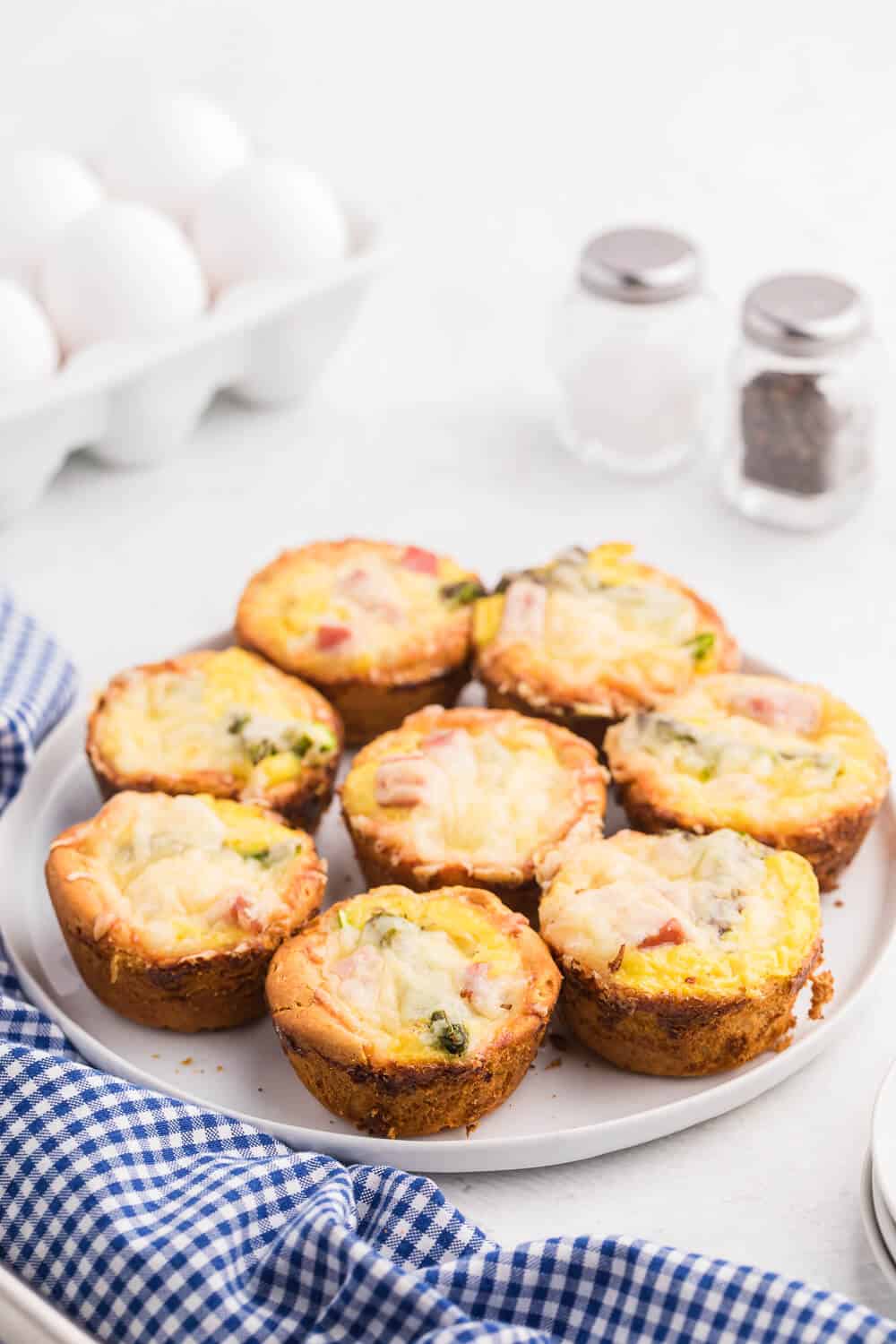 How To Make It
First, preheat the oven, and grease a muffin pan with cooking spray.
Then, separate the biscuits, and put one in each muffin pan hole. Press the dough into the pan to conform to the cup shape.
Now, bake the biscuits for a few minutes. Press on them with the back of a spoon before filling.
To make the filling, beat the eggs, milk, salt and pepper together, Then, add the ham and asparagus. Divide the mixture between the biscuit cups, and top them with Swiss cheese.
Finally, bake the Pillsbury biscuit cups until the eggs are set and the biscuits are lightly browned. Let them cool a few minutes before removing them from the pan.
I wouldn't make this recipe every week because I'm lazy in the mornings, but they are a nice little treat from time to time or when you have company visiting and want to impress them. Everyone always gobbles these biscuit cups up quickly!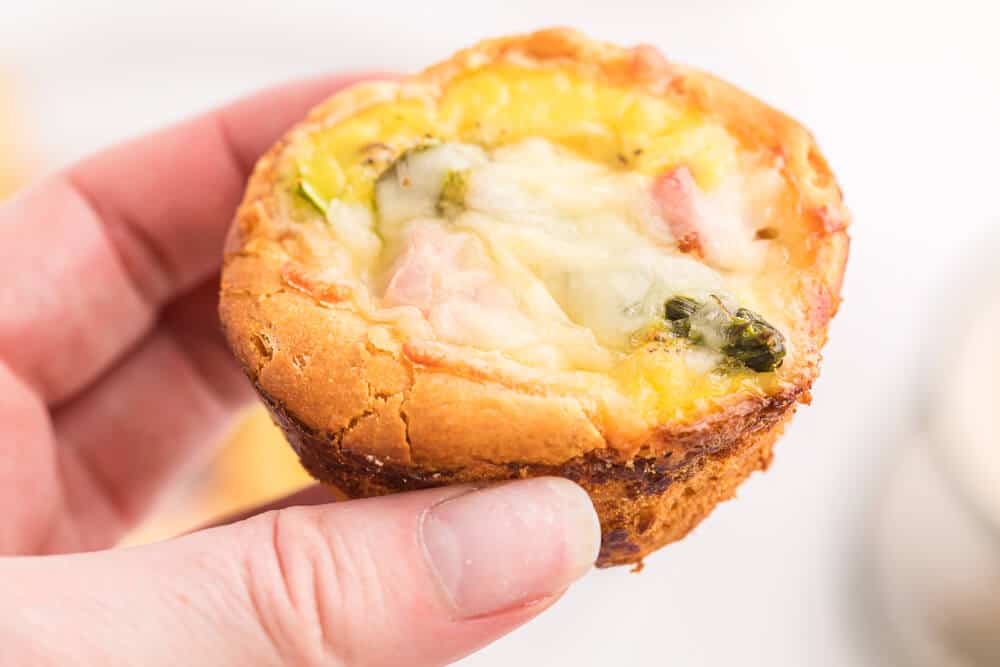 The Best Biscuit Cup Ingredients
When it comes to biscuit cups, all you need are biscuits and eggs! Everything after that is up to you.
I like this simple combo of ham, asparagus, and Swiss. It reminds me of Easter dinners growing up! However, you can make Mexican biscuit cups with chorizo, pepper jack cheese, and jalapeños. Or try Italian biscuit cups with basil, mozzarella, and a little Italian sausage!
The options are endless with this versatile biscuit cup recipe. Let me know what ingredients you add!
More Refrigerated Biscuit Recipes
I'm truly obsessed with refrigerated biscuits. Why spend hours making dough when you can use these in savory and sweet recipes?
There's no more classic refrigerated biscuit recipe than a classic monkey bread! It's truly the best cinnamon bread with raisins and walnuts all covered in a cinnamon and a brown sugar butter glaze all over. Try it with refrigerated crescent rolls, too!
Bacon and Egg Biscuit Casserole is an easy breakfast casserole recipe made with eggs, bacon and biscuits. The best part? It's super easy to whip up and can be made the night before and kept in the fridge.
Biscuits are great for dinner, too! This chicken and broccoli biscuit bake is the best easy weeknight dinner. It's so cheesy and totally easy.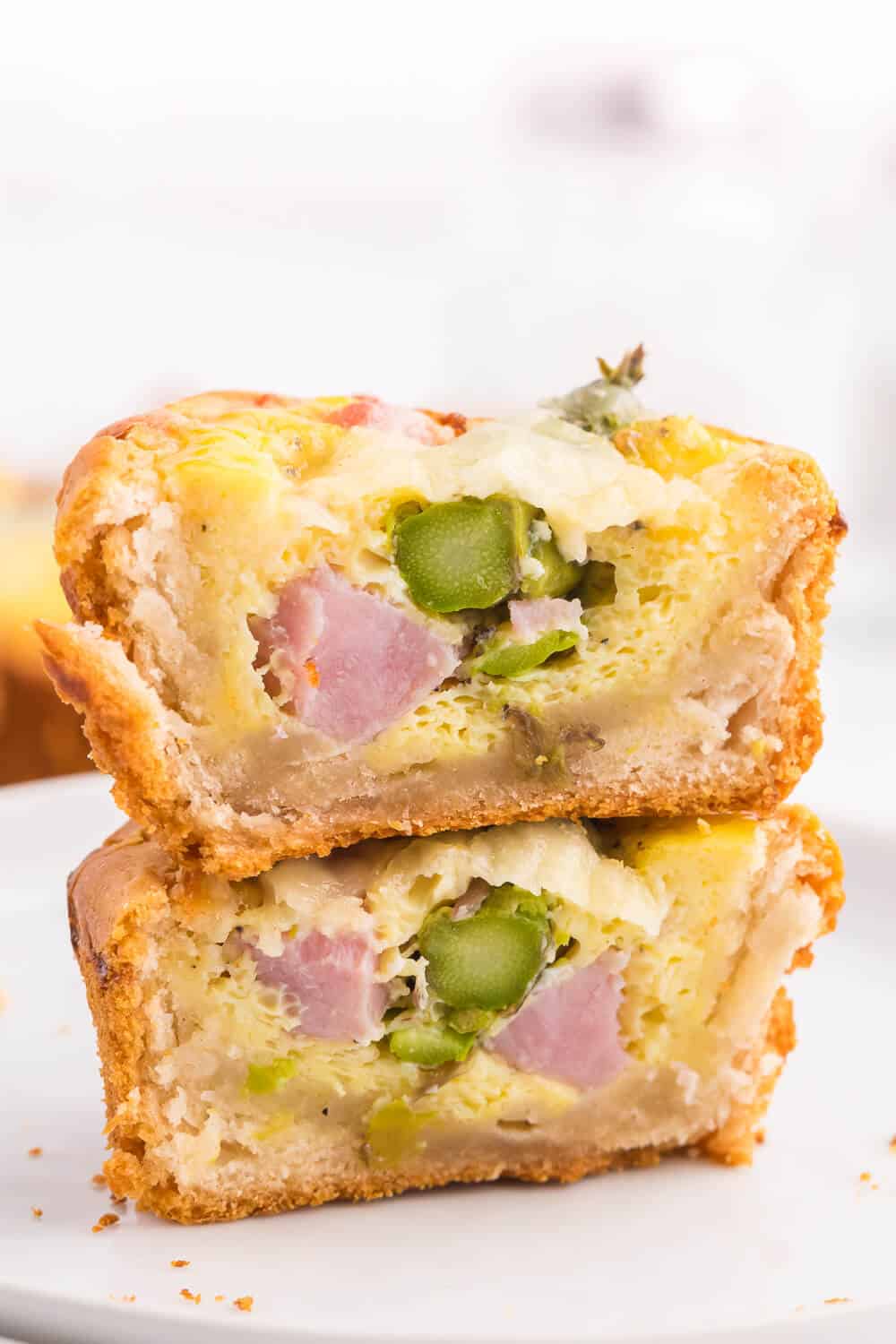 What To Serve With This
If you're out of biscuits but still wanna make egg muffins, you're in luck! This spicy egg muffin recipe adds a little heat to your fav bite-sized breakfast.
Cookies for BREAKFAST, you say? You heard me. These pumpkin breakfast cookies are a little sweet, a little spiced, and filled with crunchy pecans and chewy dried cranberries. Perfect for kids who hate breakfast!
Add a little sweetness to your brunch menu with this apple cinnamon breakfast casserole. It's like bread pudding, cinnamon rolls, and apple pie all in one. I've even made it as a quick dessert!
More Easy Egg Recipes You'll Love
You'll also love this Country Gravy.
Do you have any amazing breakfast recipes? I'm always looking for more recipes to try! Follow me on Instagram @simplystacieblog, on Facebook at Simply Stacie, and on Pinterest @SimplyStacie and let me know how you liked this and my other recipes!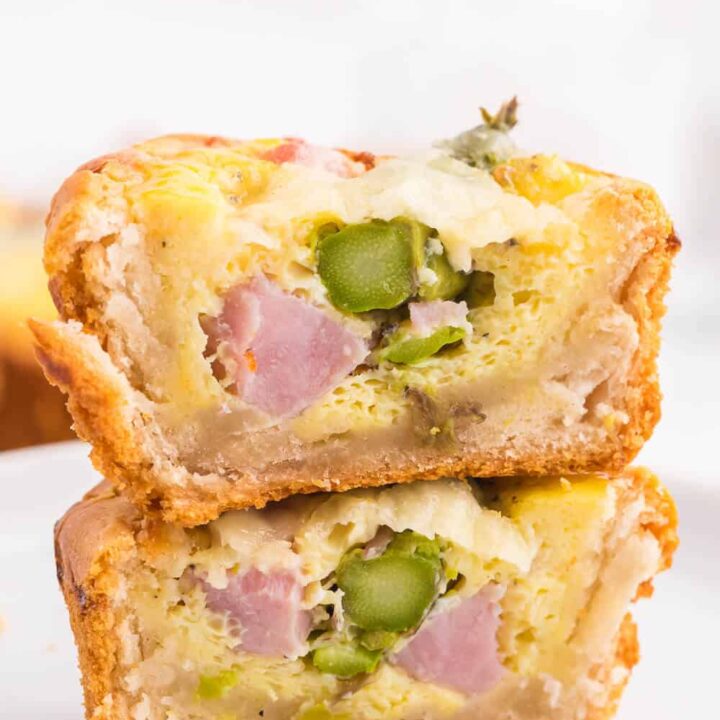 Ham, Asparagus & Swiss Biscuit Cups
These flaky bite-sized biscuits are loaded with ham, Swiss and asparagus, but can be completely customized to your family's taste buds!
Ingredients
1 can refrigerated biscuits (I used a 340g can Pillsbury Country Biscuits)
1 cup diced cooked ham
1 cup cut asparagus spears
1 cup shredded Swiss cheese
1/2 teaspoon pepper
1 teaspoon salt
6 eggs
¼ cup milk
Instructions
Preheat oven to 350 degrees. Grease a muffin pan with cooking spray.
Separate biscuits and place one in muffin cup in a muffin pan, pressing the dough down to conform to the shape.
Bake for 5 minutes. Press down again with a spoon to make them to conform to shape. They may puff up during cooking.
In a large bowl, beat together eggs, milk, salt and pepper. Stir in ham and asparagus spears. Divide between biscuit cups. Top with Swiss cheese.
Bake for 20 minutes. or until eggs are set and biscuits are lightly browned.
Let cool 5 to 10 minutes before removing from the pan.
Recommended Products
As an Amazon Associate and member of other affiliate programs, I earn from qualifying purchases.
Nutrition Information:
Yield:

10
Serving Size:

1
Amount Per Serving:
Calories:

131
Total Fat:

8g
Saturated Fat:

3g
Trans Fat:

0g
Unsaturated Fat:

4g
Cholesterol:

131mg
Sodium:

433mg
Carbohydrates:

5g
Fiber:

0g
Sugar:

1g
Protein:

11g