Disclosure: I am participating in the Chicken Farmers of Canada campaign managed by SJ Consulting. I received compensation in exchange for my participation in this campaign. The opinions on this blog are my own.
I have a good friend on Facebook who is a little too excited for the snow to fall. I'm not exactly happy that the cold weather is coming and I'll have to start dealing with the wet stuff once again. However, there is one good thing about cold temperatures coming – slow cooking! During the colder months of the year, I use my slow cooker multiple times a week. I even make a permanent home for it on my kitchen counter. No point lugging it out every time I use it! There's just something comforting about a home cooked meal on a cold day. The whole house smells delicious and by supper time, I'm practically salivating to dig in and eat.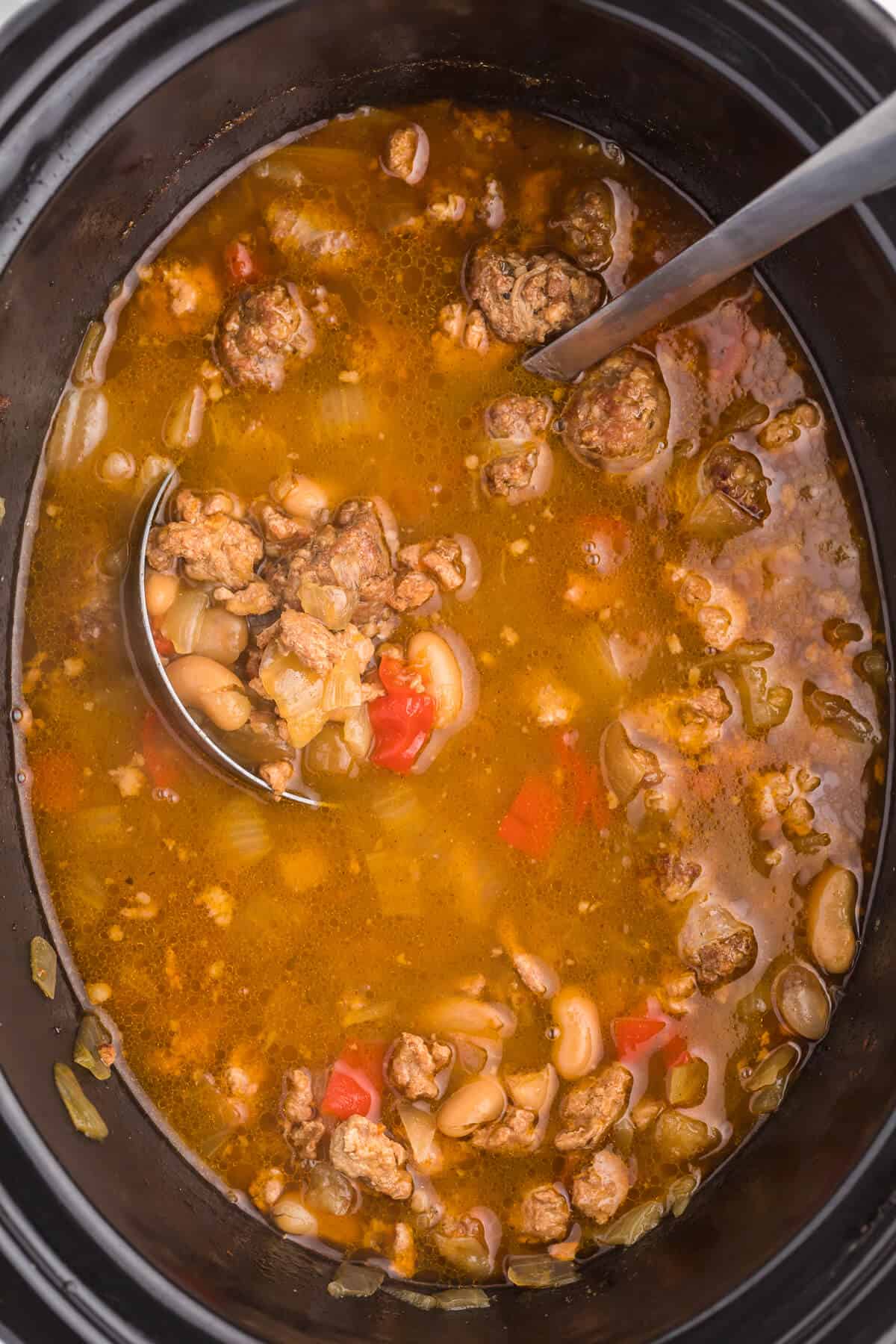 Besides making the food taste so good after cooking all day, slow cookers are also huge time savers. Pop the ingredients in the slow cooker in the morning before work. When you get home, dinner is served. I find dinner hour a little less stressful on days I use the slow cooker because I'm not rushing around figuring out what to make.
I've made a lot of different recipes in the slow cooker using a variety of ingredients. One combination I hadn't tried was chicken and beer. I've actually never cooked with beer so this was a first for me!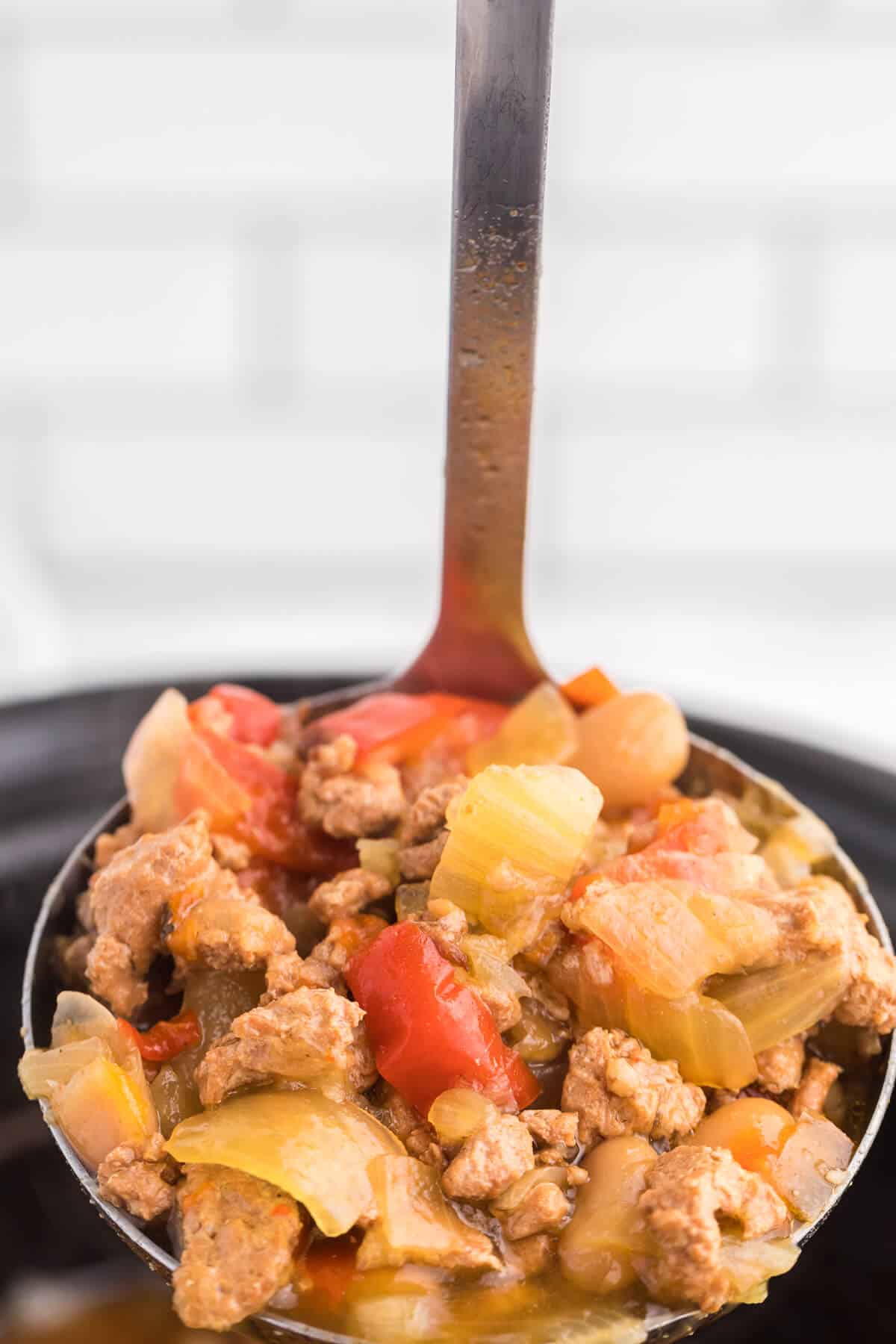 Rickard's sent me a selection of their beer to try out in my cooking. I learned that beer is good for drinking and cooking….sometimes at the same time too as I discovered!
It was my first time using beer so I browsed through the Rickard's site for some recipe inspiration. I landed on a recipe for Turkey and Sausage Chilli. I modified it a little and used ground chicken instead of turkey.
I also included a bean medley instead of edamame beans. I couldn't find edamame beans at the grocery store. I figured it would be ok to improvise a little.
The recipe called for fresh thyme which I also couldn't find. I ended up using 1/2 tsp of dried thyme and hoped for the best!
My two bottles of Rickard's Blonde were ready to go. It's known for its classic golden colour and is a full-flavoured beer with a blend of malt and four different styles of hops. It also can be used for Beer Can Chicken…but get it in the can if you want to make that recipe!
I added in the Rickard's last to my slow cooker and I was curious to see how it would taste when it was cooked.
As it was cooking, it smelled amazing!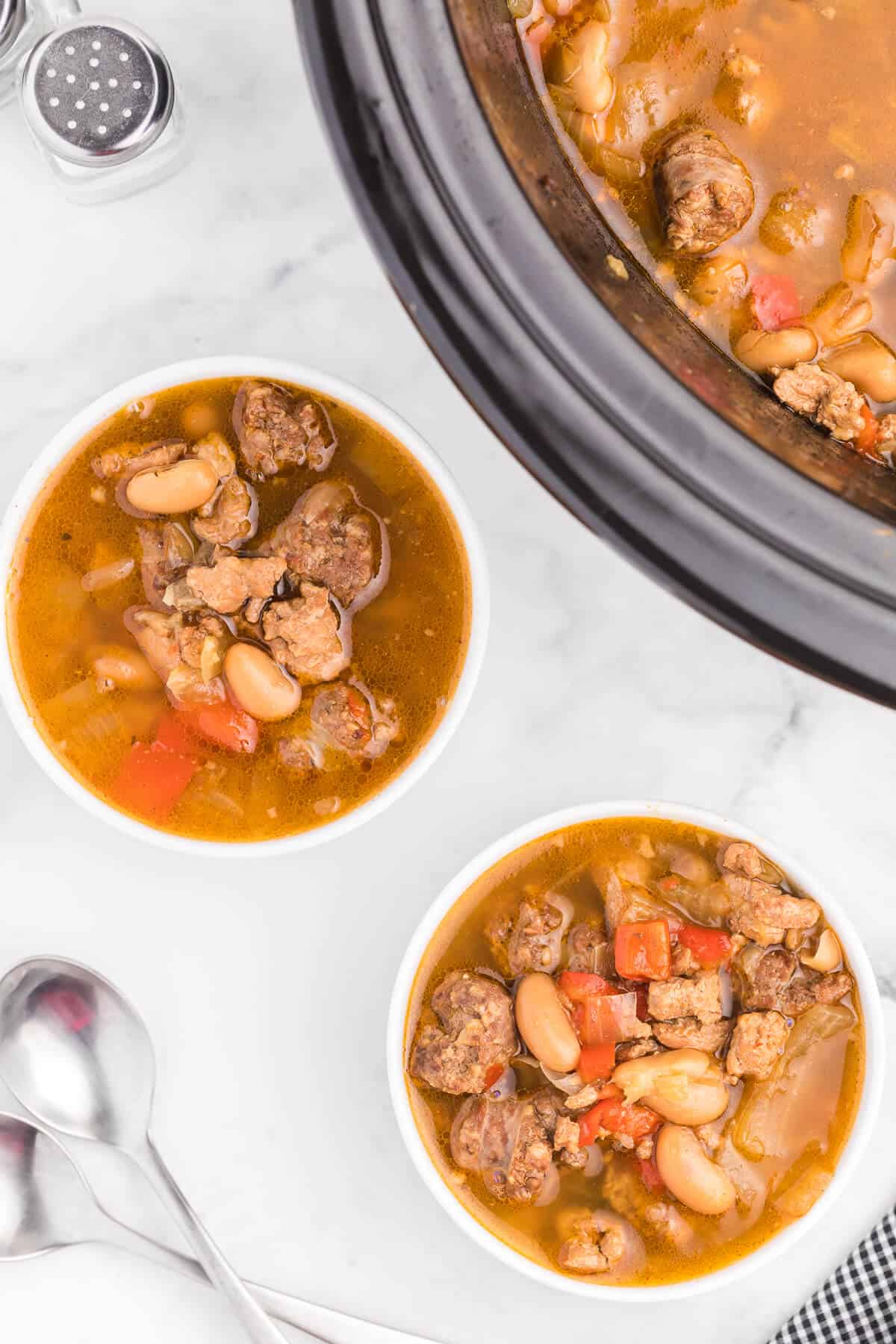 It seemed more of a soup than chili to me so I'm calling mine Chicken and Sausage Soup. I could taste the flavour of the beer but without it tasting like alcohol. It was hearty and delicious! John ended up having second helpings. I will definitely make it again.
Pair it up with a sandwich like a Chicken Club Twister for a complete meal. I'd probably end up dipping my sandwich in the soup to absorb all the mouthwatering flavours.
I dug out another chicken slow cooker recipe that is also yummy – Slow Cooker Salsa Chicken. I wonder what this would taste like with a bottle of Rickard's? Hmmmmmm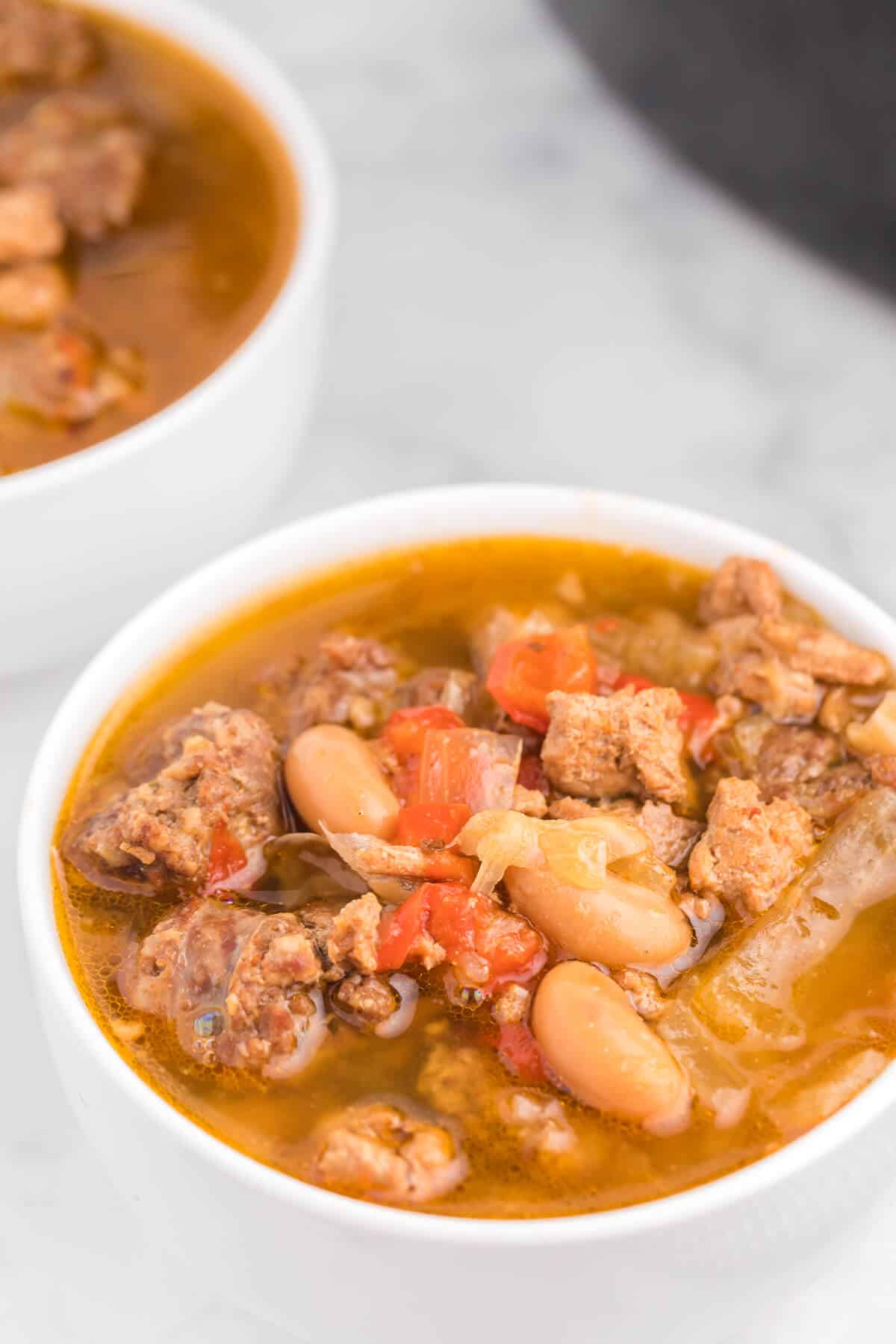 I have a few more bottles to try out including Rickard's Lederhosen, Rickard's White, Rickards Red and Rickard's Dark.
Have you ever cooked your chicken with beer?
You'll also like this Sausage Jambalaya and Drunken Salmon.
Connect with the Chicken Farmers of Canada on Facebook, Instagram, Pinterest and Twitter.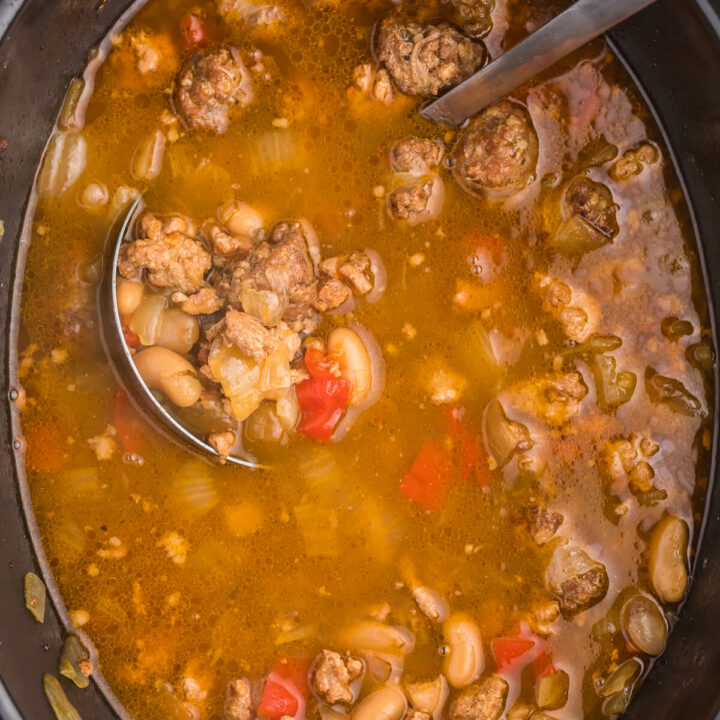 Chicken and Sausage Soup
Total Time:
8 hours
15 minutes
The most comforting winter soup! Load up the slow cooker with ground chicken, beer and sliced Italian sausage in this broth-based soup.
Ingredients
1 lb ground chicken
1 lb Italian sausage, sliced into 1/2 inch pieces
1 onion, chopped
3 cloves garlic, minced
1 red pepper, diced
2 1/4 cups canned white kidney beans
1 tablespoon cumin
1 tablespoon coriander
2 1/2 cups beer
2 1/2 cups chicken broth
1/2 teaspoon dried thyme
2 bay leaves
Instructions
Add the ground chicken to a pan on the stove top over medium-high heat. Brown the ground chicken, stirring frequently to break up the meat, until fully cooked.
Do the same with the sausage to cook completely on the stove top. Transfer the meat to the slow cooker.
Add the rest of the ingredients to the slow cooker and stir to combine. Cook on low for 8 hours. Remove bay leaves before serving. Serve hot.
Notes
I used a blonde beer.
You can also leave out the beer and use chicken broth in its place.
Recommended Products
As an Amazon Associate and member of other affiliate programs, I earn from qualifying purchases.
Nutrition Information:
Yield:

6
Serving Size:

1
Amount Per Serving:
Calories:

566
Total Fat:

30g
Saturated Fat:

10g
Trans Fat:

0g
Unsaturated Fat:

21g
Cholesterol:

124mg
Sodium:

958mg
Carbohydrates:

32g
Fiber:

5g
Sugar:

11g
Protein:

38g