Adding toasted nuts enhances the flavour of any recipe. I used to skip this step in recipes until I discovered how easy it is to toast nuts. It can be done in mere minutes! I don't skip this part anymore and sometimes will add toasted nuts just because. Plus, they make recipes look pretty for pictures! See how to toast nuts in three ways.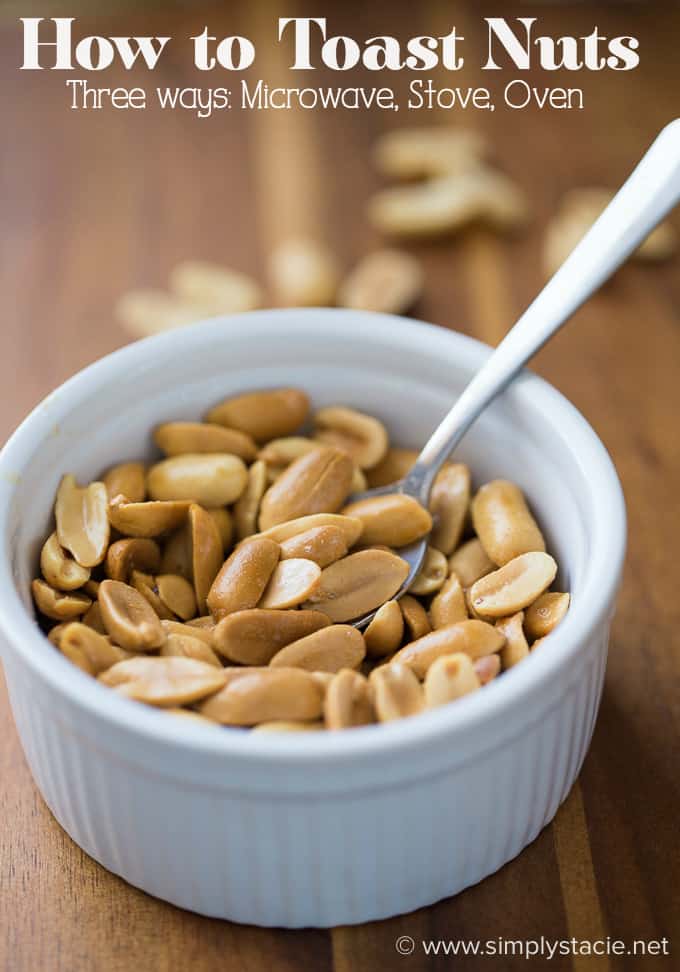 How to Toast Nuts
There are three easy ways to toast nuts: microwave, oven and stove top. I'll go over the three ways. It's like riding a bike. Do it once and you'll never forget.
This post contains affiliate links.
How to Toast Nuts in the Microwave
The microwave is the quickest way, obviously. For every 1/2 cup of nuts, add 1/2 tsp of vegetable oil in a microwavable cup.
Heat on high for 2:30 seconds to 3:30 seconds (depending on your microwave). Stop and stir every 30 seconds. Warning – it's HOT so wear oven mitts when removing from the microwave to stir.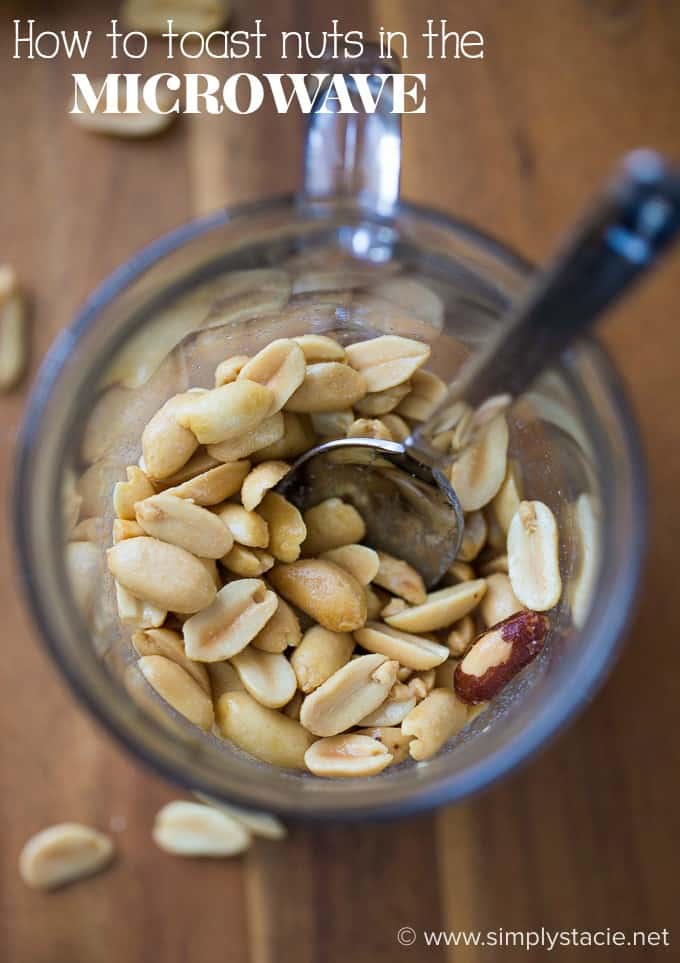 How to Toast Nuts in the Oven
This is my preferred method! However, it's also the one that takes the longest. Preheat your oven to 350F. Spread your nuts on an ungreased baking sheet.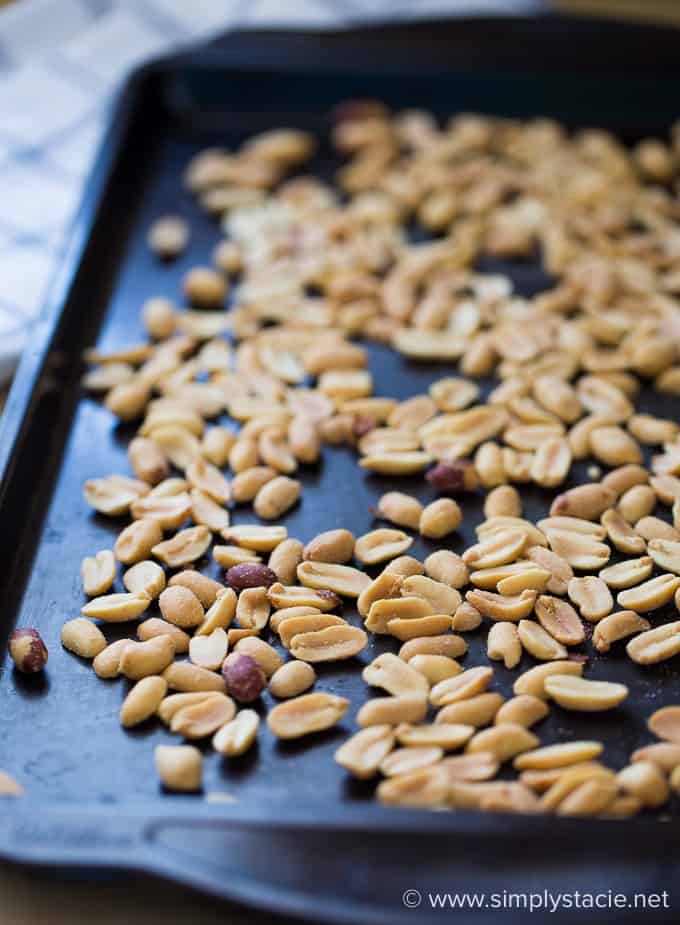 Bake for about 6 to 10 minutes, depending on how toasted you want them to be. Stir every couple minutes. You'll want to be there to watch to make sure they don't burn. Burnt nuts are icky! I love the flavour of oven toasted nuts.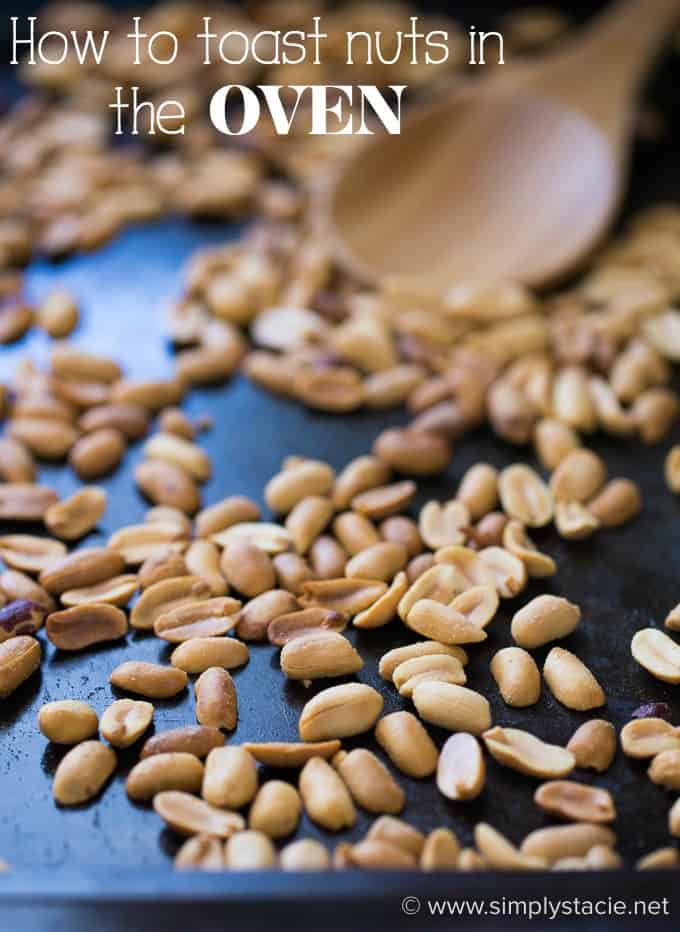 How to Toast Nuts on the Stove
Toasting nuts on the stove is the best method to use if you want to control how much you are toasting them. You pretty much have to watch them the whole time so once they get to your desired colour, you can quickly turn off the heat and remove the pan.
Add your nuts to an ungreased skillet and heat over medium heat. Stir frequently for the first few minutes. Then once you can see the nuts start to brown, stir constantly. It usually takes about 5 to 7 minutes.
Add your toasted nuts to salads, desserts or anywhere you want to add a little extra crunch. I love toasted peanuts on top of a hot fudge sundae!
Try these recipes with your toasted nuts: Mini Peanut Butter Cheesecakes with Chocolate Peanut Butter Sauce and Rocky Road Pizza.
You'll also like these Southwestern Party Nuts.
How do you toast nuts?