Southwestern Party Nuts are the sweet and savory snack mix your fingers are missing! Toss your favorite mixed nuts in this Tex-Mex seasoning blend and a little sugar for the best party food in just 10 minutes.
I've always been a grazer. Southwestern Party Nuts are so delicious, you'll munch on them all day long. There's no mixed nuts I'd rather see at a game day party.
Think a lot of spice with a dash of sweetness. They aren't too hot though that you'll need water or anything!
This recipe is so simple to make and literally takes about 10 minutes. Make a batch or two now, and keep them on hand for any guests that drop in.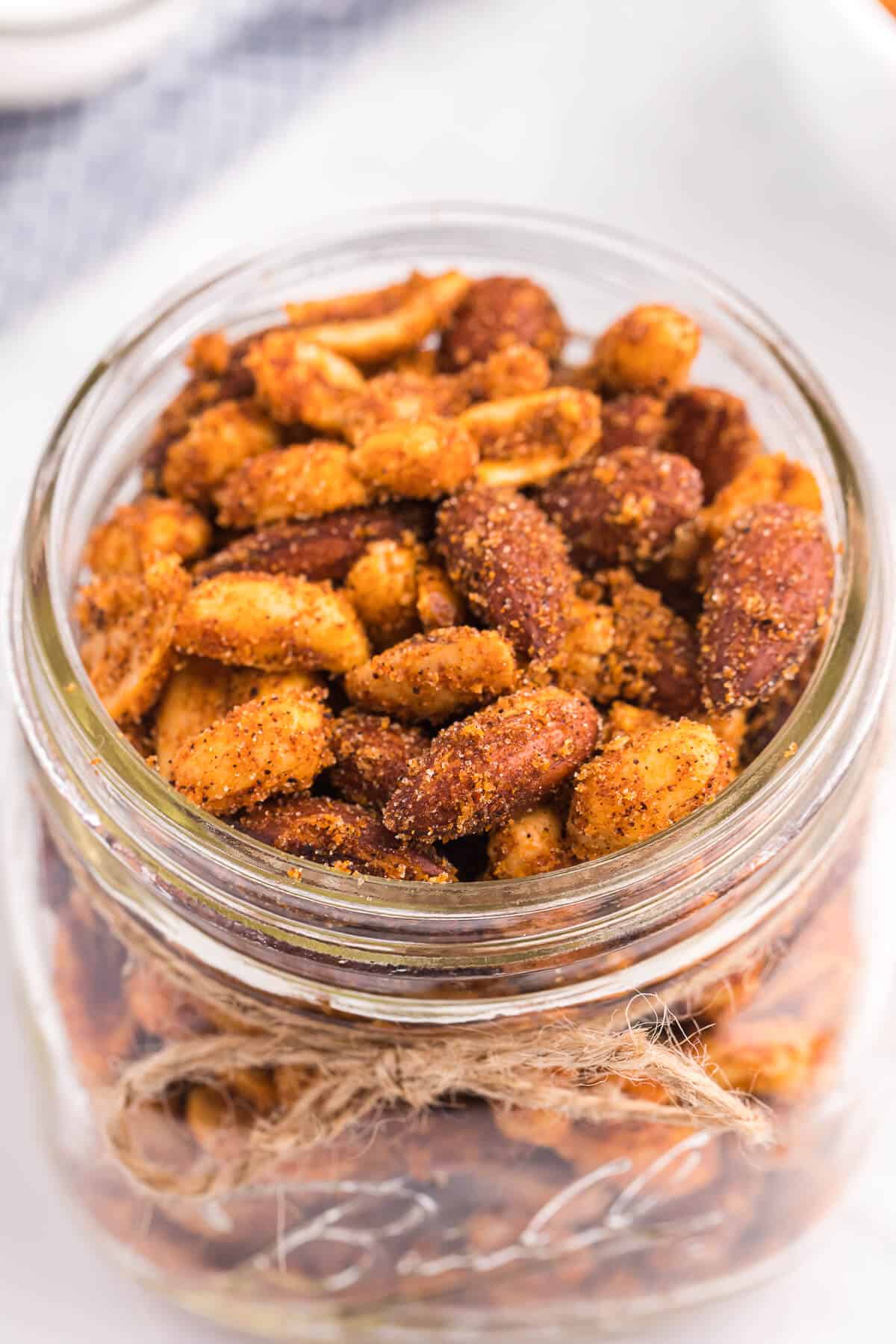 Ingredients
Mixed nuts: Use your favorite nut blend! I usually add some combination of peanuts, almonds, walnuts, Brazil nuts, cashews, hazelnuts, and pecans.
Butter: You need a little butter to help the seasonings stick to your roasted nuts! Vegan butter works if you're on a plant-based diet, too.
Chili powder: The smokiness of chili powder takes these party nuts to a new level! It's the perfect Southwest seasoning,
Garlic powder: I love garlic powder! It's got a sweeter taste than raw garlic, and it makes every recipe better.
Onion powder: Unlike raw garlic, onion powder — or dehydrated onion — has a sweeter flavor, too. Even if you hate raw onions, you'll love this seasoning.
Cinnamon: I love cinnamon on everything! Savory or sweet, this is my favorite spice.
Cayenne pepper: All the spice in this roasted nuts recipe comes from cayenne pepper. Use a little or a lot, but get ready for a kick!
Sugar: I like my roasted nuts to be a little sweet. When mixed into a bowl of warm nuts, the sugars almost caramelize, trapping all the yummy seasonings inside!
When I made this, I thought of my dad and his love for party nuts. He always has them on hand to serve to guests — and munch on himself. My mom has to tell him to stop eating all the nuts sometimes. He's "nuts" for this Southwestern Party Nuts recipe!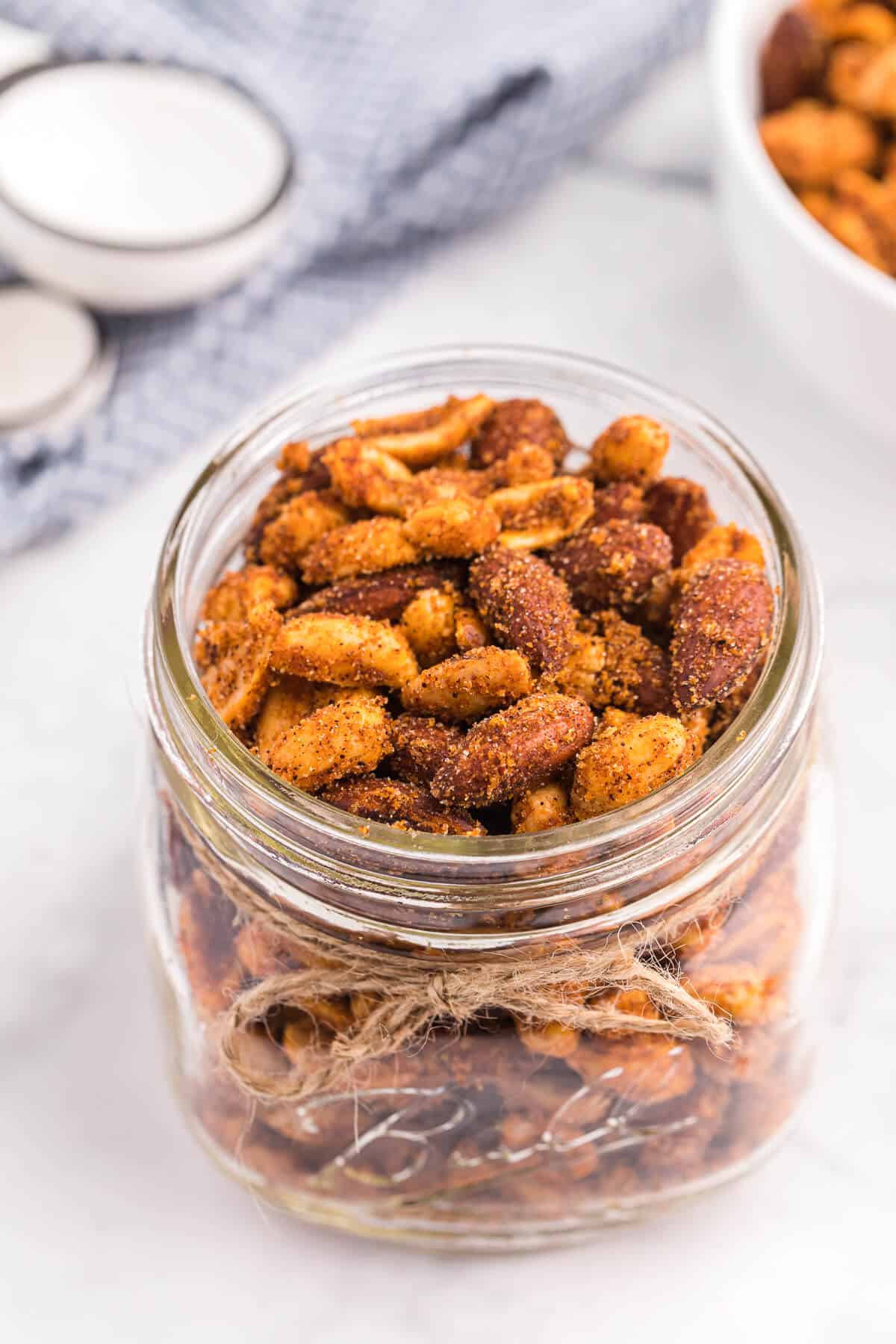 What I Used for My Recipe
Measuring cups and spoons: I've made these Southwestern Party Nuts so many times, I can eyeball the seasoning blend.
Mixing bowls: You only need 2 mixing bowls for this party nuts recipe! I love glass mixing bowls because they're easy to clean and easy to use.
Baking sheets: Sturdy baking sheets are necessary when roasting nuts. Otherwise, they can pop during baking and send all your nuts flying!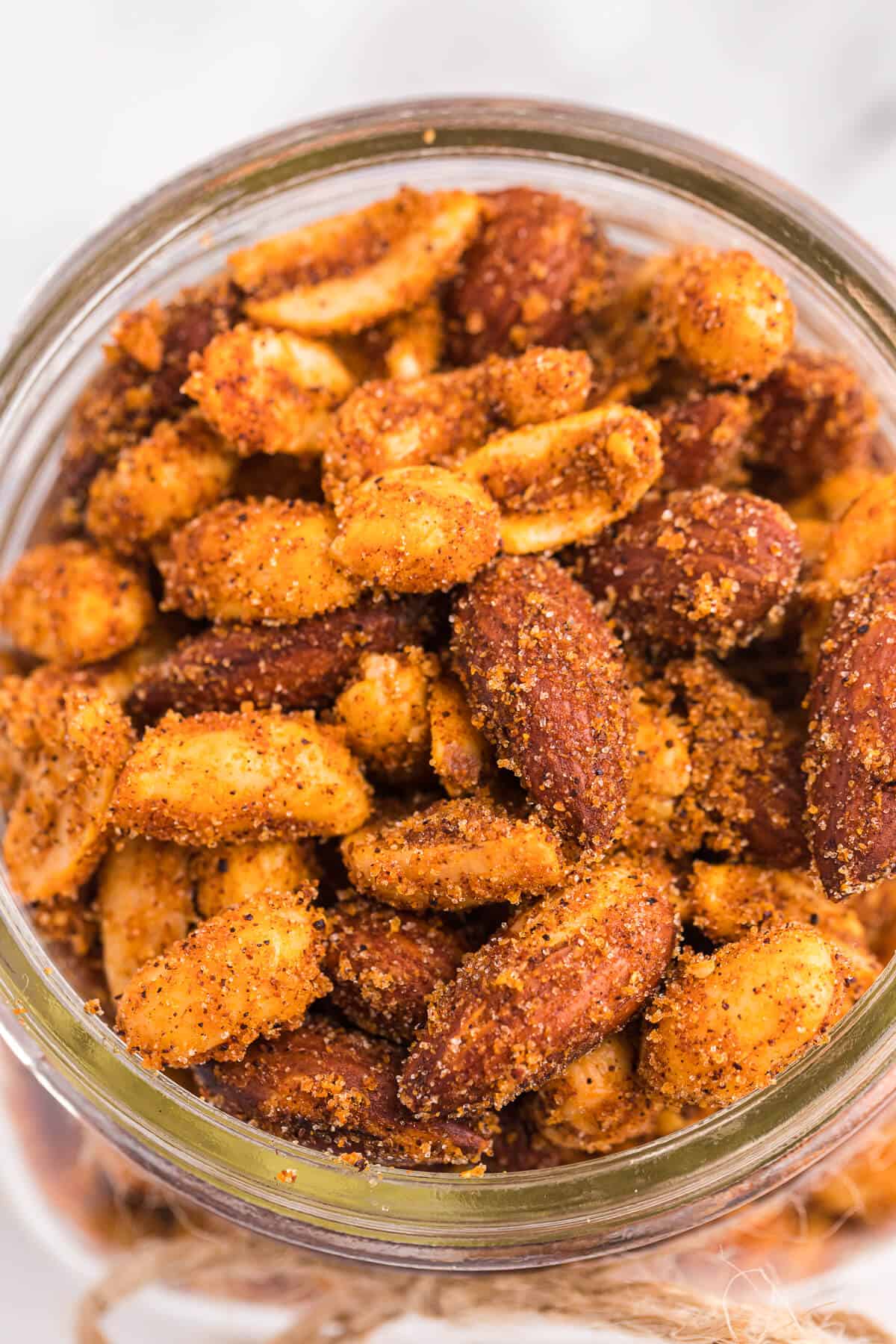 How to Make It
First, mix the nuts and melted butter together in a small bowl.
Then, in another bowl, mix the Southwestern seasoning blend: chili powder, garlic powder, onion powder, cinnamon, and cayenne pepper. Sprinkle it on the buttered nuts and mix until they're all coated.
Now, spread the seasoned mixed nuts on a baking sheet in a single layer and bake.
When they're fresh out of the oven, move the nuts back to a bowl and sprinkle with sugar. You can serve these nuts warm or cold.
What to Serve with This
This buffalo chicken dip is creamy with a little spice!
Cool down all the spice with these Bacon Ranch Deviled Eggs.
Every holiday season, I'm serving up these delightful Cheesy Bacon Pinwheels. They are quick to whip up for unexpected guests and are typically gone in minutes!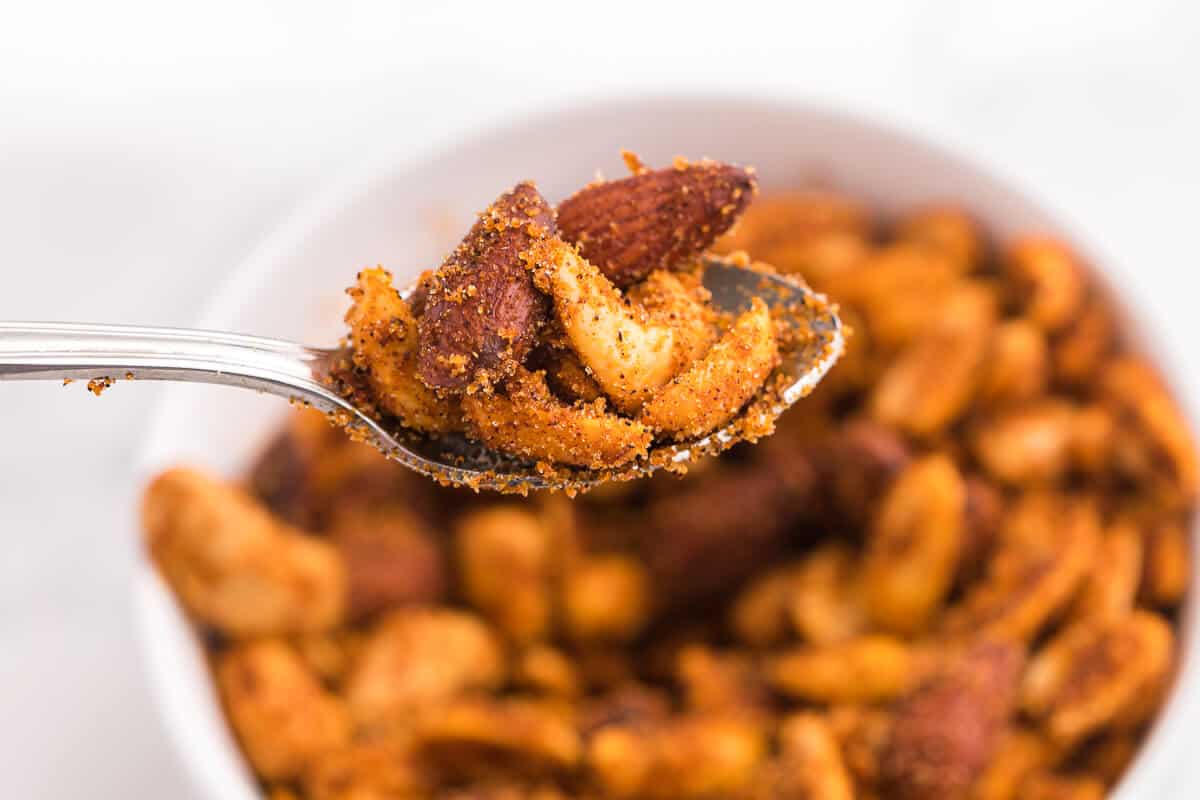 How to Store Roasted Nuts
If stored properly, Southwestern Party Nuts can last a year. Seriously!
While nuts are totally safe at room temperature, they'll last longer in the fridge or freezer where the temperature is more stable.
Typically, these party nuts will last up to 6 months in the refrigerator or an entire year in the freezer. Just thaw and enjoy at your next impromptu cocktail hour at home.
How Do You Make Seasoning Stick to Roasted Nuts?
For this TexMex party nuts recipe, I use a little melted butter to coat the nuts before seasoning. This helps the seasonings cling to the nuts during baking!
I've seen some recipes that use egg whites.
To keep the calories low, you can also blanch the nuts and season them while damp. You just need a little moisture to help that delicious southwestern spice blend stick!
More Party Food Recipes You'll Love
You'll also like these Taco Roasted Chickpeas.
Do you have any amazing appetizer recipes? I'm always looking for more recipes to try! Follow me on Instagram @simplystacieblog, on Facebook at Simply Stacie, and on Pinterest @SimplyStacie and let me know how you liked this and my other recipes!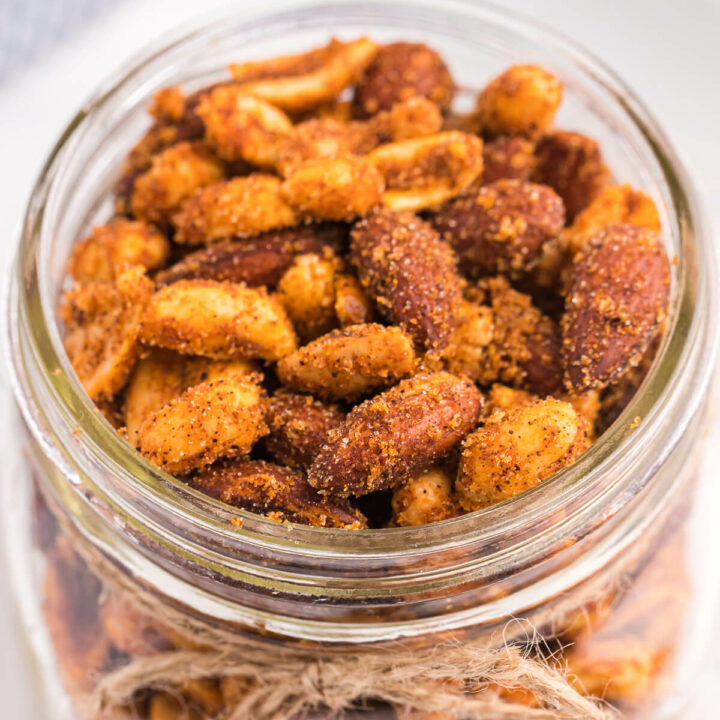 Southwestern Party Nuts
A dash of spice and hint of sweetness make for an addicting treat!
Ingredients
3 cups salted mixed nuts
2 tbsp butter, melted
4 tsp chili powder
1 tsp garlic powder
1 tsp onion powder
1/2 tsp cinnamon
1/2 tsp cayenne pepper
1/4 cup sugar
Instructions
Preheat oven to 300°F.
In a bowl, mix together nuts and melted butter.
In another small bowl, combine chili powder, garlic powder, onion powder, cinnamon and cayenne pepper. Sprinkle over top nuts and mix together until nuts are coated with the spices.
Spread nuts on a cookie sheet in a single layer and bake for 10 minutes.
Add nuts to a bowl while they're still fresh from the oven and sprinkle with sugar and toss to coat. Serve warm or allow to cool completely. Store them in an airtight container at room temperature for up to 3 weeks.
Recommended Products
As an Amazon Associate and member of other affiliate programs, I earn from qualifying purchases.
Nutrition Information:
Yield:

6
Serving Size:

1
Amount Per Serving:
Calories:

66
Total Fat:

4g
Saturated Fat:

2g
Trans Fat:

0g
Unsaturated Fat:

3g
Cholesterol:

5mg
Sodium:

58mg
Carbohydrates:

6g
Fiber:

1g
Sugar:

4g
Protein:

1g