These Berry Jam Smoothies are the perfect balance of sweet and healthy! Use your favorite jam with fresh strawberries and raspberries to make a tangy smoothie with just 5 ingredients.
I know breakfast is important, but I often find myself skipping the first meal of the day unless it's a big breakfast spread. However, these Berry Jam Smoothies changed that for me! I can easily make these 5-ingredient smoothies with fresh fruit, a little yogurt, some jam, and a splash of milk.
It's sweet, creamy and a little decadent. It's also very filling! I only had a small glass of it, and I was full. Even John liked it and asked for seconds! I use raspberries and strawberries in this berry smoothie, but you could always grab blueberries or blackberries, too! The more the merrier.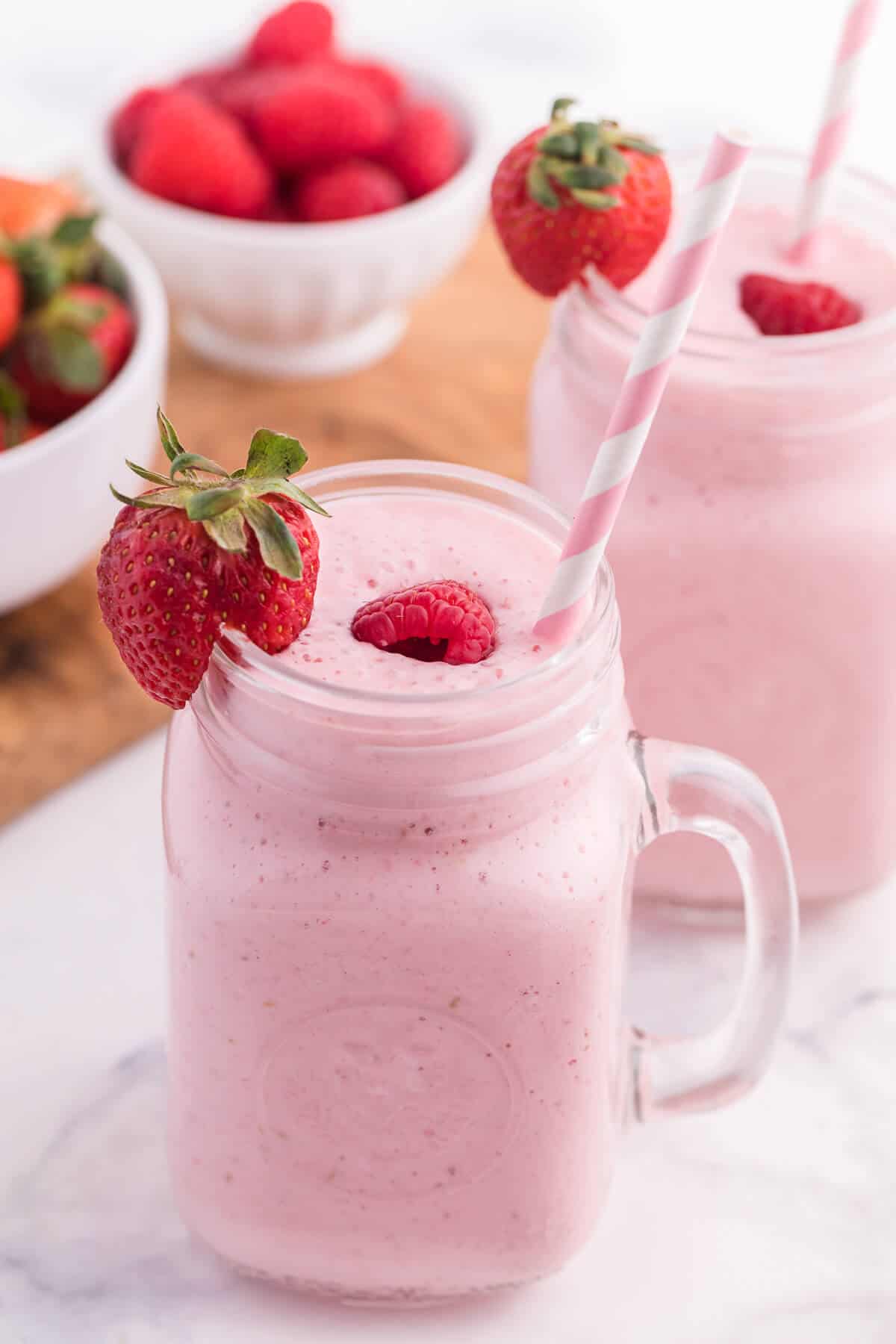 Ingredients
Vanilla yogurt: I love the added sweetness of vanilla yogurt. If you want a little more tang, swap this for plain yogurt!
Strawberries: Fresh strawberries are perfectly sweet for a kid-friendly smoothie. No need to dice them — let the blender do the work for you.
Raspberries: I need a little tart in my smoothies, and raspberries are the perfect addition!
Jam: If you like your smoothies sweeter, stick with strawberry jam or preserves. If you wanna boost the tartness, use a raspberry jam option. I prefer jam to jelly because of the consistency. Use your favorite brand or whatever's in the fridge!
Milk: You can always add water, but milk adds a little extra creaminess to the berry smoothie. I use cow's milk, but any liquid will work from almond milk to apple juice!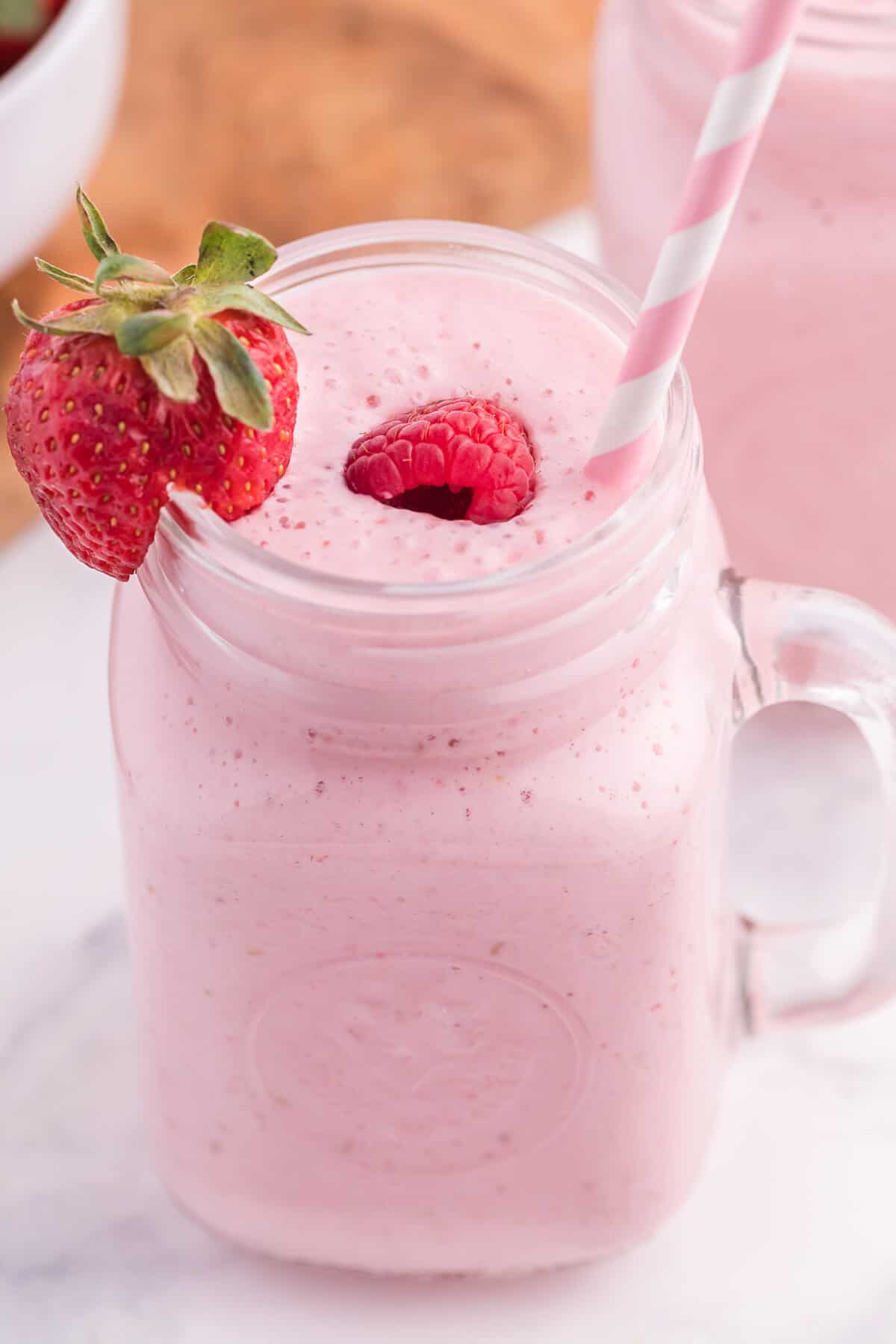 What I Used For This Recipe
This post contains affiliate links.
Measuring spoons and cups: Once you make these smoothies a few times, you'll be able to eyeball your ideal ratio. Until then, these measuring cups are great for making the same smoothie every time.
Strawberry huller: I never knew how much I'd love this handy device until I got one! It makes prepping strawberries a breeze without awkwardly biting around the tops. Perfect for meal prep!
Blender: The better the blender, the smoother the smoothie! You can use any blender, but I love this one for milkshakes, sauces, and smoothies at home.
How To Make It
First, add all the ingredients to your blender, and make sure the lid is sealed. No one wants to scrape strawberries off the ceiling!
Then, blend on your preferred setting until smooth. If it gets too thick, you can add more milk or jam. If it's too runny, add a little more fruit!
I like to serve my berry jam smoothies with a fresh strawberry or raspberry on top, too. Everyone loves the extra fresh fruit!
Are Berry Smoothies Healthy?
As with most recipes, it's all about the ingredients you use.
Since this recipe is made with all natural ingredients, it's a pretty healthy option! You could even make a vegan smoothie with vegan yogurt and any plant-based milk.
The nutritional facts listed with this recipe are for dairy ingredients — regular vanilla yogurt and 2% milk.
This berry smoothie recipe is about 300 calories per serving with full fat ingredients. If you use a low-fat yogurt or sugar-free jam, this could reduce the calorie count. However, this fresh fruit smoothie is packed with 14g of protein with the fruits and yogurt, so it's a great workout treat or breakfast on-the-go!
Do You Have to Put Ice in a Smoothie?
If you want some consistency other than liquid for your smoothies, you need some frozen chunks in the mix. However, ice is just one thing you can use!
I don't like how the ice waters down my smoothies, so I leave it out. However, I do use frozen fruit to thicken the mix sometimes and keep the same yummy flavor.
You can buy frozen fruit or you can freeze anything fresh in your kitchen! If you're freezing your own fruit, let it set on a parchment paper covered baking sheet before moving it to an airtight container. This helps keep each piece separate instead of one large block of fruit ice!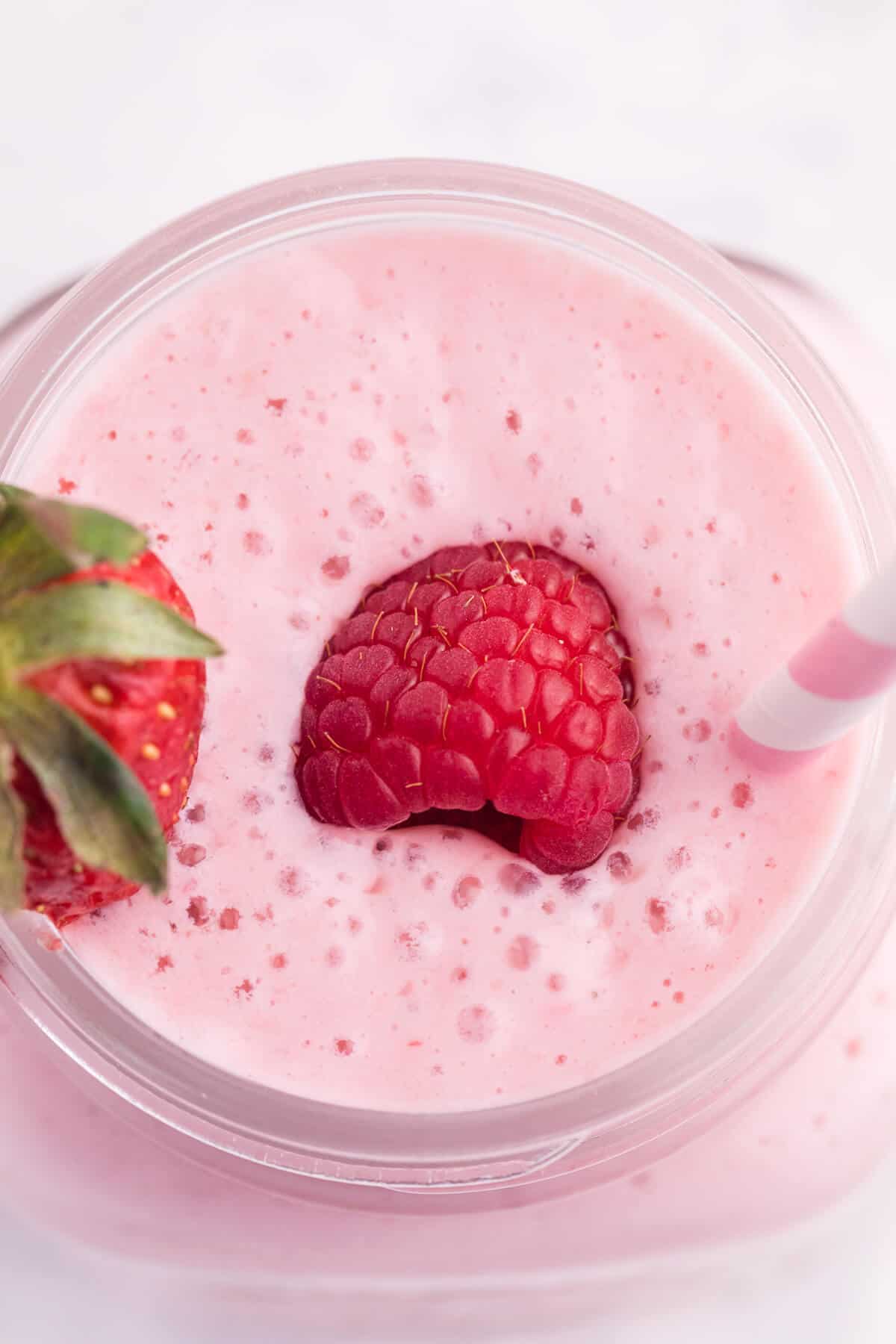 What To Serve With This
I love this smoothie recipe because it's perfect for breakfasts, snacks, even dessert!
If you need more breakfast on-the-go recipes, these pumpkin breakfast cookies are the easiest! You can make a batch on Sunday and you're set for breakfast all week!
Smoothie bowls are just as easy and versatile, too! I love this grapefruit smoothie bowl topped with fresh blueberries, pineapple, coconut, and a dusting of chia seeds. You could even make this berry smoothie into a bowl by ditching the milk!
I love making these spicy egg muffins! They're packed with flavor and perfect for meal prep.
More Easy Breakfast Recipes You'll Love
Do you have any amazing smoothie recipes? I'm always looking for more recipes to try! Follow me on Instagram @simplystacieblog, on Facebook at Simply Stacie, and on Pinterest @SimplyStacie and let me know how you liked this and my other recipes!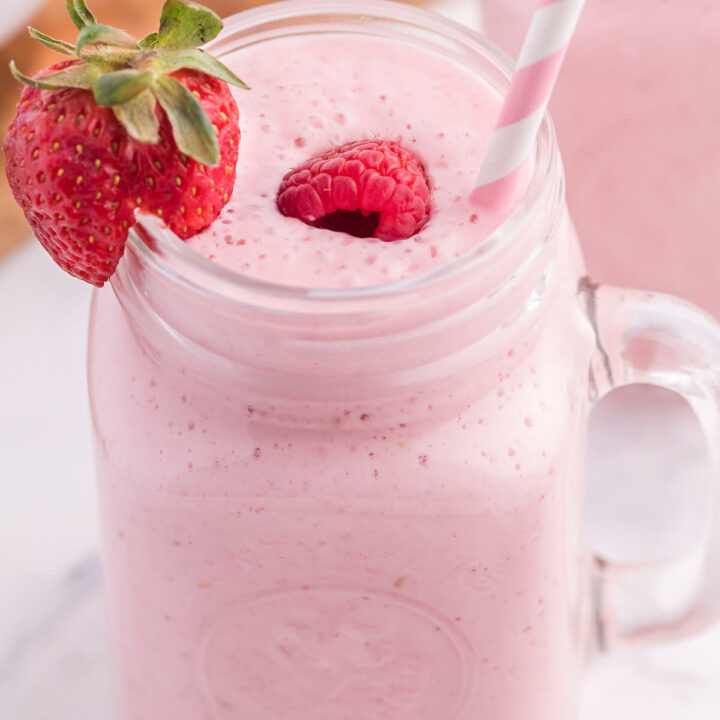 Berry Jam Smoothie
Made with simple ingredients you're likely to have on hand like yogurt, milk and jam, you can make this quick "berry"-licious smoothie in no time at all!
Ingredients
2 cups vanilla yogurt
½ cup strawberries, stems removed
¼ cup raspberries
2 to 3 tsp jam of your choice
½ cup milk
Instructions
Combine all ingredients in a blender and blend until smooth.
Add more milk to adjust the thickness to your preference.
Notes
I've tried them with strawberry jam and cherry jam.
Recommended Products
As an Amazon Associate and member of other affiliate programs, I earn from qualifying purchases.
Nutrition Information:
Yield:

2
Serving Size:

1
Amount Per Serving:
Calories:

302
Total Fat:

4g
Saturated Fat:

3g
Trans Fat:

0g
Unsaturated Fat:

1g
Cholesterol:

16mg
Sodium:

189mg
Carbohydrates:

53g
Fiber:

2g
Sugar:

44g
Protein:

14g