Disclosure: This is a sponsored post on behalf of Sweet Scarletts and Millennial Blogs. All opinions expressed are my own.
Let me quickly describe a typical morning in my home. I'm an early bird so I get up before the rest of my family. I take this time to prepare myself my morning coffee and grab a quick bite to eat. Normally, that quick bite consists of a piece of fruit or if I'm feeling adventurous, a smoothie (maybe a grapefruit smoothie recipe?). I want something fast, easy, filling and delicious. Breakfast is the most important meal of the day, right?
In the past, I've always sprinkled sugar on grapefruit. I've never tried it without until recently. I discovered that I don't need to add sugar to my morning grapefruit when I choose a Sweet Scarletts Texas Red Grapefruit. I was pleasantly surprised that it's sweet enough on its own. If you weren't a fan of grapefruit before, you may want to reconsider and try a Sweet Scarletts grapefruit and find out exactly what I mean!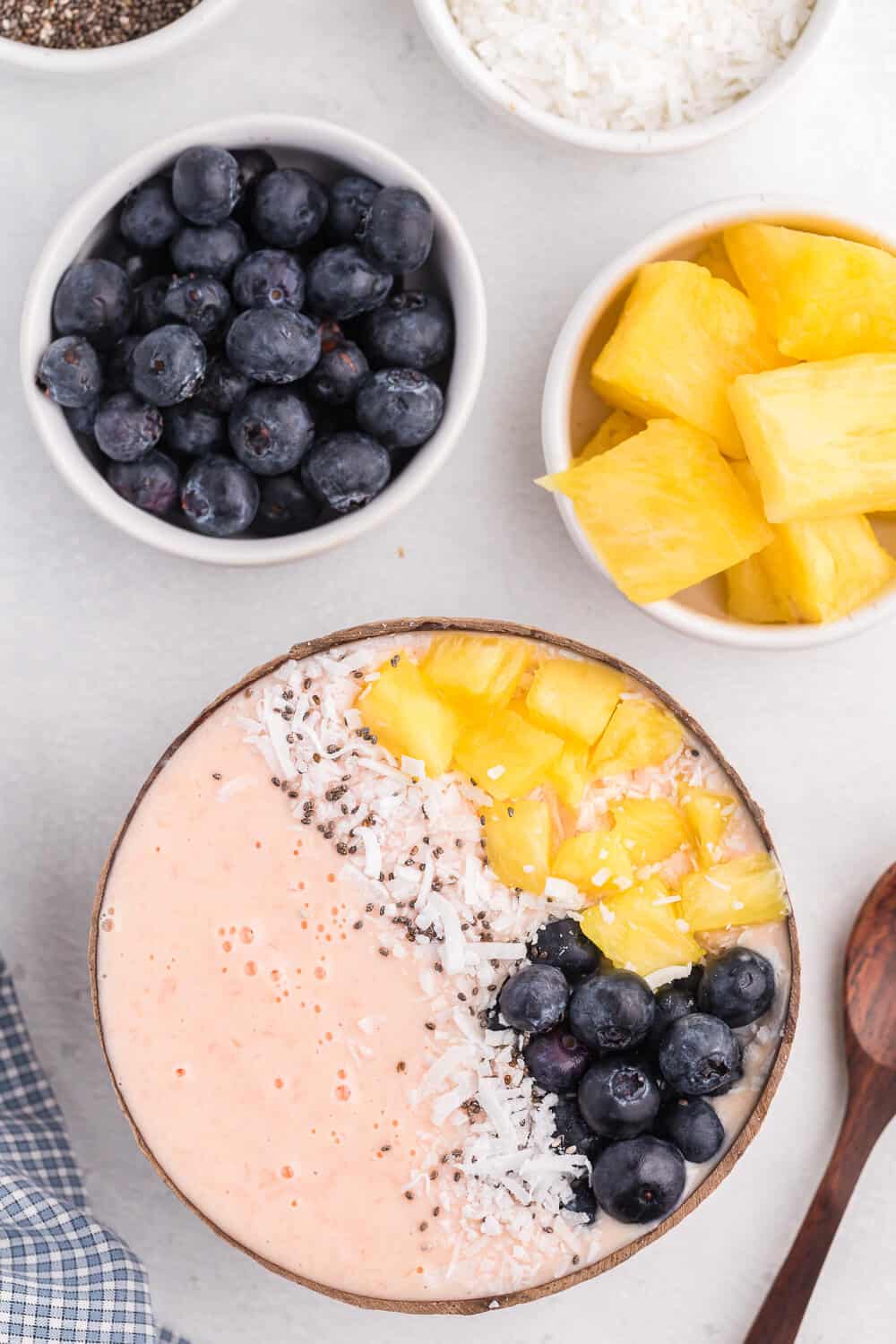 I purchased this 5 lb bag of Sweet Scarletts at our local Walmart. I was happy at how affordable they were with the rising price of fruits and veggies in Canada. I picked up this bag for $3.47. It's a sweet deal, pardon the pun!
I was curious to see what they tasted like and wondered if I'd be able to eat it all on it's own, sans sugar!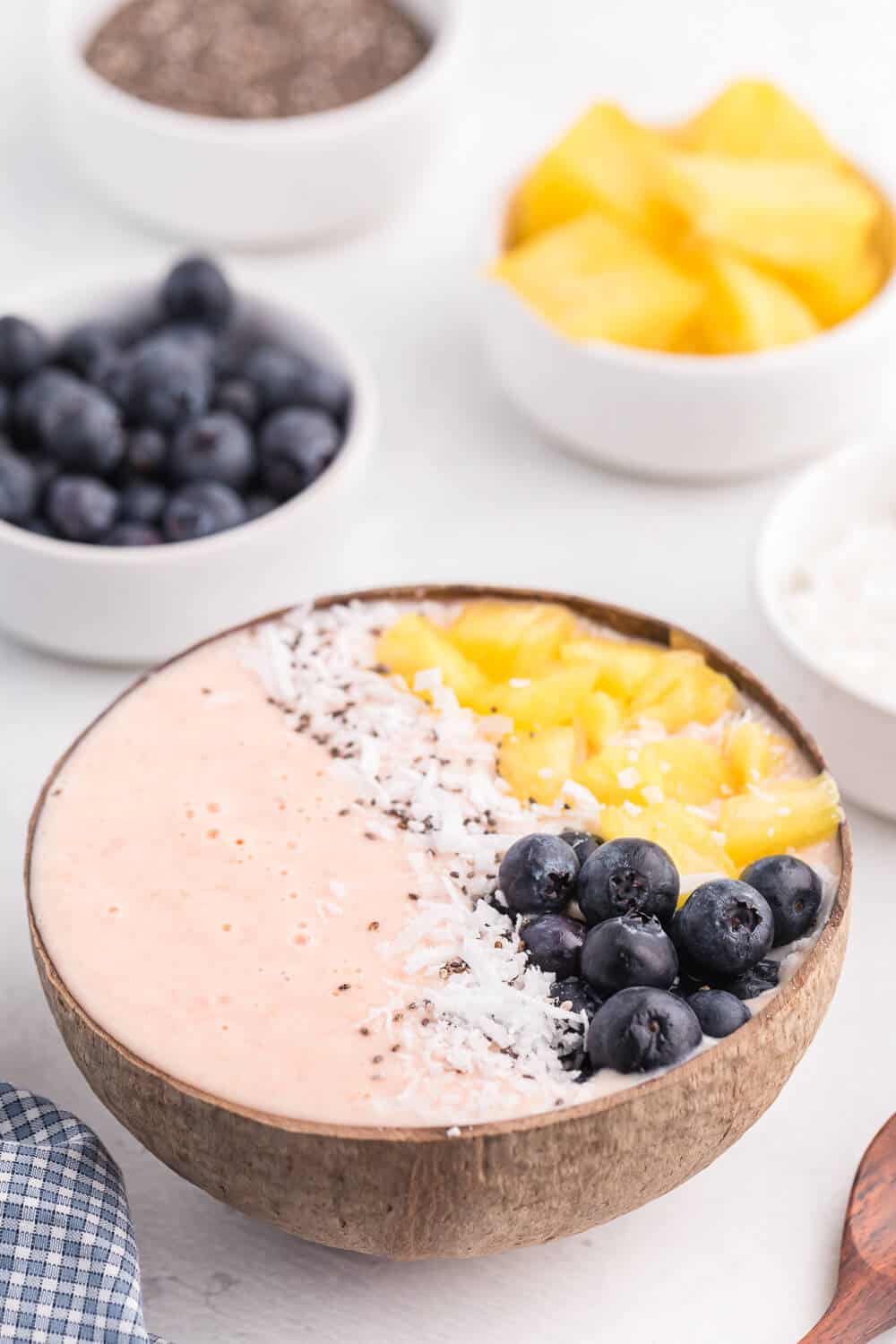 Turns out, Sweet Scarletts grapefruit are juicy and bursting with sweetness. They also are photogenic if you are the type to share your breakfast on Instagram!
Besides the delicious taste, they are also good for you. Half a Sweet Scarletts grapefruit contains 100% of your daily value of Vitamin C and has only 60 calories. They are great for people who want to eat healthy, but don't want to sacrifice taste.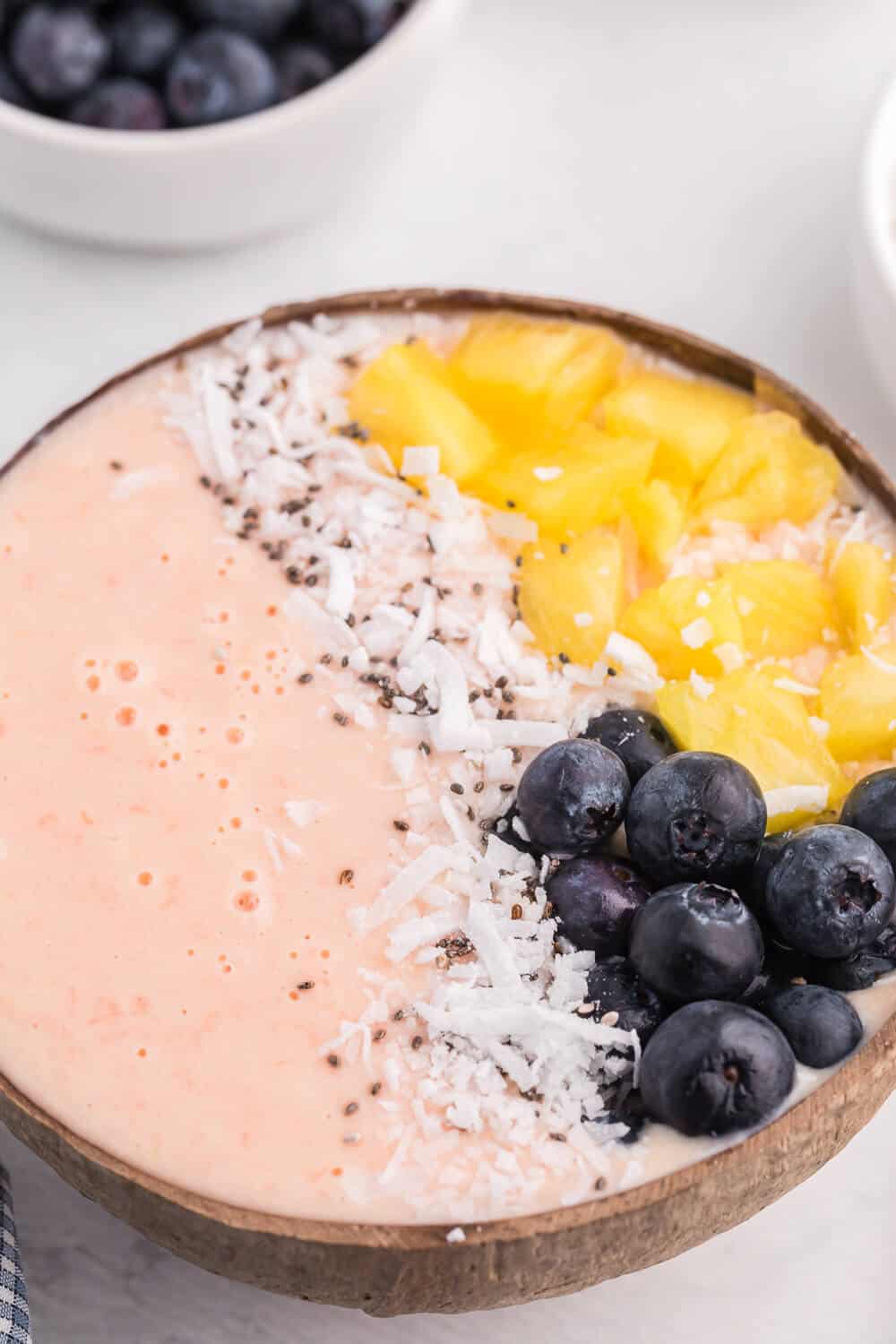 Sweet Scarletts are farmed in the Rio Grande Valley in South Texas. The weather in the area with its hot sunny days and cool nights helps nature create a beautifully sweet Texas Red grapefruit.
Though Sweet Scarletts grapefruit are yummy on their own for breakfast, I wanted to use them in a breakfast recipe. I whipped up a Grapefruit Smoothie Bowl to try something different.
I normally make smoothies, but was inspired by all the delicious smoothie bowl creations I see regularly on my Instagram feed. This was my first smoothie bowl AND I made it with Sweet Scarletts Texas Red Grapefruit. I've been missing out all these years! It was so good, it felt almost indulgent!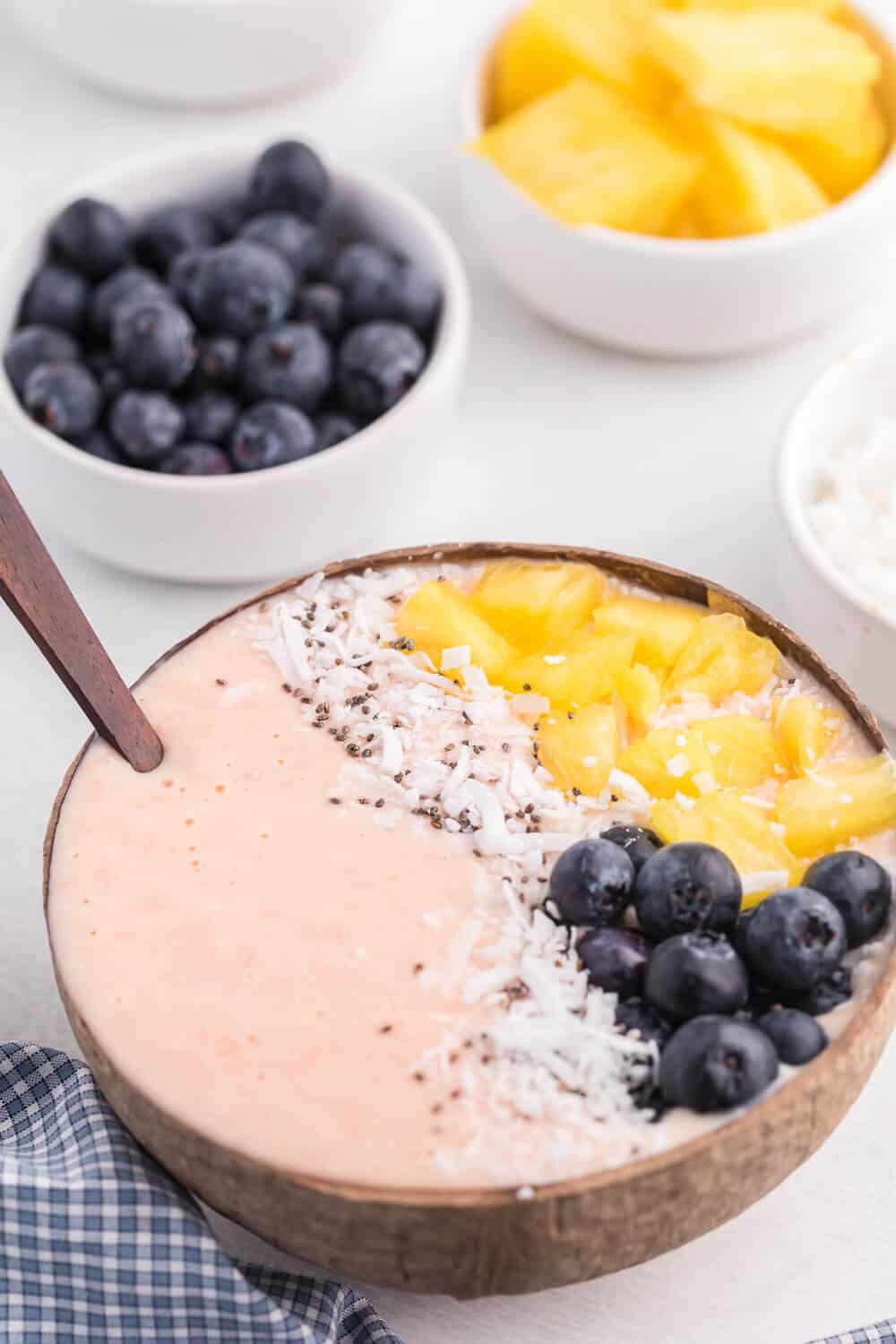 This smoothie bowl is pretty basic to make and takes barely any effort on your part. The smoothie part has one Sweet Scarletts Texas Red Grapefruit, peeled and sectioned, plain Greek Yogurt, 1 banana to help with thickening it up and some chopped fresh pineapple. It makes a creamy, peach coloured mixture.
Also, notice I didn't add any extra sugar? You won't need it!
The toppings can be whatever you like. I used some diced pineapple, fresh blueberries, chia seeds, buckwheat, hemp seeds and unsweetened coconut flakes. Use whatever you have on hand like nuts, seeds, oats or fruit.
After shooting these photos, I swirled my spoon around to mix in the toppings and then dug in. This is one satisfying and healthy breakfast! I'm going to have to prepare smoothie bowls more often!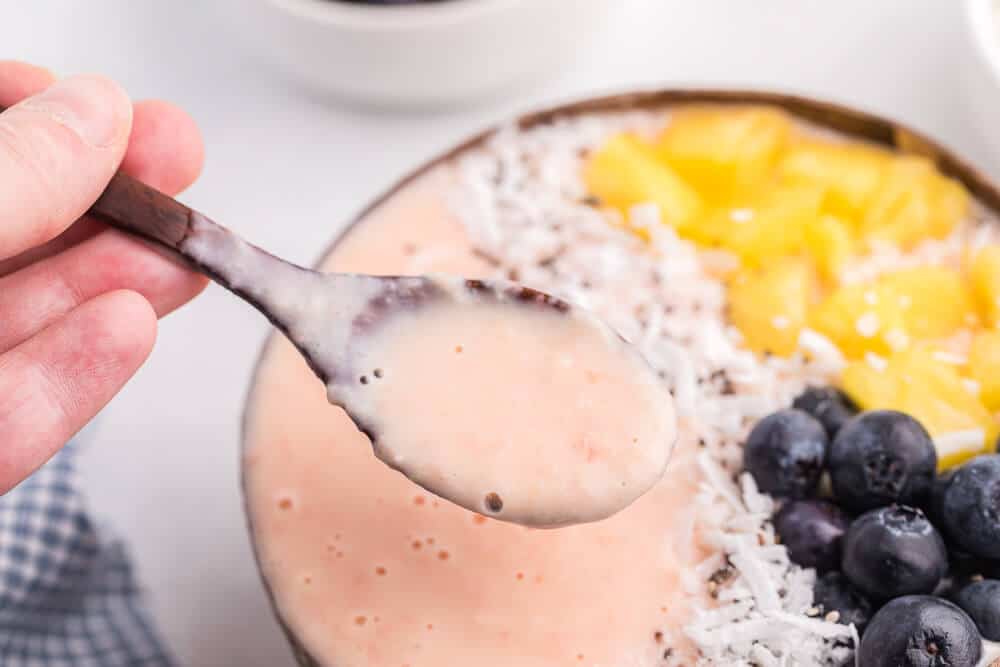 Have you tried a Sweet Scarletts Texas Red Grapefruit? If not, give them a try. I think you'll be pleasantly surprised at how yummy they are!
You might also enjoy this
Pineapple Pomegranate Smoothie
,
Berry Jam Smoothie
,
Apple Spice Smoothie
,
Cherry Vanilla Smoothie
and
Strawberry Vanilla Smoothie
.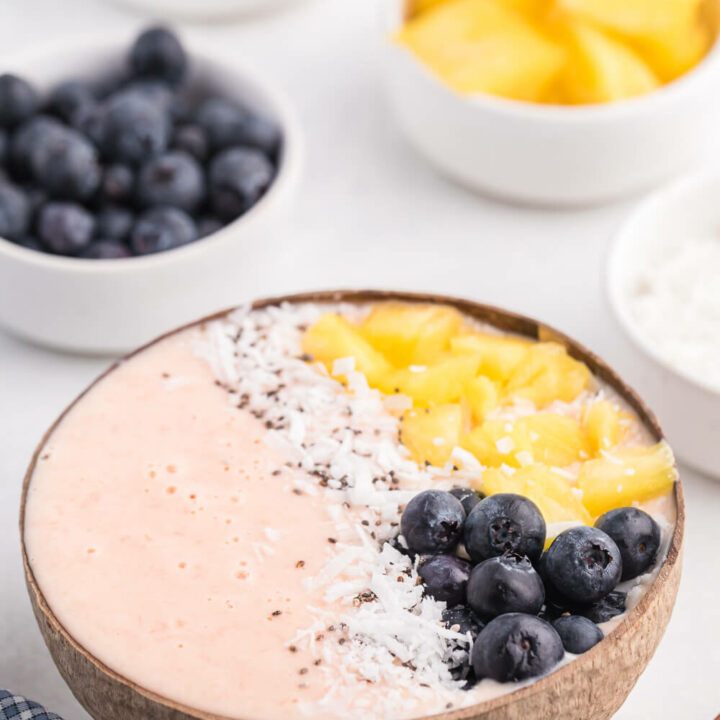 Grapefruit Smoothie Bowl
This easy smoothie bowl recipe is healthy and naturally sweet way to kickstart your mornings. It's made with creamy blend of Sweet Scarletts Texas Red Grapefruit, Greek Yogurt, pineapple and a banana. Top it with some fresh blueberries, seeds and coconut. Yum!
Ingredients
Smoothie
1 red grapefruit, peeled and sectioned
1 banana, peeled
1 cup pineapple, roughly chopped
1 cup plain or vanilla Greek yogurt
Toppings
Chia seeds
Buckwheat
Hemp seeds
Unsweetened coconut flakes
Blueberries
Diced pineapple
Instructions
Add smoothie ingredients to a blender and blend on high for one minute. Add an extra banana if you want a thicker smoothie.
Pour smoothie into a bowl and arrange toppings of your choice on top. Serve immediately.
Recommended Products
As an Amazon Associate and member of other affiliate programs, I earn from qualifying purchases.
Nutrition Information:
Yield:

2
Serving Size:

1
Amount Per Serving:
Calories:

514
Total Fat:

17g
Saturated Fat:

7g
Trans Fat:

0g
Unsaturated Fat:

9g
Cholesterol:

3mg
Sodium:

49mg
Carbohydrates:

78g
Fiber:

12g
Sugar:

41g
Protein:

21g