Whip up my favorite Pumpkin Pie Smoothie for breakfast or a mid-day snack. I took a healthier take on my pumpkin pie smoothie recipe, so you don't feel guilty! A creamy, smooth, pumpkin pie flavor in every single sip.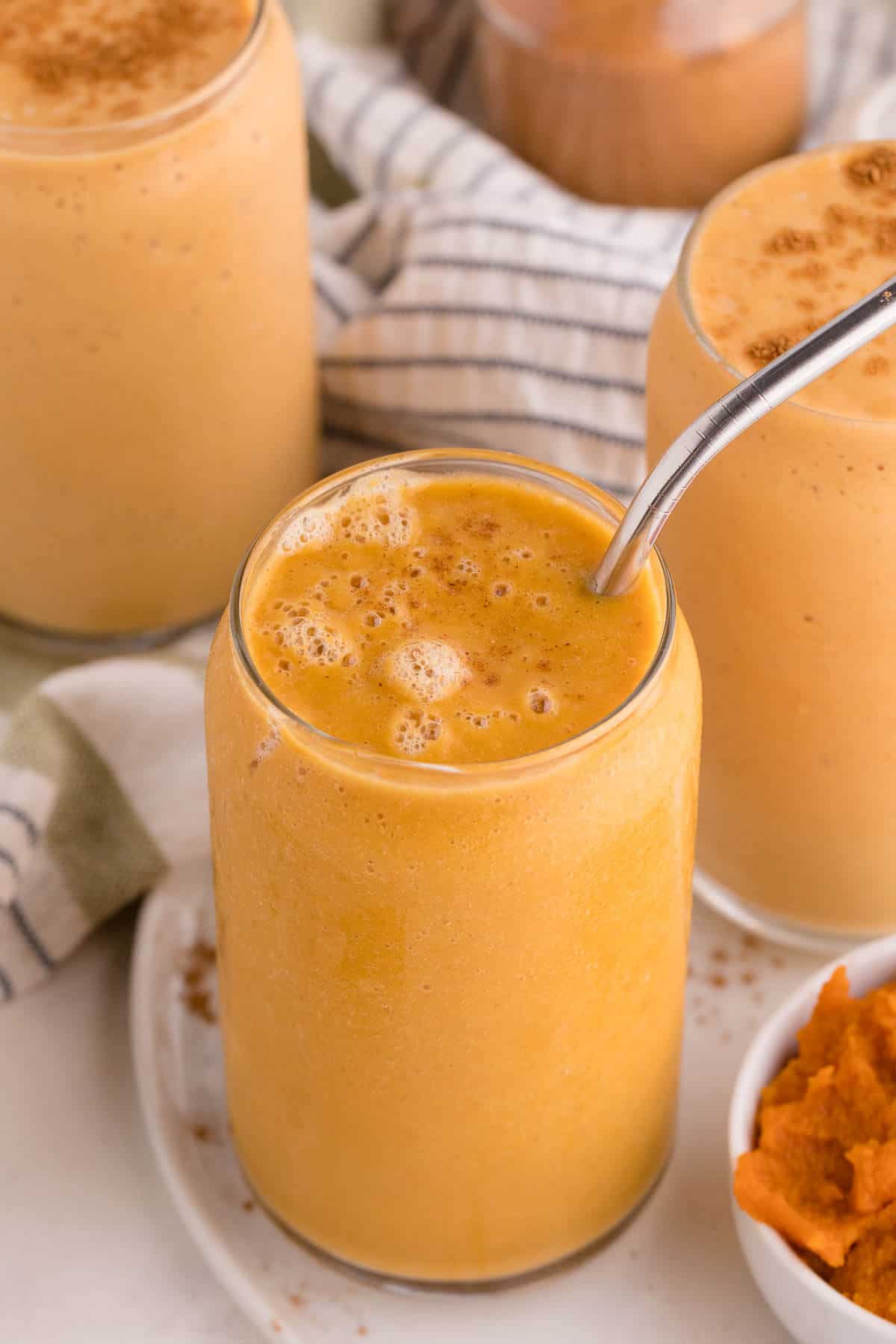 I've been craving pumpkin lately after seeing Pinterest & Facebook explode with so many wonderful pumpkin dessert recipes. I decided to make my own version of a dessert in a smoothie form that's still healthy and satisfies my pumpkin obsession!
Do you ever just crave pumpkin pie? I know I do, all the time! While I could whip up a whole pie, I know I would devour it slice by slice. Having the option to get the pumpkin pie flavor in a smoothie form, allows me to make a healthier choice, while still satisfying my tastebuds.
What is in a Pumpkin Pie Smoothie
Pumpkin Puree | Offers that creamy pumpkin flavor.
Almond Milk | I love almond milk, it is a bit thicker than regular milk and offers a nutty flavor. You could use regular milk if you prefer.
Banana or Avocado | This adds a thicker and creamier texture to the smoothie and sweetness. I love doing the banana, but on occasion, I do avocado for added health benefits.
Pumpkin Pie Spice | Pumpkin spice is where the magic happens. A sprinkle of this in your smoothie transforms it into a pumpkin pie flavor in seconds.
Maple Syrup | If you want extra sweetness, a little syrup naturally sweetens it.
I have even added in a scoop of vanilla protein powder in the past for added benefits.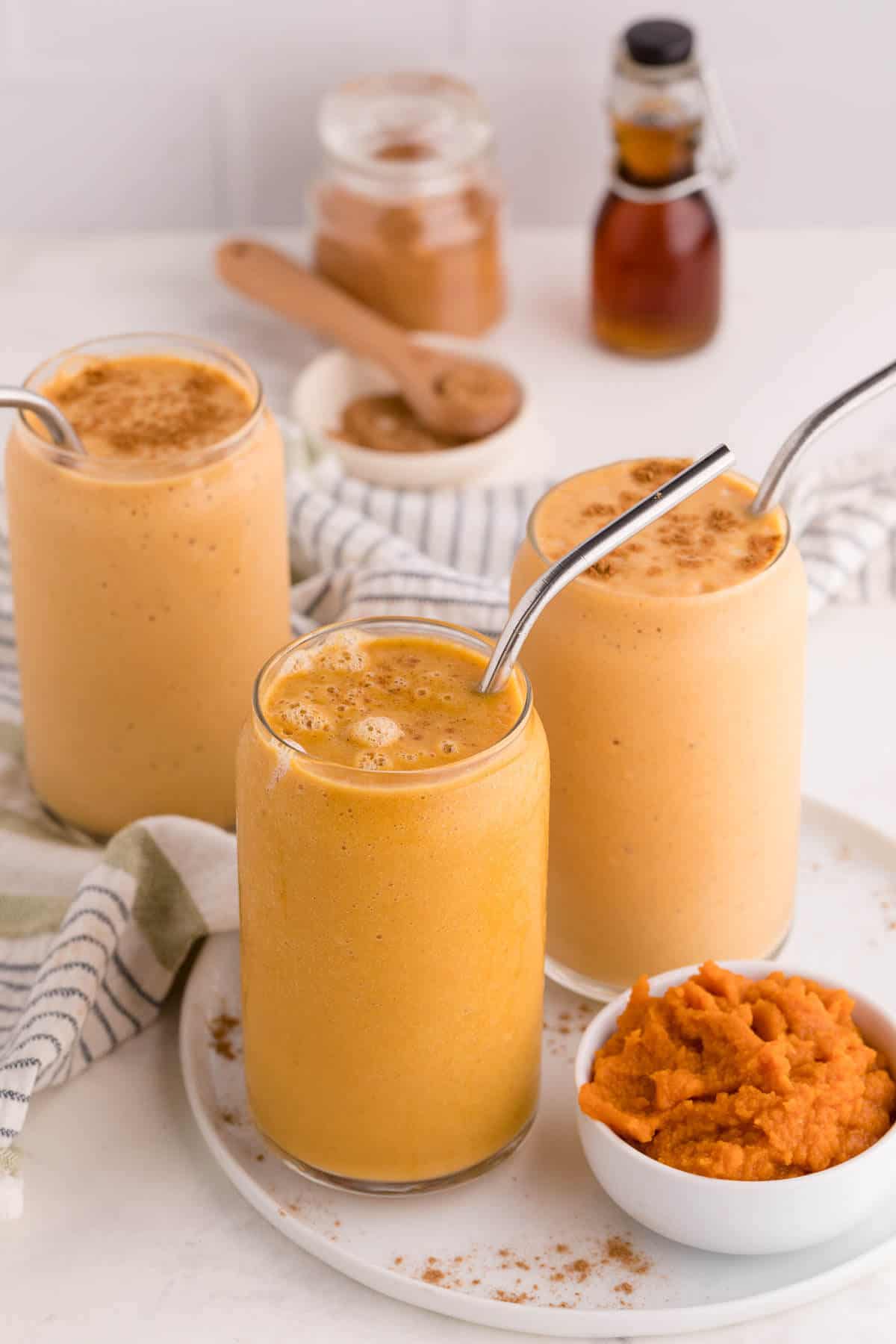 Is There a Difference Between Pumpkin Puree and Canned Pumpkin Pie Mix
Yes. You need to ensure you buy pumpkin puree for this recipe. Canned pumpkin pie mix is a base for making pumpkin pies, there are other ingredients mixed into the pumpkin puree. If you use that, you will not get a tasty smoothie, and it will be very runny.
Tip for Leftover Pumpkin Puree
So after you open your can of pumpkin puree you only have a few days before it goes bad. What I tend to do is take the leftover puree and put it in silicone ice cube trays. Then toss them in the freezer until frozen, and then transfer into a freezer bag. Then when I want a smoothie I can use the ice cube pumpkin. I just place however many ice cubes that equal the amount to my recipe and place in the fridge to thaw or toss it in frozen.
Depending on your size of cubes, will depend on how many you need. What I do is add in the puree, then take it out to see what it measures, and then do the math for what equals 1/2 cup of puree.
How to Sweeten up the Pumpkin Pie Smoothie
This Pumpkin Pie Smoothie is so delicious and very filling! I use either a banana or an avocado to add in extra creaminess. If you prefer a sweeter drink, then use banana and add in the maple syrup.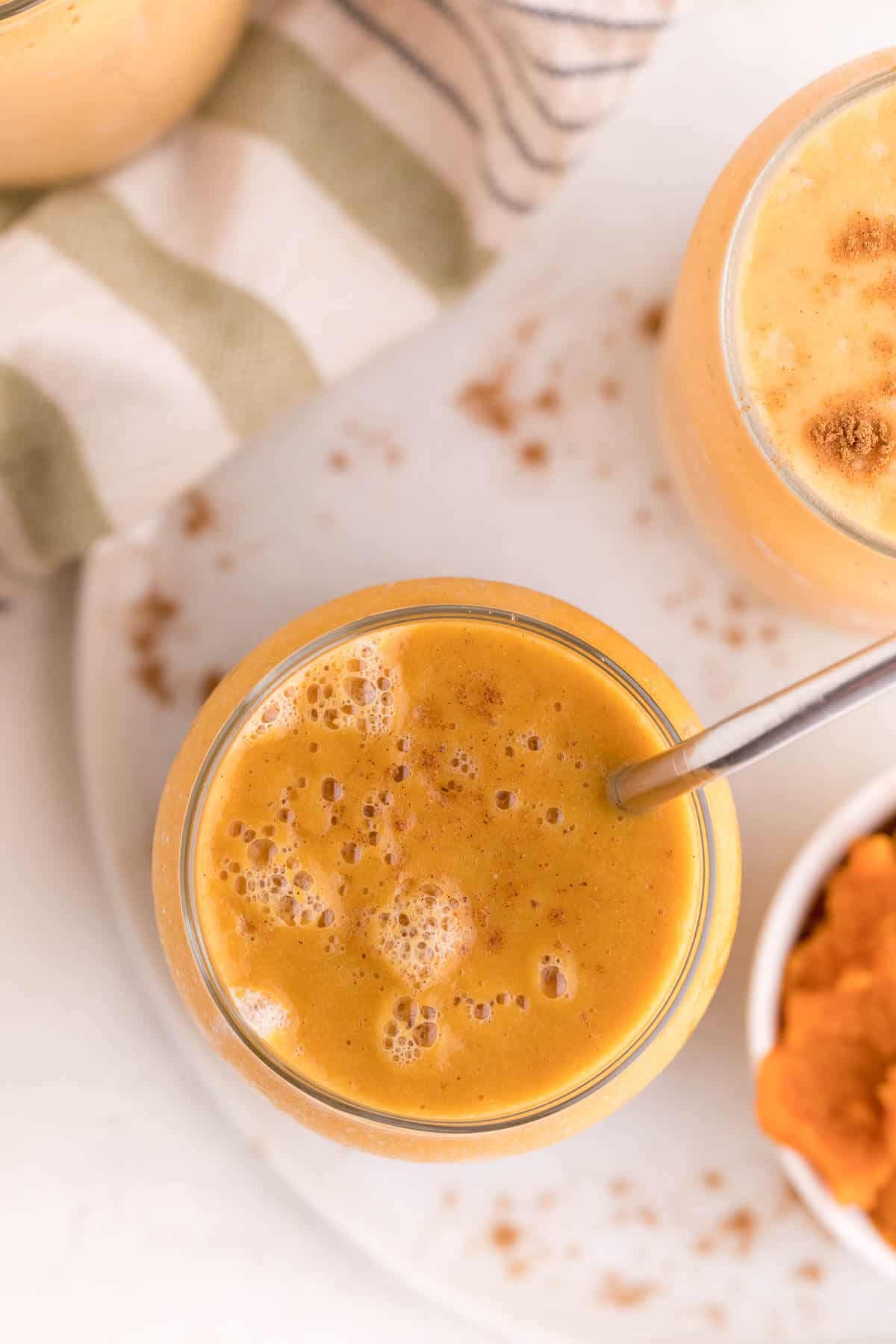 Check Out These Other Smoothie Recipes
Can I Use Frozen Banana in this Smoothie
Absolutely! I have a tendency to not eat bananas before they go from ripe to overripe! I cut them up and toss in a freezer bag and use them specifically for smoothies. The frozen banana helps to add a thickness to the smoothie and keeps it cold longer. So if you have frozen bananas, toss them right in!
Can I Double This Pumpkin Pie Smoothie Recipe
Yes! I have doubled and even tripled this recipe and it works great. Just make sure your blender has the capacity to hold the contents and still have room to mix well.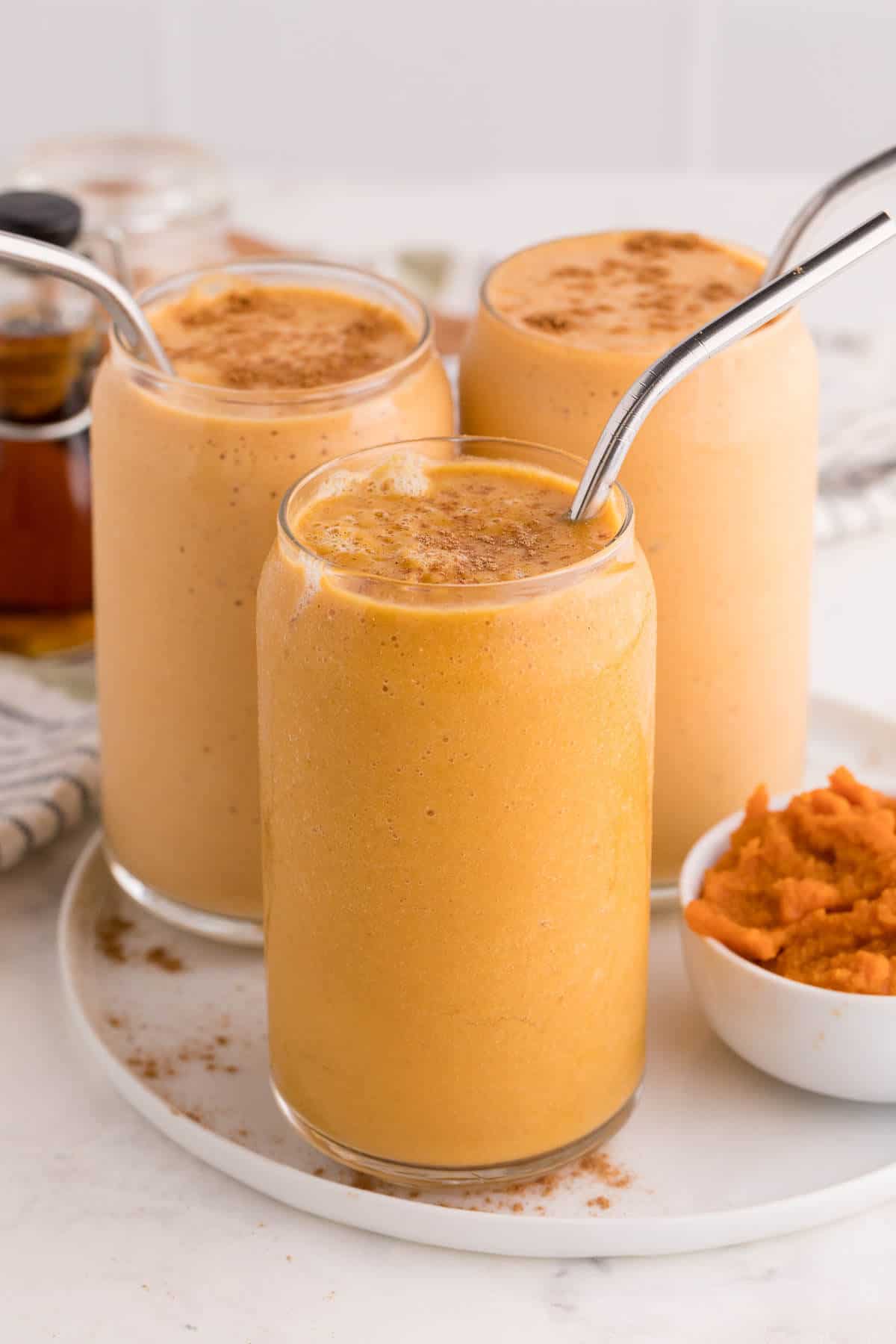 How to Make a Smoothie Thinner
I like my smoothies very thick, but you could make it thinner by adding in a little more of the almond milk. Play around with it and adjust the sweetness and consistency to suit your preferences. It's a yummy way to start the day!
Can I Make Pumpkin Pie Smoothies Ahead of Time
You can prep this smoothie ahead of time or chill any leftovers you have in the fridge for up to 24 hours. I do recommend that you mix it well before serving after it has sat in the fridge. It can become separated a bit.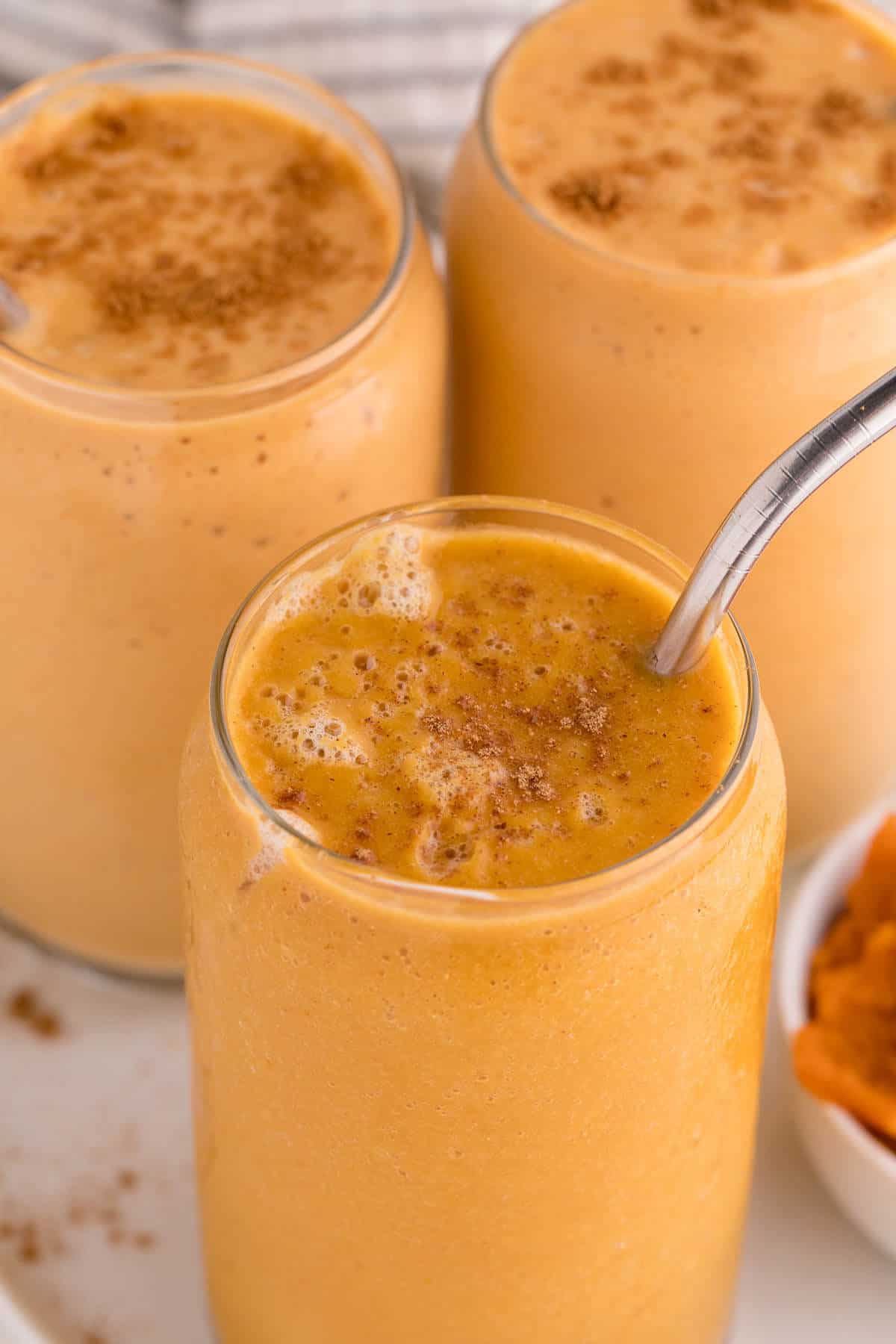 How to Make Pumpkin Pie Smoothie
This recipe is truly simple as can be. Toss all your ingredients right into your blender and then mix until it is fully blended and nice and creamy. You are welcome to adjust the consistency to fit your preference.
You'll also love this Pumpkin Pie Dip.
Have you ever made a Pumpkin Pie Smoothie before?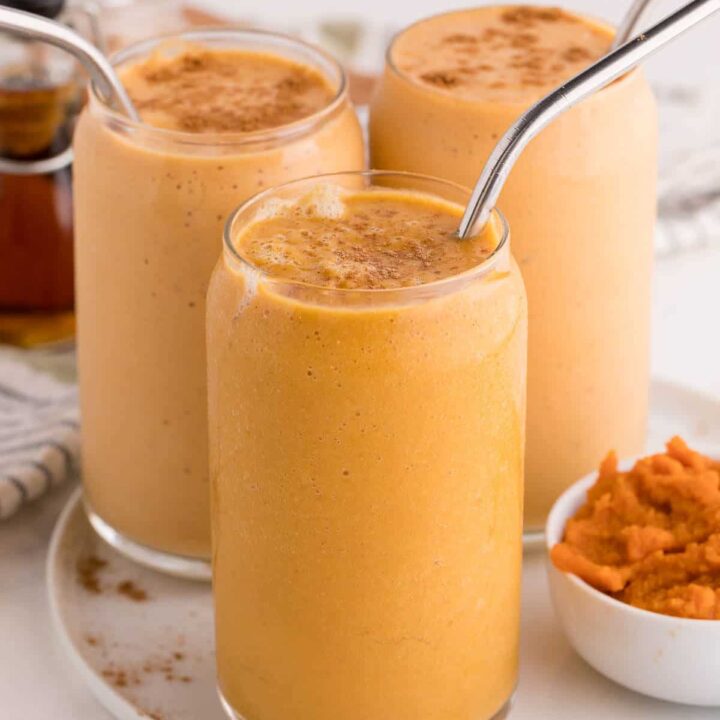 Pumpkin Pie Smoothie
Pumpkin flavour is popular all year-round, not just in the fall. This creamy and delicious non-dairy smoothie lets you visit the pumpkin patch any time you want to!
Ingredients
1 ½ cups vanilla flavored almond milk OR 2% milk, chilled
½ cup pumpkin puree
1 banana OR avocado, cut into chunks
1 teaspoon pumpkin pie spice
1 to 2 tablespoons maple syrup
Instructions
Add ingredients to a blender and blend until desired consistency is reached.
Serve cold.
Recommended Products
As an Amazon Associate and member of other affiliate programs, I earn from qualifying purchases.
Nutrition Information:
Yield:

2
Serving Size:

1
Amount Per Serving:
Calories:

827
Total Fat:

19g
Saturated Fat:

4g
Trans Fat:

0g
Unsaturated Fat:

14g
Cholesterol:

10mg
Sodium:

90mg
Carbohydrates:

71g
Fiber:

10g
Sugar:

51g
Protein:

8g