Pumpkin pie smoothies are a delightful treat that combines the warmth of autumn flavors with the convenience of a healthy shake. Perfect for breakfast, an afternoon snack, or even a guilt-free dessert, this smoothie will satisfy your craving for a delicious pumpkin-flavored delight without sacrificing your health goals.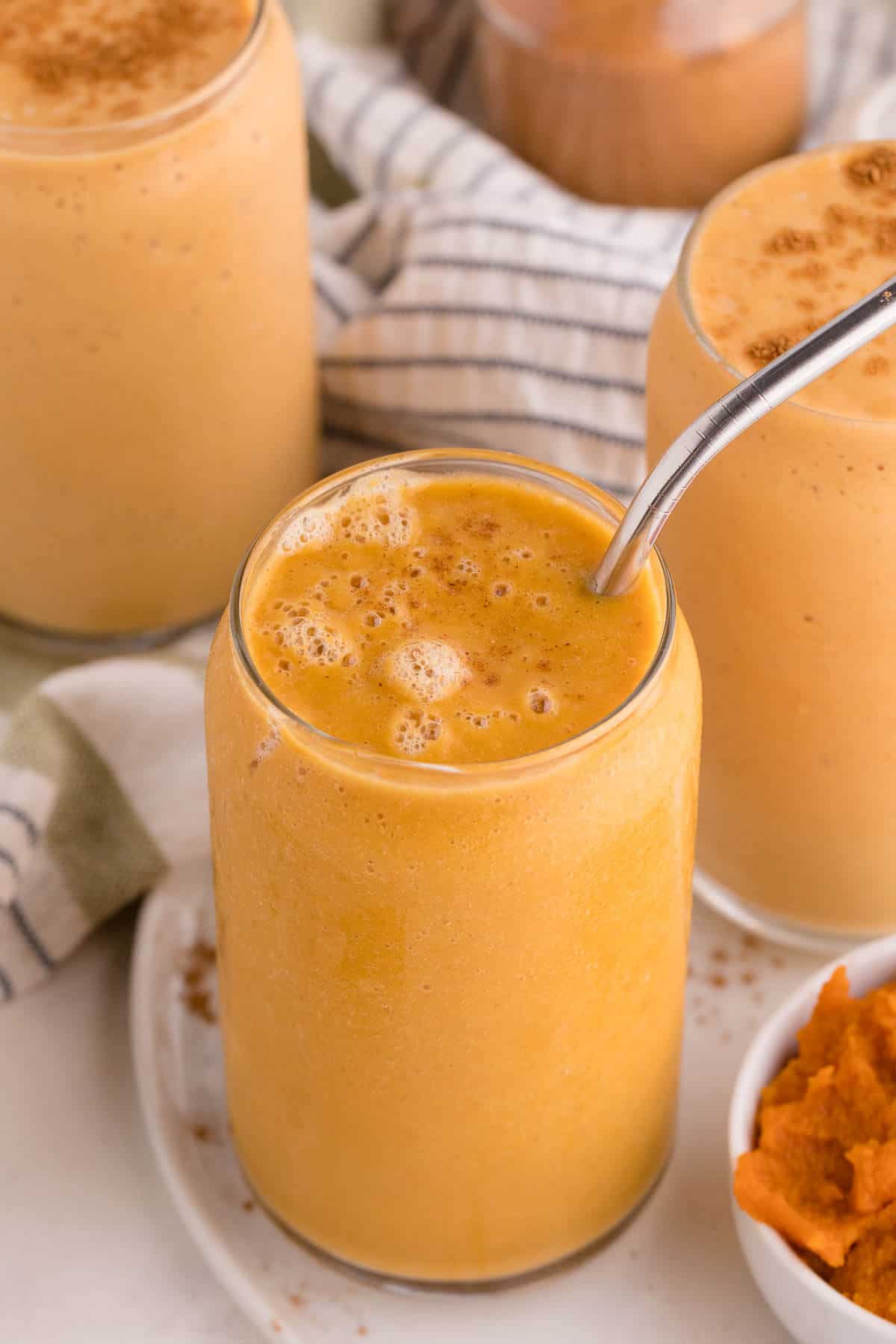 I've been craving pumpkin lately after seeing Pinterest & Facebook explode with many incredible pumpkin dessert recipes. I decided to make my version of a dessert in a smoothie form that's still healthy and satisfies my pumpkin obsession!
Whipping up a homemade pumpkin pie smoothie couldn't be simpler. Gather your ingredients, blend them with some ice for a thick and cold texture, and enjoy your tasty creation. Relish in the flavors of fall while treating your body to a nutritious and delectable indulgence.
Do you ever just crave pumpkin pie? I know I do, all the time! While I could whip up a whole pie, I would devour it slice by slice. Getting the pumpkin pie flavor in a smoothie allows me to make a healthier choice while still satisfying my tastebuds.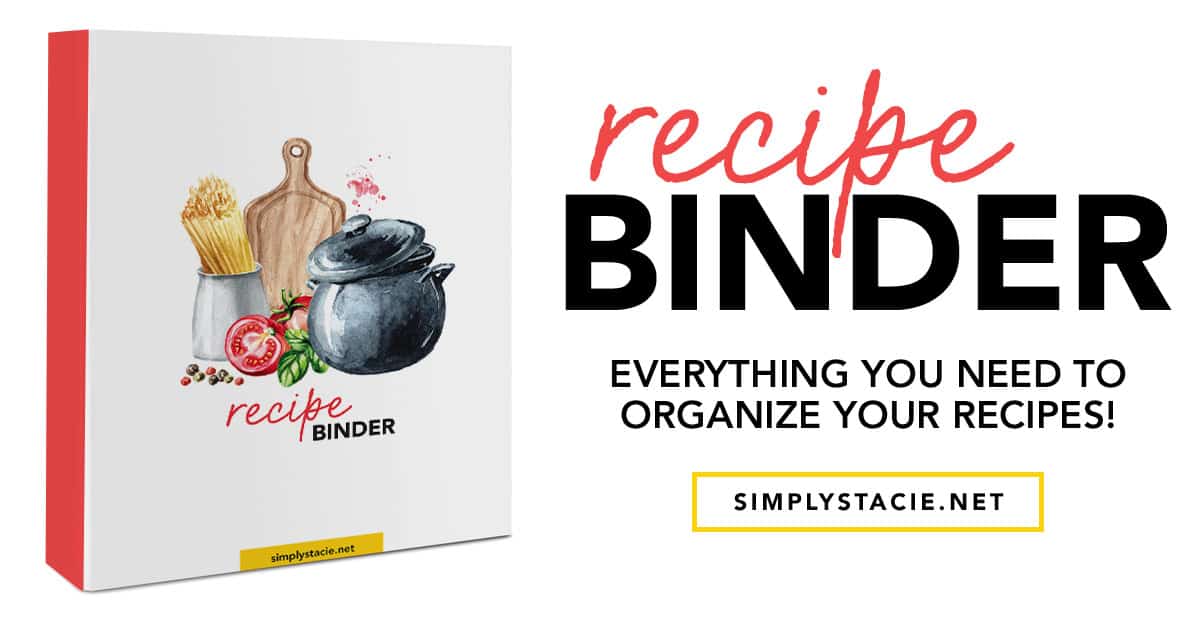 Why You'll Love This Creamy Pumpkin Pie Smoothie
Easy to make and delicious. Whip up a luscious grab-and-go breakfast or snack in just 5 minutes. Made with only five simple ingredients.
Customizable. A great feature of this smoothie is that you can tailor it to your taste and dietary preferences. For instance, add your favorite protein powder, such as vanilla or collagen peptides.
Tastes like a slice of pumpkin pie. Satisfy your pumpkin spice cravings with the perfect breakfast full of fall flavors.
Perfect for leftover pumpkin puree. Are you making a classic pumpkin pie and unsure what to do with the leftover pure pumpkin puree? This nutritious smoothie is the answer.
Ingredients
The full printable recipe card with measurements and instructions is found at the bottom of the post.
Vanilla flavored almond milk OR 2% milk: This base helps provide a creamy texture and enhances the pumpkin flavor. Feel free to choose between plant-based milk for a dairy-free pumpkin pie smoothie or 2% milk, depending on your preference.
Pumpkin puree: An essential ingredient that gives our smoothie the classic pumpkin taste and adds vitamins and minerals.
Banana OR avocado: Choose a banana or avocado to add natural sweetness and creaminess to your smoothie. Both options are packed with nutrients that keep you full and satisfied.
Pumpkin pie spice: This crucial spice blend adds the warmth and coziness we associate with pumpkin pie. It usually contains cinnamon, nutmeg, ginger, and allspice, creating a perfect harmony of flavors.
Maple syrup: Maple syrup serves as a sweetener for your smoothie. Adjust the amount according to your desired sweetness level; remember to opt for pure maple syrup instead of breakfast syrup for the best taste.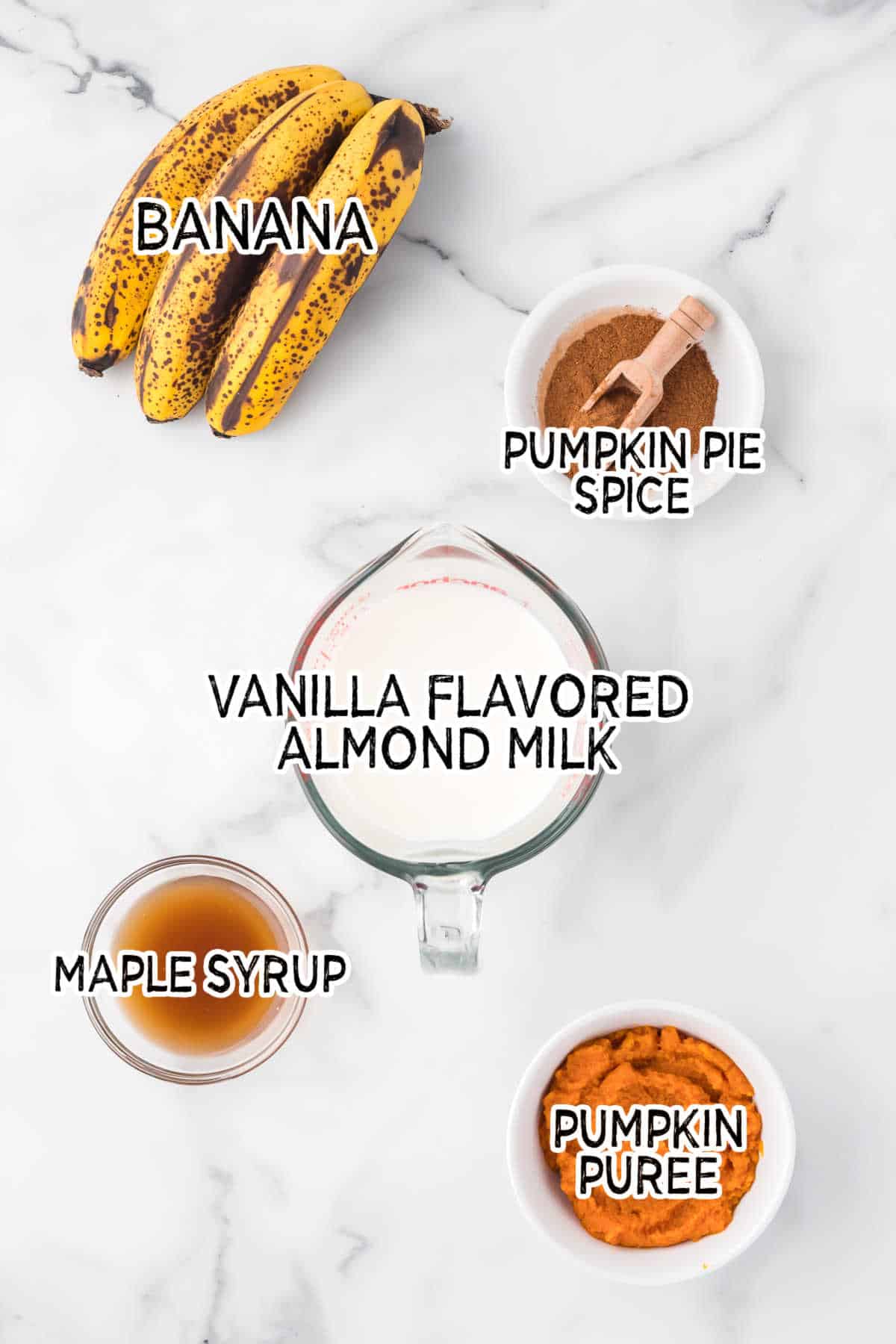 How to Make a Pumpkin Pie Smoothie
Step One: Add ingredients to a blender and blend until desired consistency is reached.
Step Two: Serve cold.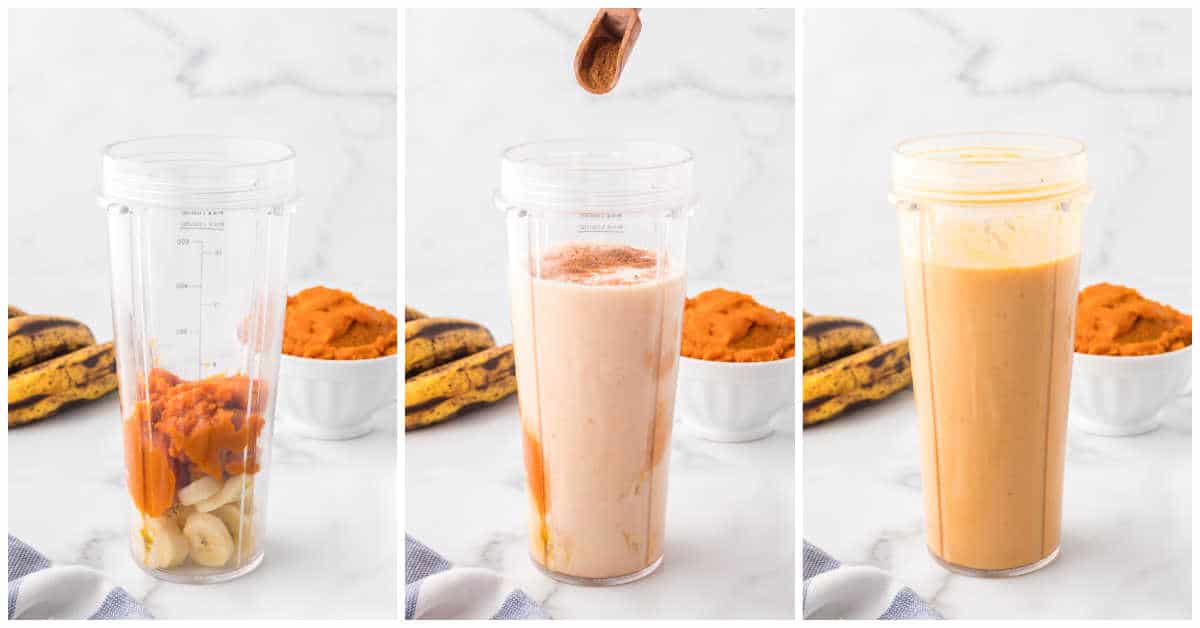 Equipment Needed
This post contains affiliate links.
Blender: A high-speed blender is a must for creating the perfect smooth consistency. Ideally, the blender should have a powerful motor and various speed settings to blend ingredients effortlessly.
Measuring cups and spoons: Accurate measuring tools are essential for combining the right amounts of ingredients.
Scraper spatula: This handy tool is perfect for scraping down the sides of the blender and ensuring all ingredients are well-blended.
Large glass, mason jars, or travel mug: Your pumpkin pie smoothie is best enjoyed in a comfortable and durable container. A large glass or travel mug with a tight seal will keep your smoothie chilled and allow you to enjoy it on the go if needed.
What to Serve with a Pumpkin Pie Smoothie
Toasted bagels with cream cheese: A toasted bagel's warm, slightly crisp texture balances well with the creamy and cold pumpkin pie smoothie. A thin layer of cream cheese adds a tangy contrast to the sweet smoothie.
Granola and yogurt: The crunchy granola complements the smooth texture of the pumpkin pie smoothie, while the yogurt enhances its creaminess.
Fruit salad: Combine various fruits like apples, pears, grapes, and berries for a colorful fruit salad. The fruits' natural sweetness and antioxidants pair well with the nutritious pumpkin pie smoothie. Try my Rainbow Fruit Salad.
Oatmeal: A warm bowl of oatmeal with toppings like nuts, dried fruits, or a little maple syrup can elevate your breakfast experience. The heartiness of the oatmeal and the velvety smooth pumpkin pie smoothie makes a satisfying meal.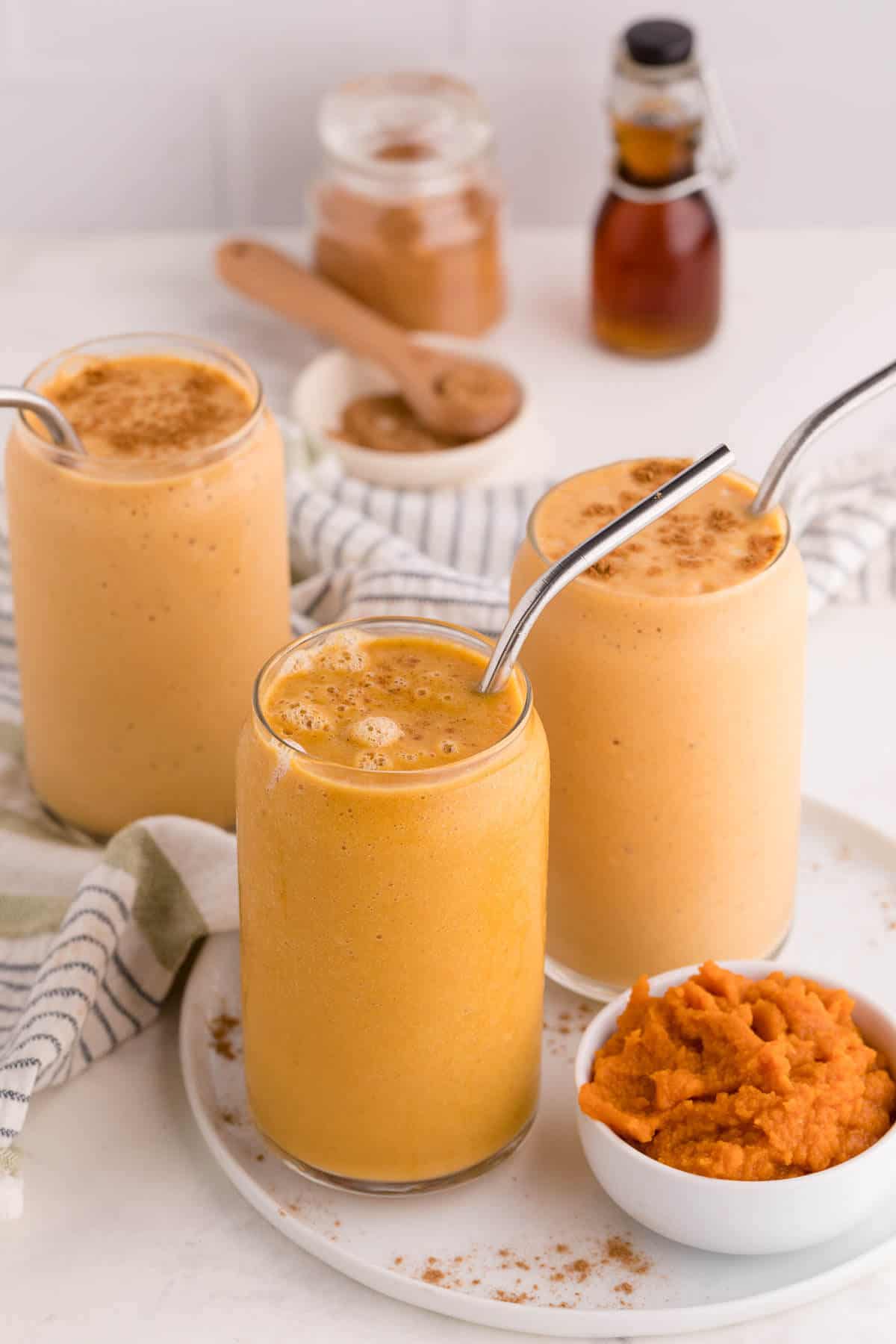 Variations and Substitutions
Sweeteners: While maple syrup is popular, you can also try honey or agave nectar.
Yogurt: For an extra creamy smoothie, you can use traditional vanilla yogurt or vanilla Greek yogurt (or plain Greek yogurt), depending on the creaminess and tanginess you prefer. Opt for non-dairy yogurt like coconut or almond yogurt for a dairy-free version.
Milk: Almond milk is a common base for pumpkin pie smoothies, but feel free to use whole milk, skim milk, oat milk, or coconut milk if you prefer a different taste and consistency.
Protein Powder: Add a scoop of vanilla protein powder if you prefer a protein boost in your smoothie. This can be especially helpful if you plan to enjoy the smoothie as a post-workout snack.
Make It Fancy: Top with a little whipped cream and a sprinkle of cinnamon.
Make Your Own Homemade Pumpkin Pie Spice: Don't worry if you don't have any store-bought pumpkin pie spice on hand; it's super easy to make your own.
Add-Ins
Nut butter: A spoonful of almond or cashew butter adds a creamy richness to your smoothie. I recommend avoiding peanut butter as it may alter the taste too much.
Protein boost: Incorporate your favorite vanilla protein powder or collagen peptides to give your smoothie extra muscle-building power.
Greens: Sneak in a cup of spinach or kale for added nutrients without altering the taste and texture of your pumpkin pie smoothie.
Increase the pumpkin pie spice if you're craving an extra kick.
Add a dash of cinnamon or vanilla extract to intensify the warmth of your smoothie.
Chia seeds: Add a tablespoon of chia seeds for fiber, protein, and omega-3 fatty acids.
Flaxseeds: Incorporate ground flaxseed to boost your smoothie's fiber and essential fatty acids. Hemp seeds are also good to try.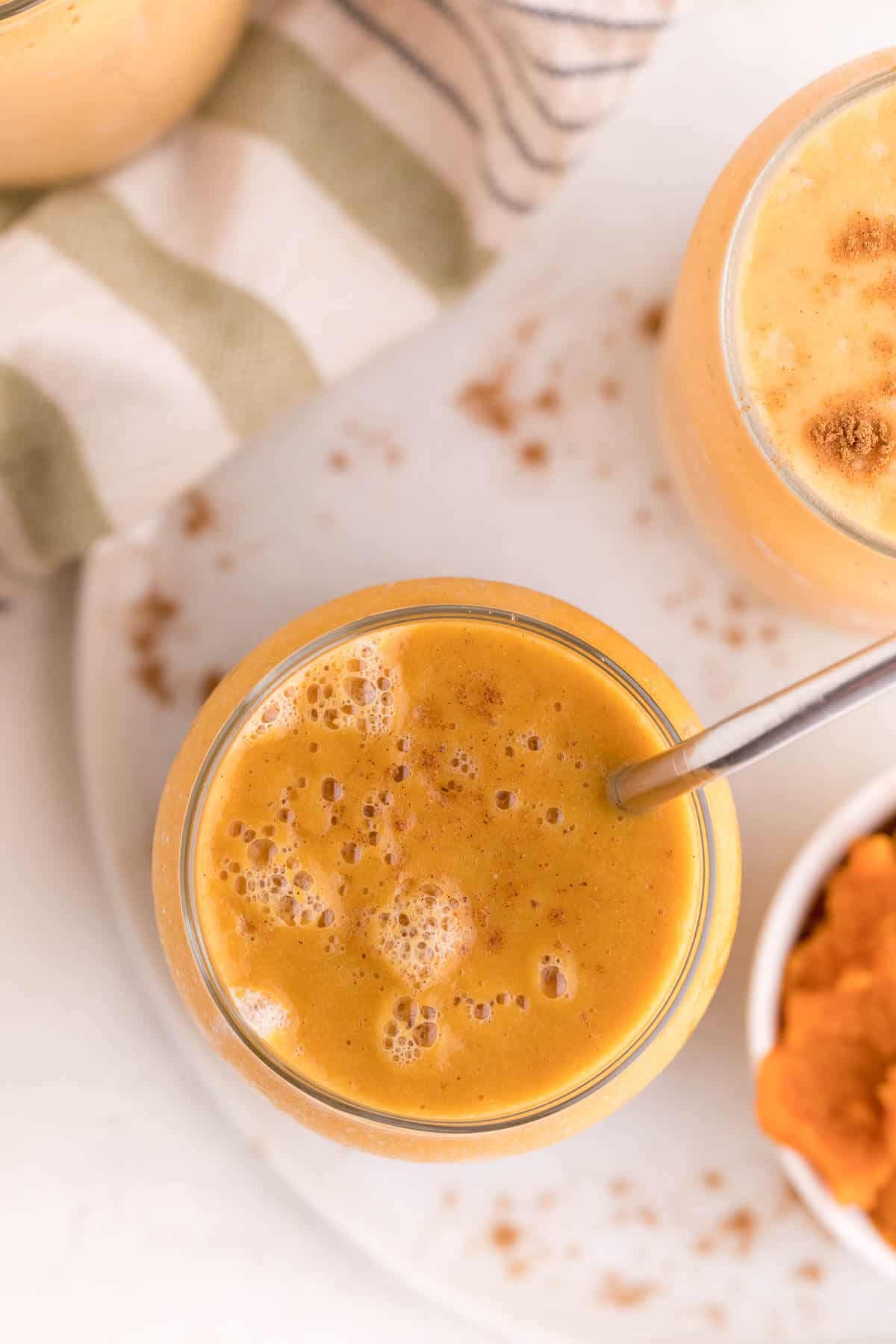 Storage Instructions
Once you have prepared your smoothie, store it in a reusable airtight container or a mason jar with a lid if you're not consuming it immediately. Make sure the container is tightly sealed to keep air out, as this can affect the smoothie's taste and texture.
Place your container in the refrigerator to keep your smoothie fresh and cold. Consuming your pumpkin pie smoothie within 24 hours of making it is ideal. After a day, the smoothie might begin to lose some of its freshness and flavor.
Store your smoothie in the freezer if you plan to consume it later. Simply use a freezer-safe container or a freezer-safe mason jar with a lid. Allow some room at the top of the container for expansion. When ready to enjoy your frozen smoothie, transfer it to the refrigerator for several hours or place it in a bowl of lukewarm water to thaw.
Can I Make Ahead?
Yes, absolutely! You can prepare your pumpkin pie smoothie ahead of time to enjoy a delicious and healthy breakfast or snack without any hassle. To make ahead, simply blend all the ingredients and store the smoothie in an airtight container in the refrigerator.
One thing to remember is that the smoothie may thicken a bit after sitting in the fridge. Don't worry; it'll still taste fantastic, and you can always add a little extra milk or water to achieve your desired consistency when you're ready to enjoy it.
If you want to get creative, freeze the pumpkin puree before making the smoothie. This helps create a thick, milkshake-like texture that's irresistibly refreshing.
Enjoying it within one day of preparation is best to ensure optimal freshness and taste.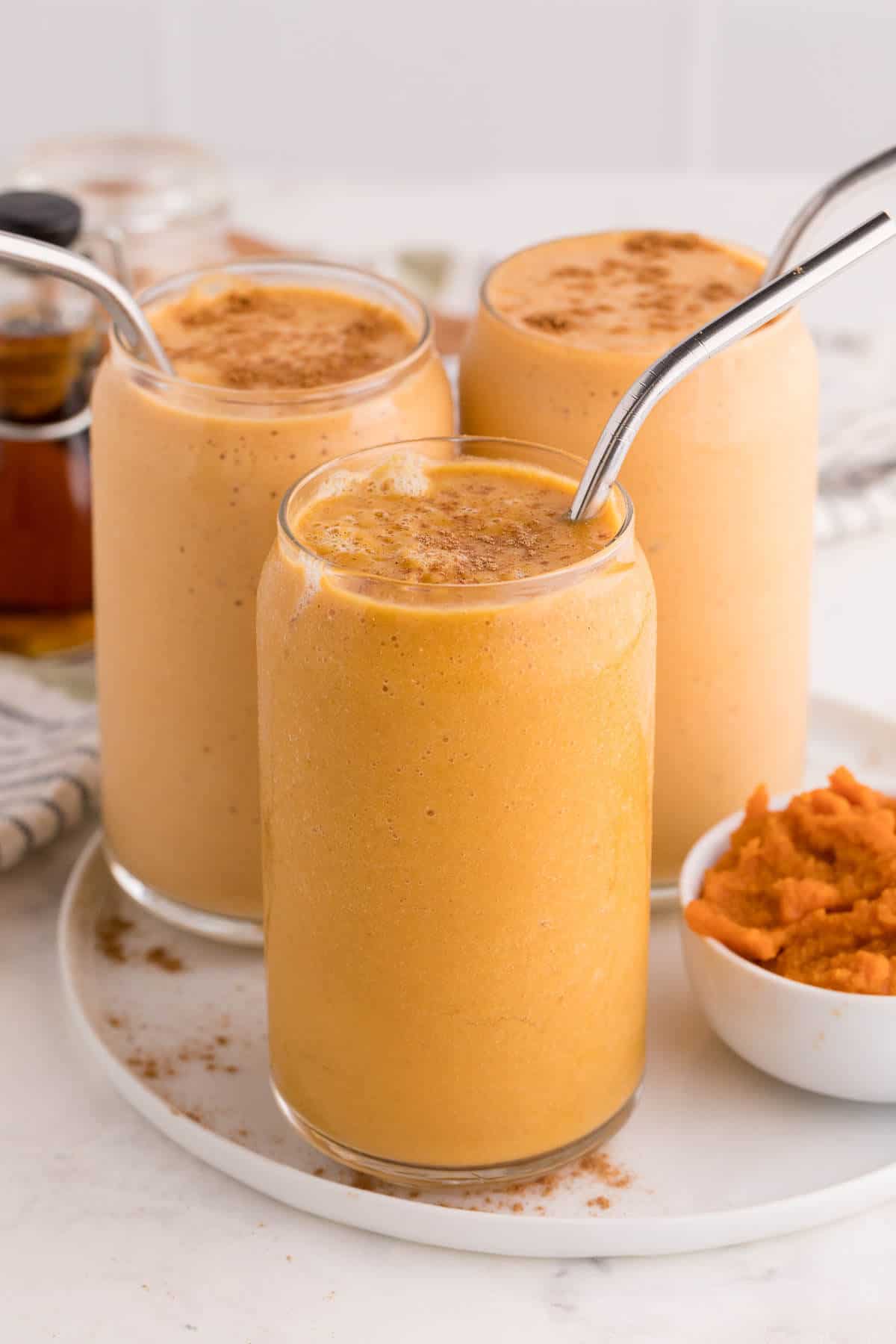 Recipe Tips and Tricks
Use frozen ingredients for a thicker and creamier texture. Try freezing your pumpkin puree and banana beforehand.
Experiment with milk alternatives to cater to specific dietary preferences. You can use almond milk, regular milk, or coconut milk.
Add nut butter to hint at nutty sweetness and healthy fats to satisfy you. Almond butter or pecan butter works well.
Customize your spices according to your taste preference. You can use a combination of cinnamon, ginger, nutmeg, and allspice or substitute with pumpkin pie spice for convenience.
Opt for homemade pumpkin puree when possible. It is often less expensive than canned pumpkin and delivers the same flavor and texture to your drink.
Sweeten it by adjusting the maple syrup or other natural sweeteners according to your taste.
Serve with toppings like whipped cream or a sprinkle of granola for added texture and presentation.
How to Thicken a Smoothie
Add frozen ingredients: Frozen ingredients, especially fruits, are an excellent way to thicken your smoothie. Adding a frozen banana is a popular choice to create a creamier texture without altering the pumpkin flavor too much.
Add yogurt or nut butter: Another great way to thicken your pumpkin pie smoothie is by incorporating yogurt or nut butter into the recipe. This not only increases thickness but also adds flavor and nutritional value.
Use a smaller amount of liquid: Reducing the liquid in your recipe allows for a more concentrated flavor and a thicker consistency. Gradually add liquid as needed to reach your desired smoothie consistency.
Add ice cubes: Including a few in your pumpkin pie smoothie recipe can help create a thicker and colder texture. Just be mindful that adding too much ice may dilute the flavor.
Incorporate chia seeds or flaxseeds: These seeds are known for absorbing liquid and creating a thicker texture when mixed into a smoothie. Simply soak them in a small amount of water before blending.
Can I Add Protein Powder?
Of course, you can add protein powder to your pumpkin pie smoothie! Including protein powder in your smoothie is an excellent way to boost its nutritional value
To get started, try using a vanilla protein powder, which complements the pumpkin and spices used in the recipe.
If you're a chocolate lover, experiment with chocolate protein powder to give your smoothie a unique twist.
When adding protein powder, remember that it may alter the smoothie's texture. You may need to adjust the amount of liquid in your smoothie to achieve the desired consistency. It's always a good idea to start with a small amount of protein powder and increase it if necessary.
What Can I Use Instead of Pumpkin Pie Spice?
If you don't have pumpkin pie spice on hand, don't worry! You can use several alternatives to achieve the delicious flavors you're looking for in your pumpkin pie smoothie.
One option is to create your pumpkin pie spice blend using a mix of common spices. This allows you to personalize your spice blend and adjust the flavors. Common ingredients in pumpkin pie spice include cinnamon, ginger, nutmeg, and allspice. Depending on your taste preferences, you can also add cloves or increase the amount of cinnamon.
If you want a quick and easy substitution, apple pie spice is a great alternative. Apple pie spice typically has similar spices to pumpkin pie spice, such as cinnamon, nutmeg, and allspice.. Although it might not provide the exact pumpkin pie spice profile, using apple pie spice can still offer a delicious and satisfying flavor to your pumpkin pie smoothie.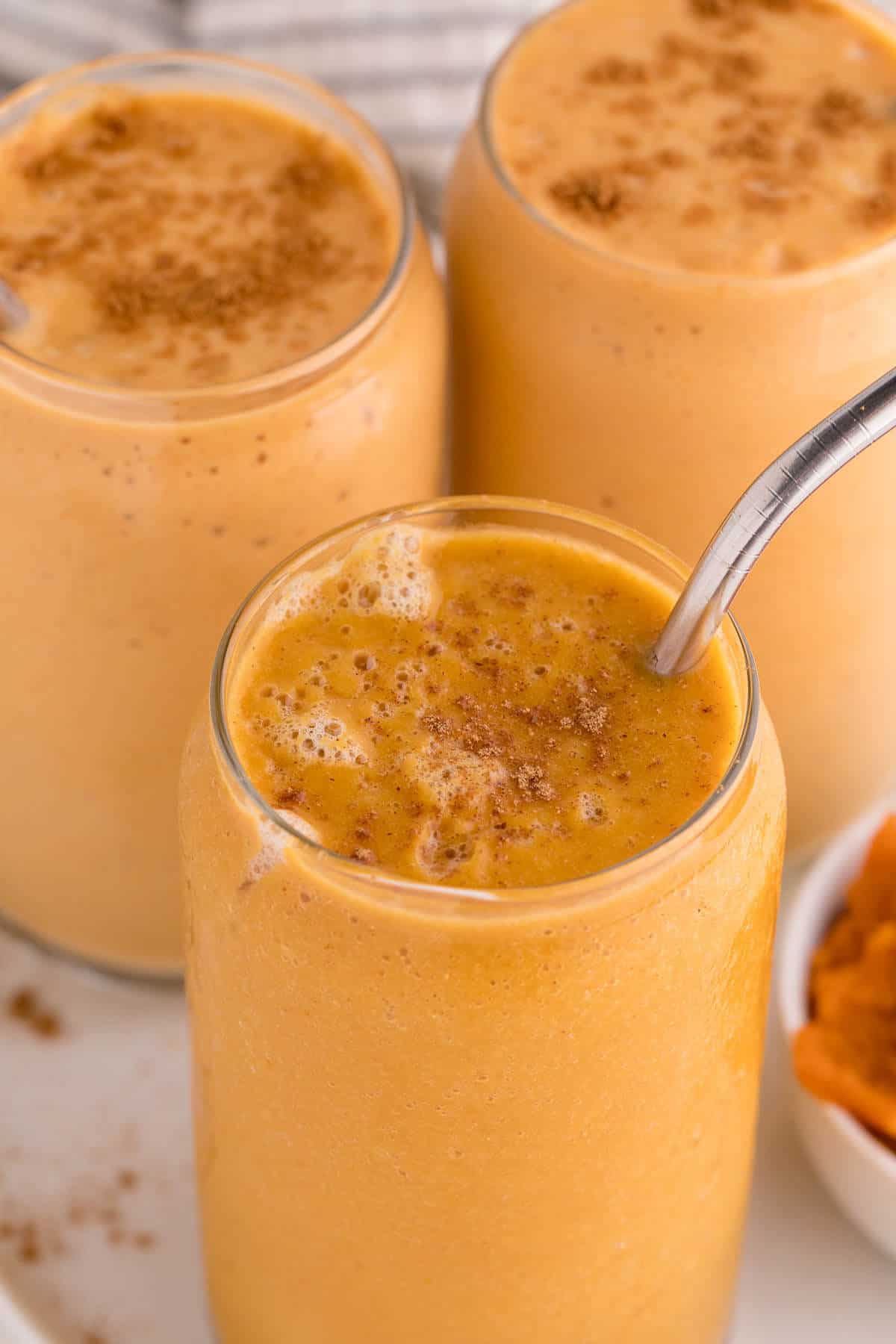 What is the Best Blender for Smoothies?
When making a delicious pumpkin pie smoothie, having the right blender can make all the difference.
Vitamix blenders have a great reputation in the world of smoothies. They are incredibly powerful and blend almost anything into a smooth, creamy texture. You can find various models that suit your needs and budget.
Ninja blenders are another popular option for smoothie lovers. Known for their versatility and affordability, these powerful blenders come with multiple attachments and settings, allowing you to make everything from smoothies to soups easily.
Blendtec blenders are a favorite among professionals and home chefs alike. With their powerful motors and unique jar designs, these blenders effortlessly pulverize fruits and vegetables, making them an excellent choice for creating delicious smoothies.
In terms of budget-friendly options, NutriBullet offers compact, powerful blenders that are perfect for those looking to make single-serving smoothies. These blenders are easy to use and clean, making them a popular choice for quick and convenient smoothie making.
Check Out These Other Smoothie Recipes
Tip for Leftover Pumpkin Puree
After you open your can of pumpkin puree, you only have a few days before it goes bad. I tend to take the leftover puree and put it in silicone ice cube trays. Then, toss them in the freezer until frozen, then transfer them into a freezer bag. Then, when I want a smoothie, I can use the ice cube pumpkin. I just place however many ice cubes equal to my recipe and put them in the fridge to thaw or toss them frozen.
Depending on your size of the cubes will depend on how many you need. I add the puree, then take it out to see what it measures, and then do the math for what equals 1/2 cup of puree.
FAQ
Is There a Difference Between Pumpkin Puree and Canned Pumpkin Pie Mix?
Yes. You need to ensure you buy real pumpkin puree for this recipe. Pumpkin pie filling is a base for making pumpkin pies; other ingredients are mixed into the pumpkin puree. If you use that, you will not get a tasty smoothie, which will be very runny.
How to Sweeten up the Pumpkin Pie Smoothie
This Pumpkin Pie Smoothie is so delicious and very filling! I use either a banana or an avocado to add in extra creaminess. If you prefer a sweeter drink, use banana and add maple syrup.
Can I Use Frozen Banana in this Smoothie?
Absolutely! I tend not to eat bananas before they go from ripe to overripe! I cut them up, toss them in a freezer bag, and use them for smoothies. The frozen banana helps to add a thickness to the smoothie and keeps it cold longer. So, if you have frozen bananas, toss them right in!
Can I Double This Pumpkin Pie Smoothie Recipe?
Yes! I have doubled and even tripled this recipe, and it works great. Just make sure your blender can hold the contents and still have room to mix well.
How to Make a Smoothie Thinner
I like my smoothies very thick, but you could make them thinner by adding in a little more of the almond milk. Play around with it and adjust the sweetness and consistency to suit your preferences.
Pumpkin Recipes
Follow me on Instagram @simplystacieblog, Facebook at Simply Stacie, TikTok @simplystacierecipes or Pinterest at @simplystacie and let me know how you liked this recipe and my other recipes.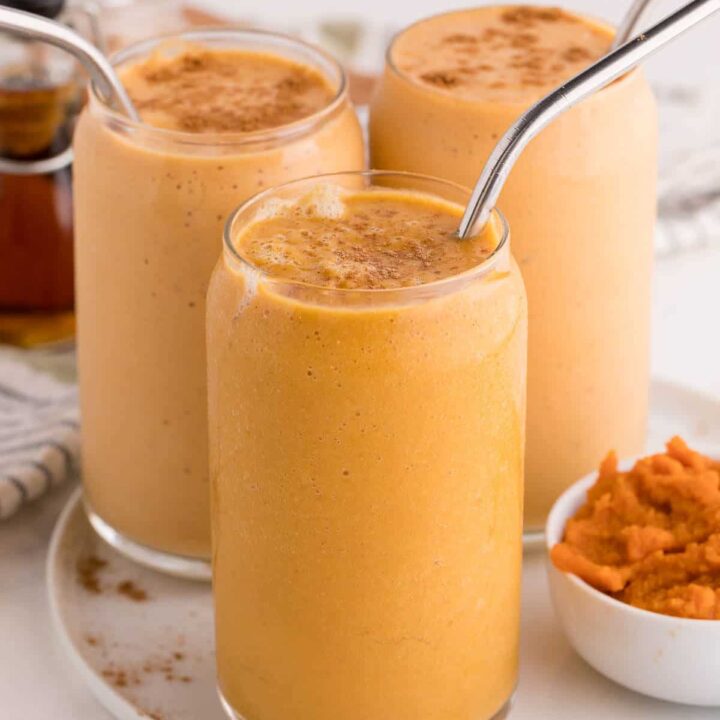 Pumpkin Pie Smoothie
Pumpkin flavour is popular all year-round, not just in the fall. This creamy and delicious non-dairy smoothie lets you visit the pumpkin patch any time you want to!
Print
Facebook
Pin
Share by Email
Rate
Ingredients
1 ½

cups

vanilla flavored almond milk OR 2% milk

chilled

½

cup

pumpkin puree

1

banana OR avocado

cut into chunks

1

tsp

pumpkin pie spice

1 to 2

tbsp

maple syrup
Instructions
Add ingredients to a blender and blend until desired consistency is reached.

Serve cold.
Kitchen Tools
Nutrition
Serving:
1
g
|
Calories:
827
kcal
|
Carbohydrates:
71
g
|
Protein:
8
g
|
Fat:
19
g
|
Saturated Fat:
4
g
|
Polyunsaturated Fat:
14
g
|
Cholesterol:
10
mg
|
Sodium:
90
mg
|
Fiber:
10
g
|
Sugar:
51
g
The information shown is an estimate provided by an online nutrition calculator. It should not be considered a substitute for a professional nutritionist's advice.
Love Recipes? Join our Free Facebook Group!
Join Mom's Best Recipes to find more delicious family recipes.
Save
Saved!