Homemade Pumpkin Pie Spice is incredibly easy to make and requires just a handful of spices. The perfect way to season all your pumpkin recipes. If you are a pumpkin fan, never feel like you can't make a dessert again cause you don't have the spices. Make your own and save a trip to the store.
Homemade Pumpkin Pie Spice
Are you ready?
I am now! 'Tis the season and I'm getting myself prepared for a whack of pumpkin recipes. That's the plan anyways. Instead of buying Pumpkin Pie Spice, I made my own. I bet you have all the ingredients in your spice rack right now. Go take a look – I'll wait!
What is Pumpkin Spice Made of
Pumpkin Spice is made up of a handful of spices. The star of the show is cinnamon, but the supporting cast of ginger, nutmeg, cloves and allspice brings it all together into one fragrant package. I put mine in a mason jar in my pantry.
I'll be adding a label to it because I plan to do some more DIY fall spices soon! I don't want to mix up my Pumpkin Pie Spice and my Apple Pie Spice.
Recipes to Use Pumpkin Spice in
Pumpkin Pie Smoothie | This smoothie is the best dessert or pick-me-up drink to whip up mid-day. Sweet, creamy and the perfect flavor of pumpkin pie in every sip.
Easy Pumpkin Spice Latte | Skip the coffee shop and make your own latte with the rich pumpkin spice flavor in every single sip.
Pumpkin Spice Latte Cupcakes | A tender and moist cupcake with a pumpkin spice latte flavor. Then it is topped with a creamy frosting.
How to Make Pumpkin Spice
All you simply do is take your spices and pour them in a bowl or container and stir them up. That is it and you are set for a delicious homemade pumpkin spice to season all your recipes.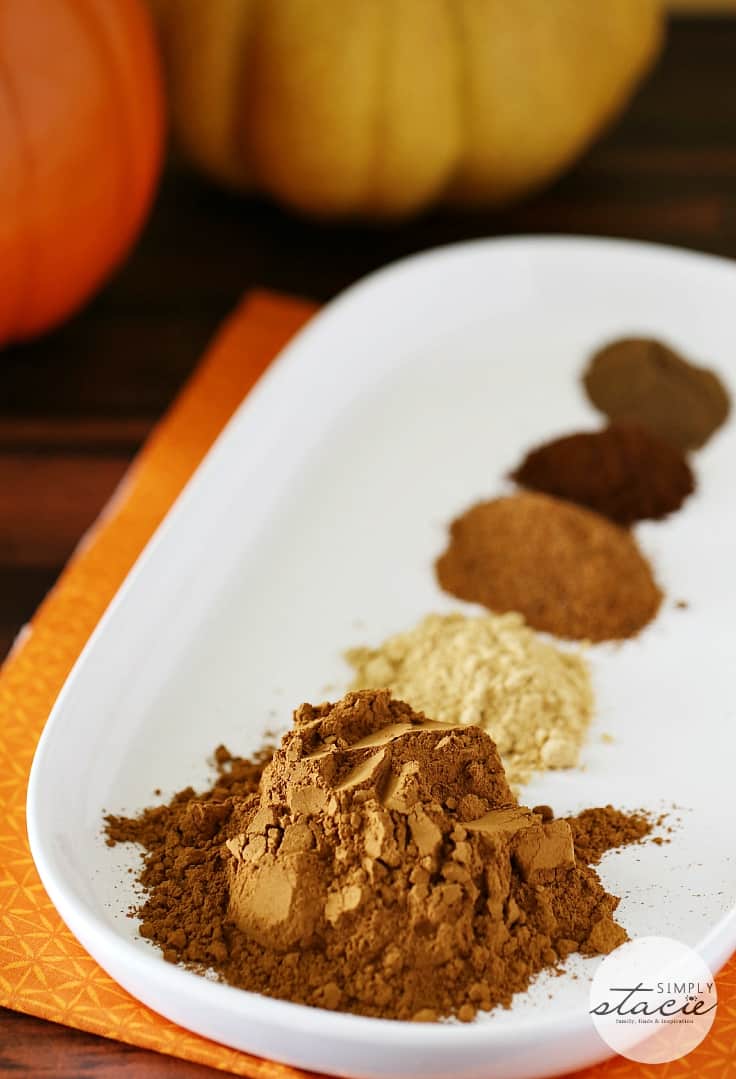 How to Store Pumpkin Spice
You will want to store your pumpkin spice in a sealed container in your spice shelf. Or if you want you can put the spice mix in a sealable bag. Just pull out as much air as you can.
Gift Pumpkin Spice Seasoning
A jar of this spice mix would make a nice gift. Dress it up with a pretty label and raffia and give to a friend or loved one.
I've started my pumpkin-y recipes. I made these Pumpkin Spice Cake Cups. I've also got a slow cooker pumpkin dessert recipe coming. I'm making it this week. For more pumpkin recipes, check out my Pumpkin Dessert and Pumpkin Chili. I also have a Pumpkin Desserts board on Pinterest with more yummy recipes to try.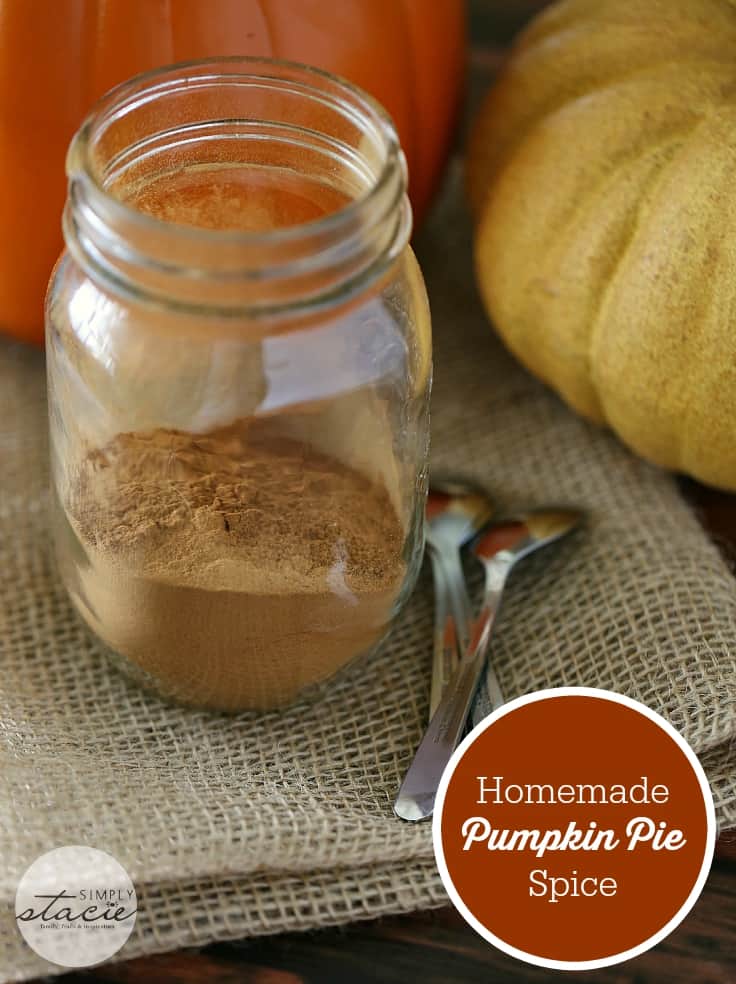 What is the Difference Between Apple Pie Spice and Pumpkin Spice
Apple pie spice is a mixture of allspice, nutmeg, and cinnamon, where there are other ingredients in pumpkin spice as you see in this recipe. Both have the main ingredient of cinnamon, so it makes sense that people can see that they are pretty similar in flavor.
You will find both of these spice blends are incredible and add so much warmth and flavor to your recipes.

What Does Pumpkin Spice Taste Like
Pumpkin spice offers a rich and warm blend of spices. The main component is cinnamon so you have that as the stand out spice. Then the ginger adds a nice warmth to it. If you smell the blend you will find it tastes similar to how it smells. You can use pumpkin spice in drinks, baking, and dusting the top of your baked goods and drinks.
Does Pumpkin Spice Expire
Pumpkin spice when stored properly can store up to 2-3 years. But when you make your own, you want to look at the date on each spice you are using. If one is nearing expiration you will want to factor that in on when you need to discard your spice blend.
The biggest thing is most spices don't expire, they simply lose their potency in what they bring to the recipe.
So if you are making a drink or a baked good that uses pumpkin spice, consider roaming your cupboard before heading to the store to buy a container. Make it, and toss in a glass jar and label, and tuck away for next year's recipes.
What is your favourite pumpkin recipe?
Homemade Pumpkin Pie Spice
Why buy when you can make your own? This homemade pumpkin pie spice recipe is frugal, easy and perfect to flavour your favourite pumpkin desserts!
Ingredients
1/3 cup cinnamon
1 tbsp nutmeg
1 tbsp ginger
1 1/2 tsp cloves
1 1/2 tsp allspice
Instructions
Mix the spices in a jar with a tight seal.
Use whenever pumpkin spice or pumpkin pie spice is called for in a recipe.
Recommended Products
As an Amazon Associate and member of other affiliate programs, I earn from qualifying purchases.
Nutrition Information:
Yield:

1/2 cup
Serving Size:

1
Amount Per Serving:
Calories:

161
Total Fat:

4g
Saturated Fat:

2g
Trans Fat:

0g
Unsaturated Fat:

1g
Cholesterol:

0mg
Sodium:

17mg
Carbohydrates:

42g
Fiber:

25g
Sugar:

1g
Protein:

3g