Pumpkin Spice Cake Cups is a fun and easy way to change up your pumpkin recipes this fall. A spice cake that is dressed up with pumpkin flavor, and baked to a moist cake cup. Then create a pumpkin spice cheesecake to fill the center of your cake cups.
I couldn't let my batch of homemade pumpkin pie spice go to waste. That same day, I whipped up a batch of these scrumptious Pumpkin Spice Cake Cups. The cups are a doctored spice cake mix that I made into the shape of a cup with the help of a muffin tin and spoon. The filling is my fave part! It's creamy, smooth pumpkin cheesecake. And boy is it good!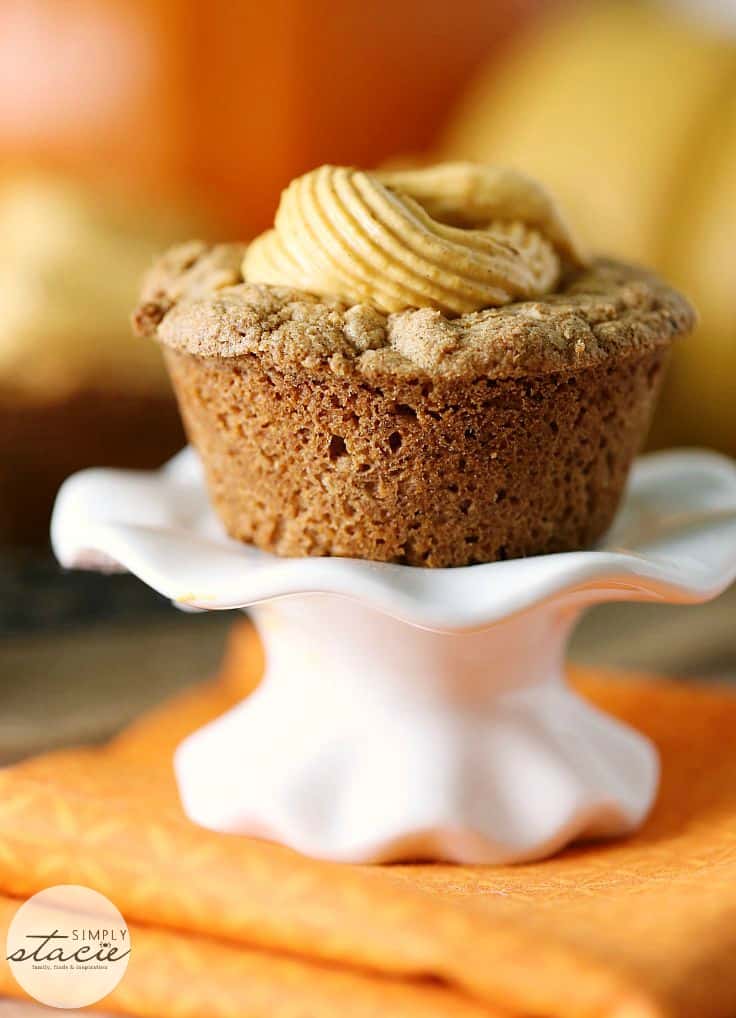 Pumpkin Spice Cake Cups
It's extra decadent with a whole package of full-fat cream cheese. I don't like the low-fat stuff. We figure if you're going to indulge, get the good stuff. I mixed in a half cup of canned pumpkin pie filling, icing sugar (aka powdered sugar) and a tsp of pumpkin pie spice. I wanted to eat it from the bowl, but I held back.
This is one of those desserts that makes you go, "Mmmmm". My friend, Sherry, was over and tried them. She told me they were delicious and asked if she could have another. That's a great sign you've got a winner on your hands.
What Size Muffin Tin To Use for Pumpkin Cake Cups
I used a regular sized muffin tin to make these treats. You could use a mini muffin tin and get more to go around. Little bite sized pumpkiny treats!
Why You Should Make These Pumpkin Cake Cups
Easy | These cake cups are so easy to make. You dress up a boxed spice cake mix and give it that homemade taste.
Smells Like Fall | Your entire home will smell like fall after a little bit of being baked in your oven. Perfect to make for when you have guests come over.
Cheesecake Filling | I mean when cheesecake is involved you know it has to be good. This has a homemade cheesecake pumpkin spice that you fill your cups.
5 Ingredients | Just five pantry ingredients is all you need for this fall dessert recipe.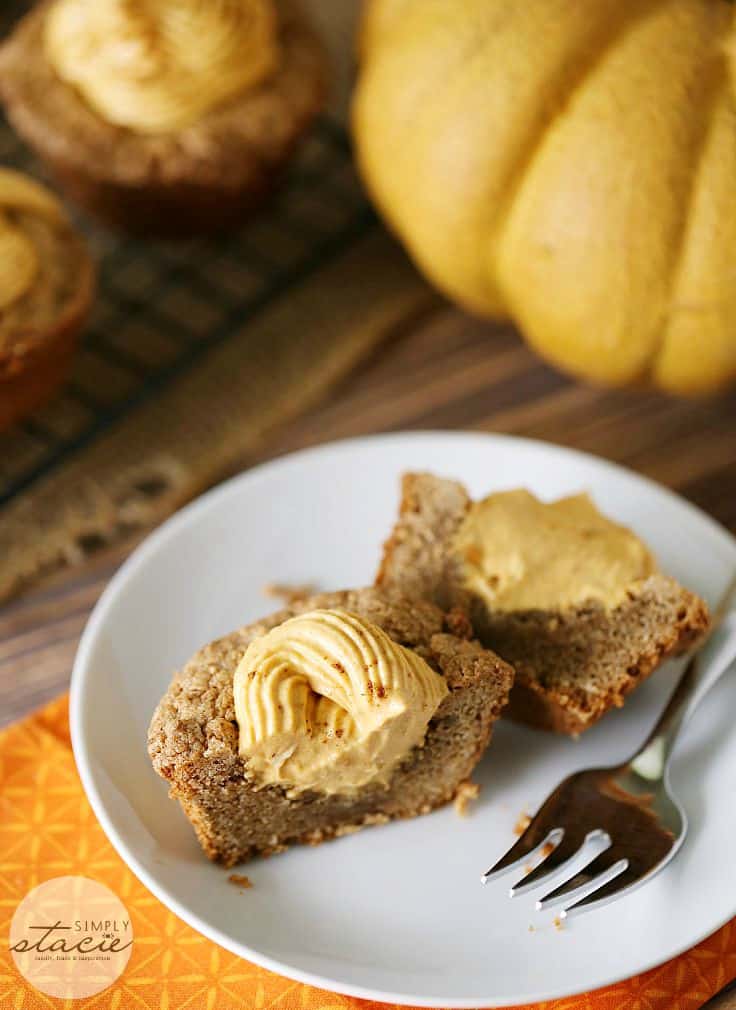 How to Make Pumpkin Spice Cake Cups
You want to start by greasing your muffin pan with cooking spray and preheating your oven. Then in a bowl add your cake mix, butter and eggs together. Add around a tablespoon of dough in each muffin tin. Remove from the oven and poke the center down to create a cup shape. Then cook for additional time repeating to randomly push the center down.
Once the cakes are done, you will want to remove them and allow them to fully cool. Then in a new bowl create your cheesecake filling. Once it is super creamy you will pour into a piping bag and fill the center of each cup.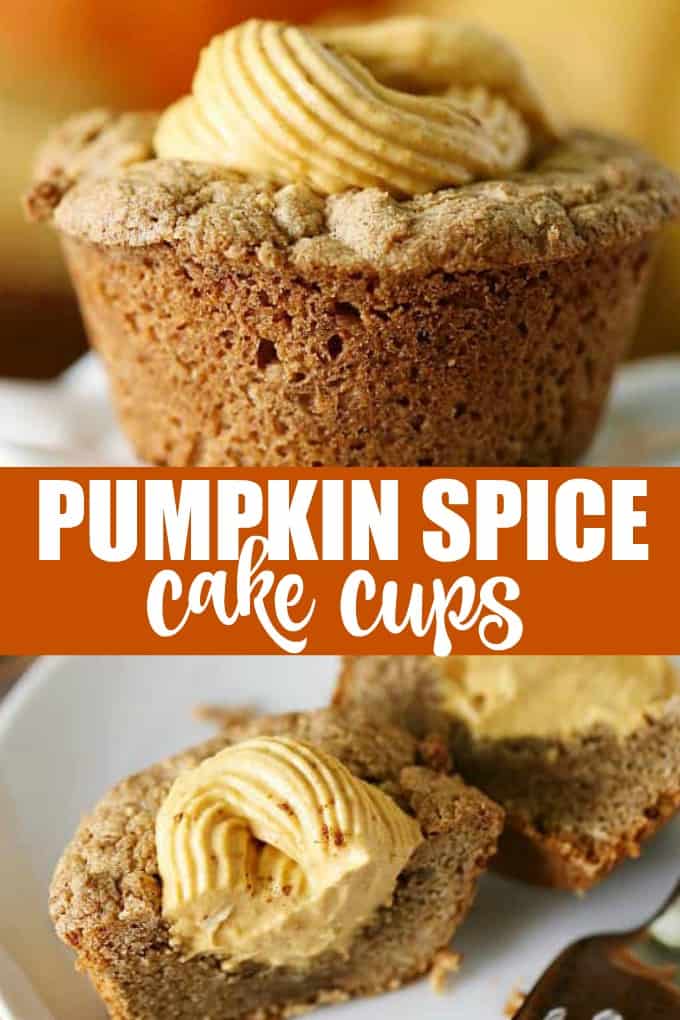 How to Store Pumpkin Spice Cake Cups
You will want these cake cups to be stored in the refrigerator. Since they have a cream cheese-based filling they can't stay out at room temperature. So place in an airtight container and store for up to 5 days in the fridge.
Can I Freeze Pumpkin Spice Cake Cups
You sure can freeze them if you don't plan to eat them all at once. Simply place in an airtight freezer-friendly container. You can store your cake cups for up to three months. Thaw in the fridge the night before you plan to eat. Or sit on the counter and allow them to thaw faster. Just don't leave them out for more than two hours at a time.
Looking for more Pumpkin Recipes
Pumpkin Spice Latte | Skip the coffee shop and make your own latte at home, for an incredibly delicious coffee drink with flavors of fall in each sip.
Easy Pumpkin Bread Pudding | Here is a fantastic twist to bread pudding. This has the pumpkin flavor to give you a creamy and dreamy fall flavor.
Savory Pumpkin Mac and Cheese | Take a test run with this savory pumpkin mac and cheese. Tender pasta, cheesy sauce with a tasty pumpkin twist.
Ways to Dress Up Cake Cups
Add a dusting of pumpkin spice seasoning on top, or even cinnamon. You could also add a scoop of vanilla bean ice cream to the side to eat with the cake cups.
Or add a dollop of whipped cream on top of the cheesecake filling for even more sweetness to your pumpkin dessert.
These pumpkin spice cake cups are unique, and will win over a crowd each and every time. Give this pumpkin dessert recipe a try and let me know what you think!
What pumpkin desserts will you be making this fall?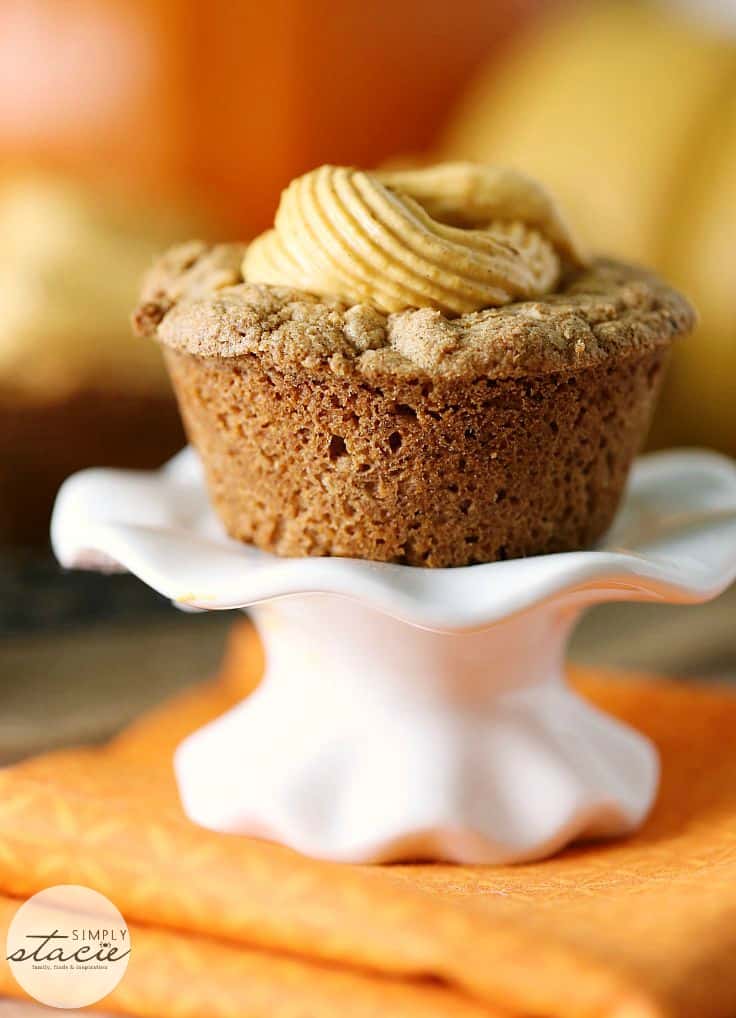 Pumpkin Spice Cake Cups
Calling all pumpkin spice lovers! These delicious spice cake cups are filled to the brim with sweet pumpkin spice cheesecake filling for a delicious and decadent fall dessert.
Ingredients
1 box Spice cake mix
2 eggs
1/2 cup butter, softened
1 package of cream cheese, softened
1/2 cup pumpkin pie filling
1 tsp pumpkin pie spice
Instructions
Preheat oven to 350F. Spray a muffin tin with cooking spray.
In a mixing bowl, stir together cake mix, butter and eggs.
Take about a 1 tbsp of dough and press it into the muffin tin. Make sure to not make it too thick or it won't cook entirely in the center.
Place in oven for about 7 minutes. Remove from oven and poke the center with a spoon to create your cup. Put the cake cups back in the oven for another 5 minutes and then repeat the process to create your cup.
Place back in the oven for another 5 minutes. They should be almost ready by now. Remove from the oven and use the spoon again to poke the center to make it cup-shaped. Put back in the oven for another 5 if needed.
Remove from oven and let cool.
In a mixing bowl, beat cream cheese, pumpkin pie filling and pumpkin pie spice until smooth. Pipe into cake cups with a piping bag and Wilton tip.
Garnish with a sprinkle of pumpkin pie spice, if desired.
Recommended Products
As an Amazon Associate and member of other affiliate programs, I earn from qualifying purchases.
Nutrition Information:
Yield:

10
Serving Size:

1
Amount Per Serving:
Calories:

336
Total Fat:

15g
Saturated Fat:

9g
Trans Fat:

1g
Unsaturated Fat:

5g
Cholesterol:

70mg
Sodium:

524mg
Carbohydrates:

47g
Fiber:

2g
Sugar:

23g
Protein:

4g