Are you looking for a homemade favorite to fill your pantry? This easy Onion Soup Mix lets you quickly whip up classic onion dip and countless other recipes. It's also a fantastic substitute for storebought onion soup mix, giving you complete control of the ingredients with no MSG or preservatives.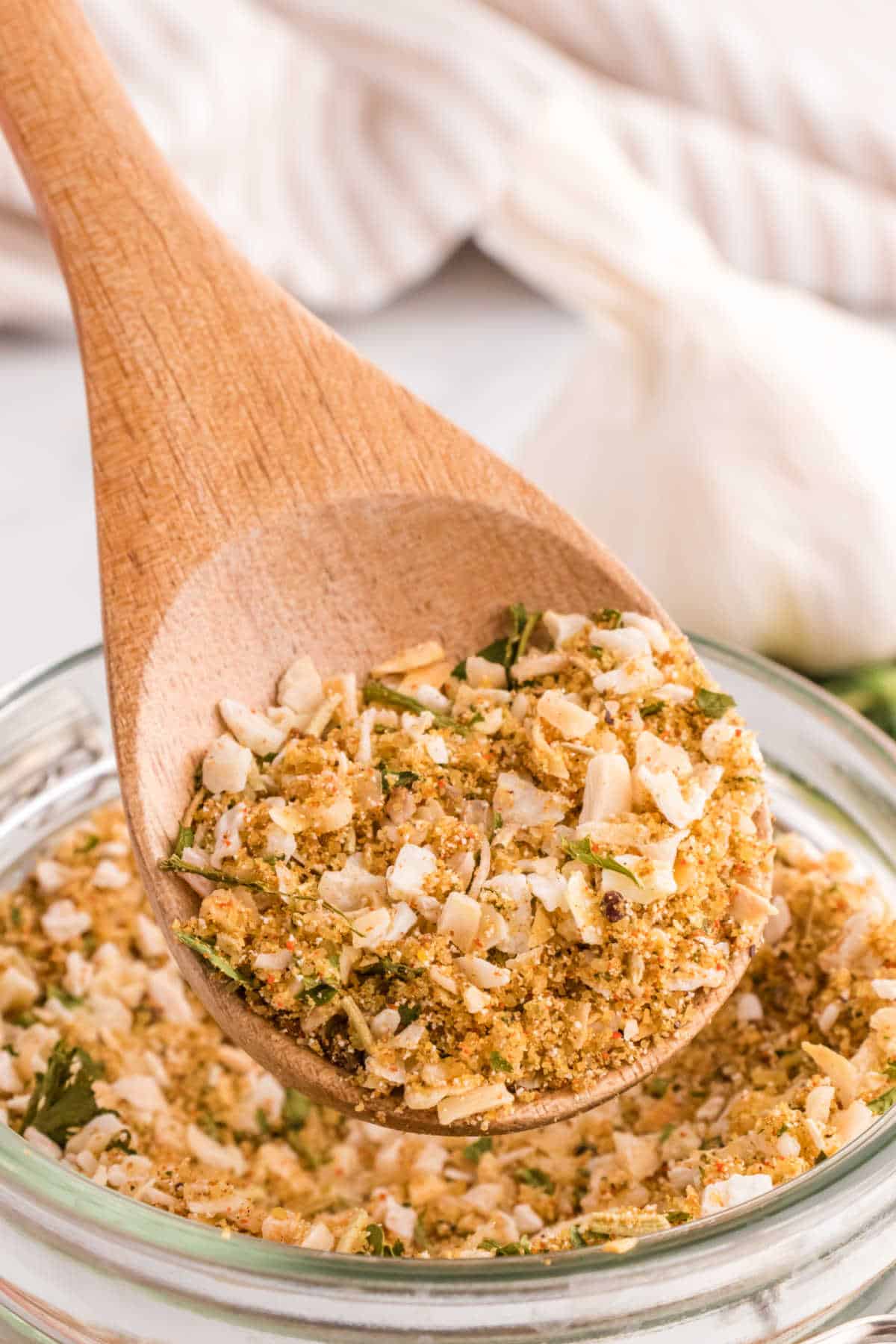 You are in luck if you enjoy delicious, versatile seasonings. This homemade onion soup mix is the perfect addition to your pantry. Designed to elevate the flavors of your favorite dishes, this aromatic blend is a treat to have on hand. Creating flavorful family meals and various side dishes is easy when you have this homemade version of a pantry staple at your fingertips.
Not only is this homemade onion soup mix recipe easy to make, but it is also delicious. This perfect recipe allows you to create a healthier version of your favorite dry soup mix without all the additives and only a few simple ingredients. This homemade substitute for store-bought dry instant soup mix is a game-changer to have on hand in your pantry.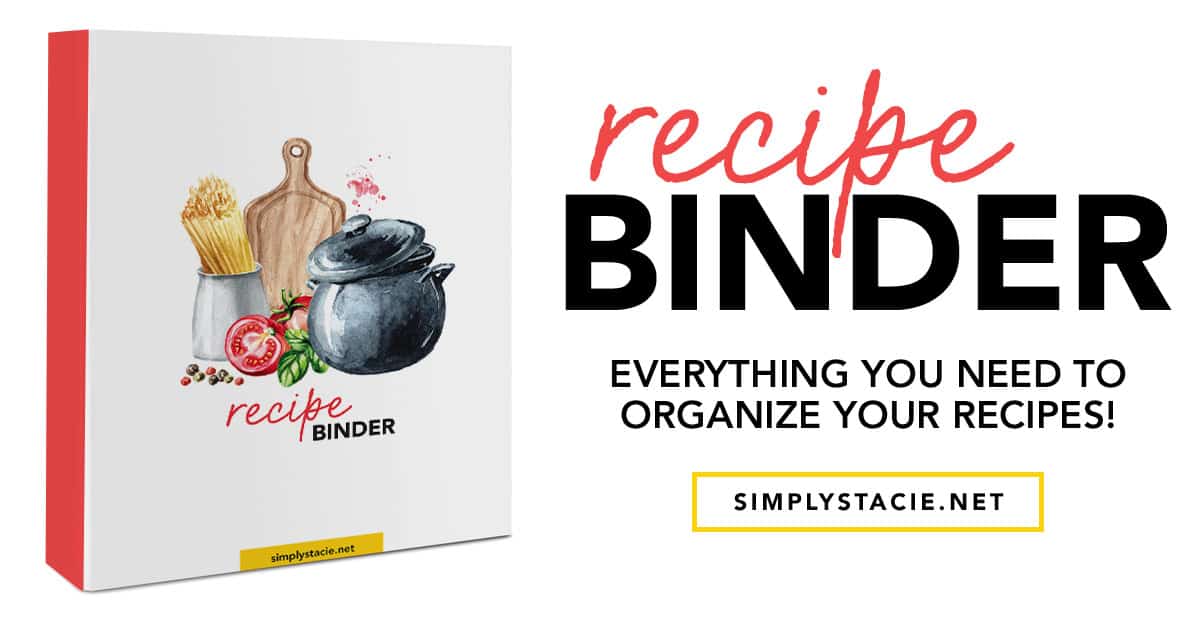 Why You'll Love Onion Soup Mix
Easy to Make: This great seasoning mix is easy to assemble. All it requires is a few basic ingredients and very little time. In no time, you will have your onion soup mix in your pantry, ready to use in your favorite recipes.
Cost-Effective: Onion soup mix bought at the grocery store can be much more expensive than making it yourself. This recipe uses ingredients you may already have in your pantry, making it a cost-effective option to purchase a premade mix at the store.
Endless Possibilities: Onion soup mix can be used in many recipes. This homemade seasoning is an excellent addition to all your favorite culinary creations, from slow cooker pot roast to sour cream dips and everything in between.
Perfect for Gatherings: Onion soup mix is ideal for a gathering. Anything you make with it ends up being a delicious crowd-pleaser. It is a convenient go-to for dips, sauces, and everything.
Long Self-Life: This seasoning lasts for several months in your pantry, allowing you to use it whenever you want. It is so handy to have this on hand to add to all of your favorite dishes.
Customizable: This homemade dry onion soup mix is effortless to customize to your tastes. Intensify the onion flavor, add some spice, or experiment by adding additional herbs.
Ingredients
The full printable recipe card with measurements and instructions is found at the bottom of the post.
Minced onion flakes
Onion powder
Dried thyme
Garlic powder
Black pepper
Celery salt
Paprika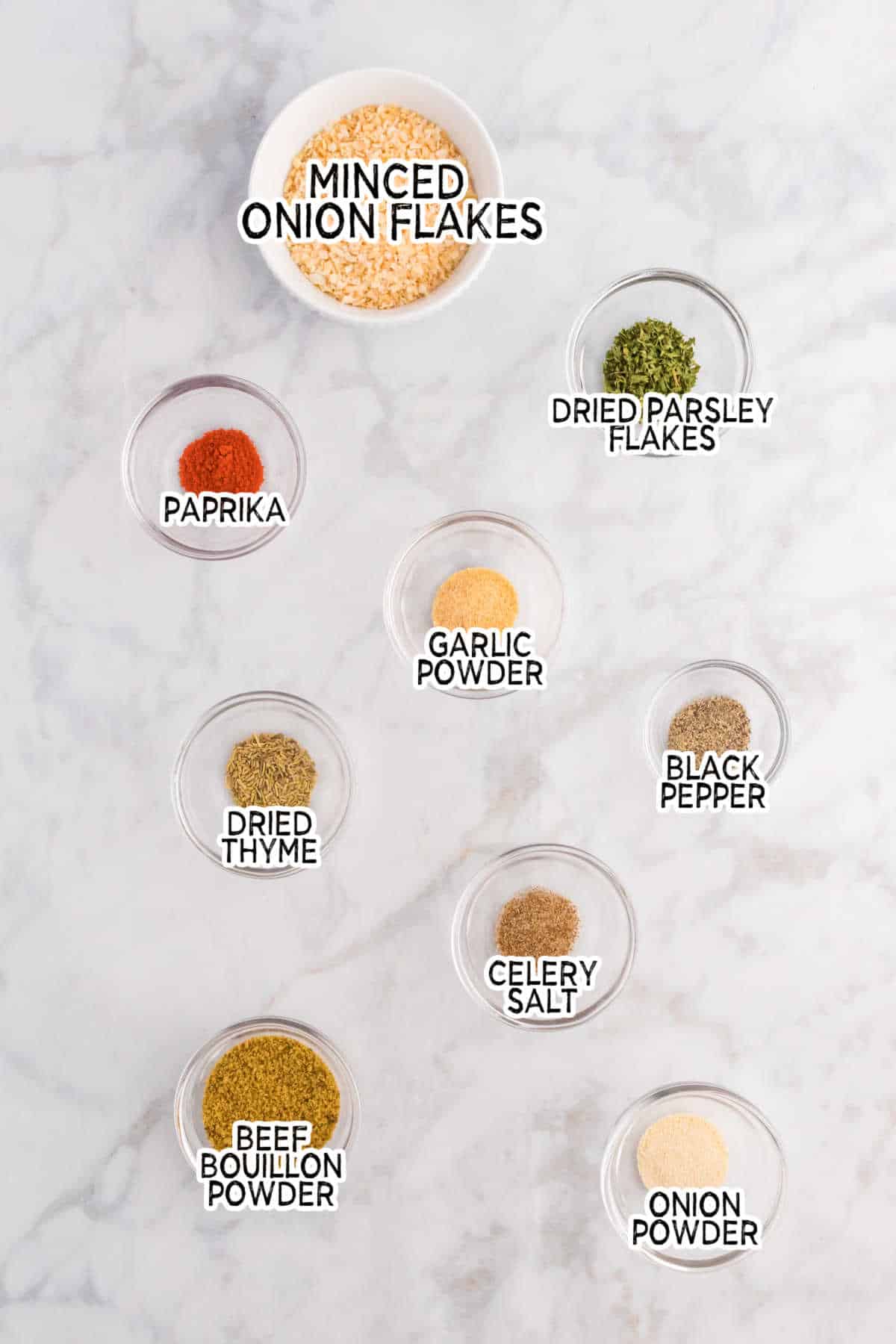 How to Make Onion Soup Mix
Step One: In a small bowl, combine all of the ingredients.
Step Two: Stir well to ensure all the ingredients are evenly mixed.
Step Three: Store the homemade onion soup mix in an airtight container or a mason jar.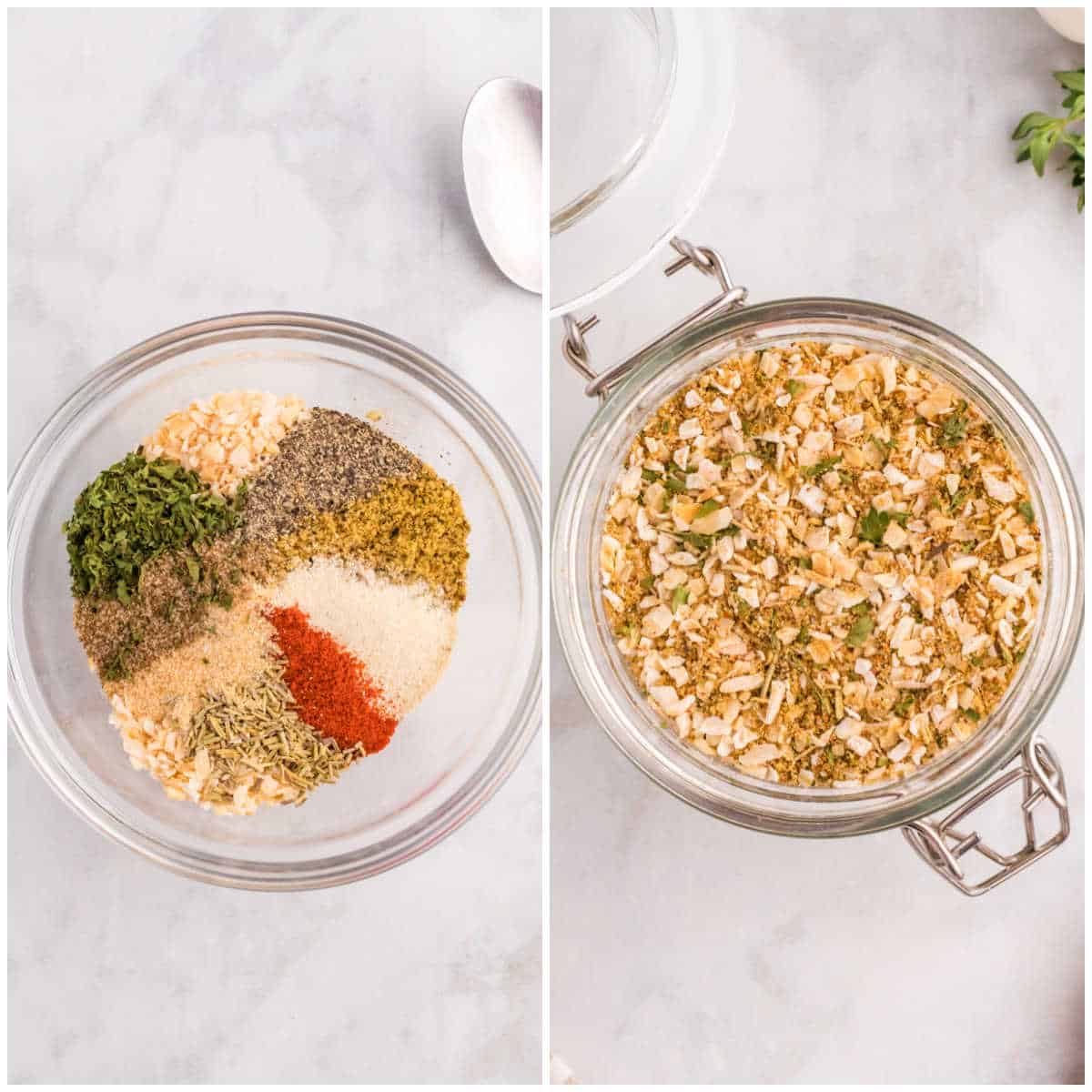 Equipment Needed
This post contains affiliate links.
Uses for Onion Soup Mix
Onion Soup
Seasoning for Meat
Pot Roast
Gravy and Sauces
Casseroles
Meatloaf
Marinades
Dips
Dressings
Roasted Vegetables
Burgers
Meatballs
Popcorn Seasonings
Pork Chops
Variations and Substitutions
Low-Sodium Version: If you prefer reducing the sodium in this recipe, use low-sodium or no-salt-added beef or vegetable bouillon powder instead of regular bouillon powder. You can also adjust the amount of celery salt or omit it altogether to reduce your sodium intake further.
Gluten-Free Option: To make the mix gluten-free, ensure that the bouillon powder used is gluten-free. Some bouillon powders may contain gluten, so checking the ingredients is essential.
Fresh Herbs: While the recipe calls for dried herbs, you can experiment with fresh herbs. Finely chop fresh parsley, thyme, and garlic to replace their dried counterparts. Remember that the flavor intensity may vary, so adjust the quantities according to your taste. When using fresh herbs, you usually have to use more than when using dried.
Custom Spice Blend: Feel free to play with the spice proportions to create a personalized blend. For example, if you love the taste of paprika, add a bit more for a smokier flavor. Tailor the mix to match your unique preferences.
Vegetarian/Vegan Version: For a vegan or vegetarian version, use vegetable bouillon powder instead of beef broth powder. Ensure all the other ingredients are plant-based, and you'll have a seasoning that everyone can enjoy.
Reduced-Garlic Option: If you're not a fan of solid garlic flavor, you can reduce the amount of garlic powder or omit it entirely.
Spicy Kick: If you like heat in your dishes, consider adding a pinch of cayenne pepper or red pepper flakes to this onion soup mix. It will up the spice level and create a kick to each dish.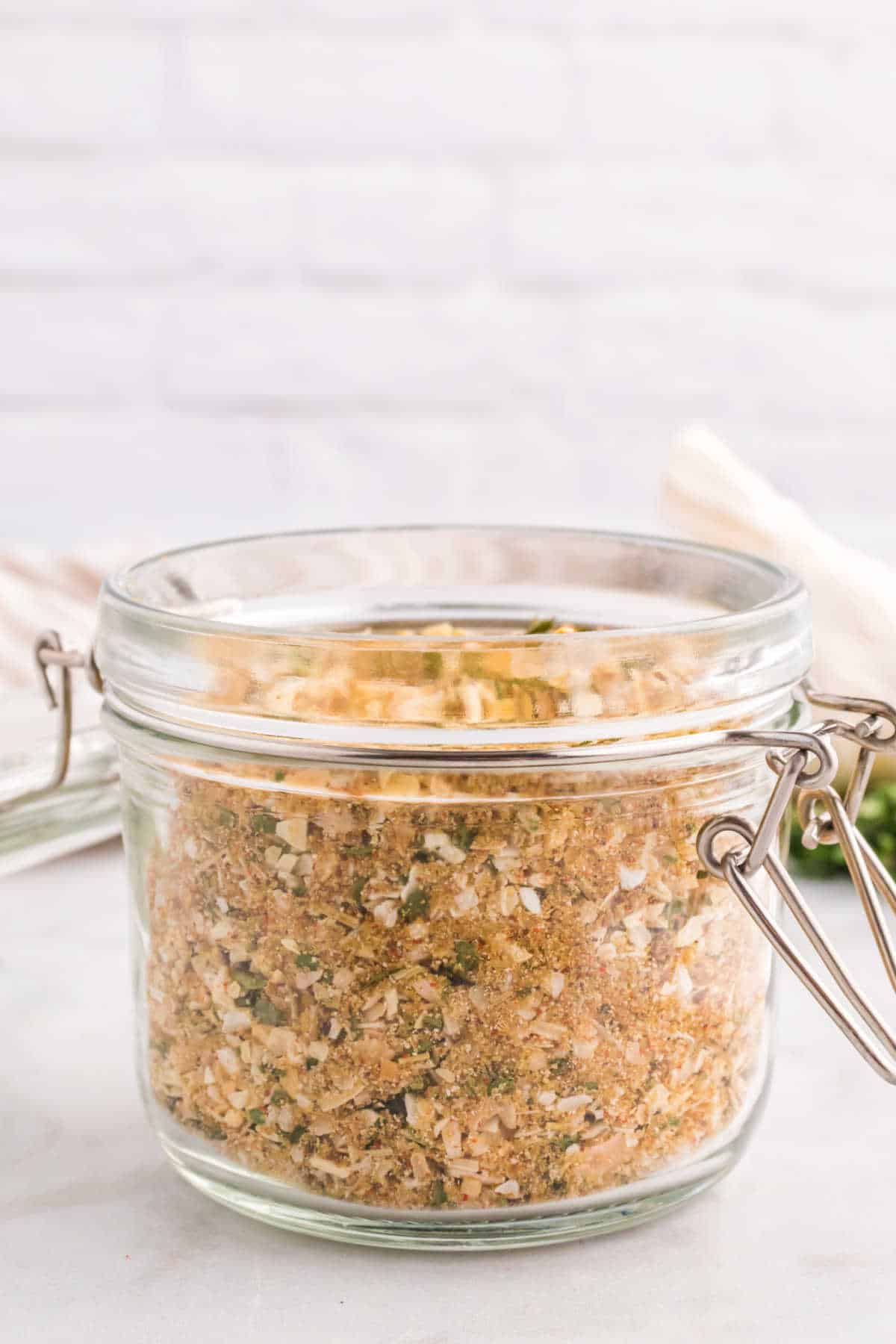 Storage Instructions
Storing homemade spice blends is easy. Put your spice mix in an airtight container or mason jar and place it in your pantry's cool, dry spot. It is also a good idea to label your mix. It will keep well for 6-12 months.
Can I Freeze?
Freezing your homemade seasoning blend is not necessary. This is because it lasts well in the pantry for 6-12 months. Freezing can negatively affect the blend by adding too much moisture.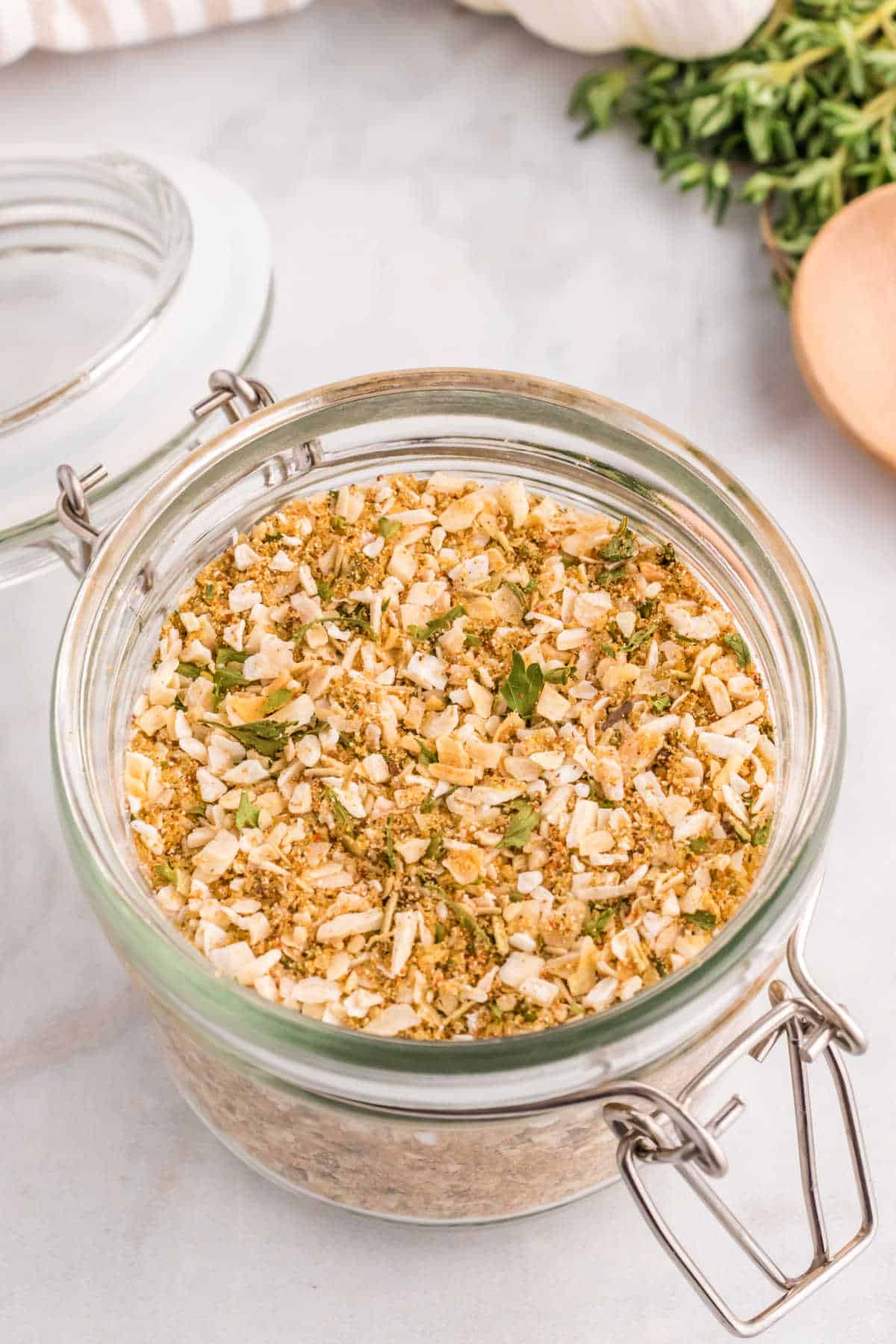 Recipe Tips and Tricks
Taste as you go: If you are making this onion soup mix for the first time, taste the ingredients as they combine. You can ensure that your mix has the right balance of flavors if you taste it along the way.
Store in Single-Serve Format: If you often use onion soup mix in recipes, store your mix in single-serve envelopes. This way, you can grab an envelope of dry onion soup mix whenever needed without exposing the entire batch to the air.
Double or Triple the Recipe: If you frequently use this mix, you can easily double or triple the recipe to ensure you have lots on hand. Just make sure you have enough airtight containers around.
Is It Gluten Free?
Some bouillon powders contain thickeners or additives. Check the ingredients on the package to ensure your onion soup mix is gluten-free.
How Much Does It Make?
This recipe makes about 1/2 a cup of the mix. You can easily create a double batch using this family favorite often. It is perfect to have on hand when you have unexpected guests, so if you require even more, opt for tripling the mix.
How Much Onion Soup is in a Packet?
It typically depends on the brand of onion soup mix that you purchase from the store. Most packages contain about three tablespoons of mixture.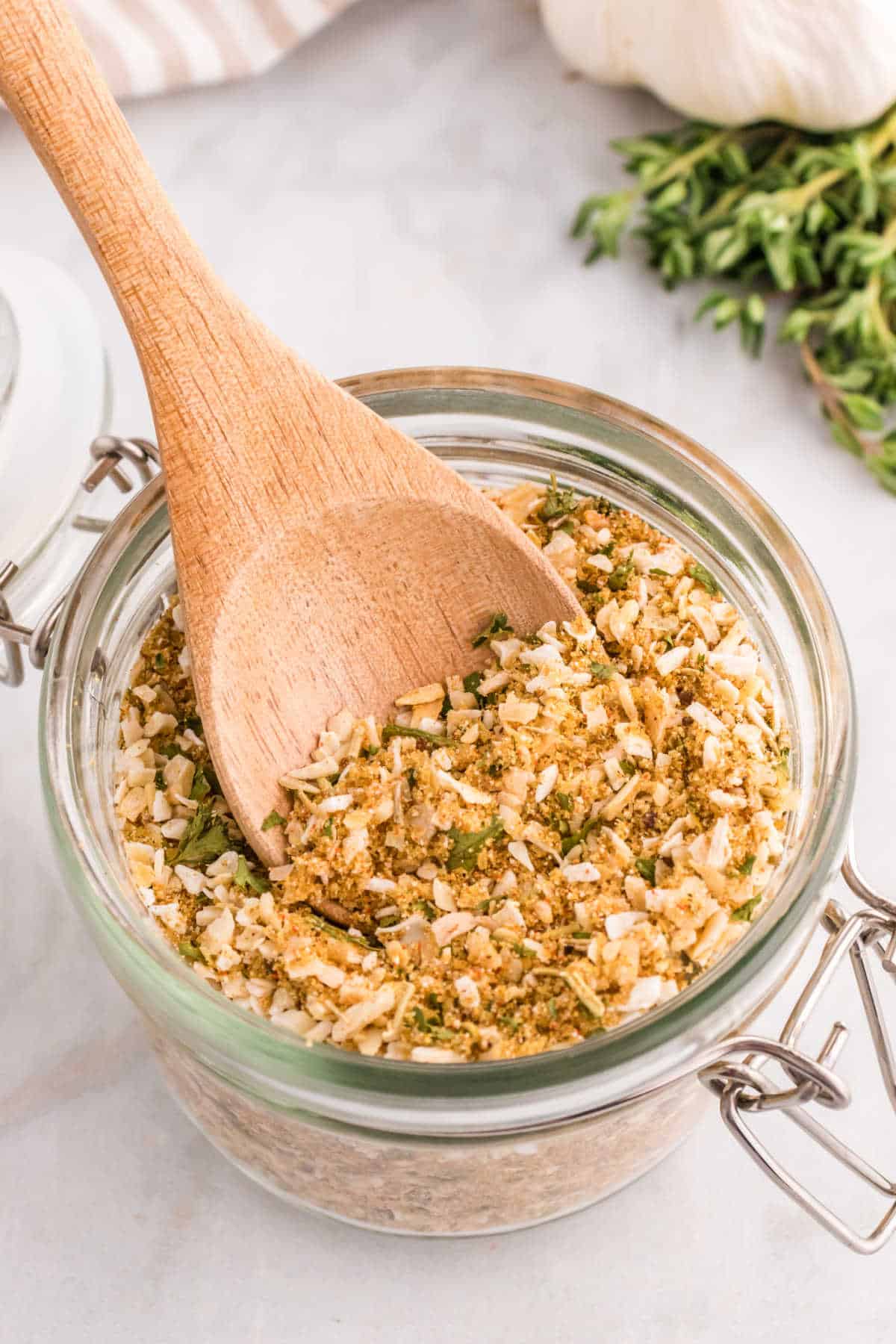 FAQ
How do I use this onion soup mix to make onion soup?
Mix three tablespoons of onion soup mix with 3 cups of water in a saucepan to make onion soup using this mix. Bring it to a boil, let it simmer for 10-15 minutes, and your onion soup will be ready to serve.
How long does it take to make this onion soup mix?
This recipe only takes 5 minutes to put together. Within a few minutes, you will have a versatile and flavorful mix perfect for enhancing your favorite recipes.
Spice Mixes
Follow me on Instagram @simplystacieblog, Facebook at Simply Stacie, TikTok @simplystacierecipes or Pinterest at @simplystacie and let me know how you liked this recipe and my other recipes.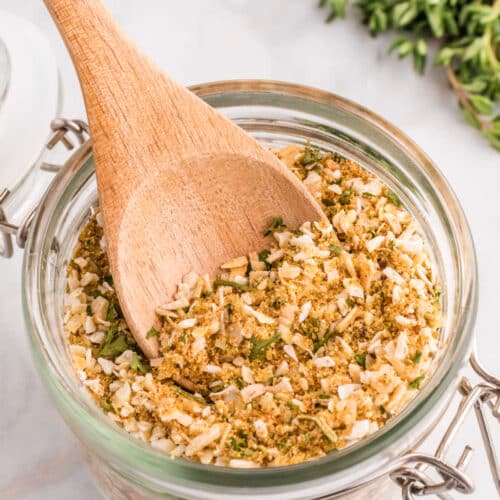 Onion Soup Mix
Looking for a homemade favorite to fill your pantry? This easy Onion Soup Mix not only allows you to whip up classic onion dip and countless other recipes in no time, but it's also a fantastic substitute for Lipton's Onion Soup Mix, giving you full control of the ingredients with no MSG or preservatives.
Print
Facebook
Pin
Share by Email
Rate
Ingredients
¼

cup

minced onion flakes

2

tbsp

beef bouillon powder

2

tsp

dried parsley flakes

1

tsp

onion powder

½

tsp

dried thyme

½

tsp

garlic powder

¼

tsp

black pepper

¼

tsp

celery salt

¼

tsp

paprika
Instructions
In a small bowl, stir together all the ingredients.

Store in an airtight container or mason jar for up to 1 year.
Kitchen Tools
Notes
Makes about ¼ cup of onion soup mix.
Nutrition
Calories:
21
kcal
|
Carbohydrates:
4
g
|
Protein:
1
g
|
Fat:
0.3
g
|
Saturated Fat:
0.1
g
|
Polyunsaturated Fat:
0.02
g
|
Monounsaturated Fat:
0.1
g
|
Cholesterol:
0.3
mg
|
Sodium:
797
mg
|
Potassium:
82
mg
|
Fiber:
1
g
|
Sugar:
2
g
|
Vitamin A:
17
IU
|
Vitamin C:
3
mg
|
Calcium:
16
mg
|
Iron:
0.3
mg
The information shown is an estimate provided by an online nutrition calculator. It should not be considered a substitute for a professional nutritionist's advice.
Love Recipes? Join our Free Facebook Group!
Join Mom's Best Recipes to find more delicious family recipes.
Save
Saved!