Spice up your dishes with this homemade Cajun Seasoning that brings a zesty and bold kick to your favorite recipes. With its perfect blend of spices, it's the best way to add flavor and heat to your meals, and you'll find it's even better than any store-bought option you've tried.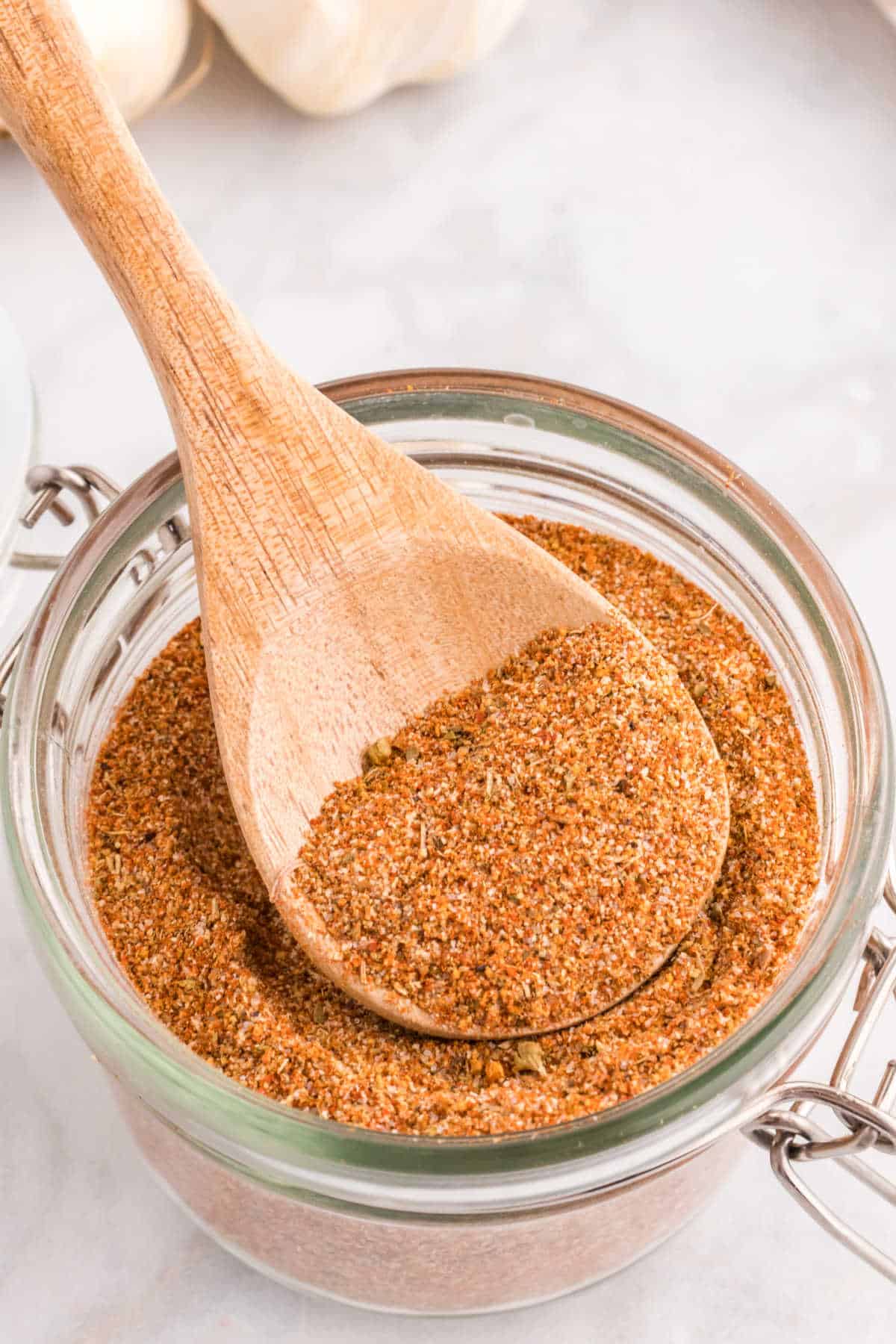 If you love bold seasoning, you are in the right place. This Cajun seasoning is sure to knock your socks off. Perfect for all your summer cooking, gatherings, and picnics, you are going to make this recipe over and over again. It can be used for seasoning pretty much anything. This seasoning can add a great punch to every dish, from chicken and vegetables to soups, stews, and marinades.
The best part? Making Cajun seasoning from scratch allows you to control the quality and freshness of the ingredients. By using high-quality spices, you'll unlock the full potential of this seasoning blend, enhancing the overall flavor of anything you use it on. Make your own Cajun seasoning at home, and you won't regret it.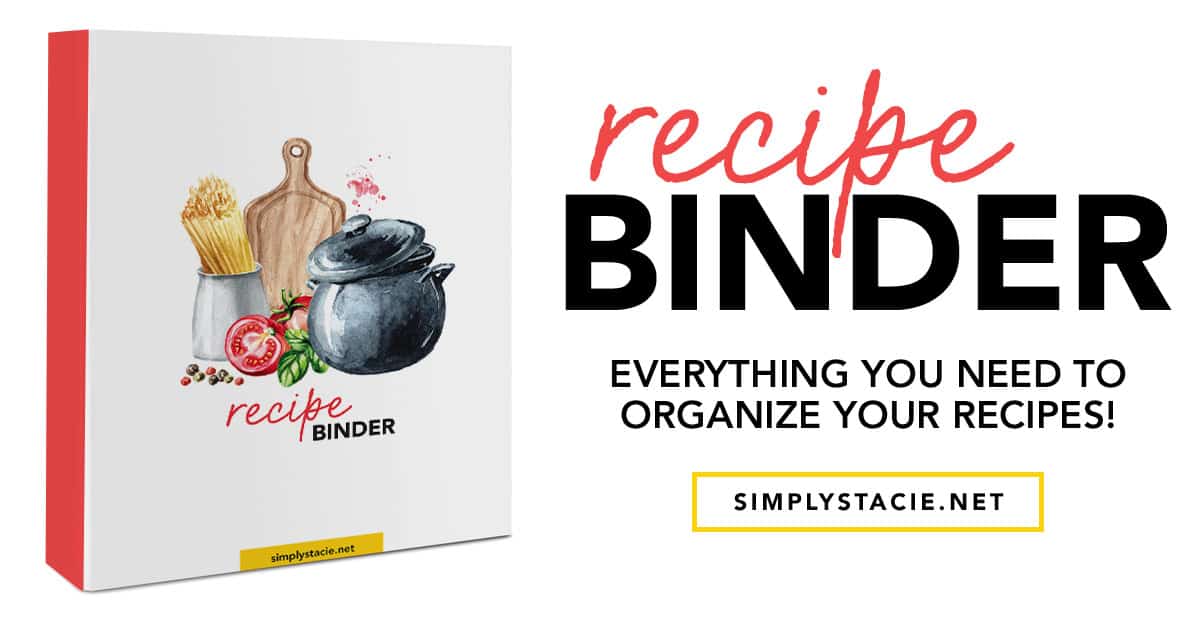 Why You'll Love Cajun Seasoning
Unique Flavor: Cajun seasoning offers a distinct and exciting flavor profile that sets it apart from other spice blends. Combining herbs, spices, and a touch of heat creates a bold and robust taste that will captivate the palate. Cajun-seasoned dishes will surprise and delight your family, friends, and guests with their unique and memorable flavor.
Versatile: Cajun seasoning is versatile and can be used in various dishes. It adds flavor to nearly anything you cook, from meats and seafood to vegetables, soups, and stews. Its adaptability allows you to experiment with different recipes and explore new culinary horizons.
Easy and Quick to Make: Making Cajun seasoning is a breeze. You can create a flavorful blend in minutes with just a few simple ingredients and a mixing bowl. The simplicity of this recipe makes it a convenient choice for busy people who want to add a punch of flavor to their meals without spending their entire lives in the kitchen.
Cost-Effective: Store-bought spice blends can be expensive, especially if used frequently. Making Cajun seasoning at home saves you money by purchasing individual spices in bulk and creating your blend.
Customizable: Making your own Cajun seasoning allows you to customize it according to your tastes. You can easily adjust the heat level, tweak the ratios of spices, or even add your favorite ingredients to create a unique blend that suits your taste buds perfectly.
Healthier Option: When you control the ingredients, you can opt for high-quality spices and adjust the salt content to your liking. This allows you to reduce unnecessary additives and preservatives commonly found in store-bought seasoning blends, making your homemade version a healthier choice.
Ingredients
The full printable recipe card with measurements and instructions is found at the bottom of the post.
Dried oregano
Garlic powder
Smoked paprika
Dried thyme
Onion powder
Cayenne pepper
Ground coriander
Mustard powder
Salt
Black pepper
How to Make Cajun Seasoning
Step One: In a small mixing bowl, combine all of the ingredients.
Step Two: Stir the mixture until well combined and all the spices are evenly distributed.
Step Three: Store the homemade Cajun seasoning recipe in an airtight container or jar.
Step Four: Use the seasoning as desired, adding it to your favorite dishes for a Cajun kick. It can season meats, vegetables, soups, stews, and more.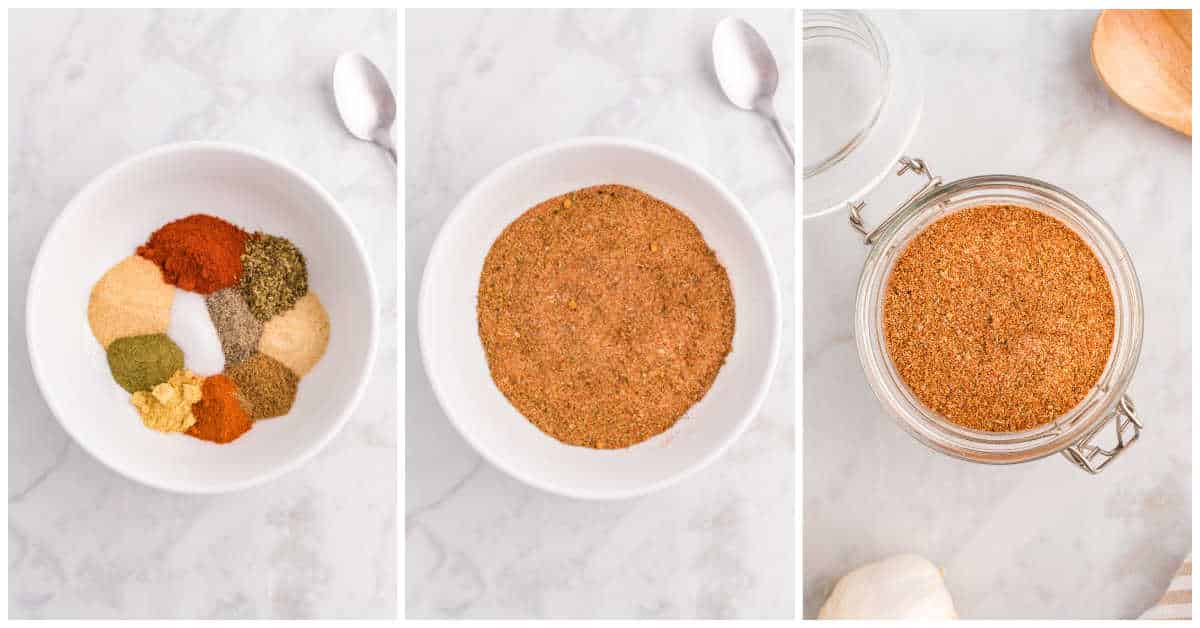 Equipment Needed
This post contains affiliate links.
What to Serve with Cajun Seasoning
Grilled Meats: Sprinkle Cajun seasoning on grilled chicken, steak, pork chops, or shrimp for a flavorful and slightly spicy kick. This seasoning adds depth and enhances the natural flavors of the meat.
Seafood: Cajun seasoning is a perfect match for seafood dishes. Use it to season grilled or blackened fish, shrimp, scallops, or even crab cakes. It adds a delicious Cajun flair that complements the delicate flavors of seafood.
Roasted Vegetables: Toss vegetables like potatoes, sweet potatoes, carrots, bell peppers, or Brussels sprouts with Cajun seasoning before roasting. The blend of spices adds a savory and slightly spicy element, taking your roasted veggies to the next level.
Soups and Stews: This is a fantastic addition to hearty soups and stews. Season gumbo, jambalaya, red beans, rice, or even chili with it.
Rice and Pasta Dishes: Mix Cajun seasoning into rice dishes like jambalaya or dirty rice for a flavorful twist. It can also be sprinkled over pasta dishes like Cajun shrimp pasta or Cajun-style mac and cheese to add a zesty kick. It makes a delicious addition to pasta sauces and adds a delicious flavor to the rice.
Grilled Vegetables: Season grilled vegetables such as corn on the cob, eggplant, zucchini, or asparagus with this delicious spice mixture.
Dips and Sauces: Incorporate Cajun seasoning into homemade dips and sauces. Add it to mayonnaise-based dips, barbecue sauces, or aioli for a spicy and flavorful accompaniment to snacks, sandwiches, or grilled meats.
Snacks and Appetizers: Sprinkle your seasonings on popcorn, roasted nuts, or homemade potato chips for a zesty and addictive snack. It's also great for seasoning roasted chickpeas or adding a kick to deviled eggs.
Variations and Substitutions
Spice Intensity: Adjust the heat level of the Cajun seasoning by increasing or decreasing the amount of cayenne pepper or adding a pinch of red pepper flakes. You can make it as spicy or tame as you like.
Herbs and Spices: While traditional Cajun seasoning includes dried oregano, dried thyme, and ground coriander, you can experiment with other herbs and spices to add your twist. Add dried basil, dried parsley, or even a touch of ground cinnamon to switch it up.
Smoky Flavor: If you enjoy a smoky flavor, use smoked paprika or add a small chipotle powder to the seasoning blend. This will impart a delicious smoky undertone to your dishes and elevate the cajun flavor.
Fresh Herbs: While the recipe calls for dried herbs, you can substitute fresh herbs if you want to. Remember that the flavor may vary, so adjust the quantities according to taste. Use three times more fresh herbs than dried herbs as a general guideline.
Personalize the Ratios: Feel free to adjust the quantities of individual spices to suit your taste. You can experiment with different ratios, adding more of your favorite spices or reducing others to create a Cajun seasoning blend personalized just for you.
Storage Instructions
Storing your cajun spice blend is easy. Simply store your mixed seasoning in an airtight container or jar in a cool, dry place. Cajun seasoning can last for several months. However, to keep its bold flavor, it is recommended to use it within 6-12 months.
Can I Freeze?
Freezing Cajun seasoning is possible, but it's generally not advisable as it can affect the quality and texture of the seasoning. The moisture content in salt can cause clumping when thawed, leading to an uneven texture and distribution. Instead, it's best to follow the earlier mentioned storage instructions for long-term storage: store the Cajun seasoning in an airtight container in a cool, dry place. This method preserves the flavor and texture of the seasoning without the risks associated with freezing.
Recipe Tips and Tricks
Use High-Quality Ingredients: To achieve the best flavor, try to use fresh, high-quality spices. Fresh spices have a more potent and vibrant flavor than older ones, making your seasoning even more vibrant and delicious.
Label the Seasoning: When storing your jar of Cajun seasoning in your spice cabinet, consider labeling the container with the date you prepared it. This will help you keep track of its freshness and use it within the recommended time frame.
Recipe Experimentation: Don't be afraid to get creative with the Cajun seasoning. Feel free to use it in different recipes and explore its versatility. Try it on other meats, vegetables, and soups, or even sprinkle it on popcorn for a flavorful snack. The possibilities are endless!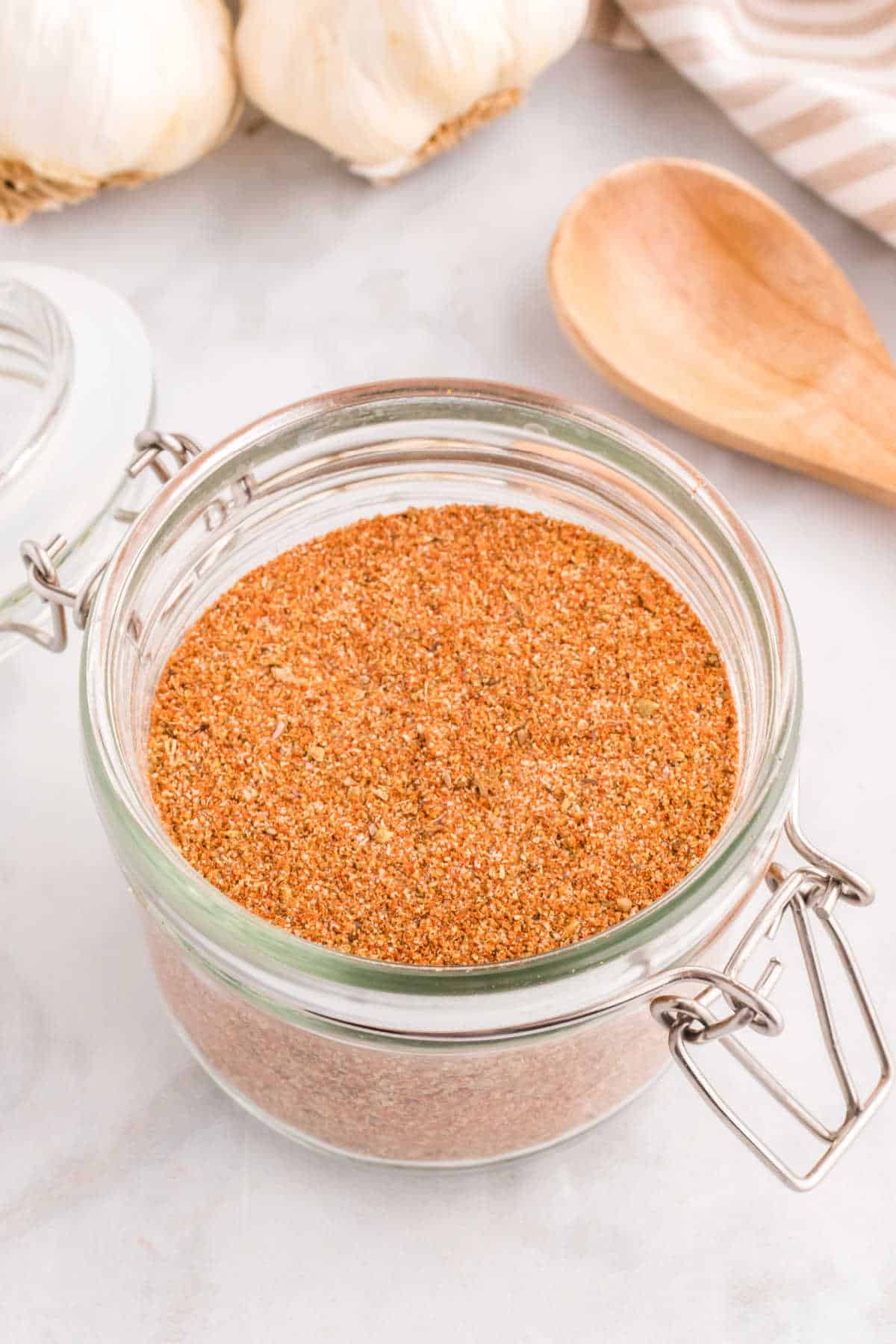 What is Cajun Seasoning?
Cajun seasoning is a flavorful spice blend from Louisiana, USA, specifically Cajun cuisine. It is known for its bold and robust flavor profile, incorporating a combination of herbs, spices, and sometimes a touch of heat. Cajun seasoning typically includes ingredients such as dried oregano, garlic powder, smoked paprika, dried thyme, onion powder, cayenne pepper, ground coriander, mustard powder, salt, and black pepper.
What Dishes Can I Use Cajun Seasoning In?
You can use your homemade spice blend in so many dishes. Homemade Cajun seasoning tastes delicious in so many different applications. From grilled meats and seafood to soups and even popcorn, cajun seasoning adds a delightful twist and authentic flavors to several dishes.
Is Cajun Seasoning Spicy?
Yes, Cajun seasoning is known for its spiciness. It typically includes cayenne and black pepper, which contribute to its heat. However, the level of spiciness can vary depending on the specific blend and the amount of pepper used. Some Cajun seasoning blends may have a mild to moderate spiciness, while others can be hot. You can always customize your homemade cajun seasoning blend to ensure it has your desired heat level.
Can I Adjust the Heat?
Absolutely! One of the best parts of making your Cajun seasoning is controlling the heat level. You can easily adjust the spiciness to suit your preferences. If you want it milder, reduce the cayenne pepper in the recipe. If you want it spicer, use more cayenne pepper, red pepper flakes, or even hot paprika.
What is the Difference Between Cajun Seasoning and Creole Seasoning?
Cajun seasoning and Creole seasoning are popular spice blends associated with Louisiana cuisine, but they have distinct differences in their origins, flavors, and typical ingredient profiles.
For example, Cajun seasoning mix originates from descendants of French Arcadians, and Creole seasoning is associated with the urban cooking of Creole people in New Orleans. The flavor profiles are different as Cajun seasoning typically has a bold, spicy flavor, and Creole seasoning focuses more on savory, sweet, and spicy notes.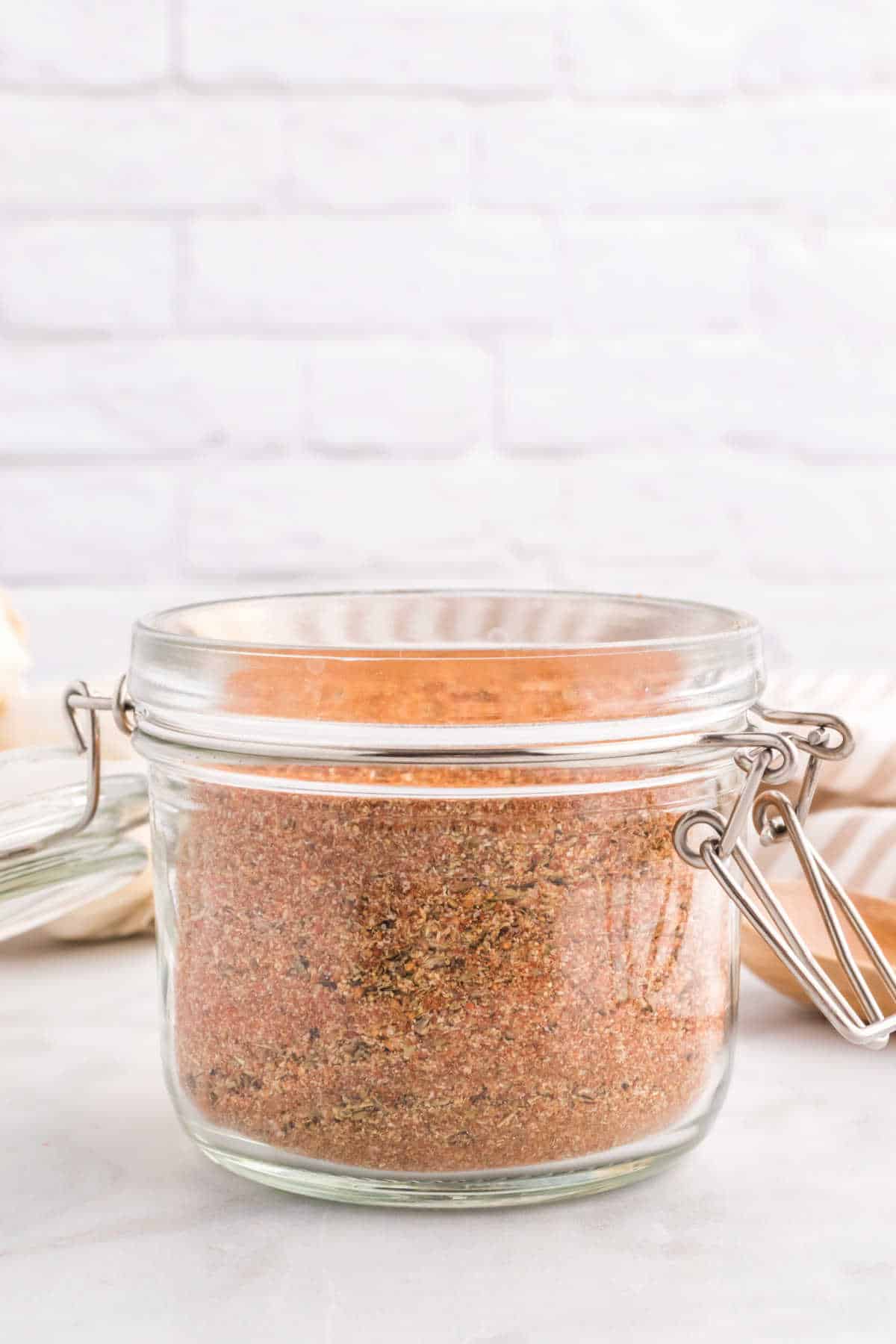 FAQ
Is the Cajun seasoning recipe gluten-free?
The ingredients listed in this recipe are gluten-free, indicating that the resulting Cajun seasoning should also be gluten-free. However, you must verify the gluten-free status of individual spice labels, especially if you have specific dietary restrictions.
How long does this seasoning take to make?
This seasoning takes very little time to make. It only takes 5 minutes to put all the ingredients together.
Seasoning Recipes
Try my Yum Yum Sauce.
Follow me on Instagram @simplystacieblog, Facebook at Simply Stacie, TikTok @simplystacierecipes or Pinterest at @simplystacie and let me know how you liked this recipe and my other recipes.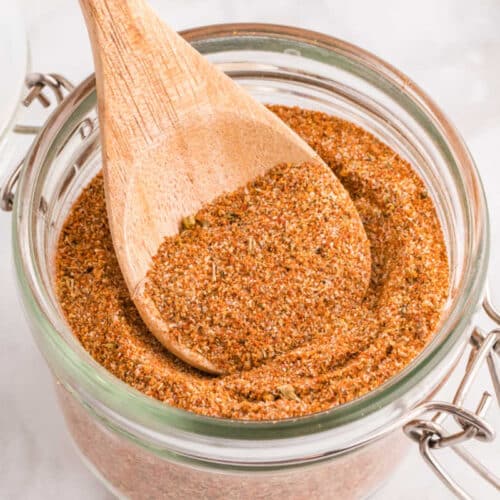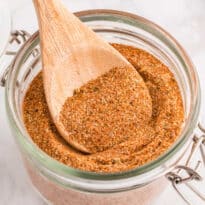 Cajun Seasoning
Spice up your dishes with this homemade Cajun Seasoning that brings a zesty and bold kick to your favorite recipes. With its perfect blend of spices, it's the best way to add flavor and heat to your meals, and you'll find it's even better than any store-bought option you've tried.
Print
Facebook
Pin
Share by Email
Rate
Ingredients
2

tbsp

dried oregano

2

tbsp

garlic powder

2

tbsp

smoked paprika

1

tbsp

dried thyme

1

tbsp

onion powder

2

tsp

cayenne pepper

2

tsp

ground coriander

2

tsp

mustard powder

2

tsp

salt

1

tsp

pepper
Instructions
Add all ingredients to a small mixing bowl and stir to combine.

Add the seasoning to an airtight container or jar.
Kitchen Tools
Nutrition
Calories:
13
kcal
|
Carbohydrates:
3
g
|
Protein:
1
g
|
Fat:
0.4
g
|
Saturated Fat:
0.1
g
|
Polyunsaturated Fat:
0.1
g
|
Monounsaturated Fat:
0.1
g
|
Sodium:
293
mg
|
Potassium:
58
mg
|
Fiber:
1
g
|
Sugar:
0.2
g
|
Vitamin A:
556
IU
|
Vitamin C:
1
mg
|
Calcium:
23
mg
|
Iron:
1
mg
The information shown is an estimate provided by an online nutrition calculator. It should not be considered a substitute for a professional nutritionist's advice.
Love Recipes? Join our Free Facebook Group!
Join Mom's Best Recipes to find more delicious family recipes.
Save
Saved!