Slow Cooker Cranberry Chicken is the best savory way to use canned cranberry sauce! Let this shredded chicken simmer all day in a sweet and savory sauce for a great weeknight dinner or meal prep recipe.
Cranberry sauce is a staple for our Christmas dinners, and I miss the flavor all year. This Slow Cooker Cranberry Chicken is a sweet and savory shredded chicken covered in a luscious homemade sauce. But it only takes a handful of pantry staples and some fresh thyme to make!
Is there anything more Christmas-y than cranberries? Plus, cranberries pair beautifully with poultry! I even add them to my Crockpot Orange Chicken recipe for some extra tang.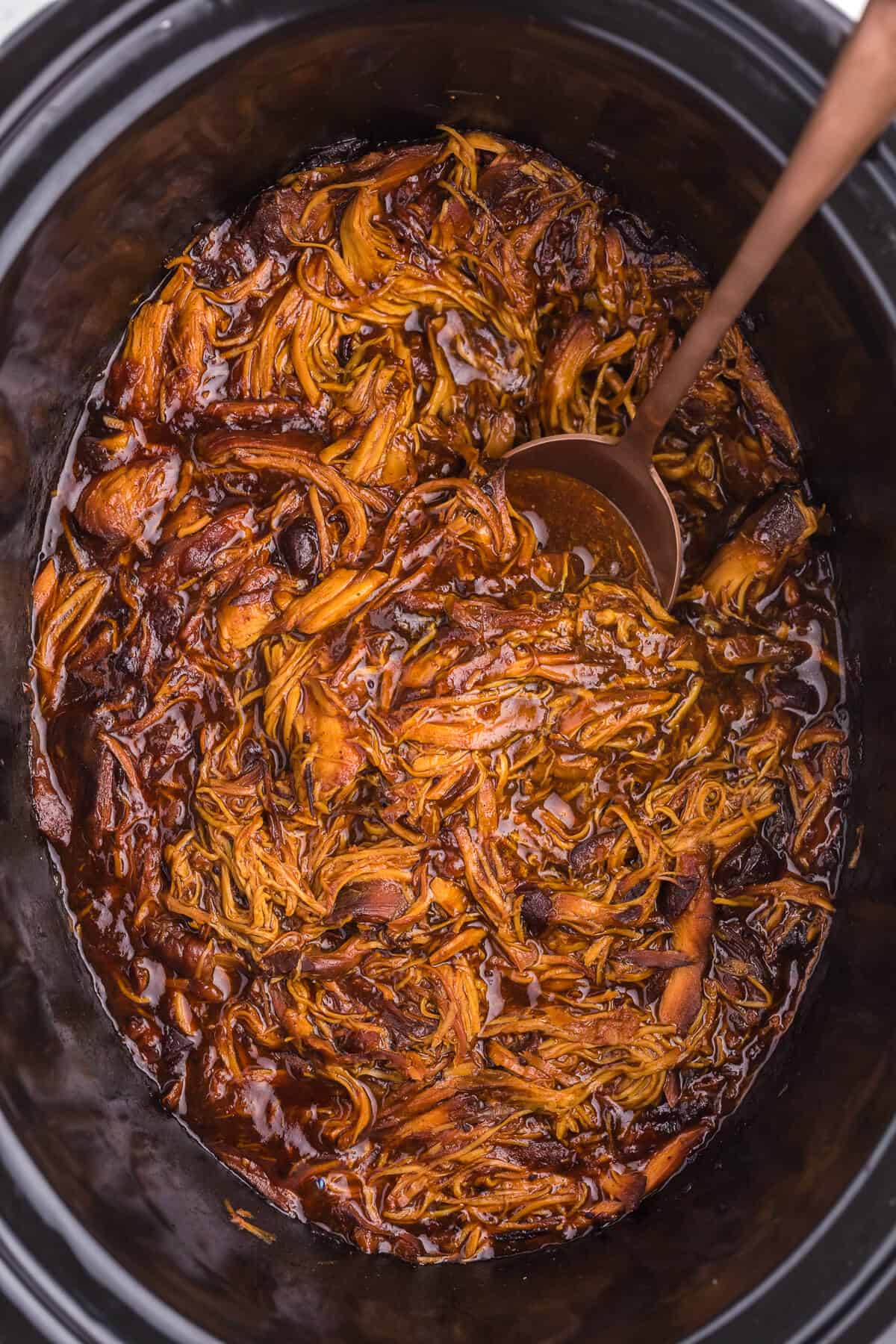 I adore using my slow cooker during the colder months of the year. Scratch that. I use my slow cooker all year round, but it gets a ton of use in the fall and winter.
It's so easy to dump your ingredients in it and let it do all the hard work. I find meat comes out more tender and flavorful when it's slow cooked.
Ingredients
Boneless, skinless chicken breasts
Whole cranberry sauce
Onion soup mix
Barbecue sauce
Ground ginger
Allspice
Fresh thyme
I love boneless, skinless chicken breasts and tend to use them in my recipes. The price is right and my family always gobbles them up. This recipe would work still if you want to substitute other types of chicken. Maybe chicken drumsticks or thighs? Whatever your preference is, give it a whirl.
What I used for my Cranberry Chicken
This post contains affiliate links.
Meat thermometer: Chicken can look fully cooked, but when you cut into it, it's still pink. A meat thermometer is the best way to tell if your chicken is done or if your steak is just right.
Mixing bowls: There's barely any cooking in this slow cooker chicken recipe, but mixing bowls help make the sauce smoother. It's hard to mix in the Crockpot with raw chicken in the way!
Slow cooker: There's nothing you need more in a kitchen than your Crockpot. It's the best for making tailgating dips, lasagna, and even desserts! You can adapt any recipe for a slow cooker, truly.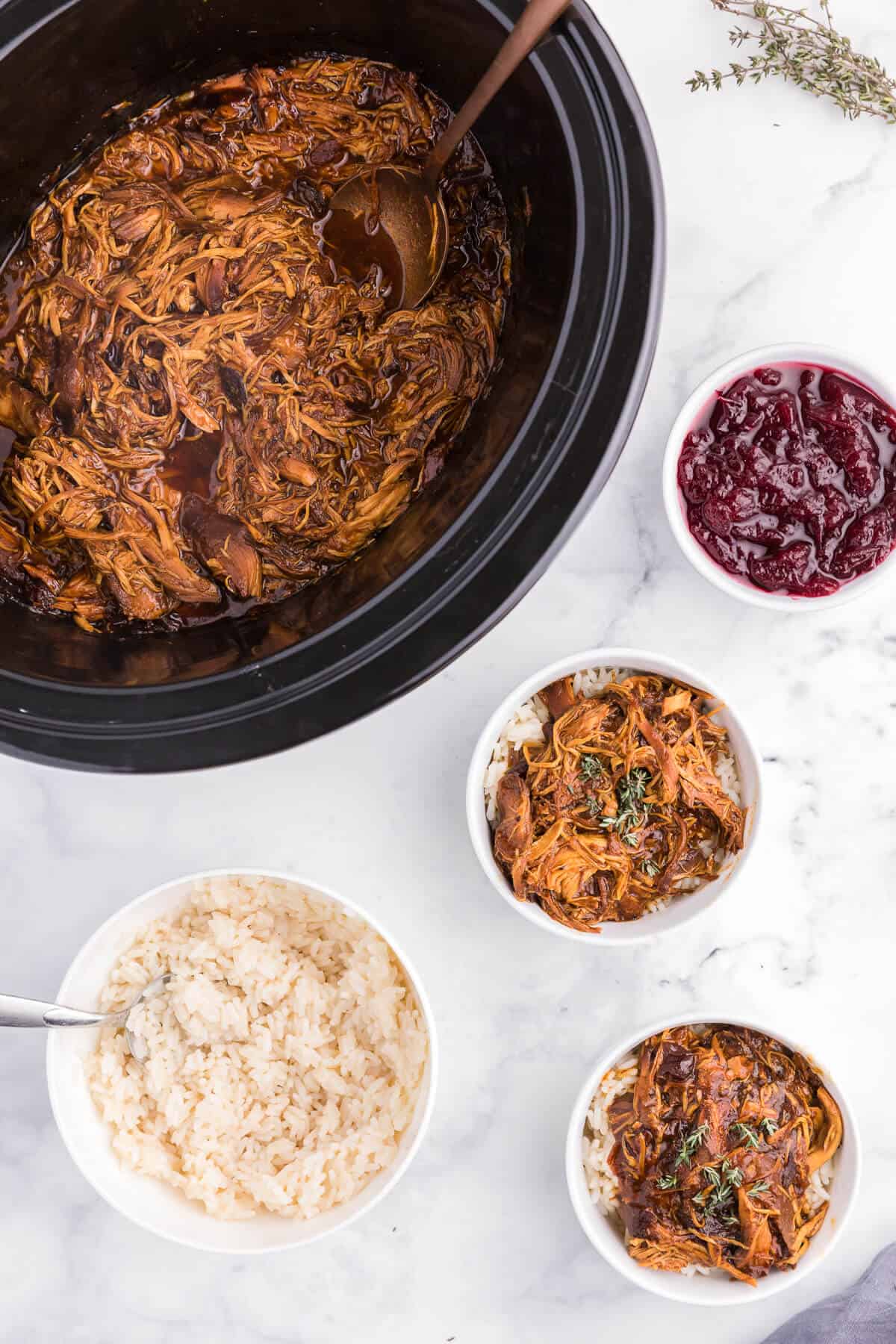 How to Make Shredded Cranberry Chicken in a Crockpot
First, put the chicken breasts in the bottom of the slow cooker.
Then, mix the cranberry sauce, onion soup mix, barbecue sauce, ground ginger, and allspice together. Pour the cranberry sauce mixture over the chicken breasts and cover the slow cooker.
Now, cook the chicken for about 8 hours on low or a few hours on high. You can use a meat thermometer to be sure the chicken is done! Shred the chicken in the Crockpot and serve it with all the yummy sauce.
The sauce is sweet and savory with a kick of Christmas spices! To finish off, I topped with fresh thyme. It may sound like a mishmash of ingredients, but they blend together beautifully when slow cooked.
I think it even looks the part with its rich red hues and green accents. It's a festive feast with tender, juicy flavour!
Is It Ok to Put Raw Chicken in a Slow Cooker?
The joys of the Crockpot is it takes care of everything! From melding flavors in an amazing sauce to even cooking frozen meat without thawing.
I love to cook raw chicken in a Crockpot because it stays super moist. Much like boiling chicken, the sauce and steam envelops the chicken and cooks it without losing the juices. And it's way more flavorful than a simple boiled chicken breast!
When you're cooking chicken, no matter the method, always be sure your chicken reaches at least 165 degrees F internally to kill all the potential salmonella germs.
Is It Better To Cook Chicken on Low or High in the Crockpot?
A slow cooker is one of the best ways to make chicken. It keeps the chicken from drying out and can make shredded chicken with minimal work.
Most Crockpots have two main settings, high and low. When I have the time, I prefer to cook my Slow Cooker Cranberry Chicken on low for about 8 hours. It makes the most tender chicken breasts, smothered in sauce and full of flavor.
If you don't have the time, cook your chicken on high! It may not absorb quite as much cranberry sauce flavor, but it will still make an amazing weeknight chicken dinner!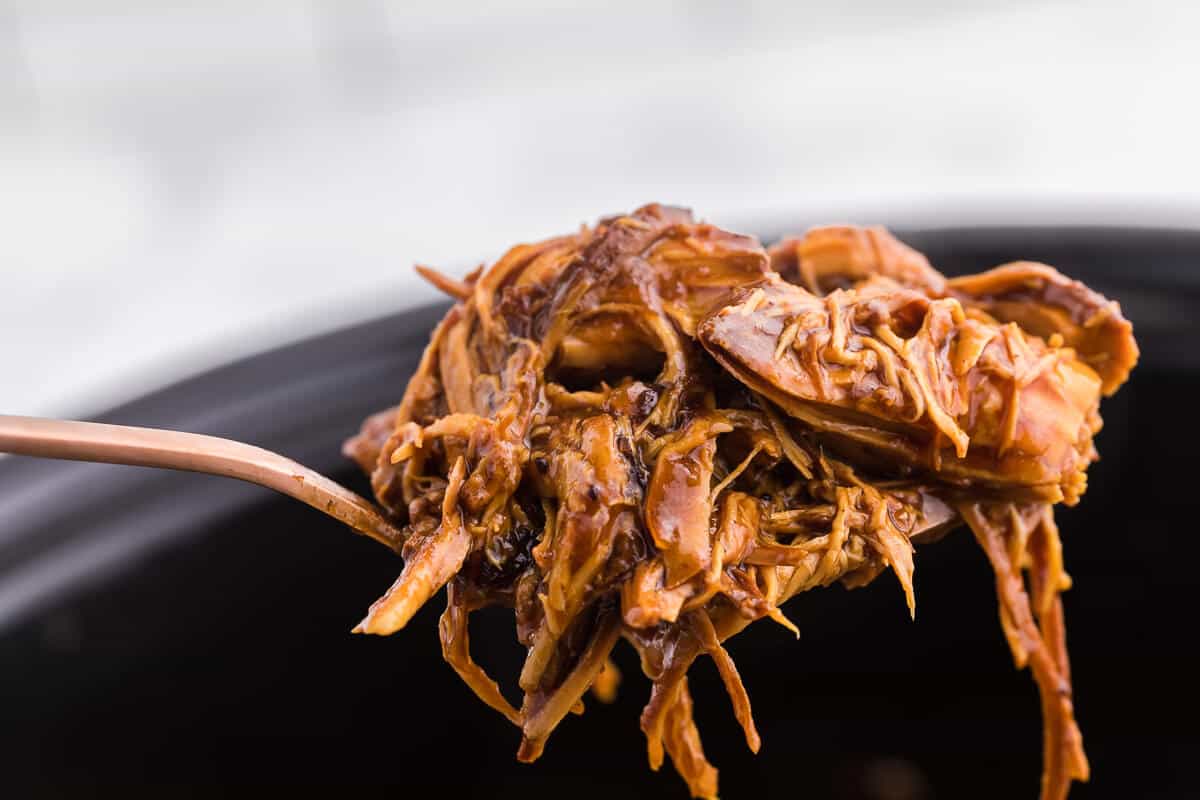 What's the Benefit of Local Chicken?
Disclosure: I am participating in the Chicken Farmers of Canada campaign managed by SJ Consulting. I received compensation in exchange for my participation in this campaign. The opinions on this blog are my own.
There are many reasons why I support the Chicken Farmers of Canada and it's not just because they are super nice folks! Though they truly are.
I love Canadian chicken because I know that chickens are raised with top-quality care and food safety standards. I know I'm getting a good product when I buy Canadian chicken.
It also supports the Canadian economy by keeping people employed in Canada. I also like the price. Chicken prices are more reasonably priced at my local grocery stores when compared to other types of meat.
What to Serve with Slow Cooker Cranberry Chicken
I like to whip up some of my favorite easy holiday side dishes when I make this recipe. It brings a little Christmas magic to our dining table.
There's no better side than mashed potatoes. These loaded mashed potatoes are so easy to whip up, cover with toppings, and bake!
Cheese goes with everything. If you love roasted Brussels sprouts, try them baked with cheese. Think mac and cheese, but with veggies.
Green Beans with Warm Pistachio Vinaigrette is an elegant but easy green bean recipe to serve up any day of the week. The flavors go perfectly with this tangy shredded chicken dish, too. A match made in heaven!
You'll also like this Cranberry Relish.
Other amazing slow cooker recipes to try…
Do you have any amazing Crockpot recipes? I'm always looking for more recipes to try! Follow me on Instagram @simplystacieblog, on Facebook at Simply Stacie, and on Pinterest @SimplyStacie and let me know how you liked this and my other recipes!
Slow Cooker Cranberry Chicken
Tender chicken breasts slow cooked with a sweet & savoury cranberry sauce flavoured with ginger and allspice.
Print
Facebook
Pin
Share by Email
Rate
Ingredients
4 to 5

boneless skinless chicken breasts

1

can

whole cranberry sauce

348ml can

1

package

onion soup mix

1

cup

barbecue sauce

¼

tsp

ground ginger

¼

tsp

allspice

1

tbsp

fresh thyme
Instructions
Place chicken breasts in a slow cooker.

In a medium mixing bowl, stir together cranberry sauce, onion soup mix, barbecue sauce, ground ginger and all spice. Pour mixture on top of the chicken in the slow cooker.

Cook on high for 3 to 4 hours or low for 7 to 8 hours. Use a meat thermometer to make sure chicken is cooked to the proper temperature.
Kitchen Tools
Nutrition
Serving:
1
g
|
Calories:
538
kcal
|
Carbohydrates:
71
g
|
Protein:
48
g
|
Fat:
6
g
|
Saturated Fat:
2
g
|
Polyunsaturated Fat:
3
g
|
Cholesterol:
128
mg
|
Sodium:
992
mg
|
Fiber:
2
g
|
Sugar:
56
g
The information shown is an estimate provided by an online nutrition calculator. It should not be considered a substitute for a professional nutritionist's advice.
Love Recipes? Join our Free Facebook Group!
Join Mom's Best Recipes to find more delicious family recipes.
Save
Saved!