Through my partnership with Patak's Canada and Blue Dragon Canada as a Cultured Kitchen Ambassador, I'm given a monthly challenge. For December, the challenge was to create a recipe using chutney! As soon as I read what the challenge was, my mind started swirling with ideas. Did I want to create an entree or appetizer? Or maybe a dessert? I ended up settling on an appetizer since I'll be making lots of them this month for our holiday gatherings!
Patak's has three varieties of chutney: Hot Mango Chutney, Major Grey Chutney and Sweet Mango Chutney. Chutney is an Indian condiment or sauce like salsa that is typically a blend of fruits cooked in sugar and spices. Did you know that there are more than 3,000 varieties of chutney?! Each family usually has their own unique version. I debated on which type to use for my recipe, but ended up settling on the Sweet Mango Chutney. I knew it would pair beautifully with the appetizer recipe I had planned to make.
My recipe is a extremely easy, mouthwatering and ADDICTING. Meet your new favourite holiday appetizer, Bacon Wrapped Chicken Bites with Mango Chutney. They were devoured in under 10 minutes – no joke!
You really only need three ingredients: chicken, bacon and Patak's Sweet Mango Chutney. I added some pepper and green onions to mine too. Use the chutney as a dipping sauce.
I used chicken fillets, but chicken breasts would also work. Make sure to cut them small enough so the bacon strip will wrap around them. You also want them to cook quickly (and evenly) in the oven so try and make them all around the same size.
I sliced each bacon strip into three pieces and wrapped each piece of bacon around the chicken chunk. Brush on some Patak's Sweet Mango Chutney and off they go.
Turn them at the 10 minute mark and brush on more chutney. I left mine to cook an additional 15 minutes.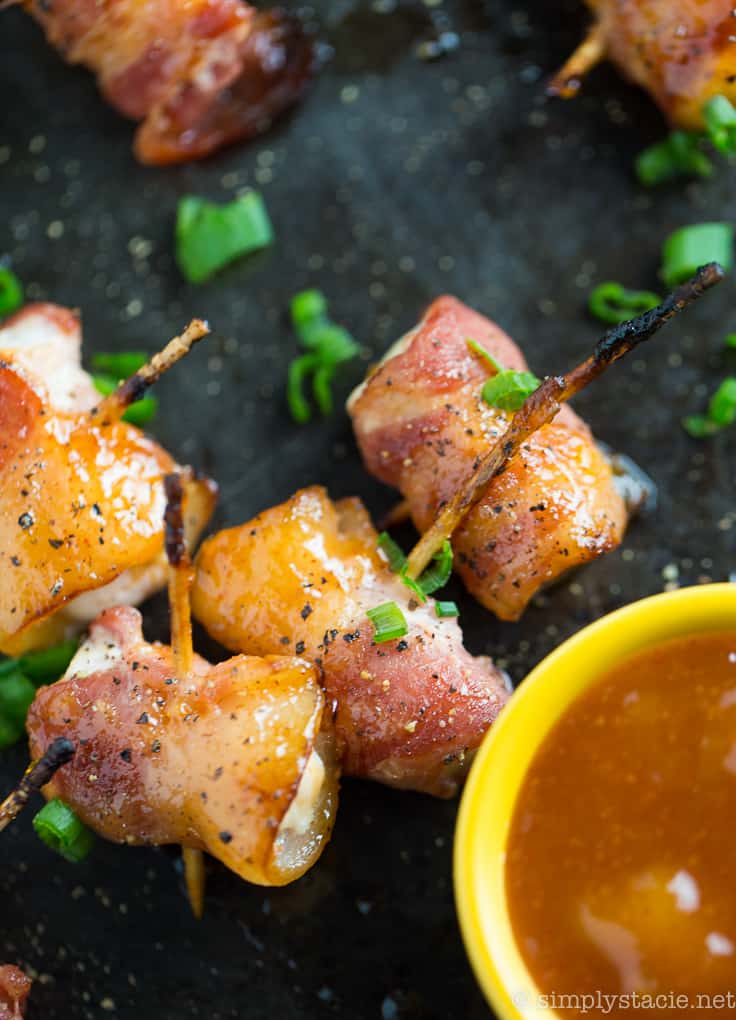 They are best served hot so get them out of the oven and onto your serving platter right away so your guests can enjoy them fresh.
Patak's makes it so easy to mix in a little India into your recipes. I've made bacon-wrapped appetizers in the past, but have never used chutney as a marinade. I'm glad I experimented with it because it's yummy! The perfect blend of sweet and savoury in one little bite.
The next time I make this recipe, I'm going to use the Hot Mango Chutney and see how it compares. I have a feeling it will also be tasty!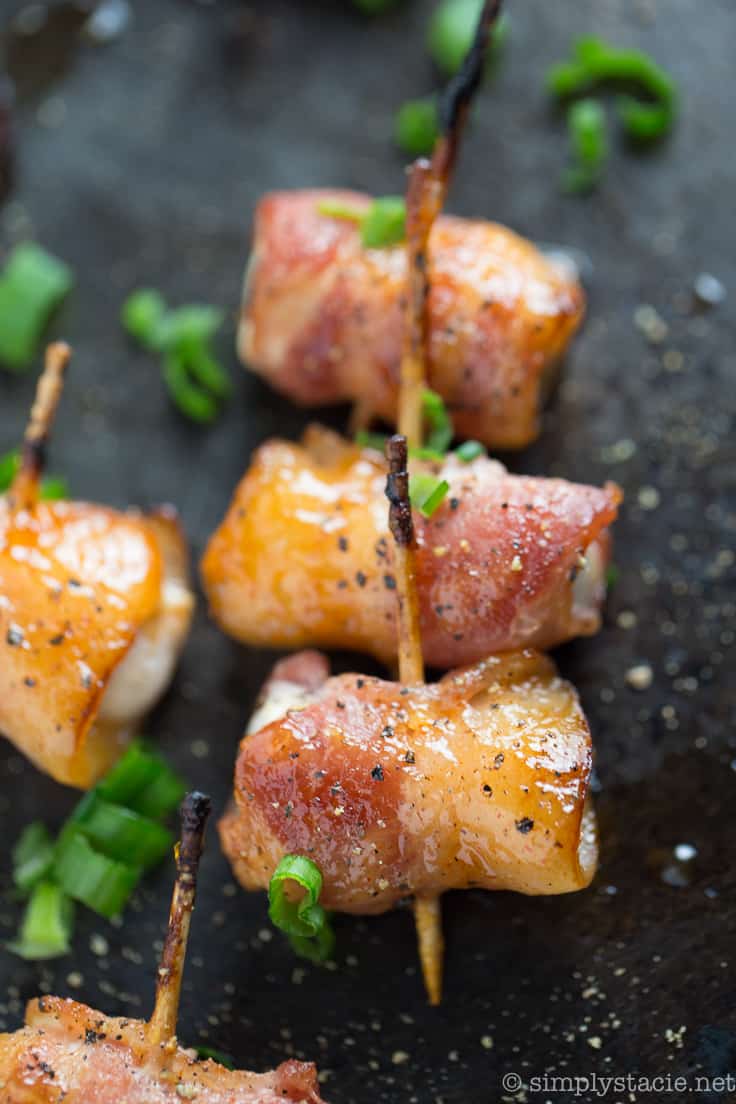 I'm doubling the recipe next time I make it because I'll have more mouths to feed. If the rate at which John and I ate these little guys are any indication, they will not last long at a holiday party!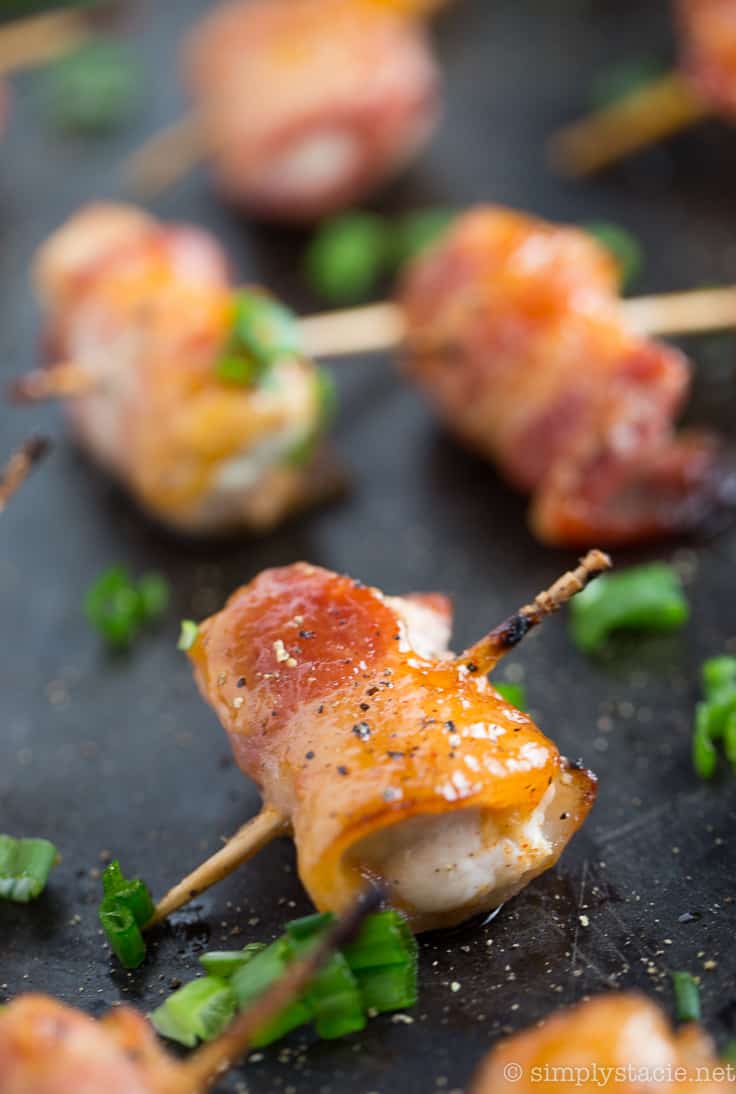 Check out my November post where I mixed in a little India by making Butter Chicken Lasagna Soup!
You'll also love these Cheesy Bacon Pinwheels or Bacon Wrapped Appetizers.
How do you use chutney in your recipes?
You might also like these Bacon Wrapped Water Chestnuts.
Connect with Patak's Canada on Facebook and Twitter.
Bacon Wrapped Chicken Bites with Mango Chutney
A showstopping appetizer on a budget! Tender chicken wrapped in bacon and smothered in mango chutney for flavor on a stick.
Ingredients
1 package bacon
3/4 lb chicken breast fillets, cut into 1 inch chunks
1/2 cup Patak's Sweet Mango Chutney plus extra for dipping
pepper, to taste
Instructions
Preheat oven to 400F.
Cut bacon strips into three even pieces. Wrap each bacon strip around chicken pieces. Secure with a wooden toothpick.
Line a baking sheet with parchment paper. Place bacon wrapped chicken on baking sheet. Brush mango chutney on each one. Bake in the oven for 10 minutes.
Remove from oven and carefully turn each bacon wrapped chicken over to the other side. Brush with mango chutney. Return to oven and bake an additional 10 to 15 minutes or until chicken and bacon are cooked. Remove from oven and season with pepper.
Serve hot with Sweet Mango Chutney for dipping, if desired.
Recommended Products
As an Amazon Associate and member of other affiliate programs, I earn from qualifying purchases.
Nutrition Information:
Yield:

40
Serving Size:

1
Amount Per Serving:
Calories:

22
Total Fat:

0g
Saturated Fat:

0g
Trans Fat:

0g
Unsaturated Fat:

0g
Cholesterol:

8mg
Sodium:

13mg
Carbohydrates:

2g
Fiber:

0g
Sugar:

2g
Protein:

3g
Disclosure: I am part of The Cultured Kitchen Ambassador program in partnership with Patak's Canada and Blue Dragon Canada and I receive special perks as part of my affiliation with this group. The opinions on this blog are my own.