This Chicken Posole is flavoured with a fragrant blend of Mexican spices and a hint of orange and served on a bed of garlic baby spinach.
I slacked on exercise over the winter months. Now that it's spring and the weather is nice, I told myself I can't make anymore excuses! I've been doing well with my diet and eating much better. I love watching the numbers go down on the scale. It makes me happy and feel like I am getting somewhere finally.
My youngest daughter was in hockey over the winter and had lots of exercise. I want to keep her active now that hockey season is over and trying to come up with fun ways we can be active as a family.
This past weekend, we went finally ventured outside to clean up the yard after winter. We have a dead tree in the backyard that we need to cut down and we all chipped in to pick up the branches that were strewn across the yard. Bridget has a trampoline that she is excited to get set up again. There shouldn't be any more snow, right? It's April! However, we decided to hold off on setting it up just in case.
Another fun family activity is going for a walk around the neighbourhood after dinner. It gets us moving and the fresh air helps to tire my daughter out so she'll sleep better at night. I missed my walks!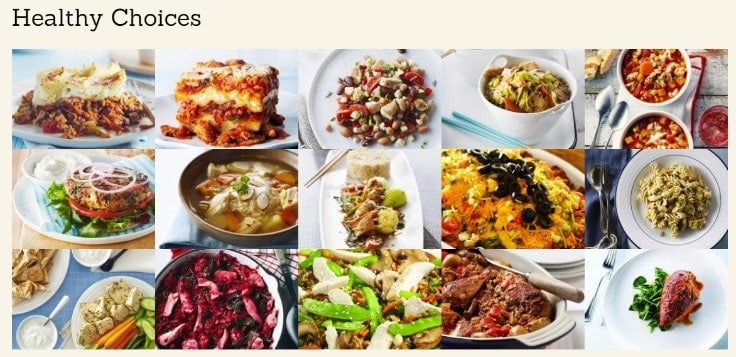 Disclosure: I am participating in the Chicken Farmers of Canada campaign managed by SJ Consulting. I received compensation in exchange for my participation in this campaign. This post contains affiliate links. The opinions on this blog are my own.
Along with getting more exercise, I've also been preparing my family healthy, flavourful meals. One of my favourite sites for dinner inspiration is Chicken.ca. I've prepared many of their recipes and always been impressed with how they've turned out. Plus, they also have a Healthy Choices category that I've been visiting often!
The search function is very handy to use, especially if you have any dietary concerns. In the Advanced Recipe Search, you can specify your dietary needs whether it be gluten-free, diabetic friendly, lower carbs, lower sugar, etc. This way you don't have to wade through recipes that aren't suitable to your diet.
Here's a bit more of a breakdown on the healthy recipe categories you can find on Chicken.ca.
Lower sodium (500 mg or less per serving). Contains ingredients have been reduced in sodium like low-sodium chicken broth or soy sauce and also uses natural flavour enhancers like lemon juice, herbs, garlic and onions.
Lower sugar (10 grams of sugar or less per serving). These recipes get their sweetness mainly from natural sugars found in vegetables like beets, carrots and green peas. They also often use aromatic flavours found in rubs, sauces or marinades containing citrus fruits and herbs like cilantro and ginger.
Lower fat (15 grams or less of total fat per serving). These recipes use skinless cuts of chicken (including dark meat), healthy cooking oils and food with unsaturated fats like avocado or pecans.
Higher Fibre (4 grams or more of fibre per serving). These recipes use beans, lentils, whole-wheat pastas, brown rice or fruits and veggies.
Diabetic-Friendly. Enjoy delicious meals and snacks that are lower in calories, fat and sodium, moderate in carbohydrates and good sources of high-quality, lean protein.
Gluten-Free. Enjoy old favourites without sacrificing flavour.
Chicken Posole
I was inspired by the Smoked Paprika & Orange Chicken Over Wilted Spinach found in the Healthy Choices section and wanted to make something similar. I had a package of Posole Spices from my subscription to Raw Spice Bar and thought it would pair nicely with the citrus flavours. It turned out beautifully. I could taste a hint of orange and a little bit of smoky heat from the posole spices. The bed of wilted spinach complemented the dish perfectly.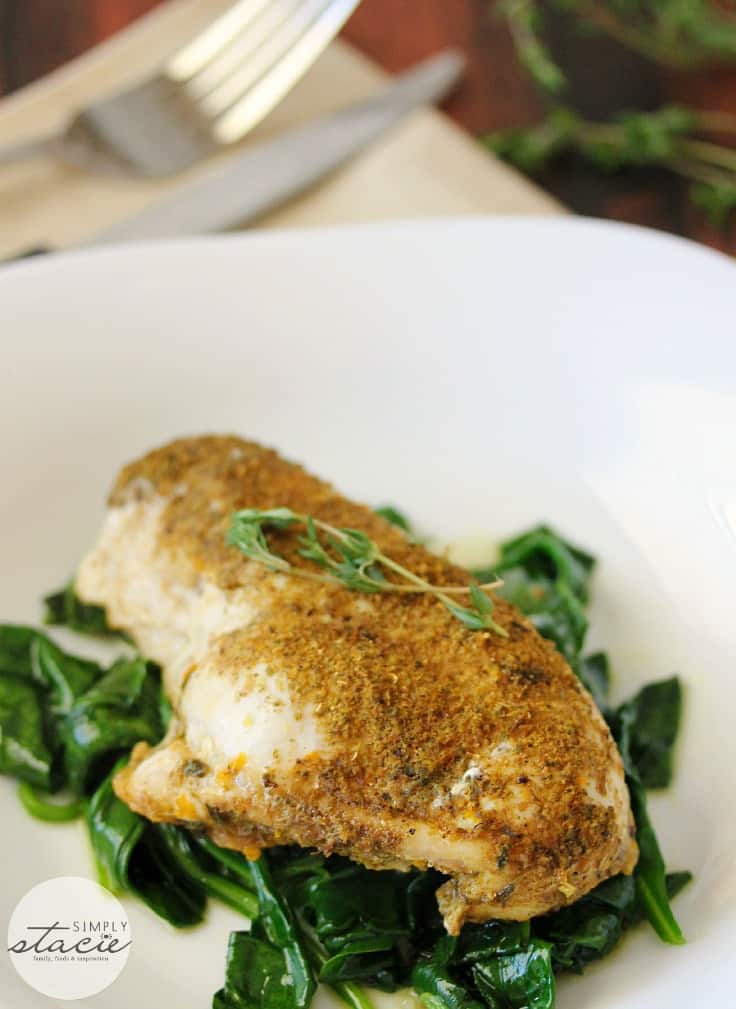 It is such a fragrant dish and your home will fill of the scents of Mexican spices and chicken.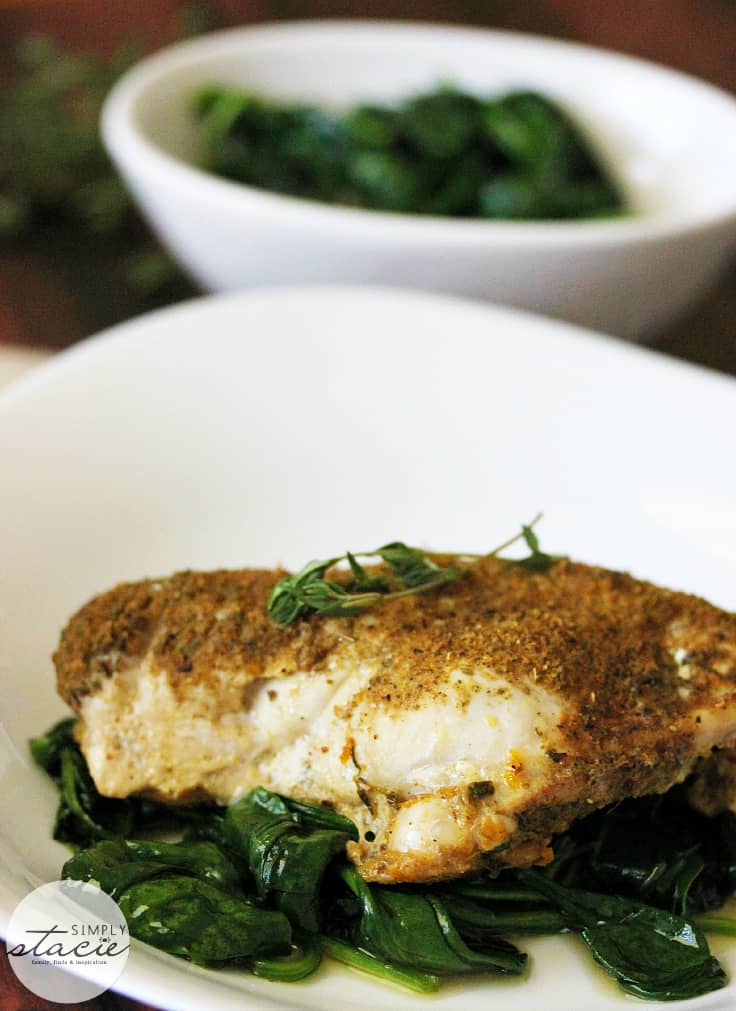 The last time I cooked with citrus, I used way too much. It wasn't oranges that time, but limes. Remember less is more! I learned that the hard way to not overdo it.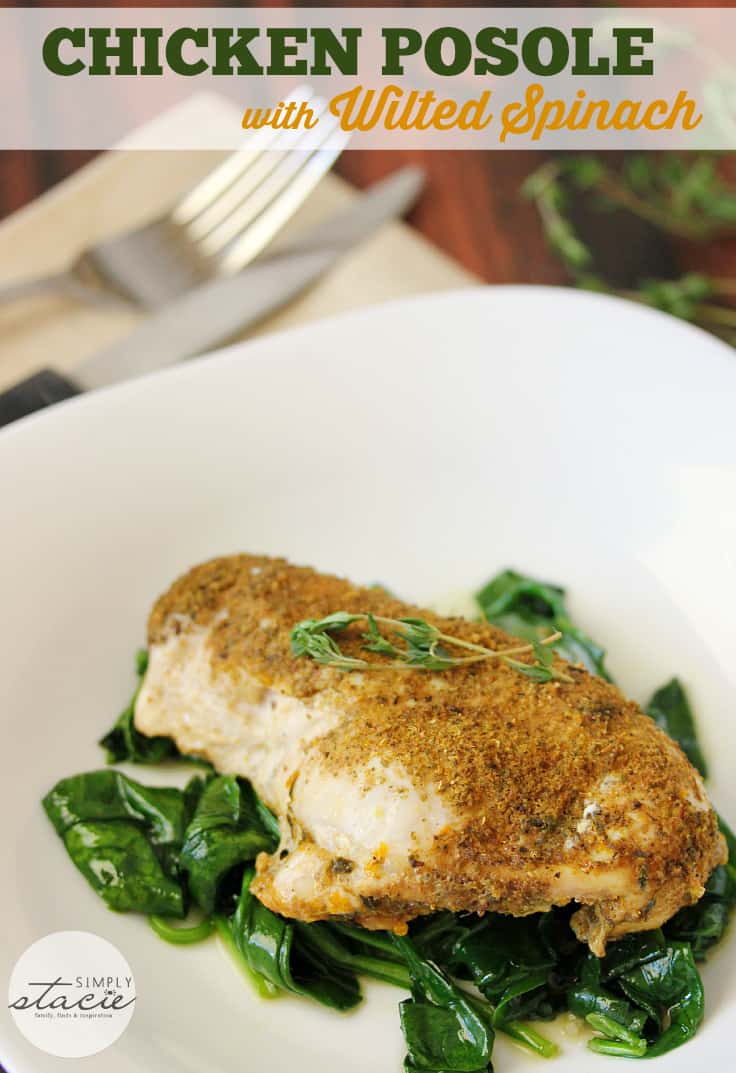 I used some fresh thyme in the recipe, but you could also substitute dried thyme if there isn't any available. Use only a 1 tsp though if you decide to substitute.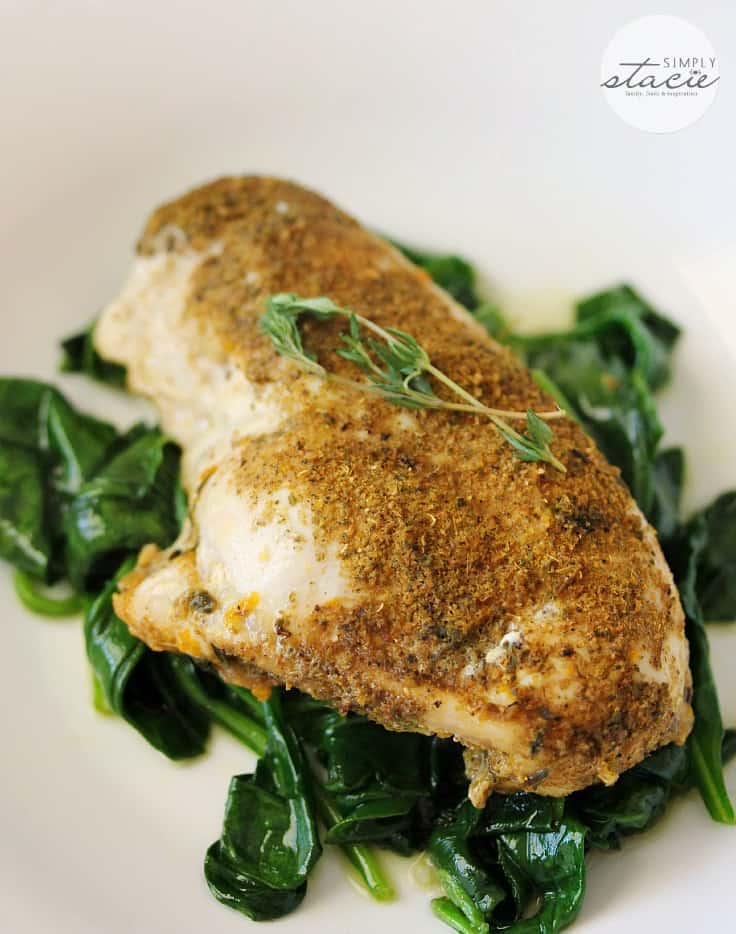 Another helpful tip to plan your shopping trips and find recipe inspiration is to use the Shopping with Chicken app on your smartphone. It will help you plan family meals and shop for groceries!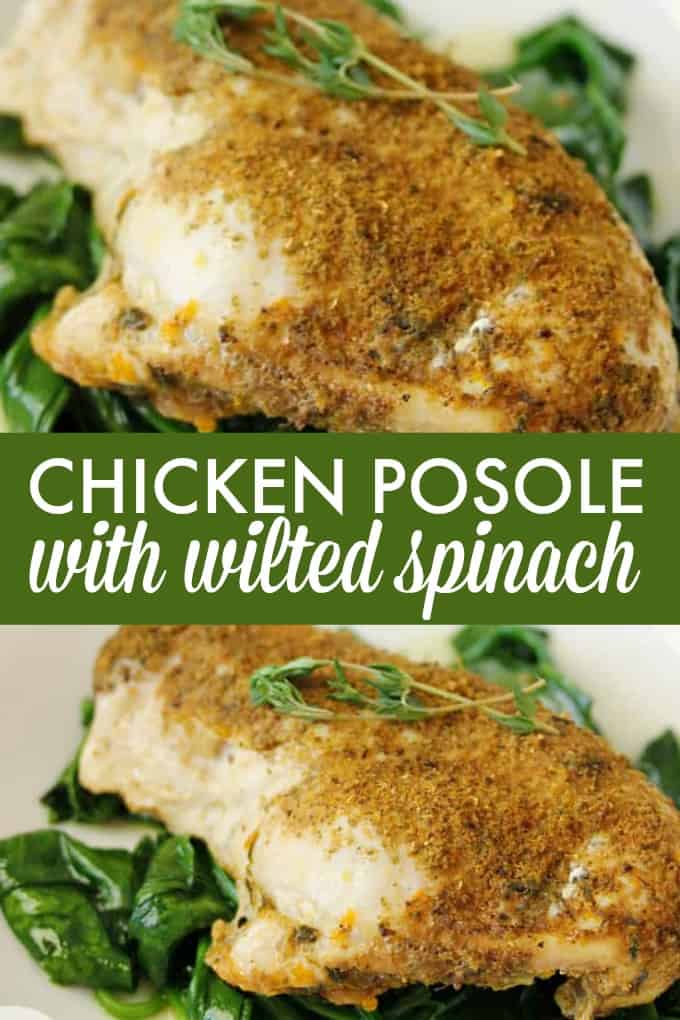 I'm glad I experimented with the Posole spices because this recipe was a winner!

Connect with The Chicken Farmers of Canada on Facebook, Twitter, Instagram and Pinterest.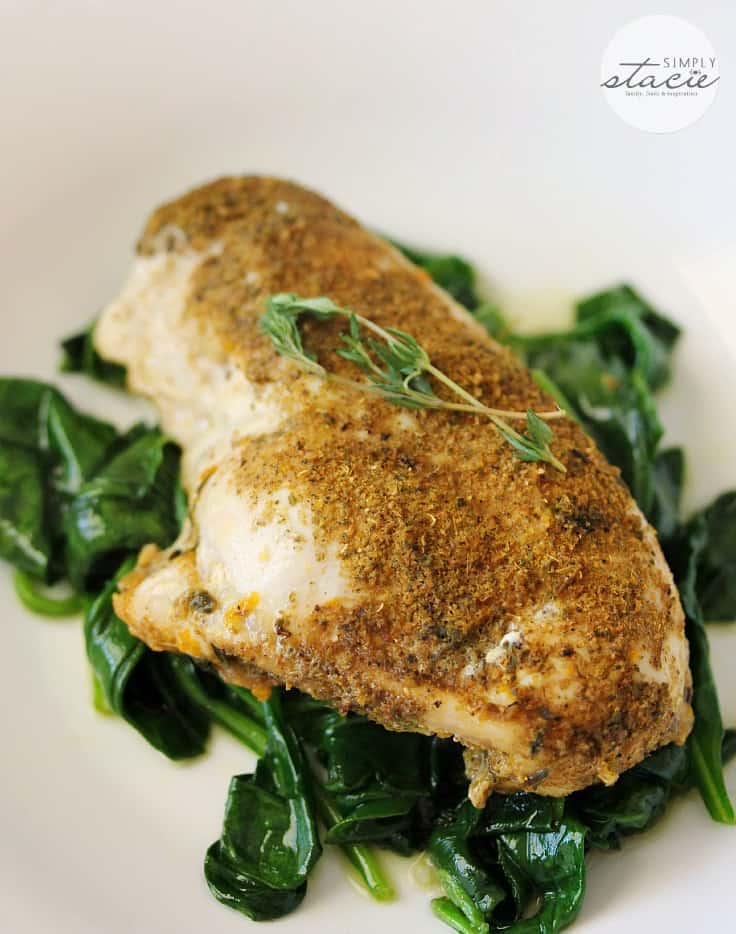 Chicken Posole with Wilted Spinach
Total Time:
1 hour
25 minutes
Flavoured with a fragrant blend of Mexican spices and a hint of orange and served on a bed of garlic baby spinach. Yum!
Ingredients
Zest of one orange
1/4 cup orange juice
3 tbsp extra virgin olive oil
1 tbsp fresh thyme
4 boneless, skinless chicken breasts
1 tbsp brown sugar
1 tsp cumin
1 tsp coriander
1 tsp Mexican oregano
1/4 tsp salt
3 cloves garlic, minced
4 – 6 cups baby spinach
Instructions
Mix together orange zest, orange juice, 1 tbsp olive oil and fresh thyme in a shallow baking pan. Place chicken breasts in the dish and turn to coat.
Mix brown sugar, cumin, coriander, Mexican oregano and salt on a large dinner plate. Spread out the spices. Add each chicken breast, one by one, and coat both sides with the seasoning. Put chicken back into the baking dish. Cover and marinate in the fridge for 30 minutes.
Pre-heat oven to 350F. Bake chicken for 45 minutes, or until cooked. Remove cover during last 10 minutes of baking time.
In a large skillet heat 2 tbsp of olive oil over medium heat. Saute garlic for 2 minutes. Add in spinach and toss. Stir until spinach is wilted and coated in the garlic and oil.
To serve, place chicken on a bed of wilted spinach. Serve hot.
Recommended Products
As an Amazon Associate and member of other affiliate programs, I earn from qualifying purchases.
Nutrition Information:
Yield:

4
Serving Size:

1
Amount Per Serving:
Calories:

372
Total Fat:

15g
Saturated Fat:

3g
Trans Fat:

0g
Unsaturated Fat:

11g
Cholesterol:

102mg
Sodium:

379mg
Carbohydrates:

17g
Fiber:

5g
Sugar:

8g
Protein:

43g