Honey Dijon Chicken
Disclosure: I am participating in the Chicken Farmers of Canada campaign managed by SJ Consulting. I received compensation in exchange for my participation in this campaign. The opinions on this blog are my own.
I don't mind eating plain chicken with no sauce, marinade or rub, but I'm not sure my family would agree. It's much more fun to dress up your chicken with your favourite flavours. I think of chicken like my art canvas. I can be daring and bold with ingredients or choose ones that I know work well together.
For the month of June, the theme is #NoNakedChicken! Chicken Farmers of Canada always has such creative campaigns and this is one of my favoruites. The goal here is to cover your chicken up with sauces, marinades, rubs and more. Get it – no naked chicken? 🙂
Honey Dijon Chicken
I'd be here all day listing out ways to dress up your chicken. Chicken Farmers of Canada has loads of recipes on their site if you need a little inspiration. I found one that I wanted to try – Honey Dijon Drumsticks. Instead of using drumsticks, I used chicken breasts because that's what I had on hand. They tasted divine!
The marinade is flavourful combination of honey, Dijon mustard, oil and paprika. They are savoury with a hint of sweetness from the honey. I love the mouthwatering colour the spices add to the dish.
Serve it with your favourite sides. I paired mine with some wilted spinach cooked in a little olive oil with salt and pepper. Healthy and tasty!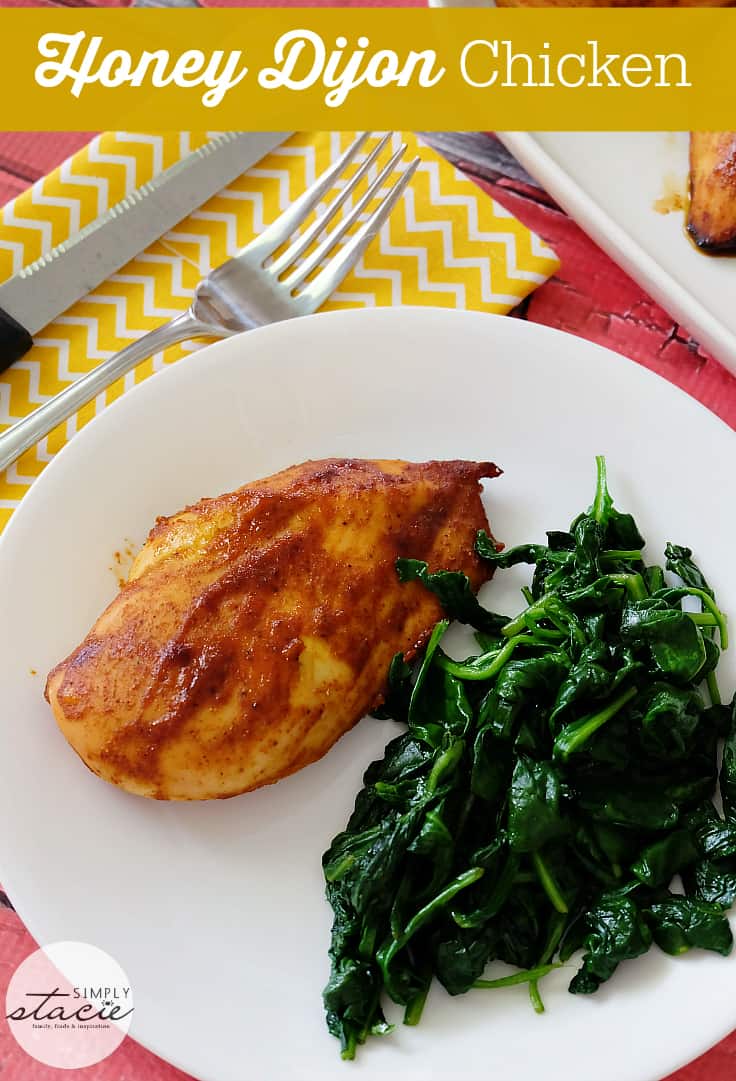 I went on the hunt for other chicken recipes that I posted that fit the #NoNakedChicken theme. Check out my Chicken Posole, Easy Mustard Chicken, Chicken Satay with Peanut Sauce, Honey Garlic Chicken and Grilled Herb Chicken.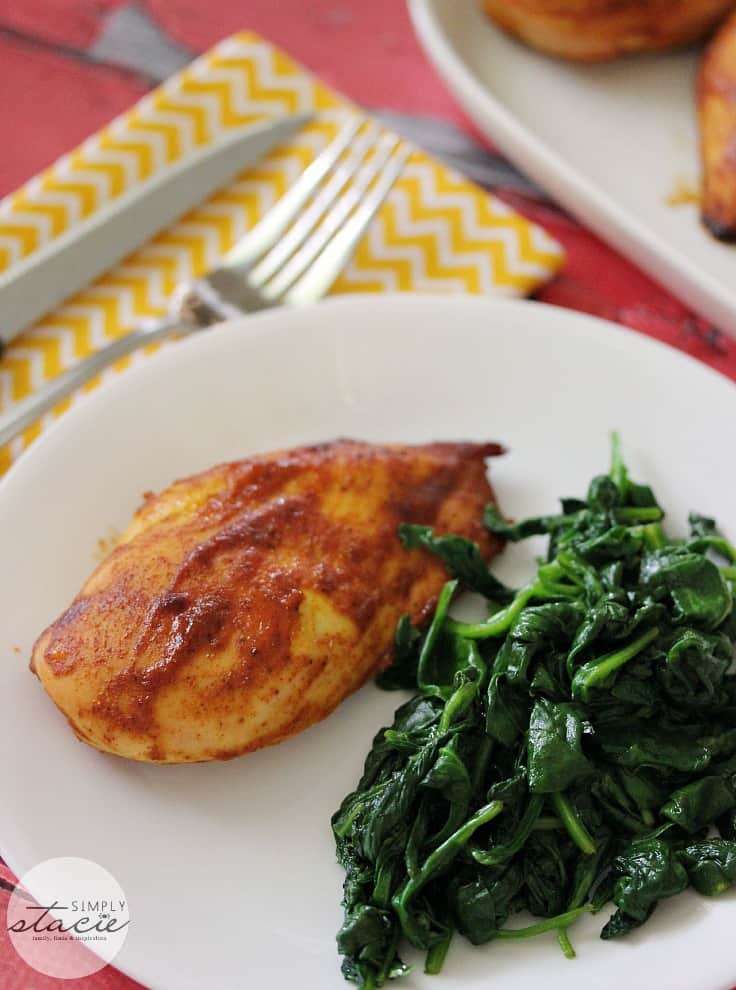 You can also find more recipes on the Chicken Farmers of Canada shopping app! It will also help you with meal planning and grocery shopping. Plus, it's FREE.
Did you know that the Raised by a Canadian Farmer logo is now at Sobeys? See if you can spot it next time you are doing your groceries!
Connect with the Chicken Farmers of Canada on Facebook, Twitter, Instagram and Pinterest.
Yield: 5
Honey Dijon Chicken
Mouthwatering recipe for Honey Dijon Chicken with simple, flavourful ingredients!
Ingredients:
5 boneless, skinless chicken breasts
3 tbsp Dijon mustard
3 tbsp honey
2 tbsp extra virgin olive oil
1 1/2 tsp curry powder
1 1/2 tsp paprika
Directions:
Preheat oven to 375 F. Line a baking sheet with aluminum foil. Place chicken breasts on the baking sheet.
In a small bowl, mix together Dijon mustard, honey, olive oil, curry powder and paprika. Brush mixture over both sides of chicken breasts.
Bake for 35 – 45 minutes, or until chicken breasts are cooked to proper internal temperature of 165 F.
Serve hot with side dishes of your choice.