These chicken satay skewers are easy to make, full of flavor, and dipped in the most delicious peanut sauce!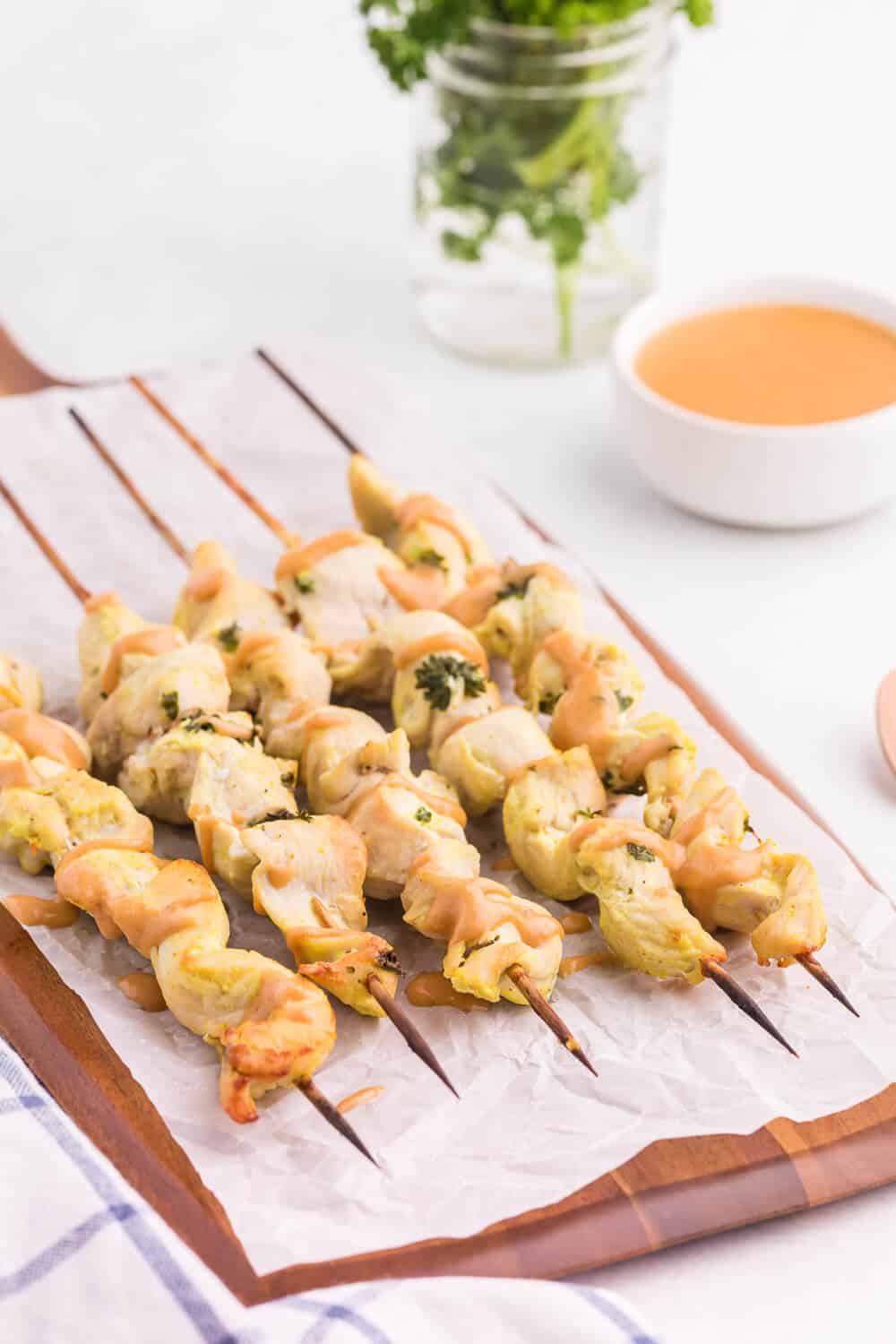 One of the very first chicken recipes I learned to make was Chicken Satay with Peanut Sauce. My mom's good friend, Kathy, invited me over to her house for an impromptu cooking lesson.
I was a young teen with little kitchen know-how and Kathy was an amazing cook. I had so much fun over at her place trying new recipes and sharing a lot of laughs. It ended up being something we did regularly until I graduated high school and went off to university.
What I like about Kathy's recipe for Chicken Satay is that is extremely easy to make. It's basically just skewering some chicken, marinating, broiling and voila! A delicious, mouthwatering appetizer is ready to serve. The peanut sauce isn't too spicy so even my kids love it.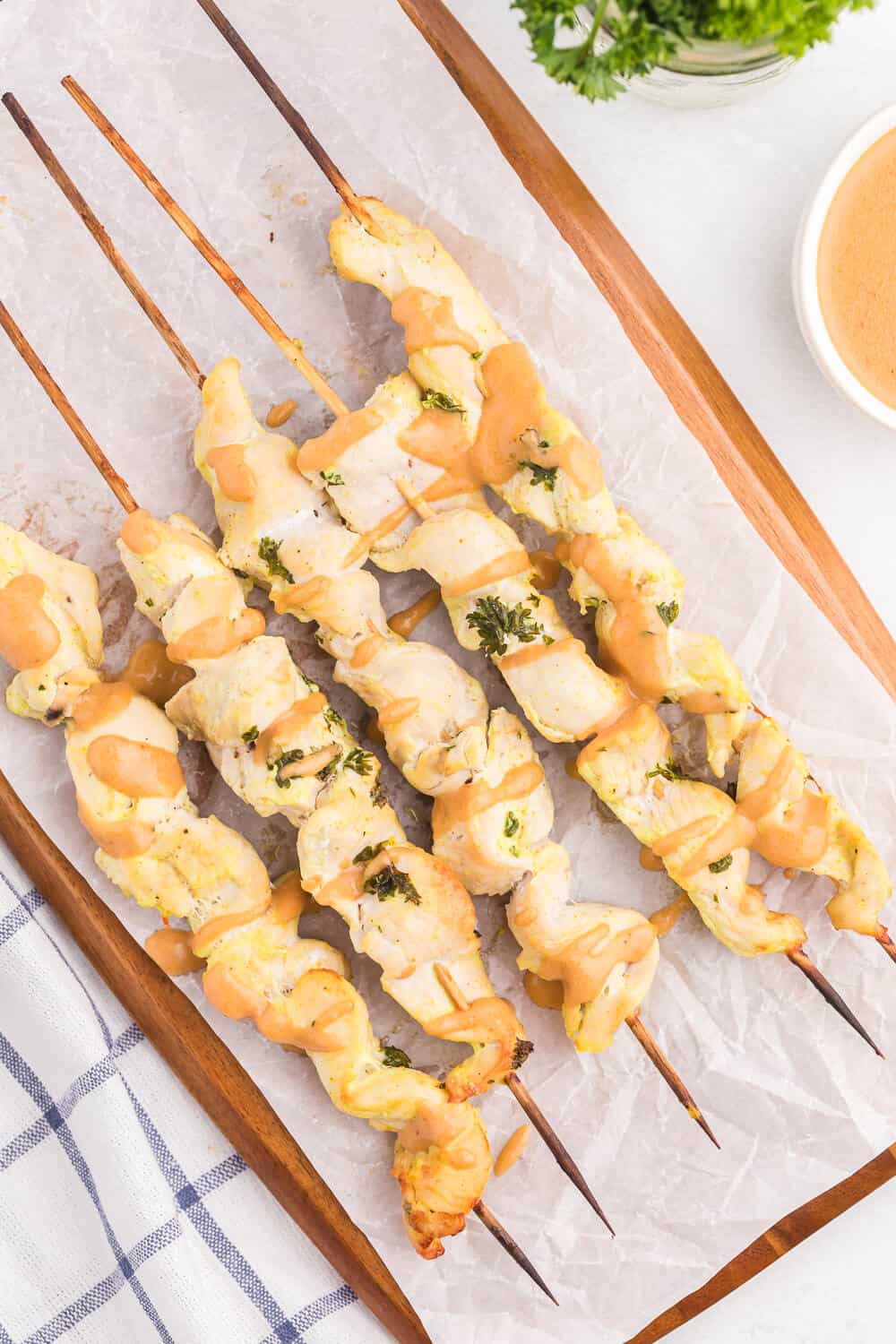 Ingredients
For the Chicken Skewers
Bamboo Skewers – The first thing you'll need is bamboo skewers to put the chicken on.
Canned Coconut Milk – I use coconut milk to marinate the chicken with.
Fresh Parsley – A little parsley adds flavor to the marinade.
Curry Powder – Curry powder also provides flavor to the chicken.
Boneless, Skinless Chicken Breast – Of course, you'll need chicken for these skewers!
For the Peanut Sauce
Canned Coconut Milk – Coconut milk will help thin the peanut sauce and make it super creamy.
Red Curry Paste – Red curry paste provides a ton of flavor and isn't too spicy.
Sugar – Just a bit of sugar lends the perfect amount of sweetness to the sauce.
Soy Sauce – Soy sauce adds a bit of salt to the sauce.
Peanut Butter – The base for the peanut sauce is peanut butter. I recommend buying unsweetened for this recipe.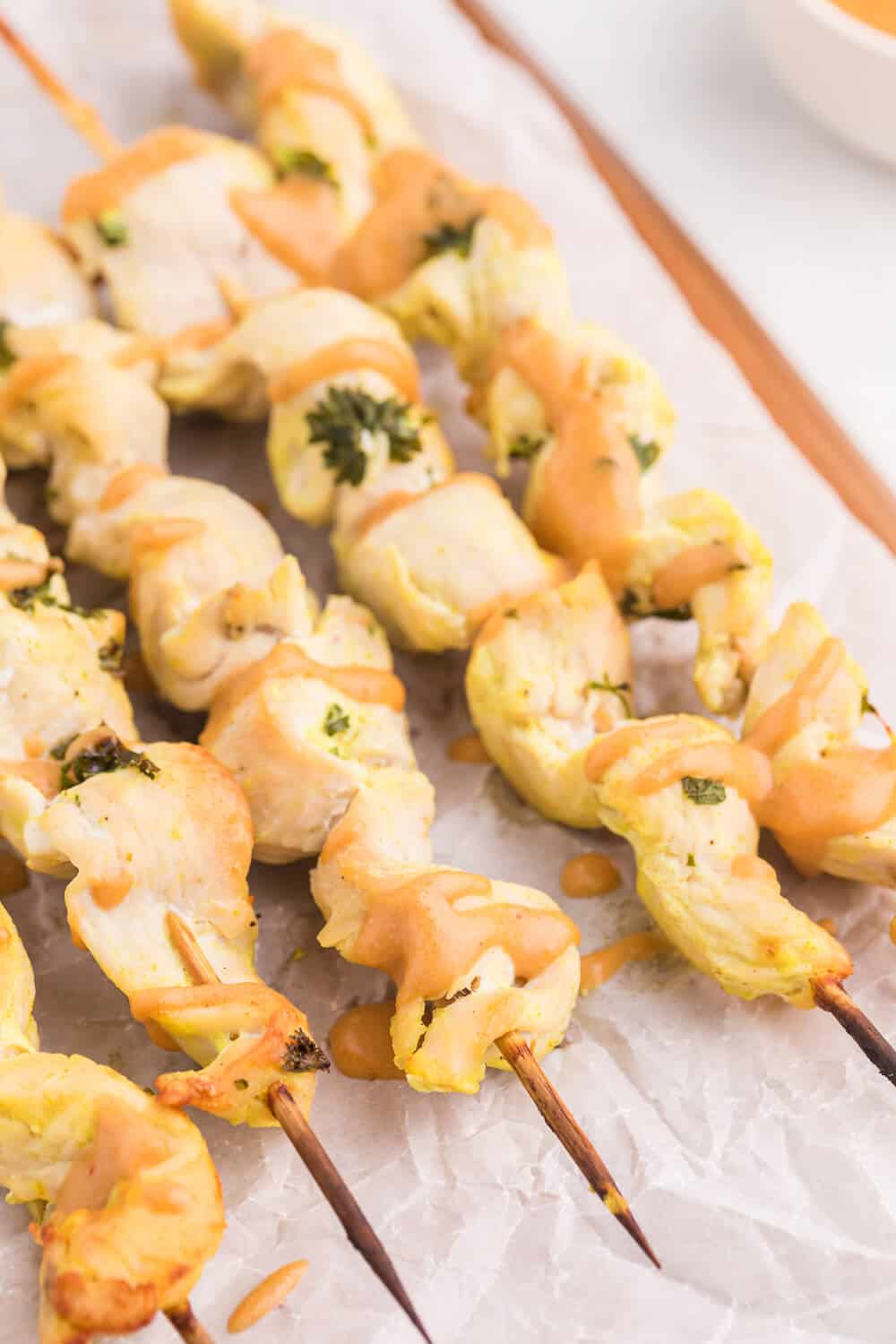 What I Used For This Recipe
This post contains affiliate links.
Skewers – You can either use bamboo skewers or metal skewers for this recipe. If you choose bamboo skewers, you'll need to soak them so they don't burn. Metal skewers require no preparation!
Non-Stick Baking Sheets – I love these non-stick baking sheets from Wilton! They are sturdy, and the non-stick coating makes them easy to clean.
Glass Mixing Bowls – These mixing bowls are a must-have in any kitchen. You can use them for virtually anything!
How To Make Chicken Satay with Peanut Sauce
Soak the bamboo skewers. If you're using bamboo skewers, soak them for 30 minutes ahead of time so they don't burn.
Make the marinade. Stir together the coconut milk, parsley, curry powder, and salt in a bowl.
Skewer and marinate the chicken. Next, you'll slice the chicken into thin strips, thread them onto the skewers, then pour the marinade over top. Let them marinate for at least 1 hour.
Broil the skewers. After the chicken has marinated, put the chicken on a baking sheet and broil for 5 minutes. Turn the chicken and broil for another 5 minutes, repeating as many times as needed to fully cook the chicken.
Make the peanut sauce. While the chicken cooks, add all of the peanut sauce ingredients to a small saucepan on the stove. Bring the mixture to a boil and stir constantly, then reduce the heat to low and stir for an additional two minutes. Remove from heat.
Serve. Serve the chicken satay with the peanut sauce drizzled over top, or alongside the chicken for dipping!
Is chicken satay healthy?
Yes, chicken satay is a healthy meal option because it is high in protein, made with minimal ingredients, and is baked instead of fried.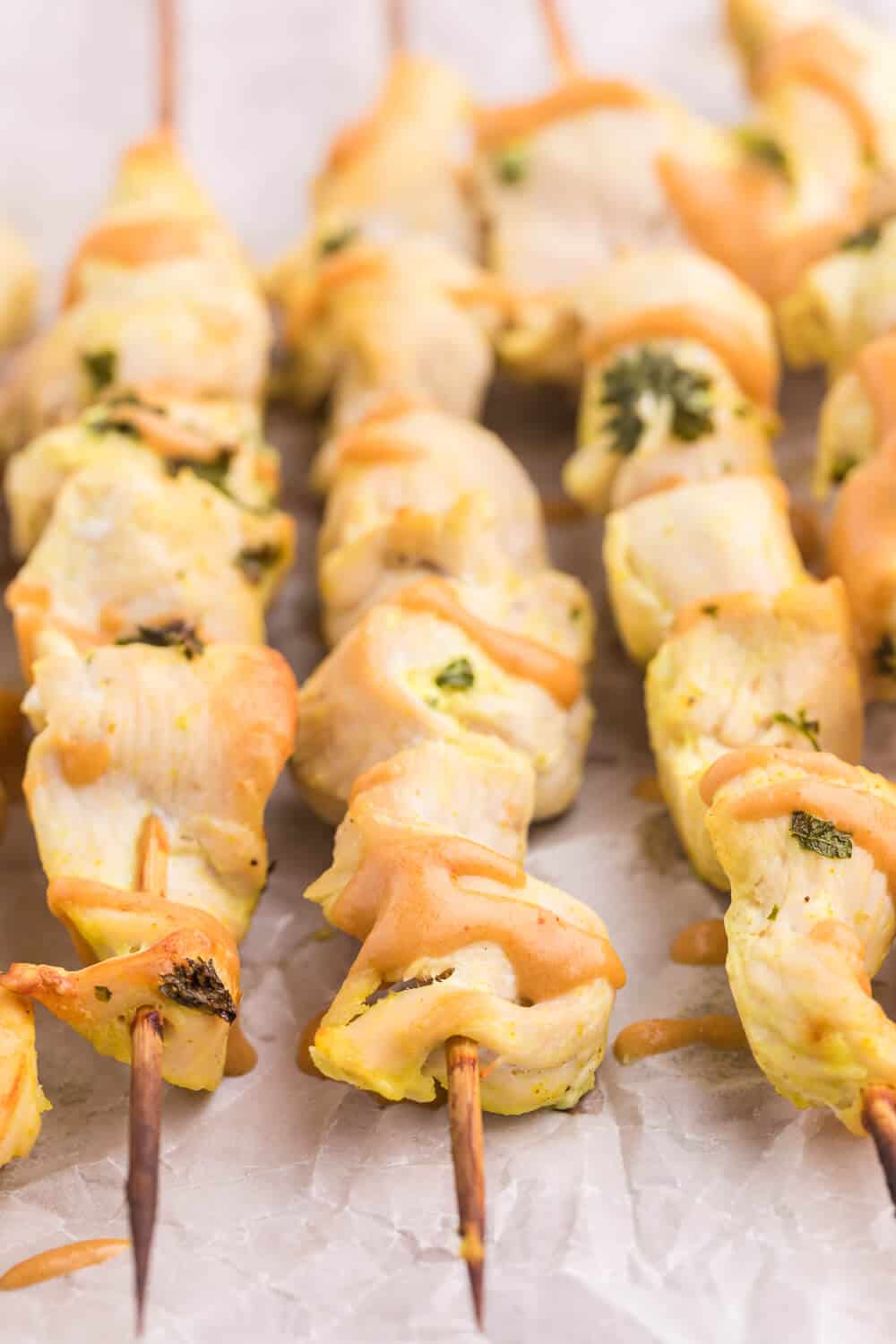 What to Do With Leftovers
You can store your leftover chicken skewers in an airtight container in the refrigerator for 3-4 days. You don't have to remove the chicken from the skewer. Simply microwave a few skewers for 30-60 seconds, or place them back in the oven and bake at 350 F for 5-10 minutes, until just warmed through.
I also recommend storing the peanut dipping sauce in the refrigerator. It may thicken a bit in the fridge, so just microwave it in 15-second intervals to warm it up and thin it out before serving!
What To Serve With Chicken Satay Skewers
If you're serving these as a main dish instead of an appetizer, you'll need a side dish or two to round out your meal!
I personally like to keep it simple and serve these with steamed white or brown rice, but you could also do quinoa or even fried rice.
For a vegetable, you can cut up some veggies that pair well when dipped in peanut sauce, like carrots or cucumbers, or even make a quick slaw.
Chicken Farmers of Canada
Disclosure: I am participating in the Chicken Farmers of Canada campaign managed by SJ Consulting. I received compensation in exchange for my participation in this campaign. the opinions on this blog are my own.
You can find even more recipe inspiration via the Chicken Farmers of Canada new shopping app. It features over 700 delicious recipes and healthy meal ideas. Use it to help get yourself organized and shop smart with lists. Download for FREE on iTunes or Google Play.
The key features include:
List sharing with real-time syncing
Chicken.ca recipes including nutritional information, tips, tricks and more
Add any ingredient from chicken.ca recipes to your list
Database of over 350 common grocery items
Ability to categorize your own custom items
More Asian-inspired Recipes You'll Love
You'll also like these Chicken Pinwheels.
Do you have any amazing chicken recipes? I'm always looking for more recipes to try! Follow me on Instagram @simplystacieblog, on Facebook at Simply Stacie, and on Pinterest @SimplyStacie and let me know how you liked this and my other recipes!
Chicken Satay with Peanut Sauce
This simple appetizer is a great crowd-pleaser! The homemade dipping sauce makes this easy recipe. Make in the oven.
Ingredients
12 to 16 bamboo skewers
1 can (400 ml) unsweetened coconut milk (approx 1 3/4 cups)
2 tablespoons fresh parsley, chopped
1 teaspoon curry powder
1/8 teaspoon salt
4 boneless, skinless chicken breasts
Peanut Sauce
1 can (400 ml) unsweeteened coconut milk (approx 1 3/4 cups)
1 teaspoon red curry paste
1 teaspoon sugar
1 teaspoon soy sauce
1/2 cup unsweetened peanut butter
Instructions
Chicken Satay
Soak bamboo skewers in water for at least 30 minutes.
Stir together coconut milk, parsley, curry powder and salt in a bowl. Set aside.
Slice chicken across the grain into 3 inch long strips about 1/4 to 3/4 inch thick. Thread strips accordion-style on skewers. Add skewers to marinade, turning to coat over chicken. Cover and chill for 1 hour.
Place chicken skewers on a baking sheet lined with foil and broil three to four inches from heat for 5 minutes. Turn and broil for 5 minutes. Keep turning every 5 minutes until chicken is cooked (use a meat thermometer to check). Mine usually take about 15 to 20 minutes in my oven.
Peanut Sauce
Combine coconut milk, curry paste, sugar, soy sauce and peanut butter in a small sauce pan on the stove. Bring to a boil stirring constantly. Reduce heat to low and stir for an additional 2 minutes. Remove from heat and stir again right before serving.
Recommended Products
As an Amazon Associate and member of other affiliate programs, I earn from qualifying purchases.
Nutrition Information:
Yield:

6
Serving Size:

1
Amount Per Serving:
Calories:

490
Total Fat:

36g
Saturated Fat:

18g
Trans Fat:

0g
Unsaturated Fat:

15g
Cholesterol:

64mg
Sodium:

359mg
Carbohydrates:

12g
Fiber:

3g
Sugar:

4g
Protein:

34g