Dress up your green beans with this Southern-Style Green Beans recipe! Tender and melt in your mouth green beans that are seasoned and paired with salty bacon. One incredibly easy green bean recipe that will leave everyone reaching for one more scoop. Grab your slow cooker and let's get to work on these green beans.
This post contains affiliate links.
I'd been craving green beans ever since I made Green Beans Almondine. I saw a recipe for Southern-Style Green Beans in my copy of Cooking Light Slow Cooker Tonight! and made myself this delicious side dish on the weekend. It ended up being the main course for me since I was by myself all weekend with my kids in Ontario at my parents. I didn't mind at all eating alone…more for me!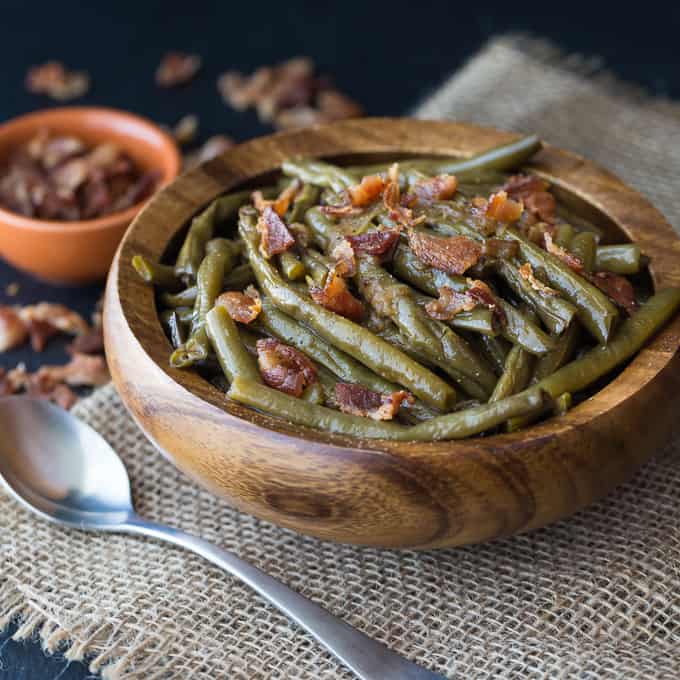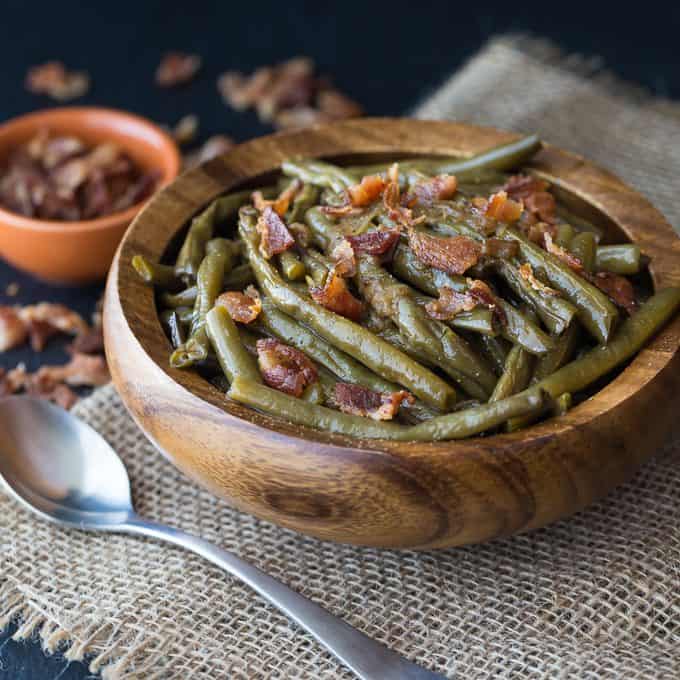 Southern Style Green Beans
These beans were so good! The bacon and onion flavor really came out in the beans. I've never tried or even heard of Southern-Style Green Beans, but this is a recipe I will be making again. You can count on that!
Now one thing I want to note is that depending on where you live depends on how you grew up eating these beans. So, know there are a handful of ways to make green beans.
What Are Southern Green Beans
Southern Green Beans are a wonderful side dish that has been around for years. You take fresh cut green beans and pair with a savory broth, onions, and garlic and even sometimes meat. Then slowly cook your beans low and slow all day for that smokey, tender green bean.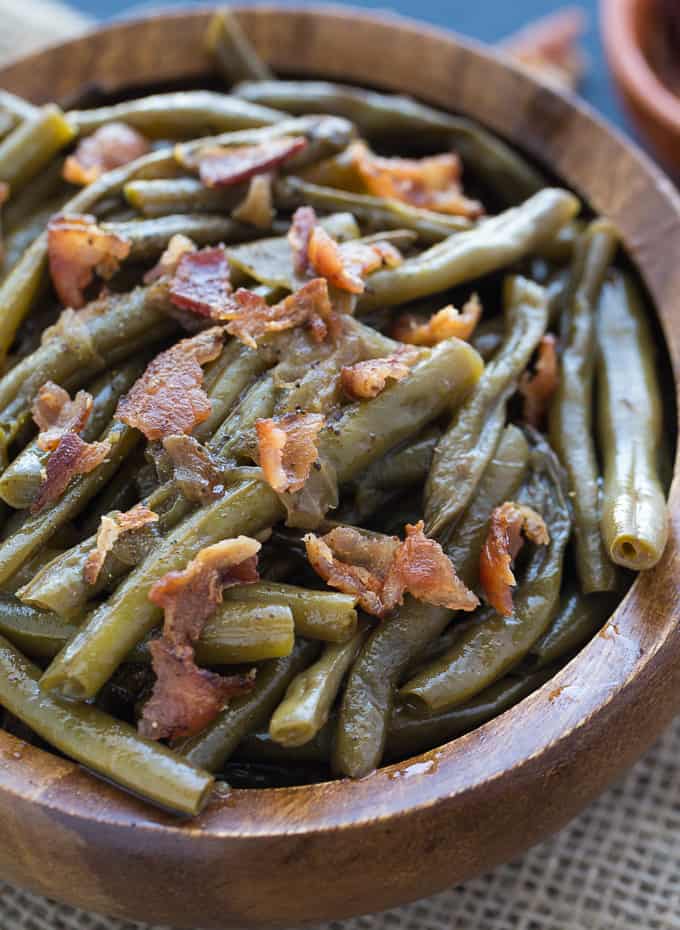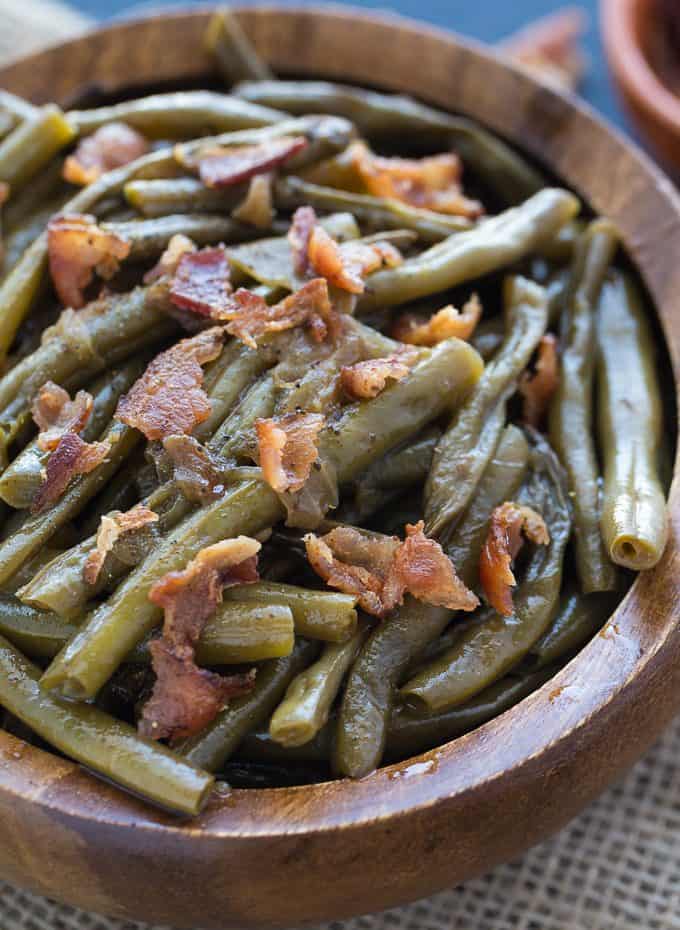 How to Prepare Fresh Green Beans
To be honest I just rinse and clean my beans and then with a knife cut the ends off and then cut down to the size I need. It is rather quick to do and you still are left with incredible green beans. You can leave the tails on and just cut off the stems if you want. Or if you prefer the look get rid of the tails and stems so each side is a fresh cut.
Variations for Southern Green Beans
Depending on what recipe you come across will vary what the ingredients and method are. I wanted to share a few variations you can consider!
Instead of bacon do smoked ham or ham hocks
If you cook your bacon in the beans hold some back to top the beans when done to offer that crispy texture.
Add a splash (1 teaspoon) of white vinegar for acidity flavoring.
Some love sweetness so they add like 1 teaspoon to 2 teaspoons of sugar to the mixture.
Depending on where you live will depend on the type of recipe you grew up eating.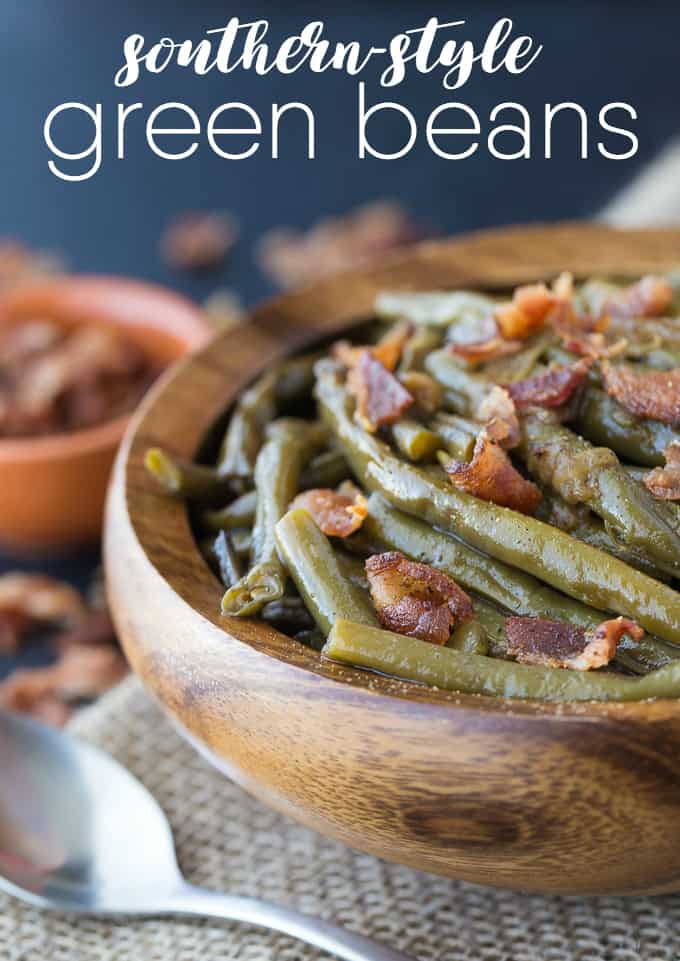 What to Pair with Southern Green Beans
Truthfully these beans are versatile in flavor and truly can pair with almost any main dish. Let me share a few recipes I like to use this recipe as a side dish.
How to Make Slow Cooker Southern Style Green Beans
Start by cooking your bacon in a skillet until it is cooked through. Then remove from the pan and chop it up into crumbles. Remove all but a teaspoon of the grease, and add in your onion to saute until tender. This takes around five minutes.
Then in your slow cooker pour in your broth, salt, onion, green beans, and cover and cook on low for 8 hours. You know when it is done because the beans will be tender.
Top with crumbled bacon and serve hot.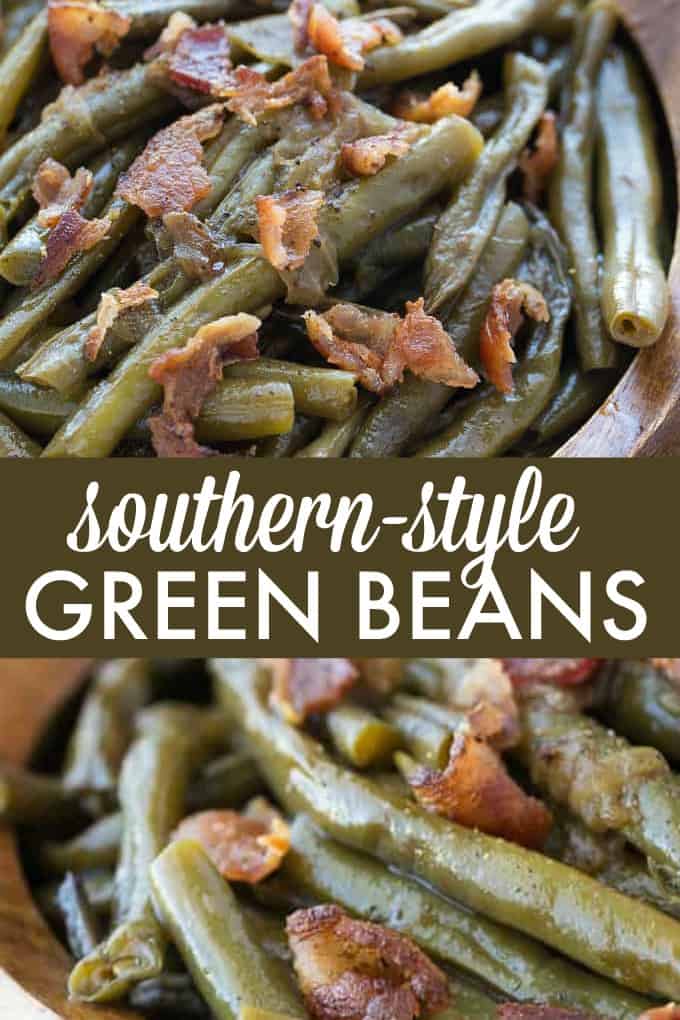 Can You Use Canned Green Beans for Southern Green Beans
I have not tried using canned for this recipe. I think if you were to cook canned green beans for 8 hours they would be complete mush. You would probably want to drop down cook time to like 2-4 hours. But you might also lack some flavor since it is a low and slow cooking.
How to Store Your Leftover Green Beans
You can place all leftover green beans in the fridge for 2-3 days. To reheat you can warm up in the microwave or on the stove. If you do stove top add in some chicken stock to help add moisture to the beans as they warm up on low heat. Then serve as is, or dice up some fresh bacon and crumble on top if you want a slight crunch.
As you can see this recipe is really so easy to make. A handful of ingredients is all you need to get it cooking in your slow cooker. I have made this recipe for potlucks, family dinners, summer cookouts, and it is never a disappointment. Feel free to try this recipe and let me know what you think.
Have you ever made Southern green beans before?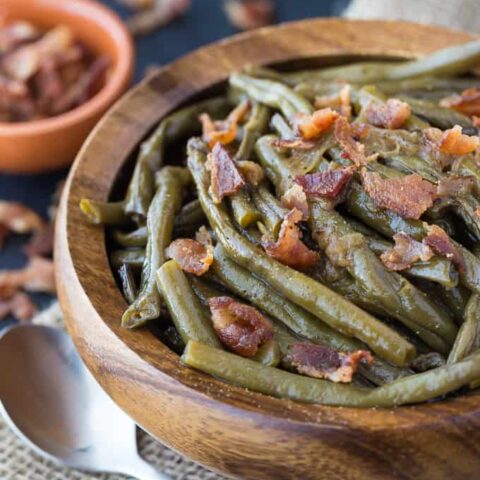 Southern-Style Green Beans
Cook Time:
8 hours
15 minutes
Total Time:
8 hours
25 minutes
The easiest 5-ingredient side dish! Salty bacon is the perfect companion for crisp green beans with a little onion and chicken broth. Yum!
Ingredients
3 slices of bacon
1 onion, chopped
1 cup chicken broth
1/4 tsp. salt
1 1/2 pounds green beans, trimmed
Instructions
Cook bacon in a skillet until crisp. Remove bacon from pan and reserve about 1 tsp of bacon grease in the pan. Add in onion and saute for another 5 minutes or until tender. Crumble the bacon and set aside.
Combine broth, salt, onion and green beans in a slow cooker. Cover and cook on low heat for 8 hours or until beans are tender. Transfer beans to a serving dish with a slotted spoon. Sprinkle with the crumbled bacon and serve hot.
Recommended Products
As an Amazon Associate and member of other affiliate programs, I earn from qualifying purchases.
Nutrition Information:
Yield:

4
Serving Size:

1
Amount Per Serving:
Calories:

114
Total Fat:

4g
Saturated Fat:

1g
Trans Fat:

0g
Unsaturated Fat:

2g
Cholesterol:

10mg
Sodium:

524mg
Carbohydrates:

16g
Fiber:

6g
Sugar:

8g
Protein:

7g