Roasted Red Pepper Chicken is a savory and delicious weeknight dinner idea. Juicy and tender chicken, roasted red peppers, a handful of spices and seasoning. This Roasted Red Pepper Chicken recipe does pack a little heat and is undeniably delicious.
I discovered this recipe for Roasted Red Pepper Chicken in my issue of Canadian Living Fresh & Healthy, which showcases recipes with loads of fruits and veggies. I'm always looking for low carb recipes that I can eat guilt-free, and this one fit the bill perfectly. And it was soooo good! The pancetta makes the sauce. I could eat a bowl of it alone!
Roasted Red Pepper Chicken
If you are not a fan of heat, you can always leave the red pepper flakes out to take some of the spice away. Or if you like spice sprinkle more over chicken when done!
Searching for More Satisfying Chicken Recipes
What To Serve with Red Pepper Chicken
Serve with rice, pasta, or even cauliflower rice or mash for a lower carb side dish. This recipe is versatile so even a steamed or roasted vegetable would pair nicely.
Can I Use Bone-In Chicken Instead of Boneless
You can use bone-in if you would like. You would follow the direction of browning chicken in skillet and then the overall cook time would need to be longer of course. You would cook the dish until the chicken was fully prepared and reaches proper internal temperature.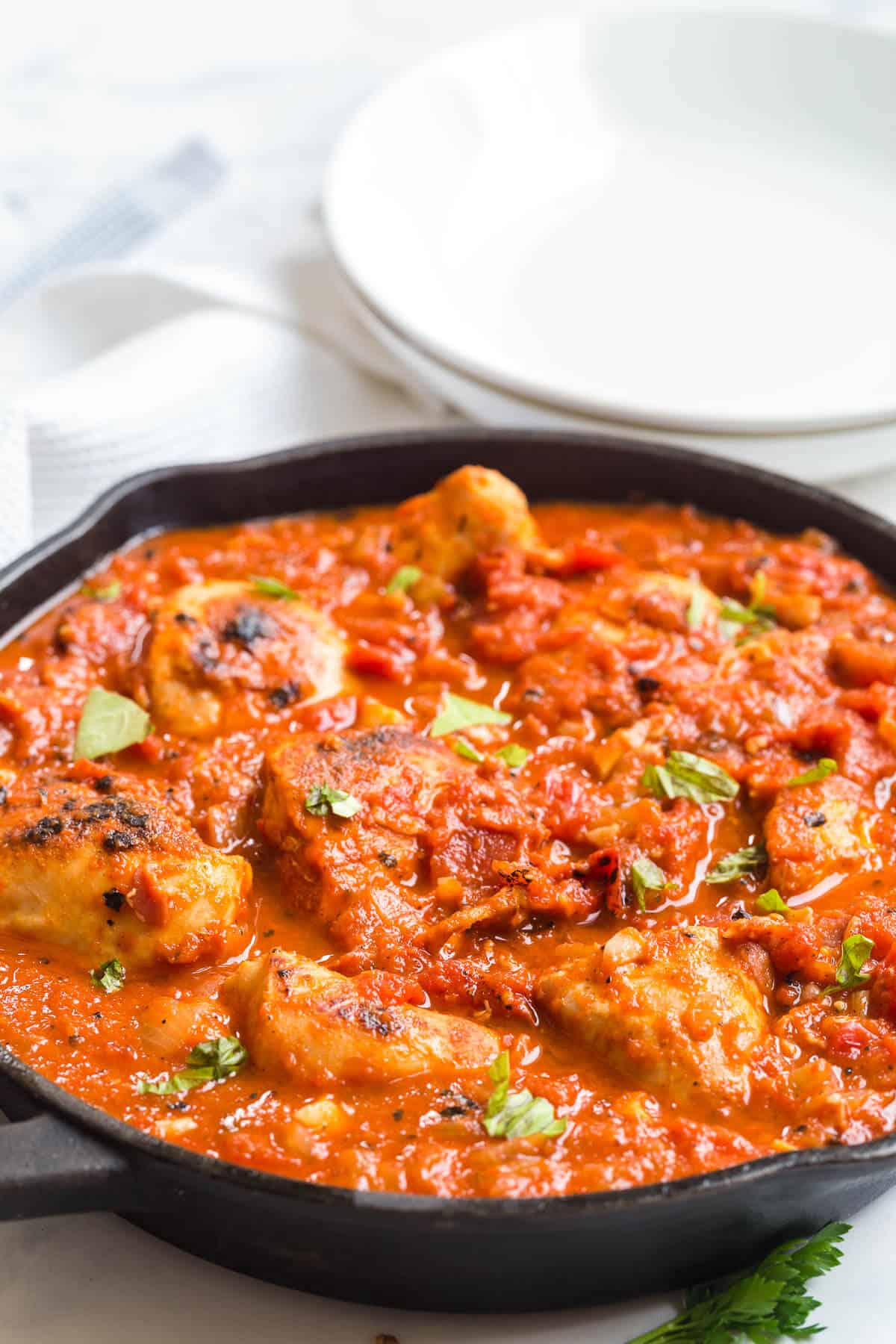 How Do You Roast Your Own Peppers
Roasting your own peppers is easy, and they offer more flavor than jarred. Start by laying peppers on a baking sheet and placing them in the oven and broil until softened and they have charred. Then allow your peppers to cool.
Peel them, and you have roasted peppers! I tossed mine in the blender with tomato paste to offer a creaminess for a sauce for my roasted red pepper chicken recipe.
How to Make Roasted Red Pepper Chicken
You want to start by broiling your peppers to get them soft and delicate and charred. Once cooled, peel and toss peppers and tomato paste in a blender and mix until smooth.
While your peppers are cooking, you can cut up your boneless chicken into pieces. I tried to do around eight cuts per chicken breast. Season with paprika. Salt and pepper.
Then warm up your Dutch oven or skillet and cook chicken until browned on outside, this took me around 8-10 minutes. You don't want to thoroughly cook the chicken, just give it a crust for added flavor.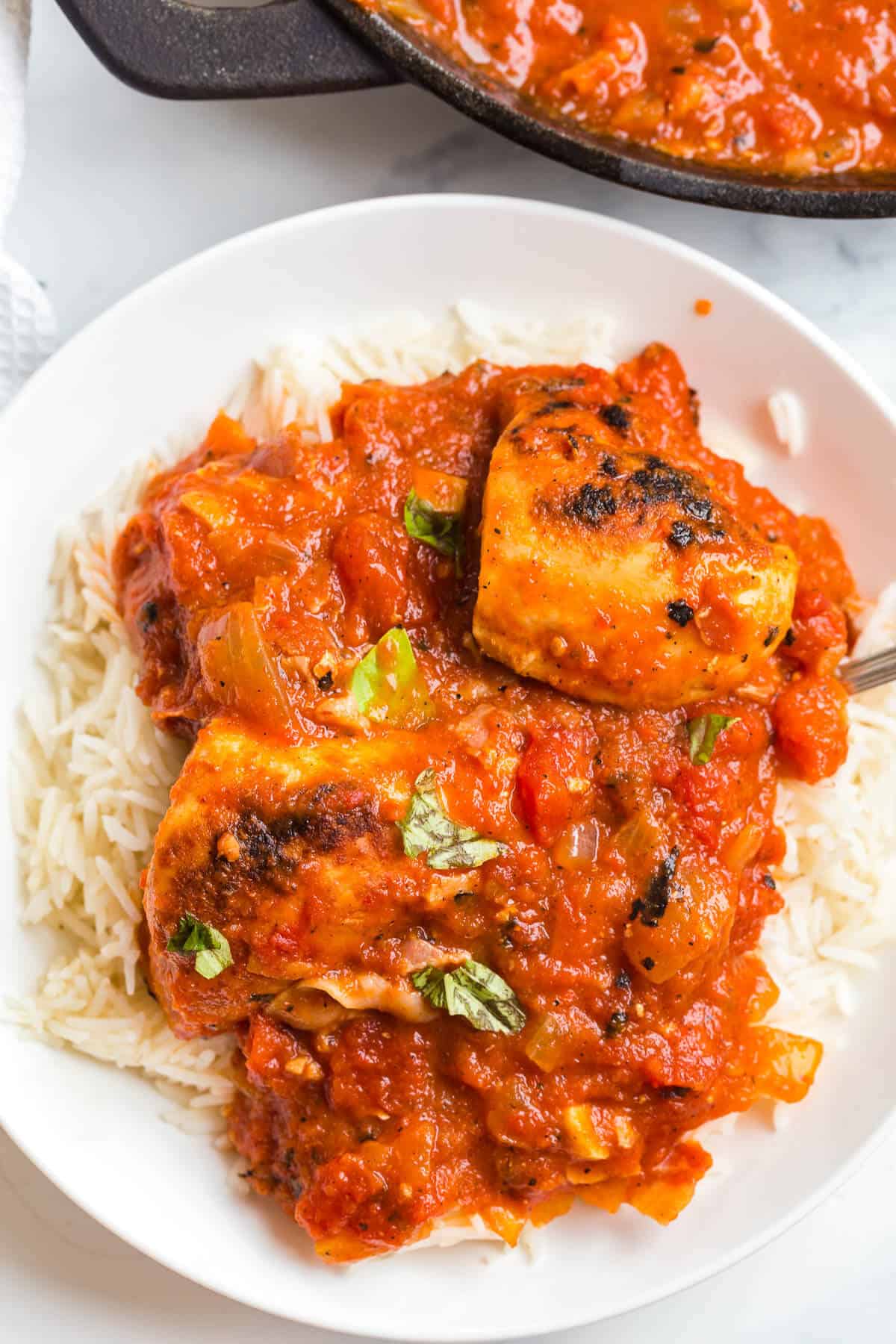 Transfer chicken to a plate to help drain off any excess oil.
In that same pan wipe out any leftovers and then add remaining oil to the pan and sauté your garlic and onions until softened. Add in your pancetta and pepper flakes. Cook for two minutes and then place chicken on top.
Next, toss in your diced tomatoes and allow your dish to boil. At this point, if you want more heat toss in more red pepper flakes.
Cover and simmer over medium-low heat for 20 minutes or until chicken is fully cooked.
How to Store Leftover Red Pepper Chicken
Once you have finished serving, put up leftovers within two hours. Places in an airtight container and store in the refrigerator for up to three days.
Best Way To Reheat Red Pepper Chicken
You can quickly warm leftovers up in the microwave or warm on stove. If you do stove, you might need to add a splash of water or chicken broth to keep chicken moist. Cook on low until chicken is warmed through.
Can You Freeze Roasted Red Pepper Chicken
I can't say yes or no to this. I have not had leftovers to where I needed to freeze it. I don't see why you couldn't freeze the chicken. If you do, I would test to see if it reheats well. Place in an airtight container or sealable freezer bag and place in freezer for up to three months. Thaw in the fridge the night before you want to eat it, then warm on stove or microwave.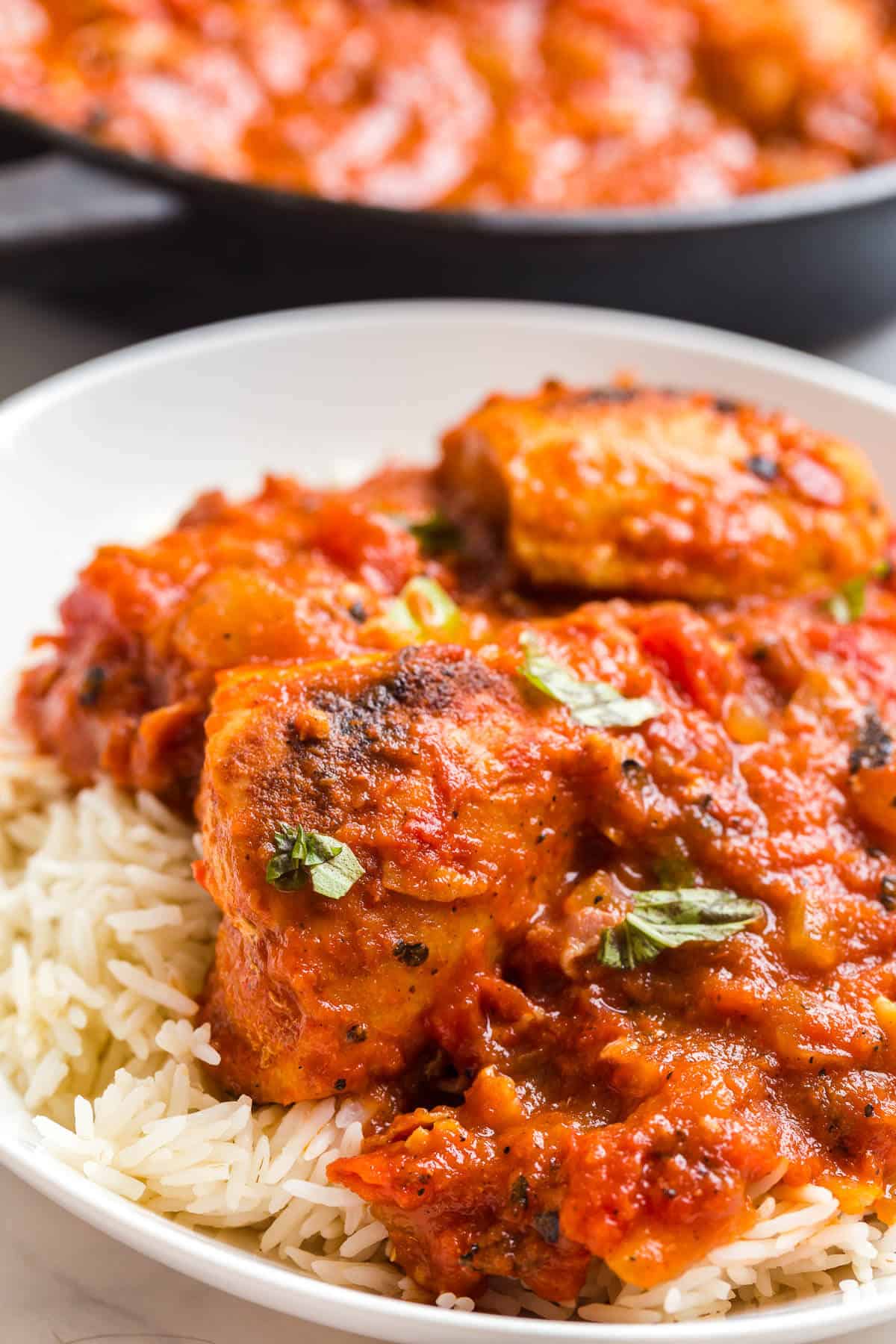 Easy Chicken Recipe
Roasted Red Pepper Chicken offers a pretty presentation and is a rather easy chicken recipe to whip up. Whether it be a weekend full of entertaining guests or a weeknight where you want a simple dinner. This recipe fits either and will be delicious down to the last drop!
Have you ever made Roasted Red Pepper Chicken before?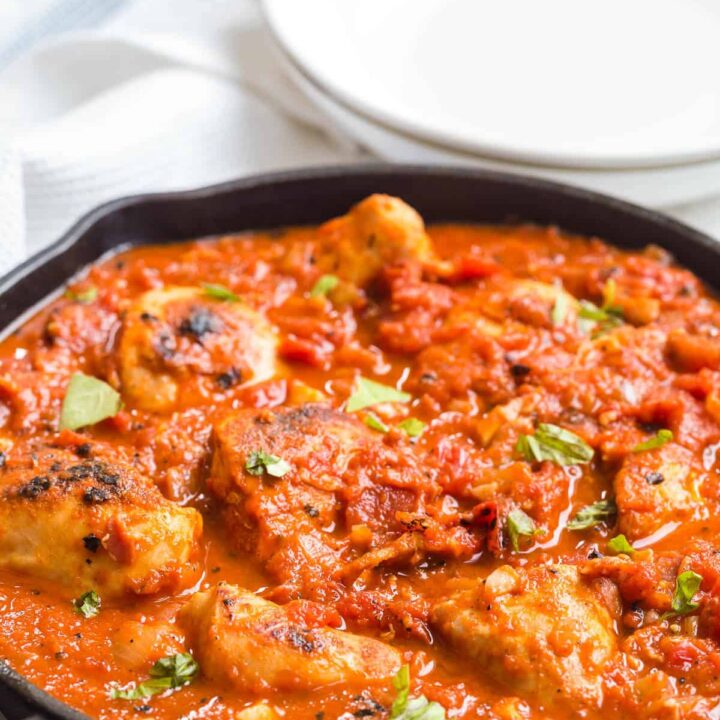 Roasted Red Pepper Chicken
Total Time:
1 hour
10 minutes
This savory dinner recipe packs a little heat and is totally low carb! The pancetta really makes this chicken recipe amazing.
Ingredients
3 red peppers
1 tablespoon tomato paste
4 boneless, skinless chicken breasts
2 tablespoons extra virgin olive oil, divided
1 tablespoon paprika
½ teaspoon salt
1 sweet onion, chopped
2 cloves garlic, minced
1 (85 g/3 oz) package pancetta
1/4 teaspoon red pepper flakes
2 cups tomatoes, chopped
Instructions
Broil red peppers until softened and charred for 15 minutes. Let cool. Peel, seed and core. In a food processor, blender or hand blender, puree peppers with tomato paste until smooth.
In the meantime, cut chicken breasts in half to make 8 pieces. Toss with paprika and salt to coat. In a Dutch oven, heat 1 tablespoon extra virgin olive oil over medium-high heat and brown chicken in batches for about 8 minutes. Transfer to a plate. Drain fat from pot and wipe out.
Add remaining extra virgin olive oil to the Dutch oven and saute onion and garlic until soft (about 5 minutes). Add pancetta and red pepper flakes. Cook for about 2 minutes. Then return the chicken to the pan.
Add tomatoes and bring to a boil. Stir in red pepper mixture. Cover and simmer over medium-low heat for 20 minutes.
Recommended Products
As an Amazon Associate and member of other affiliate programs, I earn from qualifying purchases.
Nutrition Information:
Yield:

4
Serving Size:

1
Amount Per Serving:
Calories:

370
Total Fat:

15g
Saturated Fat:

4g
Trans Fat:

0g
Unsaturated Fat:

11g
Cholesterol:

107mg
Sodium:

372mg
Carbohydrates:

17g
Fiber:

4g
Sugar:

11g
Protein:

41g