Curried Chicken Stew is a slow cooker recipe that will stand out. Exotic flavors, rich flavors, and a chicken stew that will leave you reaching for one more spoonful. If you love curried chicken, I think you will enjoy this curried chicken stew recipe!
We live in a small community with no ethnic grocery stores so pickins' are slim for ingredients. However, curry I can do! That's pretty much the only thing I can do right now until we make a trip to the city.
In March, I reviewed the book, Curry Cuisine and made Boatman's Shrimp Masala. I had to substitute a few ingredients that weren't available locally, but it still turned out really good. I found a recipe in Better Home & Garden's 2013 edition of Low-Carb Cooking for Curried Chicken Stew. For this recipe, I didn't have to substitute anything. I was worried I wouldn't find coconut milk, but luckily my grocery store did carry it. Success!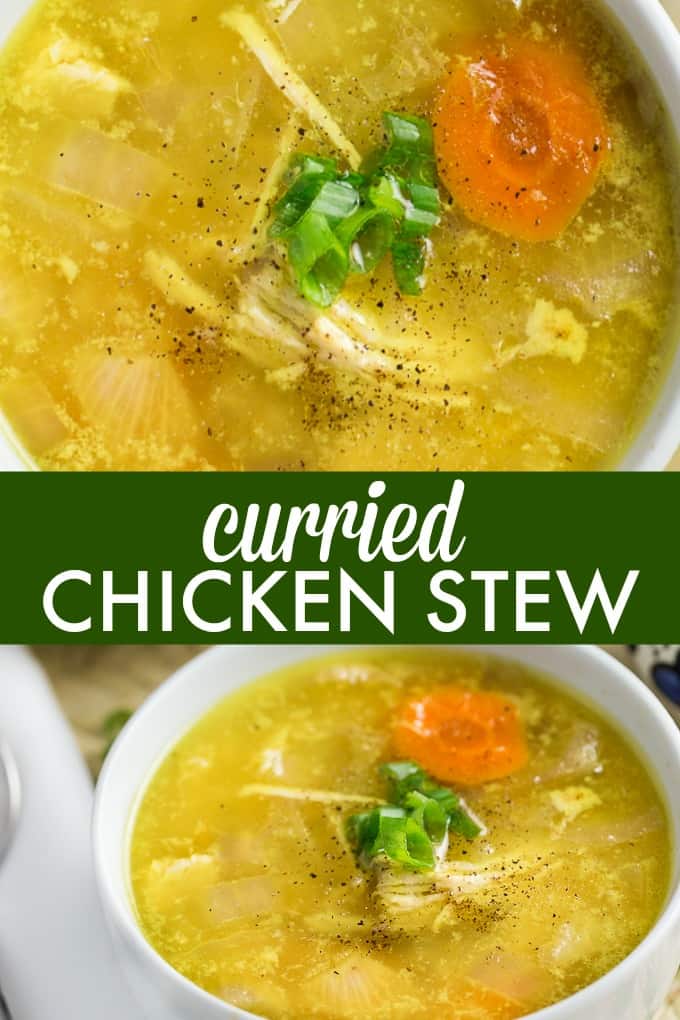 Curried Chicken Stew
This Curried Chicken Stew is so easy to make. I mean the slow cooker pretty much does it all for you. All you have to do is smell the delicious curry aroma wafting through your home all day and then enjoy a hot meal full of chicken and veggies. My daughter, Bridget, even liked it.
Craving More Soups and Stews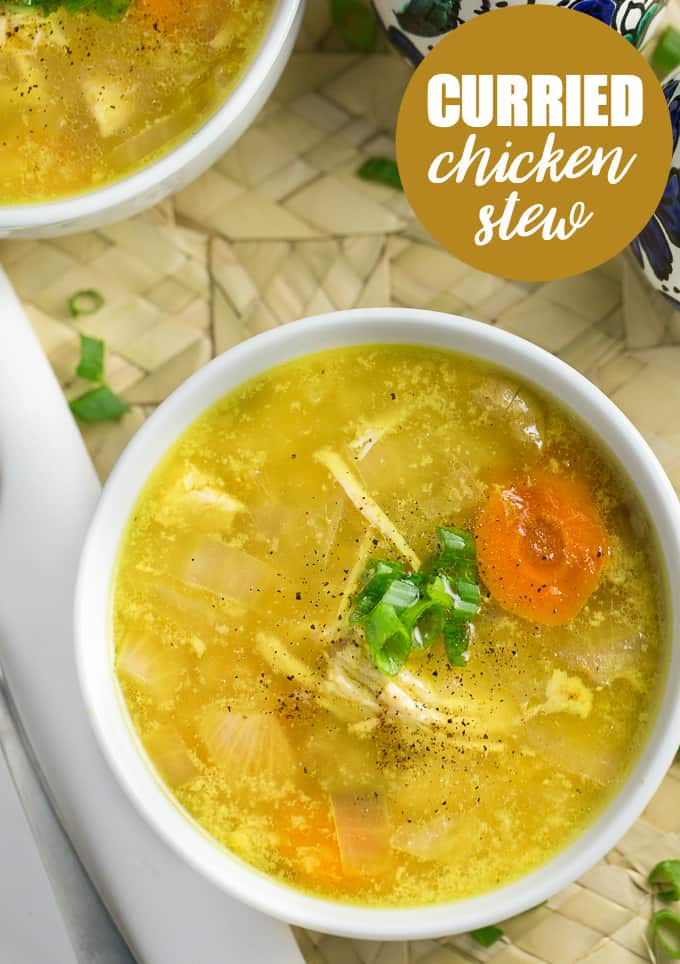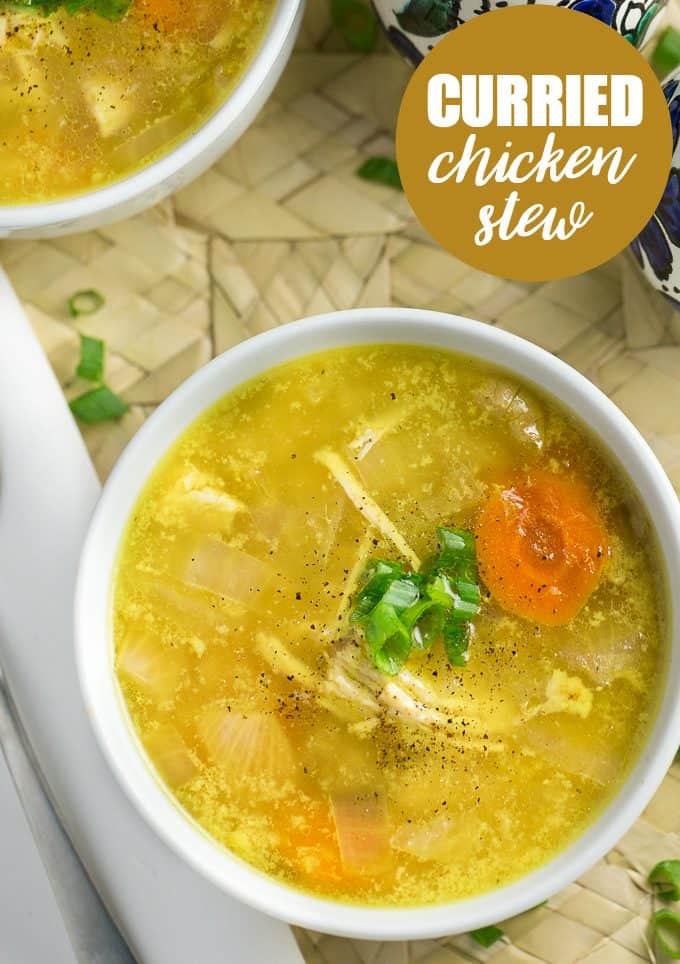 What is Curried Chicken Stew
Curried Chicken Stew is a variation to a chicken curry you might get at your favorite restaurant. This is a soup based recipe for those colder days where you want something to warm you up from the inside. An Indian Curry twist that has a broth base, vegetables, and of course curry seasoning for that rich spice flavor.
What To Serve With Curried Chicken Stew
If you are wondering what goes well with curried chicken stew, let me share some ideas. Personally, we generally eat this alone, but you are welcome to add in a few sides. Whether it be a homemade roll or slice of bread for dipping, crackers, or even a side salad for a lighter option. You could even do some Naan bread to dip in the broth if you would like.
How Long Does Curried Chicken Stew Cook in Slow Cooker
You will want to cook your stew 6-8 hours in the slow cooker, and make sure your chicken is fully cooked before serving. I find that as it cooks low and slow all day, it adds so much flavor to the stew that you can't get from a quick heat and serve.
If you don't want to use your slow cooker, you can make this on the stovetop. Just follow the directions and use a big pot to cook the soup. Turn on low and simmer all day or at least 3-4 hours before serving. Of course, longer is better as the flavors will marry more, but if you are short on time serve faster.
Does Curried Chicken Stew Store Well
Yes. You can easily store your leftovers in an airtight container with a lid in the fridge for up to three days. Granted use your best judgment on if your stew is still good or has gone bad. I have used the leftovers to meal prep for a handful of days through the week. It is a great recipe to warm up and enjoy for lunch or dinner.
Best Way to Reheat Chicken Stew
You can warm your stew up on the stovetop or even in the microwave. Or if you have a large amount of the stew leftover, toss it back in the slow cooker to allow the rest to warm for serving. Just place on low and leave it for a few hours so it warms up all the way through.
I generally warm our chicken stew up on the stove, as it is fast, and does a great job.
Can You Freeze Curried Chicken Stew
I have not tried freezing this curried chicken stew. Sometimes if there is any form of milk in soups it won't reheat properly. Since there is coconut milk in the recipe, I can't fully say if it will thaw properly. I would recommend trying just one bowl of soup to freeze to test it out, that way if it doesn't work you didn't ruin a ton of it.
We just normally eat it fast and don't have the need to freeze it.
If you love curry this recipe might be the perfect stew to whip up for an easy dinner this week. Give it a try!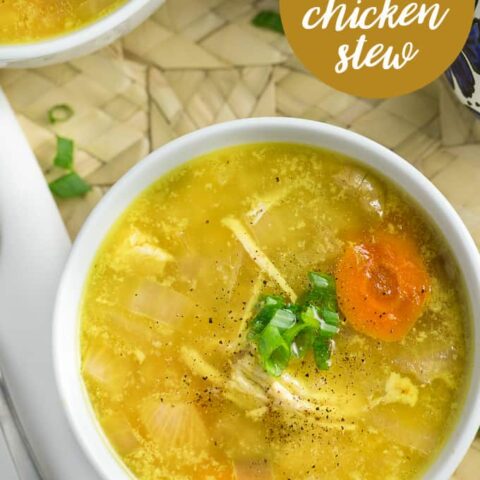 Curried Chicken Stew
Total Time:
8 hours
10 minutes
Comforting and delicious! This easy crockpot stew recipe is made with tender chicken, coconut milk, curry powder, and fresh ginger.
Ingredients
2 chicken boneless, skinless breasts, cut into 1 inch cubes
1 tsp oil
5 carrots, coarsely chopped
2 onions, chopped
1 tbsp. fresh ginger, grated
6 cloves garlic, minced
1 14.5 oz can chicken broth
1 cup coconut milk
1 tbsp. curry powder
1/2 tsp. salt
Instructions
Add oil to a skillet and heat over medium-high heat. Add chicken and cook for 5 to 7 minutes or until lightly browned. Drain off fat.
In a slow cooker, layer the carrots, chicken, onions, garlic and ginger.
In a medium bowl, whisk together broth, coconut milk, curry powder and salt. Pour into the slow cooker.
Cover and cook on low-heat for 6 to 8 hours or on high-heat for 3 to 4 hours.
Recommended Products
As an Amazon Associate and member of other affiliate programs, I earn from qualifying purchases.
Nutrition Information:
Yield:

4
Serving Size:

1
Amount Per Serving:
Calories:

316
Total Fat:

19g
Saturated Fat:

12g
Trans Fat:

0g
Unsaturated Fat:

5g
Cholesterol:

65mg
Sodium:

842mg
Carbohydrates:

14g
Fiber:

3g
Sugar:

5g
Protein:

24g