Get ready for a flavor-packed dinner with this Slow Cooker Butter Chicken. Tender chicken cooked in a rich tomato cream sauce creates a creamy and satisfying dish that pairs perfectly with rice or Naan bread. It makes it an excellent and easy meal using everyday ingredients that will leave you craving more.
If you want to spice up your weeknight meals, look no further. This fantastic slow cooker butter chicken recipe will add some pizzazz to your regular weekly meal plan. An eclectic combination of warm spices like paprika, garam masala, turmeric, and cumin make this recipe perfect for the whole family.
Whether this is the first time your family is trying slow cooker butter chicken or you are simply seeking a new recipe, this is a great option. It uses only a few simple ingredients to create a creamy, tangy flavor experience for everyone. This delicious meal is perfect for any time of year with a flavorful sauce and juicy chicken best served with naan, rice, or even on its own.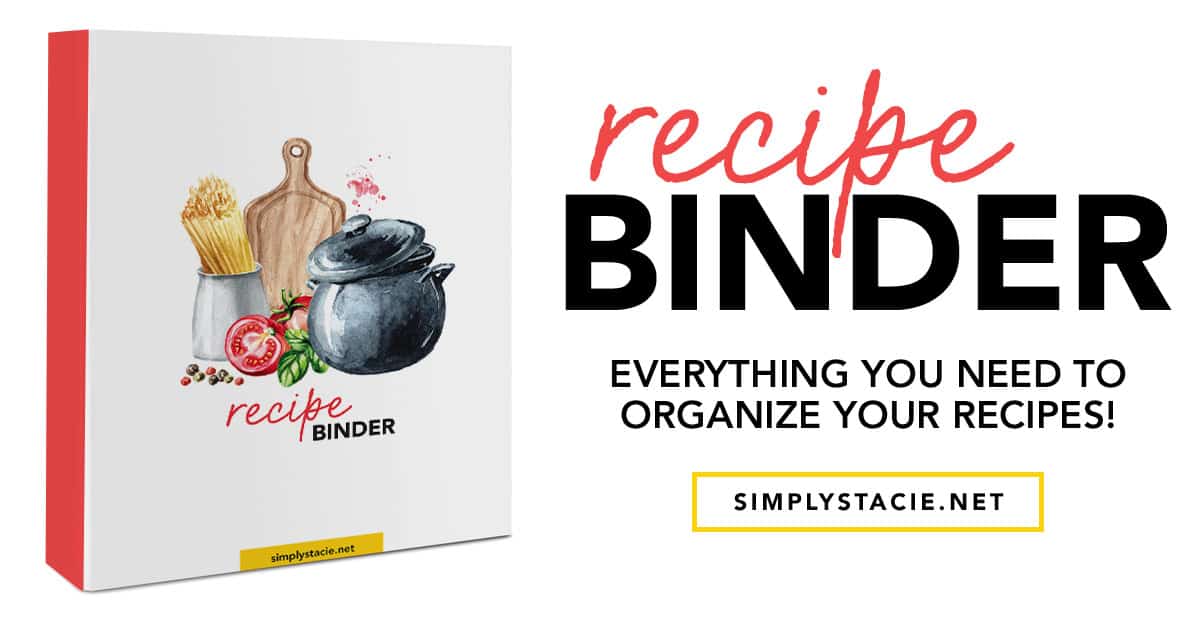 Why You'll Love Slow Cooker Butter Chicken
Easy to Make: This recipe is super easy to make. While a traditional butter chicken recipe uses several complex cooking techniques, this allows the slow cooker to do most of the work. With minimal effort, you will end up with a delicious and flavorful dish that will impress the entire family.
Time-Saving: Using your slow cooker allows you to "set it and forget it." Once you have combined the ingredients and placed them in the slow cooker, you can go about your day while everything cooks and the flavors come together.
Versatile Serving Options: This dish goes very well with several sides. Whether you serve it with white rice, basmati rice, fluffy naan, or on its own, this easy recipe is a huge hit. The versatility allows for different serving options depending on personal preferences.
Comfort Food: The warm spices, creamy, rich sauce, and tender chicken create an amazing comfort food experience. This version of slow cooker butter chicken is a great comforting meal for the entire family.
Meal Prep Option: This recipe is perfect for meal prep. It tastes even better the next day as the flavors meld when you store it. It works great for warm lunches, meal prep dinners throughout the week, and more.
Ingredients
The full printable recipe card with measurements and instructions is found at the bottom of the post.
Bite-sized pieces of boneless, skinless chicken breast
Large onion
Minced garlic
Dried ginger
Can of tomato sauce
Heavy cream
Butter
Garam masala
Paprika
Tumeric
Ground cumin
Salt
Cayenne pepper
Optional chopped cilantro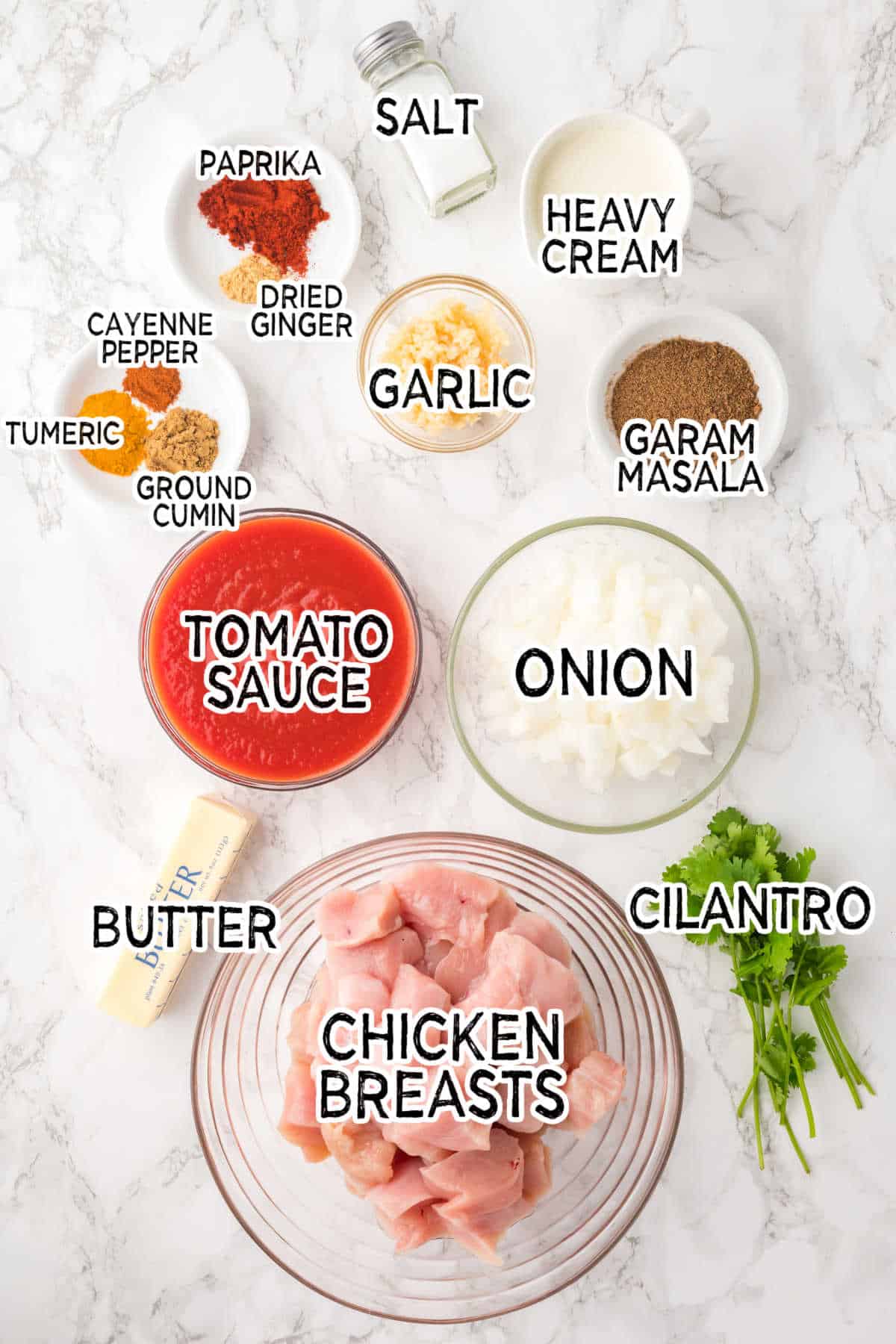 How to Make Slow Cooker Butter Chicken
Step One: In a mixing bowl, combine the onion, garlic, ginger, tomato sauce, heavy cream, butter, garam masala, paprika, turmeric, cumin, salt, and cayenne pepper. Mix well.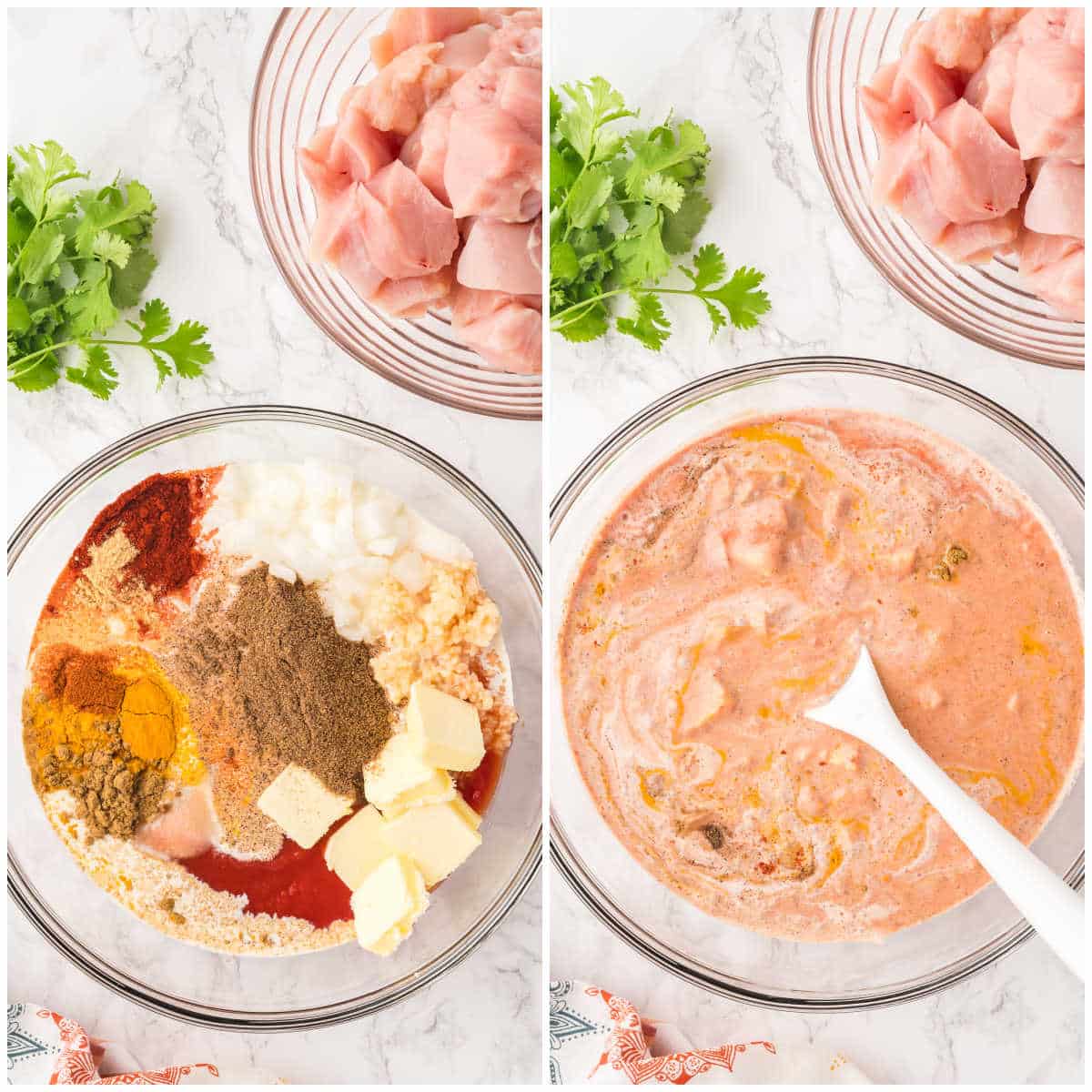 Step Two: Place the chicken in the slow cooker.
Step Three: Pour the tomato mixture over the chicken and stir well to coat the chicken.
Step Four: Cover and cook on high for 3-4 hours or low for 6-8 hours until the chicken is tender.
Step Five: Serve hot, garnished with fresh cilantro, if desired.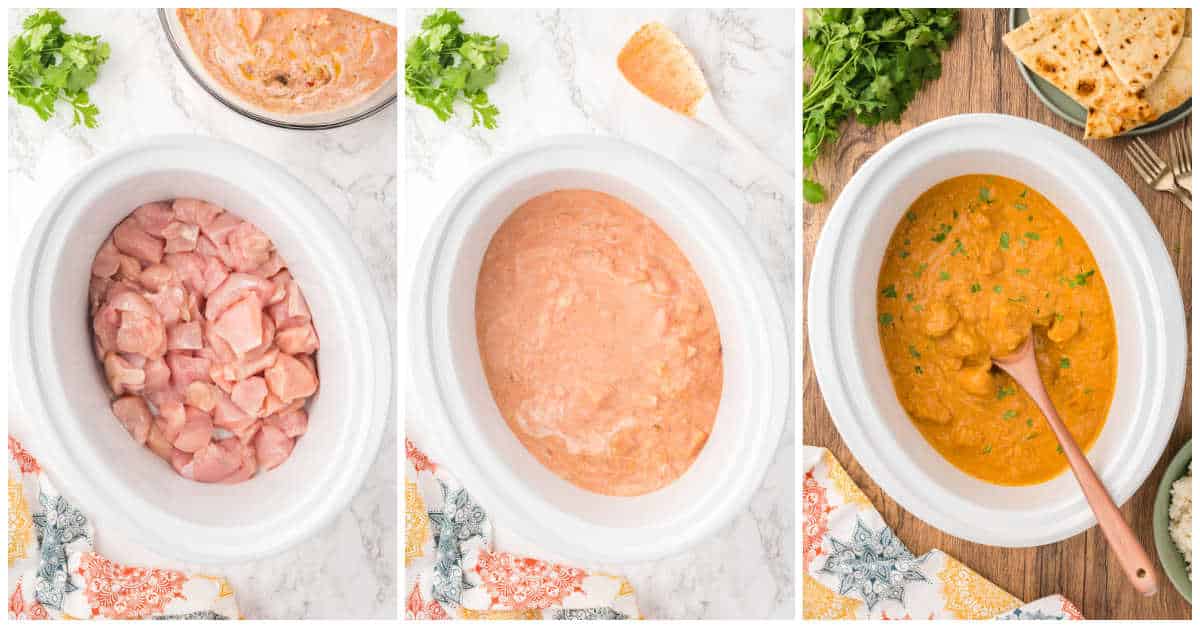 Equipment Needed
This post contains affiliate links.
What to Serve with Slow Cooker Butter Chicken
There are several great things to serve with this delicious butter chicken recipe. No matter what you choose, there is something everyone will enjoy.
Cucumber raita
Mint chutney
Cilantro-like rice
Rosemary bread
Scalloped potatoes
Steamed vegetables
Tostadas
Broccoli
Naan bread
Chapati
Garlic breadsticks
Saag
Cauliflower rice
Onion bhajis
Variations and Substitutions
Coconut Butter Chicken: Replace heavy cream with coconut milk for a creamy coconut-flavored twist. This is also an excellent option for those who want to reduce the lactose content of the dish.
Spicy Butter Chicken: Increase the cayenne pepper or add chopped fresh chili if you want a spicy butter chicken. This will create a spicer version, upping the flavor.
Chicken Thighs: Use boneless chicken thighs instead of chicken breasts for a different texture and flavor. Using chicken thighs creates a richer, deeper flavor.
Crushed Tomatoes: You can use crushed tomatoes instead of tomato sauce. Just make sure to use an immersion blender to make the sauce smoother.
Vegetarian Options: Replace the chicken with cubed Indian cheese, also known as paneer. Follow the recipe as directed from there. You can also use cubed tofu instead of chicken if you can't find paneer.
Garam Masala Replacement: If you don't have garam marsala or can't find it, use a combination of ground coriander, cumin, and cinnamon.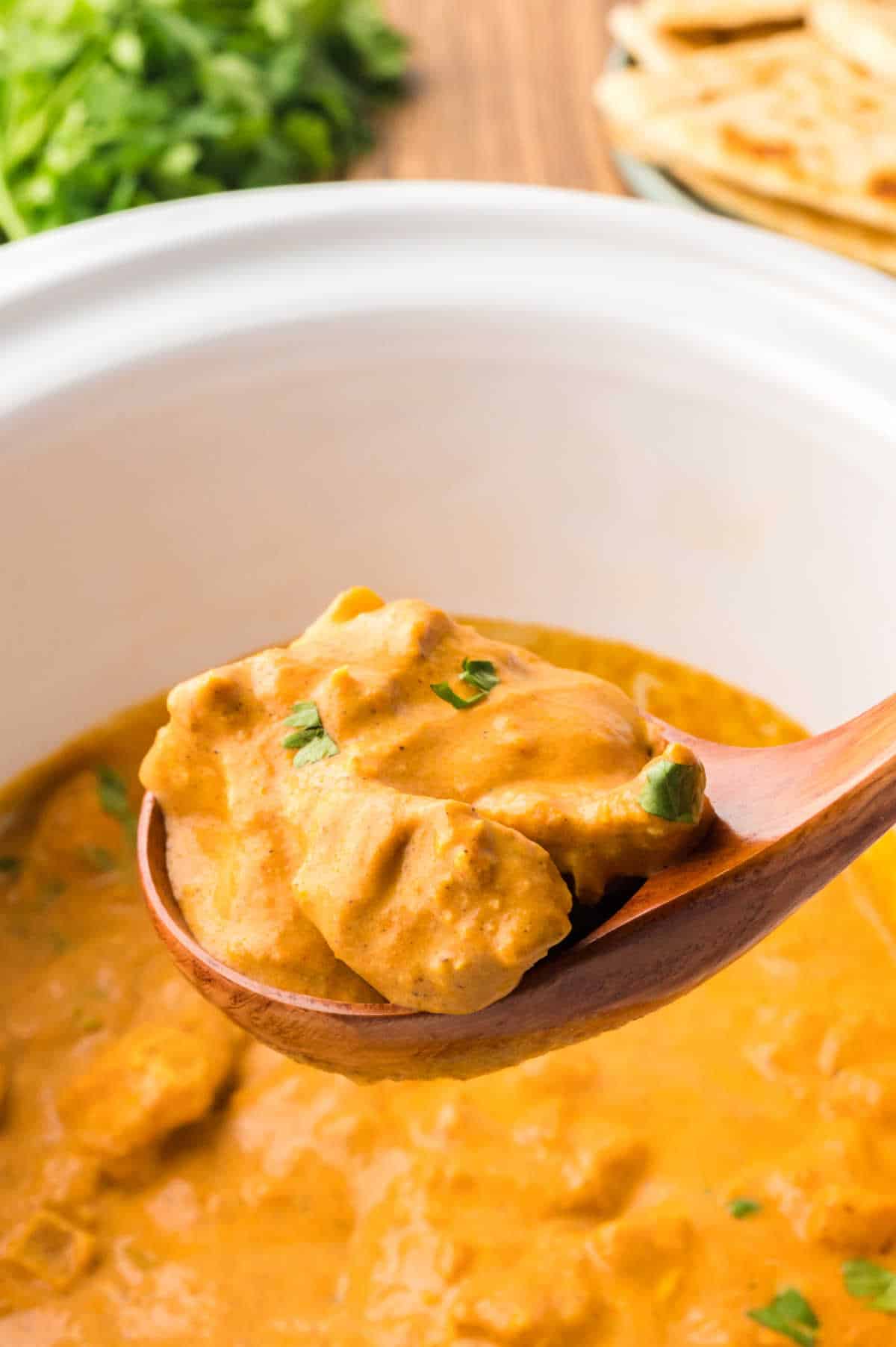 Storage Instructions
If you have leftover butter chicken or are using this recipe for meal prep, you can easily store this recipe.
Allow your butter chicken to cool, and transfer it to an airtight container. It can be stored in the refrigerator for up to 4 days.
Can I Freeze?
You can freeze leftovers from this crockpot butter chicken recipe. Simply allow it to cool completely before you transfer it to a freezer-safe container and place it in the freezer. It will keep for about three months. To reheat it, thaw this butter chicken recipe in the fridge overnight and reheat it on the stovetop or microwave until heated.
Recipe Tips and Tricks
Saute Aromatics: For enhanced flavor, consider sautéing the chopped onions and minced garlic in a bit of oil or butter until softened and aromatic before adding them to the slow cooker. This will create a deeper, richer, flavored sauce.
Brown the Chicken: To develop richer flavors, lightly brown the chicken pieces in a skillet before placing them in the slow cooker. Doing this will add texture and depth to your chicken, making it a more well-rounded dish.
Marinate for Extra Flavor: Marinate the chicken in the spice mixture and Greek yogurt for a few hours or overnight. This step infuses the chicken with more intense flavors, creating a more tender texture.
Use Quality Spices: Fresh, high-quality spices can significantly impact the flavor of your dish. Check the expiration dates of your spices and consider grinding whole spices for the best flavor. Using the freshest, highest-quality spices will create a delicious flavor experience.
Stirring: If possible, give the contents of the slow cooker a gentle stir once or twice during cooking to ensure an even distribution of flavors.
Fresh Garnishes: Add fresh cilantro before serving to preserve its vibrant color and flavor. You can also add a squeeze of lemon or lime juice for freshness.
What is Butter Chicken?
Butter chicken, also known as Murgh Makhani, is a famous dish for Indian food. Butter chicken is popular worldwide, featuring tender chicken cooked in a creamy sauce with aromatic spices and served with various sides. This dish captures the essence of Indian cuisine, allowing everyone to celebrate its rich flavors.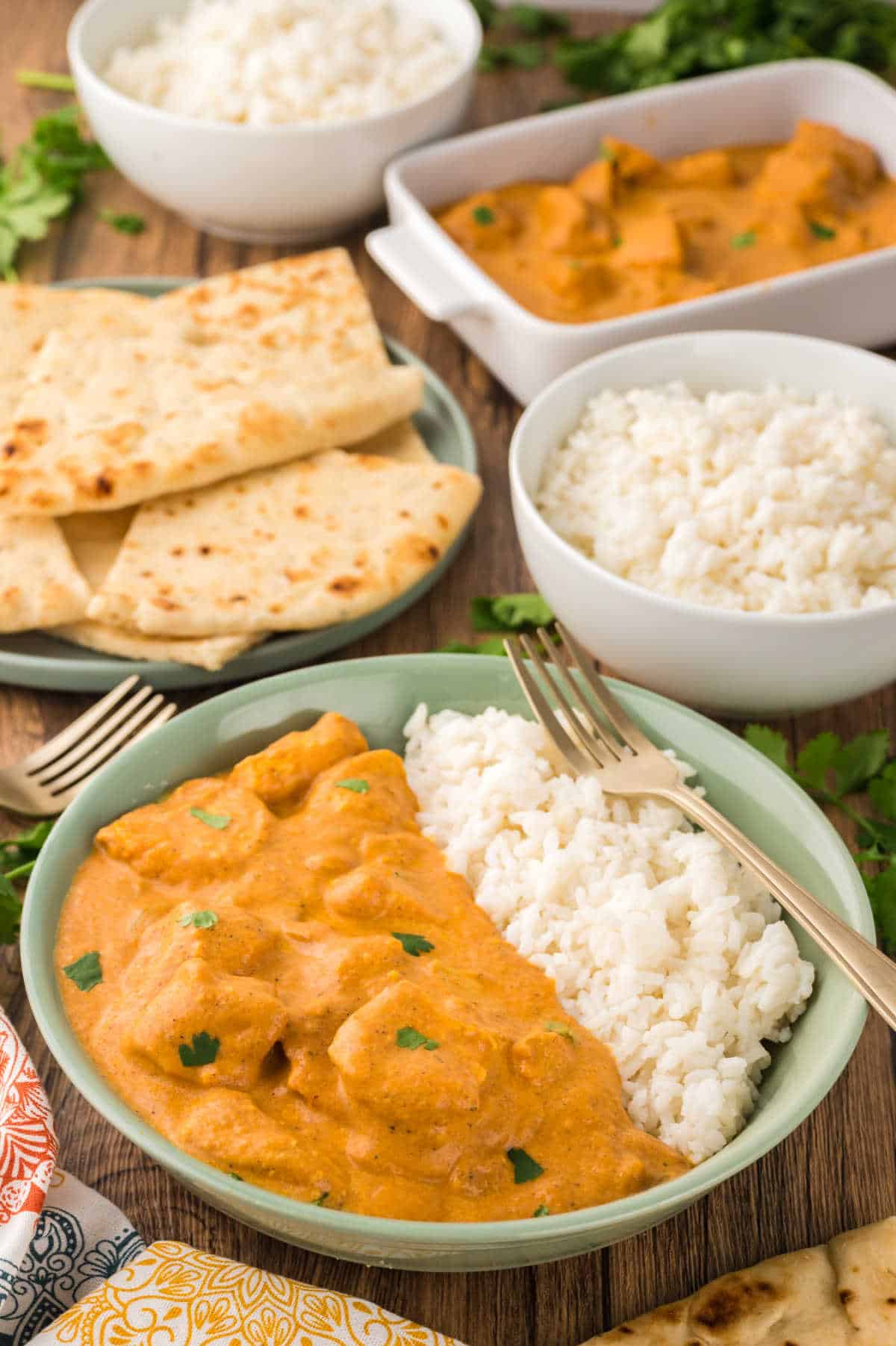 What Does Butter Chicken Taste Like?
Butter chicken has a very distinct and rich flavor. Tender chicken is combined with a velvety tomato-based sauce and infused with aromatic spices. The result is a creamy, rich, and comforting dish that showcases the tanginess of tomatoes, the warmth of the spices, and a touch of spice.
How to Serve
Main Course: Butter chicken is often the star of the meal and can be served as the main course. Ladle the tender chicken pieces and creamy sauce onto individual plates or serving bowls. Serving butter chicken on its own is a great way to showcase the rich flavors of this dish.
Accompaniments: Serve butter chicken with accompaniments that complement its flavors. Basmati rice is a classic choice; its fragrant, long grains contrast the creamy sauce. Freshly baked naan bread or roti are popular options for scooping up the sauce and chicken. No matter what you serve this recipe with, it will impress.
Garnishes: Enhance the visual appeal and taste by garnishing with fresh chopped cilantro. The vibrant green color of cilantro adds a pop of freshness and even more visual appeal to the dish.
Family-Style: Serve the butter chicken in a large serving dish placed at the center of the table. Allow guests to help themselves, creating an inviting and communal dining experience.
Party or Gathering: Butter chicken is an excellent choice for parties and gatherings. Keep it warm in a slow cooker or on a stovetop on low heat. Set up a serving station with rice, bread, and accompaniments so guests can create their plates.
Stovetop Instructions
Step One: In a mixing bowl, combine the chicken pieces with garam masala, paprika, turmeric, ground cumin, salt, and cayenne pepper. Allow to marinate for at least 30 minutes.
Step Two: Heat a tablespoon of cooking oil in a large skillet over medium heat. Sauté chopped onion until translucent and slightly browned.
Step Three: Add minced garlic and dried ginger to the skillet. Sauté for another minute until fragrant.
Step Four: Stir in tomato sauce and cook for a few minutes. Add butter and heavy cream. Stir until well combined.
Step Five: Add marinated chicken pieces to the skillet. Reduce heat to medium-low and simmer for about 15-20 minutes, stirring occasionally, until chicken is cooked.
Step Six: Taste and adjust seasoning if needed. Add more salt, garam masala, or cayenne pepper as desired.
Step Seven: Remove the skillet from the heat. Garnish with chopped cilantro if desired.
Step Eight: Serve butter chicken over cooked basmati rice, naan bread, or alongside your favorite side dishes.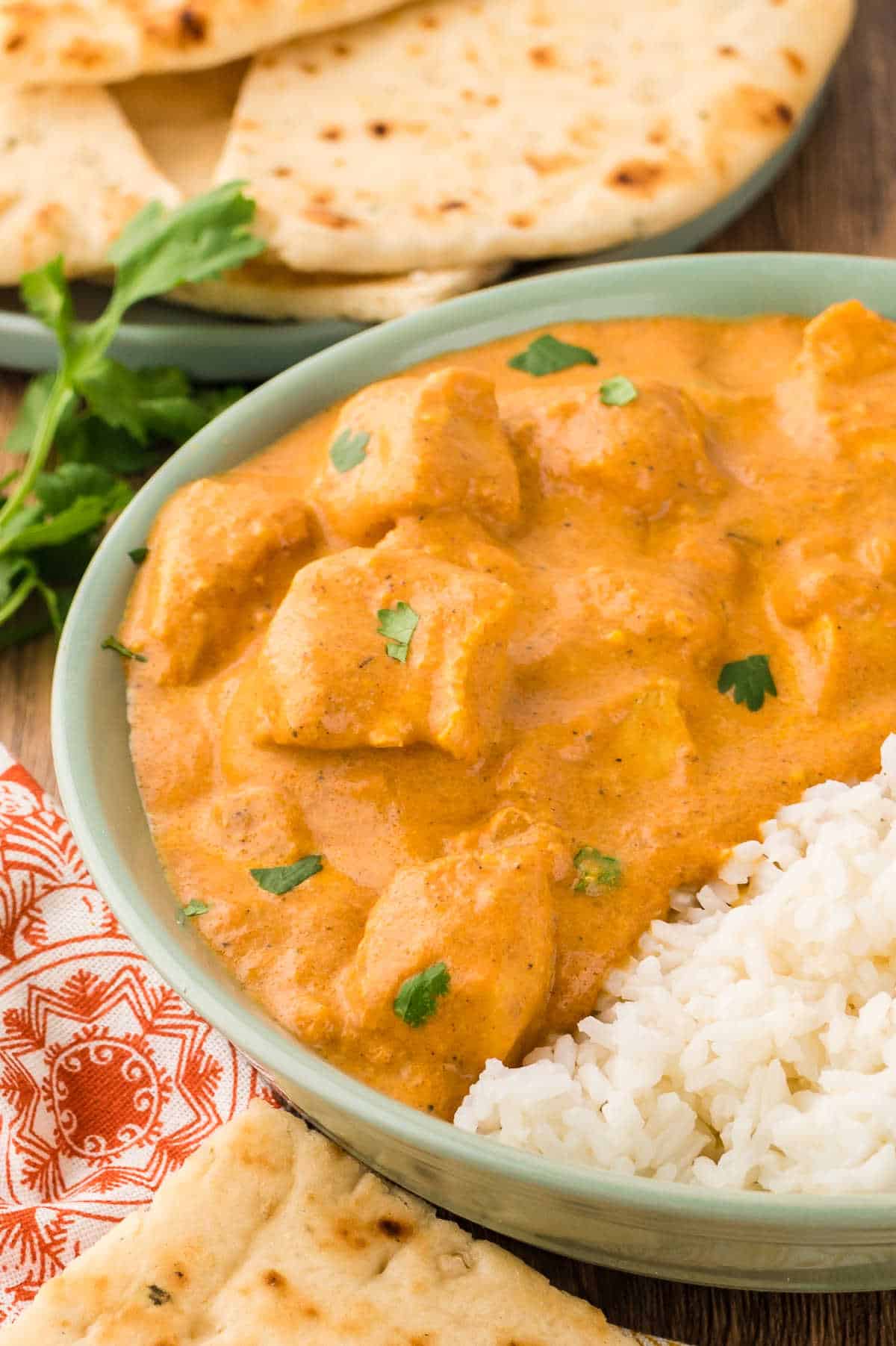 Is it Spicy?
This slow cooker butter chicken recipe would be considered mild to moderate regarding spice levels. This is because the amount of cayenne pepper used provides a hint of warmth and flavor but is unlikely to make the dish extremely spicy. Add more cayenne, chili powder, or some chilis if you want to add heat.
Do I Need to Brown the Chicken First?
While you can brown the chicken to create a deeper flavor, it is not necessary. You can easily put all the ingredients into the slow cooker and allow them to cook that way.
How to Thicken the Sauce
If your butter chicken sauce is a little thinner than you would like, you can easily thicken it. Create a cornstarch slurry using 1 to 2 tablespoons of cornstarch with equal cold water and add it to the sauce for the last 30 minutes of cooking. This should thicken up the sauce and make it the perfect consistency.
Crockpot Chicken Recipes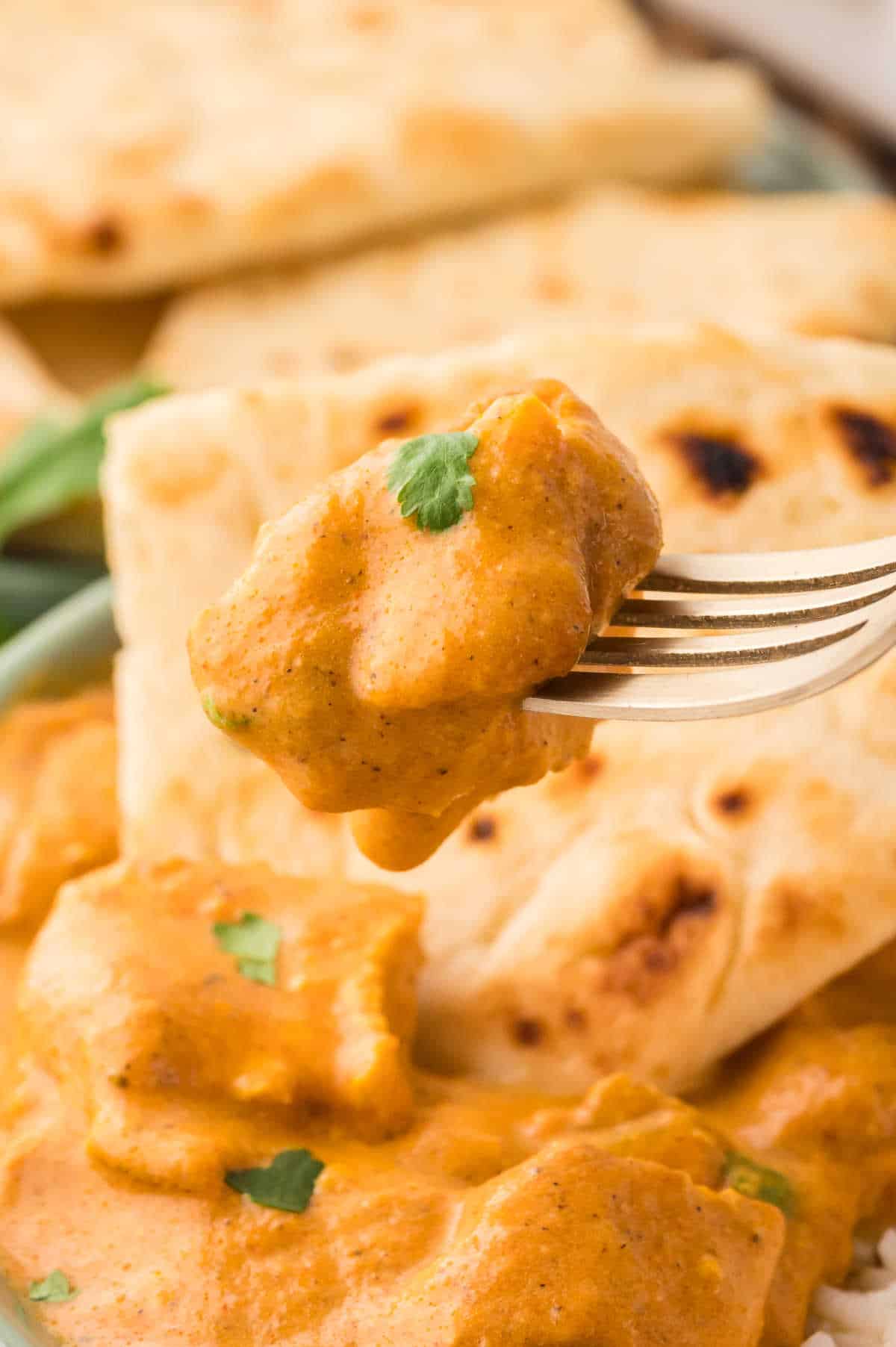 FAQ
Does this recipe take a long time to make?
This recipe takes only 15 minutes of prep time, but the total time can vary since it is cooked using a slow cooker. You can cook the butter chicken on high for 3-4 hours or low for 6-8 hours. It is totally up to you.
How many servings does this recipe make?
This recipe makes 4-6 servings. You can easily double the recipe to make a larger batch for meal prep.
Chicken Recipes
Follow me on Instagram @simplystacieblog, Facebook at Simply Stacie, TikTok @simplystacierecipes or Pinterest at @simplystacie and let me know how you liked this recipe and my other recipes.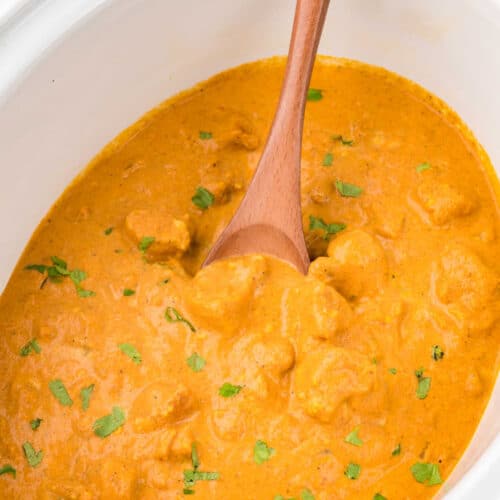 Slow Cooker Butter Chicken
Get ready for a flavor-packed dinner with this Slow Cooker Butter Chicken. Tender chicken cooked in a rich tomato cream sauce creates a creamy and satisfying dish that pairs perfectly with rice or Naan bread, making it an amazing and easy meal using everyday ingredients that will leave you craving for more.
Print
Facebook
Pin
Share by Text
Share by Email
Rate
Ingredients
2

lbs

boneless, skinless chicken breasts

cut into bite-sized pieces

1

large yellow onion

finely chopped

4

cloves

garlic

minced

½

tsp

dried ginger

1

can

tomato sauce

15oz can

1

cup

heavy cream

¼

cup

unsalted butter

2

tbsp

garam masala

2

tsp

paprika

1

tsp

turmeric

1

tsp

ground cumin

½

tsp

salt

¼

tsp

cayenne pepper

fresh cilantro

chopped, optional
Instructions
In a mixing bowl, stir together the onion, garlic, ginger, tomato sauce, heavy cream, butter, garam masala, paprika, turmeric, cumin, salt and cayenne pepper.

Place the chicken in the slow cooker.

Pour the tomato mixture over the chicken and stir well to coat the chicken.

Cover and cook on LOW for 6 to 8 hours or HIGH for 3 to 4 hours, until the chicken is fully cooked and tender.

Garnish with cilantro, if using. Serve hot.
Kitchen Tools
Nutrition
Calories:
634
kcal
|
Carbohydrates:
16
g
|
Protein:
53
g
|
Fat:
40
g
|
Saturated Fat:
22
g
|
Polyunsaturated Fat:
3
g
|
Monounsaturated Fat:
10
g
|
Trans Fat:
0.5
g
|
Cholesterol:
243
mg
|
Sodium:
1382
mg
|
Potassium:
1489
mg
|
Fiber:
4
g
|
Sugar:
9
g
|
Vitamin A:
2170
IU
|
Vitamin C:
21
mg
|
Calcium:
96
mg
|
Iron:
3
mg
The information shown is an estimate provided by an online nutrition calculator. It should not be considered a substitute for a professional nutritionist's advice.
Love Recipes? Join our Free Facebook Group!
Join Mom's Best Recipes to find more delicious family recipes.
Save
Saved!