Pantry Chili is the best dinner on a cold night when you're almost to grocery day! Made with whatever's in your kitchen, this simple but delicious budget-friendly recipe is ready in under an hour with minimal work.
Soup season is long in Canada, and this Pantry Chili is made monthly from September to April in my house! It's a basic chili filled with whatever canned food you have in your pantry.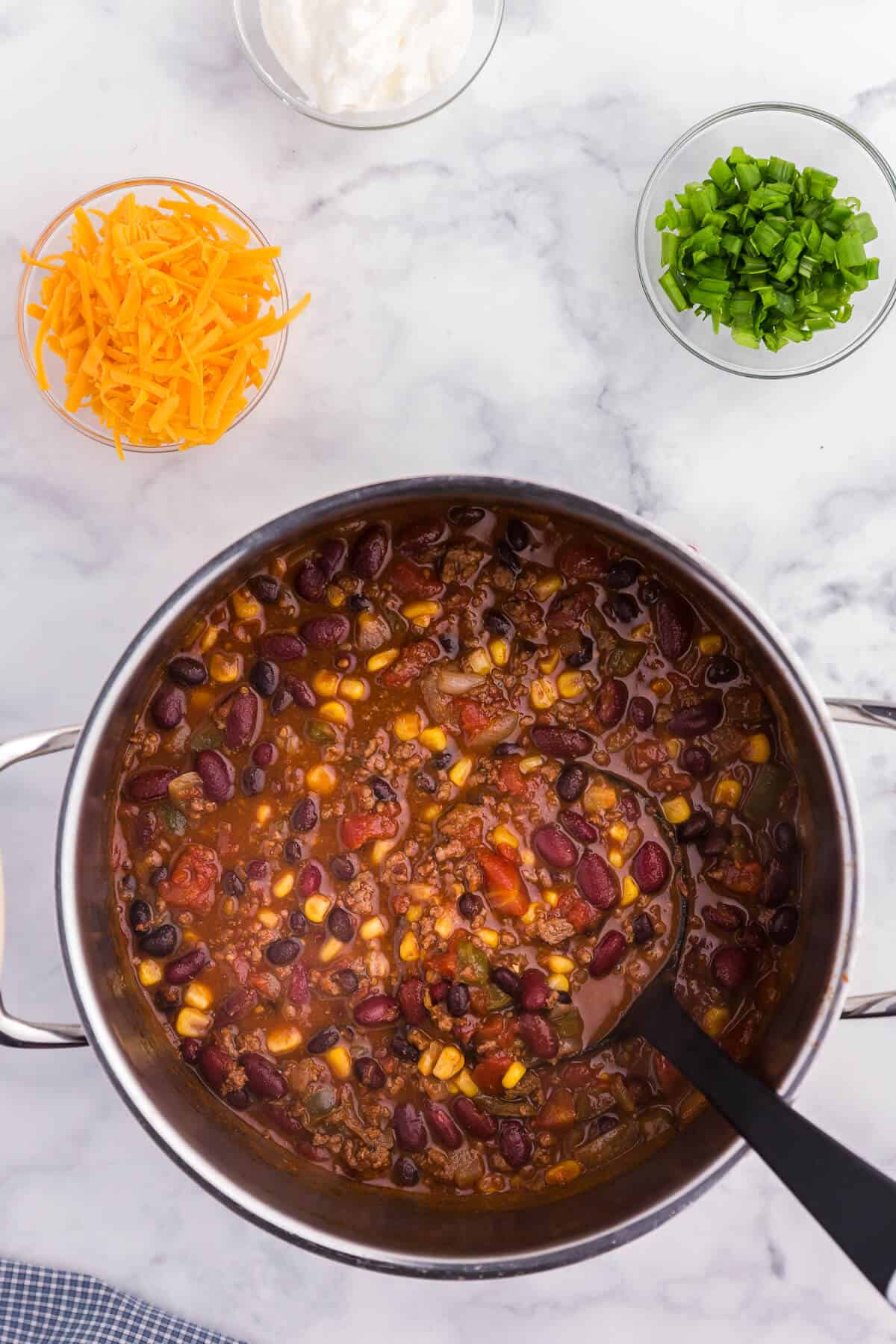 You can add a variety of beans, legumes, vegetables, spices….anything goes! In my recipe, I used canned kidney beans, black beans, corn, diced tomatoes and tomato paste. Add meat if you like or keep it vegetarian. I can whip a batch of this hearty chili up in less than 40 minutes and there is barely any prep work.
Pair it with this Winter Detox Salad for a perfect cold night soup and salad combo. You'll also like this Black Bean Vegetable Soup.
Some of the best budget meals are made with canned food. I like to keep my pantry (aka "cantry") well-stocked and will buy in bulk if something we use often is on sale. This way when an inspiration for a meal hits, I have the majority of ingredients on hand and can't whip up a delicious and healthy meal for my family!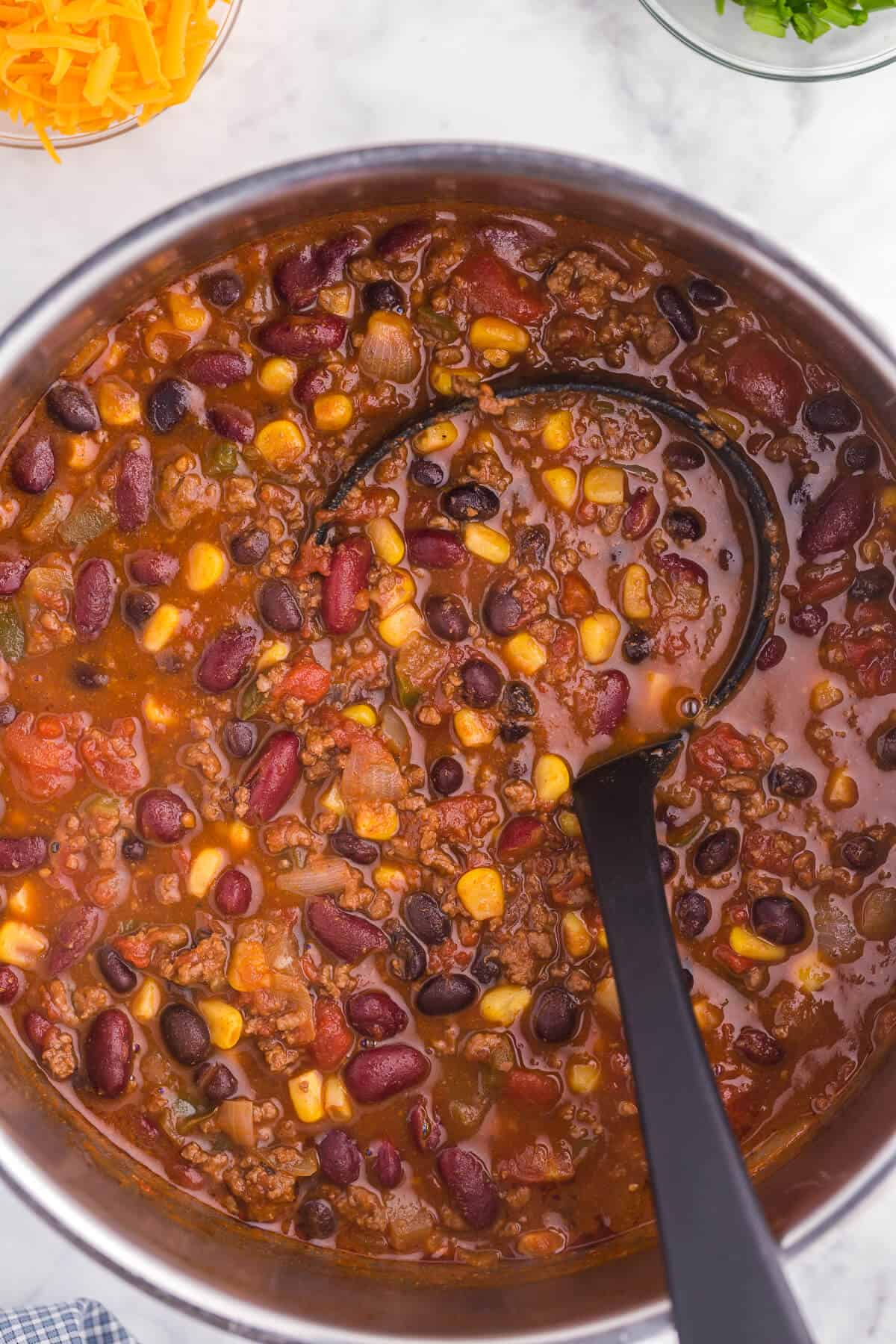 Ingredients
Onion
Garlic
Green pepper
Chili powder
Cumin
Oregano
Red wine vinegar
Salt
Tomato paste
Can of diced tomatoes
Kidney beans
Corn
Can of black beans
Ground beef
Oil
I bet that you have many of the ingredients you need right now in your pantry to make up a mean Pantry Chili like this one!
According to a University of California, Davis study, many canned fruits and vegetables have equal or more nutrients than their fresh or frozen counterparts. I guess I really didn't think about it before, but it does make sense. The canning process seals in flavor and freshness just hours after picking. Nutrients are locked in at peak ripeness, making cans one of the best ways to get food from farm to table.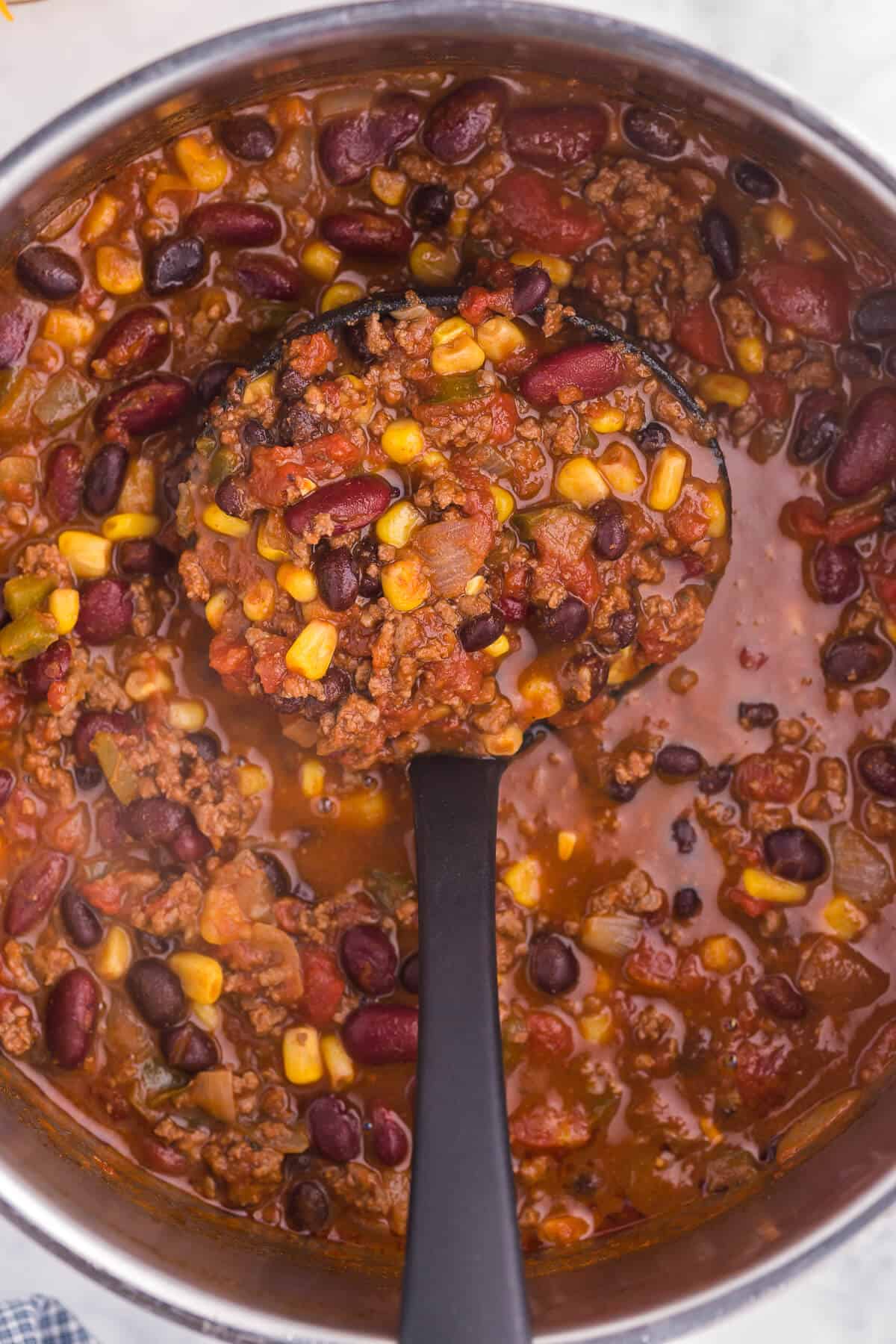 I appreciate that there is less waste with canned foods. Too often I'll buy fresh veggies or fruit only to have them go bad because I haven't had a chance to make the recipe. I hate to waste money, and I know when I buy canned food, I'm getting more bang for my buck. My cans will be there, tasty, fresh and waiting for me to use when I'm ready.
What I used for my Pantry Chili
This post contains affiliate links.
Can opener: You definitely can't make this recipe without a can opener! This one has a great grip and a lock to reduce the effort.
Stockpot: I love this covered soup pot. It's the ideal size for a family soup or stock.
Garlic press: You can mince garlic by hand, but why waste time when you can press multiple cloves in one movement?
How to Make Chili
First, heat some oil in a large soup pot and brown the beef. After a few minutes, add the onions, garlic, and green pepper and cook until the beef is fully cooked.
Then, add all your seasonings and canned ingredients and stir. Bring to a boil before simmering covered at least half an hour. Serve warm with your favorite toppings and side dishes.
That's it! If your chili gets too thick, add water or chicken broth to make it more soupy. I like to top mine with shredded cheese and a dollop of sour cream.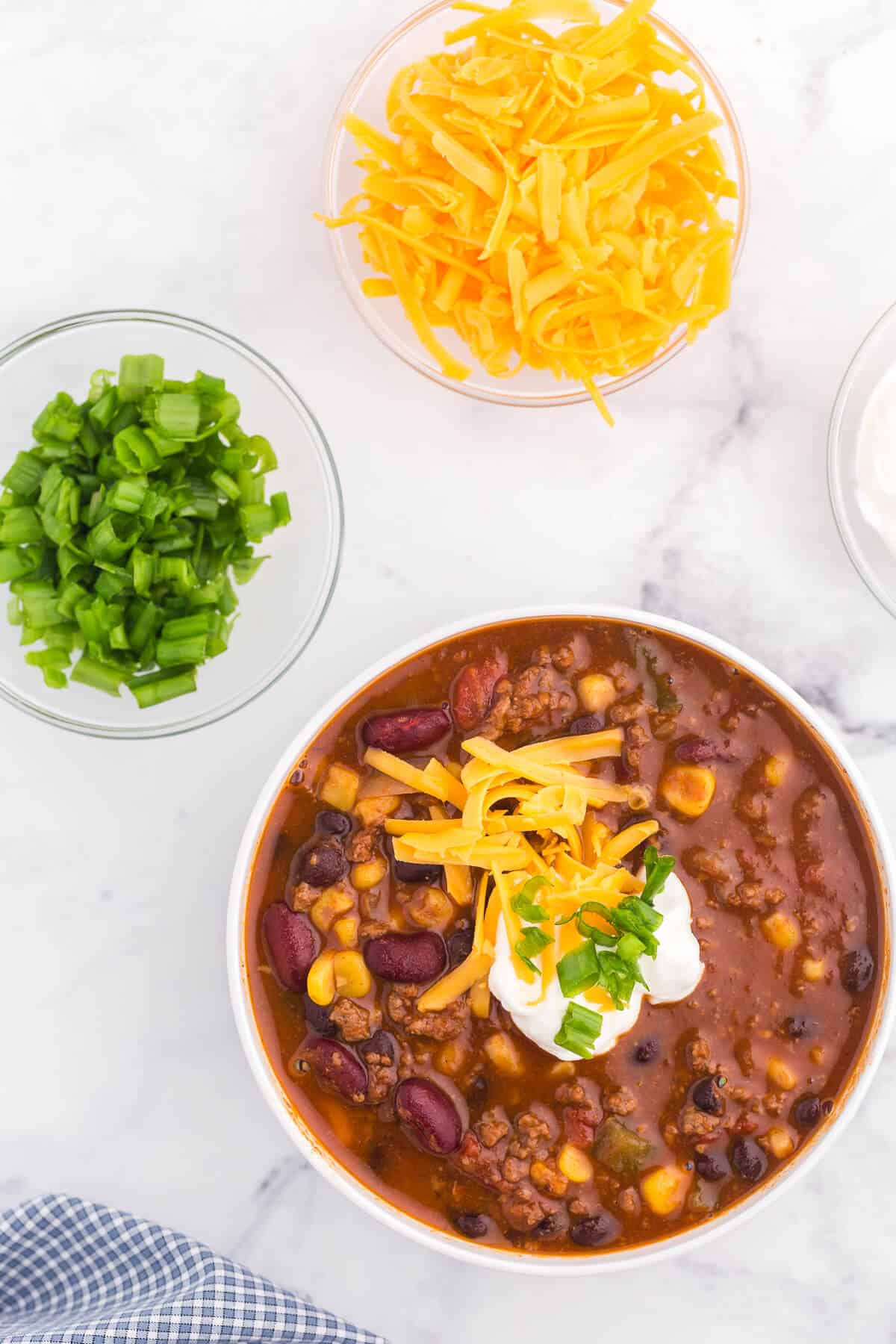 How to Store Leftovers
Assuming you have any of this delicious dish left, this chili recipe will last about 4 days in the refrigerator. It's perfect for meal prep!
You can also freeze chili! Frozen, this will last about 6 months in an airtight, freezer-safe container. It's a great soup to make in large batches and freeze in individual portions for future lunches and quick dinners.
To reheat, simply return to a pot over medium-low heat. If your chili has become too thick, add a little liquid. You can also microwave this for about 30 seconds at a time, stirring occasionally.
Other Chili Recipes
There's nothing better than chili when it's freezing outside and you're having a family night. The beauty of chili is there's so many alternatives!
If you're looking for a standard meat and bean chili, look no further than this classic best chili recipe.
When you've got a busy day and want dinner as soon as you're done, try chili in the crockpot! Slow Cooker Verde Chicken Chili is a great option for a make-ahead dinner that simmers all day.
And chili doesn't always have to be beef! I love this Southwestern Turkey 5 Bean Chili because it's lower in fat that traditional but just as flavorful.
Switch it up this Taco Tuesday with this Taco Chili! All the comfort of the original with canned corn and taco sauce.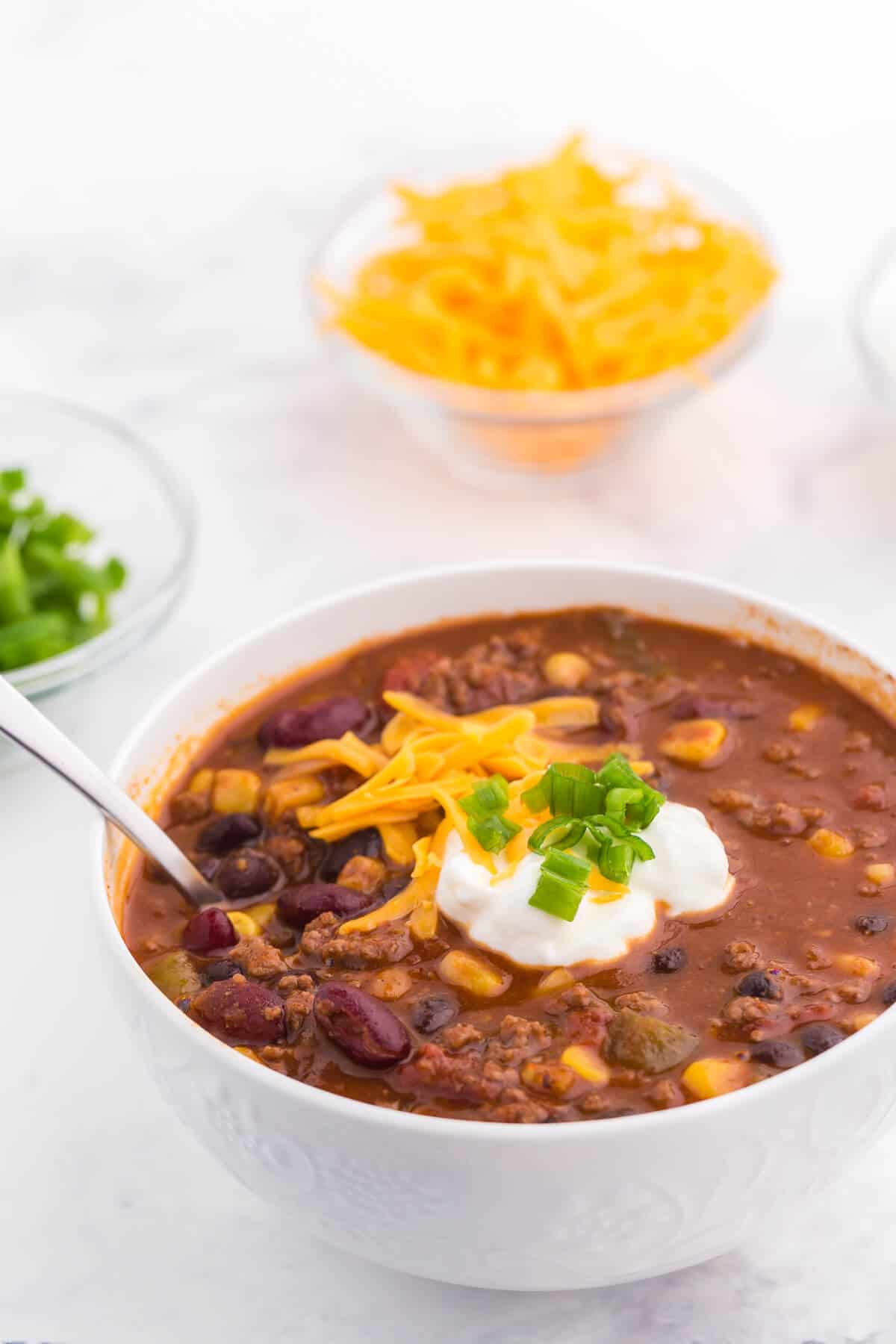 Other amazing recipes to try…
Do you have any amazing soup recipes? I'm always looking for more recipes to try! Follow me on Instagram @simplystacieblog, on Facebook at Simply Stacie, and on Pinterest @SimplyStacie and let me know how you liked this and my other recipes!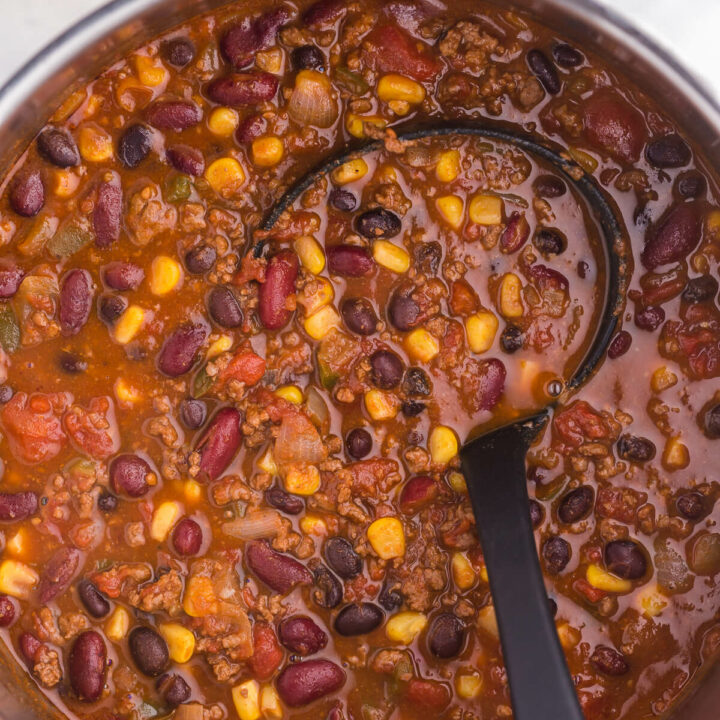 Pantry Chili
A simple, hearty soup made with just pantry staples! This beefy chili recipe is packed with corn, black beans, tomatoes, and kidney beans with a homemade seasoning blend for the best homemade chili recipe.
Ingredients
1 onion, chopped
2 cloves garlic, minced
1 green pepper, chopped
2 tbsp chili powder
½ tsp cumin
½ tsp oregano
1 tbsp red wine vinegar
¼ tsp salt
2 tbsp tomato paste
1 796 mL can diced tomatoes
1 540 mL can kidney beans, drained
1 341 mL can corn
1 540 mL can black beans, drained
1 lb ground beef
1 tbsp cooking oil
Instructions
Heat the oil in a large pot on the stove over medium heat. Add in ground beef and cook for 2 to 3 minutes. Stir in onions, garlic and green pepper and continue cooking until beef is browned and onions and peppers are softened.
Stir in chili powder, cumin, oregano and salt. Then add diced tomatoes (undrained), kidney beans, black beans, corn, red wine vinegar and tomato paste and stir together. Bring to a boil and then reduce heat to low. Cover and simmer for 30 minutes. Serve hot.
Recommended Products
As an Amazon Associate and member of other affiliate programs, I earn from qualifying purchases.
Nutrition Information:
Yield:

6
Serving Size:

1
Amount Per Serving:
Calories:

465
Total Fat:

18g
Saturated Fat:

6g
Trans Fat:

1g
Unsaturated Fat:

9g
Cholesterol:

67mg
Sodium:

984mg
Carbohydrates:

45g
Fiber:

15g
Sugar:

10g
Protein:

34g