Pumpkin Chili is a fantastic way to utilize that canned pumpkin in your pantry. A savory and filling pumpkin chili recipe that is beyond flavorful and unique! This pumpkin chili is one recipe you don't want to pass up.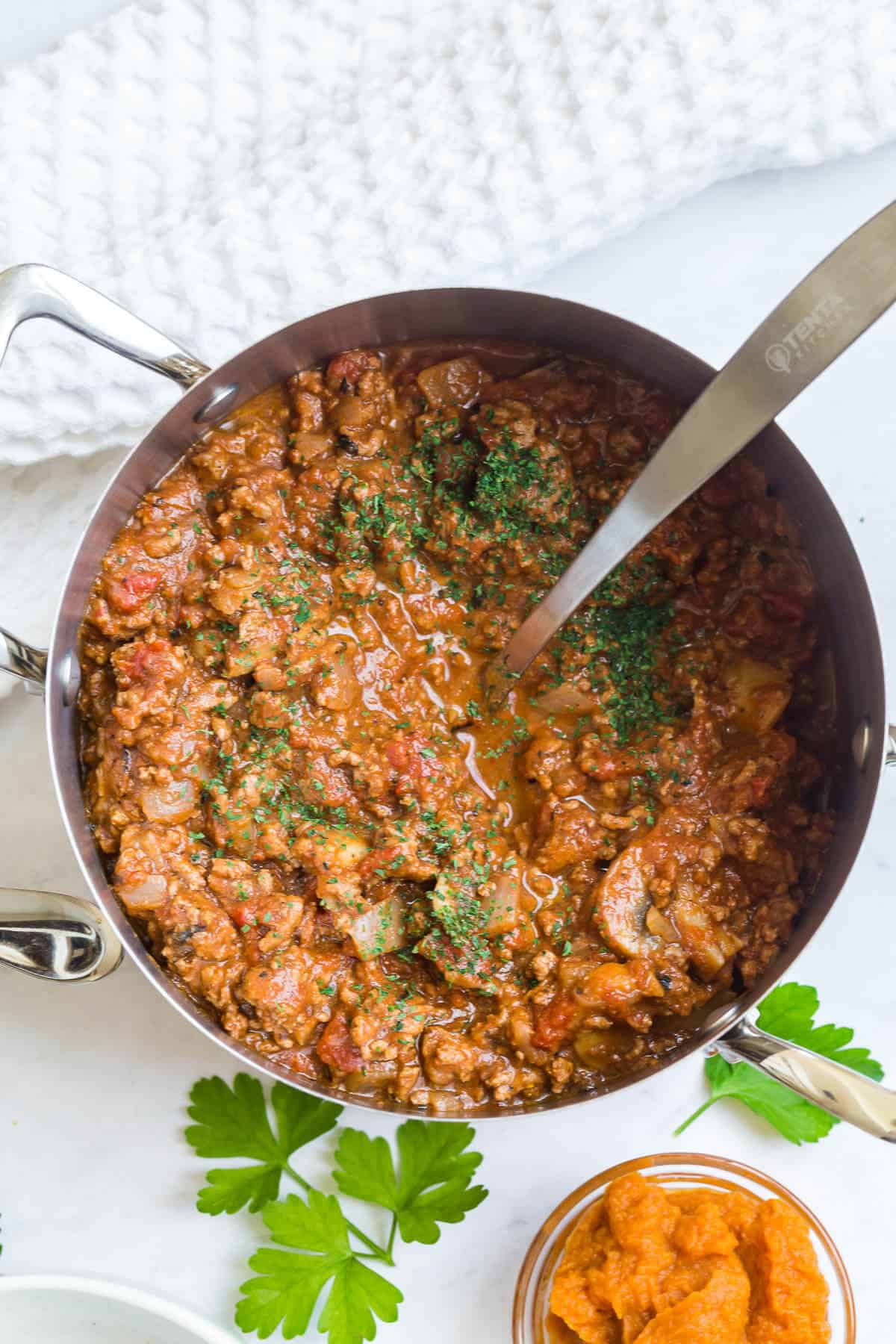 I was looking through the most recent edition of Taste of Home magazine, and I found a recipe for Pumpkin Chili that intrigued me. We like chili here, but I'd never tried it with pumpkin before and was curious if it would be good or not. I changed a few things though. I left out the beans because I'm on a low carb diet and didn't add the sugar. Then I also added in some sliced mushrooms.
Pumpkin Chili
Pumpkin Chili is a lighter version to regular chili. I opted to leave the beans out and replaced it with mushrooms to make it a filling chili. The beauty of this recipe is only a handful of ingredients is needed, and a short time to cook.
You'll also like this Pumpkin Soup.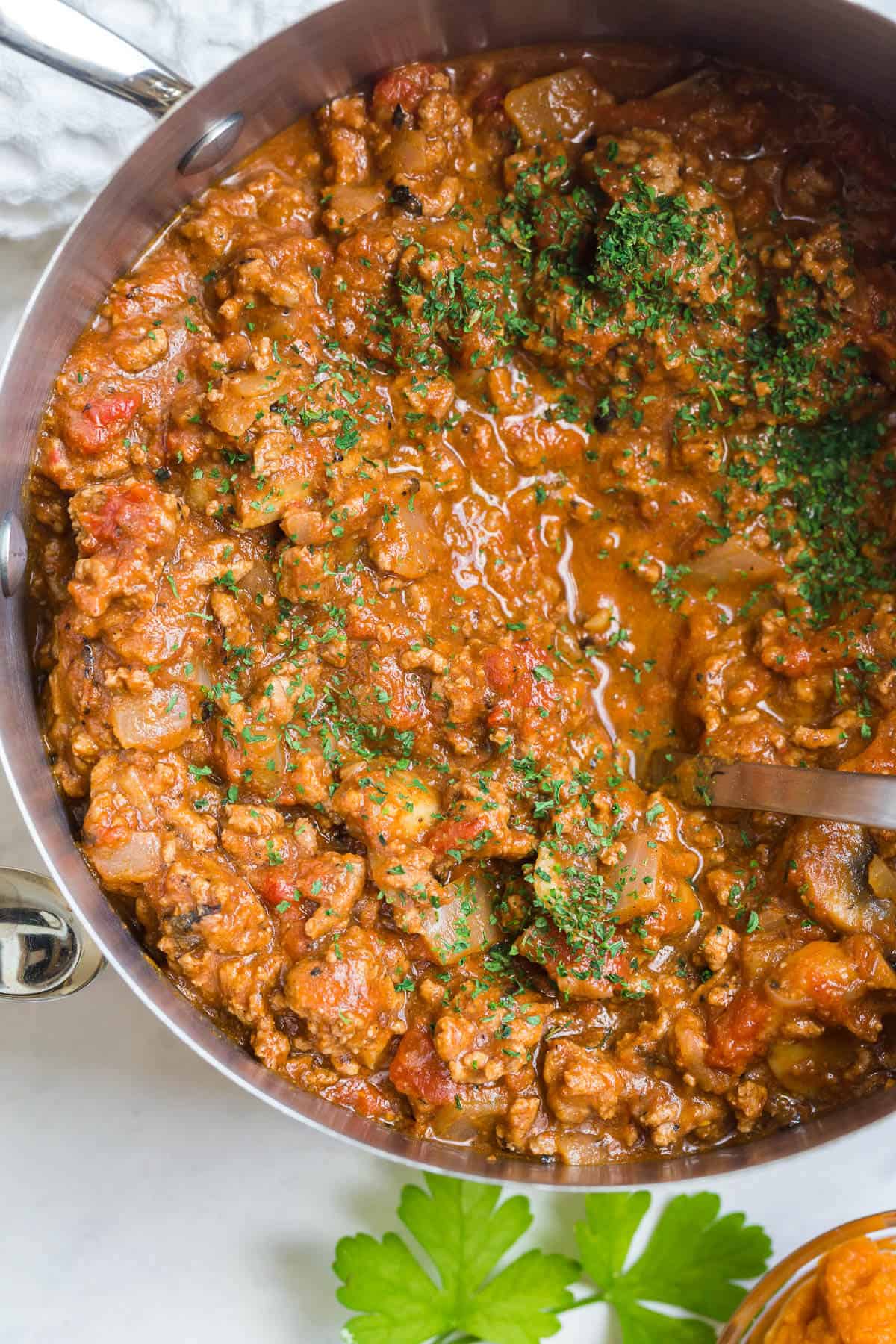 Looking for more twists on chili
White Chicken Chili | Give this chicken chili a try. White beans, tender chicken, in a savory broth. This is an excellent version of chili to try.
Bean Chili | Nothing beats a delicious bean chili. Hearty, protein-packed chili that will fill you up and bursting with flavor.
Taco Chili | If you love Tex-Mex flavors, give this recipe a try. I am a huge fan of Mexican flavors, and this recipe is so simple to make.
Can I Use Homemade Pumpkin Puree
Yes! If you prefer making homemade pumpkin puree go for it. I reached for can for an easy, quick fix, but if you have puree, you made on hand add in the same amount of measured puree the recipe calls for.
What is in Pumpkin Chili
For my recipe, I used ground beef, onions, pumpkin puree, mushrooms, tomatoes and a handful of spices. You are welcome to add in canned beans if you want, vs. leaving them out. You could toss in one to two cans of chili beans if you would like. Or do a can of pinto and kidney for a variety.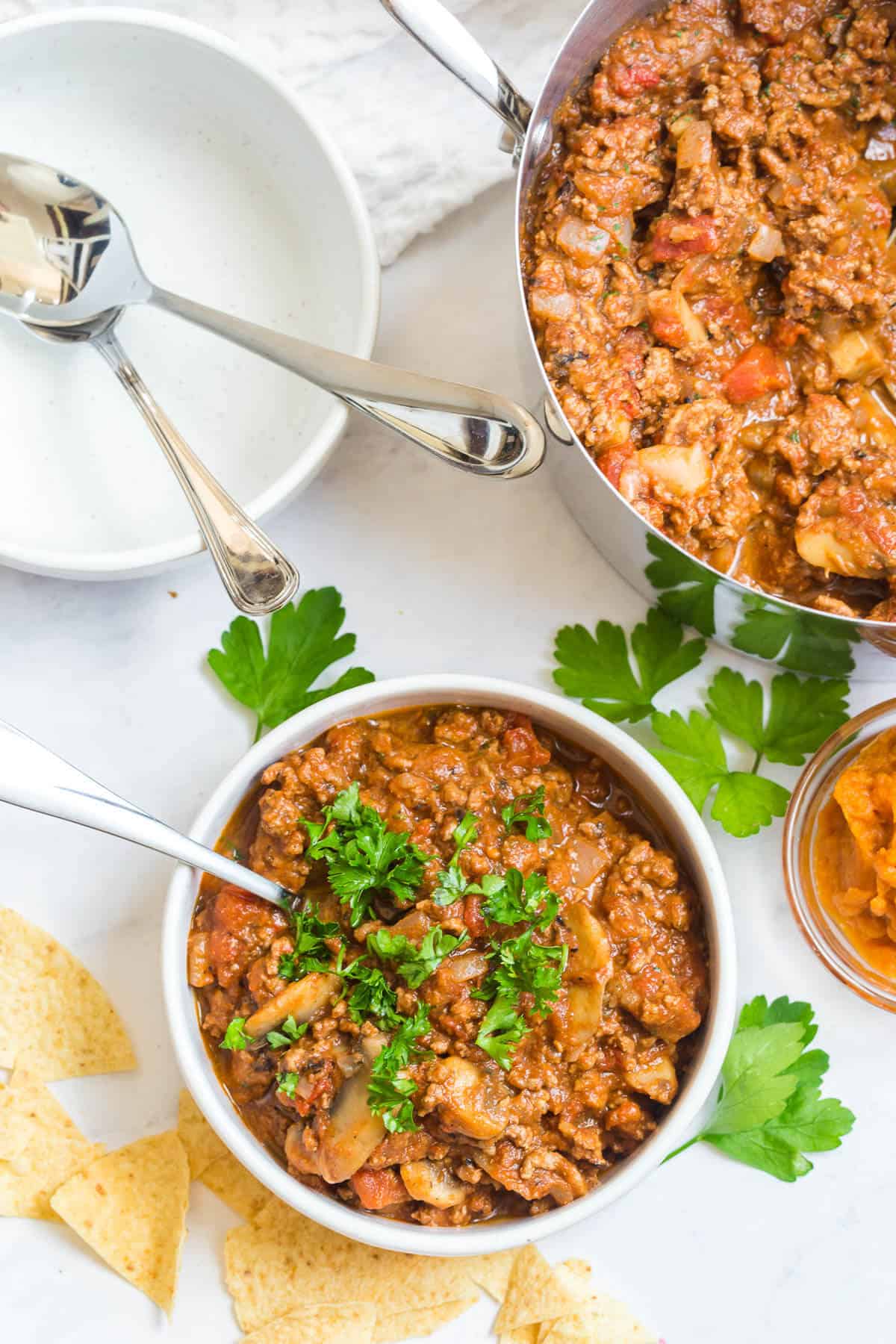 Can I Make Pumpkin Chili in the Crockpot
You can make Pumpkin Chili in the crockpot! Just cook up your beef and onion in a skillet and drain the fat. Then add it into the crockpot along with all the other ingredients. Then turn your crockpot on high for 2-3 hours or low for 4-5 hours.
Can I Use Sausage to Replace Ground Beef in Pumpkin Chili
I haven't tried swapping out the beef for sausage, but I think it could work. Or you could even do one pound beef and two pounds sausage if you want to add even more flavor. Or use ground turkey for a leaner protein.
You could even cook up some diced chicken and replace the ground beef if you want. I loved the ground beef route, but there are options.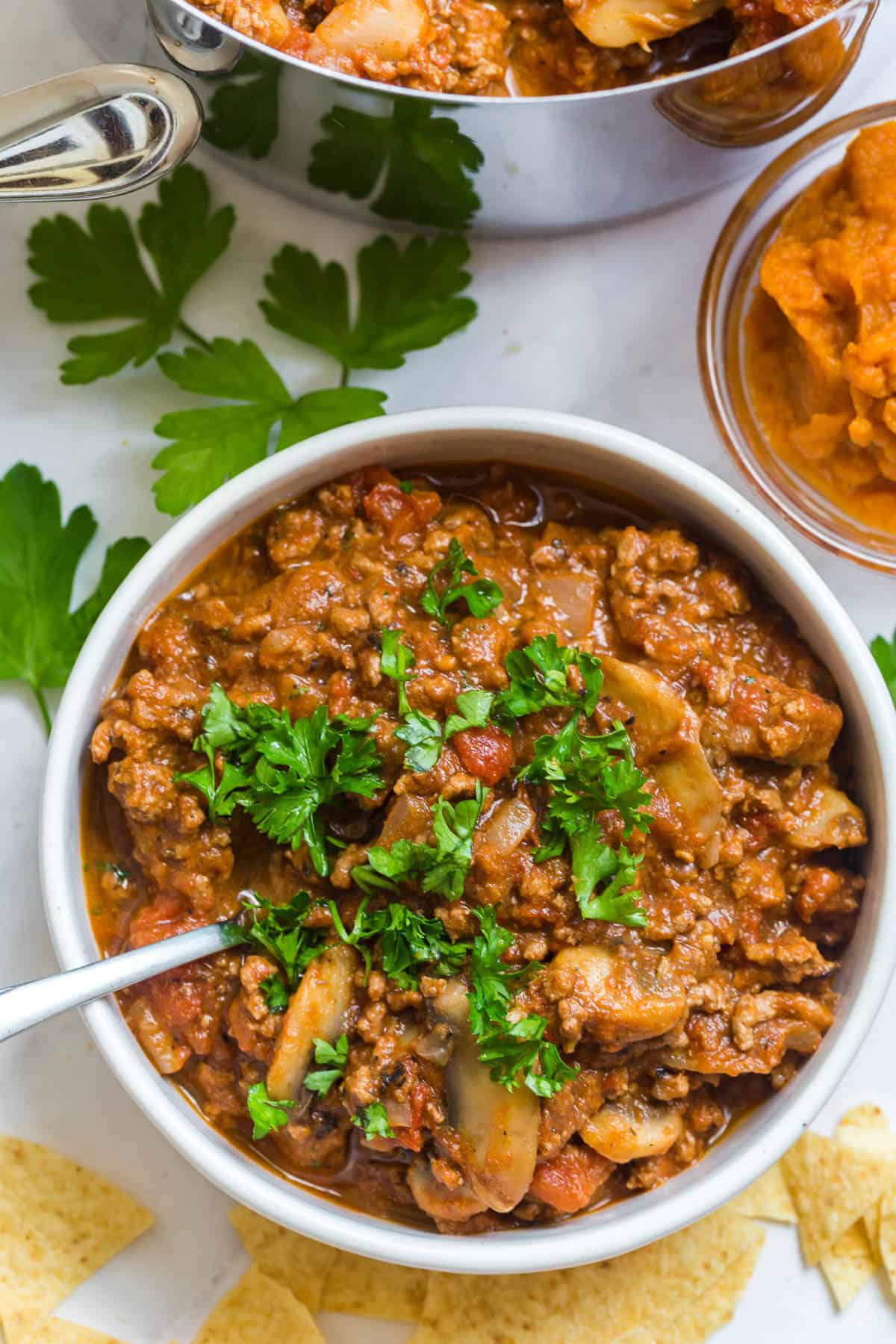 What Toppings Are Good for Pumpkin Chili
Sour Cream
Shredded Cheese
Crackers
Tortilla chips
Fresh avocado slices
Hot Sauce
Cornbread to dip or crumble on top
I would say you could use almost any of your favorite chili toppings for your pumpkin chili.
How Long Does Pumpkin Chili Last
You can store your leftover chili in the fridge for up to 3 to 4 days. I will say this recipe tasted the best day two; the flavors were able to blend overnight. You want to put any leftovers in the fridge before the two-hour mark of finishing cooking your chili.
I find this recipe is fantastic for using to meal prep for a few meals for the rest of the week. Just reheat in the microwave or heat it on the stove and serve and enjoy.
Can You Freeze Pumpkin Chili
Absolutely! Just place in a freezer friendly container. Make sure to leave some room at the top of your container as the soup freezes it will expand a bit. You can store it in the freezer for up to three months.
To reheat place in the fridge the night before to allow it to thaw. Then warm up in the microwave, stovetop, or even slow cooker.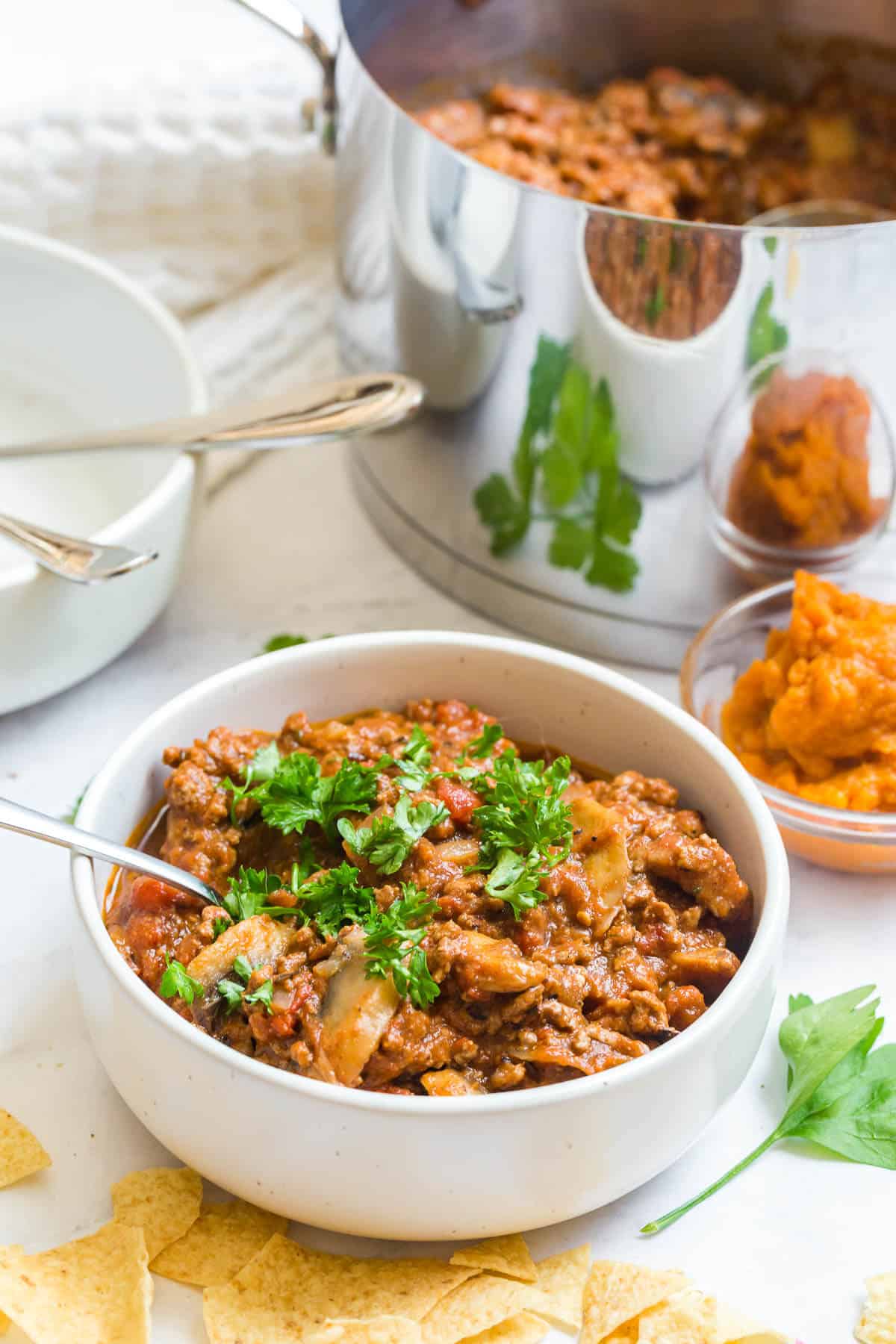 Easy Pumpkin Chili with Ground Beef
Give this Pumpkin Chili with ground beef a go. I think you will love this recipe if you are a fan of pumpkin and chili. It offers such a unique flavor that will leave you wanting one more bowl of this soup!
Give this chili a try today!
You might also like this Presidential Chili.
Have you ever made a Pumpkin Chili before? If so what did you think?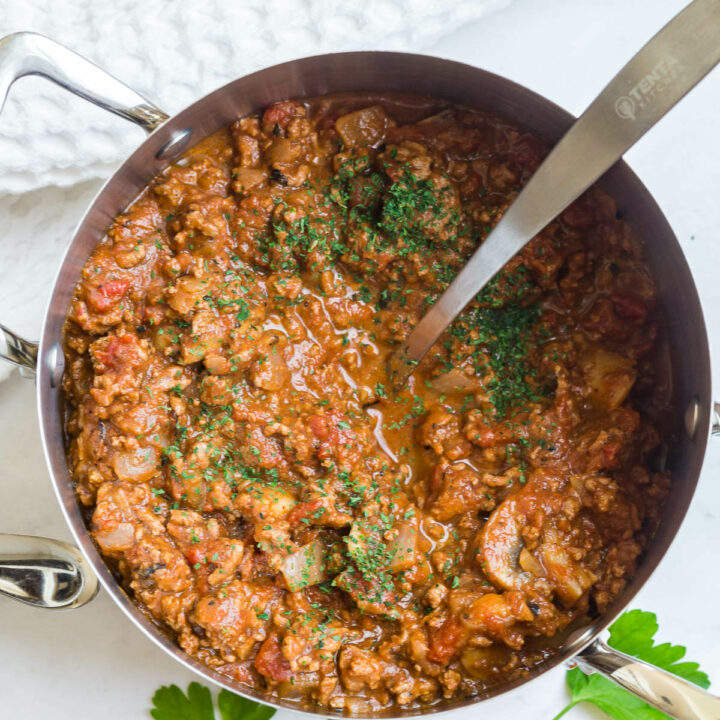 Pumpkin Chili
Cook Time:
1 hour
10 minutes
Total Time:
1 hour
20 minutes
The best fall chili recipe! This savory and filling soup recipe is perfect for tailgating with pumpkin, ground beef, mushrooms, and tomatoes, too.
Ingredients
3 lb. lean ground beef
1 yellow onion, chopped
2 cups mushrooms, sliced
2 cans (28oz) diced tomatoes, undrained
1 cup canned pumpkin
2 teaspoon pumpkin pie spice
1 teaspoon salt
1 teaspoon pepper
2 teaspoons chili powder
Instructions
In large pot, cook beef and onion over medium heat until beef is no longer pink; drain.
Stir in remaining ingredients and bring to a boil. Reduce heat and simmer for 1 hour, uncovered. Serve hot.
Recommended Products
As an Amazon Associate and member of other affiliate programs, I earn from qualifying purchases.
Nutrition Information:
Yield:

11
Serving Size:

1
Amount Per Serving:
Calories:

311
Total Fat:

15g
Saturated Fat:

6g
Trans Fat:

0g
Unsaturated Fat:

7g
Cholesterol:

110mg
Sodium:

317mg
Carbohydrates:

6g
Fiber:

2g
Sugar:

2g
Protein:

36g