I'm very familiar with constipation – good times! I'm saying this sarcastically because constipation isn't fun. I even had to make a trip to the Emergency Room last year for help with it. The doctor gave me some great tips that I've been trying to follow.
Diet plays an important role in gut health and the doctor mentioned to make sure I was consuming lots of foods rich in fibre (think fruits, veggies, legumes and whole grains) and to make sure I was drinking enough water. The good news is that I think it's been helping.
I know that I'm not alone and that many of us suffer from occasional constipation from time to time. The start of fall means colder weather and more people are reaching out to heavier comfort foods and doing less physical activity. The good news is that there are things you can do to stay regular and ensure you #TrustYourGut when it comes to what it is trying to tell you!
For starters, you could try my newest recipe for Bean Chili. It's fibre packed with four varieties of beans and a few veggies thrown into the mix. I like mine on the spicy side so I add an extra bit of chili powder, but you could always reduce the amount if spicy isn't your thing.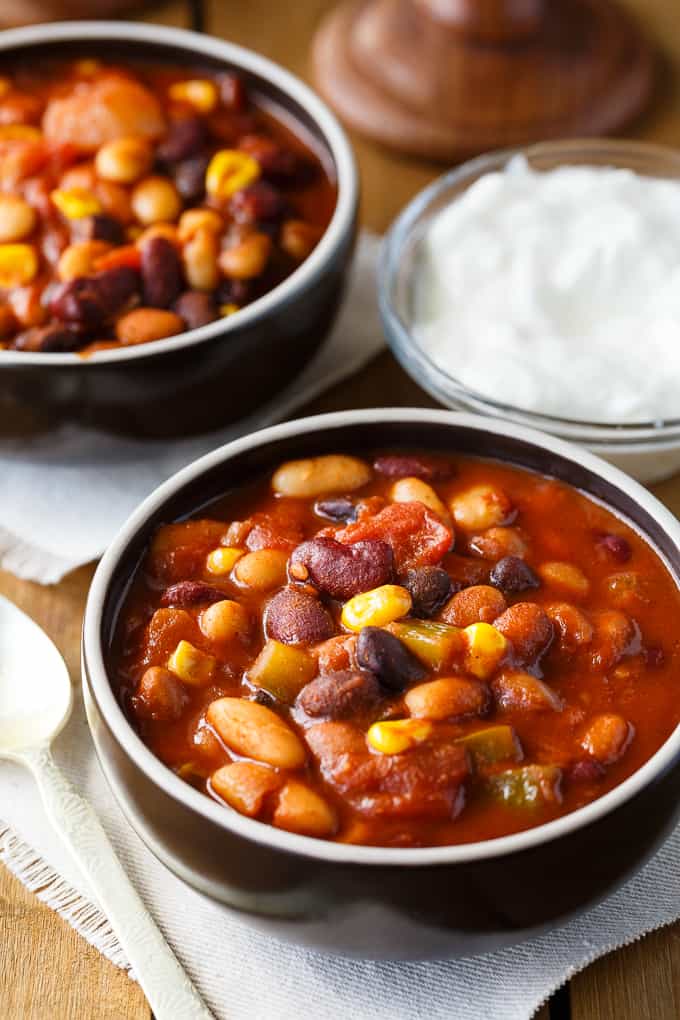 Bean Chili
The Canadian Digestive Health Foundation recommends that people consume about 20 to 30 grams of fibre a day. You'll be well on your way with a serving of my yummy Bean Chili!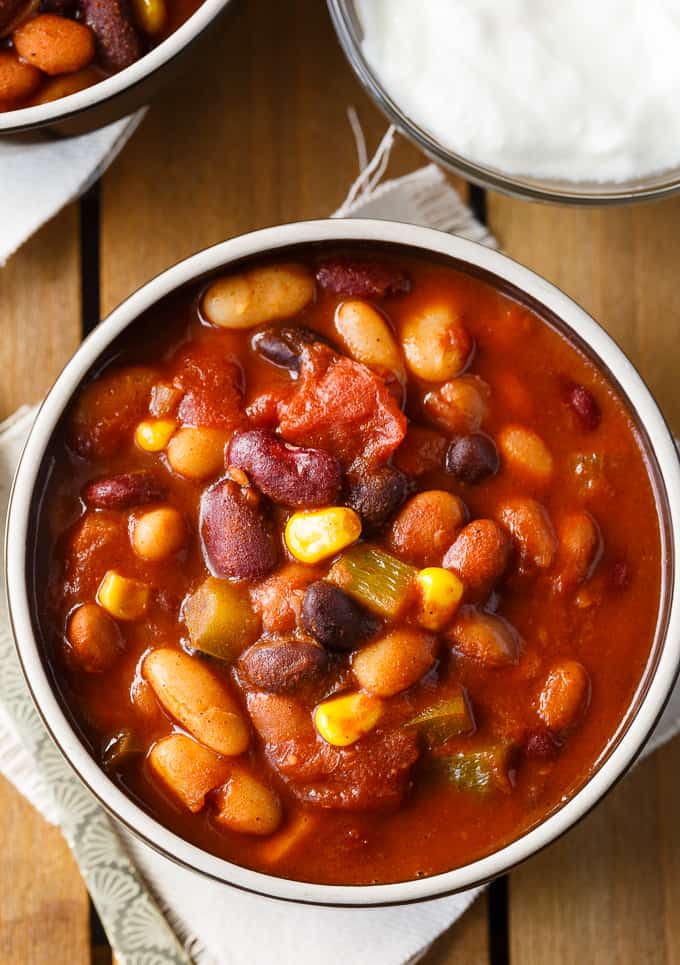 They also recommend eating products that contain pre and probiotics like yogurt, kefir, bananas, whole grain breads and honey. Serve your chili with a helping of Greek yogurt to get those healthy probiotics into you and to cool down the heat.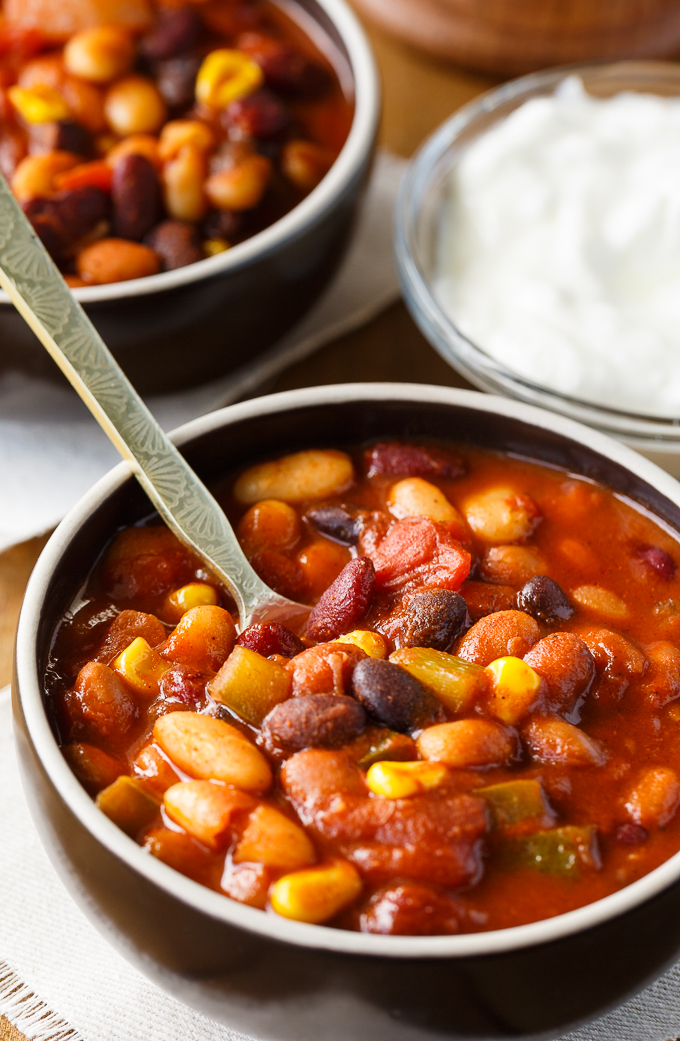 Make sure you have a glass of water to drink with your dinner. Drinking lots of water will also help you stay regular and keep things moving. Limit your intake of caffeinated, alcoholic and sugar-rich or artificially sweetened beverages. I usually only drink water or coffee anyways. Coffee in the mornings and water the rest of the day. It helps!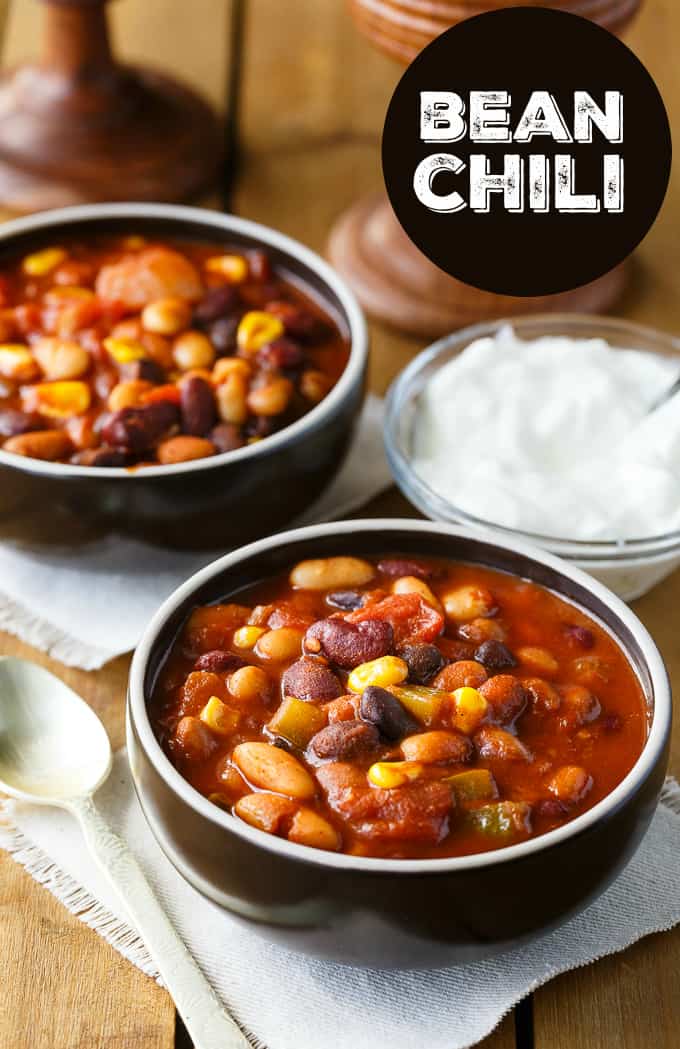 Pretty easy recipe, right? It takes a little chopping, opening up cans and dumping in a big pot. Let it simmer so the flavours can combine together and you have yourself a mouthwatering meal!
The Canadian Digestive Foundation has some other important tips regarding your diet to achieve a more balanced lifestyle. They include:
Eat fruits rich in pectin like apples, strawberries, lychees or pears. These fruits help keep water in the digestive system.
Avoid foods that are greasy, high in animal fat and fried.
Limit your intake of refined sugar like sweets and rich desserts.
Focus on a having a healthier lifestyle through regular exercise, not smoking, reducing stress, improving sleep and working on time management.
If, after trying all these tips, you still are having issues, don't despair. Dulcolax® can help. It helps to treat occasional constipation to get you back on track again. To be sure Dulcolax is right for you, always read and follow the label. It works by stimulating the bowel muscles while also accumulating water in the intestines to soften stool and make it pass through more quickly. I use it occasionally and it works well for me. I also encourage you to talk to your doctor if you find that constipation is interfering with your life.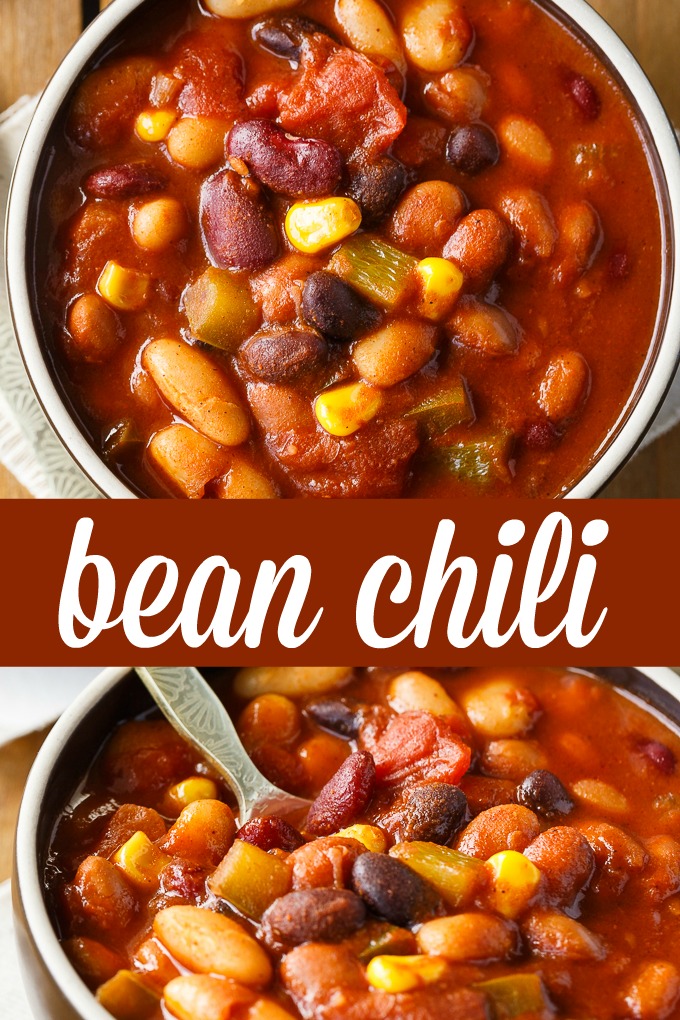 Here is a link that you can download to get yourself a coupon off of your next box of Dulcolax.
You might also like this Slow Cooker Verde Chicken Chili, Taco Chili, Pumpkin Chili, Chicken Chili, Presidential Chili, White Chicken Chili, Bean Salad, Bean Casserole, White Bean Turkey Chili or Slow Cooker Black Beans.
What are some of the things you do to maintain a healthy, balanced lifestyle?

You'll also like these Frito Chili Pie, Slow Cooker Cowboy Beans, Baked Beans with Ground Beef, White Chicken Chili and Black Bean Vegetable Soup.
Disclosure: I was compensated for this post. All opinions and experiences are 100% my own.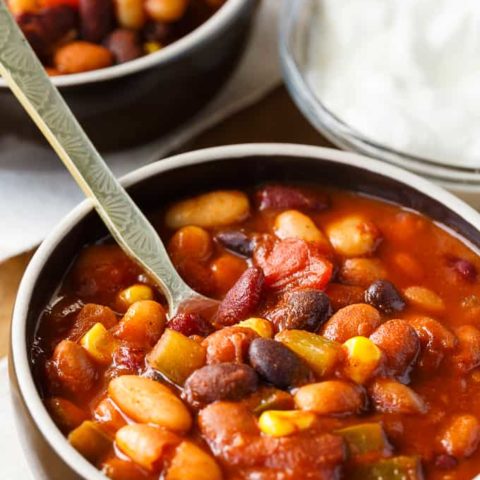 Bean Chili
The heartiest meat-free chili recipe! Use four different kinds of canned beans in this comfort food classic with peppers, corn, and tomatoes.
Print
Facebook
Pin
Share by Email
Ingredients
1

tbsp

vegetable oil

1

sweet onion

chopped

1

green pepper

chopped

2

cloves

garlic

minced

3

tbsp

chili powder

1

can

diced tomatoes

28oz can

2

tbsp

tomato paste

1

can

tomato sauce

690ml can

1

can

kidney beans

540ml can, drained

1

can

black beans

540ml can, drained

1

can

pinto beans

540ml can, drained

1

cannellini beans

540ml can, drained

1

can

corn

341ml can

salt and pepper

to taste
Instructions
Heat vegetable oil in a large pot over medium heat. Add onions, garlic and green pepper and cook for 5 to 6 minutes, or until vegetables are softened.

Stir in chili powder. Add diced tomatoes, tomato sauce, tomato paste, beans and corn. Season with salt and pepper.

Bring to a boil. Reduce heat to low. Cover. Simmer for 30 minutes. Serve with plain Greek yogurt, if desired.
Kitchen Tools
Nutrition
Serving:
1
g
|
Calories:
359
kcal
|
Carbohydrates:
65
g
|
Protein:
20
g
|
Fat:
4
g
|
Saturated Fat:
1
g
|
Polyunsaturated Fat:
3
g
|
Sodium:
1534
mg
|
Fiber:
20
g
|
Sugar:
12
g
The information shown is an estimate provided by an online nutrition calculator. It should not be considered a substitute for a professional nutritionist's advice.
Love Recipes? Join our Free Facebook Group!
Join Mom's Best Recipes to find more delicious family recipes.
Save
Saved!