This easy chicken chili recipe is not too spicy, but loaded with delicious chili flavor! Packed with ground chicken, veggies, beans and spices, and made in under an hour on the stovetop.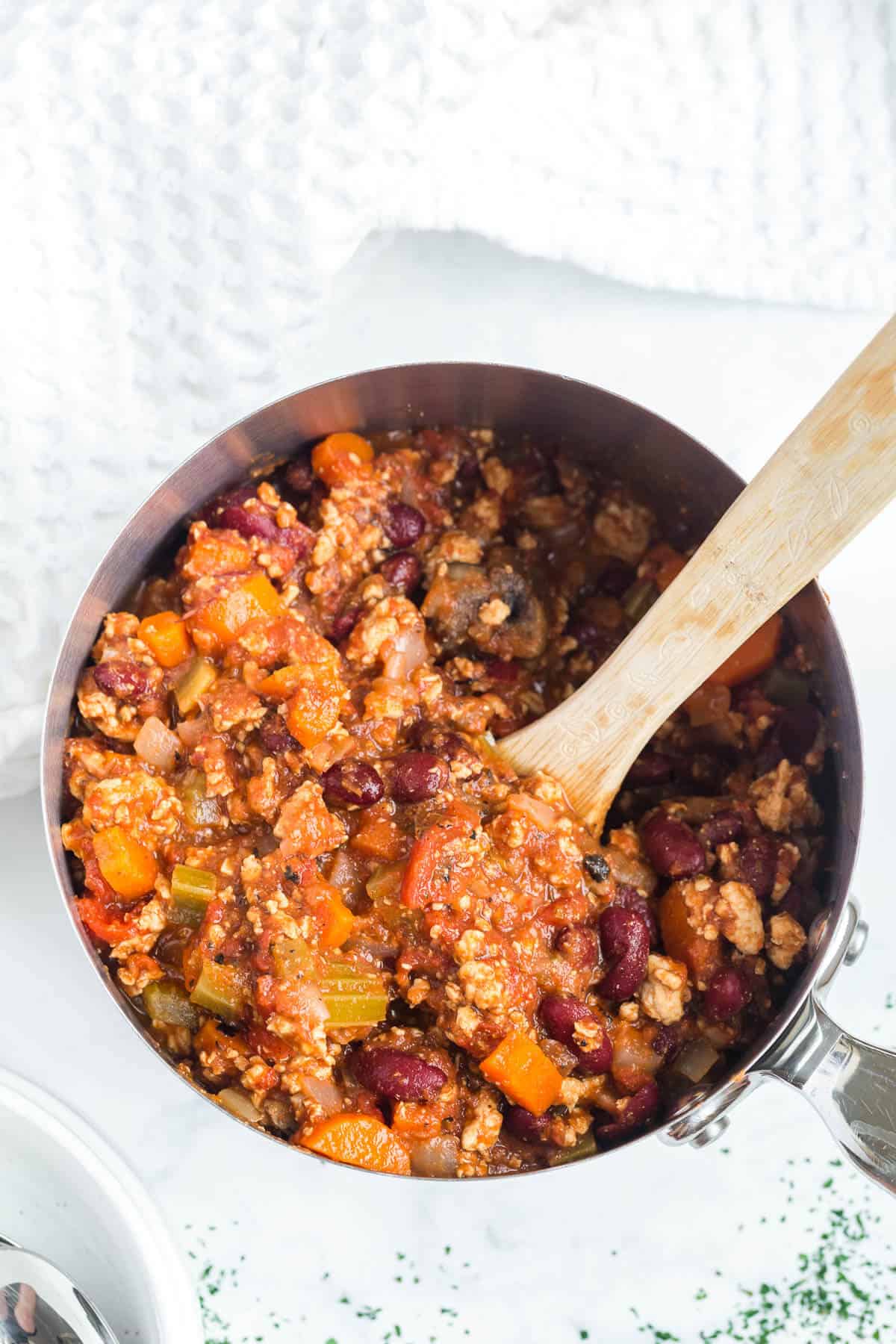 Get ready for the best chicken chili recipe ever. It's hot, hearty, and ready in about 50 minutes, so it's perfect for getting a meal on the dinner table fast on busy weeknights. Full of flavor and protein thanks to the beans and chicken. Plus, it's made in one pot, so you don't have to fuss with lots of dishes.
Chicken chili is a nice change of pace and a bit healthier than chili made with ground beef. The kids will love this version because it's not too spicy for them. It's a great way to sneak in extra veggies for picky little eaters!
If you're looking for more tasty chili recipes, you don't want to miss this White Chicken Chili! It's healthy, delicious, and perfectly spiced—just like this one.
Why You'll Love This Chicken Chili Recipe
A hearty meal for the whole family
Not very spicy, so it's perfect for kids with picky palates
Easily adaptable for whatever ingredients you have on hand
Pairs perfectly with a chunk of cornbread
Tasty way to warm up on a cold day
Pile on your favorite chili toppings to make it even more delicious!
Ingredients
Make this hearty chicken chili with ground chicken and common pantry ingredients. This is a brief overview of what you'll need. For specific amounts and instructions, jump to the recipe card below.
Ground Chicken: You can also use shredded boneless, skinless chicken thighs or chicken breasts, but I like ground chicken best for this recipe.
Olive Oil: The extra virgin olive oil is used for browning the chicken and sautéeing the garlic. If you don't have EVOO, a neutral oil will do nicely.
Garlic: Fragrant garlic is essential to a good chili. If you don't have garlic cloves, you may substitute ¼ teaspoon of garlic powder for each clove a recipe calls for.
Onion: A yellow onion is best for chili. It's a little sweeter and not as strong as a white onion, but really, any onion will do.
Carrots: Carrots are naturally a little sweet, especially when cooked, so they add a pleasant sweetness to the chili.
Celery: The combination of onions, carrots, and celery is a great base for umami flavor in many dishes. I recommend keeping it in, but if you're an adamant celery hater, you can leave it out.
Mushrooms: Mushrooms help fill out the dish and take on a meaty flavor and texture. They're a great source of nutrients and minerals.
Spices: Spices are essential to get the perfect flavor in any good chili! I used chili powder, oregano, cumin, paprika, salt, and black pepper for this recipe.
Diced Tomatoes: We added canned diced tomatoes, but you can use crushed tomatoes if you prefer. Want even more tomato flavor? Go for fire-roasted tomatoes.
Kidney Beans: I used canned beans, but if you have some beans cooked from scratch, you'll need about two cups. Kidney beans are a great source of fiber, protein, and iron.
How to Make the Best Chicken Chili Recipe
Step One: Heat oil over medium heat in a large pan or stockpot. Add in the minced garlic and ground chicken, and cook for 5 to 7 minutes.
Step Two: Add in the mushrooms, onions, celery, and carrots, and mix with the chicken and garlic. Sauté for about 10 minutes. The pot may look really full at this point, but the vegetables will get smaller as they cook.
Step Three: Mix in all the spices.
Step Four: Add in the tomatoes and kidney beans. Bring to a boil. Reduce the heat to simmer and cover. Cook for another 15 minutes or until you're ready to eat. Enjoy a big bowl topped with shredded cheese and a dollop of sour cream!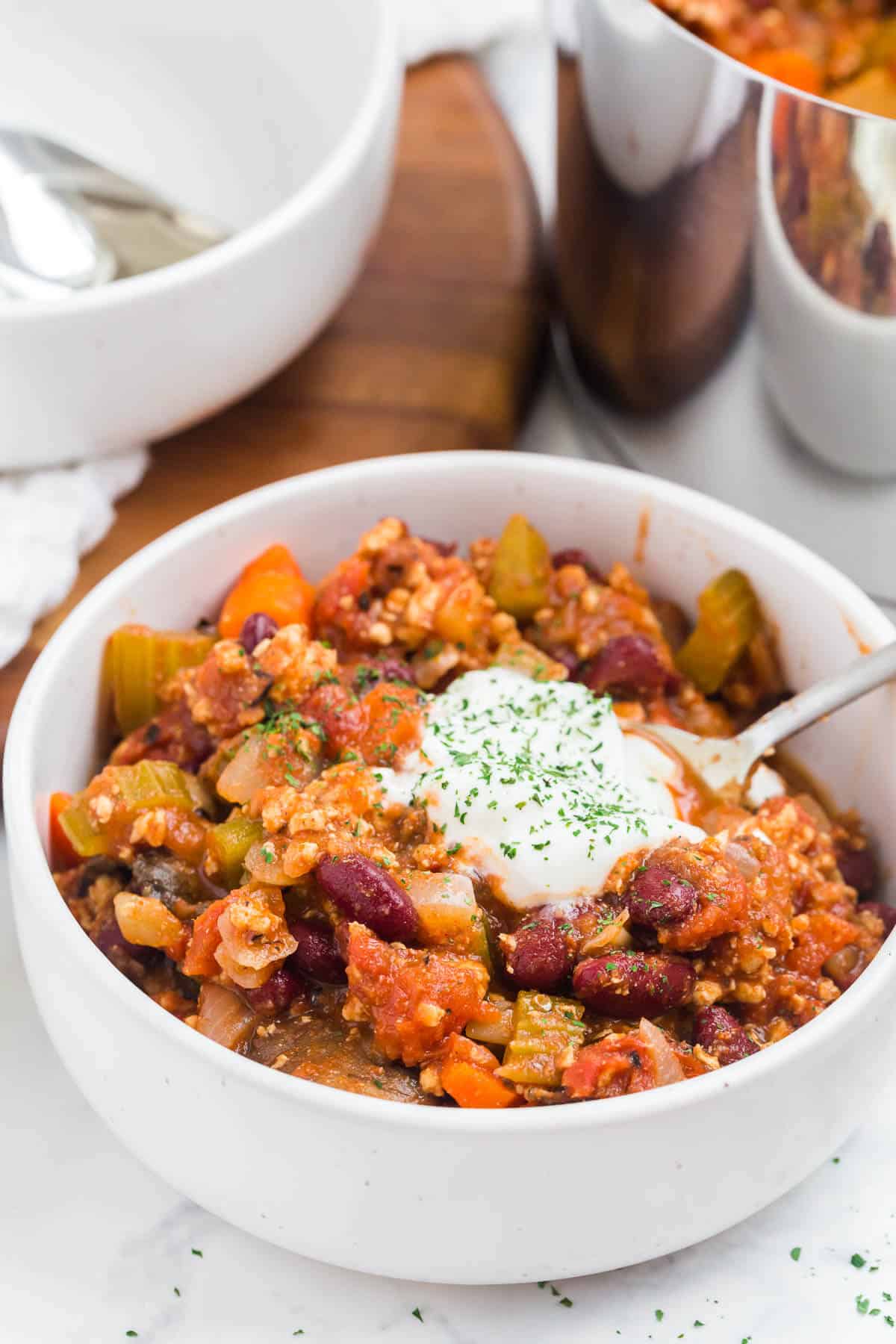 Equipment Needed
This post contains affiliate links.
What to Serve with Chicken Chili
The first thing you'll need for this comforting chili recipe are some toppings. Here are several we like to have on hand!
Sour cream
Shredded cheese
Avocado
Green onions
Sliced jalapeños
Corn chips
Chopped fresh cilantro
You can also serve this spicy chili with these Air Fryer Tortilla Chips for dipping. Our Cowboy Caviar makes a great appetizer if you want to serve a full Mexican meal. Crusty garlic bread is delicious with all sorts of chili. Fit in more veggies with our crunchy Corn Salad or a cool Cucumber Salad.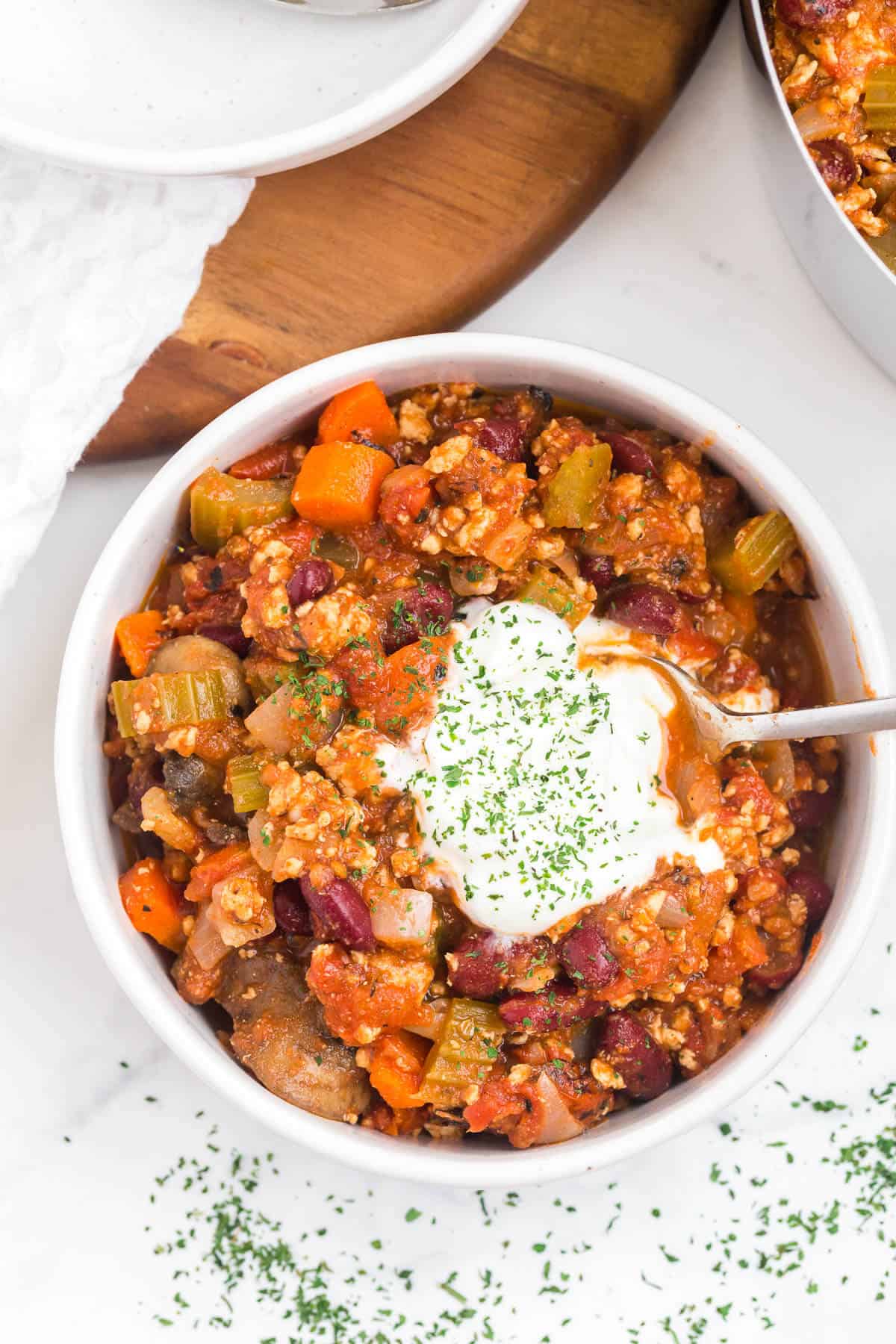 Recipe Tips and Tricks
Make crockpot chicken chili. First, cook the ground chicken along with the minced garlic and diced onion. Then, add all the remaining ingredients to the slow cooker. Cook on low for 6 to 7 hours or high for 3 hours, until carrots and celery are tender.
Use leftover chicken to make this instead. If you have some cooked chicken breasts or rotisserie chicken, sub it for the ground chicken, and it'll be just as delicious!
Thicken it up. This easy chili recipe cooks up nice and thick as is, but if you've made some adjustments to the ingredients, it may be a little too soupy for you. If that's the case, take some liquid from your chili, add a tablespoon of cornstarch, and return it back to the chili. It'll thicken up in just a few minutes.
Variations and Substitutions
Make it lower carb by eliminating the beans and adding more ground chicken, mushrooms, or extra veggies.
Add extra vegetables like frozen sweet corn, diced bell peppers, cubed sweet potatoes, or sliced jalapeno peppers for extra fiber and flavor.
Make this chili with rotisserie chicken if you prefer shredded chicken to ground chicken.
Want a creamy base for your chili? Add about 4 ounces of cream cheese (softened, full fat) and melt it down right before serving.
Substitute black beans, pinto beans, or cannellini beans for the kidney beans if you'd like.
Try a different meat. Ground turkey, or ground beef are both excellent options.
Add a small can of green chilis for a little kick of heat. Make sure you get the mild kind unless you like a lot of spice.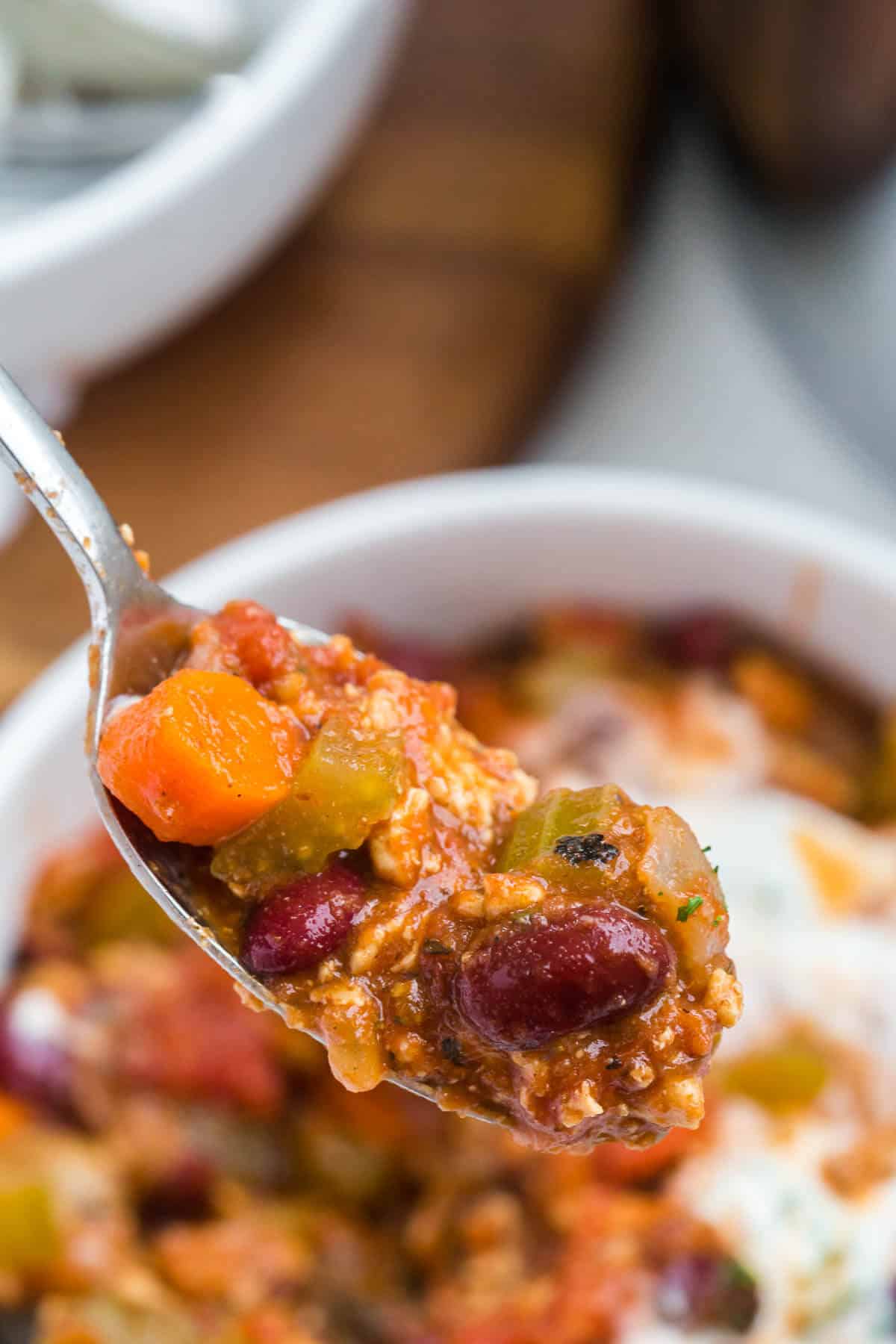 Storage Instructions
This chili tastes even better the next day. Cover and store leftover chili in an airtight container in the refrigerator for up to 5 days.
Can I Freeze Chicken Chili?
Yes, you can freeze this chili in an airtight container for up to 3 months. Freeze it in individual portions if you want a quick, hot lunch in a flash. When you're ready to eat it, thaw overnight in the refrigerator and reheat in the microwave or on the stovetop.
Chicken Chili FAQ
Is chicken chili good for you?
Chicken is rich in protein and lower in fat than ground beef, so it's a healthier option for those watching their fats and calories. Plus, this chili is full of delicious veggies like carrots, celery, and mushrooms, along with beans, to provide additional fiber, flavor, and nutrients.
Should chili be thick or soupy?
It really comes down to personal preference, but traditionally, chili is thick.
Do you simmer chili with the lid on or off?
This chili is cooked for a while with the lid off and the lid on. If it thickens up enough, you can put the lid on to finish the simmering so the flavors can meld. If the chili is too thin, remove the lid to allow the liquid to evaporate.
How to thicken chicken chili?
If yours is too thin, add some thickener like cornstarch or simply cook the chili down longer to evaporate some of the liquid.
Chili Recipes
If you enjoyed this recipe for chicken chili, you'll love our other chili recipes. They're perfect for cold weather!

Follow me on Instagram @simplystacieblog, Facebook at Simply Stacie, TikTok @simplystacierecipes or Pinterest at @simplystacie and let me know how you liked this recipe and my other recipes.
If you make the recipe, rate it on the recipe card below and tag me on Instagram and use #simplystacie. I like sharing the photos on my Instagram stories!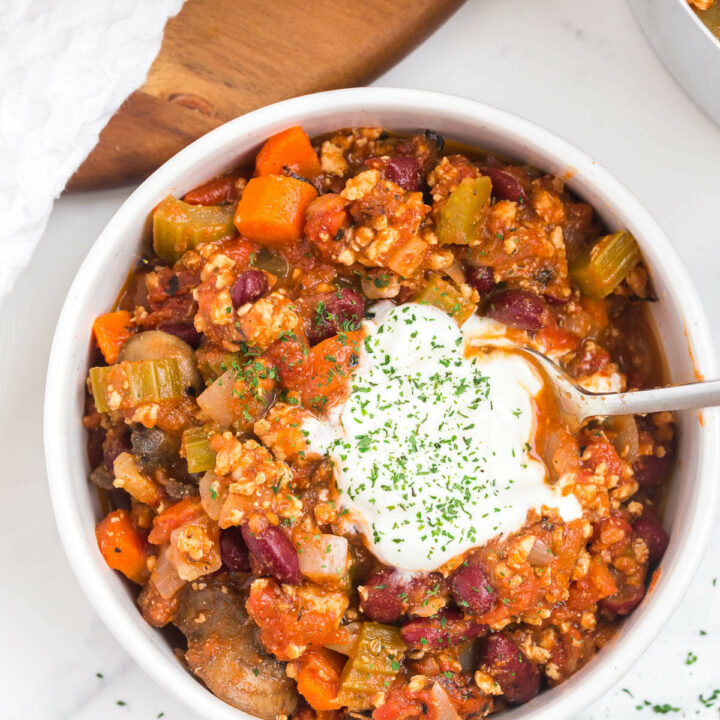 Chicken Chili
This easy recipe is not too spicy, but loaded with delicious chili flavor! Packed with ground chicken, veggies, beans and spices made on the stovetop.
Ingredients
1 lb ground chicken
2 tablespoons extra virgin olive oil
2 cloves garlic, minced
1 yellow onion, chopped
1 cup carrots, peeled and chopped
1 cup celery, chopped
2 cups mushrooms, sliced
1 tablespoon chili powder
1 teaspoon oregano
1 teaspoon cumin
1/2 teaspoon paprika
1/4 teaspoon salt
Black pepper to taste
1 (28oz) can diced tomatoes, undrained
1 (15.5oz) can kidney beans, undrained
Instructions
In a large pan, heat the oil over medium heat. Add in the garlic and ground chicken and cook for about 5 to 7 minutes.
Add in the mushrooms, onions, celery and carrots and mix with the chicken and garlic. Sauté for about 10 minutes. The pot looked really full at this point, but the vegetables will get smaller as they cook.
Mix in all the spices.
Add in the tomatoes and kidney beans and bring to a boil. Reduce heat to simmer and cover. Cook for another 15 minutes or until you're ready to eat.
Recommended Products
As an Amazon Associate and member of other affiliate programs, I earn from qualifying purchases.
Nutrition Information:
Yield:

6
Serving Size:

1
Amount Per Serving:
Calories:

267
Total Fat:

14g
Saturated Fat:

3g
Trans Fat:

0g
Unsaturated Fat:

10g
Cholesterol:

81mg
Sodium:

386mg
Carbohydrates:

16g
Fiber:

6g
Sugar:

5g
Protein:

22g