This Loaded Baked Potato Soup is the epitome of comfort food! It's creamy, cheesy with all the fixins' we love in a loaded baked potato.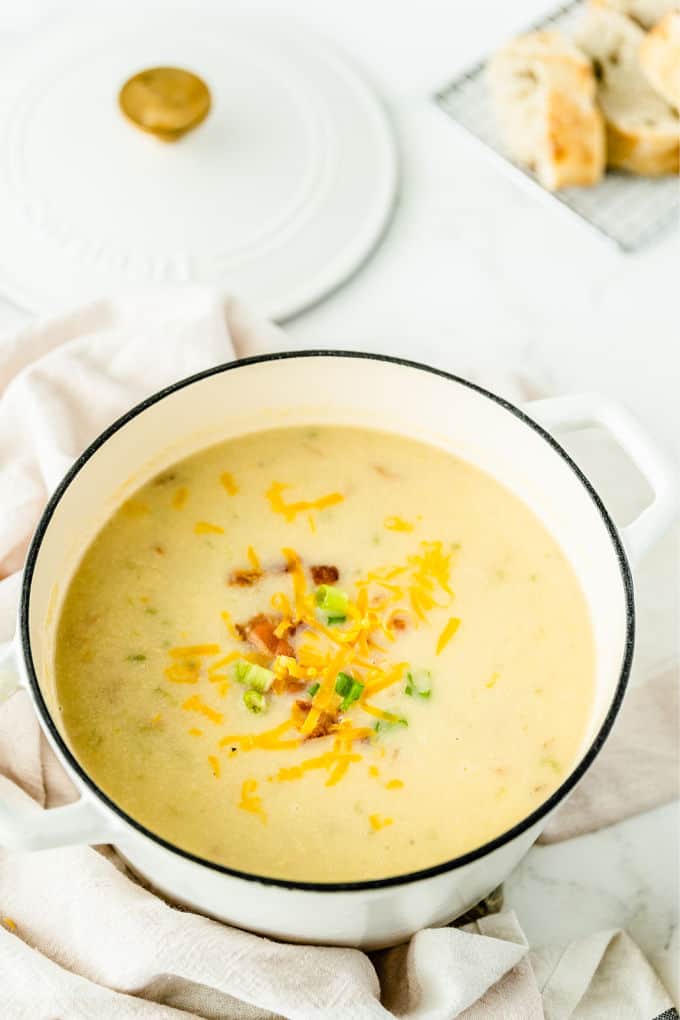 I love baked potatoes, but they can be a pain to make. They take a long time, and I always mess up the potato skin when I'm trying to scoop out the inside. With this Loaded Baked Potato Soup recipe, you don't have to fuss around with presentation. It all goes into a pot on the stove to cook. Top with your garnishes and you have a satisfying bowl of smooth, rich soup.
I make soup either in the slow cooker, like my recipe for cabbage roll soup, or on the stove top. It all goes into my family's bellies so as long as it tastes delicious, they are happy.
I always have these potato soup ingredients in my kitchen which makes this soup a constant option from the moment I see leaves changing colors. It's great as a main dish or alongside a crunchy grilled cheese sandwich!
Ingredients
Russet potatoes
Vegetable broth
Milk
Bacon
Green onions
Salt
Black pepper
Colby Jack cheese
Sour cream
You'll use the bacon and green onions both in the soup and as a garnish. If you're not a fan of Colby Jack, Monterey Jack or anything that will melt will work here. The melted cheese mixed with the potatoes helps make this soup soooo creamy.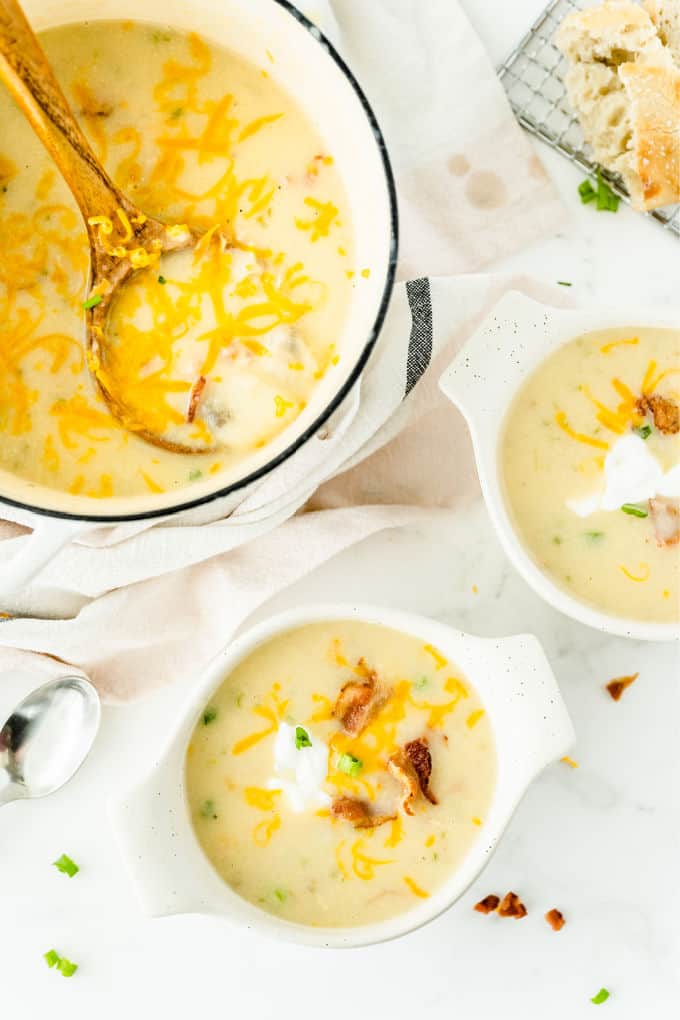 What I used for my Loaded Baked Potato Soup
This post contains affiliate links.
Box grater: This grater is almost always in use. It's great for shredding cheese of course but also an easy way to mince a lot of garlic in a pinch or zest a lemon with the smaller holes!
Ladle: This professional-grade ladle is as beautiful as it is practical! It's wide brim allows for easy pouring and the long handle keeps you away from the heat!
Soup pot: This 5-quart pot is a must for making stove top soups. The glass lid makes it easy to see what's going on inside and the handles make it easily transportable!
How to Make Loaded Baked Potato Soup
First, get a large soup pot and set your burner to medium heat. Add your vegetable broth, potatoes, and just enough water to cover the potatoes and bring it to a boil. Once boiling, reduce to a simmer.
Once the potatoes begin to soften, add milk, some of the bacon, some of the green onions, salt, and pepper. Continue cooking until the potatoes are fully broken down.
Next, add your cheese and stir until completely melted.
Finally, ladle into bowls and garnish with bacon, green onions, cheese, and sour cream!
If your potatoes need a little help, mush them with a fork or potato masher! I don't peel my potatoes because there's lots of great nutrients in the skin and I don't mind their texture, but if you don't like the skins, peel your potatoes before boiling.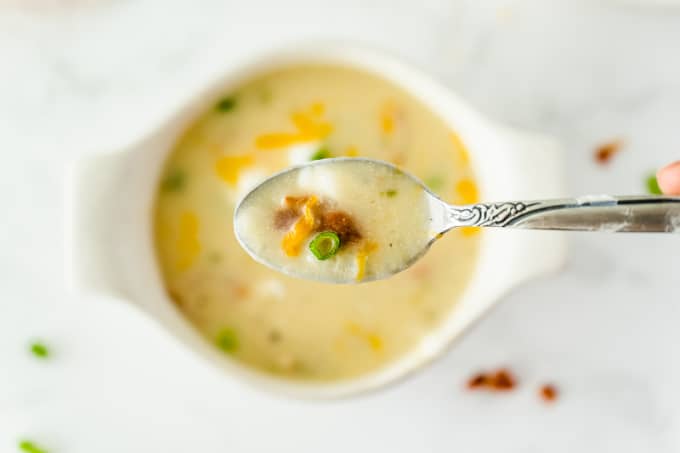 Can I make this in a slow cooker?
I love homemade soup, but sometimes I don't have the time to stay in my kitchen watching and stirring all day. That's when I bring out my beloved slow cooker!
This recipe can definitely be modified for a crockpot. I would suggest cooking the potatoes on the stove first with the broth and water and transfer them to the slow cooker with the milk, bason, green onions, and seasonings.
Cook this on low for about 5-6 hours, or until the potatoes have broken down, or about 4 hours on high. Add the cheese right before serving and you're done!
How to Freeze
This soup is a great one to freeze! I love to make extras of this just so I can have leftovers for days to come.
Wait until it's cooled to room temperature and ladle individual servings into freezer-proof containers. This way, you can reheat what you want for a quick dinner or pack one for a work lunch!
How to Reheat
Like most soups, the best way to reheat this is on the stove. If your soup was frozen and you have time to thaw it, do that first. If not, you can still reheat it on the stove but it will take longer.
Since it's already cooked, you're just looking to reheat it to temperature. I like to let mine reheat on low to keep the bottom from accidentally burning, and it takes anywhere from 5 to 20 minutes depending if I'm doing a single serving or a full family reheat.
Other amazing soup recipes to try…
Do you have any amazing soup recipes? I'm always looking for more recipes to try! Follow me on Instagram @simplystacieblog, on Facebook at Simply Stacie, and on Pinterest @SimplyStacie and let me know how you liked this and my other recipes!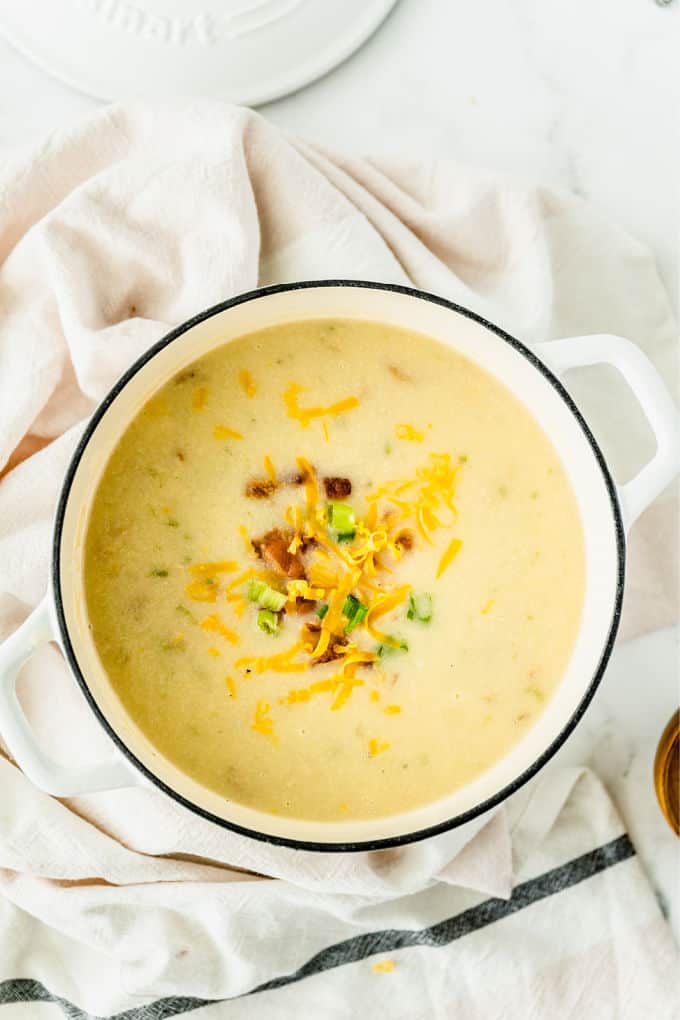 Loaded Baked Potato Soup
Your favorite side dish turned soup! This hearty soup recipe is loaded just like your favorite steakhouse — bacon, green onions, sour cream, and of course, cheese.
Ingredients
1 1/2 lbs Russet potatoes, sliced in half lengthwise and the cut into 1/4 inch slices
1 can vegetable broth
1 cup milk
8 slices bacon, cooked crispy and chopped
4 green onions, thinly sliced
1/2 tsp salt
1 tsp black pepper
2 cups Colby Jack cheese OR Monterey Jack cheese, shredded
sour cream, for garnish
Instructions
In a large pot over medium heat, bring vegetable broth, potatoes and just enough water to cover the potatoes to a boil. Reduce heat to simmer.
When potatoes begin to break apart, add milk, 3/4 of the bacon, 3/4 of the green onions, salt and pepper and continue cooking until the potatoes are completely broken down.
Add 1 1/2 cup of the cheese and stir until completely melted.
Serve hot garnished with remaining bacon, green onions, cheese and a dollop of sour cream, if desired.
Recommended Products
As an Amazon Associate and member of other affiliate programs, I earn from qualifying purchases.
Nutrition Information:
Yield:

4
Serving Size:

1
Amount Per Serving:
Calories:

581
Total Fat:

31g
Saturated Fat:

17g
Trans Fat:

0g
Unsaturated Fat:

12g
Cholesterol:

92mg
Sodium:

1315mg
Carbohydrates:

43g
Fiber:

4g
Sugar:

3g
Protein:

31g