Cheesy Potato Skins is the ultimate appetizer. Easy baked potato skins that are loaded with cheese, bacon, sour cream and more. I bet you can't eat just one of these homemade skins.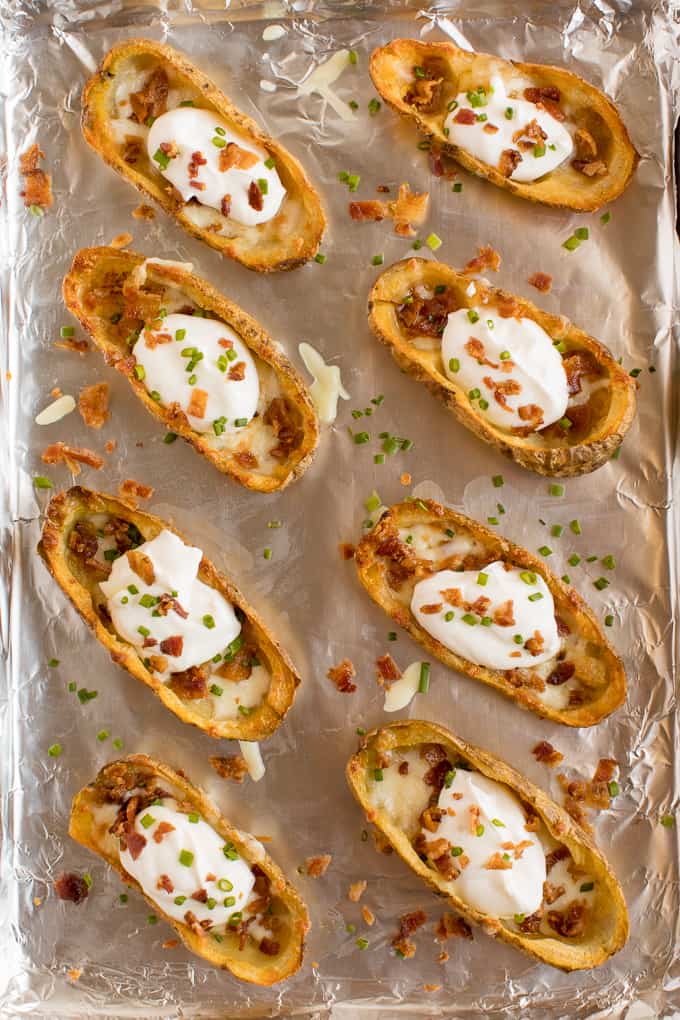 It's day two of our week of holiday appetizers! I'll be sharing a recipe a day of my favourite party foods for the next four days. Three other bloggers are also doing the same thing so by the end of the week, you'll have 20 new appetizer recipes to try.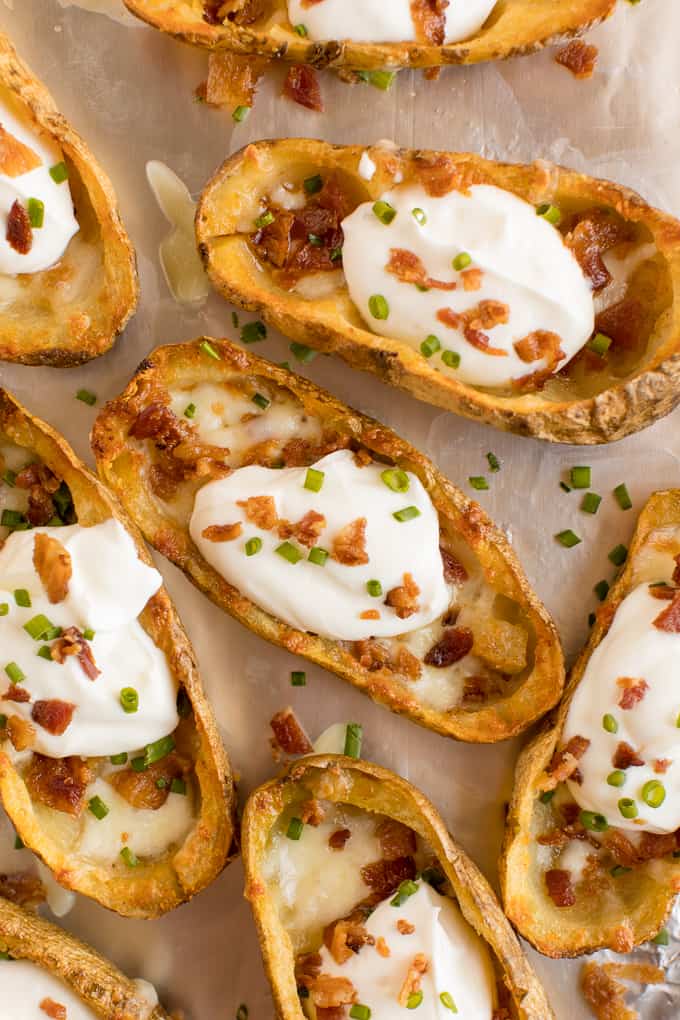 Cheesy Potato Skins
This recipe for Cheesy Potato Skins is a crowd pleaser. They are served hot fresh from the oven and topped with melted cheese, bacon, sour cream and a sprinkling of green onion. I use spices in mine for an extra punch of flavour.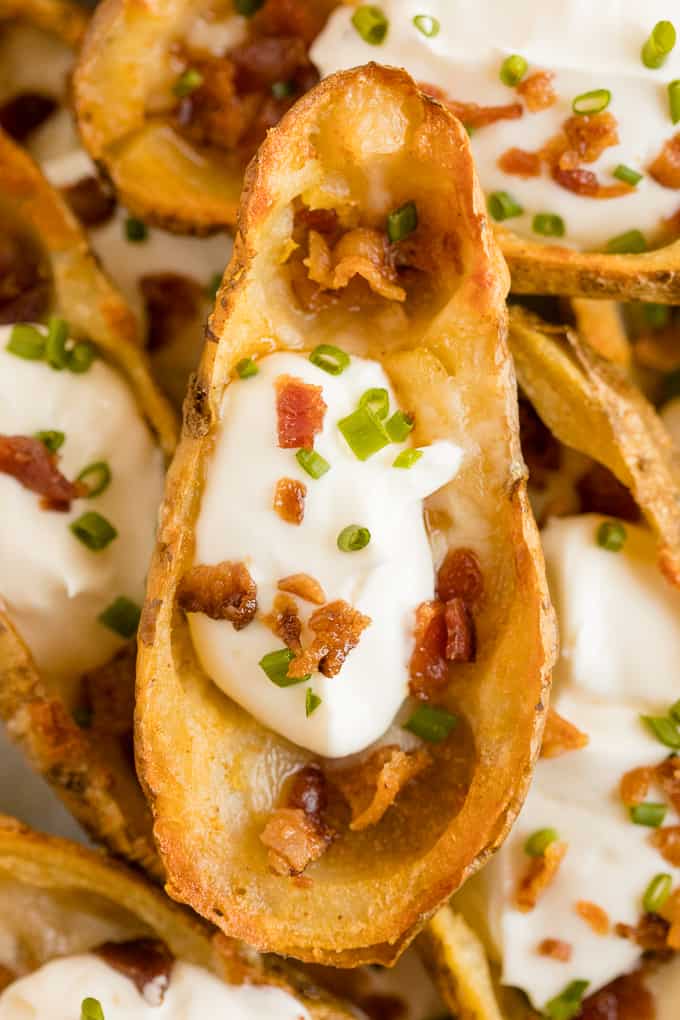 They are beyond delicious. Though they do take a little bit of prep work, they aren't hard to make. The potato that you scoop out can be saved for another meal as mashed potatoes.
To find more appetizer recipes, head over to my friends' blogs!
What are the Best Potatoes for Potato Skins
I tend to reach for a russet or even a Yukon Gold. Russets have a nice cripsy skin once it gets baked up. I find it is a favorite in our home. You will find with potatoes like yellow or red small potatoes they have more of waxy texture and don't make as good crispy skins as other varieties do.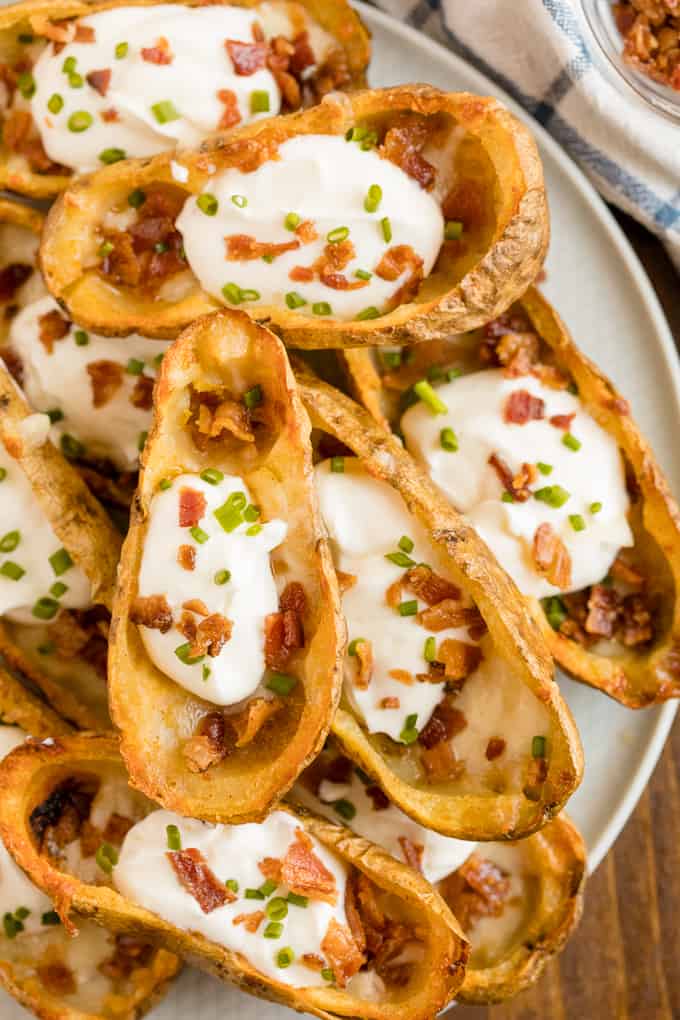 Toppings for Homemade Potato Skins
Shredded Cheese
Cooked and chopped bacon
Chives
Green Onions
Sour Cream
You can honestly top your potato skins so many ways. Feel free to get creative and try out a few different designs and see how you like them. I like to go basic with just a few ingredients.
How to Make Potato Skins
First, you start by cooking up your baked potatoes. Once they are fully cooked remove from the oven and allow them to cool a bit so they are easy to handle. Then you will want to scoop out the center of the potato and place in a bowl.
You can use your potato you scoop out for other recipes so make sure to save it instead of throwing it away. Then you will top your skin and toss in the oven and cook accordingly to recipe instructions below.
How Long Will Potato Skins Store for
You can store your skins for 3-5 days in the fridge. Now, depending on how they are stored will vary how long they last. So use your best judgment on if they are still good or not.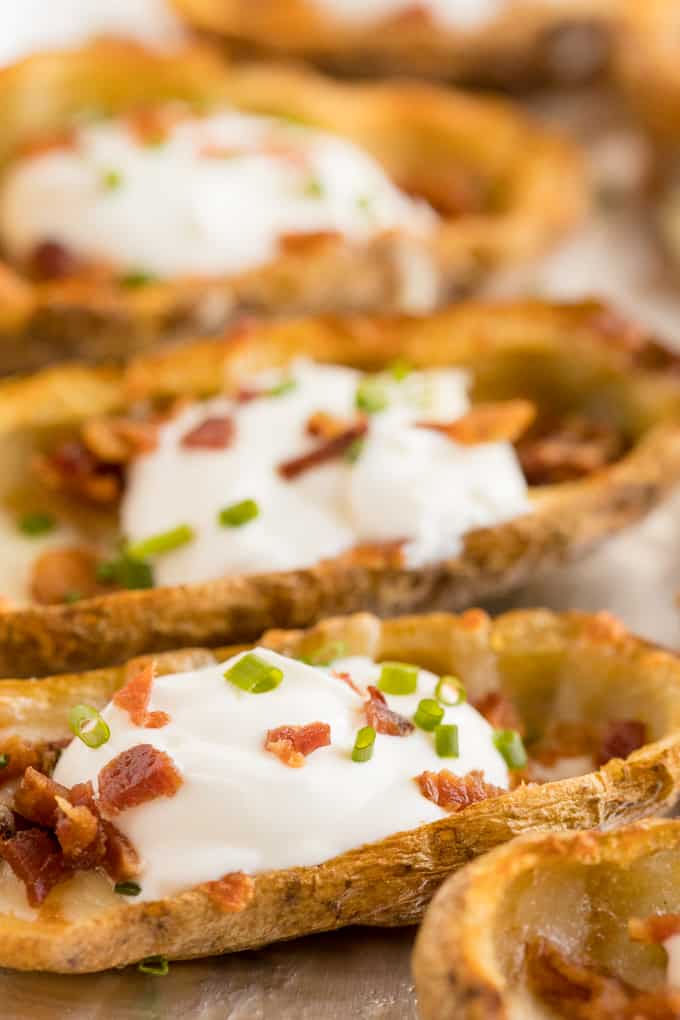 You can eat them cold, or warm them up in the microwave, toaster oven or regular oven if you want them hot. These are best when served fresh but if you reheat in the toaster oven or regular oven you gain back some of the same texture.
Can Potato Skins be Made Ahead of Time
Yes, you sure can. What you can do is prep your potatoes by getting them cooked and sliced. Then all you have to do is warm them up in the oven followed by adding your toppings.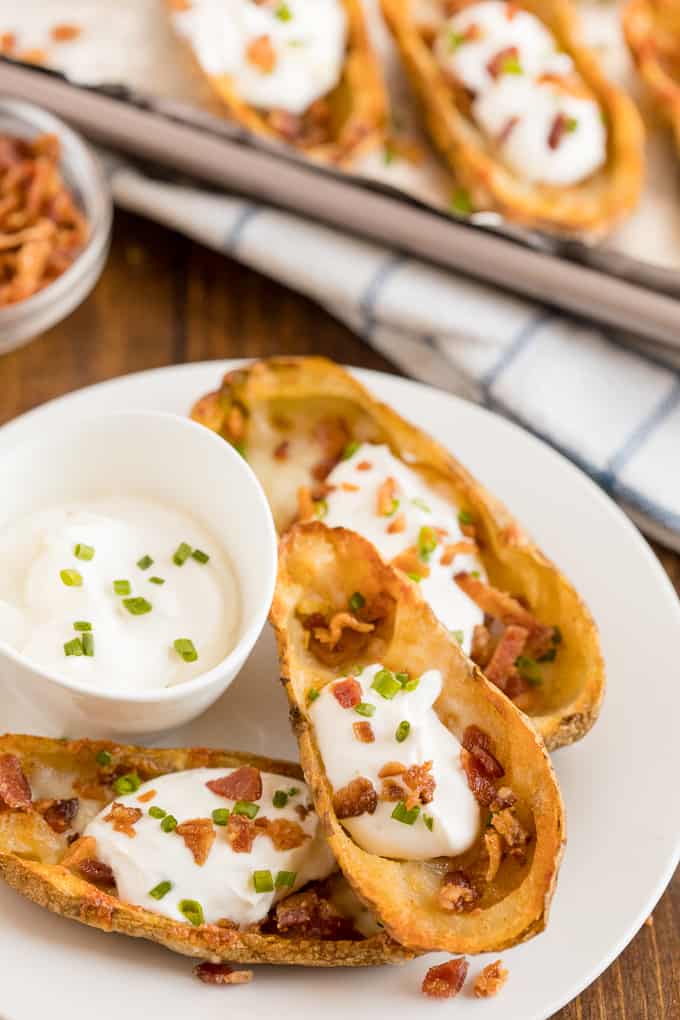 Just store your cooked potatoes in an airtight container in the fridge for up to 2 days in advance.
Craving more easy appetizer recipes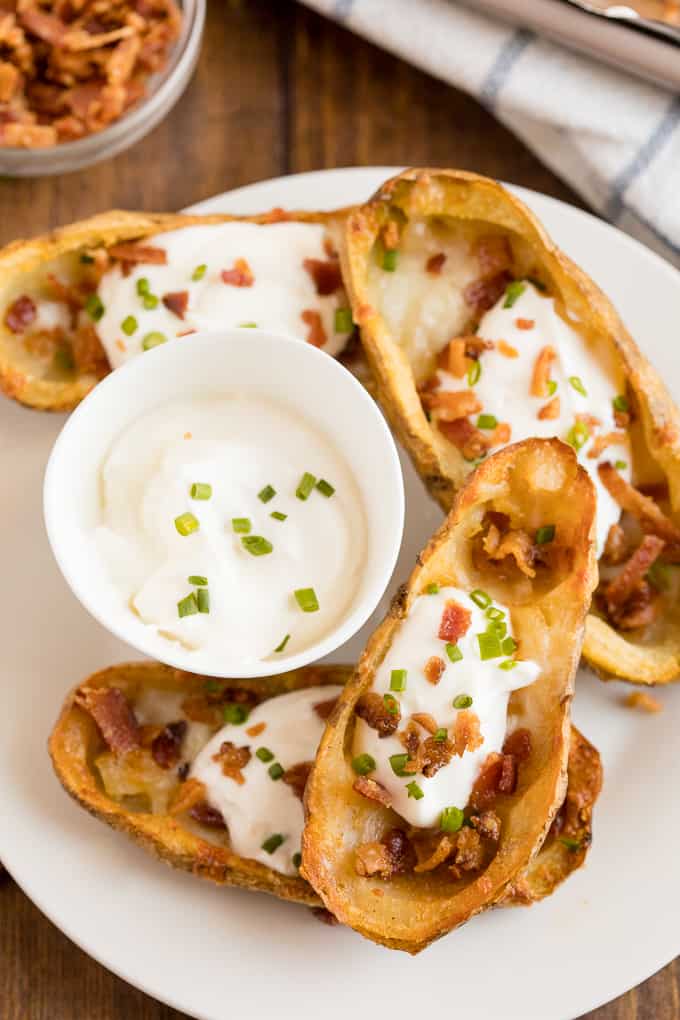 Can You Freeze Potato Skins
You can freeze these potato skins. I recommend leaving off the toppings and just freeze the potato skins themselves. Then when you are ready, you can then cook and then top with your favorite toppings.
If you add items like sour cream then freeze you will find you can reheat without curdling the sour cream.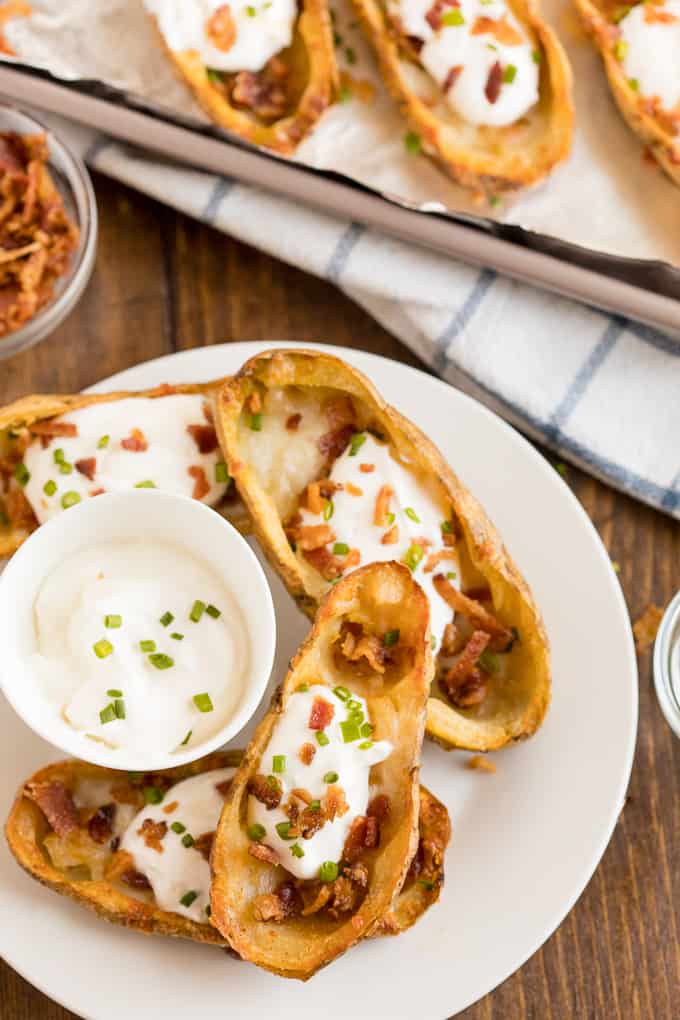 Easy Potato Appetizer
This is one of the easiest potato appetizers I have made. Feel free to get creative with your toppings and enjoy a custom finger food. Or stick to the same recipe as me for the ultimate savory potato skin recipe.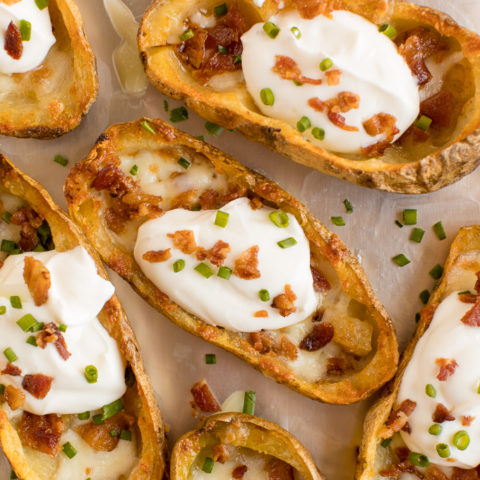 Cheesy Potato Skins
Cook Time:
1 hour
37 minutes
Total Time:
1 hour
57 minutes
Topped with sour cream, tasty bacon and fresh green onions, this appetizer recipe is a crowd-pleasing classic.
Ingredients
4 large baking potatoes, wrapped in foil
2 to 3 tbsp butter, melted
¼ tsp paprika
¼ tsp onion powder
¼ tsp garlic powder
1 cup Monterey Jack cheese, shredded
3 strips bacon, cooked and crumbled
½ cup sour cream
6 to 8 green onions, sliced
Instructions
Preheat oven to 375°F. Prick each potato with a fork. Bake for about 1 hour 15 minutes or until potatoes are cooked and tender. Let cool until you are able to comfortably touch them.
Cut potatoes in half lengthwise. Scoop out potato insides and set aside. Place potato skins on baking sheet with the skin side down.
Mix melted butter, paprika, onion powder and garlic powder in a bowl. Brush the insides of the potato skins with the butter mixture.
Broil potatoes in the oven for about 8 to 12 minutes or until browned and slightly crisp. Make sure to watch them so they don't burn.
Remove from oven and add shredded cheese to each potato skin. Broil another minute or until cheese is melted.
Top each skin with bacon, a dollop of sour cream and green onions. Serve hot. Makes 8 potato skins.
Recommended Products
As an Amazon Associate and member of other affiliate programs, I earn from qualifying purchases.
Nutrition Information:
Yield:

8
Serving Size:

1
Amount Per Serving:
Calories:

322
Total Fat:

17g
Saturated Fat:

10g
Trans Fat:

0g
Unsaturated Fat:

6g
Cholesterol:

48mg
Sodium:

248mg
Carbohydrates:

34g
Fiber:

4g
Sugar:

3g
Protein:

9g