It isn't often that you can say a recipe is a healthy, veggie-based, low carb, appetizer; this recipe is all of those things and more! Loaded with fresh veggies, creamy and delicious goat cheese, and a drizzle of flavorful balsamic vinegar, Grilled Zucchini Roll-Ups will become a summer table staple.
Easily make this tasty zucchini appetizer to go with a juicy steak or grilled chicken to make a complete meal that is quick and filling.
Adding a splash of balsamic vinegar takes this grilled zucchini recipe up a notch with the mouth watering bite it adds, and then balances perfectly with creamy herbed goat cheese.
This will be one of your favorite zucchini recipes to add to your summer menu, taking the traditional zucchini pinwheel and adding a whole lotta flavor!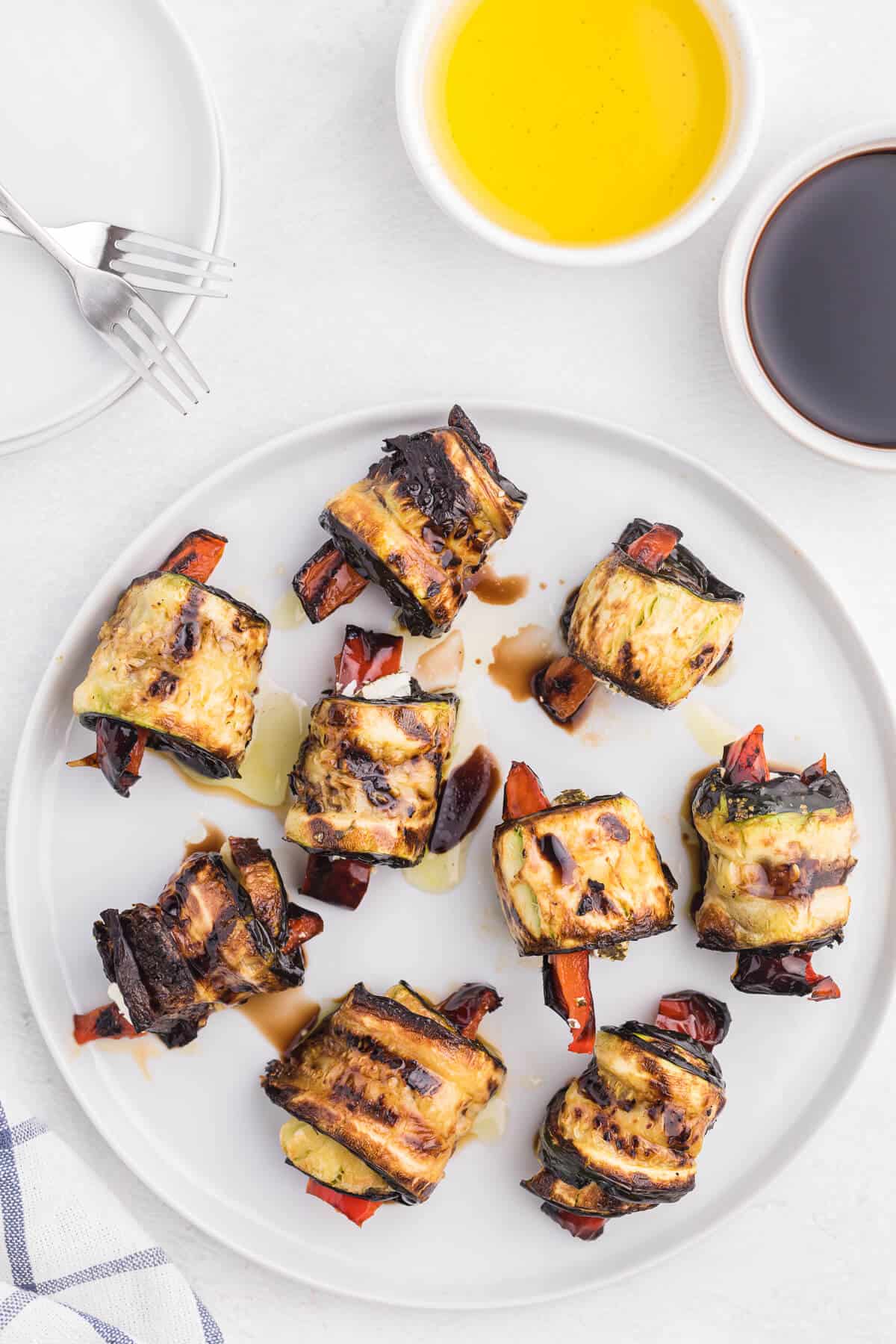 Ingredients
Zucchini: Make sure to get larger zucchinis for this recipe so you can cut thick and long strips.
Red Bell Pepper: High in Vitamin C and just a little on the sweeter side while keeping sugar counts low, they add a nice subtle crunch after grilling lightly. You will want to remove the seeds first, which won't hurt you, but they can be slightly bitter.
Extra Virgin Olive Oil: This ingredient helps to keep the vegetables moist and juicy and keeps them from sticking to the grill, while adding some healthy fats to the recipe.
Herbed Goat Cheese: Adding this tangy, smooth and creamy ingredient helps balance the other flavors and textures in the recipe and provides a filling for the zucchini roll-ups to wrap around nicely.
Balsamic Vinegar: Rounding out our ingredients is the opposite of the flavor pallet to the goat cheese, a zingy and bold balsamic vinegar to bring a nice bite and lending acidity to the more earthy and mellow flavor.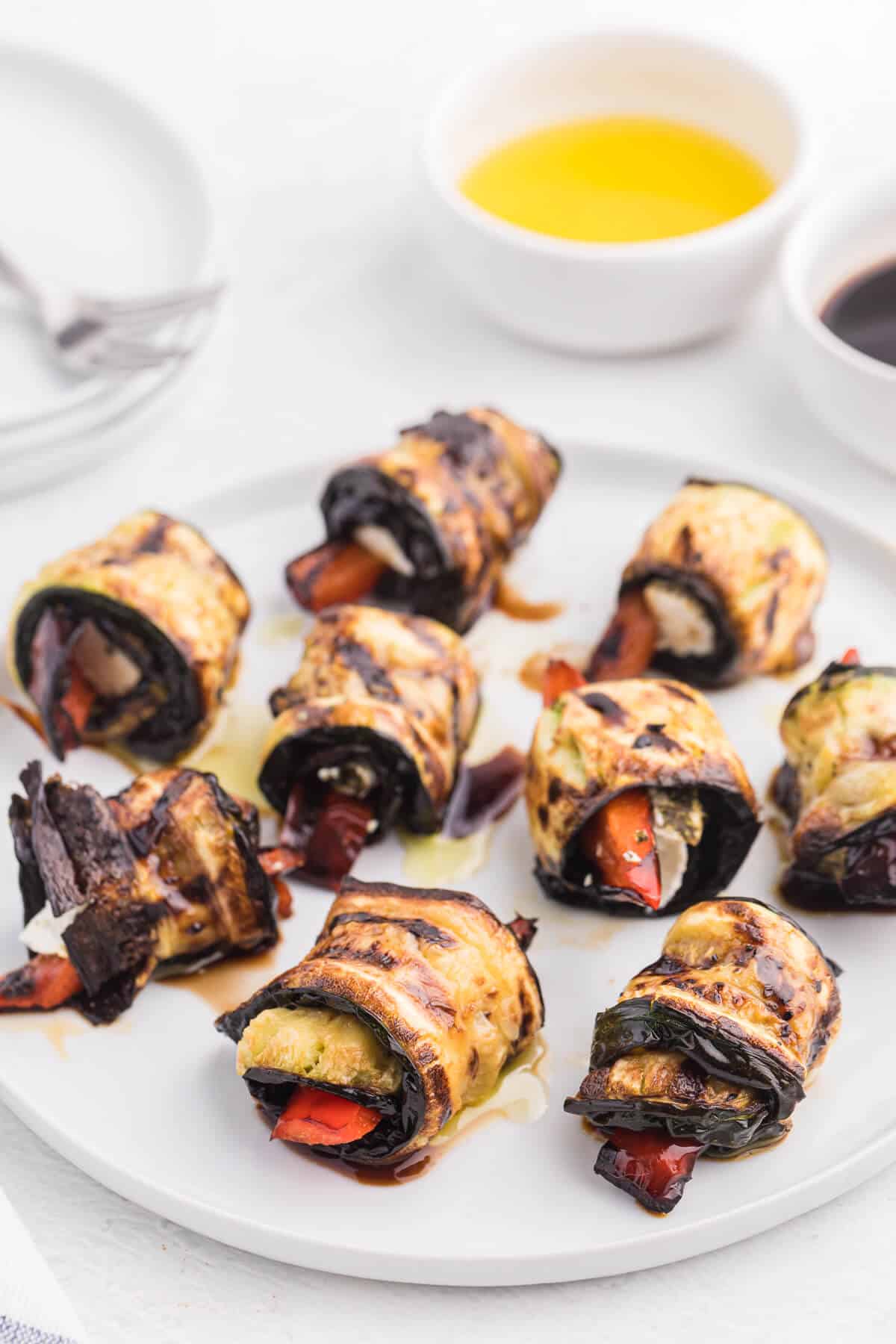 How to Make
First, wash your vegetables and prep them. Cut the zucchini into long strips about a quarter of an inch thick. Cut around the top of your bell pepper to remove the stem and most of the seeds, I like to cut just around the outer edge of the top to pop off the top and it makes removing the seeds easier. Then cut the remainder into quarters from top to bottom.
Using a brush, apply a tablespoon of olive oil to each side of your zucchini strips and red pepper.
Get your grill ready by spraying the rack with non-stick cooking spray. If you are using a George Foreman grill you can skip this step, and preheat your grill to medium high heat. If you are using a Ninja Foodi Grill, you can set it to MAX on grilling and 9 minutes on cooking time. DO NOT USE cooking spray on your Ninja Foodi.
Place the zucchini and bell pepper on the grill for 3-5 minutes per side or until soft. Remove the vegetables from the grill and slice the peppers into ¼ inch strips.
Place a teaspoon of goat cheese near the end of each zucchini strip, about a half inch from the edge. Add a slice of the red bell pepper on top and begin to gently and carefully roll the strip until you reach the other end.
Set the zucchini roll-up on your serving platter seam side down. Repeat with remaining ingredients until all of your zucchini roll-ups are completed.
Finish your zucchini roll-ups with a drizzle of vinegar and olive oil and you are ready to serve.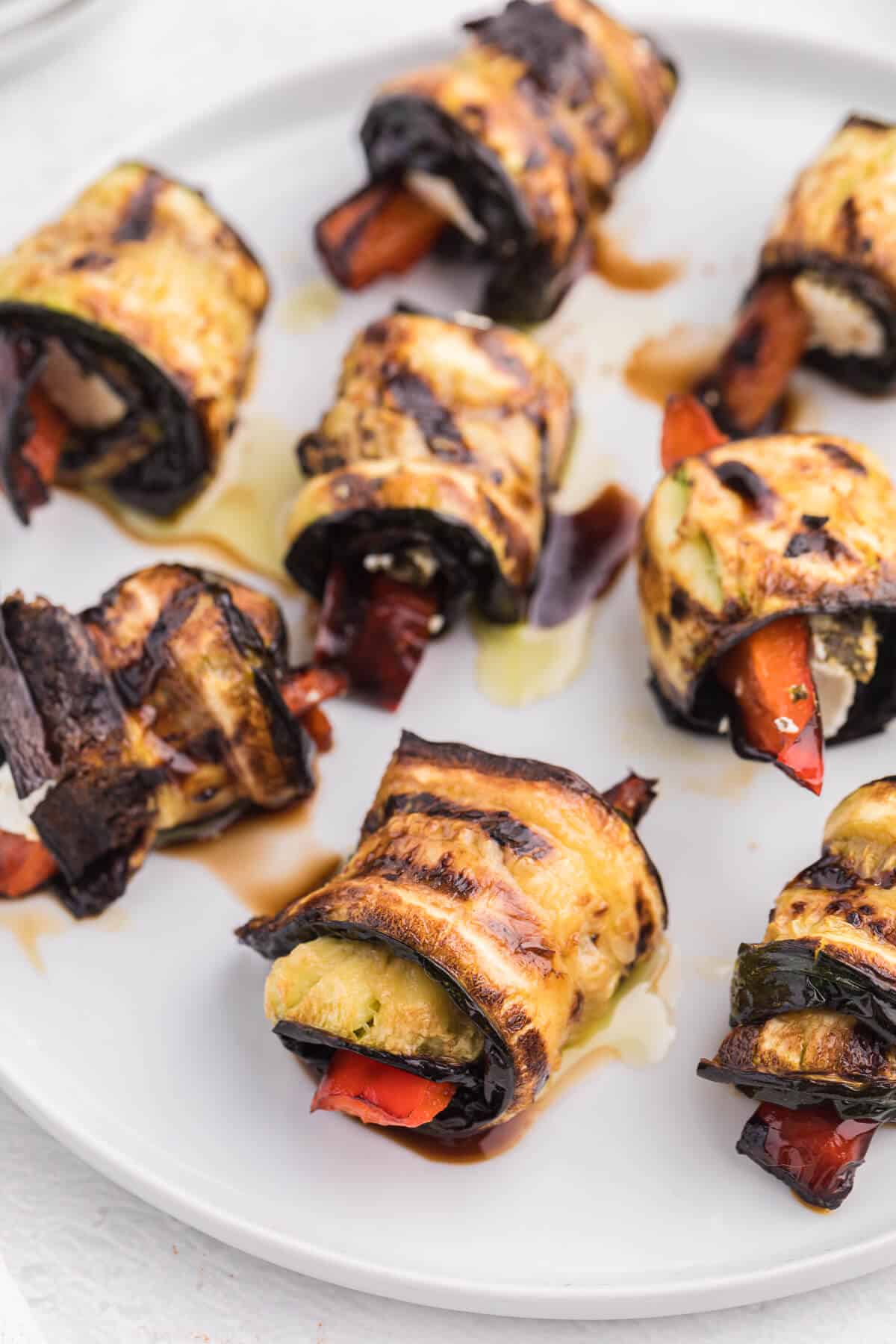 Helpful Kitchen Tools
These kitchen tools will help you make this recipe.
This post contains affiliate links.
Recipe Tips and Variations
If you can't find goat cheese you can use a different type of soft and spreadable cheese. Try cream cheese or mascarpone for the creaminess, but they won't have the tangy flavor. You could use blue cheese spread or feta cheese if you want the tart tang, but you won't get the creaminess from these. You could also combine one of each to get that balance.
You can add a little more zing and flavor to your Grilled Zucchini Roll-ups with a Balsamic glaze instead of vinegar. It will add a more robust finish to these roll-ups. Just remember, a little goes a long way!
Make sure to keep an eye on your zucchini and red bell pepper while they are grilling. They do not take very long at all and will dry out fast since they are mostly made of water.
If you need to do multiple rounds of grilling, spray your grill between each round to make sure you don't have vegetables stuck to your grill grates.
For easy clean up of an electric grill, place damp dish rags/towels on the grill as soon as you unplug it, then close and allow the heat to steam the stuck on and oily/greasy bits. Once you come back to the cooled grill just wipe down and clean as usual.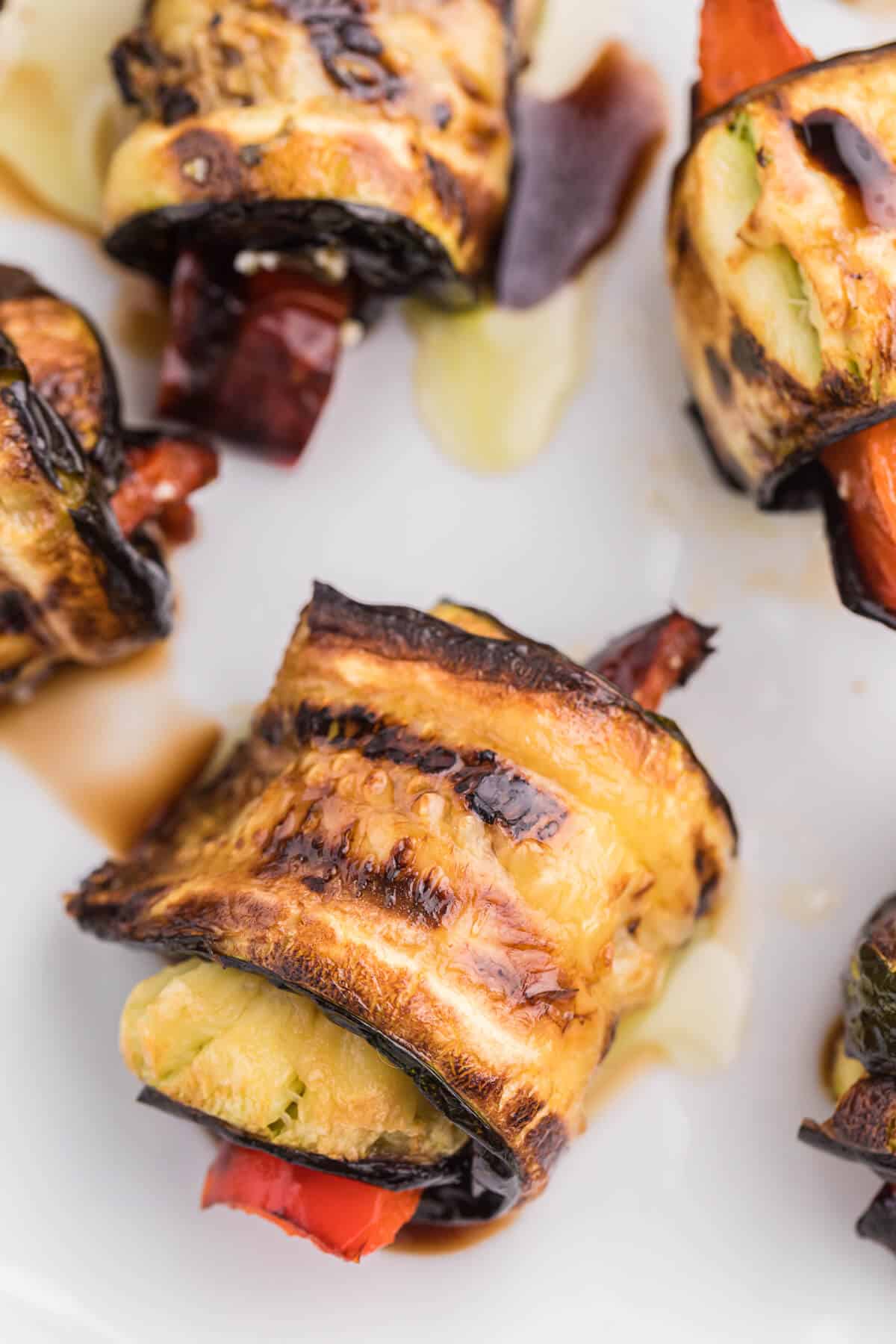 How to Serve
You can serve these straight off the grill on a platter or large plate.
You could also slide a skewer or toothpick through them and make them into an easy to grab finger food.
Easily pair with steak, grilled chicken, or even fish.
How to Store
Keep leftovers fresh in an airtight container in the refrigerator for two days. They will start to get mushy and go bad quickly after grilling.
Can You Freeze
After vegetables like zucchini and peppers have been cooked, they are not that good after freezing. These veggies are mostly water when fresh and cooking removes a lot of the water.
Zucchini Prep
Peeling the zucchini is not necessary before slicing and grilling. In fact, I would suggest keeping the peel on to give the zucchini a stronger structure for rolling, as the flesh gets much softer when it is grilled and can fall apart without the skin to keep it intact.
Zucchini Recipes
I love fresh zucchini, especially in the summer, and it can be used in so many delicious ways. Baking with zucchini is a good way to add more vegetables without tasting them, especially in breads and muffins. This versatile vegetable is one to keep on hand for just about every type of meal and recipe you come across, like these:
Chocolate Zucchini Bread – You won't even know there is zucchini in this delicious moist bread.
Cheesy Zucchini Bake – Have this zucchini dish ready to go alongside a delicious meatloaf or stuffed pepper.
Chocolate Zucchini Cake – Another delicious way to hide vegetables that you won't even taste.
Zucchini Bread – Probably my favorite way to bake with zucchini. This option is great as breakfast, a snack, or even a dessert.
Baked Zucchini – An easy brunch recipe made with loads of zucchini, eggs and buttery Ritz crackers.
Follow me on Instagram @simplystacieblog, on Facebook at Simply Stacie, and on Pinterest @simplystacie and let me know how you liked this recipe and my other recipes.
If you make the recipe, rate it on the recipe card below and tag me on Instagram and use #simplystacie. I like sharing the photos on my Instagram stories!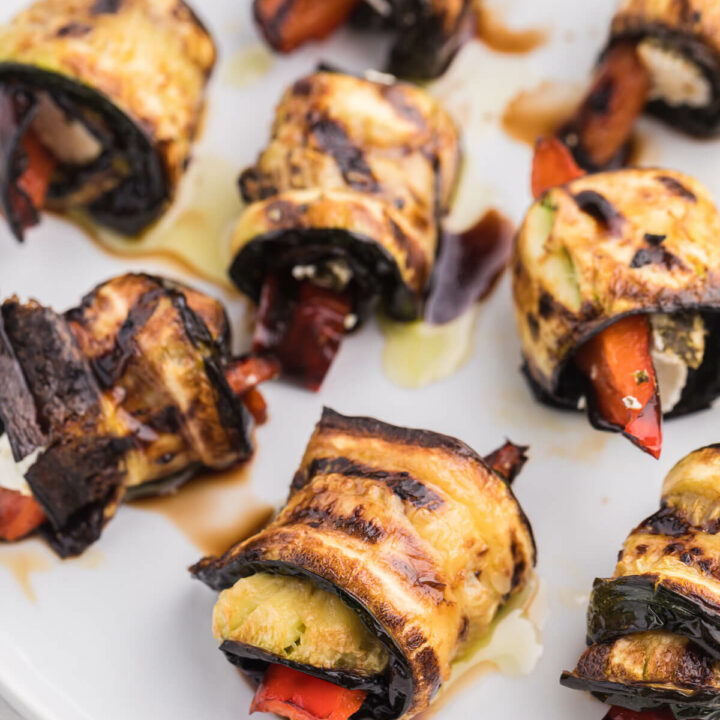 Grilled Zucchini Roll-Ups
A simple, but savory summer appetizer. This easy recipe wraps grilled zucchini strips around herbed goat cheese and grilled red peppers with a finish of extra olive oil and balsamic vinegar. Mmm!
Print
Facebook
Pin
Share by Email
Rate
Ingredients
2

large zucchini

cut lengthwise into strips 1/4 inch thick

1

red pepper

seeded & cut into quarters

2

tbsp

extra virgin olive oil

divided

1

package

herbed goat cheese

4oz package

2

tsp

balsamic vinegar
Instructions
Coat grill rack with non stick cooking spray (not required if you are using a George Foreman grill). Preheat grill to medium high heat. Brush both sides of zucchini strips and red pepper with 1 tablespoon olive oil. If using a Ninja Foodi Grill, set for MAX on grilling and 9 minutes cooking time.

Place zucchini and red pepper on the grill. Grill 3 to 5 minutes per side or until soft. Remove from grill and slice red pepper into ¼ inch strips.

Place 1 teaspoon of goat cheese about ½ inch from 1 end of each zucchini strip. Top each with 1 red pepper slice. Gently roll up the strip and place seam side down on a serving platter. Repeat with remaining ingredients. Drizzle vinegar and remaining olive oil and serve. Makes about 10 to 15 roll-ups.
Kitchen Tools
Nutrition
Serving:
1
g
|
Calories:
26
kcal
|
Carbohydrates:
1
g
|
Protein:
1
g
|
Fat:
2
g
|
Saturated Fat:
1
g
|
Polyunsaturated Fat:
2
g
|
Cholesterol:
1
mg
|
Sodium:
10
mg
|
Sugar:
1
g
The information shown is an estimate provided by an online nutrition calculator. It should not be considered a substitute for a professional nutritionist's advice.
Love Recipes? Join our Free Facebook Group!
Join Mom's Best Recipes to find more delicious family recipes.
Save
Saved!