Cheesy, filling, and savory with flavors of Ritz Crackers and fresh tender zucchini, this simple Baked Zucchini Casserole recipe with eggs is an easy breakfast casserole ready in just an hour!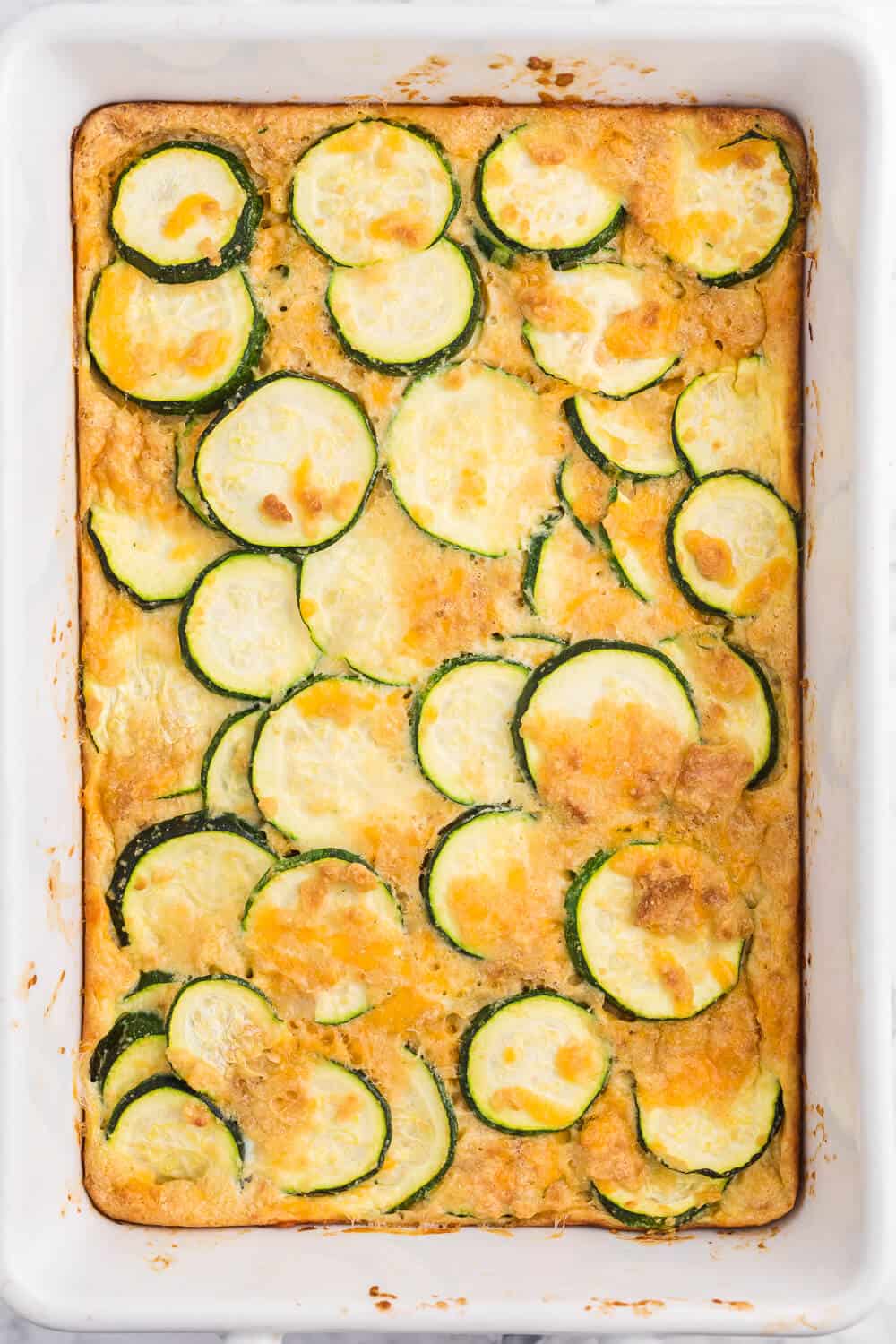 This easy baked zucchini casserole is an old-fashioned vegetarian recipe that I just love! Cheesy flavors are mixed with the layers of zucchini and Ritz Crackers to create a rich savory recipe that is so appetizing, simple, and incredibly comforting.
Unlike other crispy baked zucchini casserole recipes, this cheesy casserole is made with egg so it is soft and perfect for breakfast or brunch! The yummy buttery flavors pair so well with fresh zucchini, crunchy crackers and cheddar cheese which makes this recipe one of the best!
Casseroles are a great way to use up any extra vegetables you may have waiting to be used in your next recipe. I like to use fresh zucchini because of the fresh flavors and tender textures it is known for–this cheesy zucchini recipe is perfect for the summertime when you have an abundance of the fresh green vegetable!
Simple casseroles are great family meals because they require minimal steps and are easily baked in the oven until done–if you can wait that long! If you're looking for more easy casserole ideas, then you will love my Overnight Bacon Breakfast Casserole and Green Bean Casserole recipes.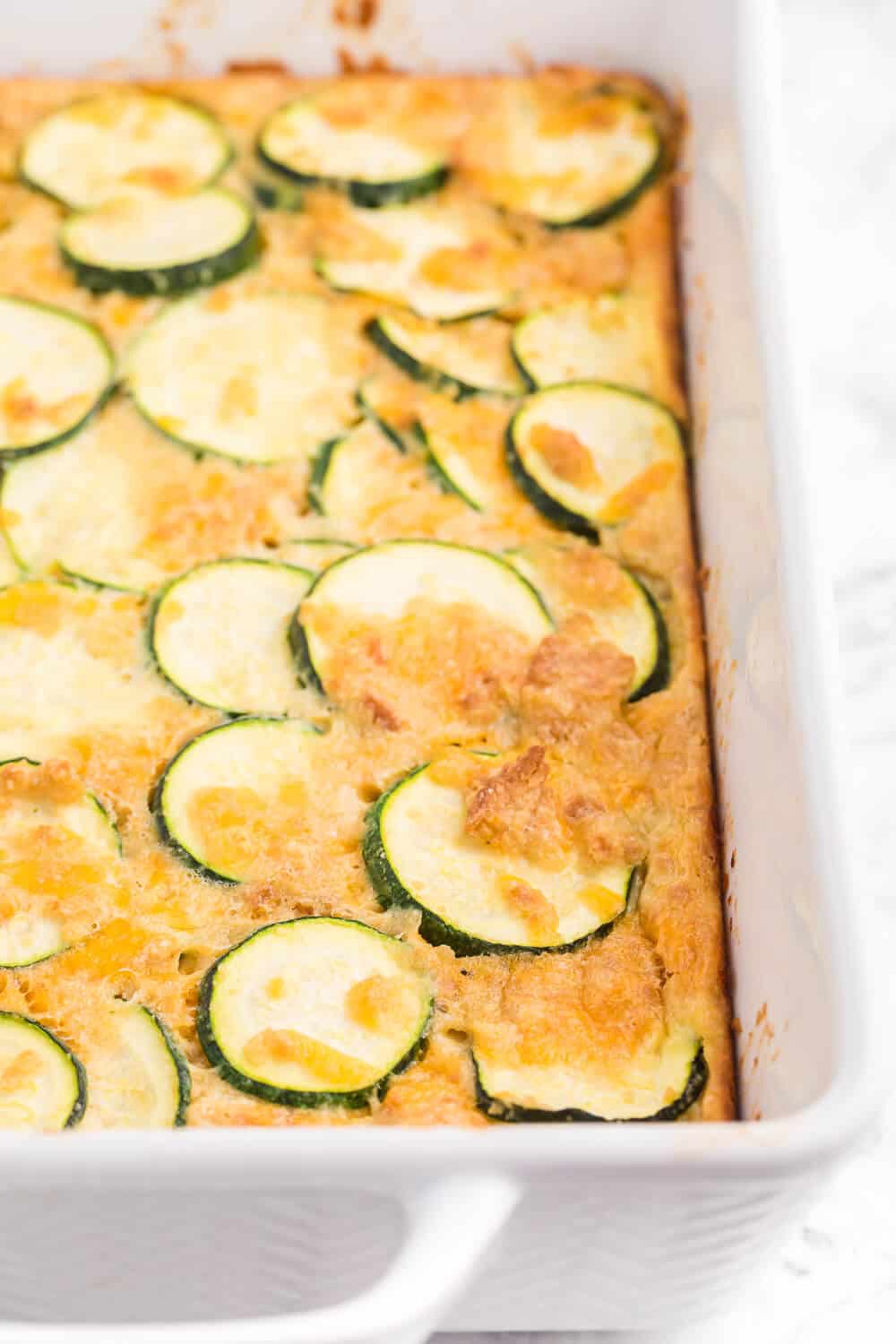 Ingredients
Cooking Spray: Vegetable cooking spray is a must for casserole recipes! Anytime I make a casserole, I use cooking spray to prevent the food from sticking to the dish. You can also grease the dish with butter or regular vegetable oil.
Fresh Zucchini: Make sure the zucchini are peeled and sliced for this simple baked zucchini casserole! Tender but slightly crunchy zucchini brings a ton of bold flavors to this baked recipe.
Eggs: You will need four eggs for this casserole! The eggs allow the casserole to have a delicious fluffy soft texture.
Salted Butter: I like to use salted butter because it adds extra rich buttery flavors but unsalted butter is okay, too.
Cheddar Cheese: Shredded cheddar cheese allows this casserole to be cheesy and so delicious–especially mixed with the baked eggs. Grate your own cheddar cheese or use the pre-shredded type.
Milk: Any kind of dairy milk will work to make this casserole smooth and enjoyable! Whole milk is good because it makes things extra rich but 2% or unsweetened soy milk will work.
What I Used For This Recipe
This post contains affiliate links.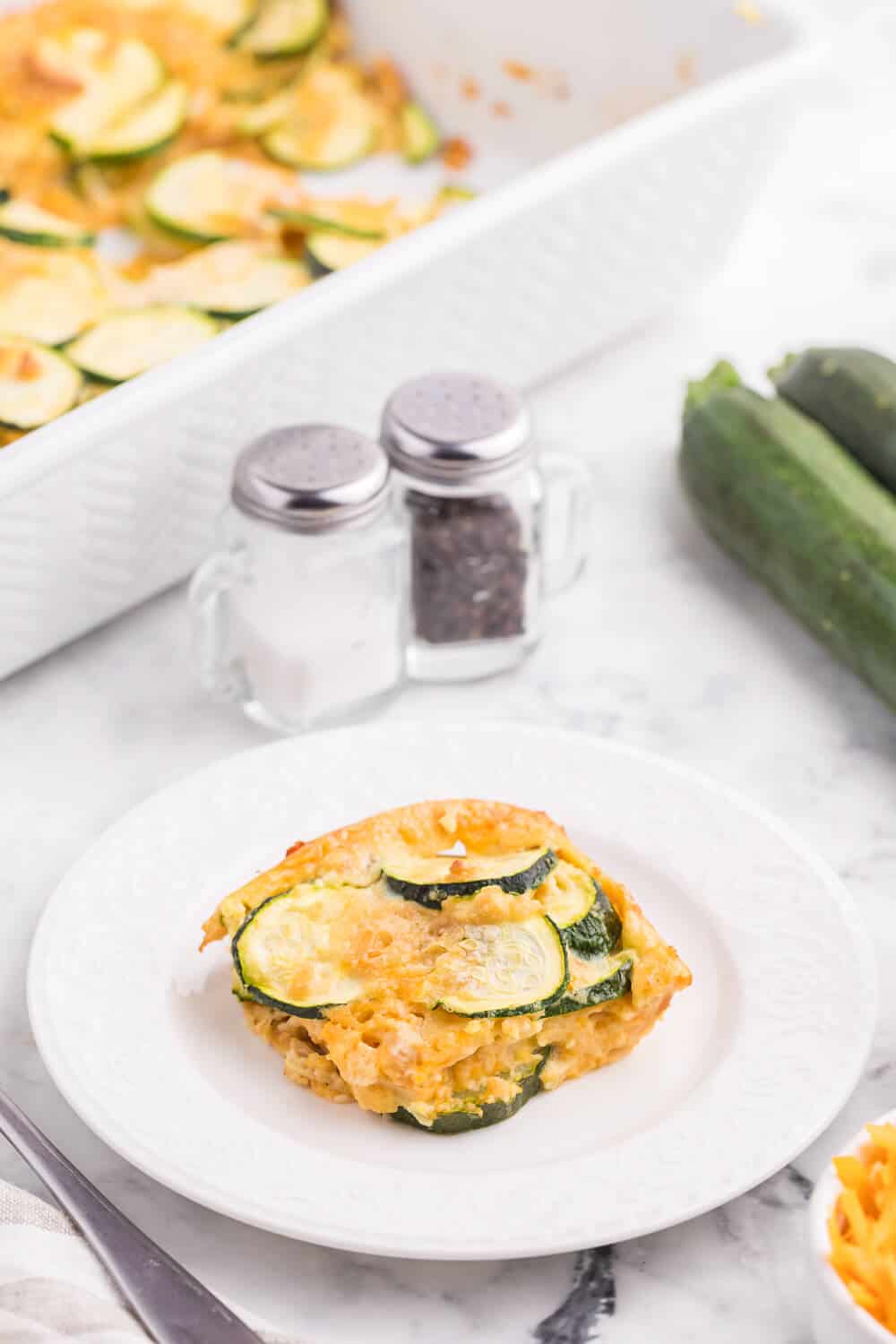 How To Make It
First, preheat the oven to 350 degrees Fahrenheit so the simple zucchini casserole cooks and the cheese melts.
Grease the casserole dish with cooking spray or oil and set it aside.
In a large bowl, stir together the sliced zucchini, Ritz crackers, eggs, butter, cheddar cheese, and milk. Stir everything until everything is mixed and has a somewhat uniform shape!
Pour the ingredients into an even layer in the casserole dish. Bake the cheesy zucchini in the oven for forty minutes.
Remove the baked zucchini from the oven and allow it to cool for at least ten minutes before serving. Allowing the casserole to sit a little while before serving mends all of the savory buttery ingredients together.
Serve hot and enjoy! Sprinkle the casserole with fresh parsley if you would like.
Variations
Instead of cheddar cheese, use different cheeses like Parmesan, asiago, mozzarella, white cheddar, gruyere, and more.
Sprinkle this baked zucchini casserole with buttery breadcrumbs or extra Ritz Crackers for extra yummy textures.
Make this casserole with zucchini, yellow squash, and winter squash or leave the zucchini out all together.
For a vegan zucchini casserole, use vegan butter, make an egg bake out of silken tofu, and use dairy-free milk.
Can baked zucchini casserole be frozen?
Yes! Follow the steps up until transferring the ingredients into the casserole dish, then cover with plastic wrap or an airtight lid. Freeze the unbaked casserole in the freezer for up to two months.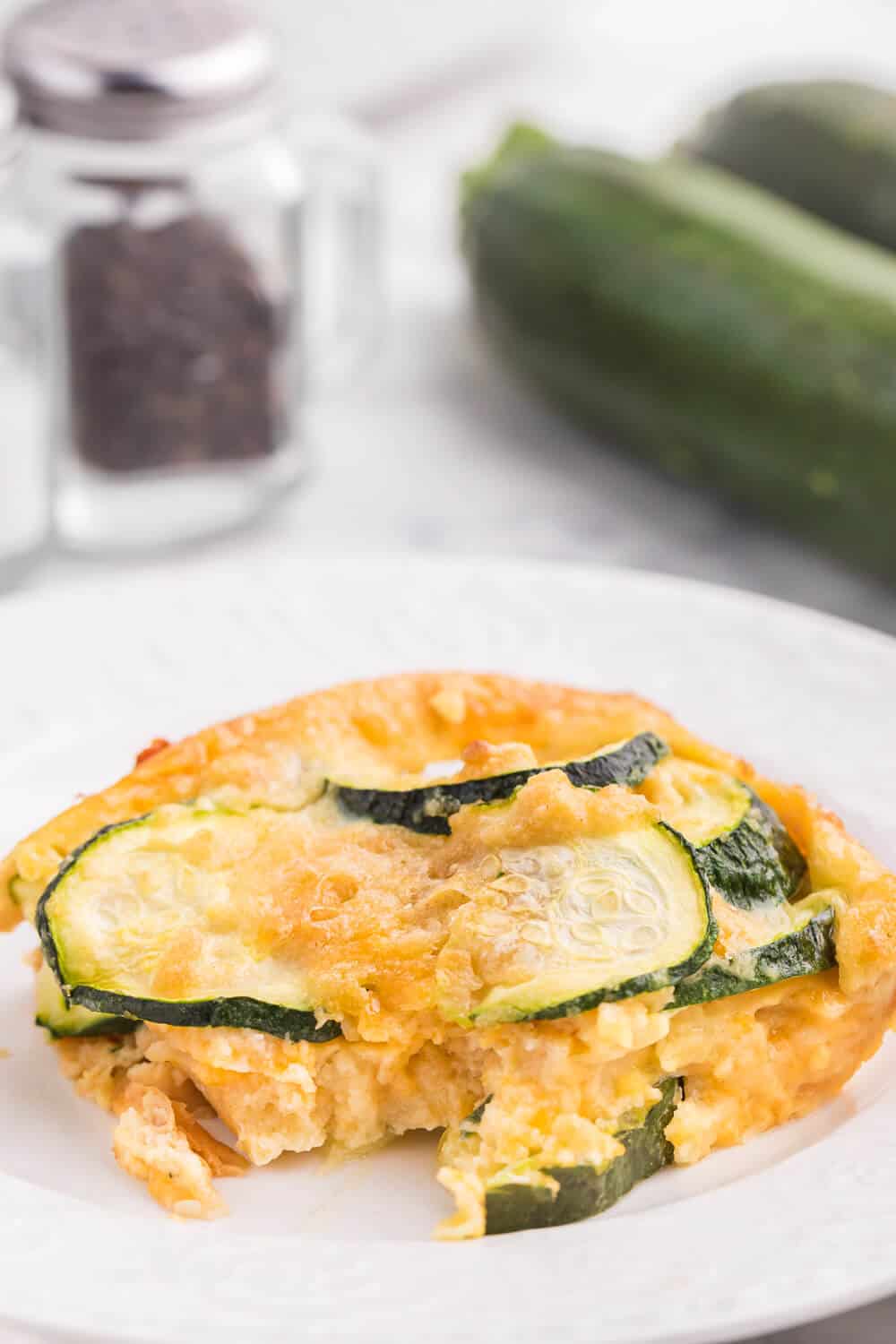 What goes with a simple cheesy zucchini casserole?
This zucchini casserole can be served with so many different things! I love to serve this classic zucchini egg casserole with my favorite veggies like cheesy corn casserole, air fryer asparagus, creamy carrots, candied sweet potatoes, and sweet and sour cabbage.
You can also serve this zucchini recipe with breakfast options like fresh fruit, yogurt, cheddar dill muffins, apple cinnamon bun breakfast casserole, and even pineapple cheese bread.
More Zucchini Recipes You'll Love
Do you have any amazing easy casserole dinner recipes? I'm always looking for more recipes to try! Follow me on Instagram @simplystacieblog, on Facebook at Simply Stacie, and on Pinterest @SimplyStacie and let me know how you liked this and my other recipes!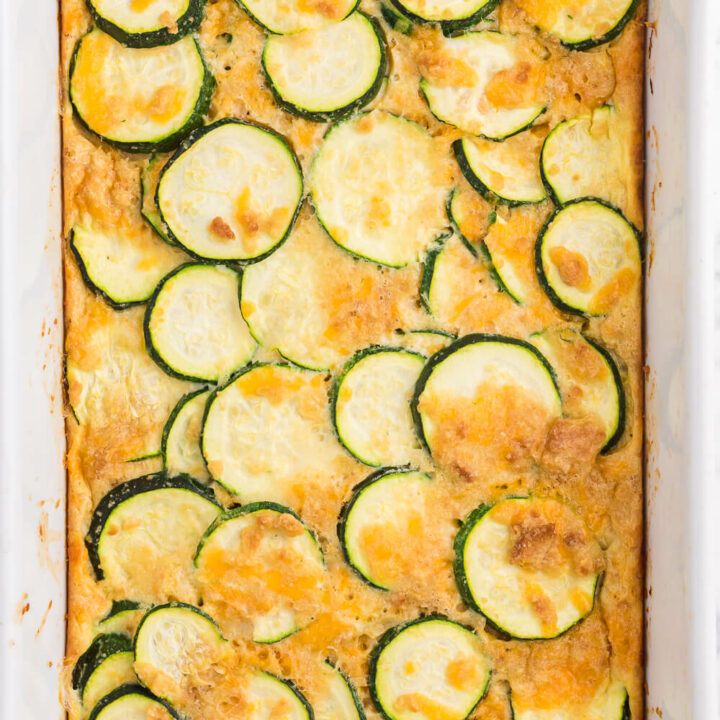 Baked Zucchini
An egg-based casserole with roasted zucchini slices, buttery crushed Ritz crackers and loads of cheese.
Ingredients
4 cups zucchini, unpeeled and sliced
2 cups Ritz crackers, crushed
4 eggs, beaten
1 tablespoon salted butter, melted
2 cups cheddar cheese, shredded
1 1/2 cup milk
Instructions
Preheat oven to 350F. Grease a 9×13 casserole dish with cooking spray.
In a large bowl, stir together all ingredients. Pour into casserole dish.
Bake for 40 minutes. Serve hot.
Recommended Products
As an Amazon Associate and member of other affiliate programs, I earn from qualifying purchases.
Nutrition Information:
Yield:

8
Serving Size:

1 piece
Amount Per Serving:
Calories:

360
Total Fat:

21.6g
Saturated Fat:

9.4g
Trans Fat:

0.6g
Unsaturated Fat:

10.7g
Cholesterol:

129.4mg
Sodium:

543.5mg
Carbohydrates:

26g
Fiber:

0.8g
Sugar:

7.5g
Protein:

15.1g