Warm and moist pineapple cheese bread is a classic childhood favorite of mine! Sweet and savory, you will want to bake a loaf of this homemade cheese bread for breakfast or brunch!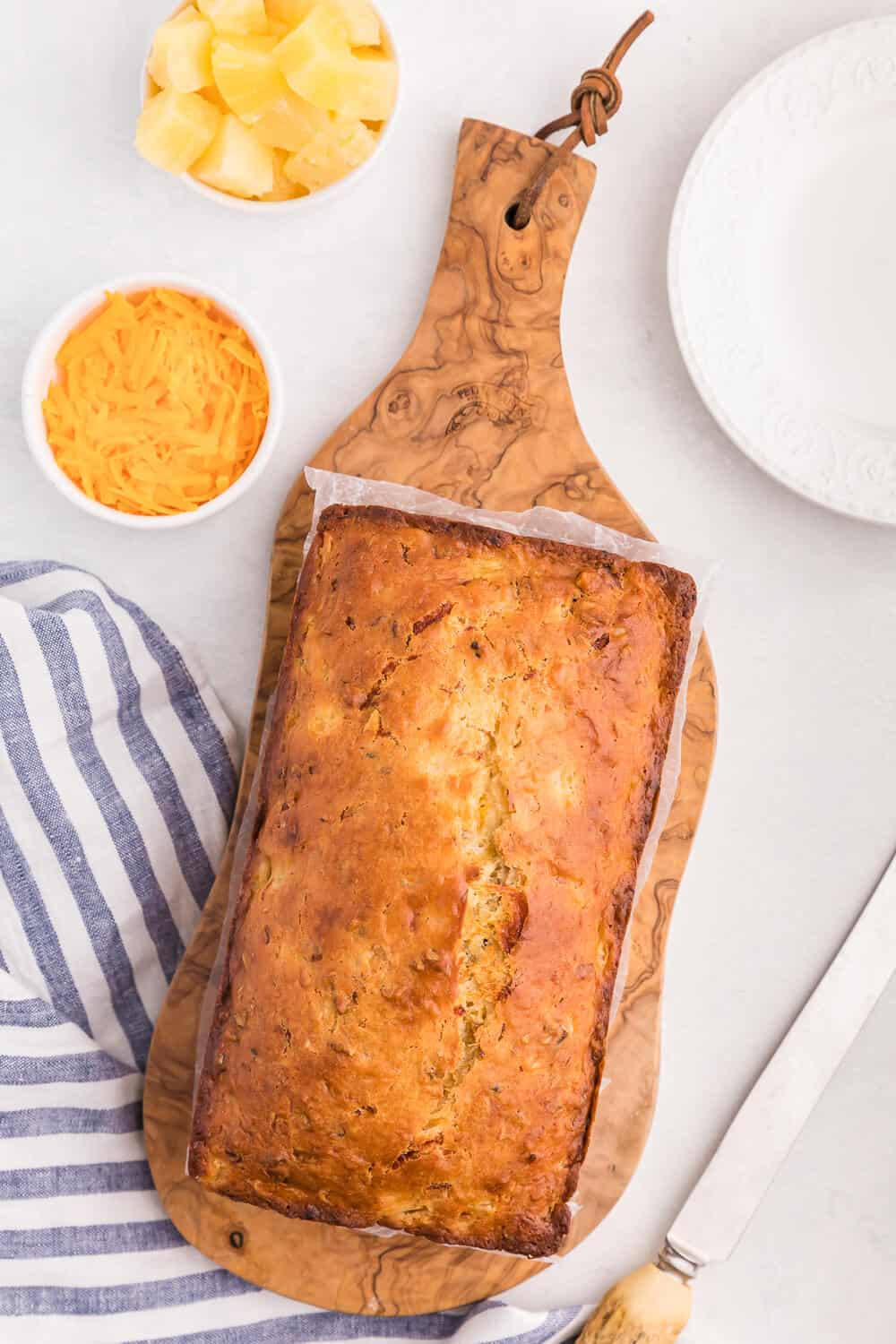 Canned crushed pineapple allows this bread to be fully moist and sweetened with juicy flavors. Pair the fruity pineapple with savory cheddar cheese and you end up with a mouthwatering fresh bread.
I like to spread some butter on a warm slice of this pineapple cheese bread and enjoy it with a cup of coffee or tea. Who would have thought fruity and savory go hand in hand?
My great-grandmother and mother used to make this recipe all of the time, and every time I bake this bread, I instantly reflect on how, as a child, I used to not enjoy the combination of pineapple and cheese.
This bread is great to bake with yummy holiday recipes whenever you want your kitchen to be filled with fresh comforting flavors of warm bread. Feel free to add some chopped walnuts or pecans to this moist bread.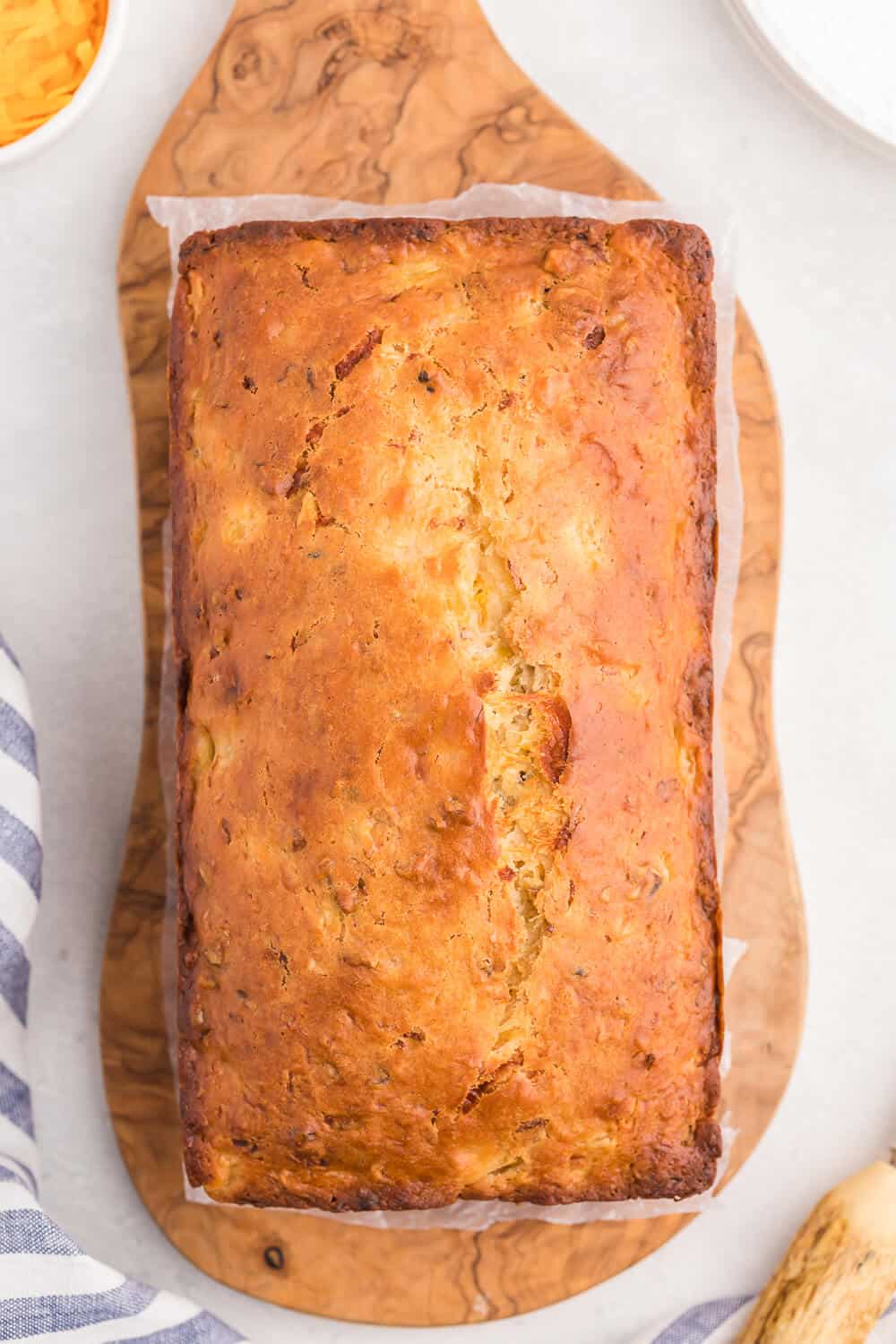 Ingredients
Flour: I like to use all-purpose flour because it allows the bread to be moist, fluffy, and airy. All-purpose flour is very easy to use! For gluten-free bread, be sure to use a 1:1 gluten-free flour blend.
Baking Powder and Soda: Both baking powder and soda are used to help the bread rise in addition to acting as leavening agents.
Salt: A little bit of salt adds extra savory notes that allow this bread to not be too sweet.
Pineapple: Crushed pineapple gives this bread texture, moisture, and yummy juiciness that makes this bread far from dry. Feel free to use fresh pineapple, but I highly recommend using the juices from canned crushed pineapples.
Egg: One fully beaten egg is used to bind this bread together and allow it to form into a fresh bread loaf.
Oil: Any kind of vegetable oil works for this recipe such as canola, vegetable, melted coconut, grapeseed, or avocado oil.
Cheddar Cheese: Grate your own block of cheddar cheese for extra cheesiness or use store-bought pre-shredded cheddar cheese. Feel free to mix up cheese for extra flavors by using Pepper Jack, Colby Jack, Monterey, etc.
Walnuts: Completely optional because I know some people do not enjoy nuts in their bread recipes. Chopped walnuts give this cheesy pineapple bread a little bit of nuttiness and crunch.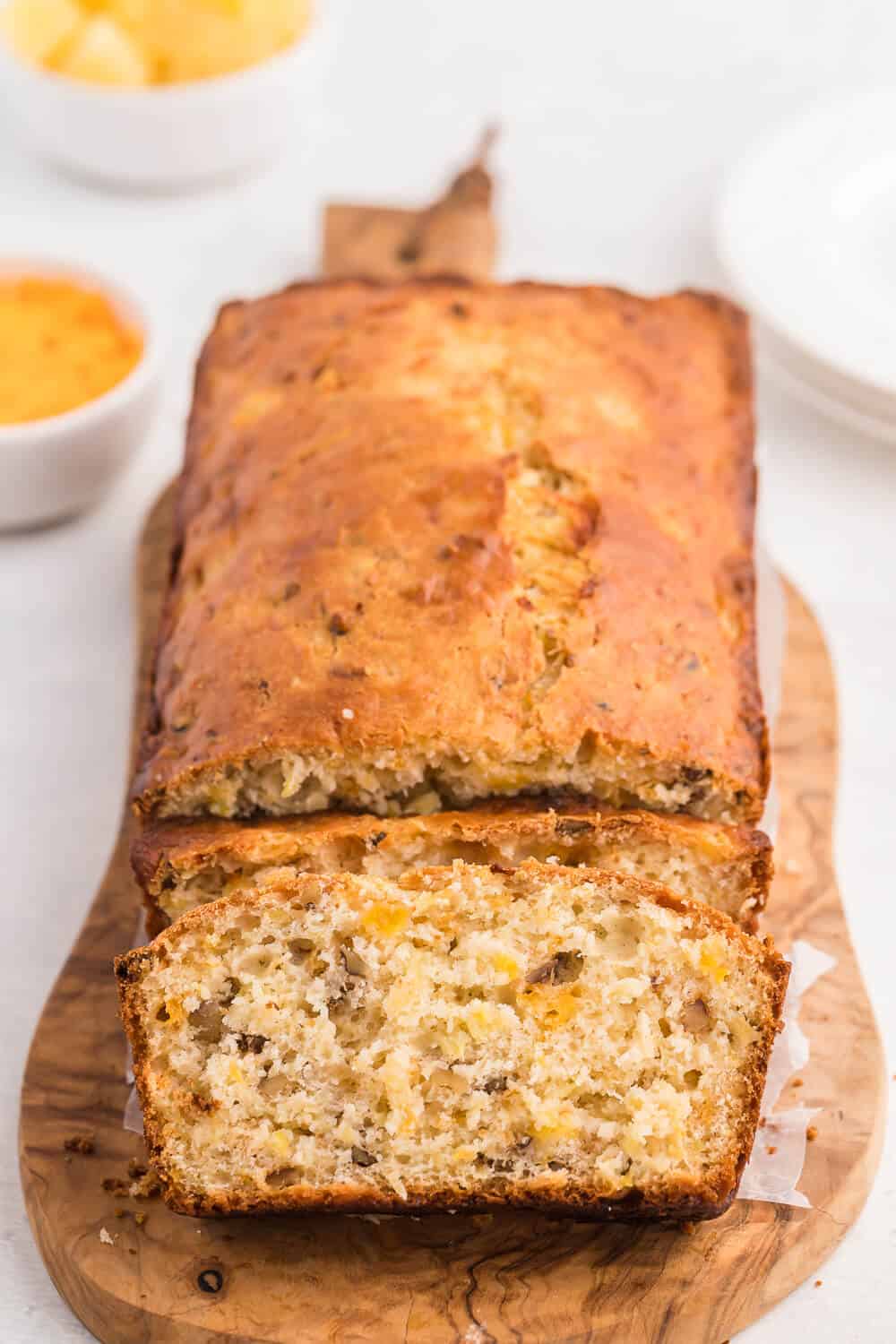 What I Used For This Recipe
This post contains affiliate links.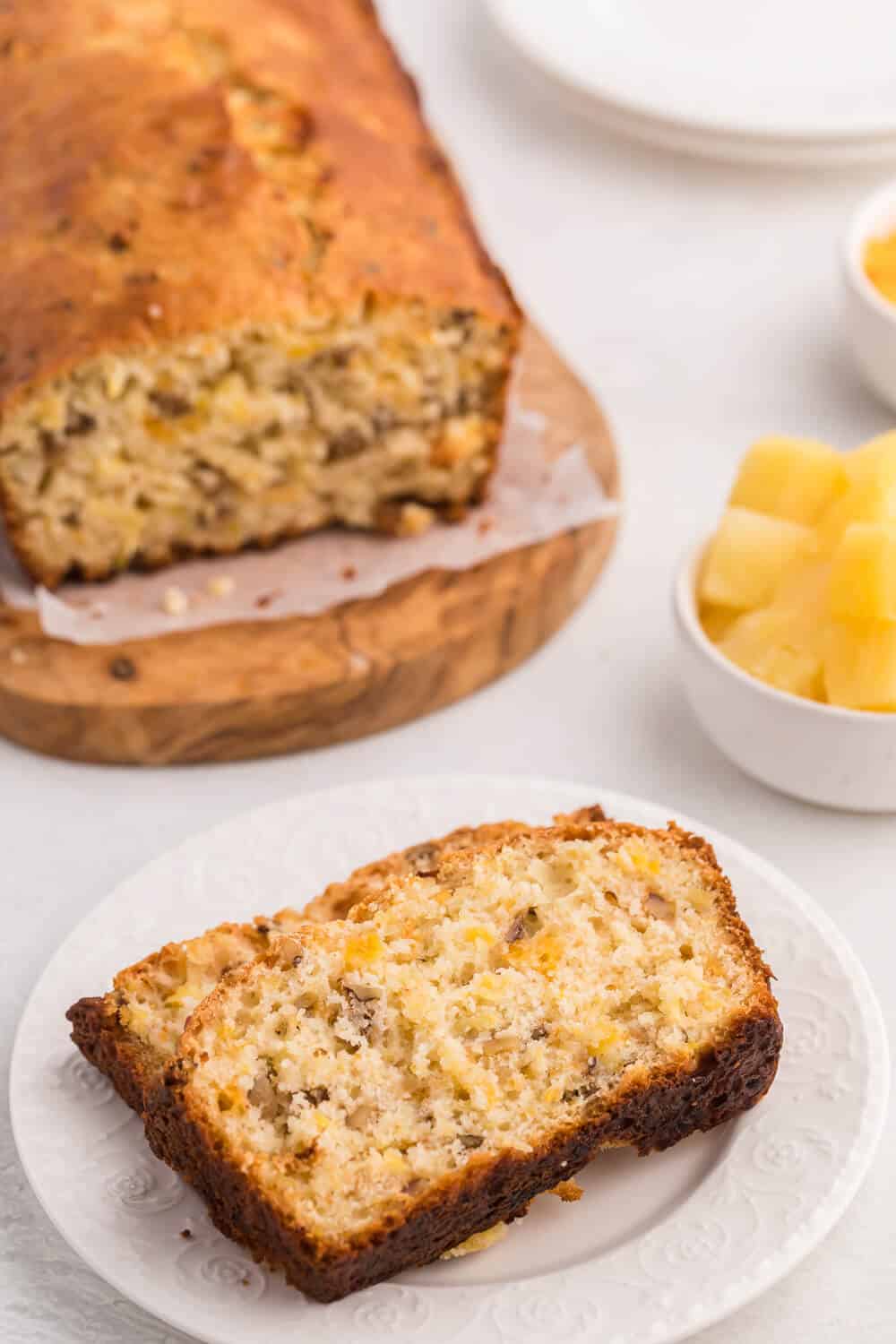 How To Make It
First, preheat the oven to 250 degrees Fahrenheit. Grease a nine-inch loaf pan and set it aside. You can grease the pan with oil or butter.
In a large bowl, stir together the flour, sugar, baking powder, baking soda, and salt. Next, add the crushed pineapple and the juices, egg, and oil. Stir.
Add the shredded cheddar cheese and walnuts to the batter and stir until combined. Be careful not to overmix the batter or the bread will not rise.
Pour the batter into the prepared loaf pan and allow the batter to rest for 20 minutes.
Once the batter has rested, bake the bread in the preheated oven for 60 minutes or until a toothpick comes out of the centre clean. Allow the bread to cool before cutting it into slices. This recipe makes one loaf of bread.
What is the best cheese for bread?
I like to use freshly grated cheddar cheese for bread because it adds a cheesy savoriness to the bread that you can't really find in pre-shredded cheeses. For a spicier flavor, use Pepper Jack cheese.
Should cheese bread be refrigerated?
I recommend wrapping this bread or storing it in an airtight container and refrigerating it for five days. To freeze this bread, wrap it in aluminum foil or slice it and place it in a freezer-safe bag. Freeze the bread for up to four months.
What To Serve With This
Serve this pineapple cheese bread with your favorite fresh salads, soups, and breakfast recipes for a meal that is full of flavor and so good you will want more.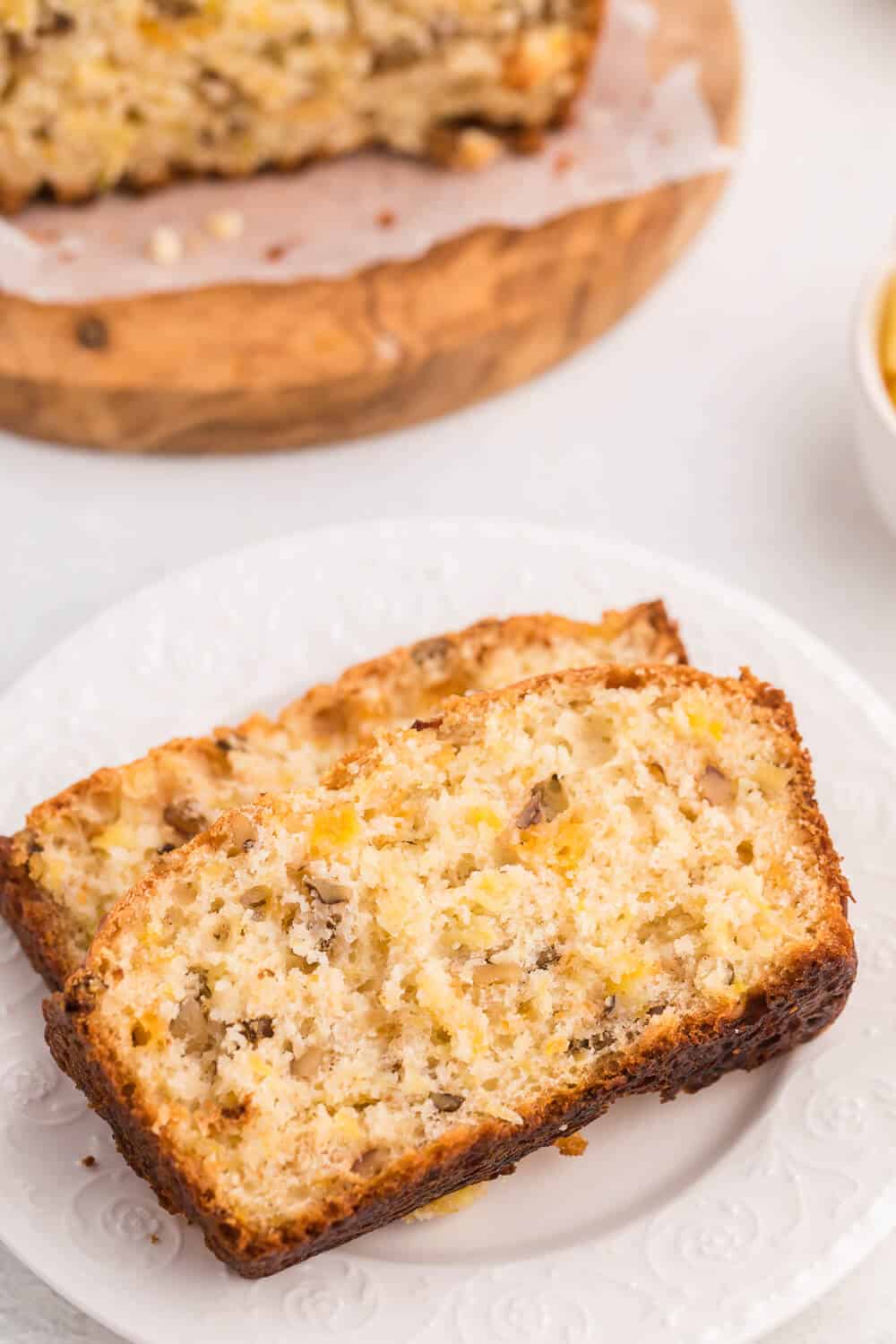 More Bread Recipes You'll Love
You'll also love this Pineapple Pie.
Do you have any amazing easy recipes? I'm always looking for more recipes to try! Follow me on Instagram @simplystacieblog, on Facebook at Simply Stacie, and on Pinterest @SimplyStacie and let me know how you liked this and my other recipes!
Pineapple Cheese Bread
Total Time:
1 hour
10 minutes
This quick bread recipe reminds me of a Pineapple Cheese Salad my great grandmother used to make.
Ingredients
2 cups flour
3/4 cup sugar
3 teaspoon baking powder
1/2 teaspoon baking soda
1 teaspoon salt
1 398ml (14oz) can crushed pineapple, undrained
1 egg, beaten
2 tablespoons vegetable oil
1/2 cup cheddar cheese, shredded
1/2 cup walnuts, chopped
Instructions
Preheat oven to 350F. Grease a 9 inch loaf pan and set aside.
Stir together flour, sugar, baking powder, baking soda and salt in a large bowl. Add in crushed pineapple with the juices, egg and oil. Stir. Add cheddar cheese and walnuts and stir. Pour into loaf pan. Let rest for 20 minutes.
Bake for 60 minutes or until a toothpick comes out of the centre clean. Let cool before cutting into slices. Makes 1 loaf.
Recommended Products
As an Amazon Associate and member of other affiliate programs, I earn from qualifying purchases.
Nutrition Information:
Yield:

10
Serving Size:

1 slice
Amount Per Serving:
Calories:

258
Total Fat:

9g
Saturated Fat:

2g
Trans Fat:

0g
Unsaturated Fat:

7g
Cholesterol:

24mg
Sodium:

466mg
Carbohydrates:

39g
Fiber:

1g
Sugar:

19g
Protein:

6g