This classic Southern Pineapple Casserole is the perfect mix of sweet and savory, with an irresistibly buttery topping that's addicting. Often served with baked ham during the holidays, this family-favorite side dish is a must-have at gatherings.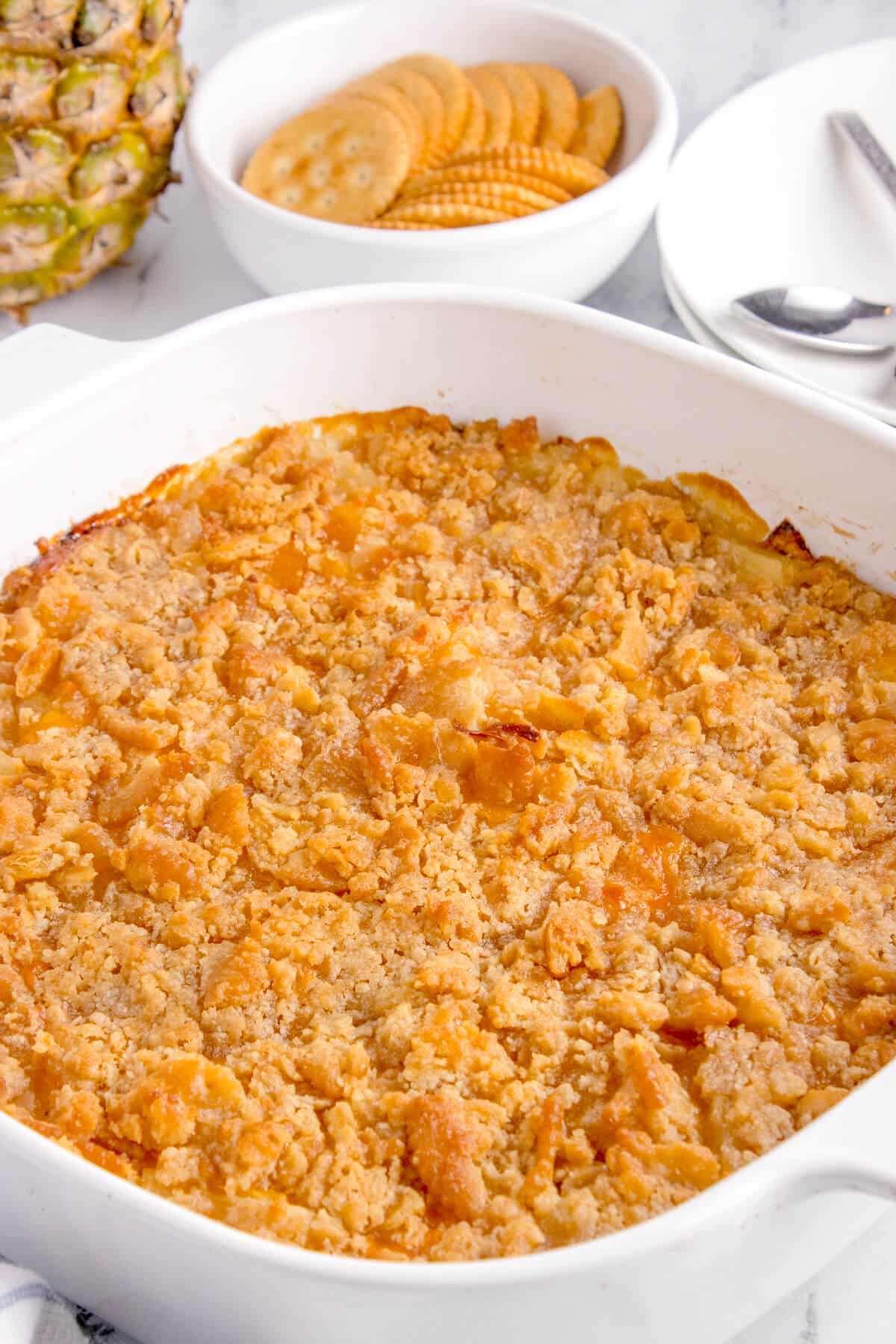 If you haven't enjoyed trying pineapple casserole, you're in for a delightful surprise! Pineapple, cheese, and crackers may seem like an unusual mix, but pineapple casserole is a surprisingly delicious dish. This unexpected fusion of salty, sweet, and savory flavors is a cherished tradition at Easter dinners in many Southern regions. The pineapple's tangy sweetness complements ham, lamb, and pork roasts.
This delicious casserole is sure to become a family favorite. It is easy to make and the perfect addition to any holiday meal. Pineapple Casserole is a crowd-pleaser that works well with several different mains. Whether serving it with your holiday ham, thanksgiving turkey, or even as a side during a weeknight dinner, it will quickly become one of your new favorite things to make.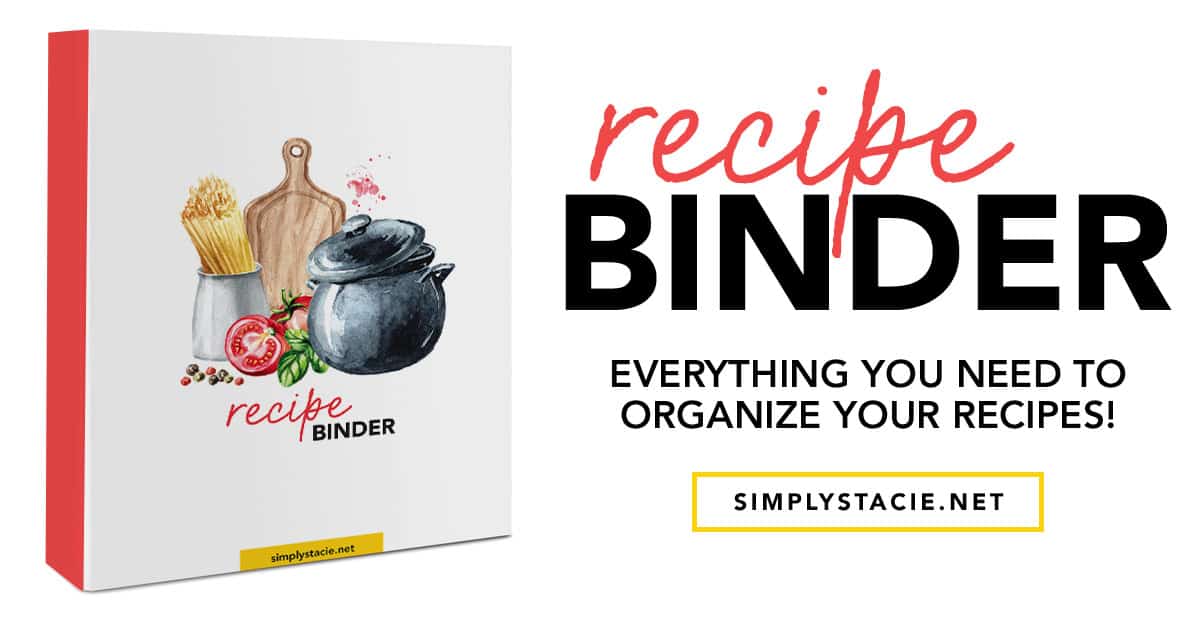 Why You'll Love Pineapple Casserole
Easy to Make: This recipe is super easy to put together. It requires only a few simple ingredients and a little bit of time. You can make this Pineapple Casserole rather quickly. The best part? It's delicious.
Versatile: This easy casserole is extremely versatile. It compliments various dishes and is perfect for your easter ham, thanksgiving dinner, and so much more.
Crowd-pleaser: If you want something delicious to make for your next gathering or bring to a potluck, this dish is a crowd-pleaser. It is the perfect side dish for several dishes, making it fun and exciting for any occasion.
Unique Flavor Profile: Pineapple casserole offers a unique combination of flavors, with the sweet and tangy pineapple contrasting with the savory cheese and buttery crackers. This unusual blend creates a delightful taste experience.
Ingredients
The full printable recipe card with measurements and instructions is found at the bottom of the post.
Pineapple tidbits
Granulated sugar
Melted unsalted butter
All-purpose flour
Grated sharp cheddar cheese
Crushed Buttery Ritz Crackers
Pineapple juice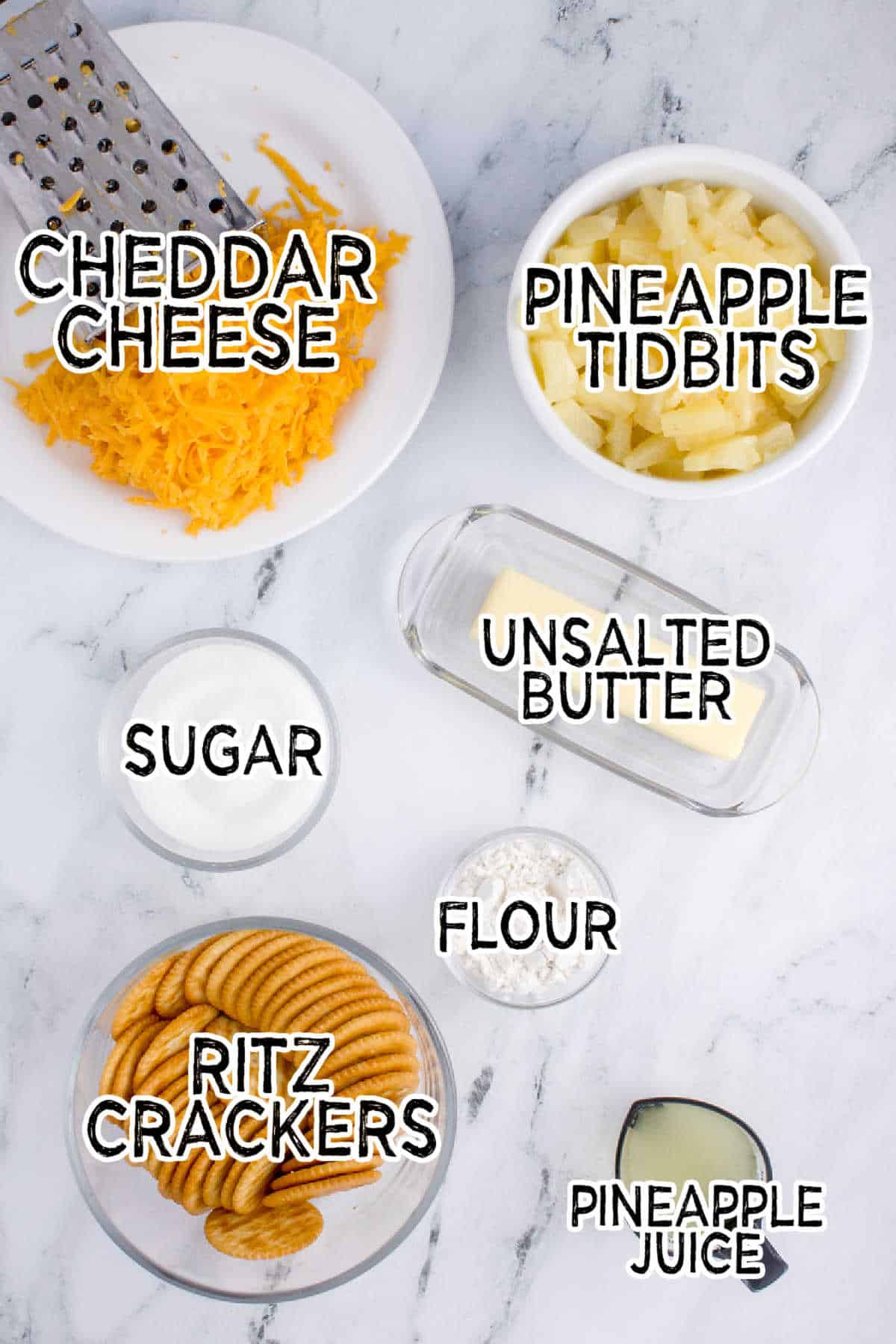 How to Make Pineapple Casserole
Step One: Preheat your oven to 350°F.
Step Two: In a medium bowl, combine the crushed Ritz crackers, melted butter, and pineapple juice. Mix them until the cracker crumbs are evenly coated with the butter and pineapple juice.
Step Three: In your baking dish, mix the all-purpose flour, granulated sugar, and grated sharp cheddar cheese.
Step Four: Combine the drained sweet pineapple tidbits with the flour, sugar, and cheese.
Step Five: Cover the pineapple mixture with the buttery cracker mixture and bake the pineapple casserole in the preheated oven for 25-30 minutes, or until the casserole is heated through and the cracker topping is golden brown and crispy.
Step Six: Remove the casserole from the oven and let it cool slightly before serving.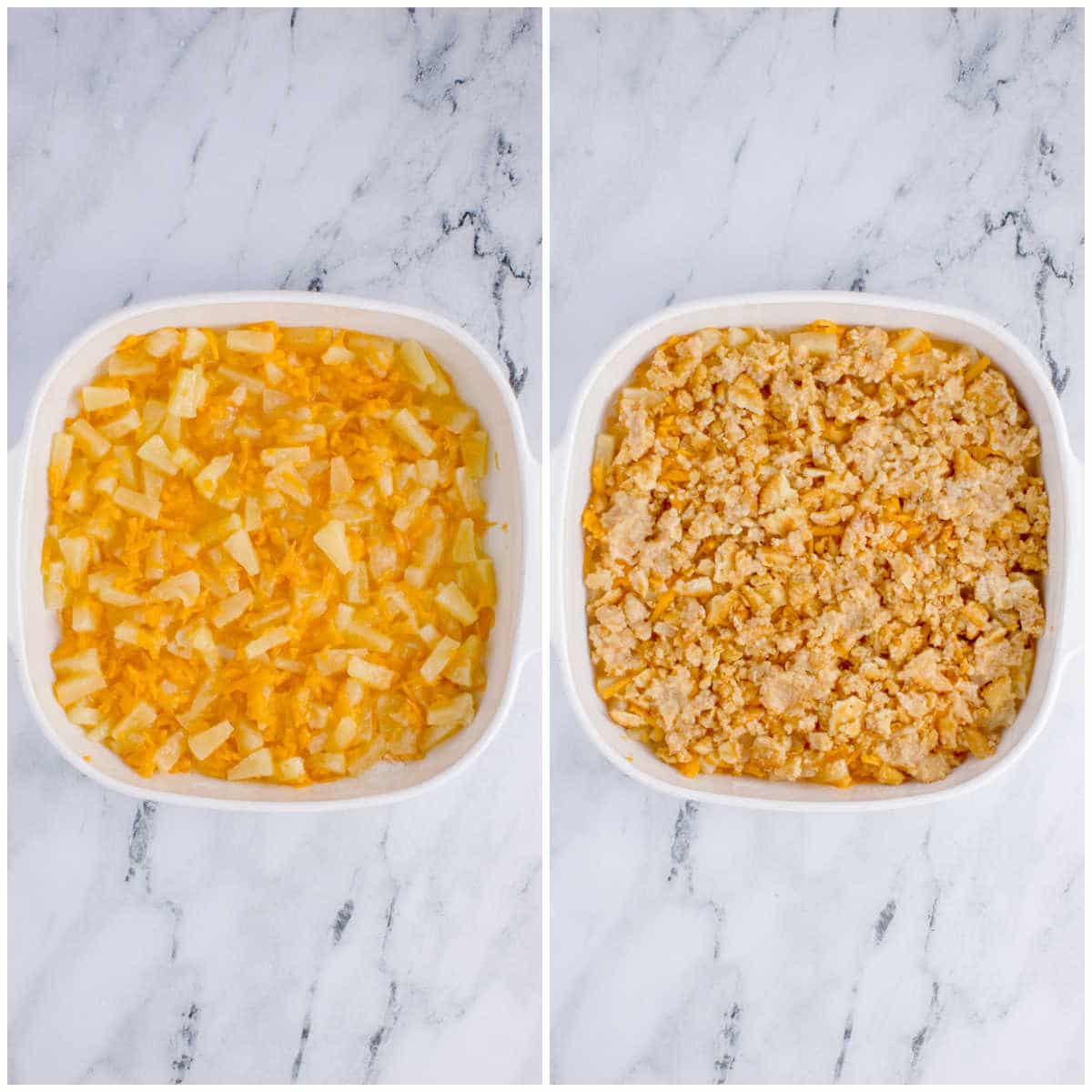 Equipment Needed
This post contains affiliate links.
What to Serve with Pineapple Casserole
This delicious dish is perfect, with several different accompaniments.
Roast Turkey
Roast Chicken
Variations and Substitutions
Cracker Variations: Change the crackers you use to give your casserole a different crunch and flavor. Try buttery or buttery-flavored crackers for a unique twist.
Cheese Options: Pick a different kind of cheese to alter the taste of your casserole. Instead of sharp cheddar, use Monterey Jack, mozzarella, or Swiss cheese for their distinct flavors.
Savory Twist: If you prefer a less sweet casserole, use less sugar. Add ingredients like sautéed onions or bacon bits to make it more savory for a delightful contrast.
Add Nuts: Add a layer of chopped nuts like almonds or pecans to your pineapple casserole. This can give your casserole a great crunch and nutty flavor.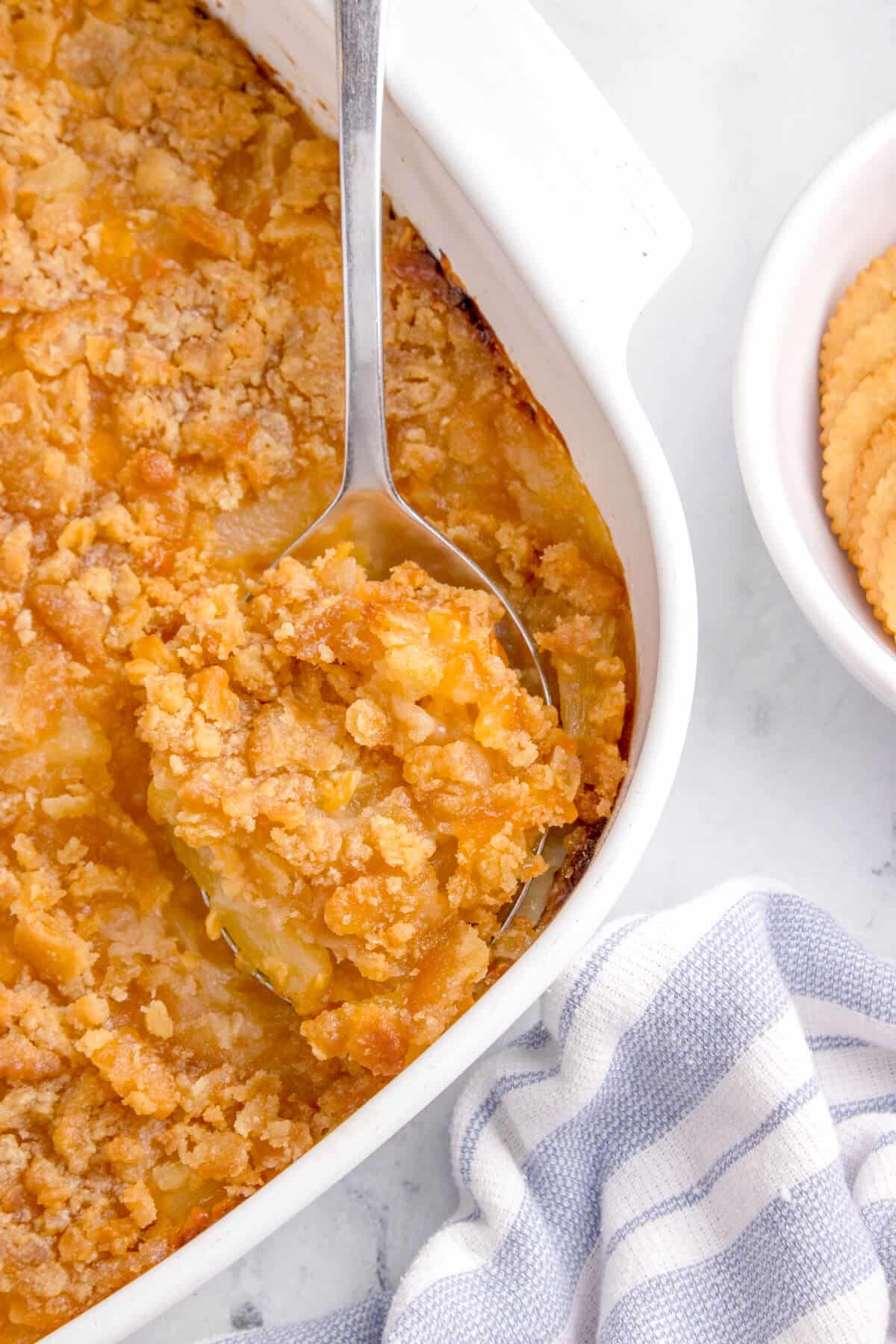 Storage Instructions
The chance of you having leftovers of this delicious pineapple cheese casserole is very slim. However, if you need to store it, you must only follow a few simple steps. Allow your casserole to cool before placing it in an airtight container. Place the container in the fridge. It can be kept for 3-4 days.
Can I Freeze?
Yes, you can. Leftovers can be kept in a freezer-safe, airtight container in the freezer. It will remain suitable for up to 2 months.
Recipe Tips and Tricks
Drain the Pineapple: When using canned pineapple, drain it well to remove excess liquid. This prevents your casserole from becoming too watery.
Grate the Cheese: You will want to grate your cheese fresh off the block for the best results. Storebought, pre-shredded cheese often contains additives that can change the flavor. It also doesn't melt as well as freshly grated cheese.
Create a Crunchy Topping: Make sure that you coat the cracker mixture with the melted butter and pineapple juice. This will ensure a crispy and delicious topping for your classic pineapple casserole.
Keep an Eye on it: Keep an eye on your casserole towards the end of the baking time to prevent over-browning. It should be heated through, and the topping should be golden brown and crispy.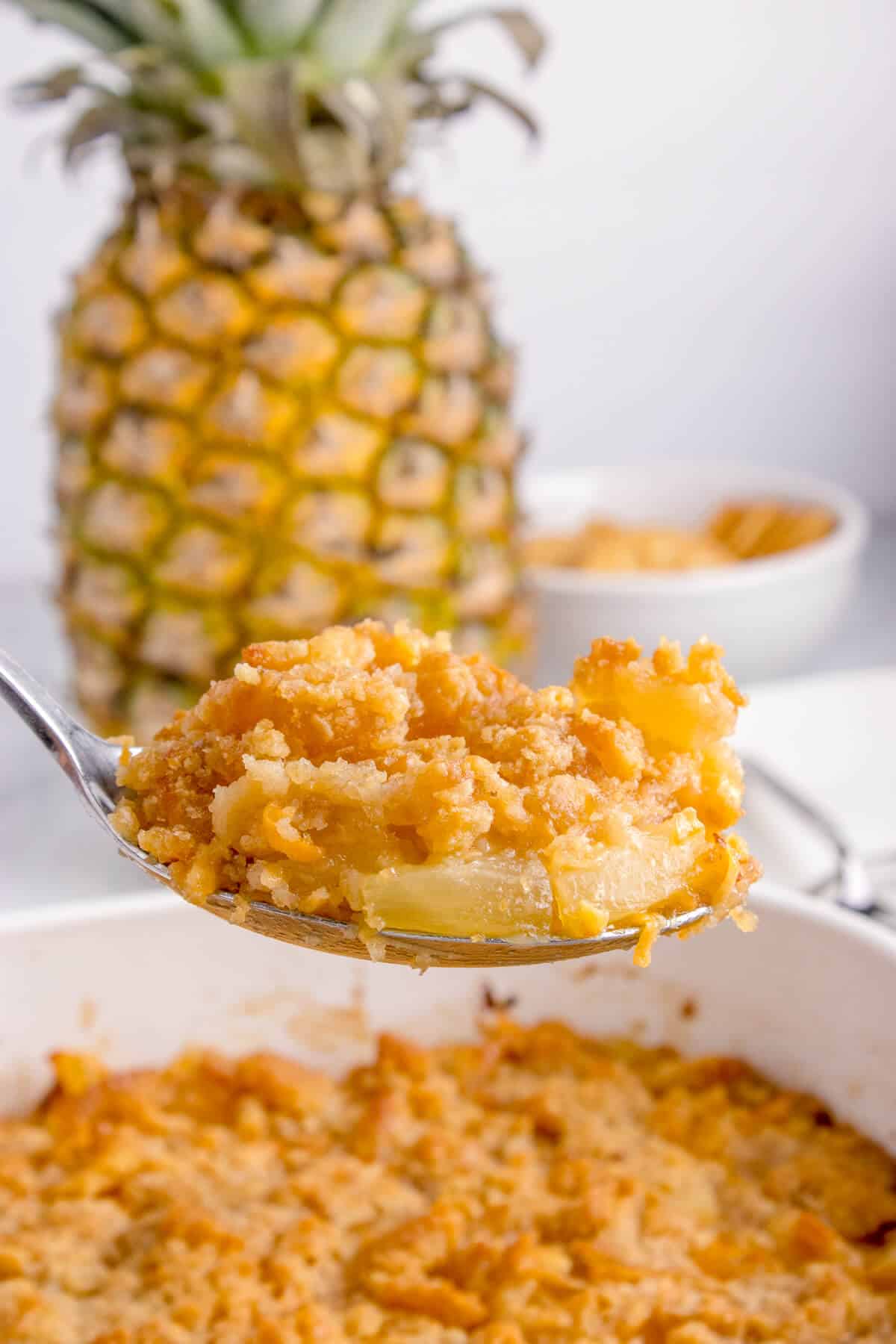 What is Pineapple Casserole?
Pineapple Casserole is a beloved Southern dish that blends sweet canned pineapple with savory cheddar cheese and buttery Ritz crackers. It's a delightful mix of sweet and salty with a crispy topping. This casserole is often served at holiday gatherings and special occasions.
Can I Use Fresh Pineapple?
Yes! You can use fresh pineapple in pineapple casserole for a brighter and more vibrant flavor. Simply prepare the fresh pineapple by peeling, coring, and cutting it into small pieces or tidbits. Then, replace the canned pineapple in the recipe with the fresh pineapple. Remember that fresh pineapple may be less sweet than canned so you can adjust the sugar to your liking. Drain excess juice from the fresh pineapple to prevent your casserole from becoming too watery. Fresh pineapple can add a delightful freshness to your pineapple casserole, enhancing its overall flavor.
Is It a Dessert or a Side Dish?
Pineapple casserole is usually a side dish, not a dessert. It combines sweet and savory flavors and pairs well with main courses, often at Easter and Thanksgiving holidays. This casserole's unique taste complements your meal nicely.
Add-Ins
Bacon
Onions
Chopped Nuts
Dried Fruit
Fresh Herbs
Spices
Different cheeses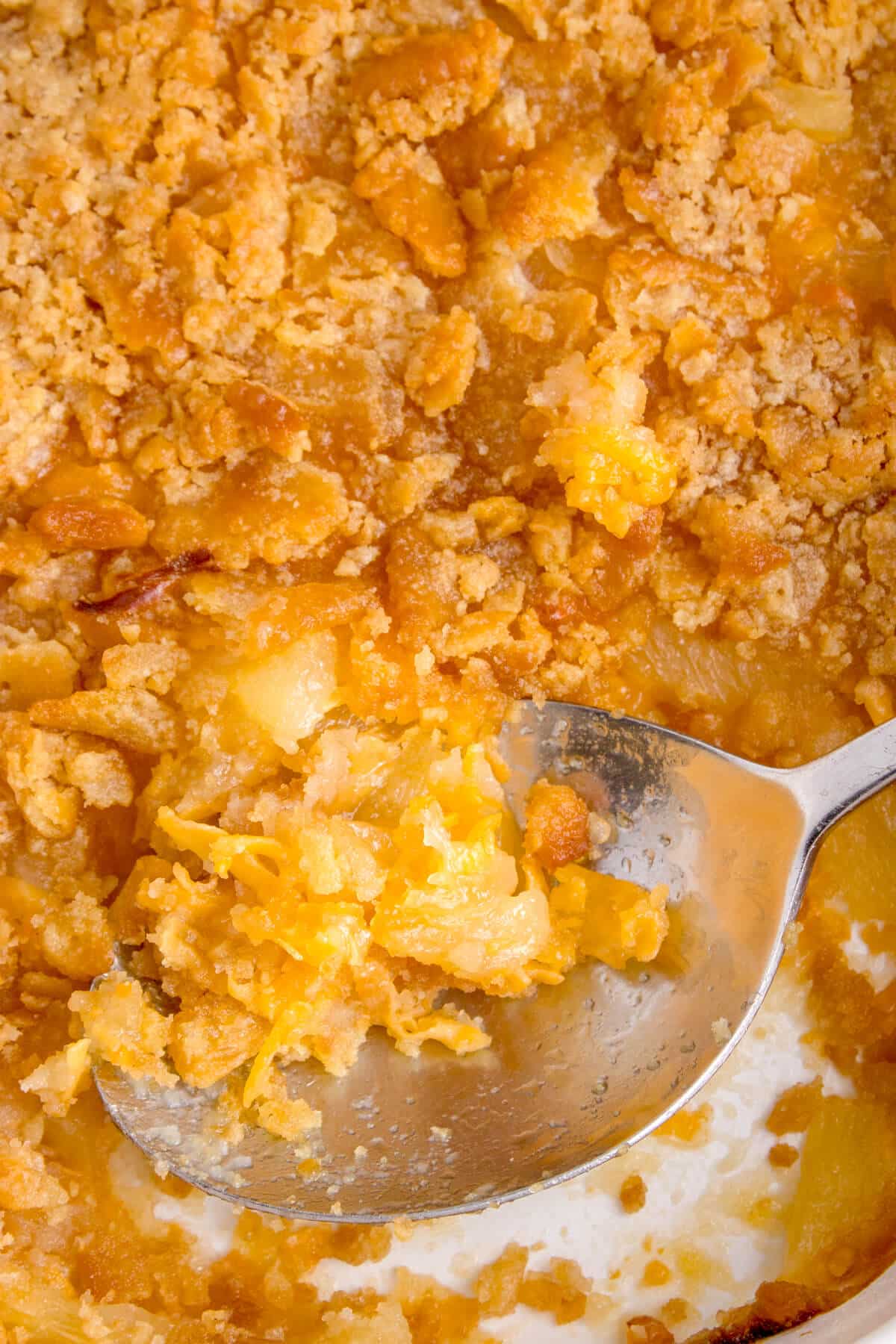 Can I Make Ahead?
You can make this delicious and easy pineapple casserole recipe ahead of time. Simply gather your filling ingredients, mix them, and pop them into the casserole dish. Cover the dish with plastic wrap or foil and store it in the fridge. When you are ready to bake your casserole, you will want to make the cracker topping. This will ensure that the topping is crispy when it's done baking. When you are ready to bake the casserole, simply stick it in the oven and cook it according to the instructions.
How to Reheat Leftovers
Reheating the leftovers of this popular dish doesn't have to be complicated. Allow the dish to sit at room temperature for a while. When ready to reheat, pop the casserole in a 350°F oven until warm. If the top of the casserole begins to brown too much before it is fully heated, simply cover the top loosely with foil to prevent further browning.
Pineapple Recipes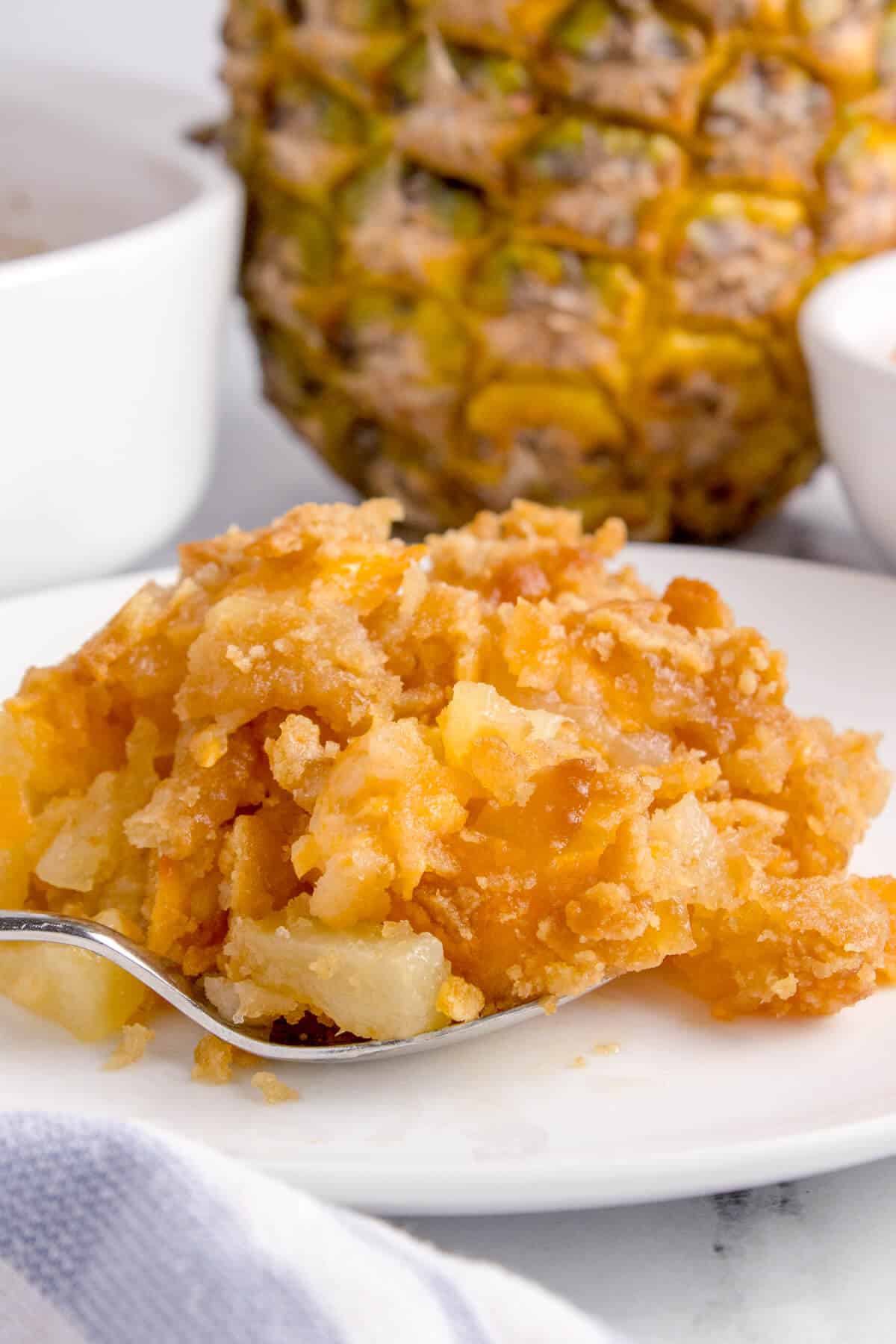 FAQ
Can I serve Pineapple Casserole as a dessert if I make it sweeter?
While it's typically a side dish, you can enjoy it as a dessert if you make it sweeter and add a scoop of vanilla ice cream or a dollop of whipped cream for a delightful dessert twist.
Can I use the recipe's fresh pineapple juice instead of canned pineapple juice?
Fresh pineapple juice can substitute for canned pineapple juice, adding a more vibrant and natural flavor to your casserole.
Casserole Recipes
Follow me on Instagram @simplystacieblog, Facebook at Simply Stacie, TikTok @simplystacierecipes or Pinterest at @simplystacie and let me know how you liked this recipe and my other recipes.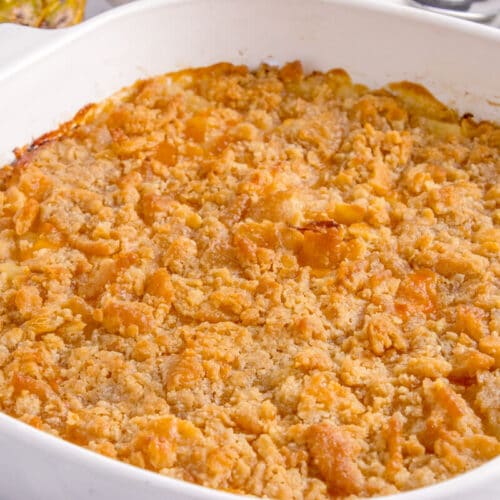 Pineapple Casserole
This classic Southern Pineapple Casserole is the perfect mix of sweet and savory, with an irresistibly buttery topping that's totally addicting. Often served with baked ham during the holidays, this family-favorite side dish is a must-have at gatherings.
Print
Facebook
Pin
Share by Email
Rate
Ingredients
1

can

pineapple tidbits

20oz can, drained

½

cup

sugar

½

cup

unsalted butter

melted

3

tbsp

all-purpose flour

1 ½

cups

sharp cheddar cheese

grated

1 ½

cups

Ritz crackers

1 sleeve, crushed

3

tsp

pineapple juice
Instructions
Preheat the oven to 350℉.

In a medium bowl, combine the crushed Ritz crackers, melted butter, and pineapple juice.

In a 9-inch baking dish, stir together the all-purpose flour, sugar and cheddar cheese.

Add the pineapple tidbits to the baking dish and stir to combine.

Spread the cracker mixture on top of the pineapple mixture in the baking pan.

Bake for 25 to 30 minutes, or until the casserole is heated through and the cracker topping is golden brown and crispy. Let cool slightly before serving.
Kitchen Tools
Nutrition
Calories:
345
kcal
|
Carbohydrates:
34
g
|
Protein:
7
g
|
Fat:
21
g
|
Saturated Fat:
12
g
|
Polyunsaturated Fat:
2
g
|
Monounsaturated Fat:
5
g
|
Trans Fat:
1
g
|
Cholesterol:
52
mg
|
Sodium:
240
mg
|
Potassium:
126
mg
|
Fiber:
1
g
|
Sugar:
24
g
|
Vitamin A:
602
IU
|
Vitamin C:
7
mg
|
Calcium:
183
mg
|
Iron:
1
mg
The information shown is an estimate provided by an online nutrition calculator. It should not be considered a substitute for a professional nutritionist's advice.
Love Recipes? Join our Free Facebook Group!
Join Mom's Best Recipes to find more delicious family recipes.
Save
Saved!